This down-home and cozy Instant Pot Meatloaf recipe will make your mouth water and stomach rumble. It's melt-in-your-mouth good and topped with an irresistible tangy and sweet glaze. But above all, it's a delicious comfort recipe that you can turn to any night of the week.
If you love dinners in the Instant Pot, you've got to try our classic Instant Pot Pork chops and gravy. Perfect to serve with Instant Pot Mashed potatoes!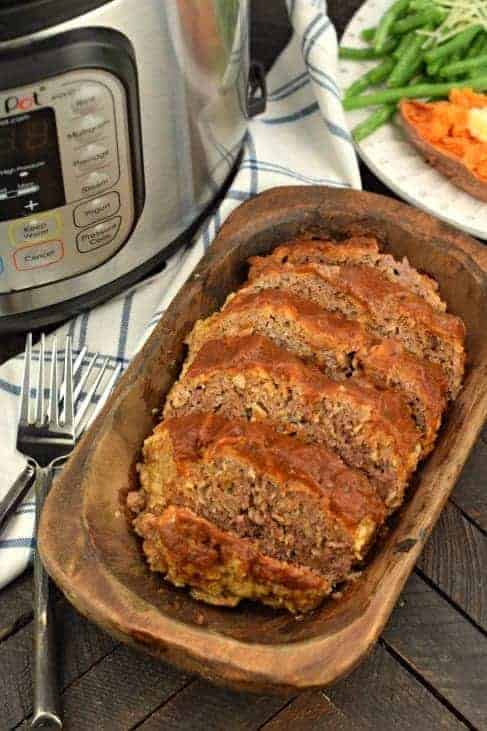 Why Instant Pot Meatloaf Works
This meatloaf is just like an old family meatloaf recipe, but I've made it so much faster with an Instant Pot. Here are a few reasons why you (and your kids) will love it,
Prep is speedy. There's only 5 minutes of hands-on time, and then you can set-and-forget it with the Instant Pot. It makes for a fabulous busy night menu.
Dry meatloaf? Not here. Unlike traditional oven-baked meatloaf, you won't find a dry bite here. The Instant Pot locks in all of the flavor and moisture.
The perfect comfort food. I like this recipe any time, but it's especially timely during the colder months. It will fill and warm you up. Pair it with mashed potatoes for the full effect.
We also love a good instant pot chili recipe to keep on hand for busy weeknights! No need to simmer all day here.
Important Ingredient Notes
Ground Beef – Grab the ground beef labeled 80% lean, 20% fat for the juiciest meatloaf that isn't too greasy.
Quick-Cook Oatmeal – You might find this labeled as Quick Oats at the grocery store.
Cheddar Cheese – Shred it yourself, or buy a package of pre-shredded cheese for convenience.
Milk – Any dairy milk will work in this recipe, so if you want to lighten it up, use fat-free or 2%.
Egg– helps bind the beef together for a tender texture.
Brown Sugar – I recommend light brown sugar for this recipe since the molasses flavor isn't too overpowering. If you use dark brown sugar, expect a more intense flavor.
Yellow Mustard – Plain yellow mustard is all you need to give this recipe a little tang. But you could use spicy brown or dijon if you'd like.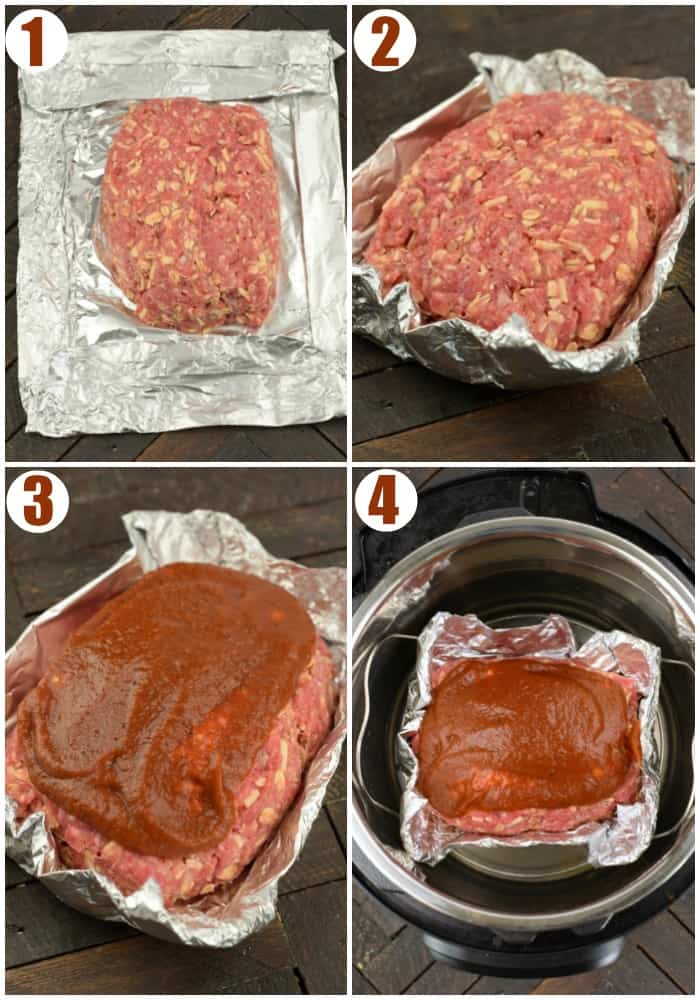 Easy Instructions
Shape the loaf. Add all of the loaf ingredients to a large mixing bowl, and combine them with your hands. Place the mixture atop two sheets of aluminum foil laid in a cross pattern on your counter. Shape it into a loaf and fold the foil up around the edges to create a bowl shape.
Add the glaze. Mix the glaze ingredients in a small bowl and spread it across the meatloaf.
Cook it. Add a cup of water to your Instant Pot, and lower your loaf into the pot using the trivet. Cook on high for 35 minutes. When cooking is complete, slice and serve it hot.v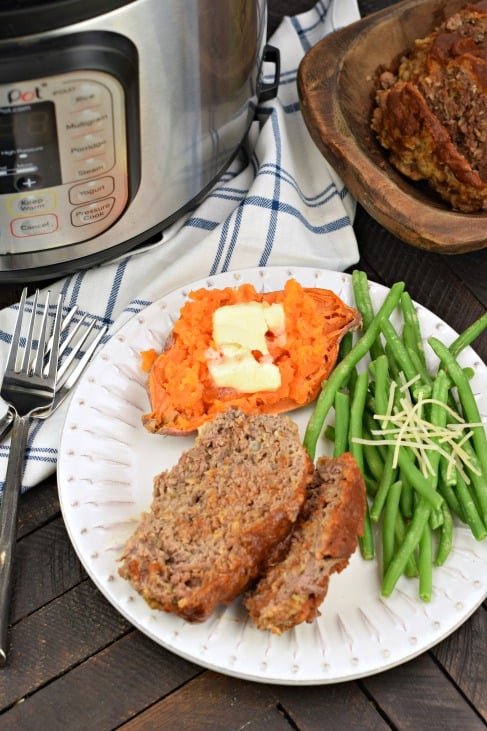 Tips and Tricks
To ensure your meatloaf is fully cooked, insert a digital meat thermometer into the thickest part of the loaf. If the temperature reads 160°F or higher, it's fully cooked.
Instead of spreading all the glaze on the meatloaf before cooking, reserve some for garnish. Then, once the meatloaf has finished cooking, mix the drippings with the glaze you set aside to create a delicious sauce to spoon over each serving.
The cooking time of this recipe doesn't include the time it takes for your Instant Pot to come to pressure or to release at the end. So, make sure you account for extra time when planning your meal.
Not a fan of foil? Parchment paper works great too!
Serving Suggestions
Serve any of these side dishes with this Instant Pot Meatloaf, and there will be full bellies and satisfied smiles all around the table.
Depending on the time of year, these are a few of our favorite side dishes:
Don't forget to complete your meal with dessert. A simple sugar cookie or slice of Instant Pot Cheesecake.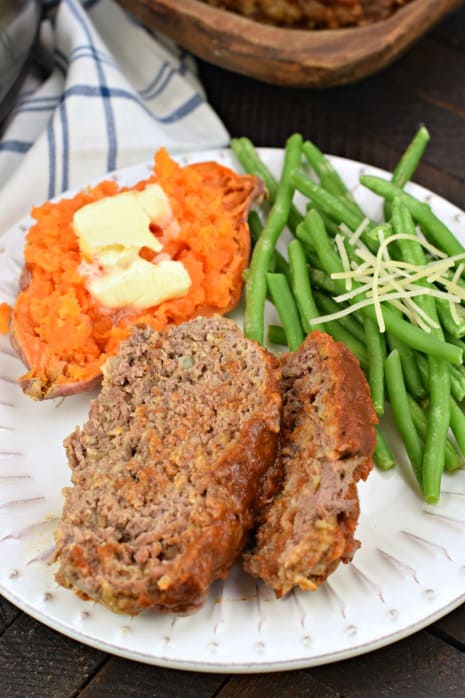 Recipe FAQs
Can I use rolled oats instead of quick-cook?
In this recipe, the oats aren't interchangeable. Quick-cooking oats are rolled oats that have gone through a process that decreases cooking time. For the best texture, stick to the quick-cook ones.
What size Instant Pot should I use?
My Instant Pot is the 6 Quart Duo model. The recipe was tested in this device, so if your pressure cooker is a different size or brand, your settings and cook times may vary slightly.
How can I store leftover meatloaf?
Store leftovers in an airtight container or resealable freezer bag in the fridge for 3-5 days. Or, you can wrap leftover meatloaf in foil and slide that into a resealable freezer bag. In the freezer, it can last up to 4 months.
What's the best way to reheat meatloaf?
If your meatloaf is frozen, you must thaw it in the fridge overnight. Then, you can microwave it, pan-sear it on the stovetop, or bake it in the oven until hot. If you bake it in the oven, tent it with foil so it doesn't dry out. I also like to air-fry it because it heats up quickly and develops delicious crispy edges.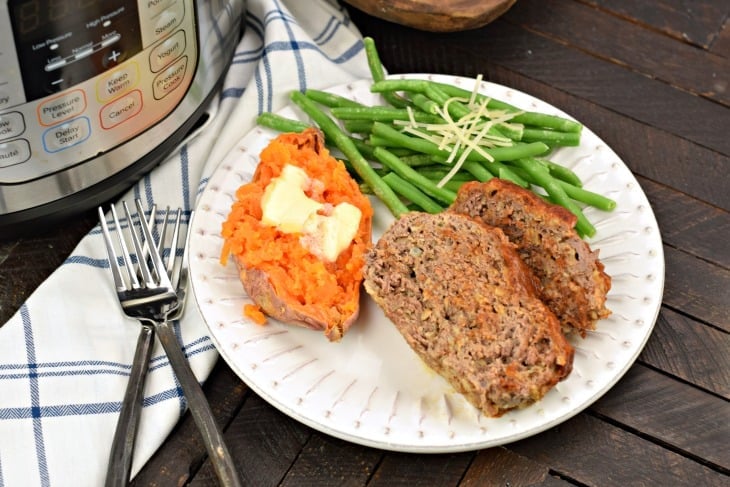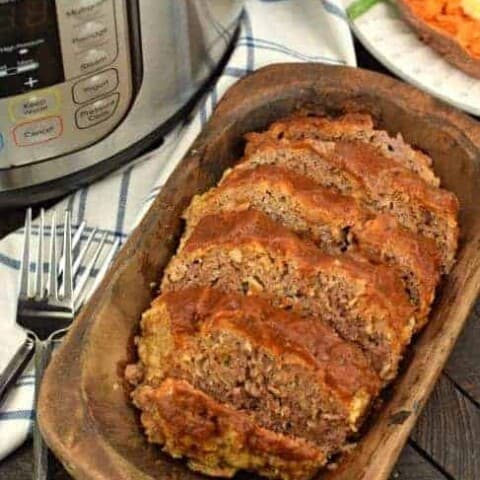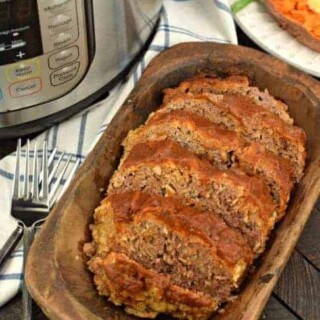 Instant Pot Meatloaf
This down-home and cozy Instant Pot Meatloaf recipe will make your mouth water and stomach rumble. It's melt-in-your-mouth good and topped with an irresistible tangy and sweet glaze. But above all, it's a delicious comfort recipe that you can turn to any night of the week.
Ingredients
1

pound

ground beef

¼

cup

diced onion

½

teaspoon

garlic powder

½

cup

quick cook oatmeal

½

cup

shredded cheddar cheese

¼

cup

milk

1

large egg

½

teaspoon

kosher salt

¼

teaspoon

black pepper

¼

cup

ketchup

¼

cup

light brown sugar

packed

½

teaspoon

yellow mustard
Instructions
In a big bowl, combine ground beef, diced onion, garlic powder, quick cook oatmeal, shredded cheddar cheese, milk, one egg, salt, and pepper.

Use your hands to mix, but DO NOT OVER MIX. The more mixing you do, the tougher the meat will get.

Lay two large sheets of aluminum foil on the counter in a cross pattern. Place the ball of meat in the center where they cross, and shape the meat into a small loaf.

Fold the foil up so that it creates a "bowl" around the meatloaf, this is where the drippings from the meat will collect.

In a small bowl, combine ketchup, brown sugar, and mustard with a whisk. Spread over the top of the meatloaf.

Place the foil lined meatloaf on an Instant Pot trivet (I use the one that came with my pressure cooker). Add one cup of water to the Instant pot, then lower the trivet into the pot.

Secure the lid and make sure the vent is set to "SEALING".

Pressure Cook on high pressure for 35 minutes.

When cook time ends, allow to naturally release pressure for ten minutes. Do a quick release of the pressure.

Remove meatloaf from the foil (be careful the drippings will be hot). Slice on a platter and serve. You can whip up a little extra of the sauce if you want to add more color (it's not a pretty sight, haha).
Notes
Not sure if your meatloaf is cooked completely? Use a digital meat thermometer and meatloaf is done when the reading is 160 degrees F or above.
Save extra glaze to spoon over the top after cooking.
Meatloaf can be stored in the refrigerator for 3-5 days after cooking.
Today's recipe was tested in my Instant Pot 6qt duo. Settings may vary with different brands and styles. Prep time does not include the time it takes for Instant Pot to come to pressure or naturally release, please keep this in mind when planning your meal.
Wrap meatloaf in foil and slide into a freezer safe ziploc bag after cooking. Thaw in refrigerator overnight and heat slices individually in microwave. I love cold meatloaf sandwiches. Leftovers don't last long in our house.
Nutrition
Calories:
478
kcal
,
Carbohydrates:
22
g
,
Protein:
37
g
,
Fat:
26
g
,
Saturated Fat:
11
g
,
Polyunsaturated Fat:
12
g
,
Trans Fat:
1
g
,
Cholesterol:
163
mg
,
Sodium:
526
mg
,
Fiber:
1
g
,
Sugar:
16
g
Tender and Moist, this easy Instant Pot Meatloaf is the perfect weeknight recipe. Topped with a tangy and sweet glaze, your family will love this delicious meatloaf recipe.