This Indian Instant Pot Butter Chicken Recipe is restaurant quality, but made in under 30 minutes at home. So easy, and so good, the sauce is bursting with flavor!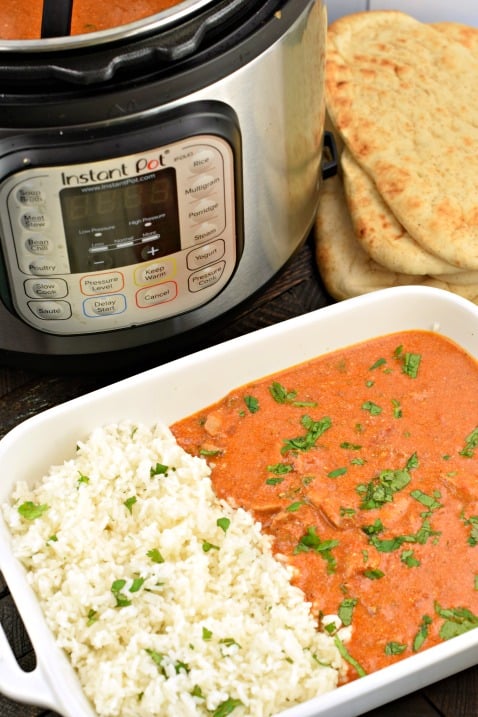 Weeknight dinners don't have to be stressful thanks to the Instant Pot.
If you haven't jumped on the bandwagon, what are you waiting for? I've been creating several new recipes each week, to keep your menu fresh!
From Chicken Alfredo to and Instant Pot Cheesecake Recipe!
Today's recipe for Instant Pot Butter Chicken has been on my mind for at least a year. This sweet and spicy Indian dish is so good, served over rice and mopped up with soft, warm Naan bread.
How to make Instant Pot Butter Chicken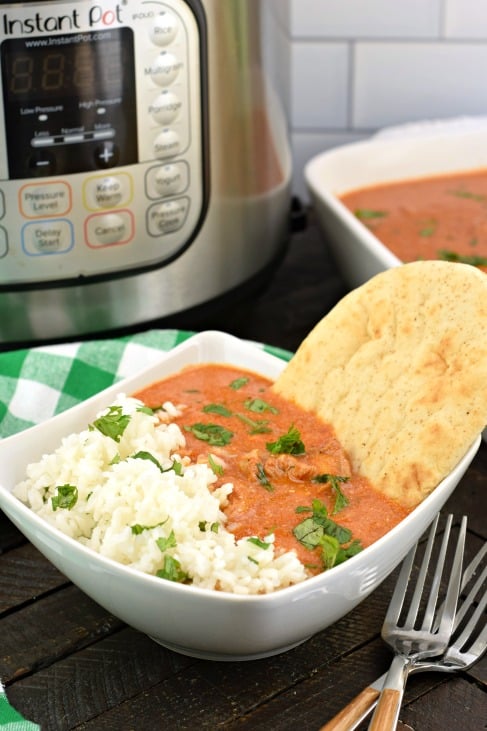 STEP 1. Chicken.
Your first step is to choose the chicken. I love using boneless, skinless thighs. They have rich flavor and stay tender, not dry, when cooked in the Instant Pot. You can substitute boneless breasts if you prefer, but if you haven't used the thighs, try it!
Turn the pressure cooker on "SAUTE" and add butter until melted. Lightly brown each side of the chicken for about 2 minutes per side. Remove to a cutting board and cut into bite size pieces.
STEP 2. Add sauce.
While still on "SAUTE" add 1 1/2 cups of water to the pressure cooker. Use a wooden spoon to scrape up the bits on the bottom of the pan. By not doing this step, you could result in a burn notice.
Hit "cancel" then add the remaining sauce ingredients
Crushed tomatoes
Fresh ginger
Paprika
Cumin
Garam Masala
Kosher Salt
Jalapeno, seed and diced (TINY)
Stir to combine. Add chicken to Instant Pot.
STEP 3. Pressure Cook.
Turn Instant Pot to "High Pressure" for 6 minutes.
When cook time ends, allow to natural release for 5 minutes, then do a quick release until the valve drops.
STEP 4. Thicken the Sauce.
In a small bowl, whisk together 2 Tbsp of cornstarch with about 2 Tbsp of the hot sauce from the pressure cooker. Pour into the Instant Pot and turn on "SAUTE."
Cook for several minutes, while stirring constantly, until sauce thickens.
Turn off Instant Pot.
STEP 5. Finish the dish.
Add cream, yogurt, and cilantro to the mixture and stir until combined.
Serve over rice with Naan bread. ENJOY.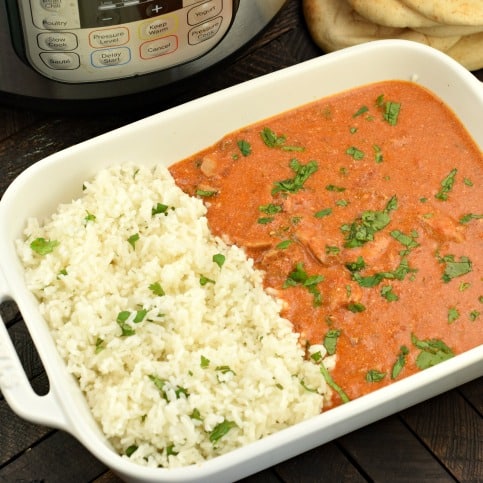 Tips for making Butter Chicken
Dice one jalapeno very tiny for a small amount of spice. The cream and yogurt offset the heat in this dish. If you like it spicier, add more jalapeno.
Make this vegetarian by omitting the chicken and stirring in chickpeas in Step 5.
Leftovers taste amazing, so make extra rice for tomorrow's lunch!
NOTE: The cook and prep time do not account for the time it takes for the pressure cooker to come to pressure. This took approximately 10 minutes for today's recipe.
I used my Instant Pot 6qt Duo to create this recipe, using a different size may affect the results and cook time.
What is Garam Masala
I have a confession. I had no idea what this spice was until I bought it.
PS…most grocery stores it can be found in the spice aisle right next to the garlic!
Garam Masala is a blend of nearly 32 spices, including Cumin, Coriander, Green and Black Cardamom, Cinnamon, Nutmeg, Cloves, Bay leaves, Peppercorns, Fennel, Mace and dried Chilies.
However, for a quick substitute in today's recipe, you can use 3 tsp cumin and 1 tsp allspice.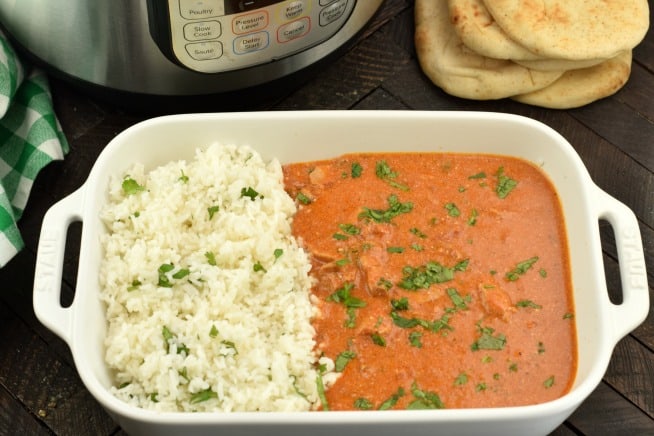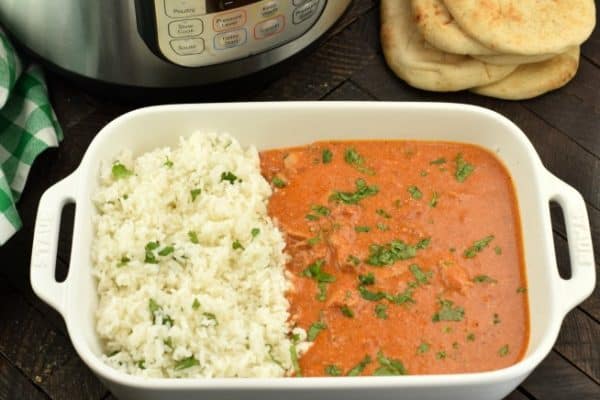 What to serve with Butter Chicken Recipe
To keep this authentic tasting, we love whipping up a quick batch of our favorite Cilantro-Lime rice recipe.
Serve with warm Naan Bread (and even some homemade hummus) to complete the meal.
Connect with Shugary Sweets!
Be sure to follow me on my social media, so you never miss a post!
Facebook | Twitter | Pinterest | instagram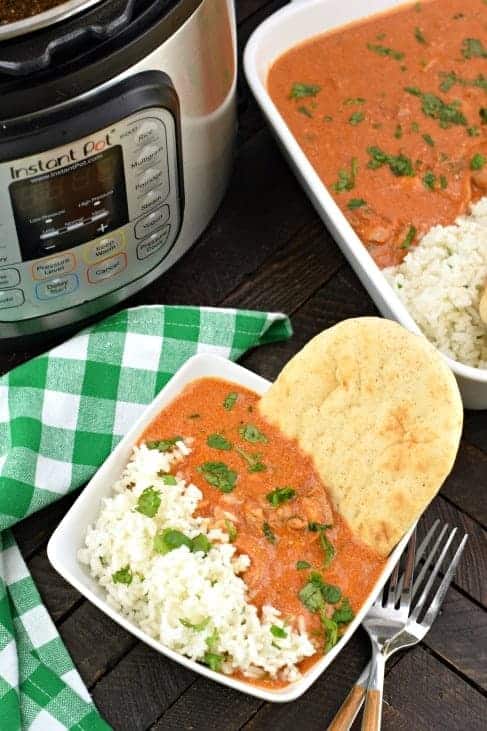 This Indian Instant Pot Butter Chicken Recipe is restaurant quality, but made in under 30 minutes at home. So easy, and so good, the sauce is bursting with flavor!