Crack Chicken Pasta takes weeknight comfort food to a new level. Made in the Instant Pot, this creamy chicken pasta packed with cheese, spinach, and bacon is cooked in 30 minutes!
Love pasta in the pressure cooker? This cheesy Pizza Pasta recipe is ready in 30 minutes, so perfect!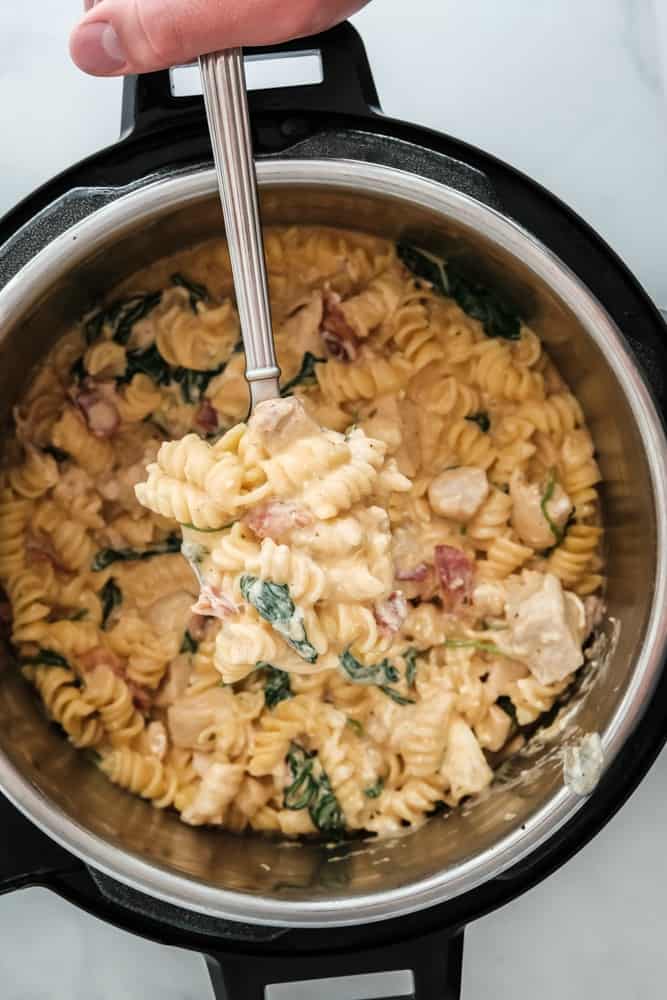 I'm back with another Instant Pot dinner! This time, we're talking all about how to make Crack Chicken Pasta.
You'll never believe how such a simple combination of ingredients can come out tasting this good.
What is Crack Chicken Pasta?
You may remember my Crack Chicken recipe from last year. I took the basics of that recipe, added more cheese, and pasta for a complete meal!
In the Midwest, you'll be hard pressed to find any potluck or meal train without at least one "chicken pasta" dish. Whether it's Baked Ziti or Chicken Tetrazzini, casseroles with chicken and pasta are always a hit.
Everyone has their own spin on crack chicken, but it always involves lots of cream, lots of cheese and lots of bacon. It's a simple concept that turns into a dish that no one can turn down.
Ranch dressing mix adds instant zesty flavor and few handfuls of fresh baby spinach brings the touch of green freshness to balance the heaviness of the cream cheese.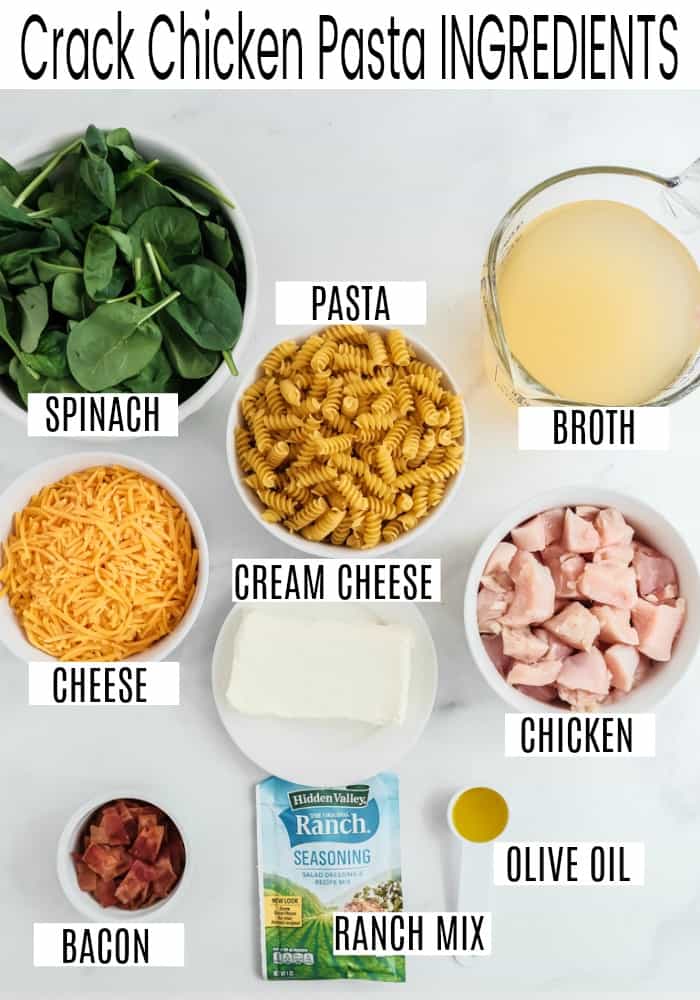 Why make dinner in the Instant Pot?
Instead of making this in the oven, I reached for my trusty Instant Pot. Why?
Because with just a few minutes of of cooking time, I had a hot and totally homemade dinner ready to serve. Chicken Stroganoff and Pot Roast have excellent results in the pressure cooker!
The chicken marinates in the cheesy ranch-flavored sauce and the noodles cooked to perfection. No bland mushy noodles like you sometimes get in one pan pastas.
With all the components of a balanced meal cooked in, you'll love the convenience of this pasta dinner. If you're in a real rush, you can even use ready made chicken!
Plus, it's only ONE POT to clean! Now THAT'S a win.
Step by Step Instructions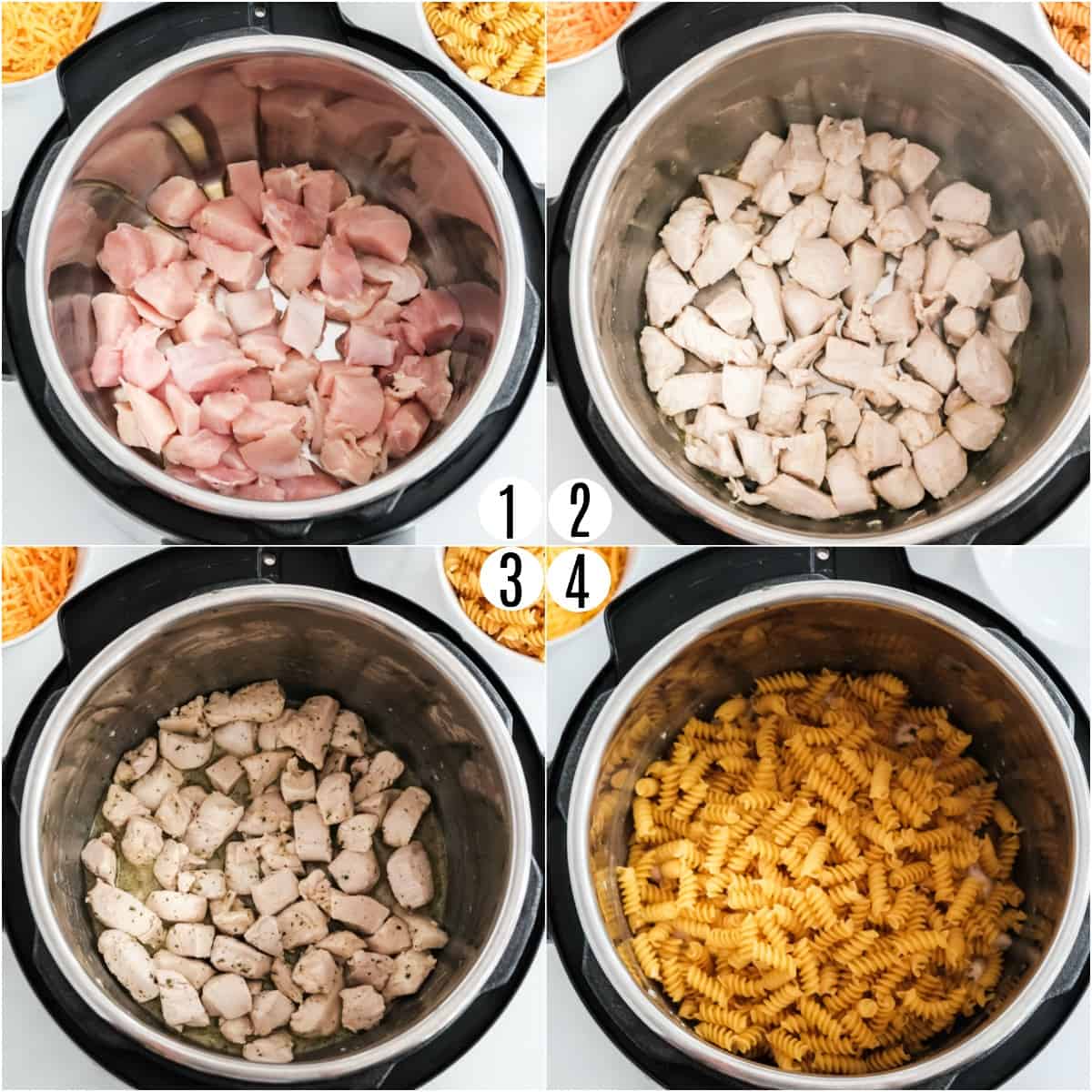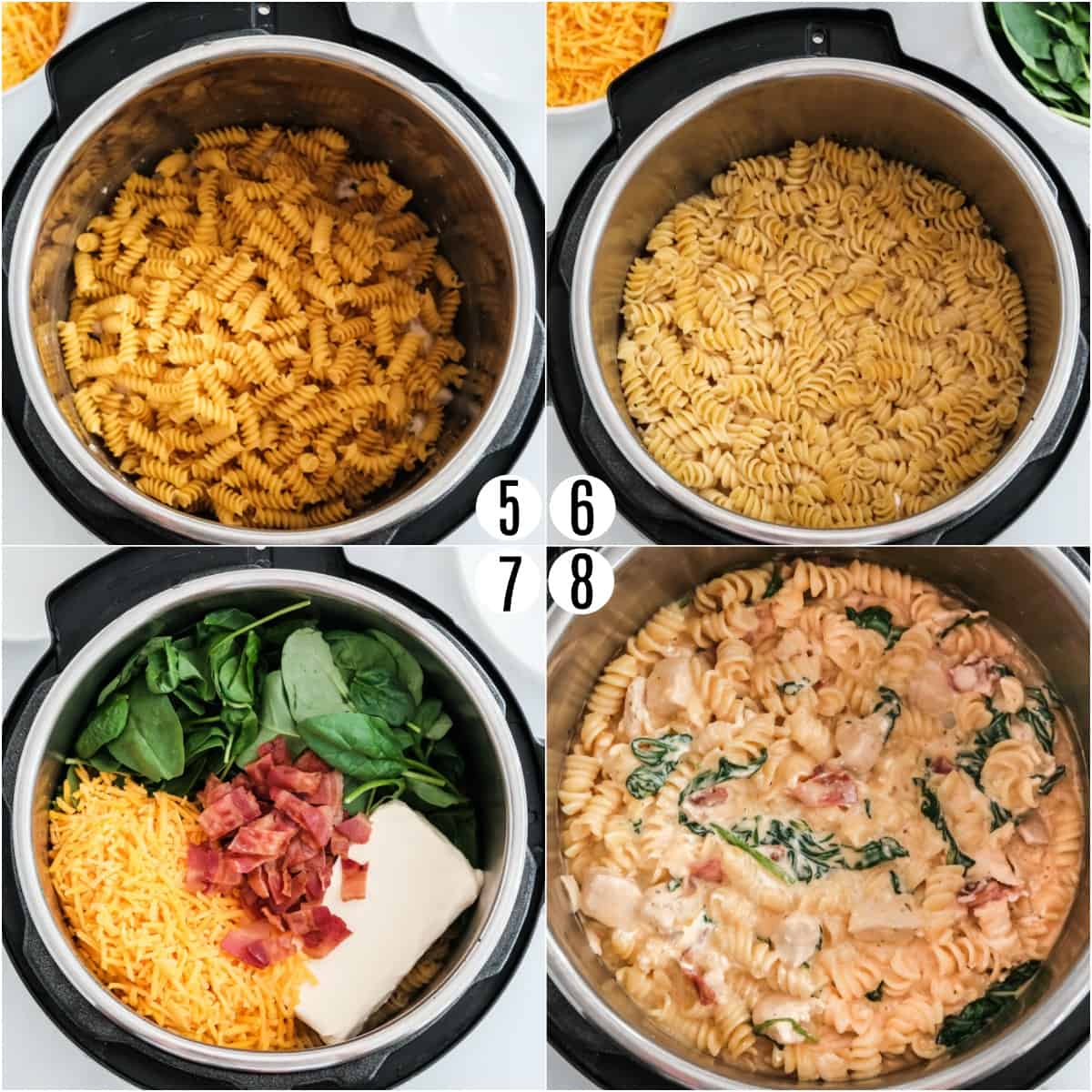 STEP 1. Cook the chicken
Saute diced raw chicken in the instant pot with olive oil for about 5 minutes or until it turns white (no pink remaining).
Skip this step if you're using cooked chicken.
STEP 2. Pressure cook
Add a ranch dressing packet to the pot and stir with chicken. Add uncooked pasta on top of chicken and pour chicken broth over everything. Do not stir!
Place the lid on the Instant Pot and cook on high pressure for a total time of 4 minutes.
STEP 3. Add cheese
After quickly releasing the pressure, stir cream cheese into the pot along with shredded cheese, bacon and spinach and stir until cheese is melted.
Ladle into bowls or onto plates and serve immediately.
Substitutions
Rotisserie chicken – A favorite hack for quick chicken dinners, rotisserie chicken from the grocery store tastes great in this recipe (or you can make my roasted chicken for this dinner too)! Skip the saute step and just add it right to the pot with the pasta, broth and ranch dressing packet. Leftover turkey would be tasty in this meal too.
Noodles – Instead of rotini noodles, use penne or bowtie pasta. Any smaller sized pasta noodle works well. Try rainbow rotini noodles for even more color.
Kale – Swap out the spinach for kale, swiss chard or another leafy green.
Cooked bacon – If you have the time, you can cook the bacon on the stove top or in the oven yourself fresh for this recipe. I'll often make bacon for breakfast in the morning and keep leftovers to throw into crack chicken pasta for dinner. You can also purchase precooked bacon to use in a pinch!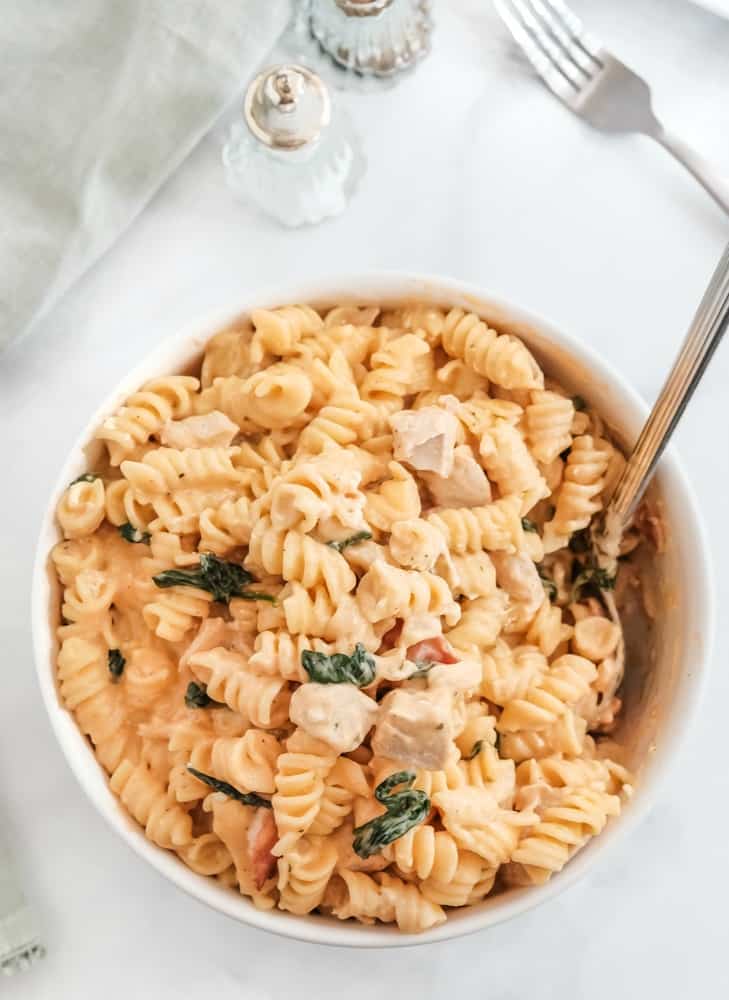 Recipe FAQs
How long are leftovers good for?
Store leftovers in an airtight container in the refrigerator and enjoy within 3 days. The noodles may get soft with time, as they marinate in the sauce.
Can you freeze Crack Chicken Pasta?
Yes! After cooling, store in freezer safe container for up to 30 days. The pasta may be slightly soft when reheating.
Can I make this without pasta?
Definitely. Skip the pasta and only add 1 cup of the broth. Cook as directed and enjoy on buns or scooped up with tortilla chips.
When you forgot to make any plans for dinner and everyone's hungry, it's Crack Chicken Pasta to the rescue! In less than 15 minutes, you'll have a completely homemade meal ready to enjoy!