When you can't decide between pizza and pasta, make both!This Instant Pot Pizza Pasta brings all your favorite pizza toppings together in an easy one-pot pasta dinner.
Love easy pasta dinners? Try our favorite Crack chicken pasta, made in the pressure cooker! Or give this reader favorite Chicken Tetrazzini recipe a try. Perfect for a crowd!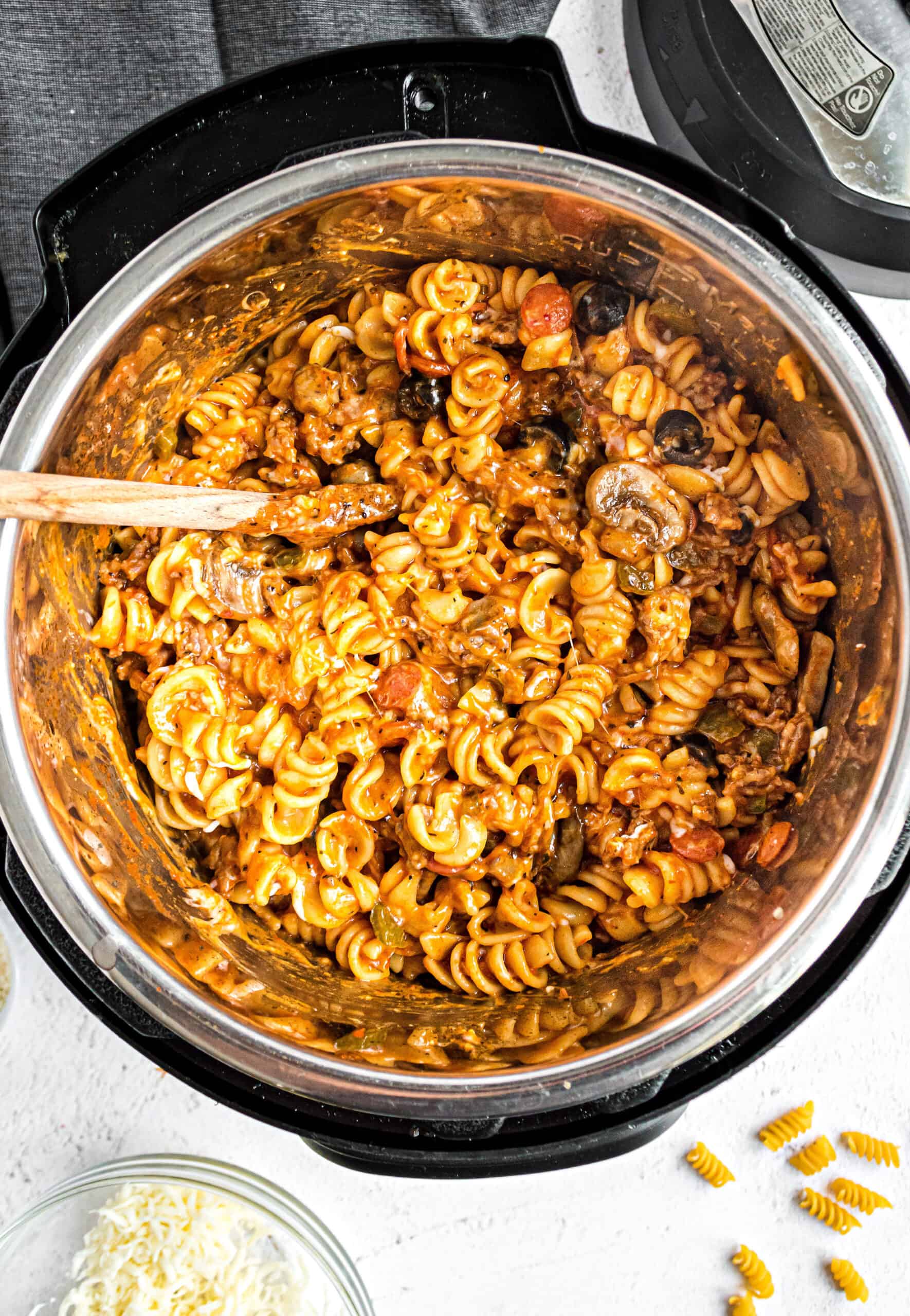 Pizza Pasta Recipe
Putting pizza ingredients in pasta is almost a no-brainer. Kids love this cheesy combination of sausage, pepperoni and pizza sauce AND it's so easy to make in the Instant Pot.
I've made this dozens of times and love experimenting with different combinations of toppings. The version I'm sharing here today makes a perfect pasta that tastes just like biting into a hot slice of pizza.
Instead of ordering a pizza tonight, fire up your Instant Pot and give this delicious Pizza Pasta recipe a try.
It'll be ready in less time than it takes to wait for delivery!
Ingredient Notes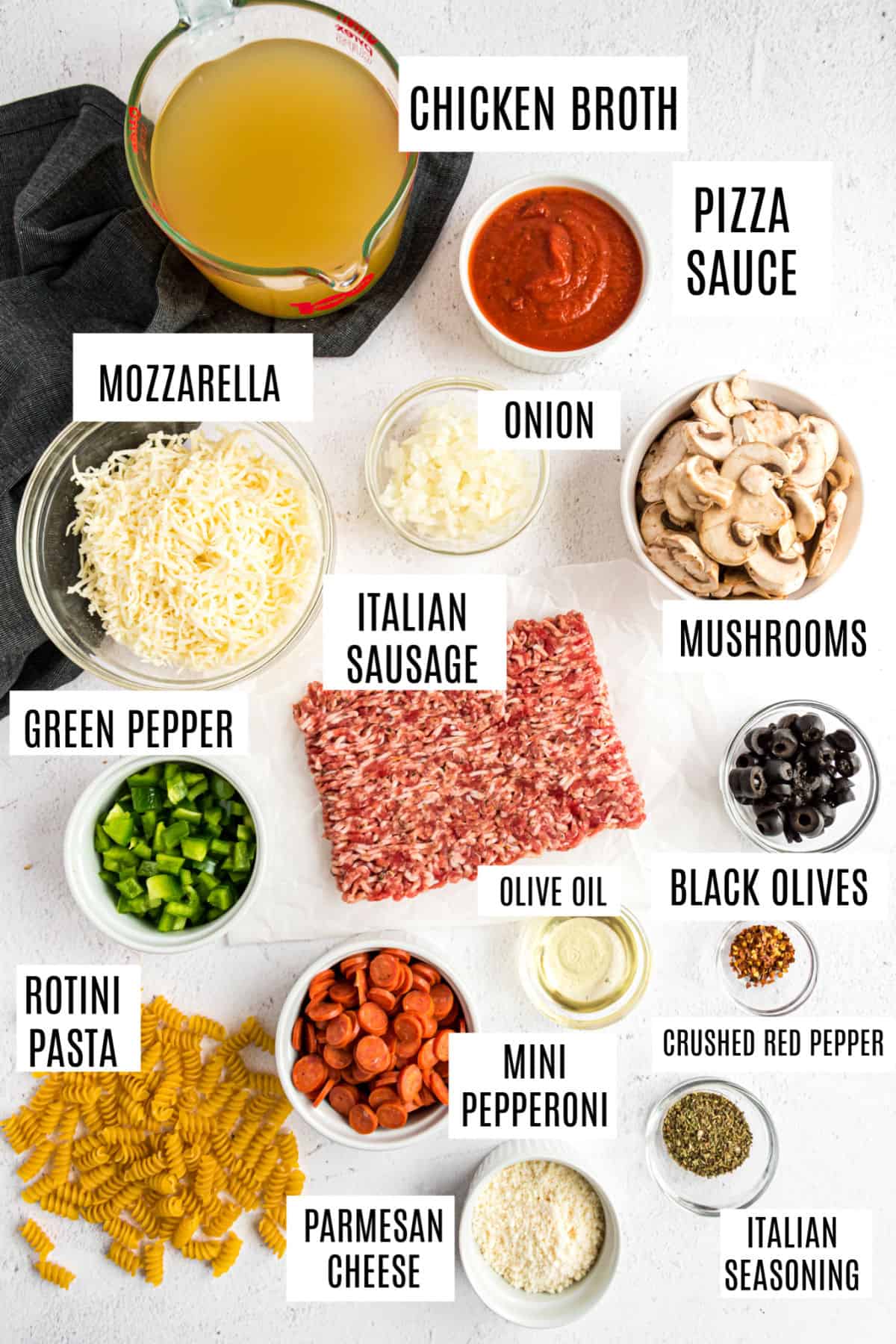 Italian sausage – I used mild sausage however hot or medium sausage can be substituted if you want the pasta spicier.
Rotini pasta – Penne and bow tie pasta work great in this recipe too.
Pepperoni – Use mini pepperoni for best results.
Mozzarella and Parmesan – Buy in blocks and shred them yourself at home. Store bought pre-grated cheese doesn't melt as smoothly as freshly shredded.
I also use green peppers, mushrooms and onions in this recipe because I love them on pizza! You can swap them out for other favorite pizza toppings, if you prefer.
Step by Step Instructions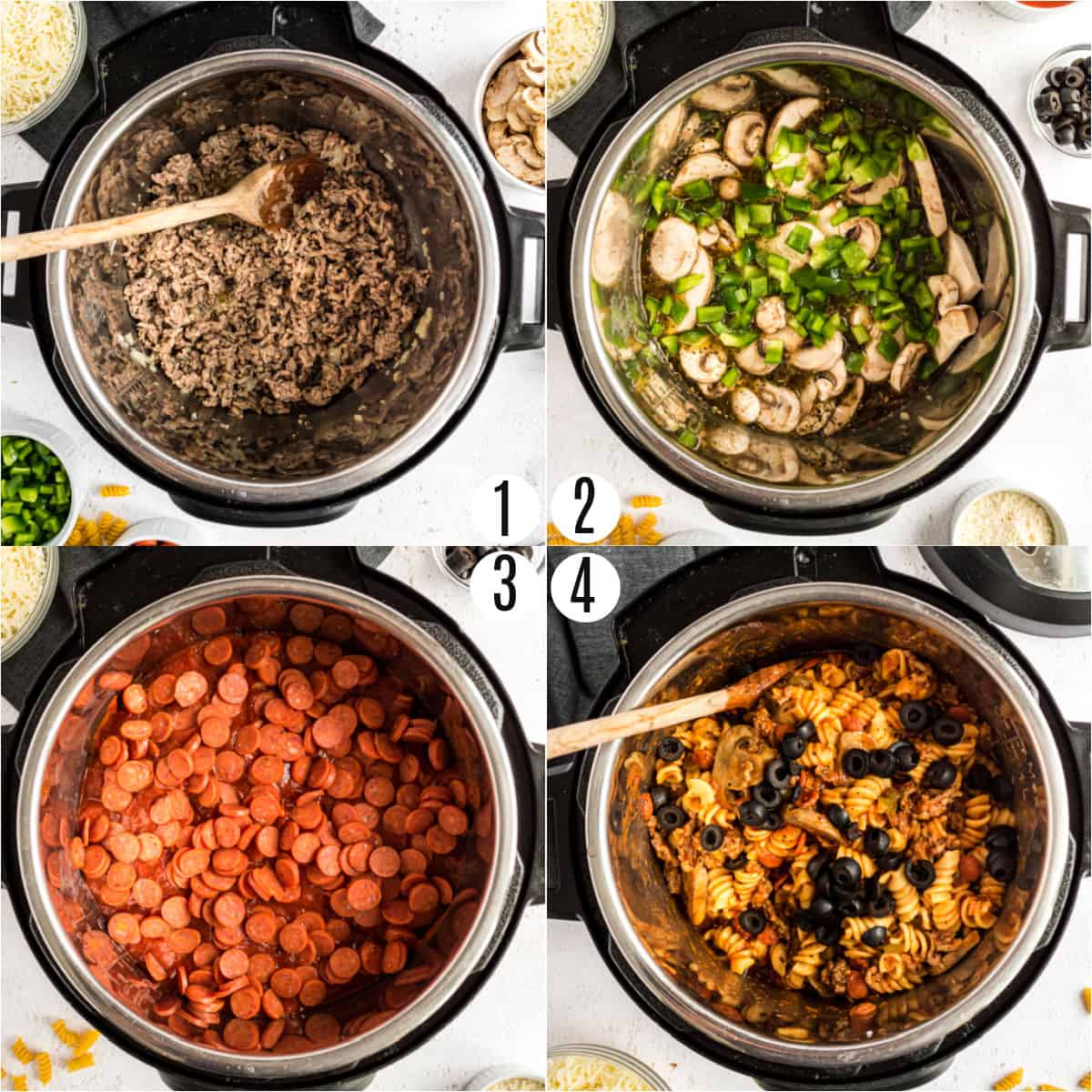 STEP 1. Brown the sausage
Set your Instant Pot to SAUTE. Cook the sausage in olive oil with diced onions until brown and crumbled. Turn off the Instant Pot.
STEP 2. Deglaze
Add the broth to the pot and use a wooden spoon to scrape off any bits of meat or onion on the sides and bottom of the pot.
STEP 3. Add pasta and vegetables
Add the seasonings and stir to combine. Now, add the mushrooms and green peppers and pasta. DO NOT stir!
Pour the pizza sauce over the uncooked pasta and spread so the sauce covers all the noodles. Be careful NOT to stir it!
Top with the mini pepperoni.
STEP 4. Pressure Cook
Cover the pot with your lid, set the valve to sealing and select HIGH PRESSURE for a cook time of 4 minutes. When the cook time ends, quickly release the remaining pressure by turning the valve to "venting."
STEP 5. Add cheese
Take off the lid (away from your face–it'll be HOT!) and stir in the cheese and black olives. Make sure all the ingredients are well combined. Serve hot and enjoy!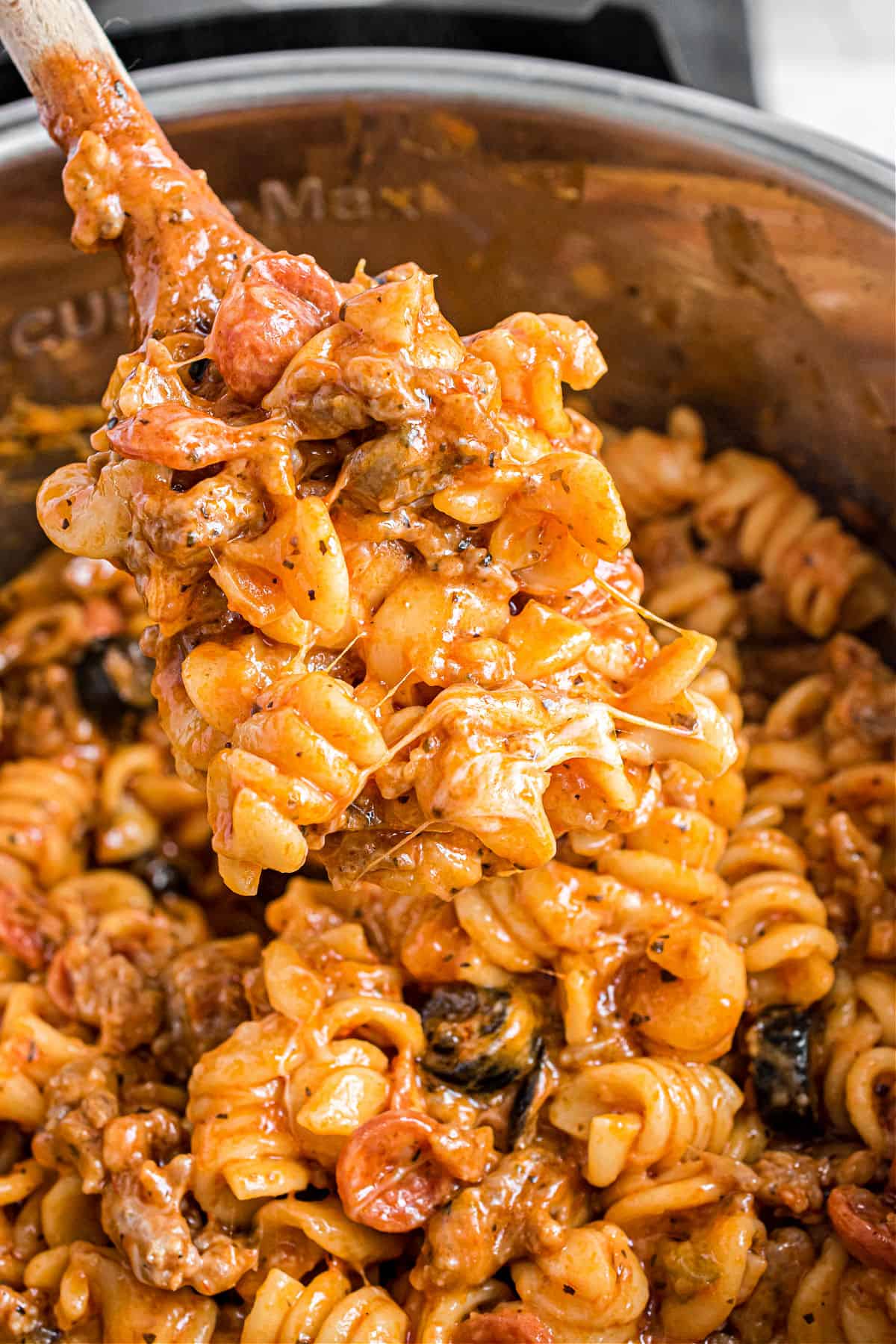 Serving Suggestions
Pizza Pasta makes a complete meal all on its own. It's also amazing with a light side dish like this Easy Italian Salad or some Soft Garlic Breadsticks.
I like to serve the pasta with some extra red pepper flakes and grated parmesan on the table so everyone can add more to their liking.
Looking for a low carb pizza dinner? Try this delicious Crustless pizza casserole recipe!
Find more of our favorite Instant Pot Recipes for your next weeknight dinner!
Recipe FAQs
Does this recipe work with different pasta shapes?
Yes, this recipe will work just as well with bow tie, penne or medium shell pasta. Anything that's similar in size to the rotini is delicious here.
What size Instant Pot do I need for this recipe?
I tested the pizza pasta recipe in a 6 quart instant pot.
Can I make this with gluten free pasta?
Yes, this recipe will work with gluten free pasta, too.
How long does it take to make this recipe?
You can make this recipe in under 20 minutes. The longest part is waiting for the pot to come to pressure. The Instant Pot will be very full, so it takes a little longer than other dishes.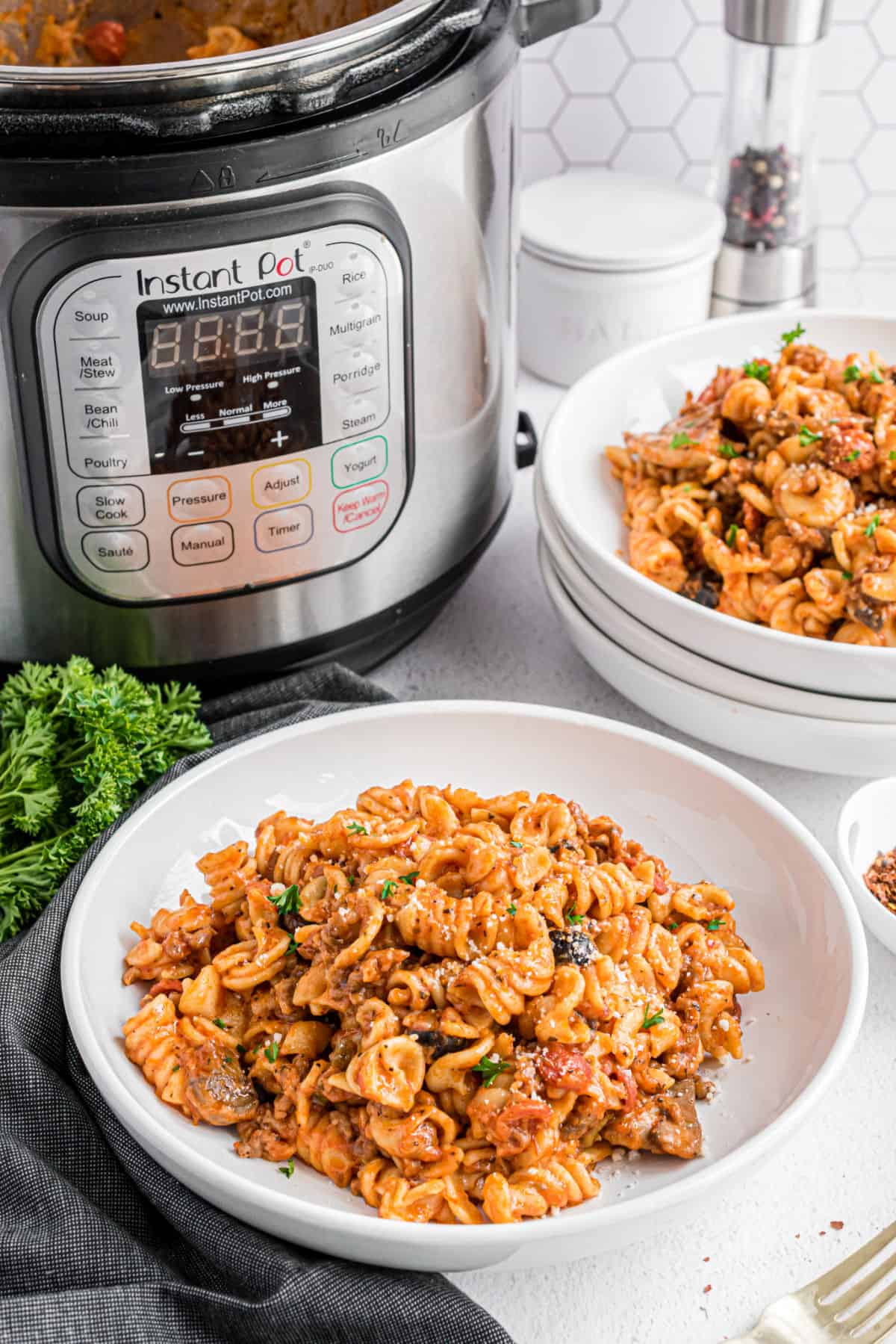 All the flavorful sausage, cheesy goodness and spicy pepperoni make Pizza Pasta made in the Instant Pot a kid-friendly dinnertime hit!