Pizza Stuffed Pasta Shells are dinner made easy! All the great pizza flavors you love made into a freezer friendly pasta dish. Shells stuffed with sausage and pepperoni are covered with cheese and baked to perfection.
Stuffed shells are always a good idea. After you try this recipe, you'll want to give these Stuffed Taco Shells a taste too.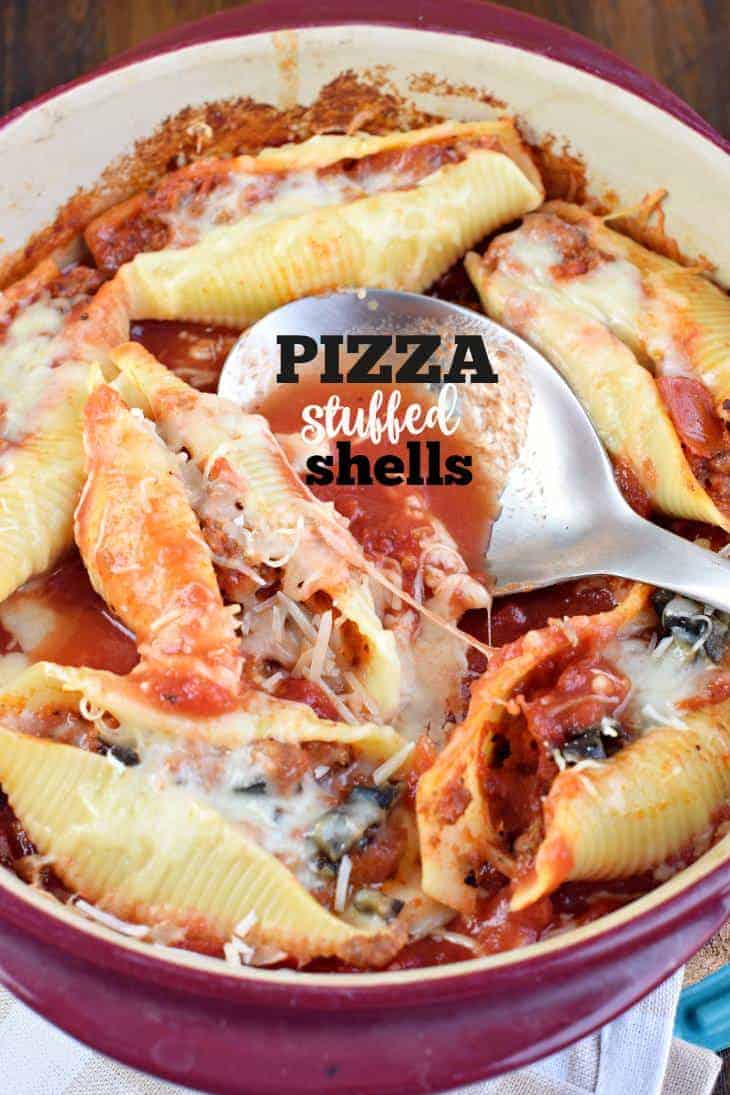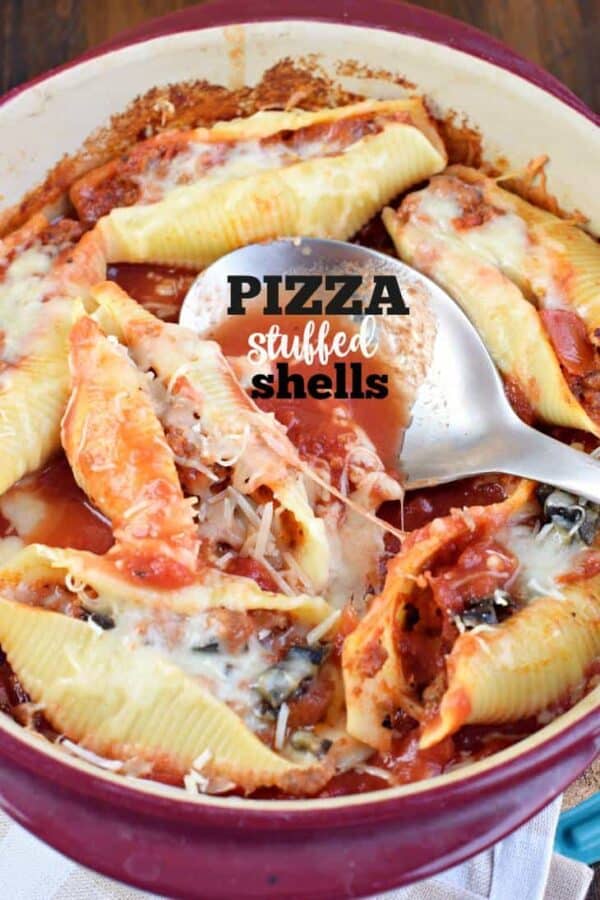 Why this Recipe Works
Stuffed shells are a life saver! You can fill shells with any meat and flavors you like, bake them right away OR freeze for later.
Here's why I'm obsessed with this Pizza Stuffed Shells recipe:
Freezer friendly. You can pull these straight from the freezer and bake right away. No thawing required.
Easy to make. Add some pizza sauce, sprinkle on a little mozzarella (or a lot!) and bake. Done!
Kid approved. Even the pickiest eaters happily chow down on pizza pasta shells!
Totally delicious. Using Italian sausage, peppers and olives, these stuffed shells are full of flavor!
Ingredient Notes
Pasta shells. Look for the JUMBO shells for this recipe.
Italian sausage. Use mild, medium or hot depending on your taste preference.
Pizza sauce. You can't beat the convenience of jarred sauce! Feel free to homemade pizza sauce if you prefer.
Make Ahead Freezer Meal
This recipe is easy enough to make fresh and bake right away. But I like to use it as a make ahead freezer meal best.
You'll cook the pasta shells, then stuff with a mixture of browned sausage, onions, peppers and pepperoni.
Place the stuffed pizza pasta shells on a baking sheet and freeze until solid. Then, transfer to a freezer safe bag for storing.
To bake frozen stuffed shells: Cover the bottom of a baking dish with pizza sauce. Add frozen shells and cover with cheese. Bake until heated through and cheese is melty.
Toss the shells in the oven right when you get home and you'll have dinner on the table in an effortless 45 minutes!
Tips and Tricks
Make lots of shells at once. Have a shell stuffing party and prep pizza pasta shells, Sausage Stuffed Pasta Shells and Stuffed Taco Shells all at once. Then, you'll have a freezer full of meals ready to heat up at a moment's notice.
Separate shells right away after boiling. Once the pasta shells are cooked and drained, they should be separated immediately. Otherwise they'll stick together and become more difficult to stuff.
Cheese options. Feel free to swap the mozzarella for parmesan or your other favorite pizza cheese.
Side dishes. Serve stuffed pasta shells with Easy Italian Salad on the side for a well rounded meal.
Recipe FAQs
How long do frozen stuffed shells keep?
Stuffed pizza pasta shells will keep well frozen for up to 3 months.
How do I store leftover stuffed shells after baking?
Keep leftovers in an airtight container in the refrigerator. Reheat and enjoy within 3 to 4 days.
Do you need to thaw frozen stuffed shells before baking?
You do not need to thaw these shells. I bake them from frozen, adding about 5 minutes more time in the oven.
How can I tell when the shells are done baking?
Stuffed shells are ready to eat when the pizza sauce is bubbling and the cheese is fully melted.
Can I freeze stuffed shells after baking?
Yes, you can freeze leftover shells after baking. When ready to eat, warm the shells in the oven until heated through.
Instead of ordering delivery tonight, make Pizza Pasta Shells! Cheesy, saucy and filled with Italian sausage, this is a pizza lover's pasta heaven.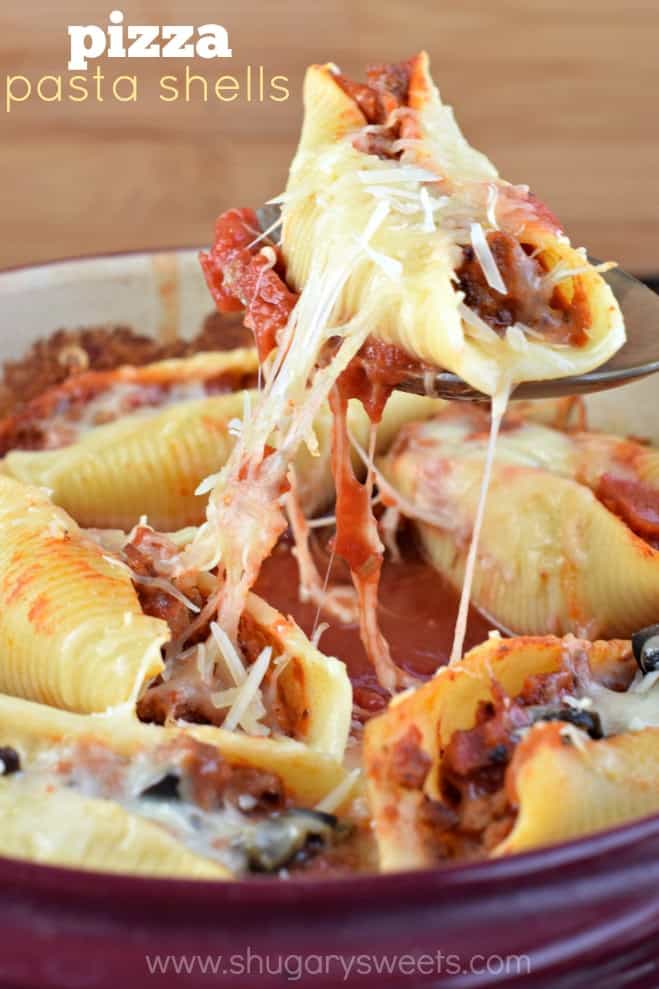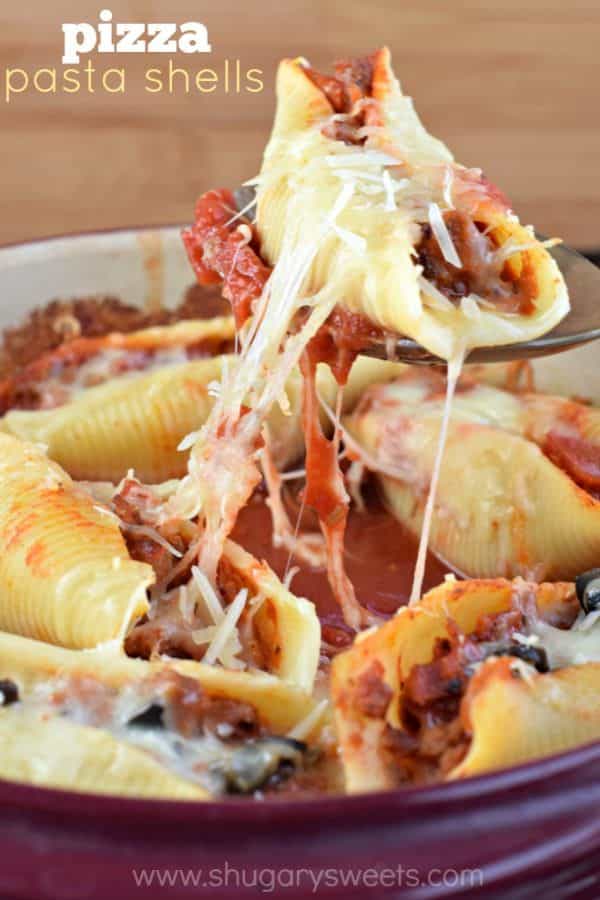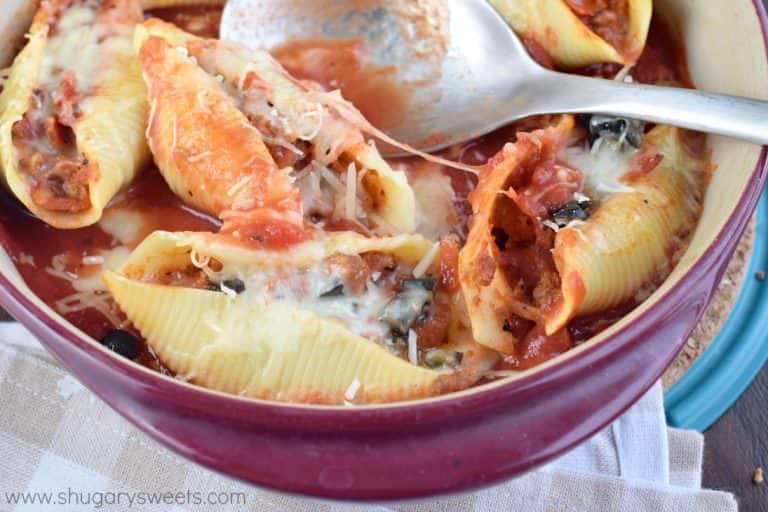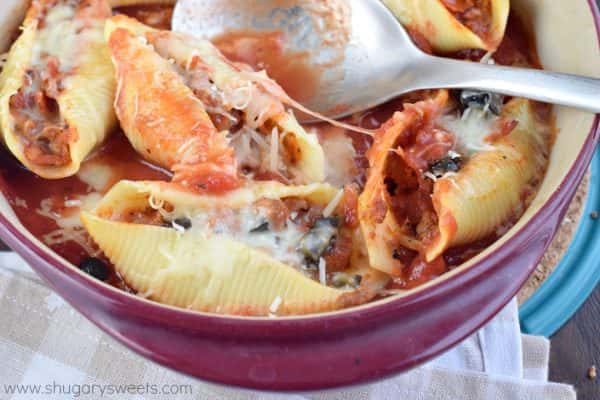 Layered Chicken Taco Salad: this is great with leftover cooked chicken, or make it easy with a rotisserie chicken!
Chicken Kisses: we love these easy kisses all year long! Stuffed with a creamy chicken filling and topped with a chicken gravy, ENJOY.
Greek Chicken Skewers with an avocado tzatziki. Enough said!