Copycat Olive Garden Breadsticks taste just like the ones you can't stop eating at the restaurant! Make these soft garlic bread sticks as a side dish for your next Italian dinner.
Whether you choose homemade Garlic Bread or something easy like Puff Pastry Breadsticks, serving up a basket with your pasta is always a good idea!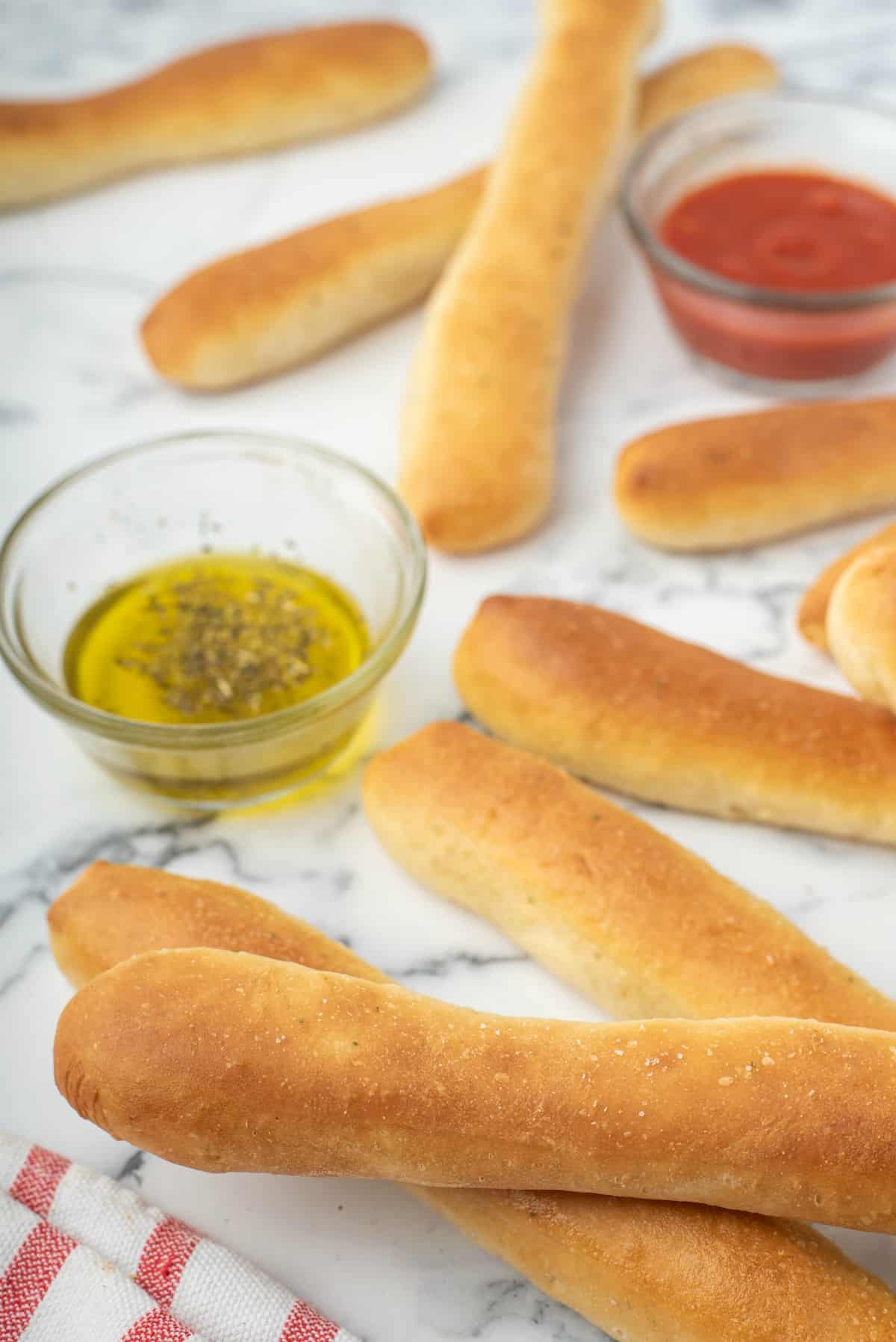 Olive Garden Breadsticks
Is it possible to go to an Olive Garden and actually save room for your meal?
Let me be honest for a moment: The only reason I like going to Olive Garden is for their breadsticks and big salad.
The entrees are fine but I can never resist that basket of unlimited breadsticks. By the time my food arrives I'm too stuffed to eat my lasagna and wind up taking it home in a box.
While you CAN go to Olive Garden and just order unlimited salad and bread sticks, you could also save yourself the time and the dough (if you forgive the pun) by making your own at home.
This Copycat Olive Garden recipe makes bread that's perfect to dip in a marinara sauce, or eat alone.
As an appetizer, snack or side dish for any meal, it received rave reviews.
And in case you're wondering? I have the same problem with these homemade bread sticks as I do with the ones at Olive Garden.
Only because I'm not spending the money to go out to eat, I don't feel the least bit guilty if I just wind up eating a plate of bread sticks for dinner!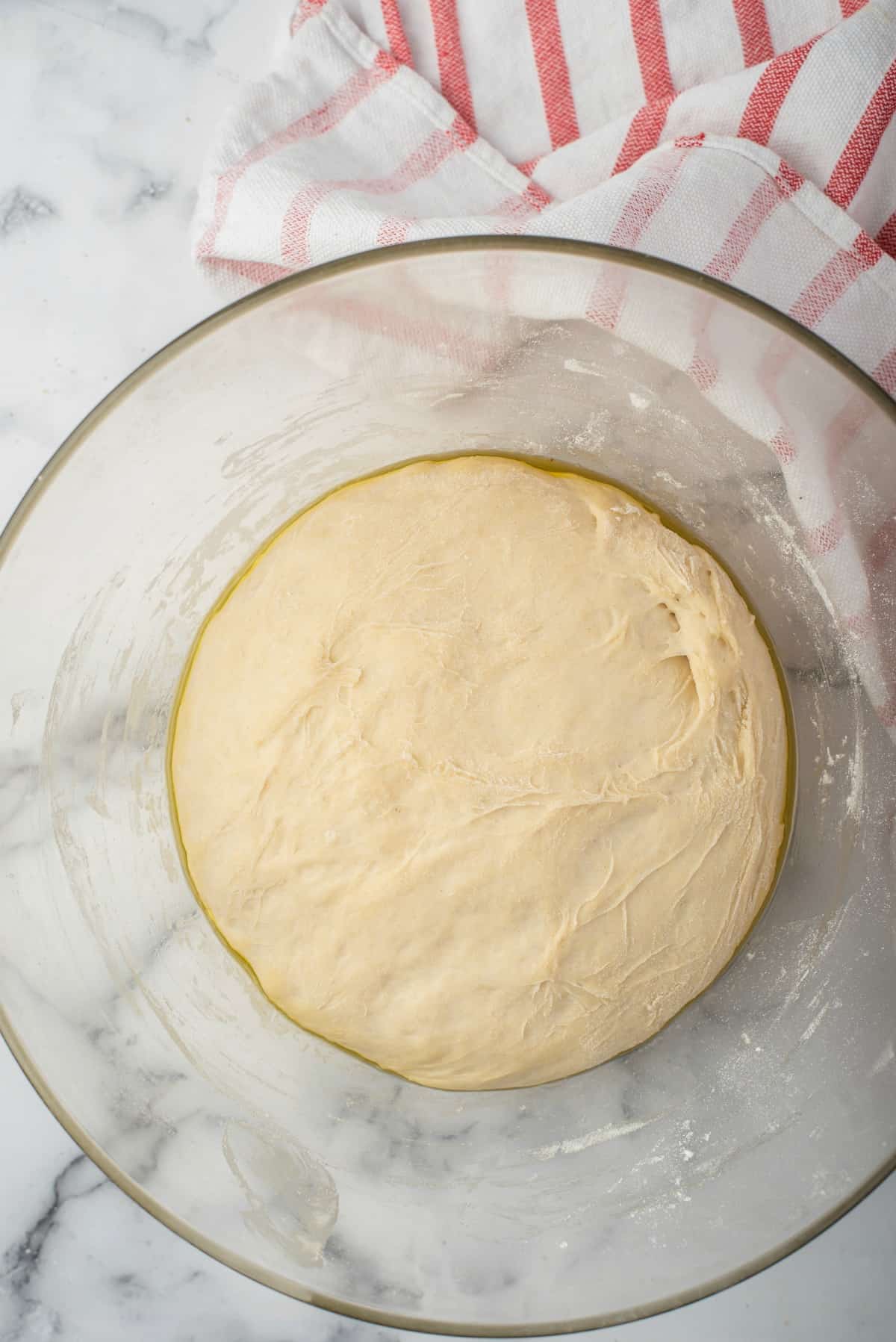 Yeast Dough
What makes Olive Garden bread sticks so good is the soft texture and perfect amount of garlic seasoning.
To make soft garlic breadsticks, you knead a yeast dough together until soft and stretchy. Letting the dough rest–once before shaping into sticks and once after–makes the finished bread sticks soft and puffy.
I also make sure not to bake them for too long to ensure they stay soft. The tops get lightly golden brown then brushed with melted butter and garlic salt.
How to make Breadsticks
Proof the yeast:
Stir active dry yeast in warm water with a bit of sugar and let stand until it's foamy.
( If your yeast doesn't get foamy after 5 – 10 minutes, that means it's dead and won't work in any bread recipe. Toss it out and get some new yeast!)
Mix the dough:
Combine the yeast mixture with flour, salt and olive oil in a stand mixer and mix until a dough forms. Knead the dough for 7 to 10 minutes until smooth and elastic.
Depending on the humidity levels and altitude of your kitchen, you may not need the full amount of flour listed in the recipe. I add it a little bit at a time until I get the dough to the right consistency.
You can knead by hand on a clean surface or in the stand mixer fitted with the dough hook. If you choose to knead by hand, it may take a few minutes longer to get the right elasticity.
PRO TIP: You know the dough is ready when you can pinch a section with your fingers and stretch it a few inches without the dough breaking!
Next, cover the dough and let it rise in a warm place for about 45 minutes.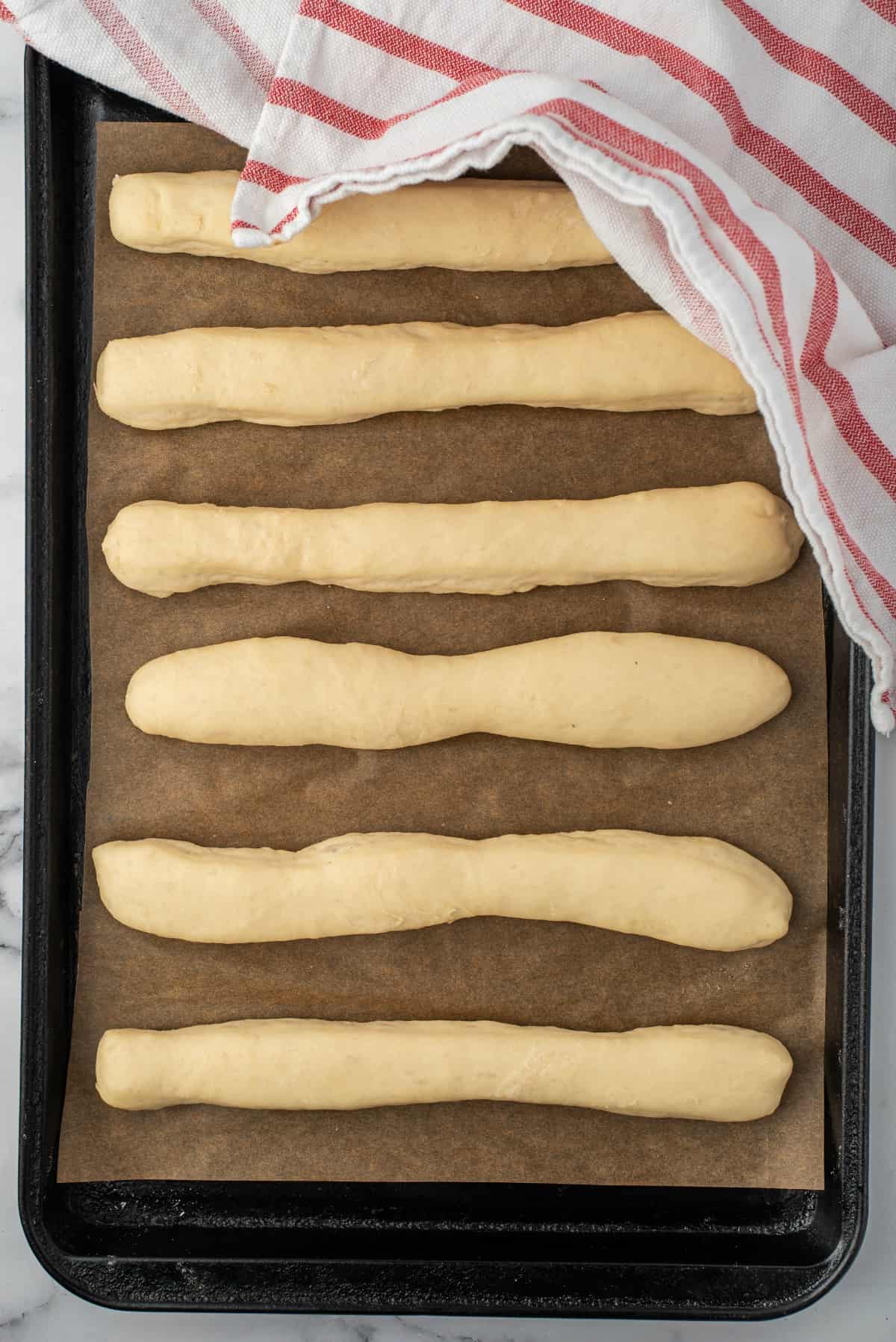 Shape the bread sticks:
Roll the dough out into a large rectangle, then slice it into about 10 strips. I make mine 8 – 9 inches long. Use a gentle touch to fold the sides of the strips in to make the edges more rounded.
Place the raw bread sticks on a baking sheet and cover. Let them rest another 30 minutes or until doubled in size.
Bake:
While the dough is resting, preheat the oven to 400 F. Bake the bread sticks for 12 minutes or until the tops are golden brown.
While the bread sticks are still warm brush them with melted butter and sprinkle each one with garlic salt.
Serve them warm right away! These are at their best when they're fresh from the oven.
I don't think you'll hear any complaints about having to finish a basket of buttery garlic bread sticks while they're hot and fresh, do you?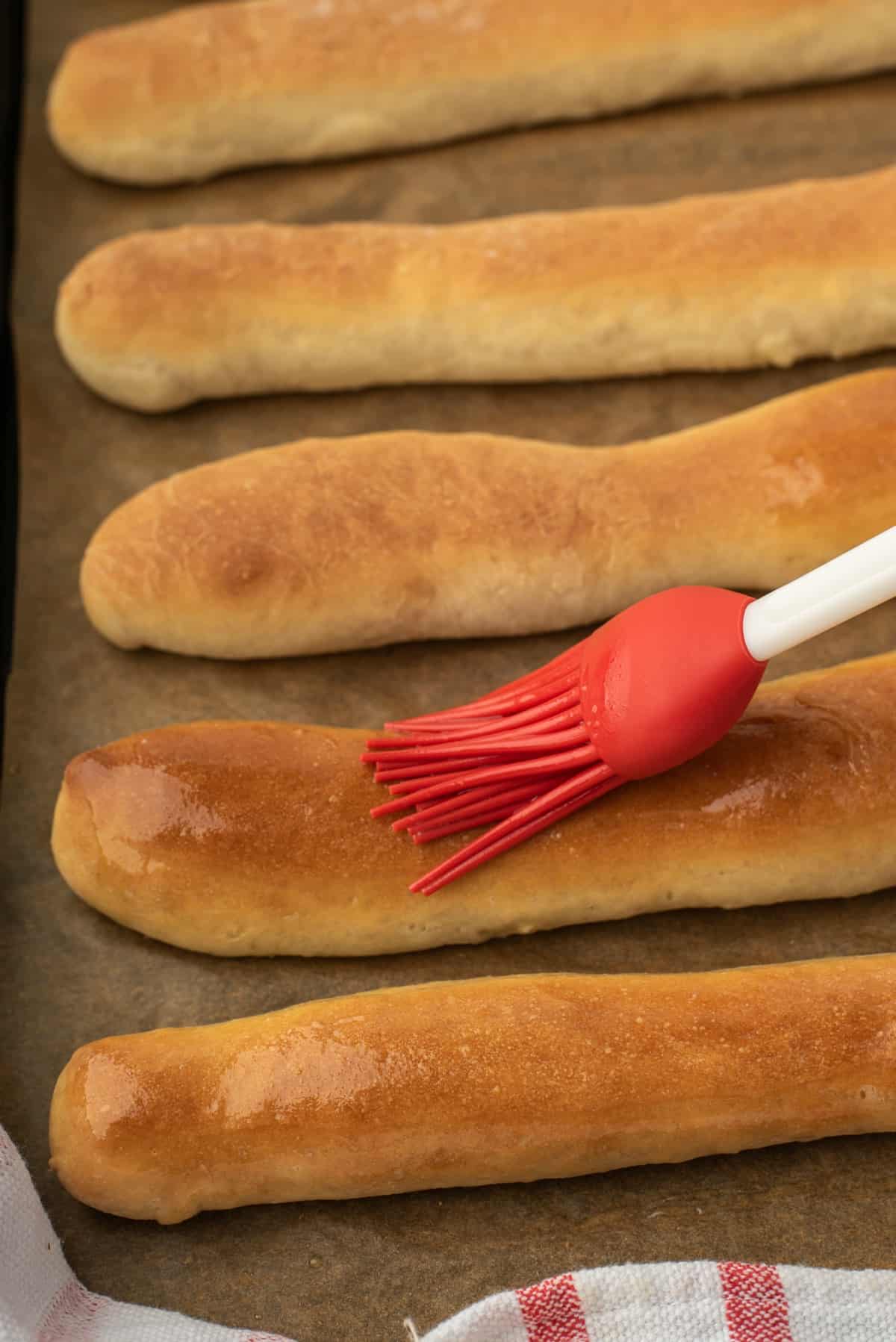 What to serve with Breadsticks
Make it a complete Italian Meal by making your favorite lasagna recipe.
Start with a delicious batch of bruschetta and don't forget to finish with some homemade cannoli.
Tips and Tricks
What kind of yeast to use: You need active dry yeast for this recipe. 1 packet is perfect. If you're using the active dry yeast from a jar, measure out 2 teaspoons.
Even cutting: The best way to ensure evenly sized breadsticks is with a kitchen scale. Weigh the whole ball of dough first, then divide that number by 10 to figure out how much each breadstick should weigh. If you don't have a kitchen scale or aren't fussed about some slight size discrepancies, just eye ball it as best as you can.
How to store: Keep these in an airtight container at room temperature for up to 3 days. You can reheat them in the microwave for a few seconds to warm, if you like.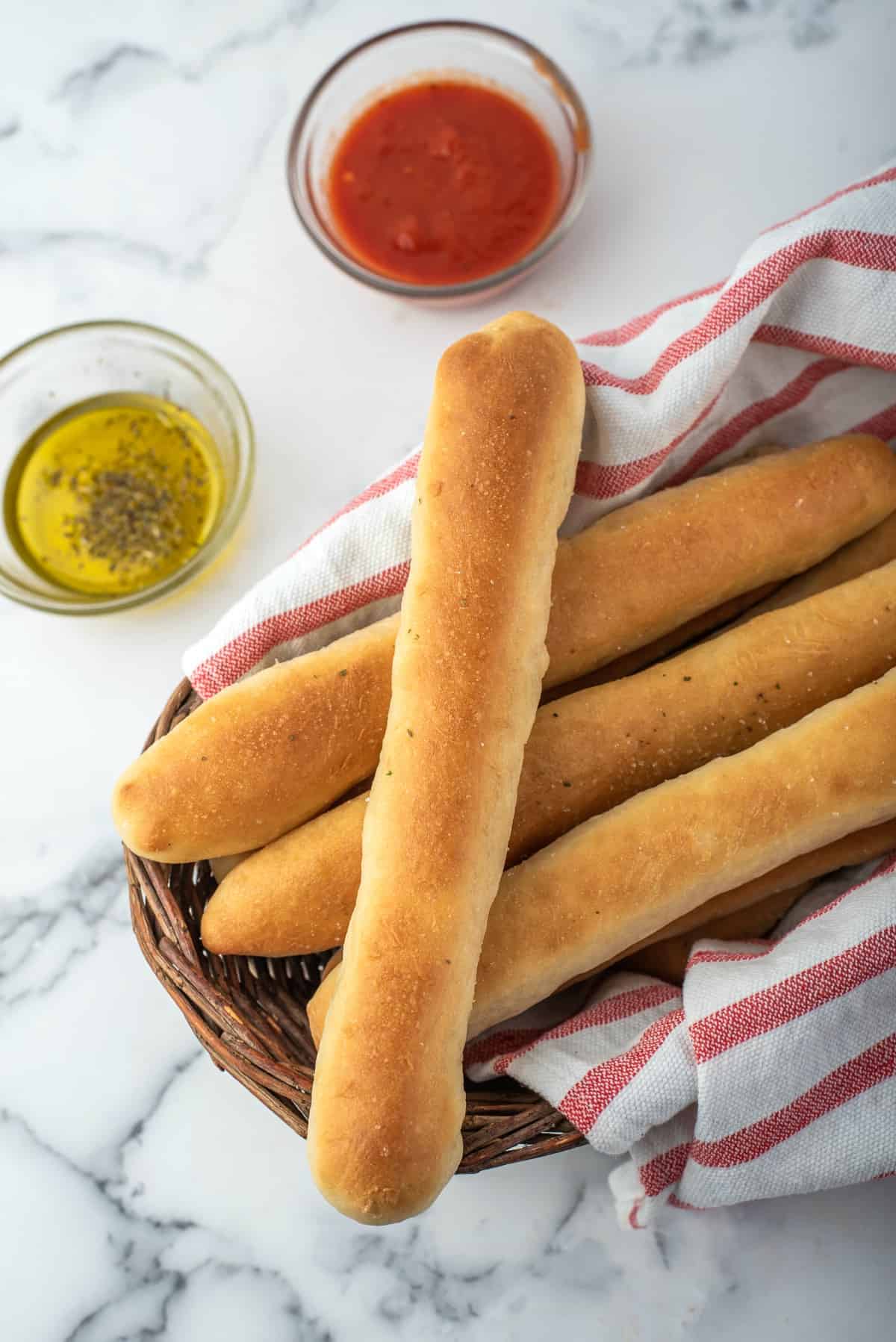 PS. If you try this recipe, please leave a STAR rating in the recipe card below. I love your feedback! Connect with me on social media by following me on Instagram, Facebook, or Pinterest.
No need to go out to eat to get your breads stick fix! Give this copycat Olive Garden recipe a try alongside a tossed salad and Italian Chicken for a crowd pleasing dinner.