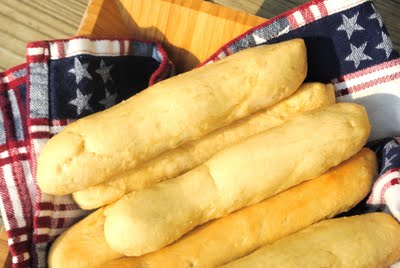 Let me be honest for minute. The only reason I like going to Olive Garden is for their breadsticks and salad. I mean, their entrees are good, but I rarely eat one fresh at the restaurant. I fill up so much on the breadsticks and salad that by the time my dinner arrives I'm stuffed and I take it home for leftovers.
I love serving bread with dinner. And these breadsticks are amazing! Perfect to dip in a marinara sauce, or eat alone. I hope you enjoy them too!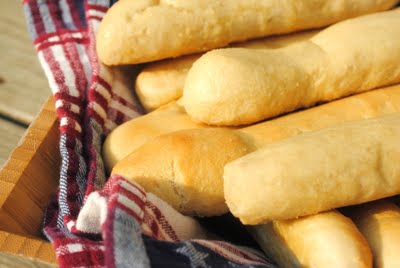 Soft Garlic Breadsticks (like Olive Garden)
Prep Time
1 hour
15 minutes
Ingredients
2 Tbsp sugar
1 pkg active dry yeast (o.25oz)
1 1/2 cup warm water
4 1/2 cup flour
3 tsp salt
1/2 cup butter, melted
2 tsp garlic powder
2 tsp salt
Instructions
In warmed mixing bowl, dissolve yeast in warm water. Allow to sit about 5 minutes, add in sugar and mix to dissolve. With paddle attachment, mix in flour and 3 tsp salt until just combined. Switch to dough hook and knead for about 3 minutes.
Lay dough on counter and cut in half. Divide each half into 8 equal pieces, for a total of 16. Using counter, roll each piece of dough into a log, about 5 inches long. Lay dough on parchment lined baking sheets. Cover and let rise in warm place for about one hour.
In small saucepan, melt butter. Whisk in 2 tsp salt and garlic powder. Set aside.
Bake breadsticks in 400 degree oven for 12 minutes. Halfway through brush with garlic butter (don't use all of it!). Don't overcook the breadsticks, they will be firm, but not browned. When done, brush with remaining butter. Enjoy warm!