Hearty, flavorful Spinach and Meat Lasagna Recipe. Easy and delicious, your family is going to love this pasta dinner!
There are two types of dinners I could eat every night for the rest of my life. Pasta and Mexican.
Today's Spinach Lasagna recipe appeals to the meat eaters in my house, as well as this veggie loving mom!
This is a great meal to bring to a family with a new baby in the house, or to make for the holidays! It makes a large 13×9 pan or lasagna pan.
You can also customize this recipe to YOUR family's taste…add more vegetables, less meat…or more meat and less vegetables!
First though, let's talk about what you'll need to make today's Spinach Lasagna.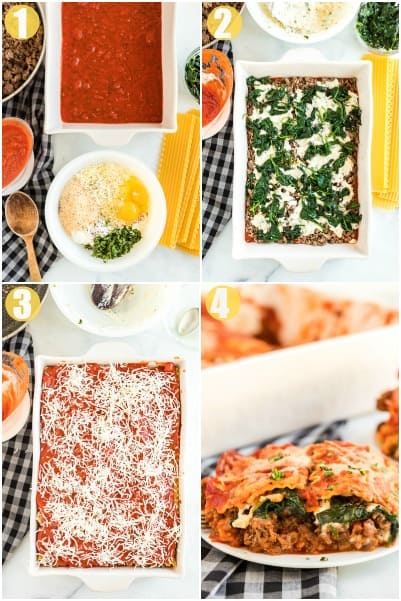 Lasagna Layers
To make this cheesy spinach and meat lasagna recipe, here are the different layers I include. Feel free to change up to your family's taste.
1. Noodles. I opt for no-boil lasagna noodles in my lasagna recipe. I love how easy it is to layer without the extra effort of boiling up noodles.
However, should you choose to boil and cook lasagna noodles first, you'll need to decrease the amount of sauce in this recipe to 4-5 cups.
2. Sauce. If you're looking to make homemade spaghetti sauce you'll need about 7 cups of marinara sauce.
To make things easy, I use my favorite jarred marinara sauce and it always turns out fantastic!
3. Meat. You will need about 2 lbs of ground meat for this hearty lasagna recipe.
I choose to use a combination of ground beef and ground italian sausage. The flavor of sausage with beef can't be beat!
4. Spinach. Cooking up fresh spinach is a cinch in this recipe. You'll be amazed how a bag cooks down to hardly anything. But trust me, it's plenty for today.
This is a great time to add in other vegetables your family may enjoy…mushrooms, zucchini, peppers, etc.
FAVORITE VEGETARIAN DINNERS: Zucchini Lasagna Roll ups | Chili
5. Cheese. You'll need ricotta, parmesan, cottage cheese, and mozzarella for this Spinach and Meat Lasagna.
My husband isn't a huge fan of ricotta, but combining it with equal parts of cottage cheese makes it creamy and delicious!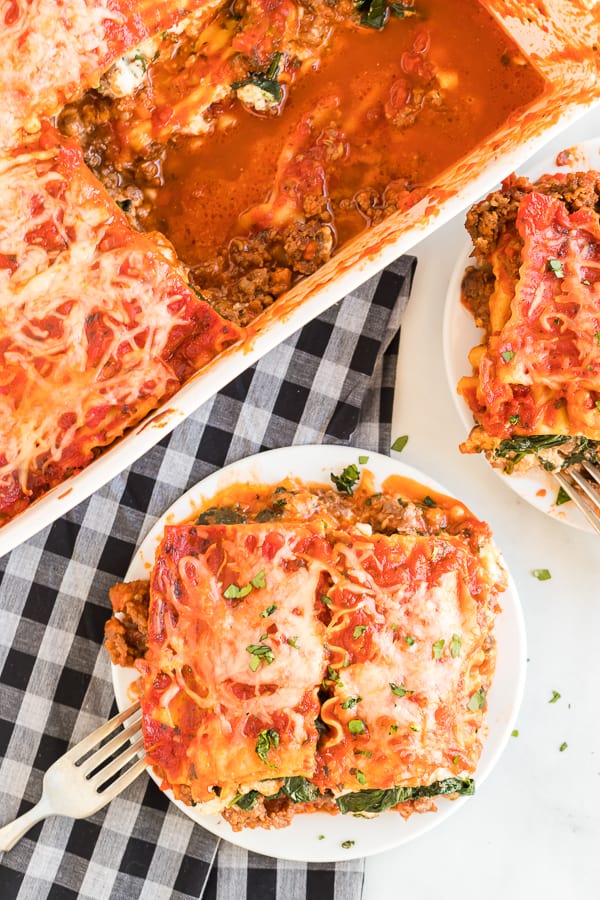 Can you Freeze Lasagna
Walk through any grocery store freezer section and you'll see plenty of options for frozen lasagna.
Why?
Because everyone loves to pull a dish out of the freezer and enjoy a hearty flavorful meal.
Today's lasagna recipe is no exception. You CAN freeze this recipe before or after cooking.
First, assemble lasagna as written in the recipe card below.
If freezing UNCOOKED lasagna, be sure to assemble in a freezer safe dish. I love the disposable lasagna pans for this reason.
Cover with plastic wrap then foil in double layers. Freeze for up to 3 months.
To enjoy, thaw frozen UNCOOKED lasagna in refrigerator overnight. Cook thawed lasagna according to recipe below.
If freezing COOKED lasagna, make sure it has cooled completely before freezing.
Cover with plastic wrap, then wrap in double layers of foil. Freeze cooked lasagna for up to 3 months.
To reheat, cook individual slices in microwave for 2-3 minutes, until bubbly and hot.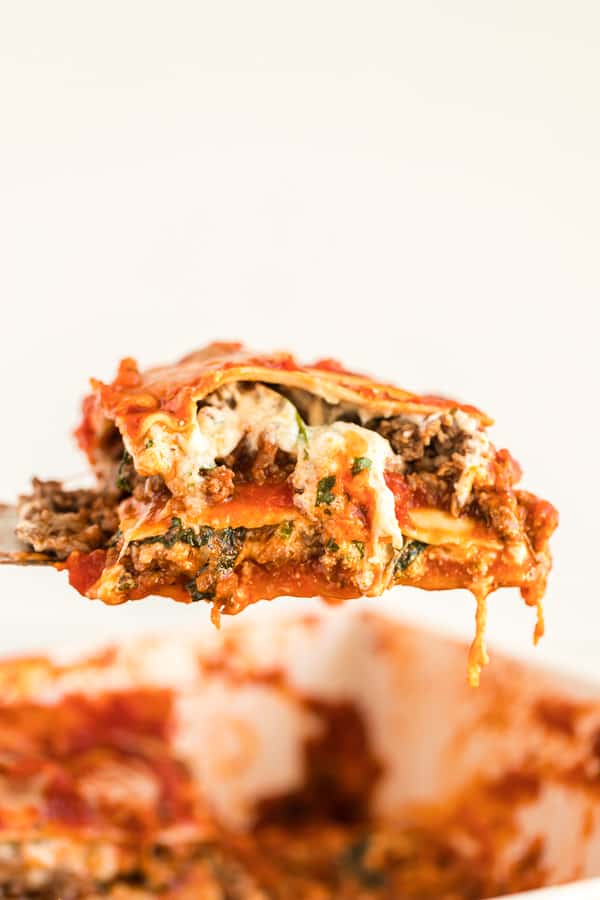 What to serve with Meat Lasagna
If you've ever been to Olive Garden and enjoyed a big slice of hearty lasagna, then you know it's awesome to pair it with soup, salad, and breadsticks.
Serve this up with a bowl of Zuppa Toscana Soup for a complete meal.
Add a big Italian Salad and some fresh dinner rolls and you've got one heck of a meal.
These Puff Pastry Bread Sticks are so delicious that no one will believe how easy they are to make.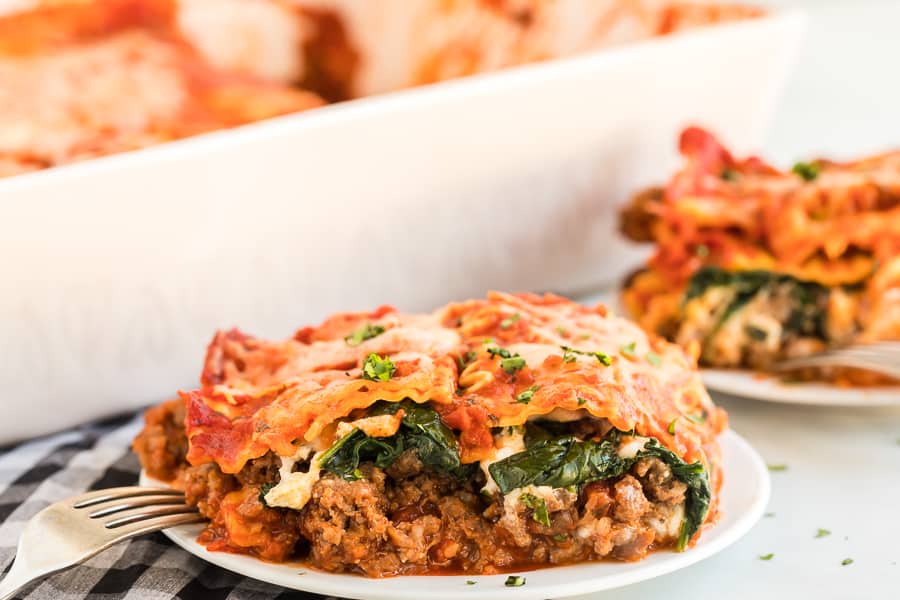 Yield: 12 servings
Spinach and Meat Lasagna
Total Time
1 hour
20 minutes
Hearty, flavorful Spinach and Meat Lasagna Recipe. Easy and delicious, your family is going to love this pasta dinner!
Ingredients
10oz bag fresh spinach
3 cloves garlic, pressed
olive oil
1 lb ground beef
1 lb bulk italian sausage
1 lb No Boil Lasagna noodles
7 cups marinara sauce
1 cup ricotta cheese
1 cup cottage cheese
1/2 cup parmesan cheese
2 cups mozzarella cheese, divided
2 large eggs
salt and pepper
1/4 cup fresh parsley, chopped
Instructions
Saute fresh spinach in olive oil with pressed garlic, set aside.
Brown beef and sausage until fully cooked. Drain off extra liquid. Set aside.
In a small bowl, mix ricotta cheese, cottage cheese, 1 cup mozzarella cheese, parmesan cheese, eggs, salt, pepper, and parsley. Set aside.
In a deep 13x9 baking dish, pour 2 cups of sauce in bottom of pan. Lay no boil noodles in single layer. Cover with 2 cups of sauce, 1/2 of meat mixture, and half of cheese mixture. The top with 1/2 of spinach mixture.
Repeat layer of noodles, 2 cups sauce, meat, cheese and spinach. Top with layer of noodles and remaining sauce. Sprinkle with 1 cup mozzarella cheese.
Cover with foil. Bake in a 350 degree oven for about 45 minutes. Remove foil and bake an additional 10-15 minutes. Let stand 10 minutes before serving. Enjoy.
Nutrition Information:
Yield:
12
Serving Size:
1
Amount Per Serving:
Calories:

518
Total Fat:

29g
Saturated Fat:

12g
Trans Fat:

0g
Unsaturated Fat:

16g
Cholesterol:

117mg
Sodium:

1323mg
Carbohydrates:

29g
Fiber:

4g
Sugar:

9g
Protein:

33g
*Nutrition facts are an estimate and not guaranteed to be accurate. Please see a registered dietitian for special diet advice.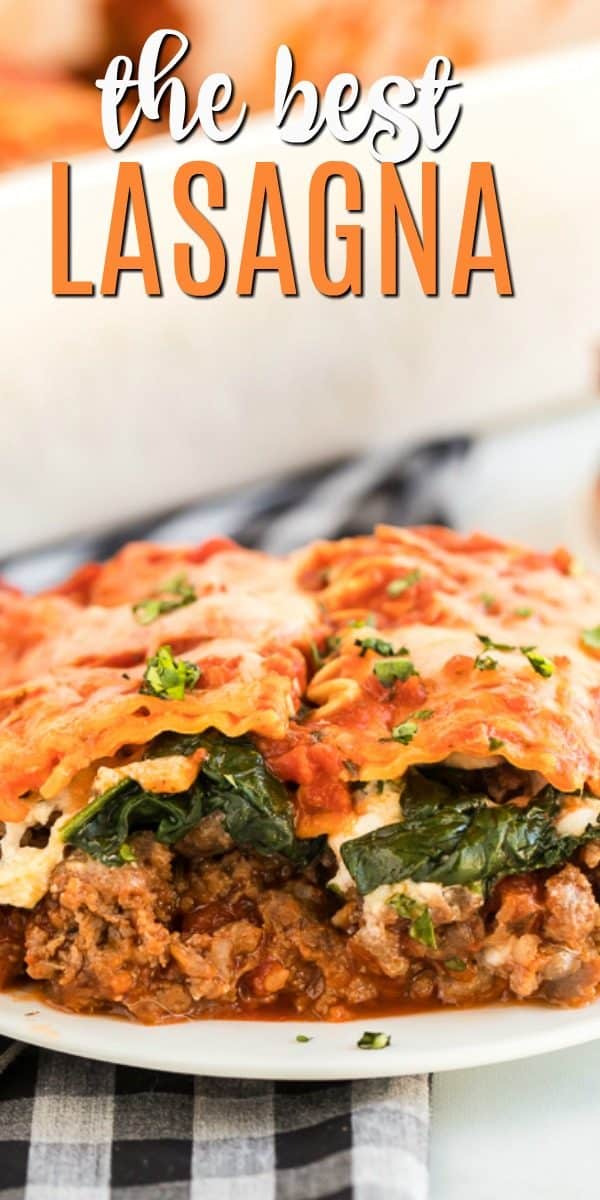 Hearty, flavorful Spinach and Meat Lasagna Recipe. Easy and delicious, your family is going to love this pasta dinner!