Ready in under 30 minutes, this delicious Instant Pot Chicken Alfredo recipe has become part of our monthly meal rotation! I've even got the "skinny" on how to lighten it up!
Love alfredo? This easy one pan Spinach Alfredo Pasta is a family favorite. Literally dump it all in a 13×9, bake, and enjoy!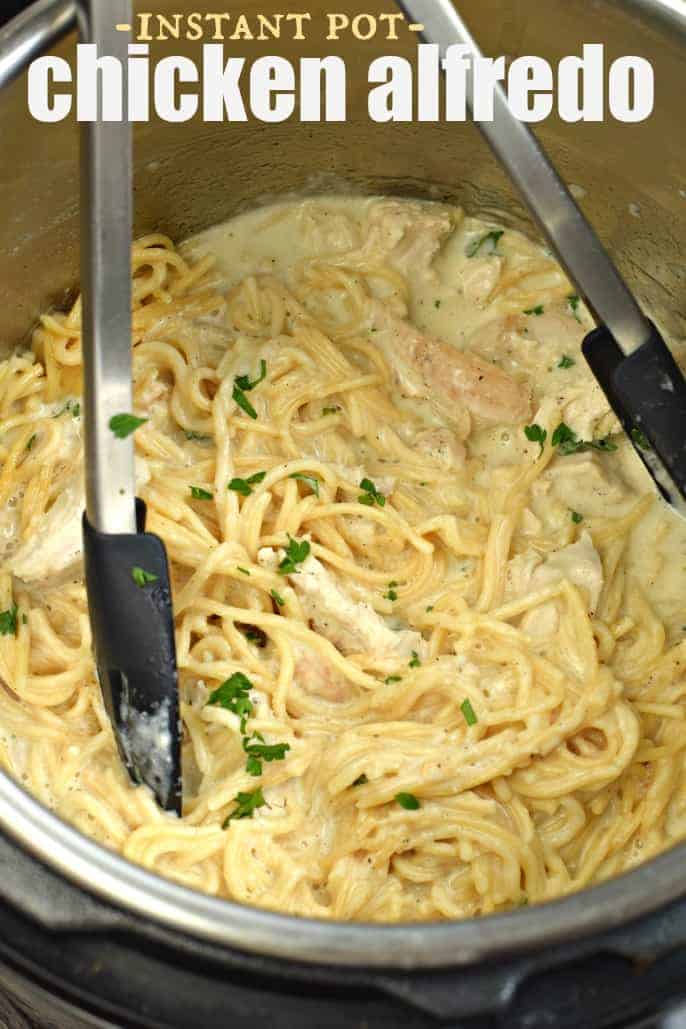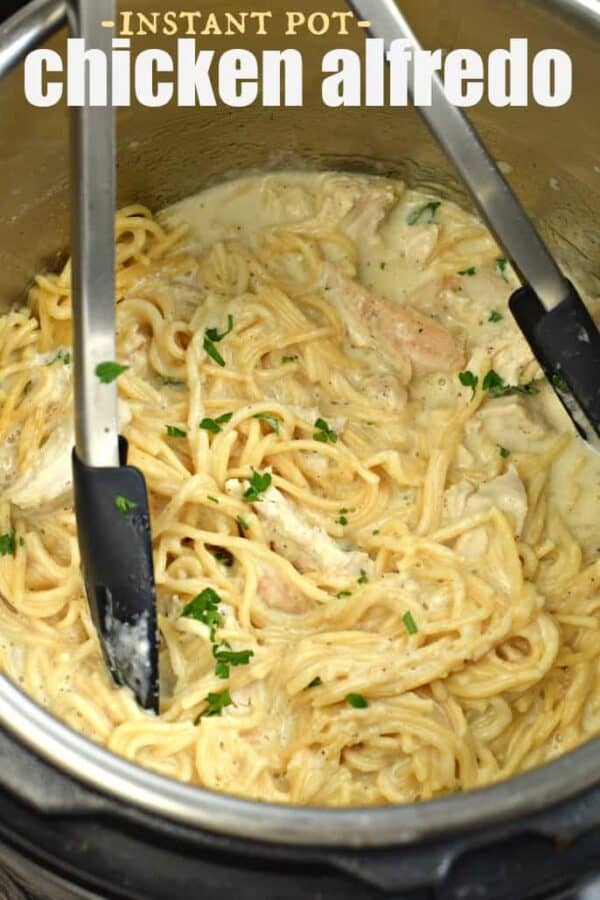 Happy New Year!
Like many of you, I tend to look over my past year and try to see how I can improve. Whether it's be more patient, focus more on physical health, or, and this tends to apply every year, eat out less.
You would think as a food blogger I am always in my kitchen making meals, but it's so not true. I mean, a family can't live on Rice Krispie Treats alone!
If you have found yourself this year with a new Instant Pot and are wondering what to make first, I highly suggest today's Instant Pot Chicken Alfredo recipe!
Why I love this recipe?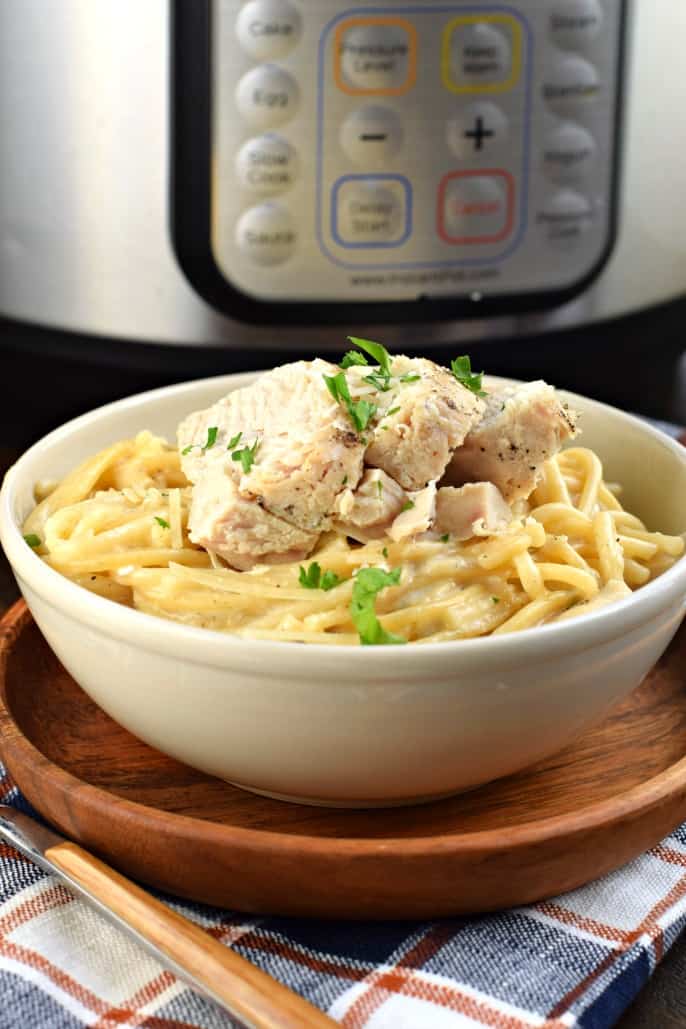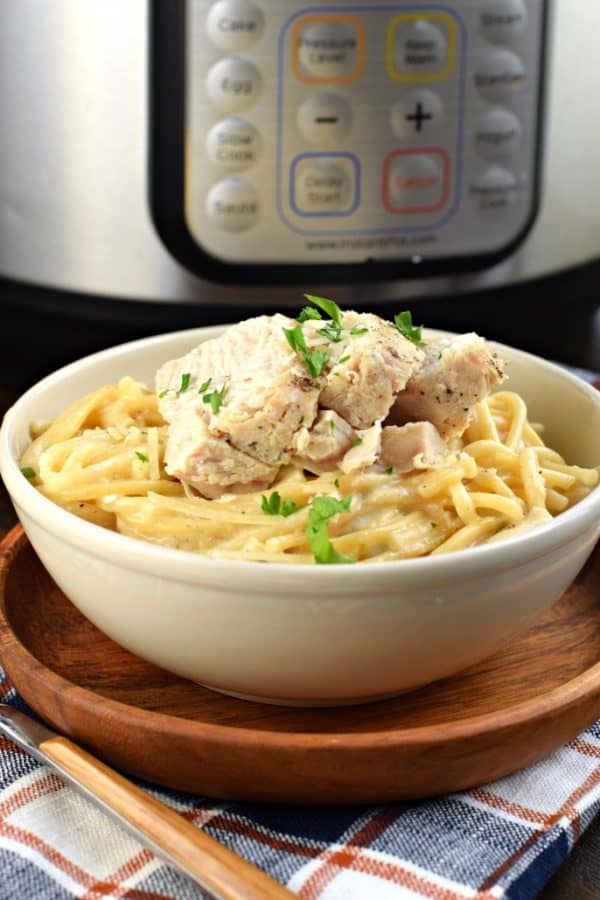 Making alfredo is already a simple dinner. For instance, this Sausage Alfredo is ready in under 30 minutes. So why choose the instant pot?
Well, for one, less mess. The pasta, chicken and sauce all cook in ONE pot. Makes clean up so easy.
Second, this doubles easily, and if you have the 8qt Instant Pot you can feed a crowd!
How to make Instant Pot Chicken Alfredo
First, set your Pressure Cooker on your counter and plug it in. Find a safe spot that when you release the pressure, you have clearance above. I've accidentally put mine right under a light fixture. And while nothing was broken, the glass fixture needed to be washed, haha!

Next, layer your ingredients in the order specified. This makes a difference. Start by adding your chicken broth, then heavy whipping cream, and fresh pressed garlic.
Do not stir. Next, break your fettuccine noodles in half. This helps them fit in the pressure cooker. Place them in your milk and broth mixture gently, moving around slightly until they are covered completely.
Top with 1 lb fresh chicken breast (or frozen actually works with this recipe too). Lay over the top (they don't need to be covered with liquid.
Secure your lid and make sure your vent is turned to pressure (each version is different so check your manual to make sure you understand how to prep your Instant Pot for cooking).
Set your Instant Pot for "Manual" for 8 minutes. Allow it to come to pressure, then the timer will count down the 8 minutes.
Once the 8 minutes are done, allow it to "NATURALLY" release (meaning don't touch it) for an additional 8 minutes. Once that time is up, do a QUICK RELEASE.
Open carefully (away from your face so the steam doesn't burn you)! Remove the chicken (to shred it, or slice it). Then add the parmesan cheese. I use freshly shredded parmesan (not the green can stuff). Stir your noodles with the cheese, then add back your chicken. Salt and pepper, generously, to taste.
Allow it to sit for about 1 or 2 minutes to thicken if needed. This gives you enough time to call everyone to the table. ENJOY.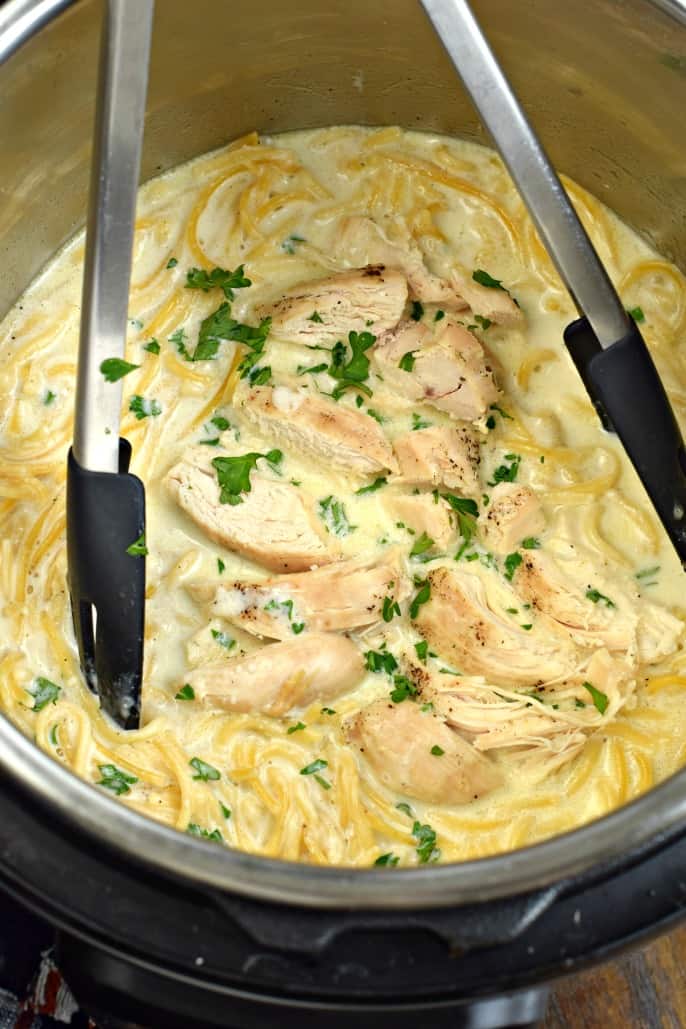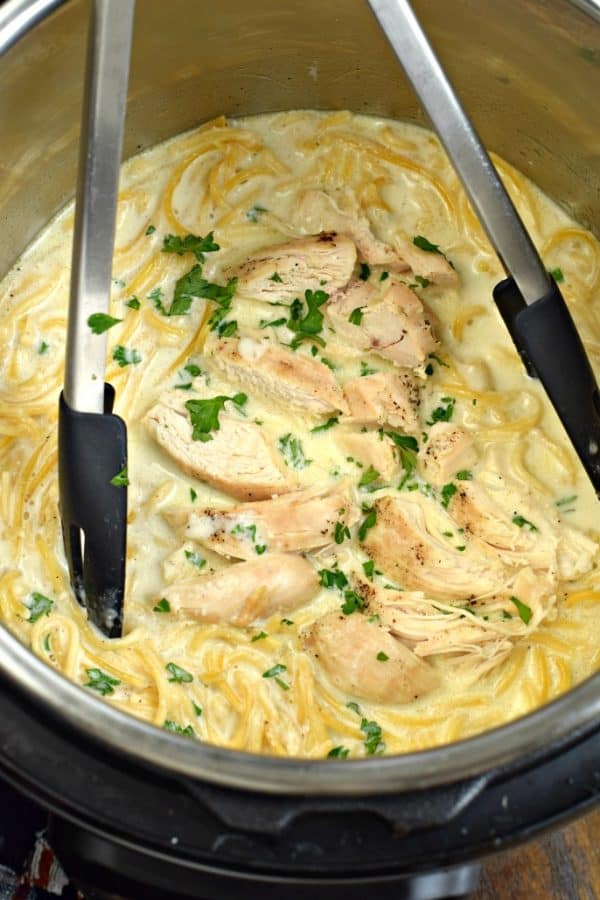 How to make SKINNY chicken alfredo
Okay, in an effort to honor some of your efforts to eat healthier, you may be wondering, yeah, this is great comfort food, but how can I cut the calories?
One of two ways you can do this. Either substitute the heavy whipping cream with evaporated milk OR skim (fat free) milk and corn starch.
Just note though, here are the changes to the recipe is making it skinny:
Increase chicken broth to 2 1/2 cups, and the milk will be 1 cup (whether you use evaporated milk or skim milk).
Decrease parmesan cheese to 1/2 cup.
For the instructions, do NOT add the milk when it says to add the heavy cream. Instead, once it's done, slowly add the milk when you add the parmesan cheese. Turn the Instant Pot setting to saute, and stir until cheese is melted and sauce has thickened. NOTE: sauce will thicken significantly once it begins to cool, so waiting several minutes is so helpful!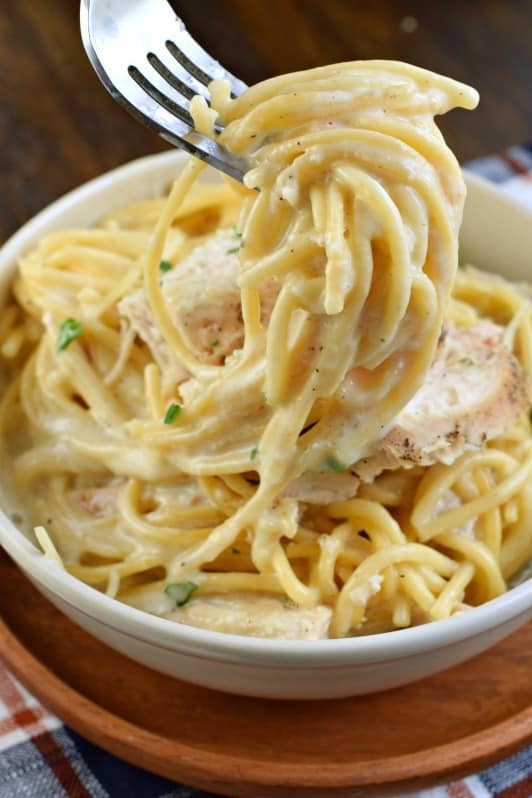 A few helpful notes on making Chicken Fettuccine Alfredo
This recipe can easily be doubled without changing the cook time.
You can also choose to skip the chicken altogether and make this vegetarian by using vegetable broth.
Leftovers are great, reheat with a splash of milk in the microwave.
Some people LOVE their fettuccine alfredo thick and creamy. You can add in some cubes of cream cheese if this is you. My husband would freak if I did this, as he is a purist, haha!
If you'd like your noodles a little more al dente, you can cut back the cook time by 2 minutes. But, I would first saute the chicken for two minutes then, to make sure it's fully cooked. You can do this by setting your Instant Pot to saute, sear the chicken for two minutes, remove, then follow the directions as written, except cut your cooking time by 2 minutes.
Love to add garlic to everything? This recipe calls for about 1 tsp of fresh minced, but feel free to add to your liking.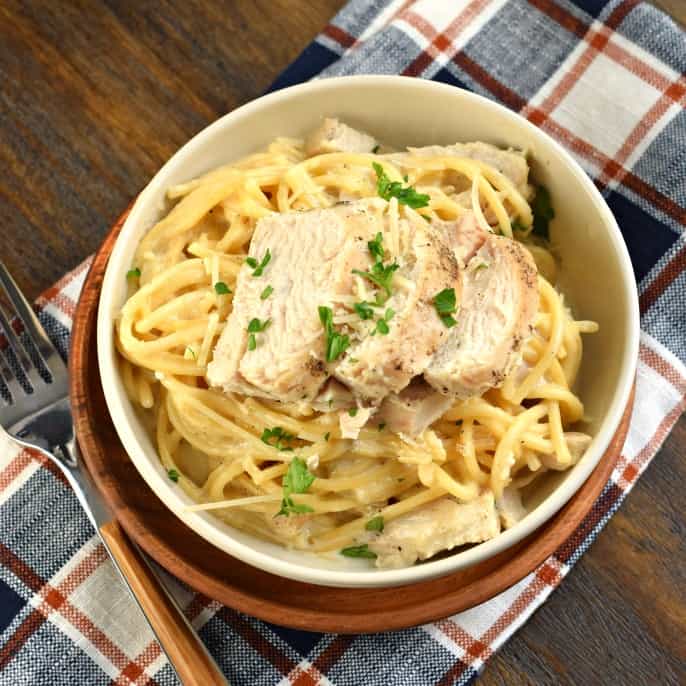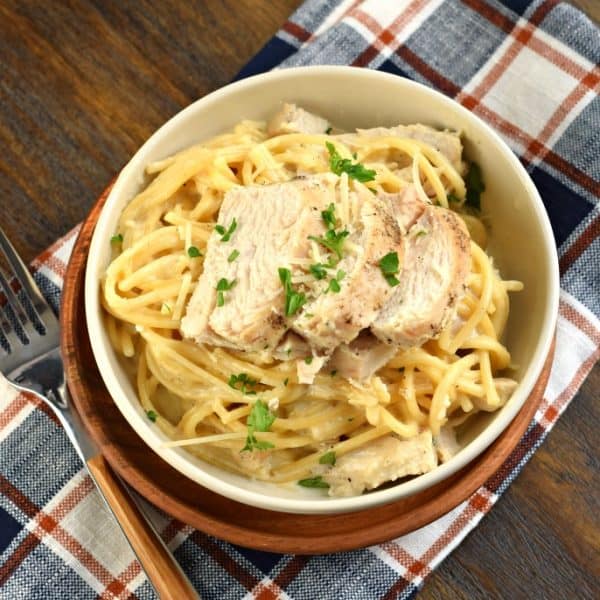 Well, good news. I've got some great recipes up my sleeve for the New Year, so stay tuned.
In the meantime, how about starting with the basics. Like this recipe for Instant Pot Hard Boiled Eggs. The simple 5-5-5 method for making perfect Instant Pot Hard Boiled Eggs. You'll be amazed at how easily they peel, and how creamy and delicious they taste!
No more all day cooking to make a batch of fresh applesauce. This homemade Instant Pot applesauce recipe is ready for dinner tonight!
Looking for a delicious, easy weeknight dinner idea? This Instant Pot Stuffed Pepper Casserole recipe is the perfect comfort food, and ready in under 30 minutes! Tastes just like mom's homemade stuffed peppers, only easier and quicker!
Tender roasted, French Dip Sandwiches cooked in the Instant Pot. Piled on a crusty french roll with extra cheese, this flavorful dinner is then dipped in au jus!
Tell me…what Instant Pot recipes would YOU like to see?
More quick and easy Meal ideas
If you're looking for CHICKEN dinners…this Mandarin Chicken Pasta Spinach Salad recipe is amazing. And the teriyaki vinaigrette is so flavorful and addictive. Try it!
Creamy Tuscan Garlic Blackened Salmon Pasta has a cheesy garlic sauce with cherry tomatoes and fresh spinach! Serve over pasta for a restaurant quality meal in under 30 minutes!
Creamy, Sausage Alfredo Pasta is a quick and versatile dinner recipe that is on the table in under 30 minutes!
Instant Pot Recipes: