Smothered in rich alfredo sauce, Chicken Alfredo Pasta Shells are simple but satisfying. You'll love this weeknight dinner recipe that's stuffed with chicken, broccoli, and creamy cheese.
Weeknight meals are all about planning ahead. Our classic stuffed shells recipe is a great place to start. And speaking of easy, give our ravioli lasagna recipe a try next.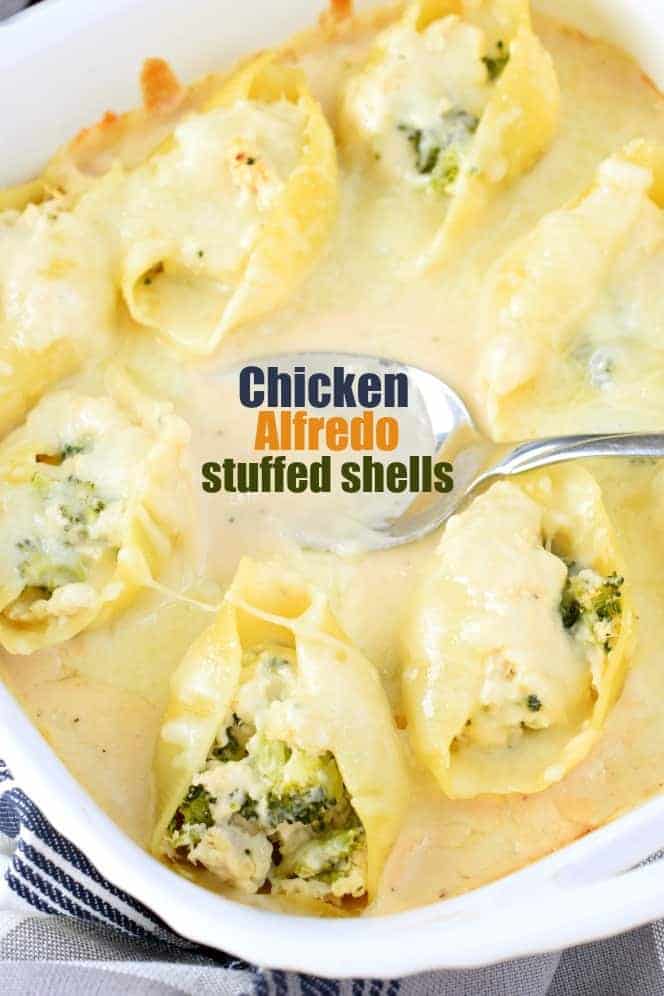 What's Great About This Recipe
Chicken Alfredo Pasta Shells are a freezer-friendly recipe that's a cinch to make ahead of time. After prep and freezing, all you have to do is assemble and pop them in the oven.
Here's why you'll love them too,
Shredded chicken and broccoli make a nourishing, protein-packed filling for the shells.
By using pre-made alfredo sauce, you'll save a ton of time and effort.
Three kinds of cheese make this dish rich and flavorful.
If you want to eat these the same day you make them, they'll take about an hour to complete. But the delicious end result is entirely worth it, and so are the leftovers!
Check out some of our other favorite chicken recipes soon.
Ingredient Notes
Jumbo pasta shells – These giant pasta shells hold the creamy chicken filling. They're also visually appealing and lend that chewy pasta texture that everyone loves.
Alfredo sauce – The filled shells swim in this creamy alfredo sauce. And since it's already made, you'll save time and know it will turn out perfectly.
Parmesan cheese – Parmesan adds its sharp, tangy flavor to the topping. Buy the pre-shredded kind to save time and effort.
Mozzarella cheese – Creamy, melty mozzarella tops off the shells along with the parmesan. Baking the dish uncovered for the last 5 minutes melts the mozzarella perfectly.
Boneless skinless chicken breasts – Cook this chicken a day ahead of time if possible and shred it once it's cool. This takes some planning ahead but will save you a ton of time in the end.
Broccoli – Broccoli adds a little vegetable goodness and color to the pasta filling.
Cream cheese – This is the base of the creamy shell filling. Cream cheese brings richness and a tangy flavor.
Garlic – Any Italian-style dish must have garlic, right? Press or mince the garlic beforehand, so its flavor gets into every shell.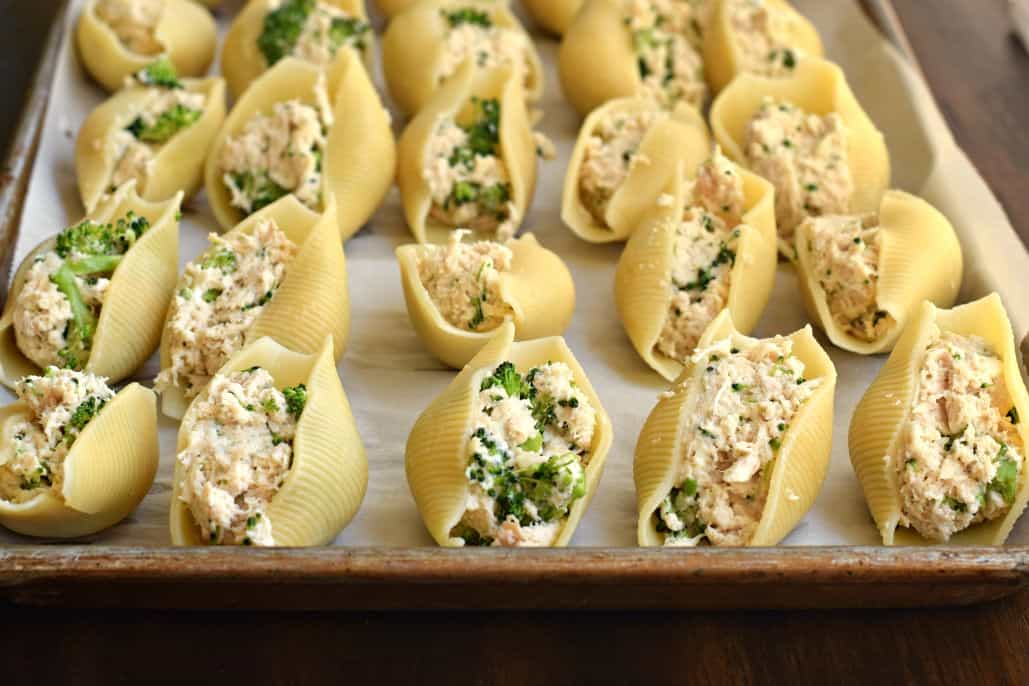 Easy Instructions
Cook the pasta shells until they're al dente, then drain and set aside.
Fill each pasta shell with 2 Tablespoons of the chicken mixture. Using a cookie scoop of this size will help you scoop faster.
Pour one jar of the alfredo sauce into a large baking dish, covering the bottom.
Lay out a single layer of the filled pasta shells on top of the sauce. Evenly pour the remaining alfredo sauce over the top. Sprinkle with the parmesan and mozzarella.
Cover the dish with foil, then bake in a 350°F oven for 40 minutes.
Remove the foil, then bake uncovered for 5-10 more minutes until all the cheese on top is melted.
Tips & Tricks
To freeze Chicken Alfredo Pasta Shells, complete steps 1-3. Once the shells are stuffed, spread them out on a cookie sheet and freeze for 15-30 minutes. Then transfer to gallon-sized ziplock freezer bags and store them.
Bake the shells after freezing, resume the process with step 4. Cover and bake with foil on top for one hour. Then finish with 5-10 minutes more in the oven, uncovered, to melt the cheese.
Scale this recipe down by only cooking the number of shells you need for each meal. For example, 10 shells will need ¼ cup parmesan cheese, ¼ cup mozzarella cheese, and ½ jar alfredo sauce.
To change up the filling in the shells, you have options. Try using small-diced asparagus, kale, zucchini, or red bell pepper. It's best to cook them briefly in a skillet before baking, so they turn out nice and tender.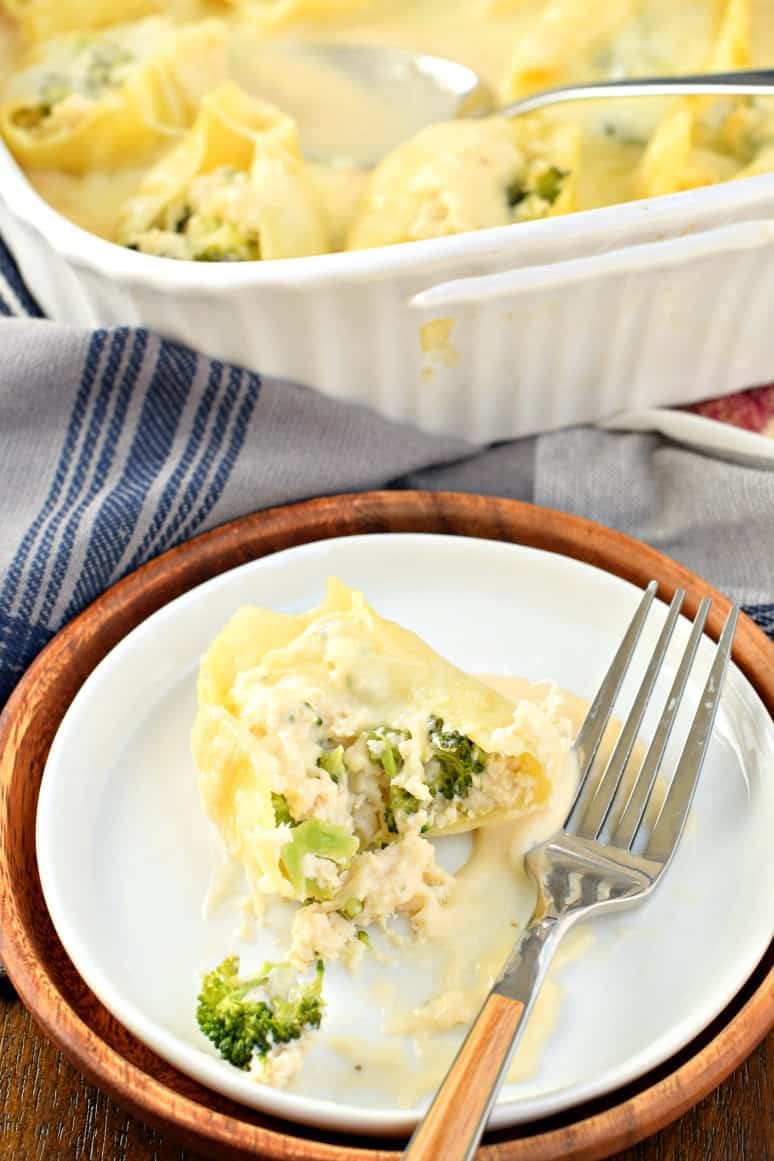 Serving Suggestions
Wondering what to serve with these Chicken Alfredo Shells? An Olive Garden Italian Salad is a perfect counterpart that brings tons of fresh flavor.
For bready accompaniments, Bruschetta makes the best appetizer for multi-course meals. And any pasta dish is even better with classic Garlic Bread or my Olive Garden Breadsticks on the side.
Thinking about dessert after this meal? Keep it Italian-style with this light and airy Southern Italian Cream Cake. Or take it to the next level with my homemade crunchy-creamy Cannoli.
I'm a big fan of alfredo sauce. This Instant Pot Chicken Alfredo recipe is made often in our home! It's so fast, and so creamy, I think you'll love it too!
Recipe FAQs
Can I use frozen broccoli for this recipe?
Fresh is best for this recipe, but if you use frozen broccoli, be sure to thaw it first in a colander. This will help avoid adding extra moisture to the dish.
How do I store leftovers of Chicken Alfredo Pasta Shells?
Store the leftovers in an airtight container in the refrigerator, and eat within 3 days.
What's the easiest way to shred the chicken?
To shred the chicken, try using two forks to pull it apart quickly. Or you can don a pair of gloves and shred it by hand or with the help of a fork. However, the easiest way to shred chicken is to put it in a mixing bowl, with a paddle beater, and blend for about 1 minutes. Shreds instantly.
Can I make stuffed shells ahead of time without freezing?
Yes, you can assemble the filled shells a day ahead of time. Place in their pan atop the bottom layer of alfredo sauce only. Wrap the pan in plastic and store in the fridge until you're ready to bake them. Before baking, cover with the remaining sauce, cheeses, and aluminum foil.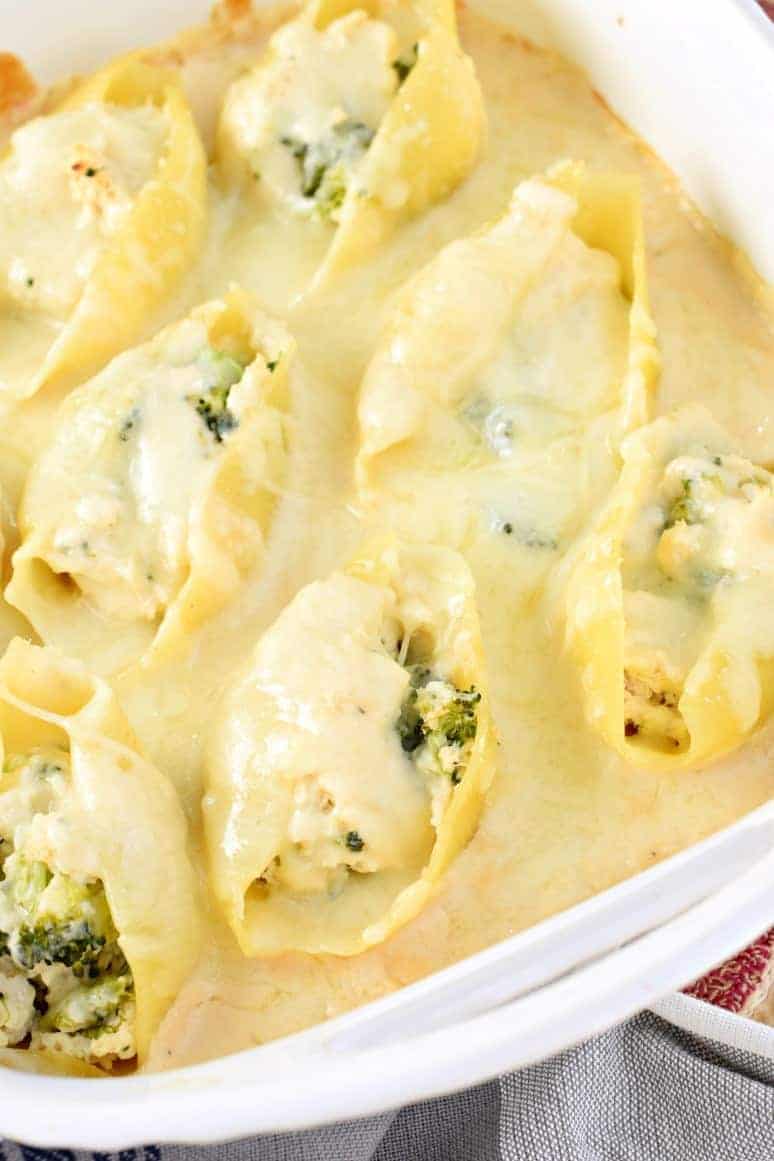 Easy Dinner Recipes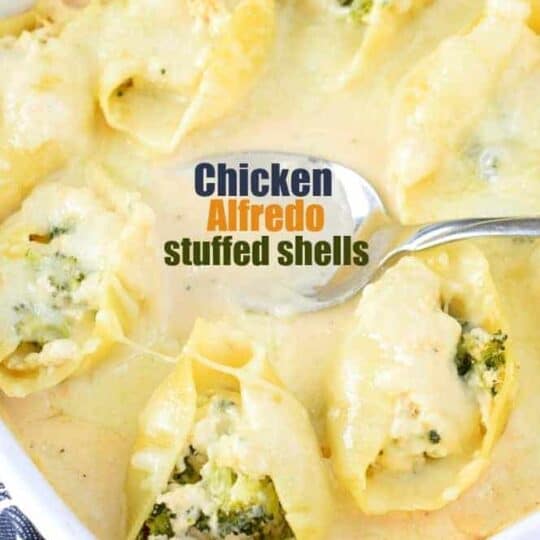 Chicken Alfredo Stuffed Shells
Stuffed Pasta Shells with Chicken, Broccoli, Cheese and smothered in Alfredo sauce! You'll love this easy, freezer friendly, weeknight dinner recipe!
Ingredients
1

box

jumbo pasta shells, cooked

16 ounce (about 40 shells)

1 ½

pounds

boneless skinless chicken breasts

cooked and shredded

1 ½

cups

broccoli florets

diced

6

ounce

cream cheese

softened

3

cloves

garlic

pressed

1

teaspoon

kosher salt

¼

teaspoon

black pepper

1

cup

shredded parmesan cheese

1

cup

shredded mozzarella cheese

2

jars

alfredo sauce
Instructions
Cook pasta shells according to package to al dente. Drain and set aside.

In a large bowl, combine cooked, shredded chicken with broccoli, cream cheese, garlic, salt, and pepper. Mix until well combined.

In a large baking dish, pour one jar of alfredo sauce in the bottom of the dish. Add a single layer of pasta shells. Drizzle remaining jar of alfredo sauce over the top and sprinkle with parmesan and mozzarella cheese. Cover dish with foil.

Bake in a 350°F oven for 40 minutes. Remove foil and return to oven for an additional 5-10 minutes until cheese is melted on top!
Notes
For freezer friendly option, complete steps 1-3. Once all the shells are stuffed, place them on a cookie sheet and freeze for 15-30 minutes. Remove from freezer and place in gallon sized ziploc bags and return to freezer until ready to make. Continue with step 4 when ready to make and bake for one hour with foil on top. Remove foil and return to oven for additional 5-10 minutes to melt cheese.
You can scale this down by only cooking the number of shells you need for each meal. 10 shells need 1/4 cup parmesan cheese, 1/4 cup mozzarella cheese, and 1/2 jar alfredo sauce.
Nutrition
Serving:
4
shells
,
Calories:
311
kcal
,
Carbohydrates:
8
g
,
Protein:
30
g
,
Fat:
17
g
,
Saturated Fat:
10
g
,
Polyunsaturated Fat:
6
g
,
Cholesterol:
101
mg
,
Sodium:
555
mg
,
Fiber:
1
g
,
Sugar:
1
g