Chipotle Pork Tenderloin
Tender Pork Tenderloin seasoned with a Chipotle marinade and drizzled with a Cilantro Lime Sauce. This is one weeknight dinner dish that my whole family loved!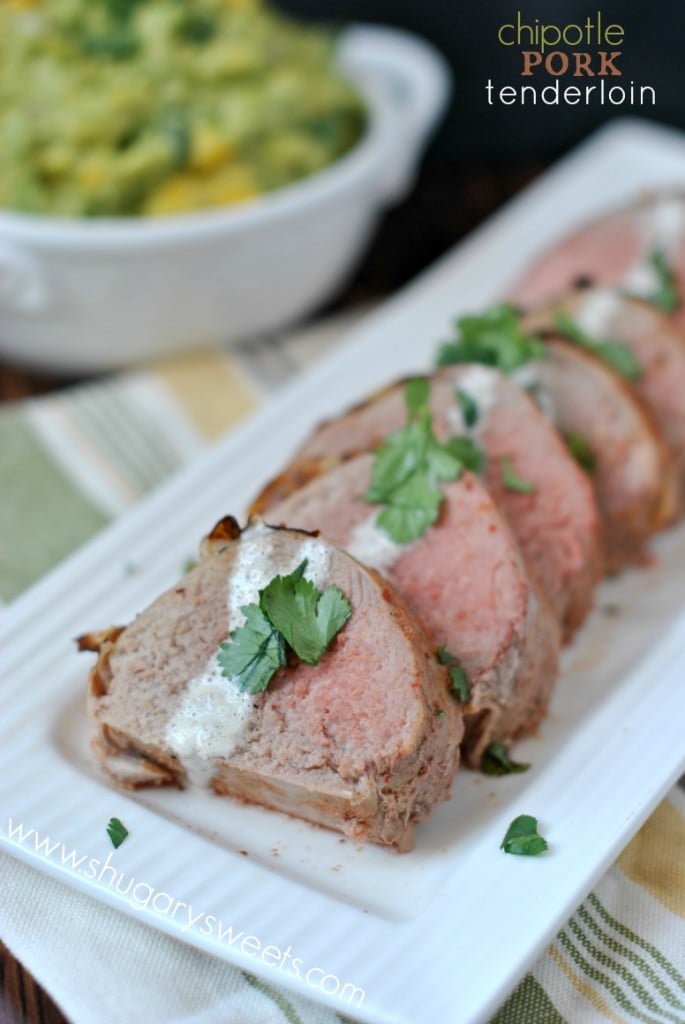 Do you remember last year when I worked with the Ohio Pork Producers to make this delicious Lasagna Soup recipe? Well it was quite a hit, so I'm back teaming up with them to bring you another Pork recipe.
Today's recipe uses pork tenderloins. I love using these small tenderloins for an easy dinner recipe. They are perfect for a quick toss on the grill, or roast them in your oven at a high temperature. BUT, there is a key to SUCCESSFULLY cooking a pork tenderloin. Use a meat thermometer.
Growing up, I think I was taught there should be NO pink in your pork. Most of the time, pork chops and pork tenderloins were chewy grey cuts of meat. Not my favorite. Using a meat thermometer will help you not overcook those delicious cuts of meat. When the center of your tenderloin hits 145degrees, remove it from the oven and allow it to rest about 5 minutes before slicing. This will keep all the juices inside, and the result will be a tender cut of pork with a "blush of pink" in the center. It's SAFE to eat.
If you're looking for the perfect PORK chop recipe, I've got that too! Thick and juicy, this crispy parmesan oven Baked Pork Chops recipe is delicious. The BEST pork chop recipe you'll ever need!
You also may have noticed in the grocery store that some of the cuts of meat have had a name change. Check out this list of pork cuts and cooking times for help!!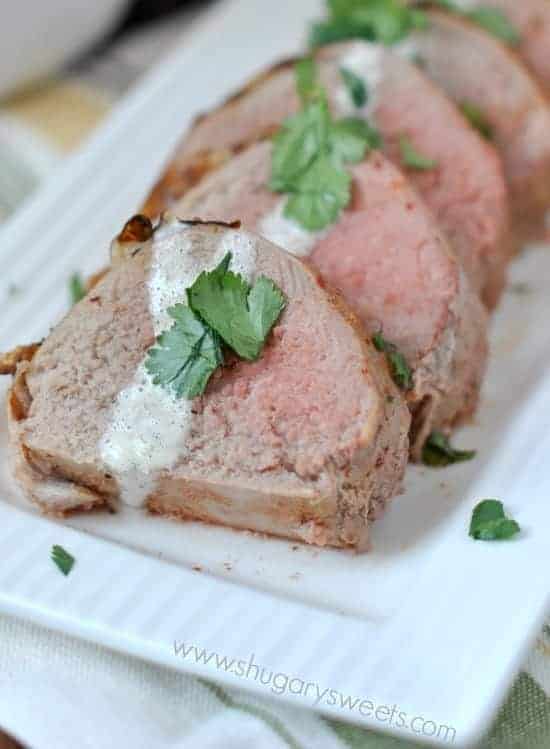 For today's marinade I used a can of chipotle chilies in adobo sauce. I plucked out two chilies for the recipe (and about a teaspoon of sauce). Don't worry about wasting the remaining chilies in your can….do what I do! Take the leftover chilies and put them in an ice cube tray, individually. Divide the sauce amongst them, then freeze. Once frozen, pop them into a ziploc bag and keep them frozen and handy for when you make this again. You WILL make this again!!
I put my pork in the marinade for about four hours, but overnight would work well too!!
While they were baking in the oven, I whipped up a quick cilantro lime dressing. This sweet dressing was great at taking away some of the heat from the chilies. Our dinner was ready in 30 minutes! I also served it up with a side of the mango guacamole from earlier this week. My kids were thrilled that they got to eat guacamole as a side dish.
Be sure to stop by the Ohio Pork Producers website. They are hosting a "pin it to win it" contest until April 20, 2014. You could win $500 in groceries! That's a lot of pork! Also, check out this great article about 1 million meals donated. Thanks to many of you last year for clicking on the video in my Lasagna soup recipe…in 5 years the Ohio farmers donated 1 million meals. Not too shabby!!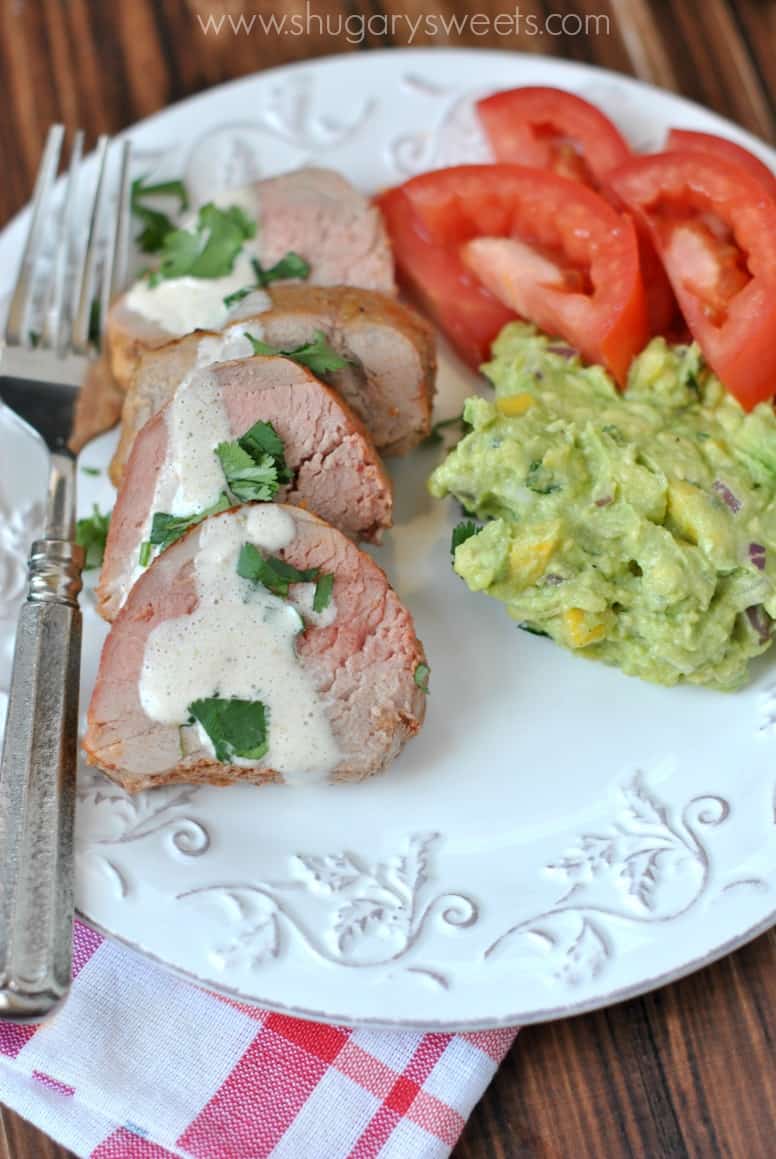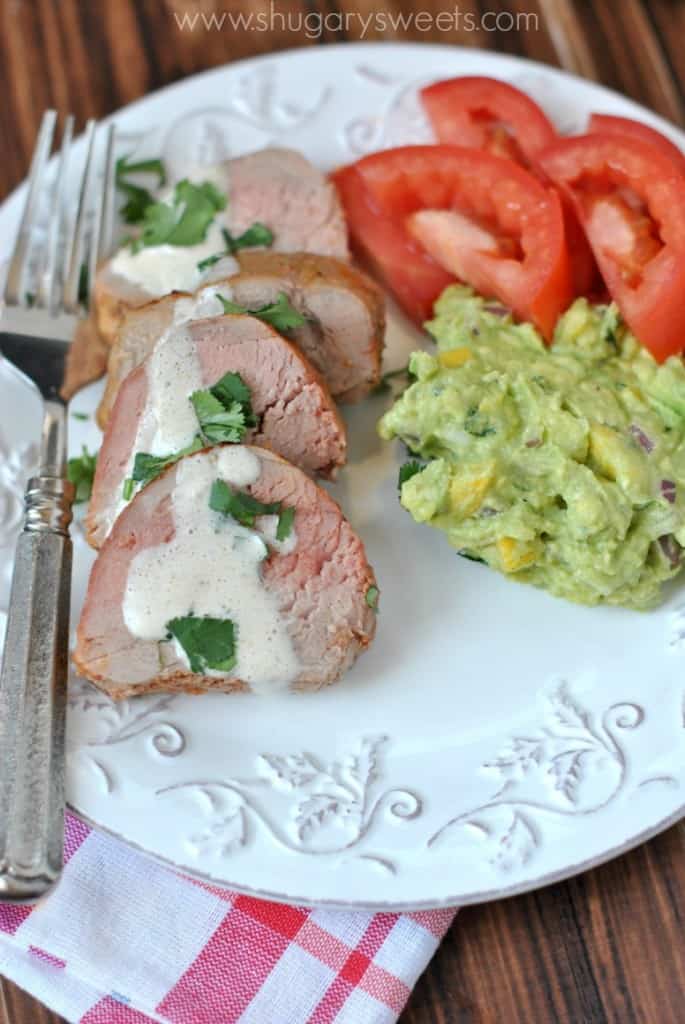 Connect with Shugary Sweets!
Be sure to follow me on my social media, so you never miss a post!
Facebook | Twitter | Google+ | Pinterest | instagram | Bloglovin'
Yield: Serves 6-8
Chipotle Pork Tenderloin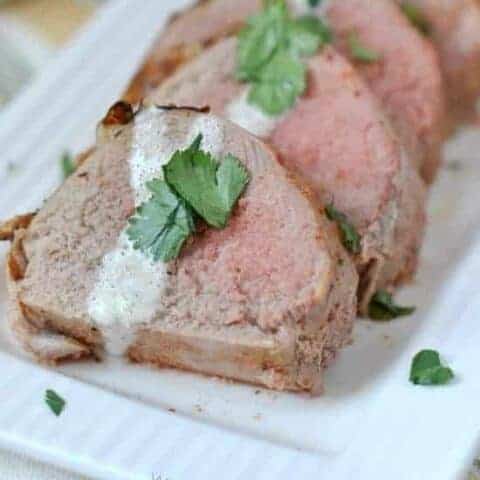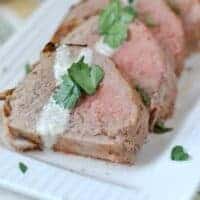 Prep Time 10 minutes

Cook Time 19 minutes
Ingredients
For the Pork:
2 pork tenderloins (about 1 lb each)
1/2 cup orange juice
1/4 cup olive oil
1 tsp kosher salt
1/2 tsp black pepper
2 chipotle chilies in adobo sauce
For the Cilantro Lime Sauce:
1/2 cup mayonnaise
1 tsp worcestershire sauce
1 lime, juiced
1 tsp cumin
1/2 tsp kosher salt
1/4 tsp black pepper
1 tsp sugar
handful of cilantro
Instructions
In a food processor, add oil, salt, pepper and chilies in adobo. Process until chilies are finely ground. Slowly stream in the orange juice. Pour ingredients into a large ziploc bag, add pork tenderloins and seal. Shake and refrigerate for 2 hours or overnight.
When ready, preheat oven to 450 degree. Bake tenderloins on baking sheet and cook for about 20 minutes, until internal temperature of pork reaches 145 degrees. Oven temps may vary, so using a meat thermometer yields best results!
Remove from oven and allow to rest about 5 minutes before slicing.
While the pork is cooking, combine all the dressing ingredients in a blender (or food processor). Blend until smooth.
To serve, slice pork and drizzle with cilantro lime dressing. ENJOY!!
Connect with Ohio Pork Producers:
website | facebook | twitter | pinterest
**This is a sponsored post on behalf of the Ohio Pork Producers Council (OPPC) and the Ohio Soybean Council (hey, those pigs eat a lot of soybeans)! I was compensated for my time, however all opinions expressed are 100% my own!