Tender Pork Tenderloin seasoned with a chipotle marinade and drizzled with cilantro lime Sauce. Chipotle Pork Tenderloin is one weeknight dinner dish that my whole family loved!
Pork tenderloin recipes are perfect for busy weekday meals. When we're craving Italian flavors, we love Pesto Pork Tenderloin with pasta!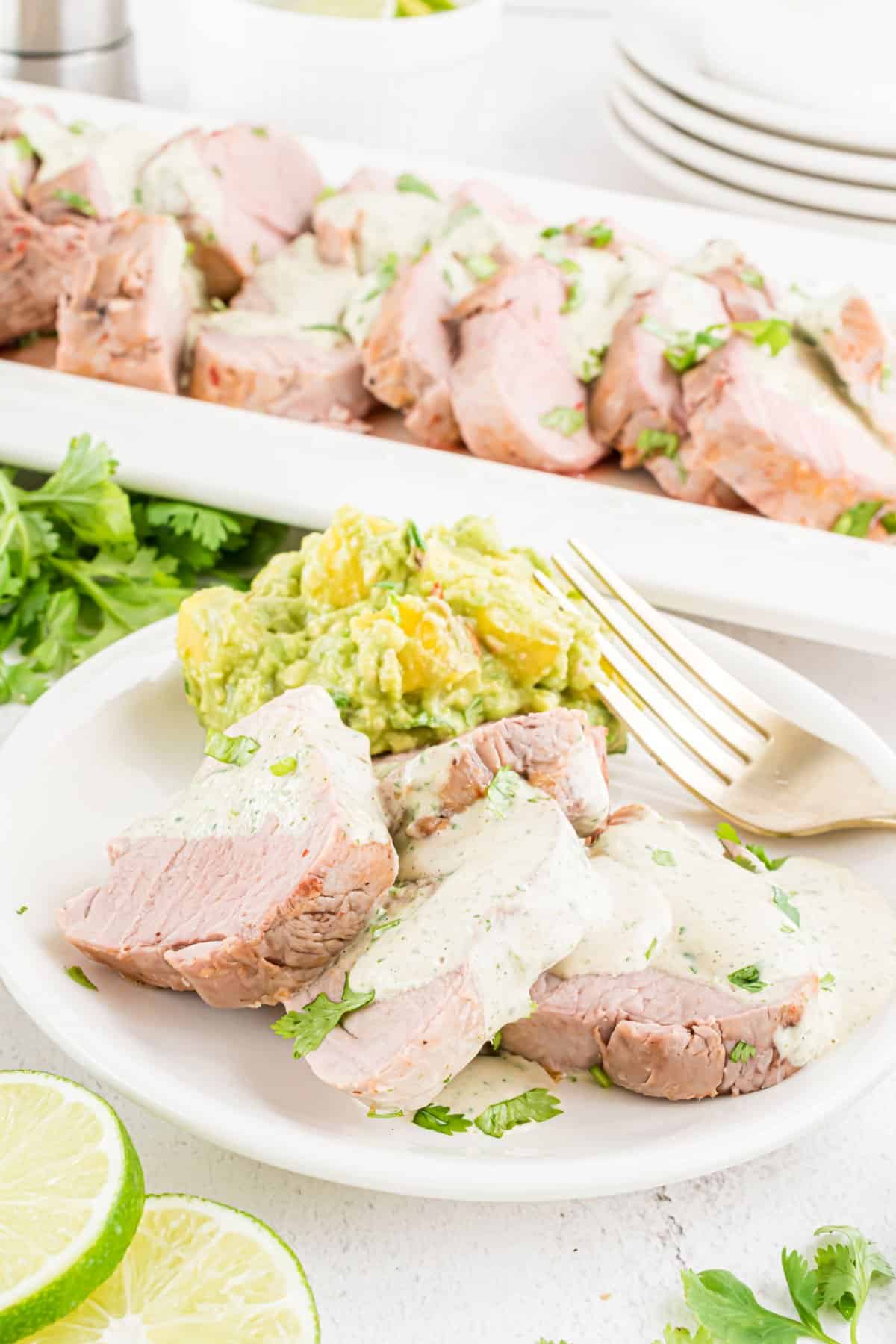 Why this Recipe Works
You know those dinners that blow you away? The ones you know will be "good" but that turn out unexpectedly AMAZING?
This chipotle pork is one of those. Best of all, it's a dish everyone in the family can agree on!
Pork tenderloin cooks quickly. Dinner is on the table in 30 minutes.
An orange juice marinade imbibes the meat with juicy flavor.
It has the perfect amount of smoky heat from chipotle peppers.
Cilantro and lime flavors balance the heat with fresh cool flavors.
We served our pork tenderloins sliced with a side of mango guacamole. It's the perfect pairing! Add today's recipe to your cinco de mayo menu!
Ingredient Notes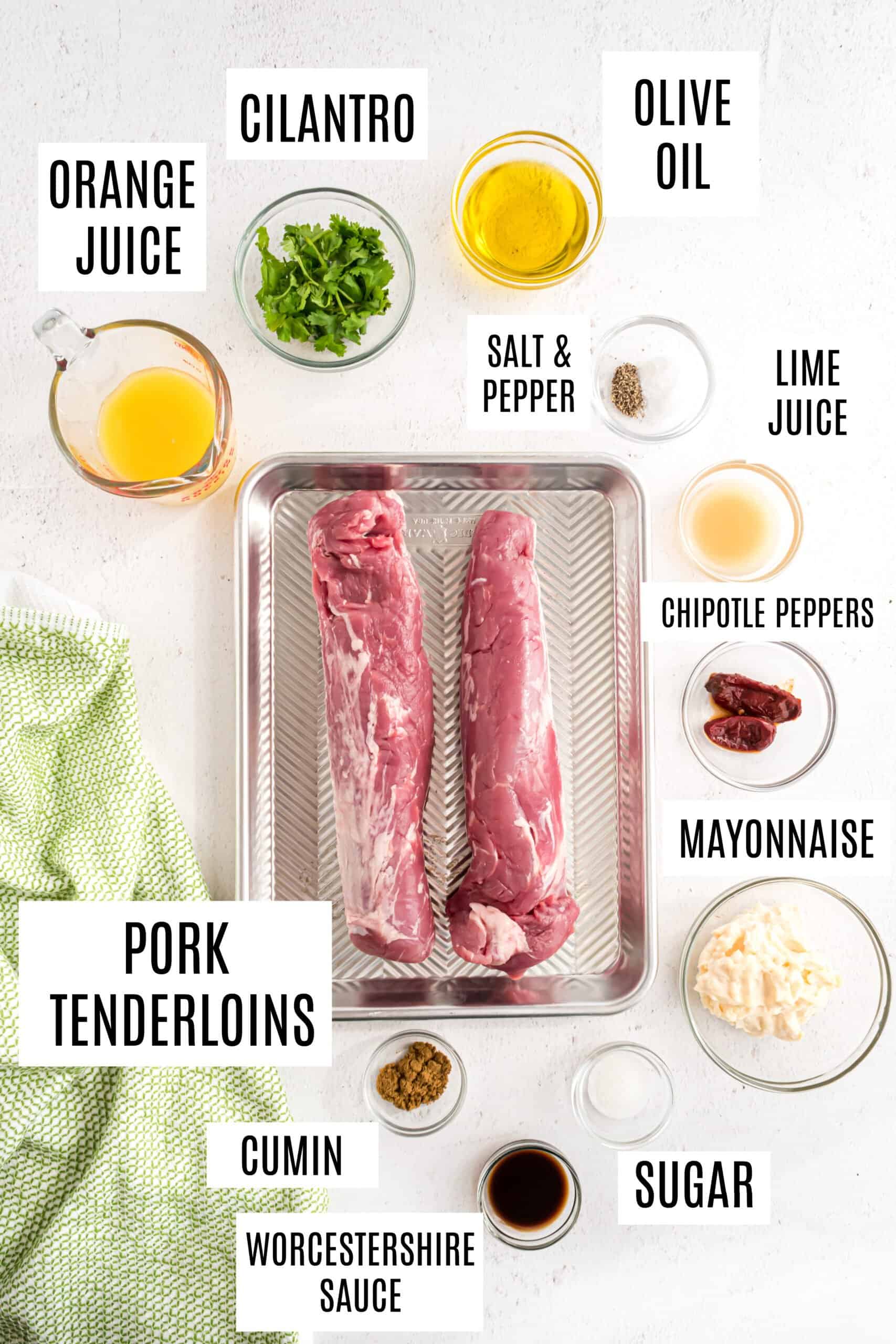 Pork tenderloins. Not to be confused with pork loin (a different cut of meat), your tenderloins should be as even in size as possible. We used 1 pound tenderloins.
Chipotles in adobo sauce. These are the canned chipotles in the smoky spicy sauce. You'll need both the peppers and the sauce. You'll need 2 peppers from the can (unless you want it even spicier)!
How to Tell When Pork is Done
Using a meat thermometer is the best and most accurate way to tell when your pork is done. The pork is fully cooked when a meat thermometer inserted into the center of a tenderloin reads 145 degrees F.
In our oven, Chipotle Pork Tenderloin takes about 20 minutes to cook through. Home oven temperatures can vary so using an oven thermometer helps ensure the pork is cooked to a safe temperature for consumption.
It's okay if your pork is still slightly pink–as long as that internal temperature is at least 145!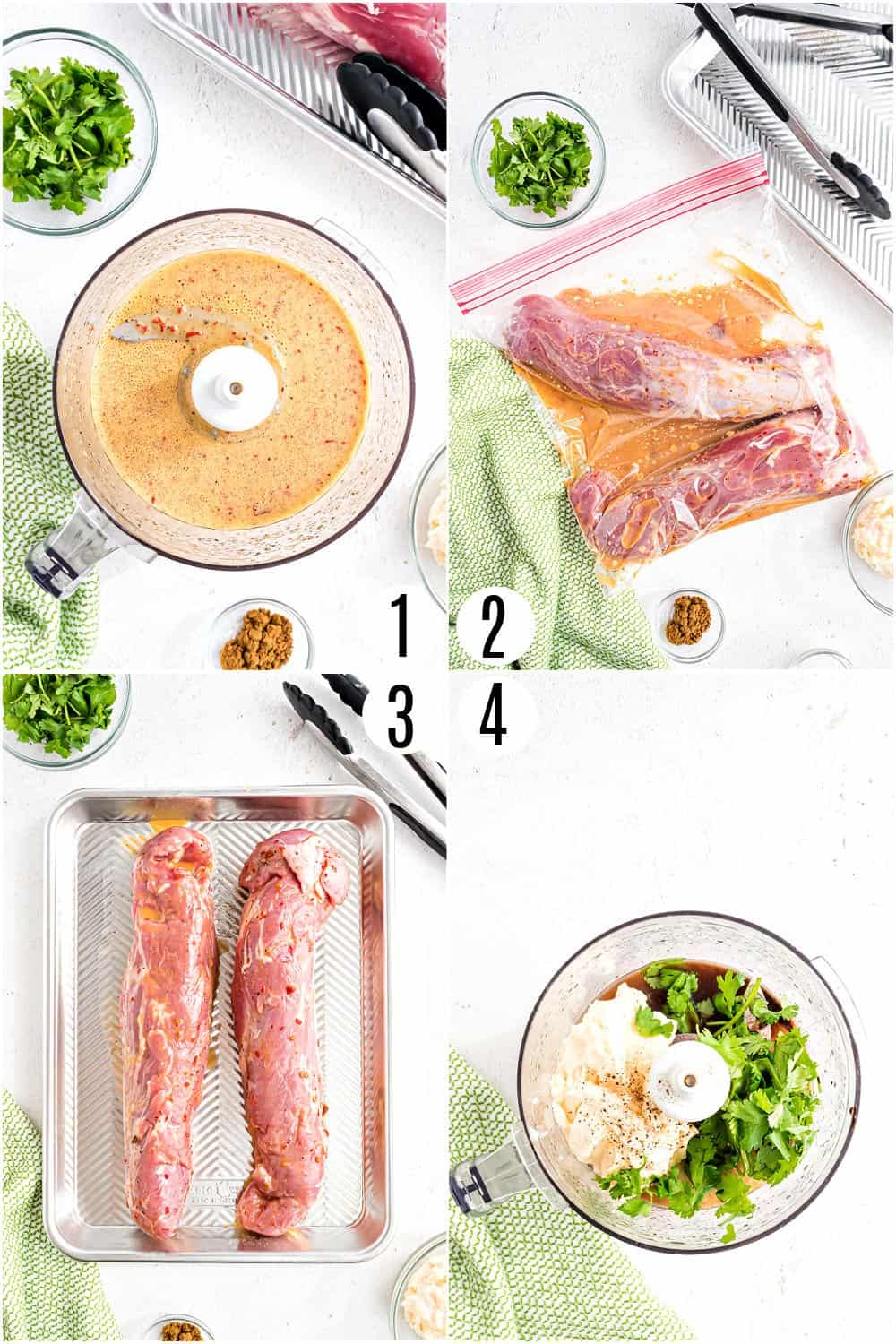 Tips and Tricks
Make the marinade ahead of time. You can prep the marinade and add the tenderloins up to 24 hours in advance. Then, just transfer the pork to the oven and bake for a quick and easy meal.
Use a blender to combine the ingredients for the cilantro lime sauce. It makes it so much easier to get everything smooth and combined.
Drizzle the cooked pork with the cilantro sauce right before serving.
Store leftover dressing and pork separately in airtight containers in the fridge. Reheat and enjoy within 2 days.
Serving Suggestions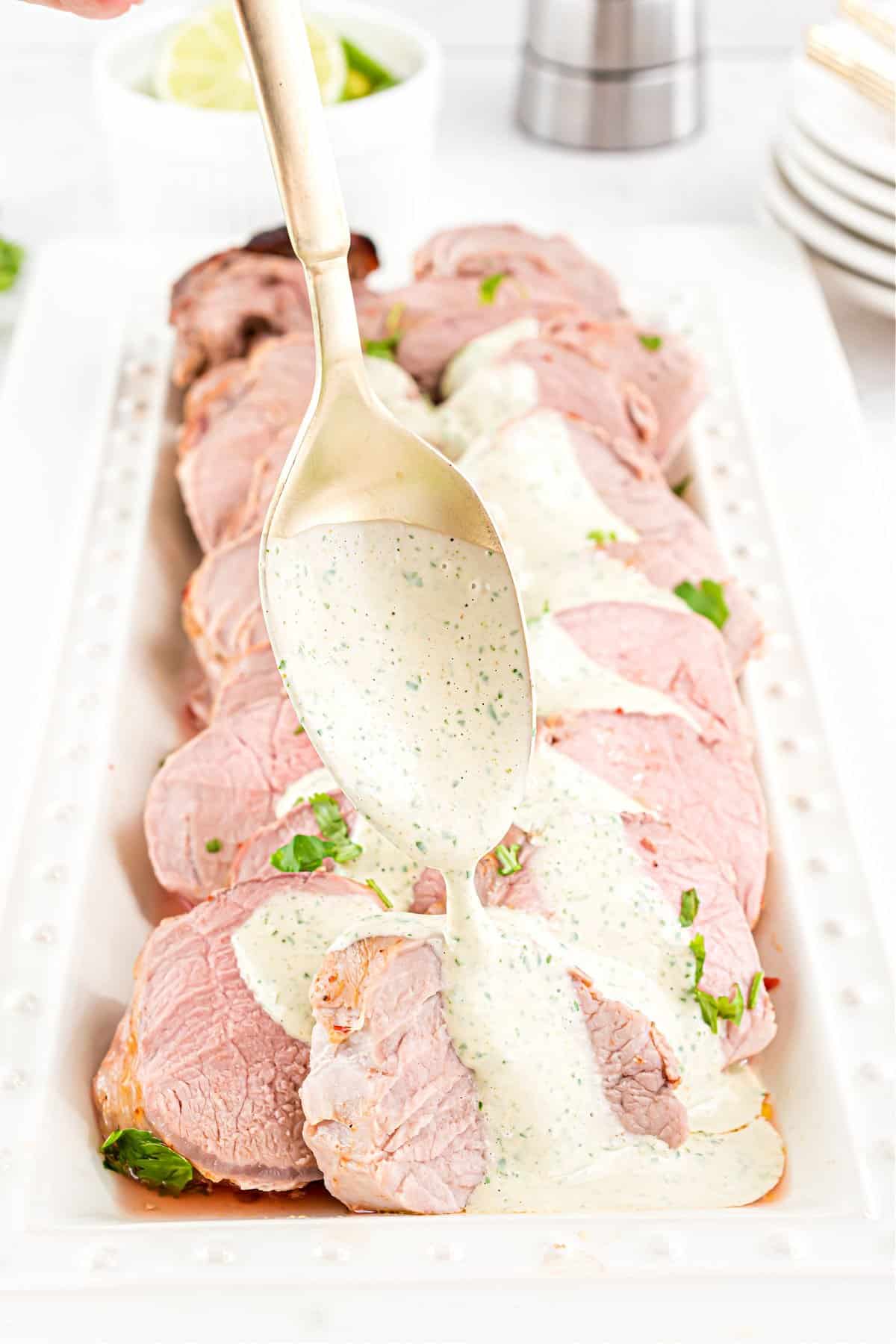 There are so many ways to turn this chipotle pork tenderloin into a balanced meal. Try it with this Cilantro Lime Rice or Mexican Street Corn Salad.
It's perfect with a side of grilled flour or corn tortillas too. Add a little Guacamole and wrap it up for tasty tacos. Or top it with our mango salsa.
Mix up leftovers with romaine lettuce and southwestern veggies for a lunch salad the next day. Save a little cilantro lime sauce to drizzle on top as a dressing. Delicious!
For dessert, everyone will love Dulce de Leche Banana Cream Pie or a slice of Pineapple Upside Down Cake.
Recipe FAQs
How long does the pork have to marinate?
The pork tenderloin tastes best when it has at least 2 hours to marinate in those tasty sauces. It's even better if you can leave it overnight!
Is pork tenderloin the same as pork loin?
No, it is not. Pork loin comes from a different park of the pig and is much denser, taking longer to look. Be sure to use pork loins in this recipe, which are boneless, long cuts of pork.
How can I tell if the pork is done if I don't own a meat thermometer?
If you don't have access to a meat thermometer, you can use the "touch test" to gauge when the pork is fully cooked.
When ready to eat, the pork should feel at least as firm to the touch as the tip of your index finger. Raw and undercooked pork will feel soft and squishy to the touch.
Can I make this on the grill instead?
Yes, this pork tenderloin tastes magical when grilled. Cook on the grill top for about 12 minutes on each side (or until internal temperature reaches 145). Wrap grilled pork in foil and let it rest for 10 minutes before serving.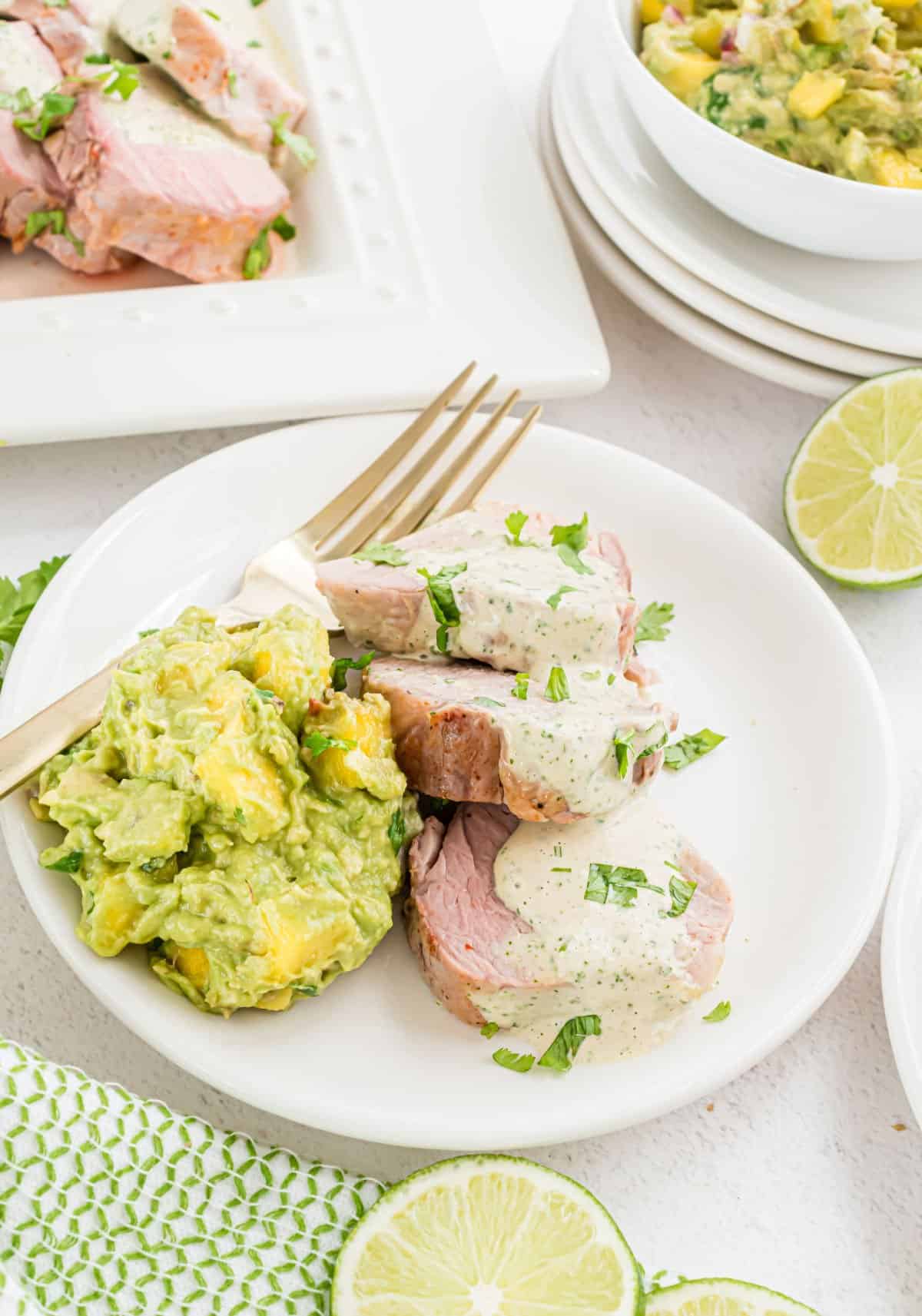 More Dinner Recipes: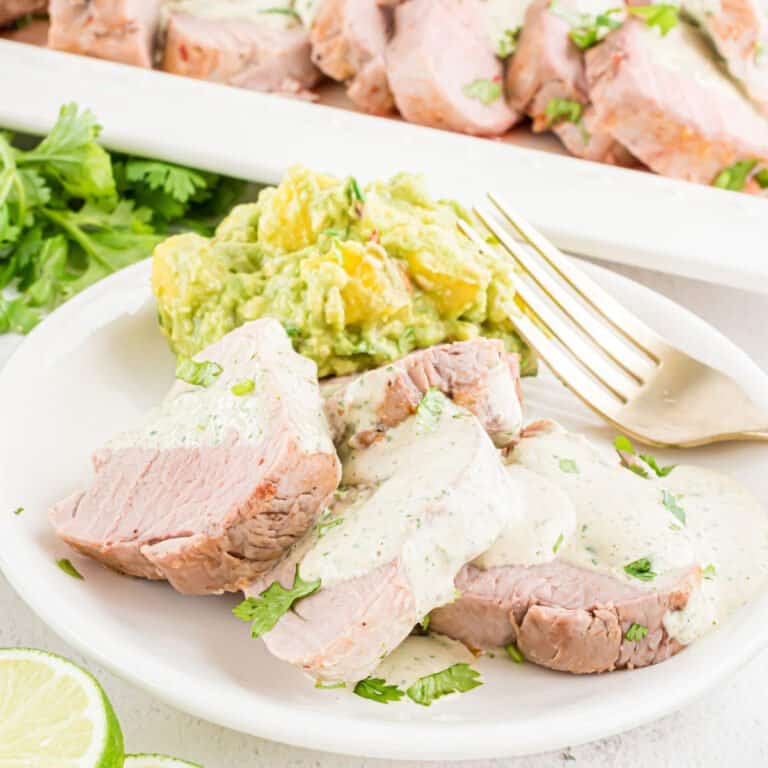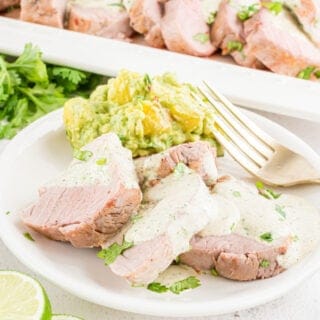 Chipotle Pork Tenderloin
Tender Pork Tenderloin seasoned with a chipotle marinade and drizzled with cilantro lime Sauce. Chipotle Pork Tenderloin is one weeknight dinner dish that my whole family loved!
Ingredients
For the Pork:
2

pork tenderloins

about 1 pound each

½

cup

orange juice

¼

cup

olive oil

1

teaspoon

kosher salt

½

teaspoon

black pepper

2

chipotle chilies in adobo sauce
For the Cilantro Lime Sauce:
½

cup

mayonnaise

1

teaspoon

worcestershire sauce

1

lime

juiced

1

teaspoon

cumin

½

teaspoon

kosher salt

¼

teaspoon

black pepper

1

teaspoon

granulated sugar

handful of cilantro

garnish
Instructions
In a food processor, add oil, salt, pepper and chilies in adobo. Process until chilies are finely ground. Slowly stream in the orange juice. Pour ingredients into a large ziploc bag, add pork tenderloins and seal. Shake and refrigerate for 2 hours or overnight.

When ready, preheat oven to 450 degrees. Bake tenderloins on baking sheet and cook for about 20 minutes, until internal temperature of pork reaches 145 degrees. Oven temps may vary, so using a meat thermometer yields best results!

Remove from oven and allow to rest about 5 minutes before slicing.

While the pork is cooking, combine all the dressing ingredients in a blender (or food processor). Blend until smooth.

To serve, slice pork and drizzle with cilantro lime dressing. ENJOY!!
Notes
Pink pork is okay as long as the temperature reaches 145 degrees!
Nutrition
Calories:
275
kcal
,
Carbohydrates:
6
g
,
Protein:
8
g
,
Fat:
24
g
,
Saturated Fat:
4
g
,
Polyunsaturated Fat:
20
g
,
Cholesterol:
28
mg
,
Sodium:
476
mg
,
Fiber:
1
g
,
Sugar:
4
g
Juicy flavor, zesty lime cilantro sauce and a kick of peppery heat make this Chipotle Pork Tenderloin a meal to remember! An easy weeknight dinner idea never tasted so good.