This Dulce de Leche Banana Cream Pie recipe has it all! A no bake banana cheesecake filling is layered with thick dulce de leche and banana slices on a homemade graham cracker crust.
If you love dulce de leche, be sure to try our easy Alfajores Cookies. Readers love our easy key lime pie bars for a delicious after dinner dessert.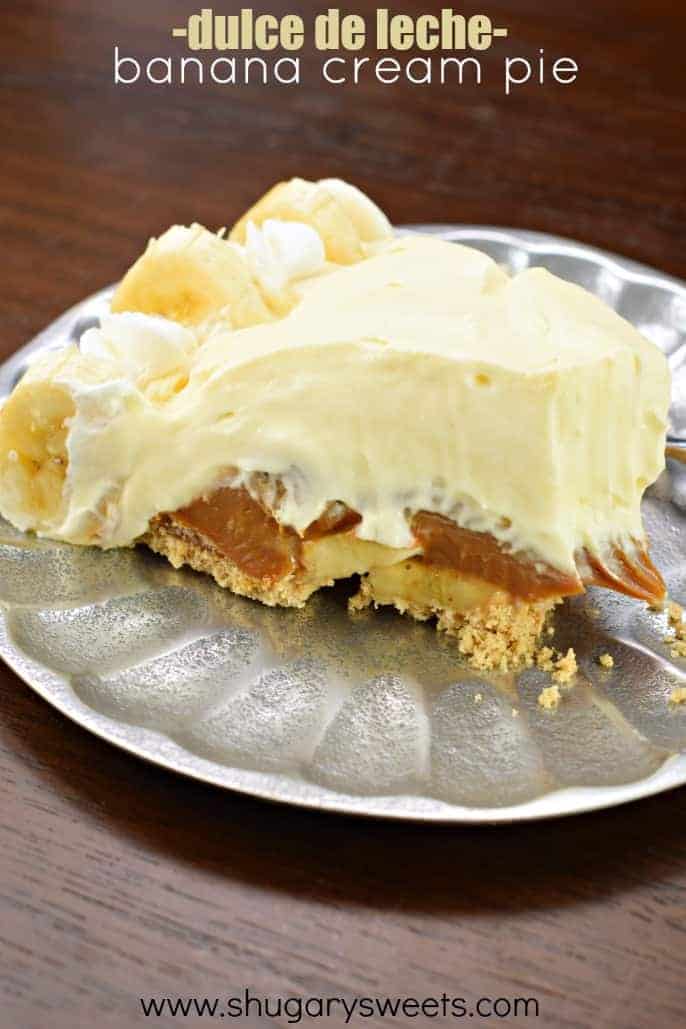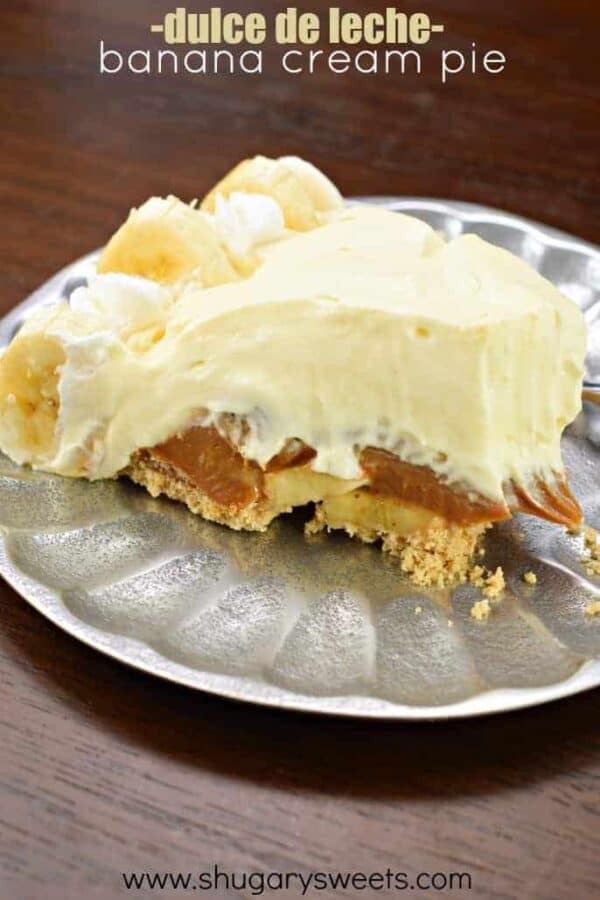 Why This Pie is Best
I love adding dulce de leche to desserts. If you're not familiar with this Mexican confection, it's a milk-based caramel that's thick and spreadable, like jam.
This Banana Cream Pie with dulce de leche tastes AMAZING. It's made with simple ingredients and takes just a few minutes to assemble.
It's a banana cream pie and cheesecake in one.
Dulce de Leche pairs perfectly with the flavor of fresh bananas and cool, creamy cheesecake.
It has a homemade crust sturdy enough to hold up to all those layers!
A no-bake dessert you can make any time of year.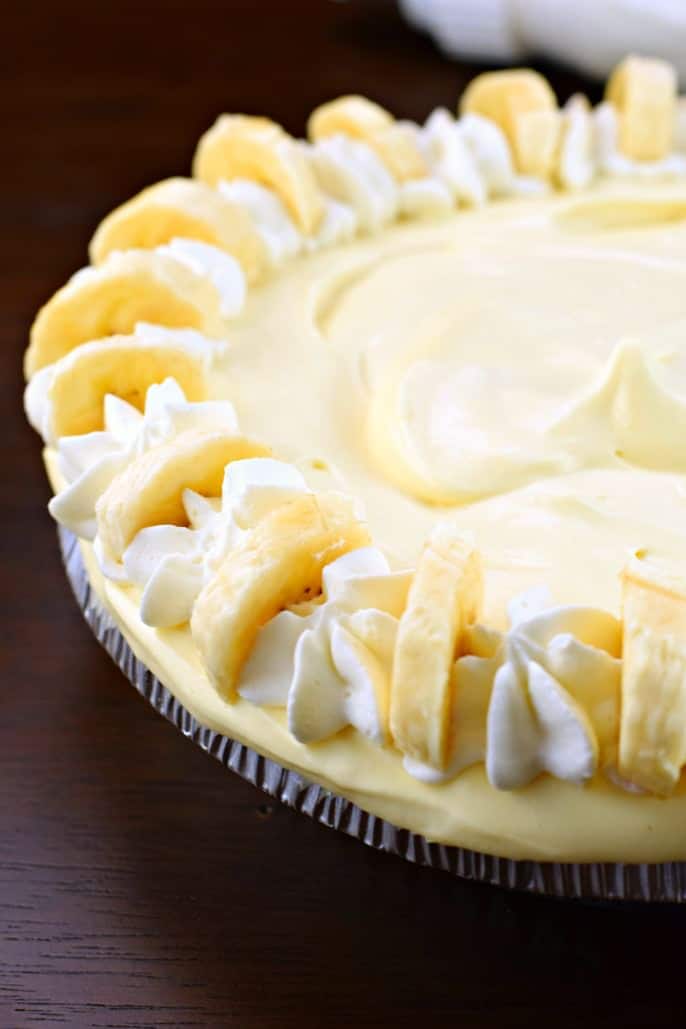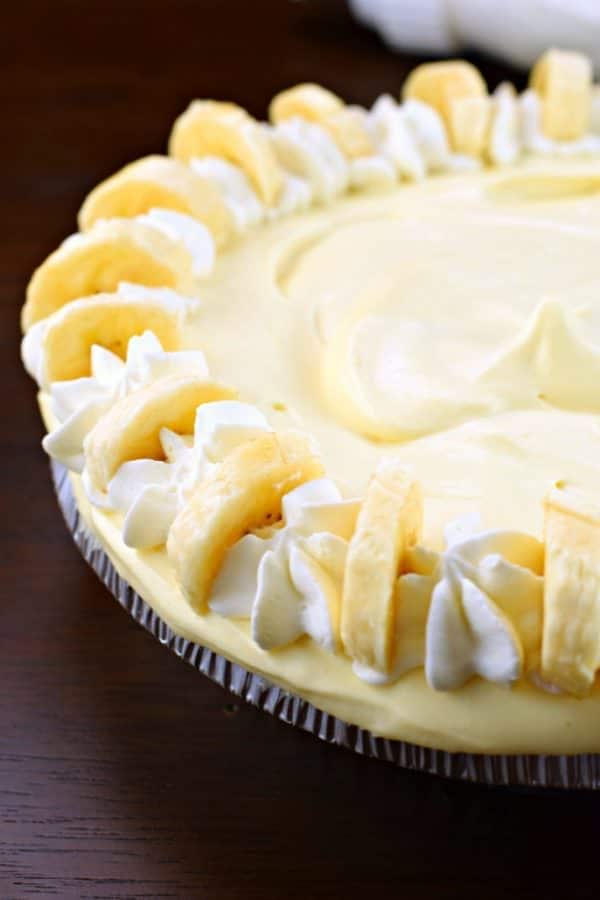 Ingredient Notes
Graham cracker crust – Make your own graham cracker crust from scratch or pick up a store bought crust.
French vanilla pudding – We used use instant pudding mix and milk. Regular vanilla pudding mix works well if you can't find French vanilla.
Cool Whip – Folded into pudding to make the pie filling light and fluffy. You can use homemade stabilized whipped cream instead if you prefer!
Sweetened condensed milk – Beaten with cream cheese to sweeten the cheesecake layer.
Banana slices – For the bottom layer and arranging on the the edges of the finished pie.
Dulce de Leche – To spread over the first banana layer. You can find it in cans in the baking aisle near the sweeten condensed milk or in the International section of your grocery store.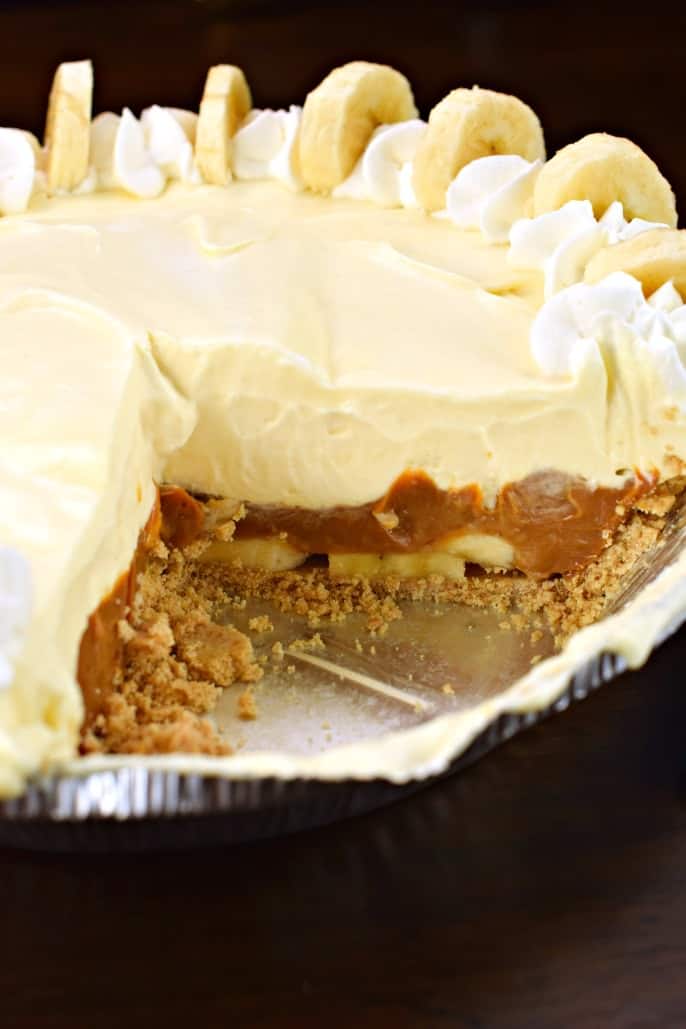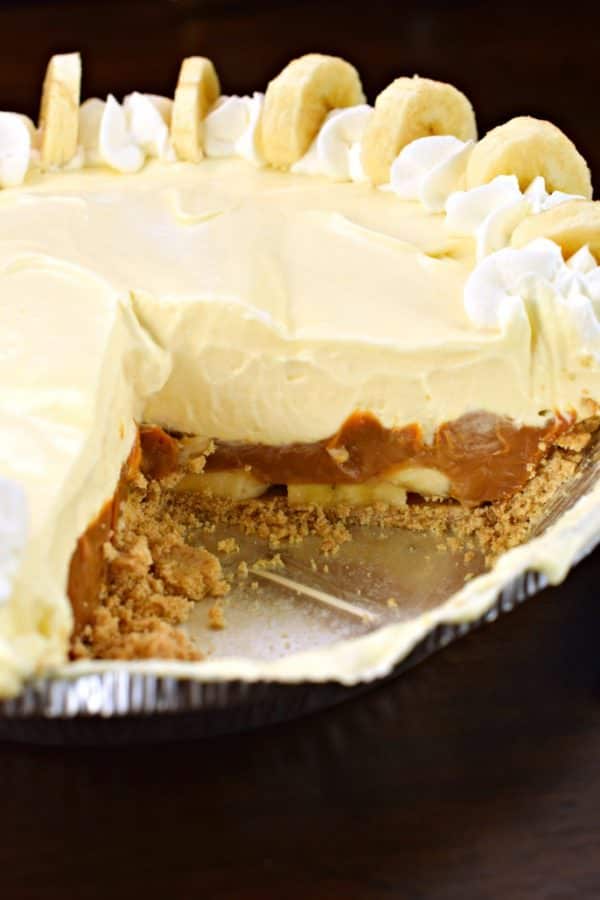 Tips and Trick
After assembling the pie, place it in the fridge to chill for at least 2 hours! I like to cover it and let it chill over night to give it plenty of time to set.
You will have about half a cup of Cool Whip leftover after assembling the banana cream pie. Save it for decorating the finished pie!
Before serving, add the Cool Whip to a piping bag and pipe it all around the edges of the pie. Then arrange the remaining banana slices between each dollop of cool whip.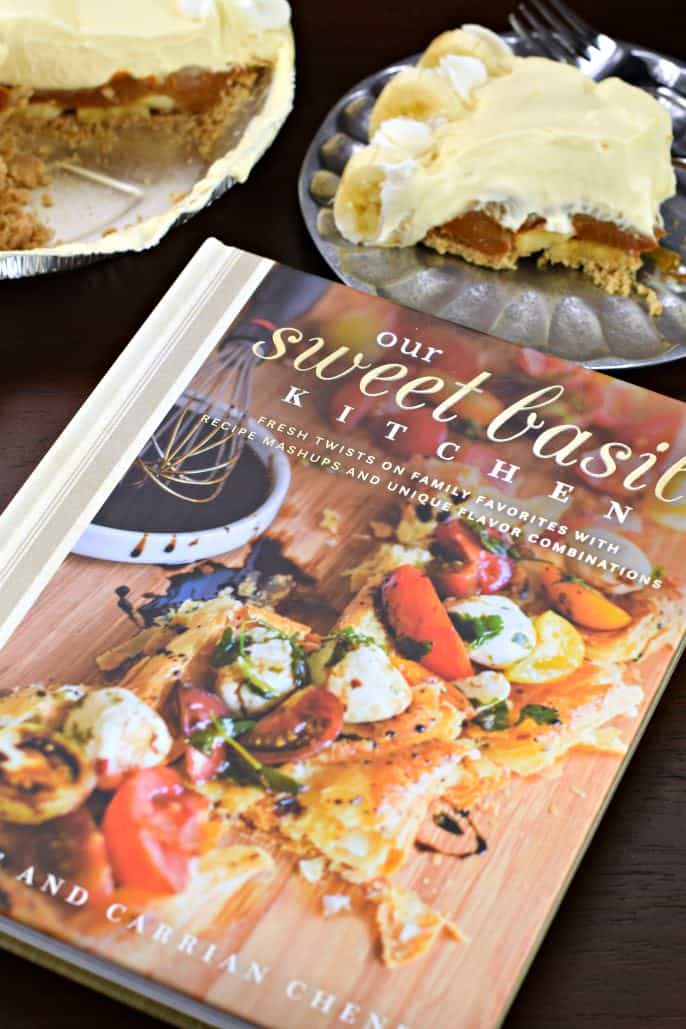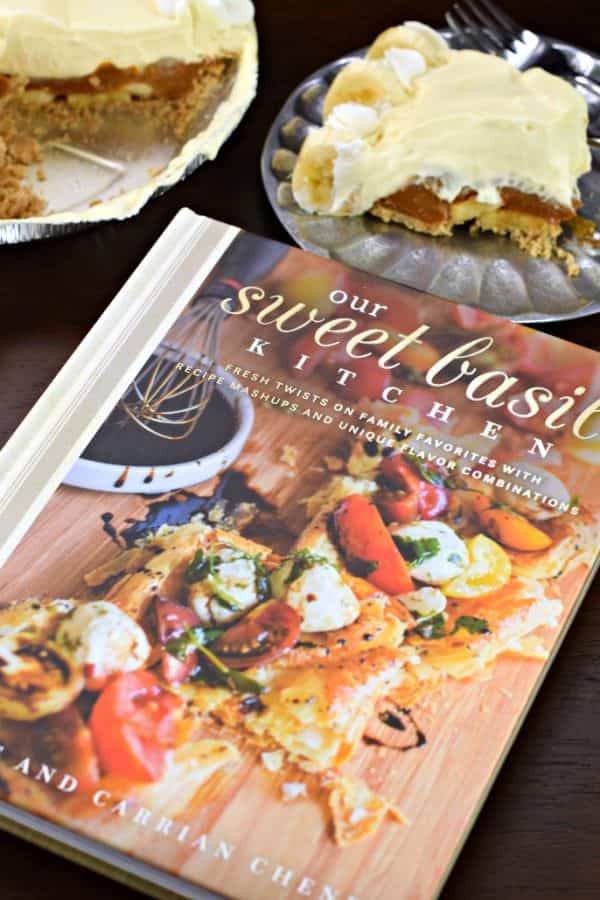 Recipe FAQs
Can I use store bought crust instead?
Yes, you can, but I found it did not hold up as well to the mile high filling! Store bought crusts tend to be thinner than my homemade versions and crumbled more easily under the weight of the pie filling.
How do I store Banana Cream Pie?
Store the Dulce de Leche Banana Cream Pie covered in the refrigerator. It will keep for about 5 days.
How can I keep the banana slices on top from turning brown?
Since fresh bananas oxidize quickly (turning brown), I suggest adding them to the pie right before you serve it.

Can I make this without bananas?
You sure can. It would be delicious as a Dulce de Leche Vanilla Cream Pie too!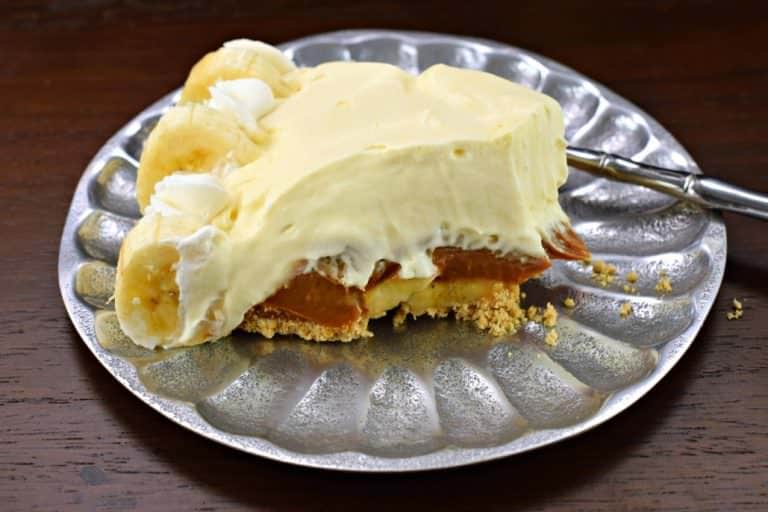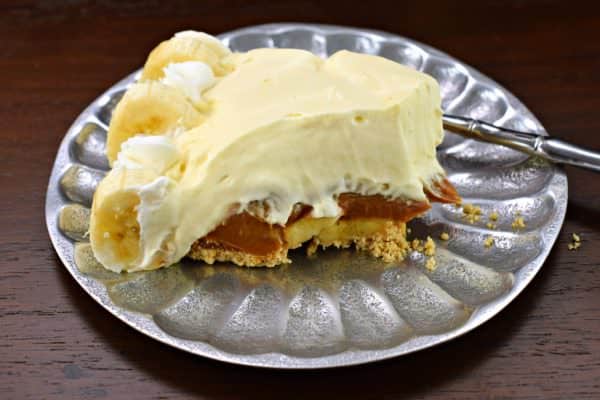 This Banana Cream Pie is now one of my favorite dulce de leche desserts. I hope you love it just as much as we did!