This Dulce de Leche Banana Cream Pie recipe has it all! Graham Cracker crust topped with dulce de leche and bananas with a no bake banana cheesecake filling!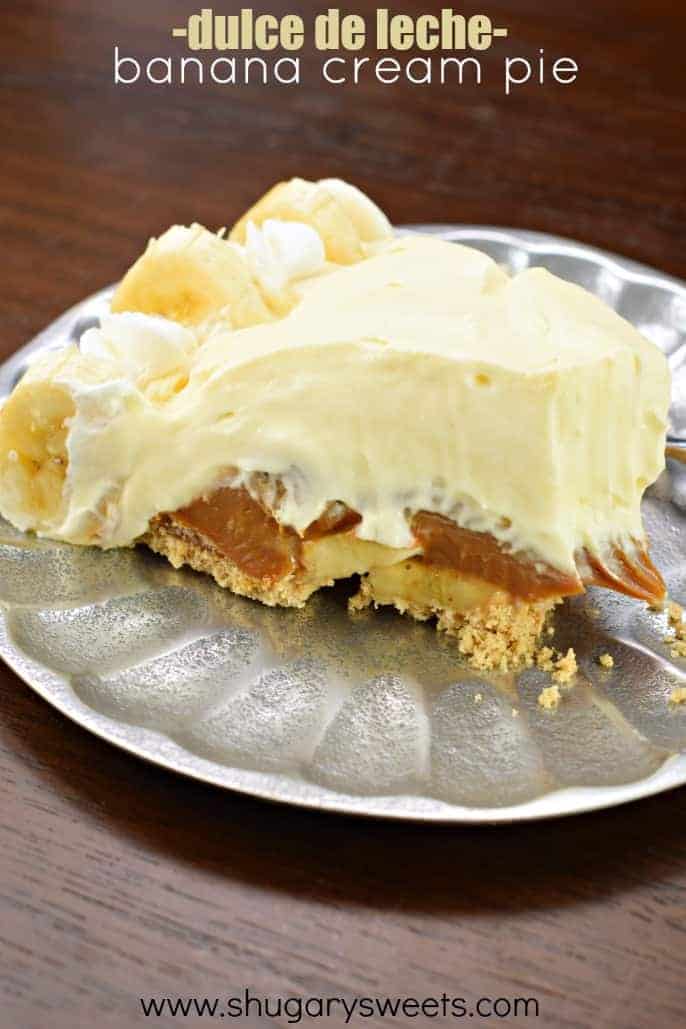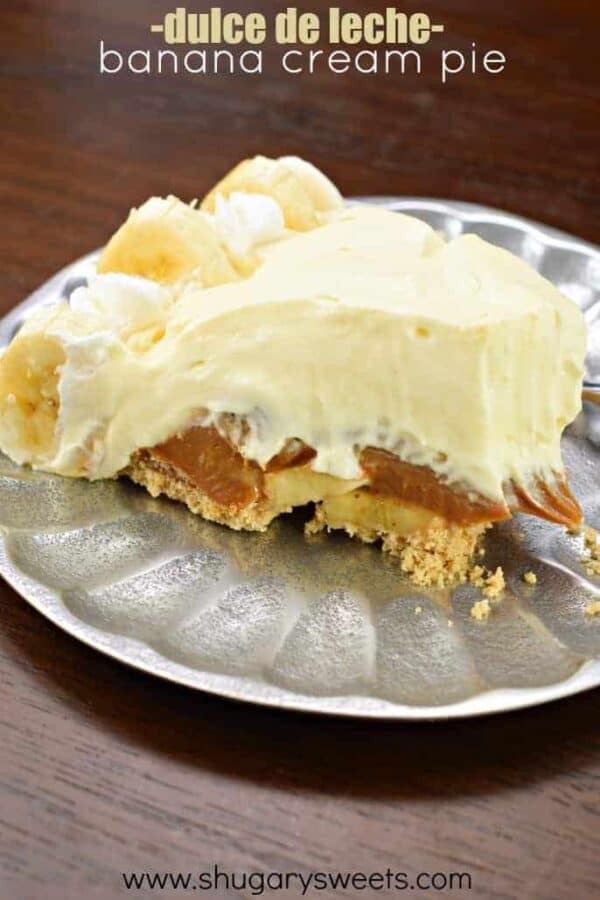 I am so thankful for all the friends that I have had the opportunity to meet thanks to food blogging. And by "meet" I totally mean on the internet. While I have met so many of them in real life on trips and at conferences, there are still so many "blogger friends" that I have yet to personally shake hands with.
The nice thing about blog friends, are they get ya. They understand. They are on facebook all day, ready and available for a quick message of support, encouragement, or tech advice. Blog friends have the same work life balance struggles. They want to throw their hands up in the air at facebook when a post doesn't get shown to their readers, and they help you figure out instagram algorithms!
A few years ago I met this girl on a press trip. And I left that trip feeling like I had met the nicest blogger in the world. I still feel that way. And her name is Carrian. She blogs at Oh Sweet Basil. If you've never visited her website…I suggest you start with these pancakes. They have become our family's favorite!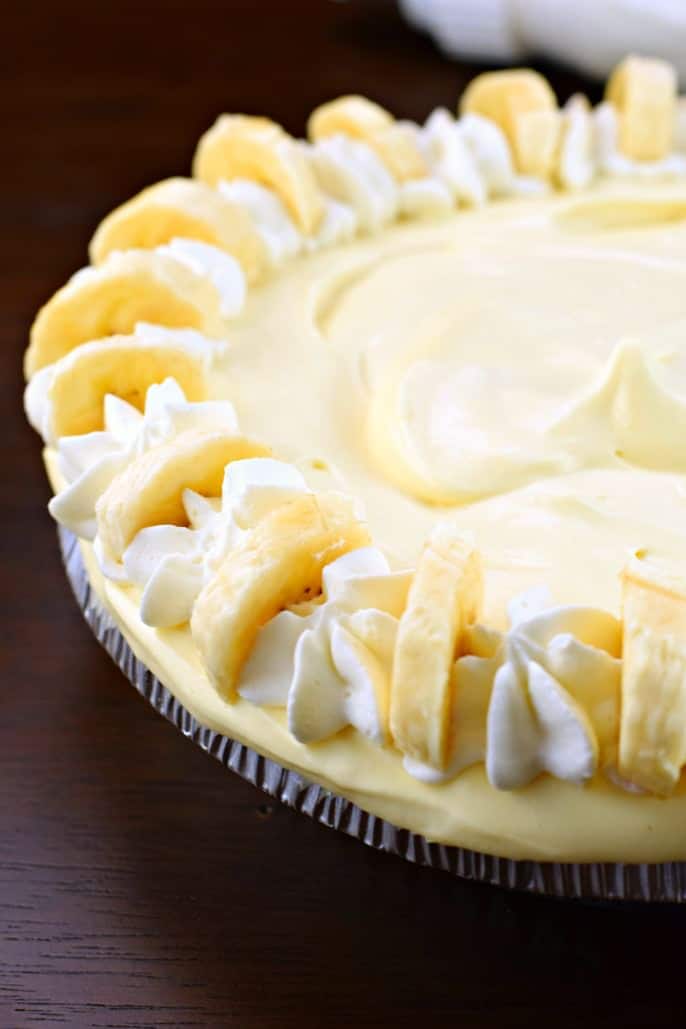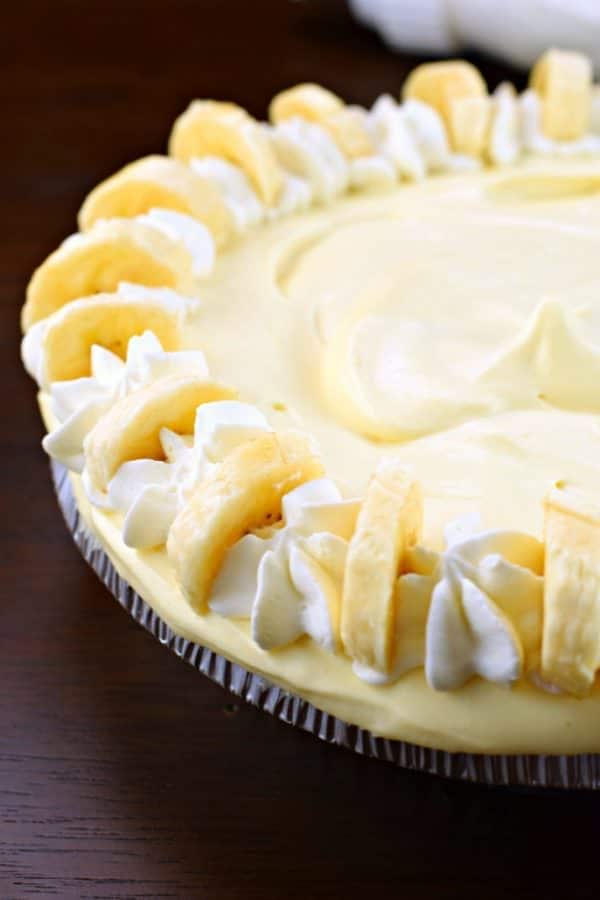 Carrian and her husband Cade recently published a new cookbook, Our Sweet Basil Kitchen. It's a beautiful book filled with recipes that I know my family will love. They are recipes that will draw your family together to enjoy moments and memories, all around the dinner table (or breakfast table)!
When I told her I would review and share one of the recipes from her book, it was so hard to choose. But of course, I had to go with a dessert. And since Banana Cream Pie is one of my favorite flavors of pie (EVER), I knew this would be the one.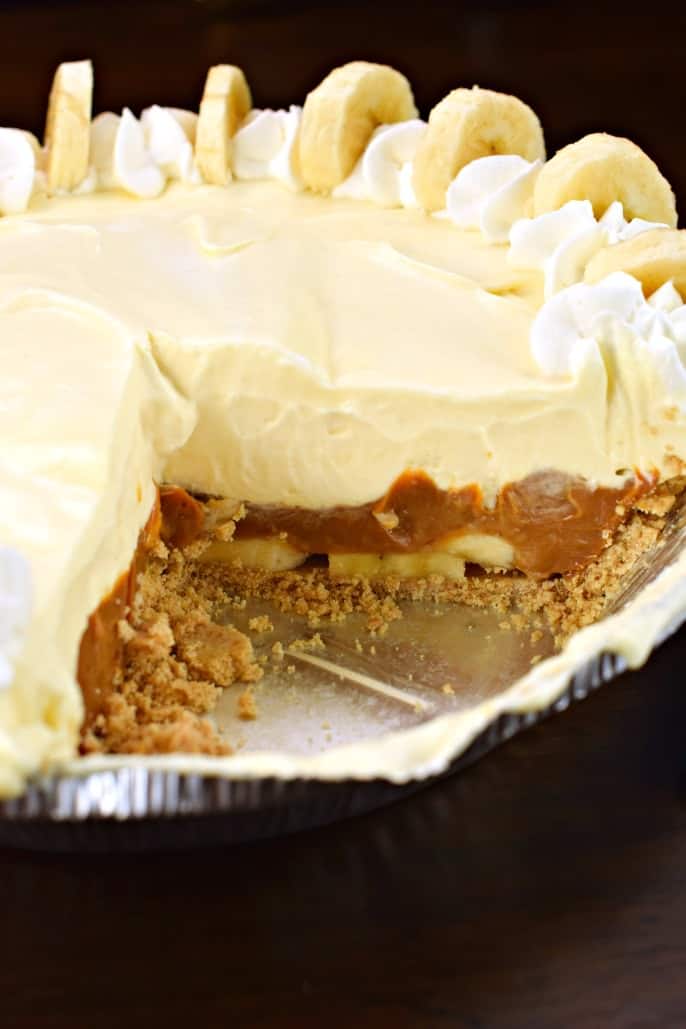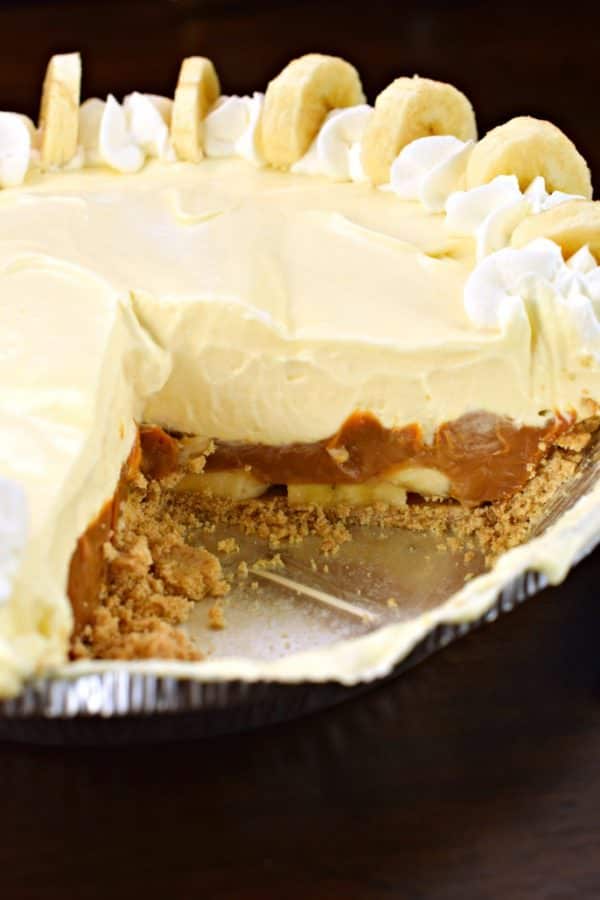 Not only is her recipe for Dulce de Leche Banana Cream Pie EASY to follow, but the result is amazing. My only wish is that I had not tried to save time by purchasing a ready made graham cracker pie crust. Not only do I not like the taste of them (well, at least not as much as I do homemade), but this pie is MILE HIGH. And that wimpy little store bought pie crust couldn't handle all the filling. So I am writing the recipe below using a homemade pie crust (like I use in my no bake cheesecake recipe).
Thank you Carrian for a delicious pie recipe that will be making appearances regularly on our dessert table!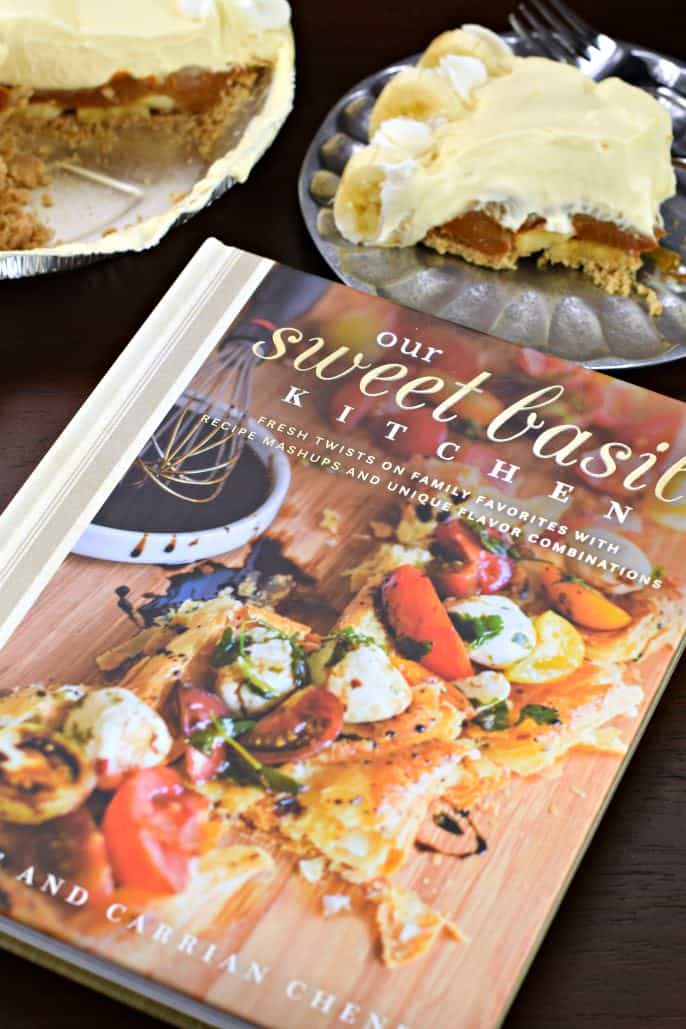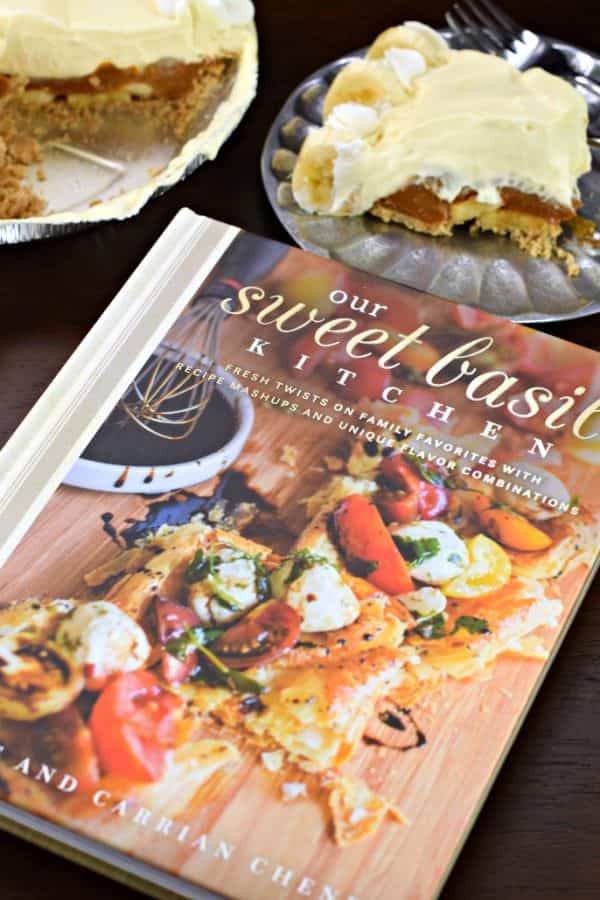 If you want to order a copy of this delicious cookbook for yourself, check it out on Amazon!! You won't be sorry! From Cade's Classic Crepes recipe, a 7 layer Salad, Potato Rolls, Smoky Sloppy Joes, to Key Lime Bars, this cookbook covers all the food categories 🙂 ENJOY!
I created a fun little group on facebook and I'd love for you to join in! It's a place where you can share YOUR favorite recipes, ask questions, and see what's new with Shugary Sweets (so that you never miss a new recipe)! If you'd like to check it out, you can request to join HERE.
Connect with Shugary Sweets! Be sure to follow me on my social media, so you never miss a post!
Facebook | Twitter | Pinterest | instagram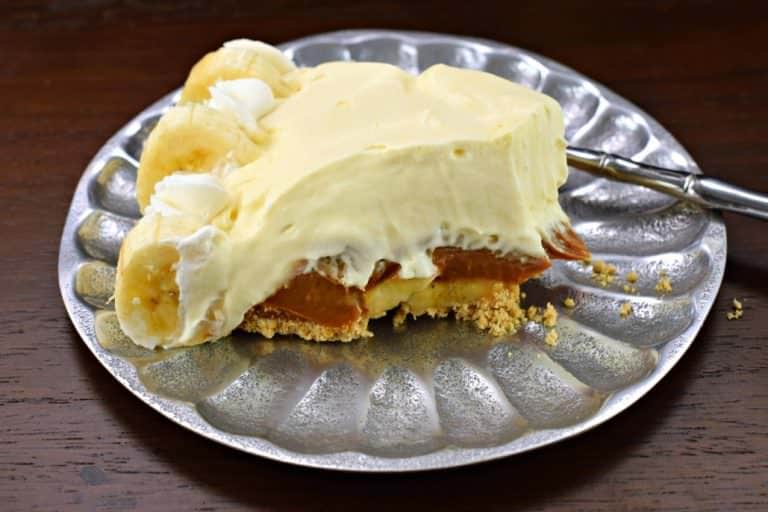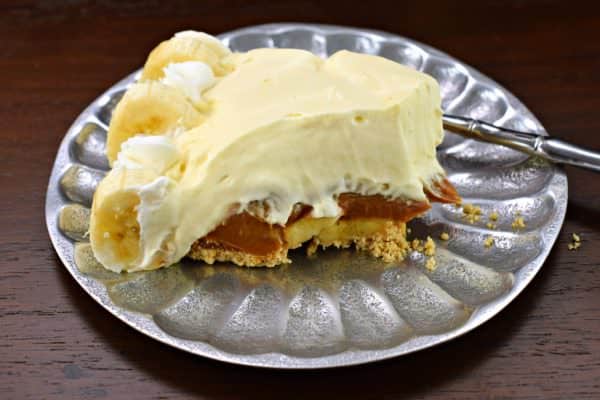 More Easy Desserts