A slow cooker and a handful of ingredients are all you need to make Root Beer Pulled Pork. This tender fall-apart pork is begging to be piled onto buns and served with coleslaw! You'll love this flavorful BBQ inspired meal.
In a hurry? Check out this Instant Pot Pulled Pork for a quicker pork recipe! Or try our Hawaiian inspired pulled pork which is delicious too!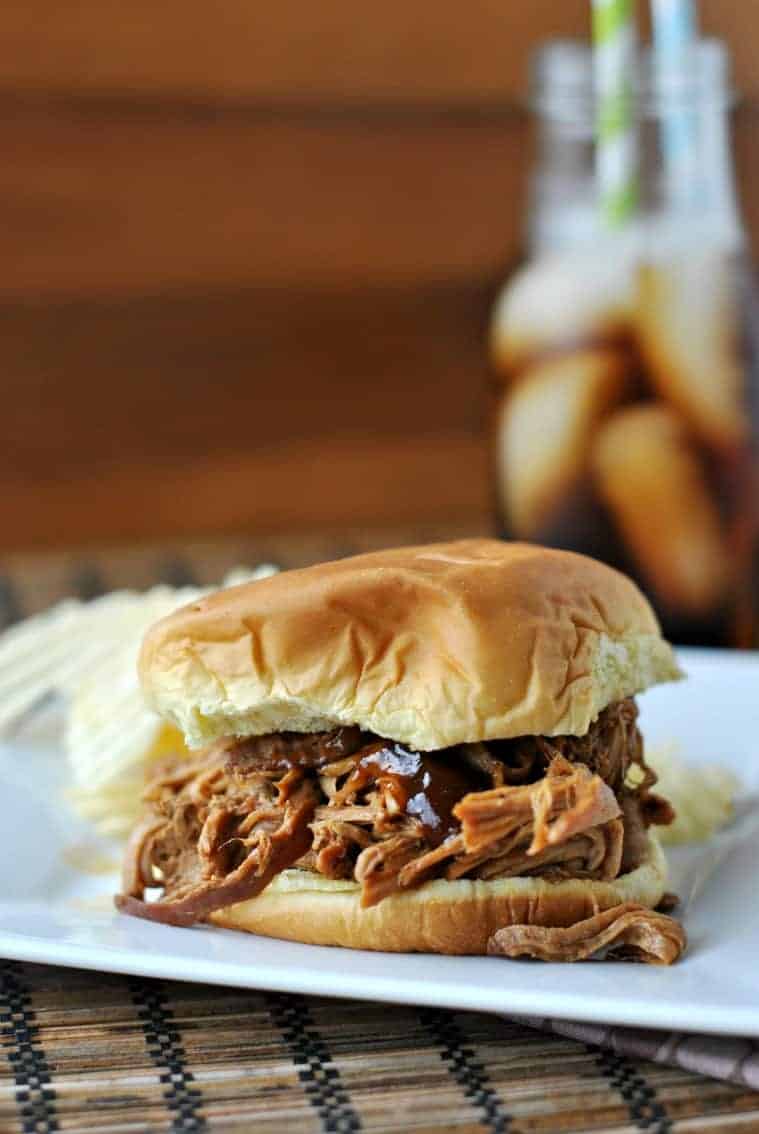 Why this Recipe Works
Have you ever made pulled pork with root beer?
Cooking pork shoulder over several hours in a root beer marinade makes it unbelievably flavorful. The acid in the root beer helps break down the proteins in the meat resulting in an extra juicy, tender pulled pork!
You only need FIVE ingredients (and that includes salt & pepper).
Set it and forget it! After adding everything to the slow cooker, walk away while it cooks to perfection.
This pork is so tender it falls apart on your fork.
You can make this with any kind of barbecue sauce you like. There are endless variations, from sweet to spicy to extra tangy.
If you love shredded pork, be sure to try our pork ragu next!
Ingredient Notes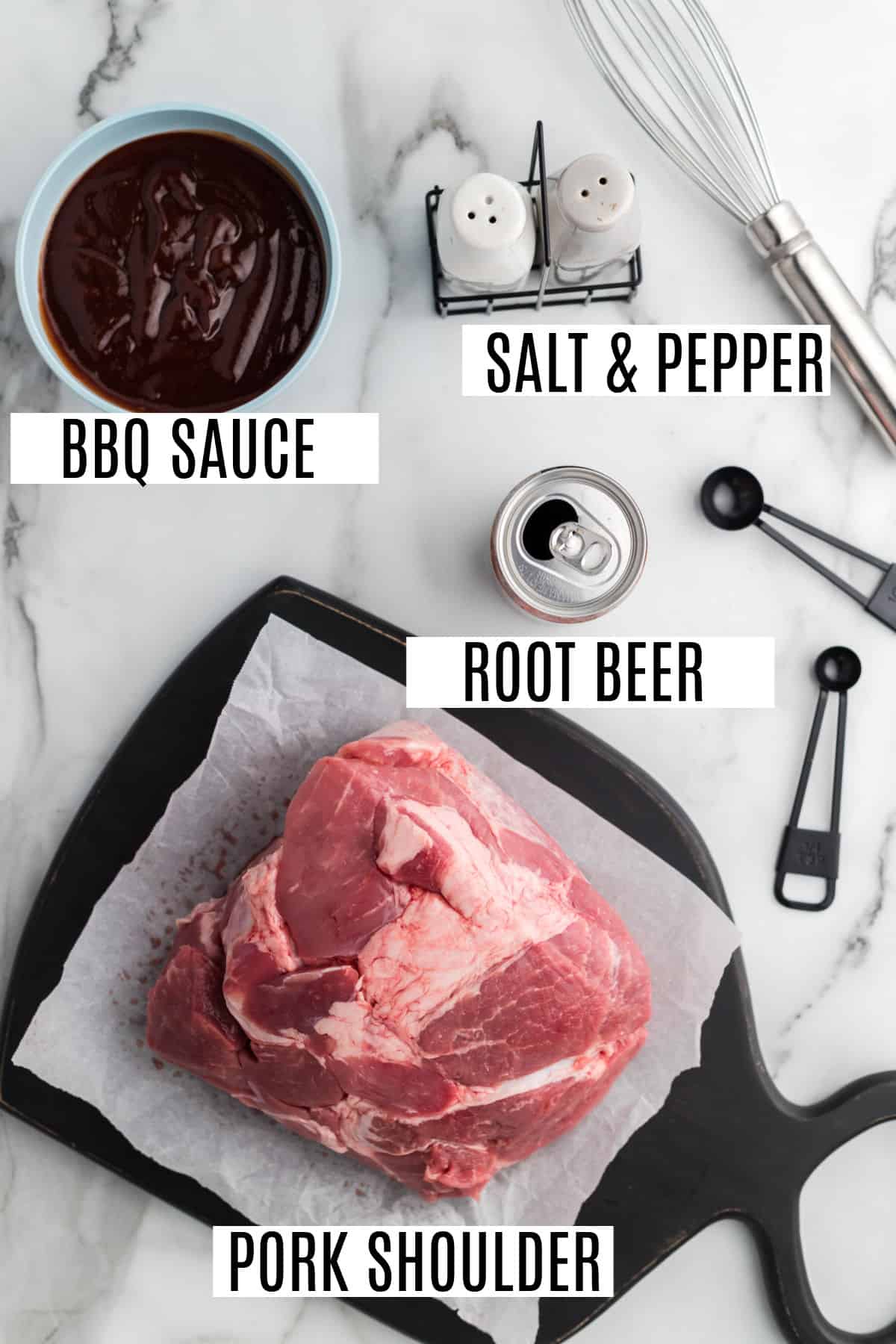 Root Beer. Any brand of root beer works here. I use regular root beer for the sweetness, but diet root beer may be used as well.
BBQ sauce. I typically use bottled sauce when making pulled pork. If you have a favorite homemade version, that would be delicious here too.
Salt & Pepper. A little coarse kosher salt and some pepper add the perfect flavor!
Pork Shoulder. For this recipe, you'll need boneless or bone-in pork shoulder. Shoulder is available in both bone-in and boneless cuts, either work for this slow cooker recipe.
Pork Butt vs. Pork Shoulder: Pork Butt (ironically it's still from the shoulder) is also commonly used in pulled pork. However, it is a tougher cut of meat and needs a longer cooking time. Since we'll be cooking this in the slow cooker you could opt for a pork butt.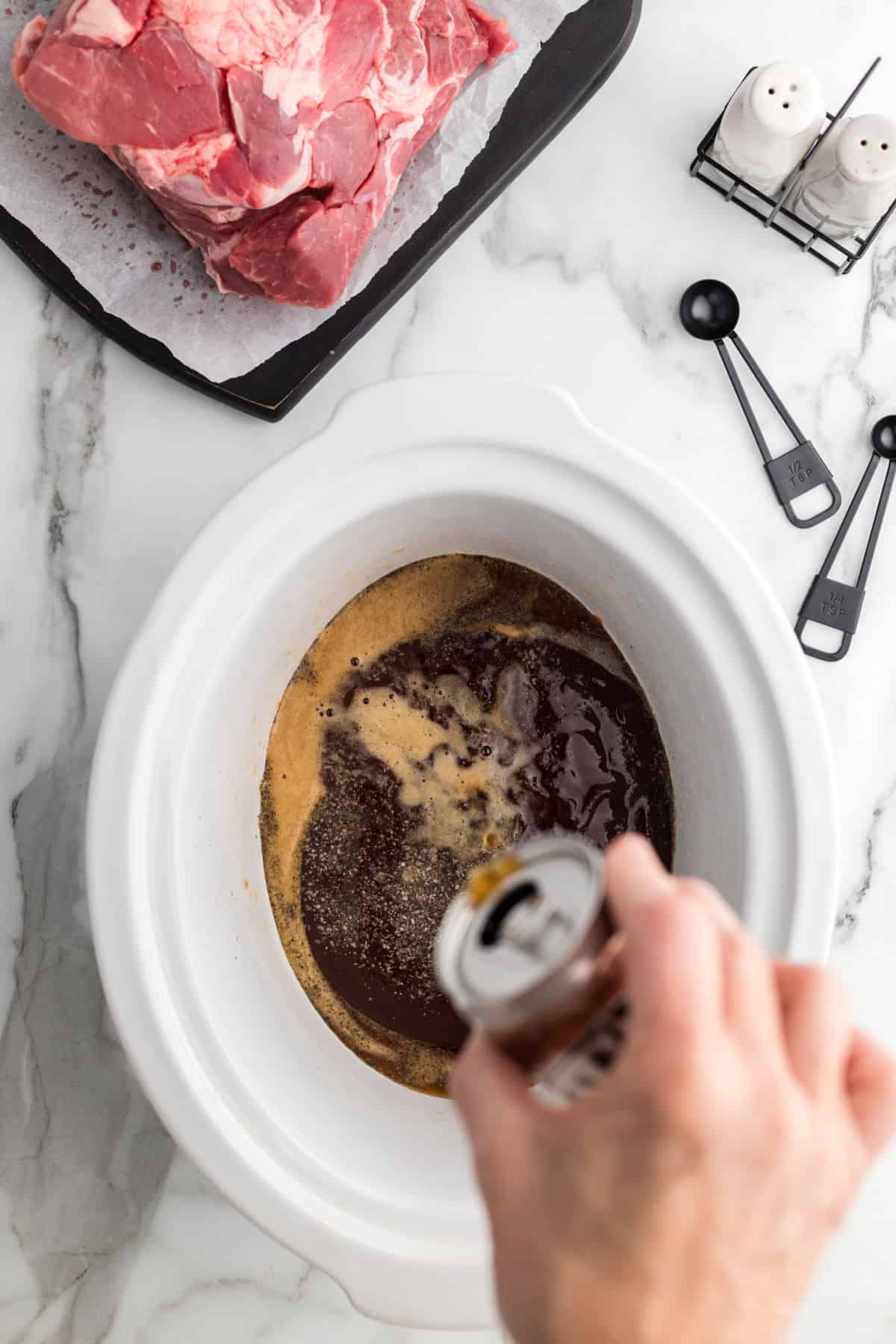 Tips & Tricks
Whisk together the marinade first. Add all the sauce ingredients and the root beer to the bottom of your slow cooker. Whisk them together before adding the pork so the meat gets evenly marinated.
Shred with forks. After the pork is done cooking, remove it from the pot and shred it in a separate bowl. Then, add it back to the slow cooker to recombine with the marinade.
Substitute. Use Coca-Cola instead of root beer for a similar flavor and texture!
Serving Suggestions
Sandwiches. Layer pulled pork on toasted hamburger buns, Kaiser Rolls or sweet Hawaiian rolls. Top with onions, lettuce and all your favorite sandwich fixings.
Mashed potatoes. This pulled pork is delicious ladled over mashed potatoes with a bit of extra BBQ sauce.
Coleslaw. We always serve our pork with homemade coleslaw. Whether you like our traditional version or our KFC coleslaw, slop some on top of your sandwich!
Pizza. Add this pork to a cheesy crust for a "Nashville style" pizza! Or use it on our Hawaiian Pizza instead of our Kalua Pork!
Salads. Leftover pulled pork makes a simple lunchtime green salad more exciting. Toss with ranch dressing and other fresh veggies.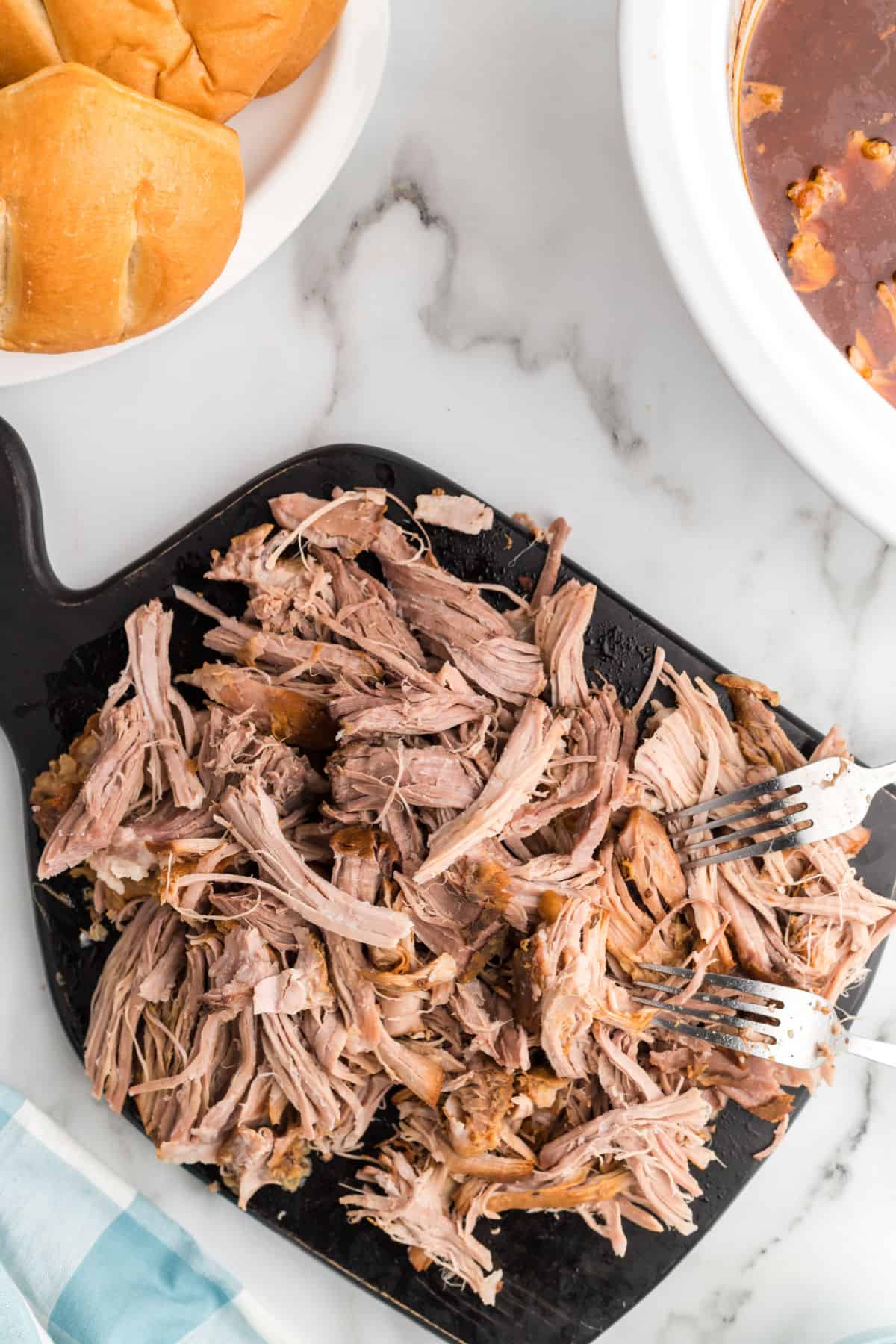 Recipe FAQs
What cut of pork is best for pulled pork?
Pork shoulder and pork butt are my preferred cuts of meat for pulled pork recipes. They contain more fat than most other parts of the animal which means they break down and get super tender when slow cooked.
How long does it take to make pulled pork in the slow cooker?
Pulled Pork takes about 8 hours to cook on the low setting. It may take more or less time depending on your brand of slow cooker and the cut of meat you choose.
How long does root beer pulled pork keep in the fridge?
You should reheat and enjoy leftover pulled pork within 3 days. If it begins to dry out, add more barbecue sauce to taste when serving.
Does the pork taste like root beer?
Root Beer Pulled Pork does not have a strong root beer flavor. The natural flavor of the pork and the barbecue sauce are more prominent.
What side dishes go well with pulled pork?
We love our Root Beer Pulled Pork sandwiches with all kinds of Potato Salad, coleslaw or Macaroni Salad.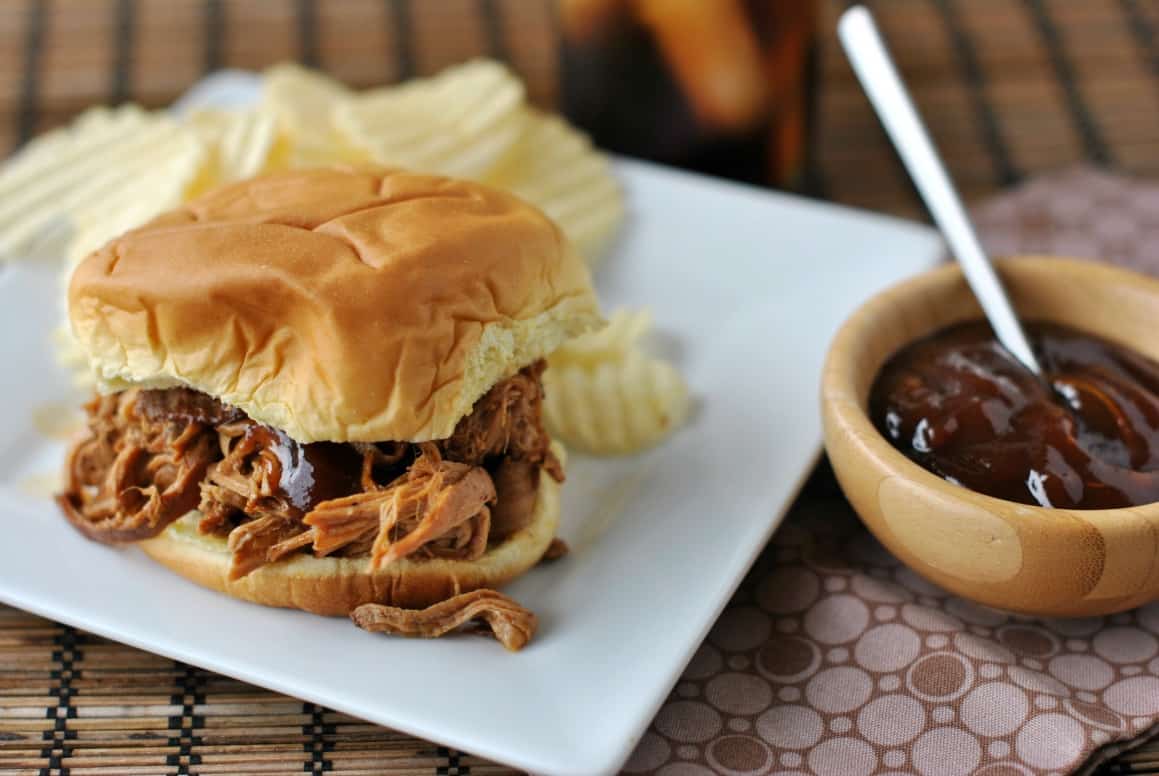 More Pork Recipes
A perfect easy weeknight meal! Prep this Slow cooker Root Beer Pulled Pork in the morning and it's ready to serve by dinner time!