Italian flavors shine in this slow cooker Pork Ragu recipe. Cooked for hours in the crockpot in an herb infused wine sauce, the juicy, shredded pork is served over pappardelle pasta for an irresistible Italian dinner.
This Pork Ragu is almost dancing with flavor. It's perfect paired with Garlic Breadsticks or a loaf of Cheesy Garlic Bread.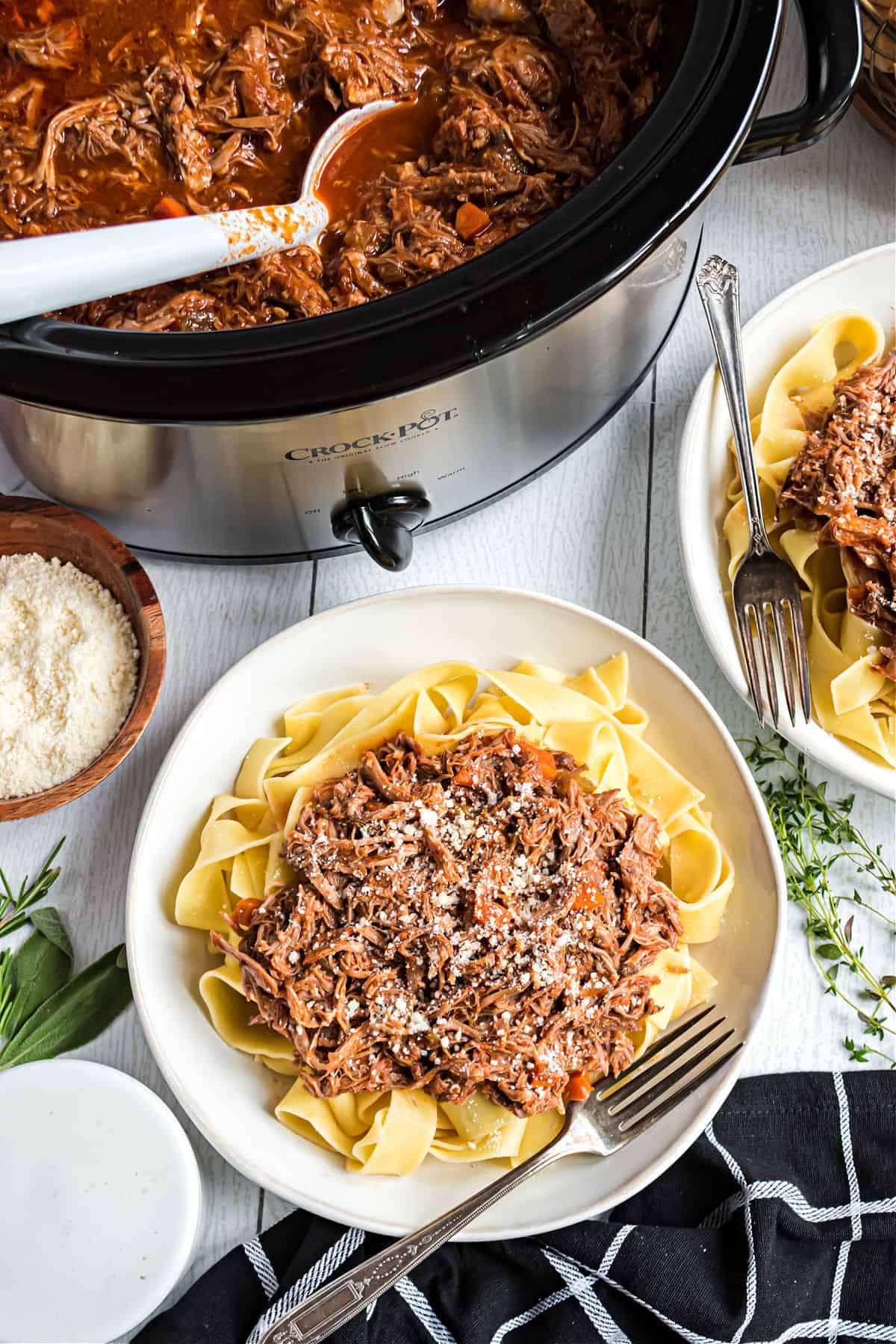 What is Pork Ragu
Pork Ragu is a meat sauce made with shredded pork. The Italian method for cooking an inexpensive pork shoulder imbibes it with aromatic herb flavor and a touch of garlic.
The pork shoulder is covered with Soffrito–a classic Italian trinity of celery, carrots and onions. These vegetables absorb some of the juices from the pork as it cooks, enhancing their natural flavors.
Red wine and tomatoes give the pork rich dimensions of flavor. It's incredible served over pappardelle pasta or even mashed potatoes.
This slow cooker version is almost entirely hands off. Just toss everything in your crock pot first thing in the morning and let it cook for hours.
You'll have a homemade Pork Ragu that rivals any restaurant dish ready in time for dinner.
Ingredient Notes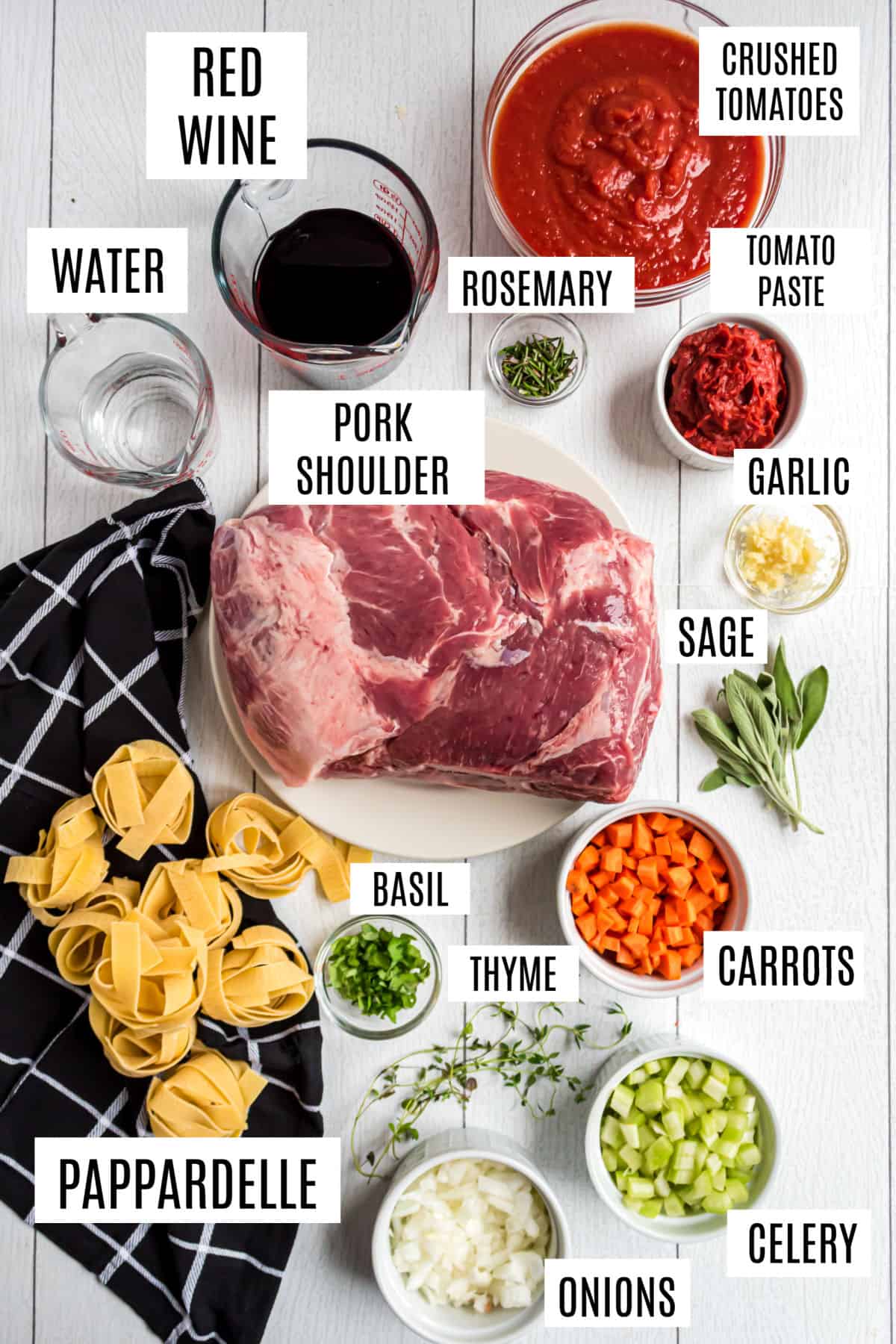 Pork. Pork shoulder or pork butt, with or without the bone, is best.
Red wine. The drier the better. It does not need to be a top shelf wine, but do not use "cooking wine."
Pappardelle pasta. The fresh long ribbon shaped egg noodles are the best choice for an authentic Italian Pork Ragu. Linguini or fettucini could be substituted if you can't find fresh pappardelle's.
Fresh herbs. These are a MUST. The sage, rosemary, basil, and thyme give lots of flavor when simmered with the roast all day.
Soffrito- trifecta of vegetables. Carrot, celery, and onion!
Easy Instructions
The active prep time for this pork ragu recipe is lighting quick. Put the pork shoulder in the slow cooker and top with the chopped vegetables.
Add the wine, water, tomatoes, herbs and spices. Cover the pot and cook on low for 8 hours.
When the pork is done cooking, shred it with a fork and serve over warm pasta.
This can also be made in a dutch oven on the stove top. Simmer on low for about 4 hours. Remove pork, shred, then continue to simmer an additional 2 hours.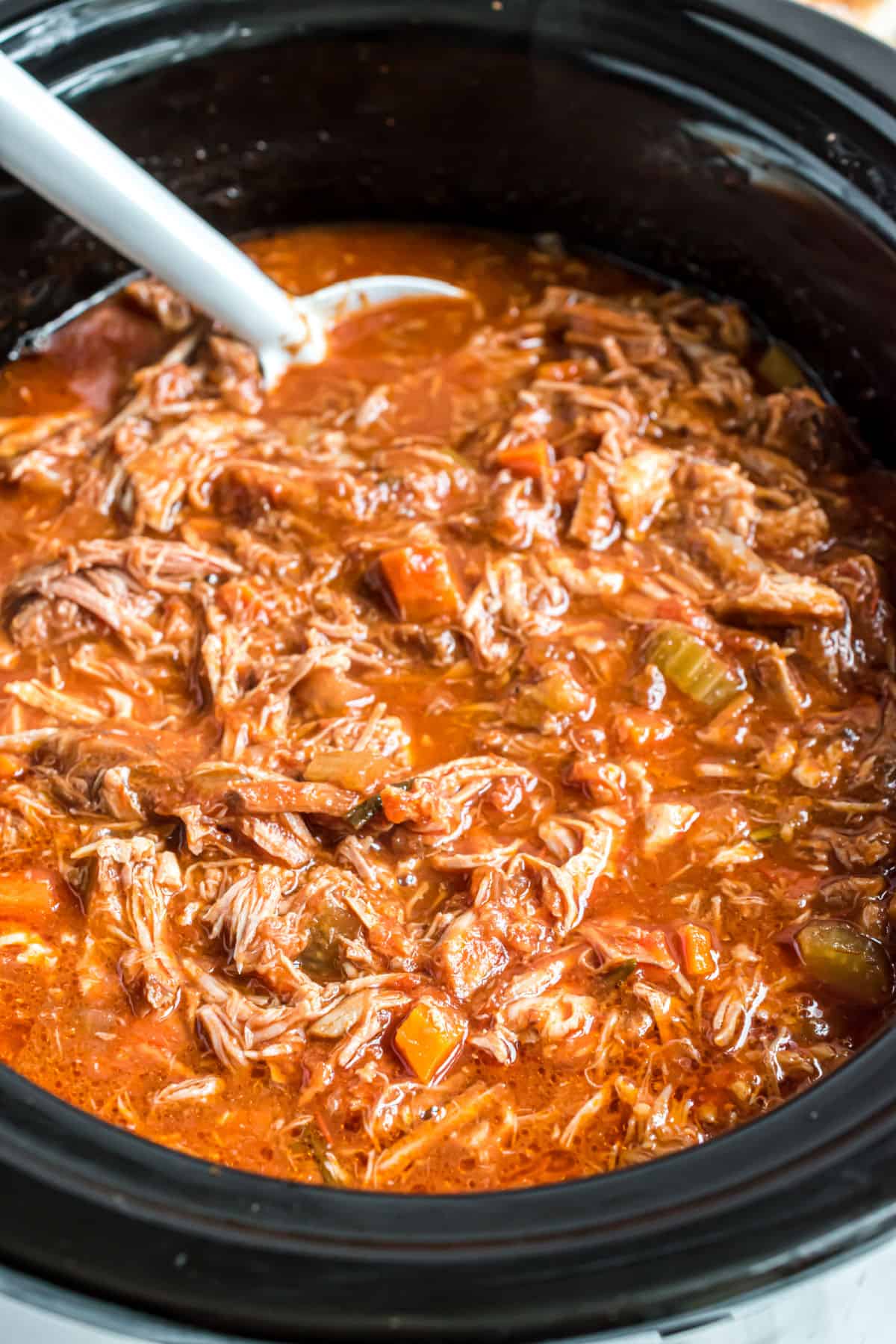 Tips and Tricks
I highly recommend using fresh herbs. The flavor can't quite by matched by their dried counterparts.
Cook on LOW. This is not a slow cooker recipe that does well on the high setting. You want hours of slow cooking time to allow the pork to break down and fully absorb the flavors of the garlic, herbs and wine.
I love this over the fresh pasta noodles. Pork Ragu can also be served over mashed potatoes or zoodles.
Leave larger chunks of pork in today's recipe, don't shred completely!
What to Serve with Pork Ragu
Pork Ragu is a hearty, filling meal. I like to serve it with some greens on the side, like this Easy Italian Salad.
For a full Italian feast, start the meal with a cup of Homemade Roasted Tomato soup and Garlic Bread.
Don't forget the Cannoli for dessert!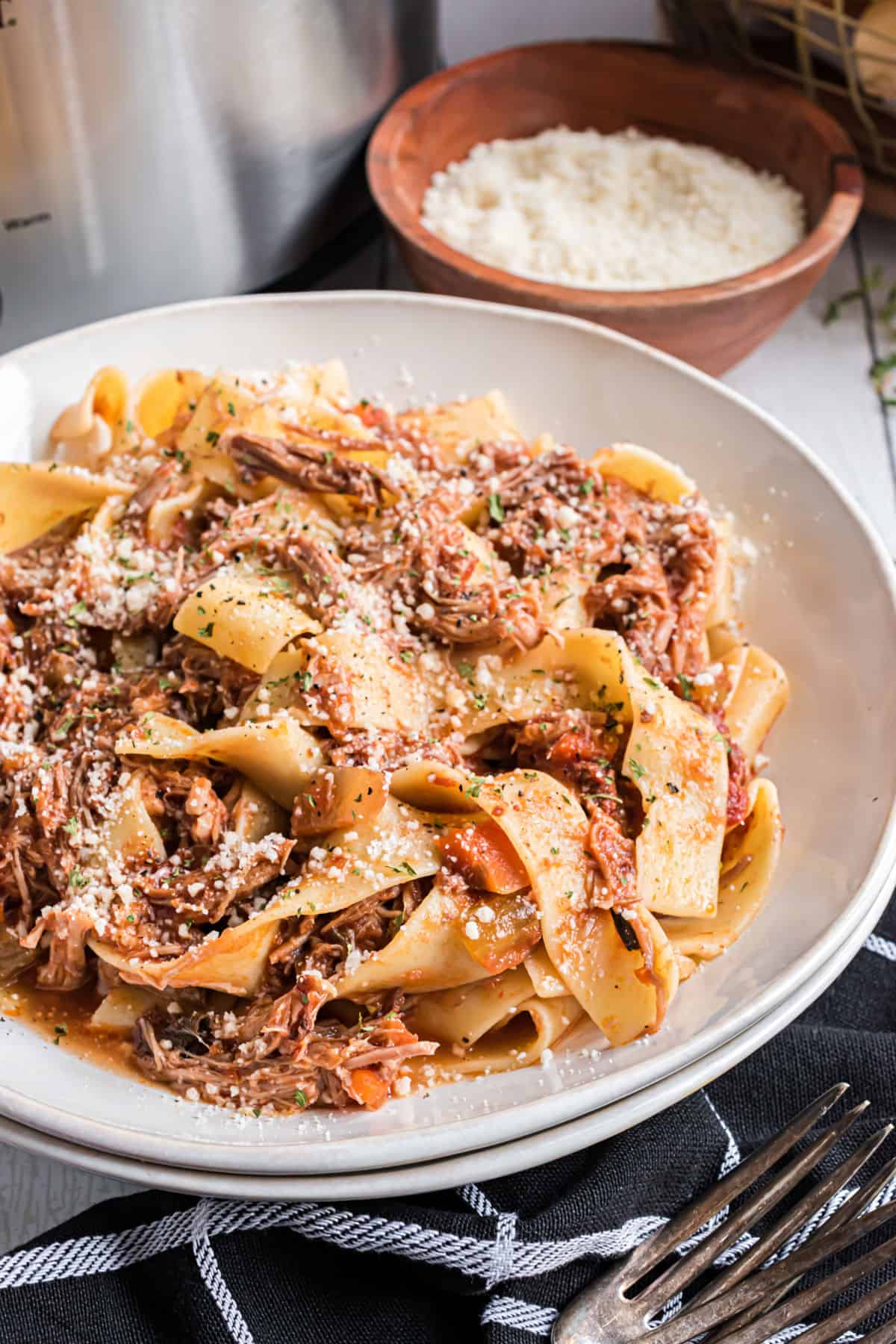 Recipe FAQs
Is pork ragu gluten free?
The Pork ragu meat sauce is gluten free. Serve it over gluten free pasta or mashed potatoes instead of pappardelle if you need the meal to be fully gluten free.
Can this be made with pork tenderloin?
No, I do not recommend making pork ragu with pork tenderloin. That cut of meat is completely different than the butt or shoulder and does not work for pulled pork. If you're looking for an amazing Italian pork tenderloin recipe, give this Pesto Pork Tenderloin a try.
How long does pork ragu keep?
Pork Ragu leftovers will stay good stored in an airtight container in the fridge for 3 – 4 days. Leftovers reheat well on the microwave or warmed on the stove top.
Does this sauce taste like wine?
No, the red wine gives the sauce an amazing element of flavor but the dish itself will not taste like wine. The alcohol cooks out over the long cooking time, as the wine soaks into the pork meat.
The best ever Pork Ragu is easy to make in the slow cooker! Impress all your family and friends with this amazing recreation of an Italian classic.