A delicious, easy, homemade Roasted Tomato Tortellini Soup recipe. You'll love this restaurant quality soup that's full of flavor and easy to make!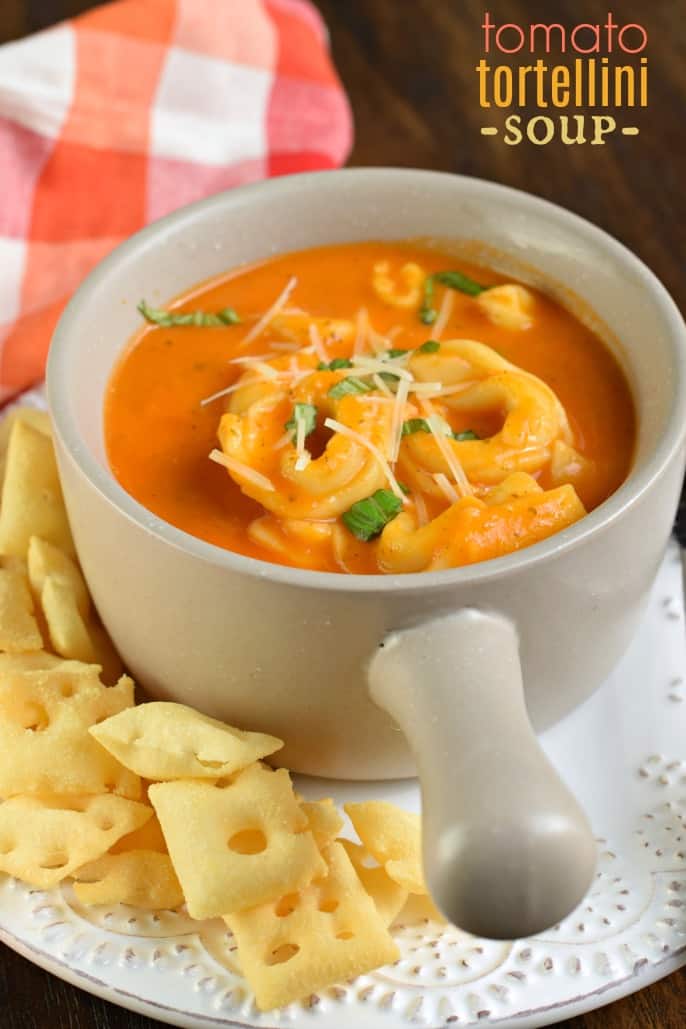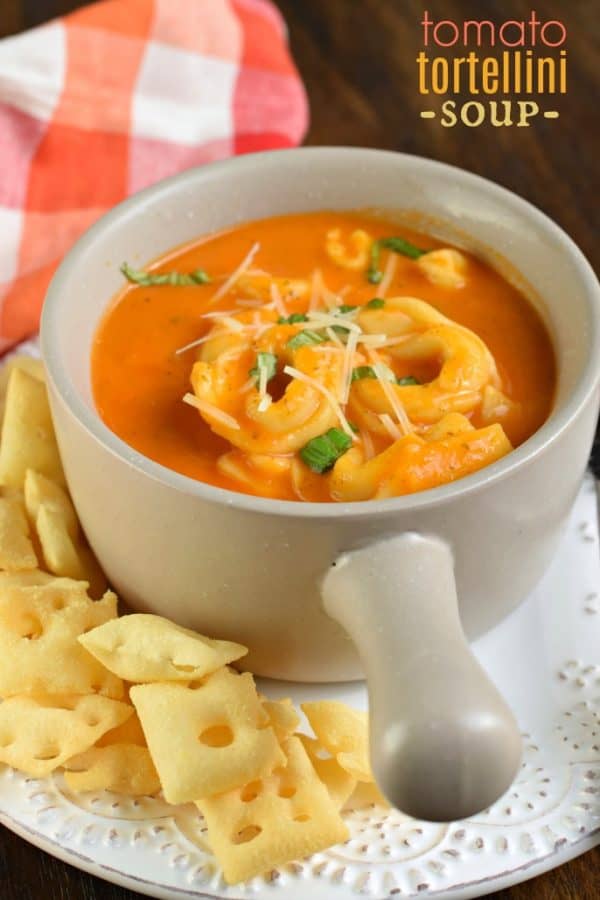 Why This Soup is Best
Today I'm sharing one of my all time favorite soup recipes. It's like the grown up version of tomato soup with grilled cheese. Although I still eat that too!
Based on my Roasted Tomato Soup recipe.
It's even better with the addition of cheesy tortellini.
A vegetarian dinner idea everyone loves.
Made with fresh ingredients. Nothing canned!
The perfect cozy dinner for any night of the week.
This tomato tortellini soup combines the great taste of homemade soup with the convenience of store bought tortellini. The rich tomato base is brimming with basil and garlic flavors and a touch of cream.
Want an even heartier soup with tortellini? I have a Sausage Tortellini Soup Recipe you'll love too. There's never a single drop left at the end of the meal when either of these soups are on the menu!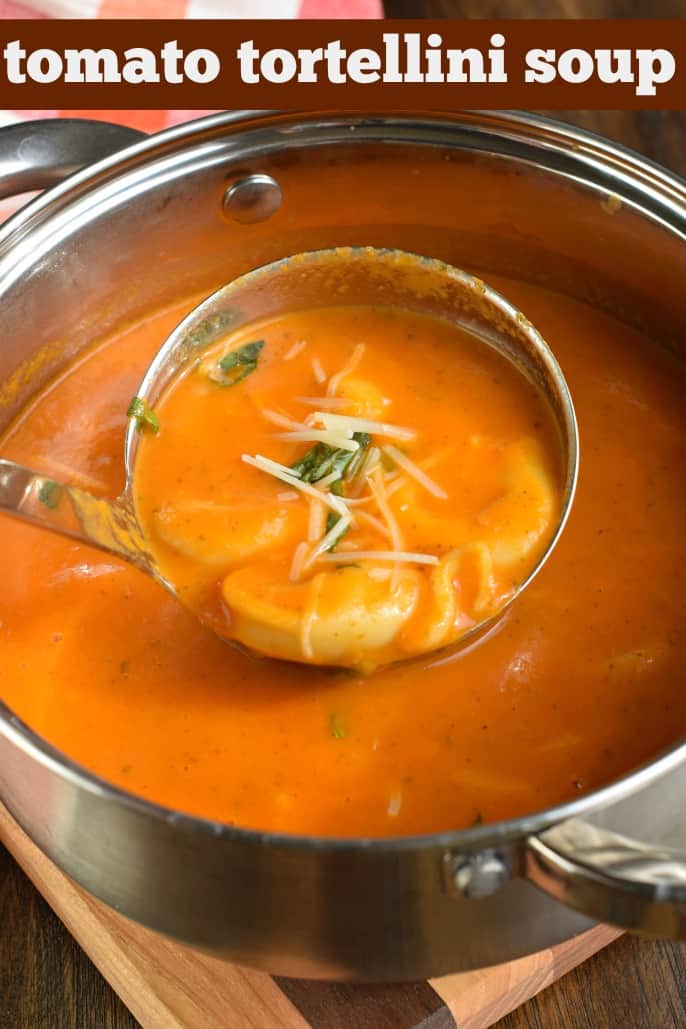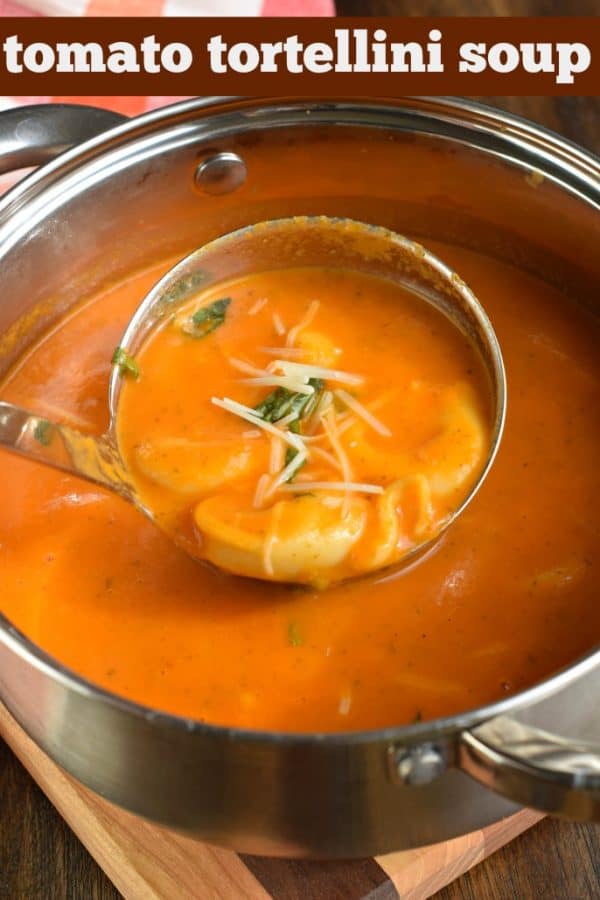 Ingredient Notes
Fresh, whole ingredients give this soup its amazing flavor. Here's what you'll need.
Tomatoes – We use large, juicy roma tomatoes.
Garlic – Freshly peeled whole cloves are best.
Herbs – You'll need fresh basil leaves and a little bit of dried oregano.
Broth – Vegetable broth keeps the soup vegetarian.
Cheese tortellini – You can use fresh stuffed shells or the frozen ones. Both taste great!
Heavy cream – Makes the soup thick, rich and creamy.
Parmesan cheese – Grate it by hand over each bowl of soup before serving.
Seasoning – A little salt and pepper is all you need!
Tips and Tricks
Start by roasting your tomatoes and garlic with a little olive oil. Roasting brings out a deep, tangy flavor in the tomatoes and enhances the garlic aroma.
Use an immersion blender to puree the roasted tomatoes with basil. If you don't have an immersion blender, carefully transfer the soup contents to a regular blender in batches.
Cook the soup low and slow. Give it about an hour to simmer so the flavors have a chance to mingle and combine.
Add the tortellini in the last couple of minutes. The stuffed pasta will float to the top of the soup when fully cooked. That's how you know your soup is ready to serve!
Drizzle heavy cream into each serving bowl, then ladle in the tomato tortellini soup. Stir to combine.
Grate fresh parmesan over each serving of soup. I like to garnish with some fresh chopped basil leaves too.
Serve hot and enjoy!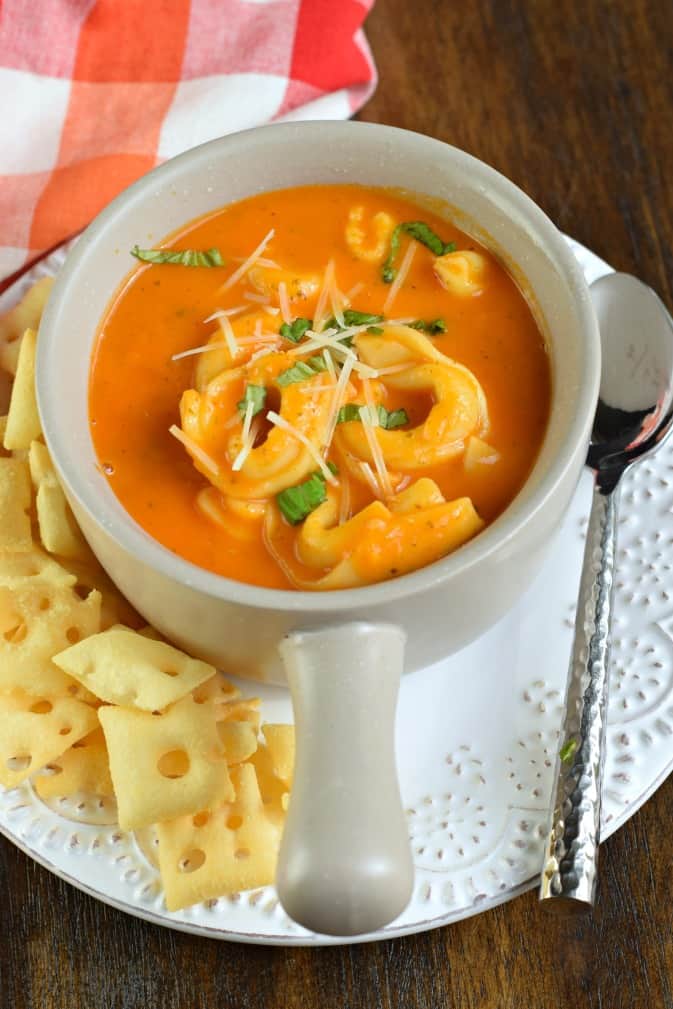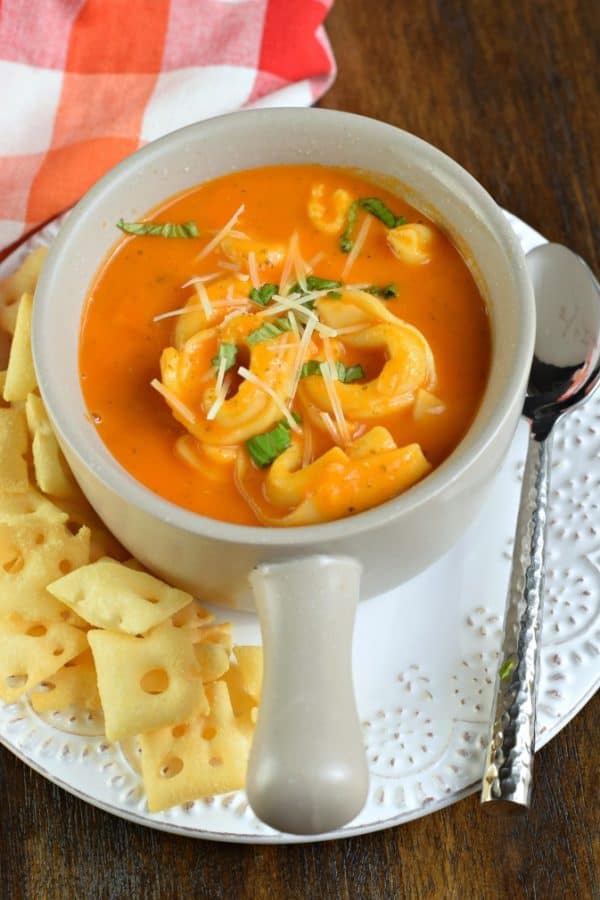 Recipe FAQs
How do I store soup with tortellini?
After the tortellini is added, this soup should be enjoyed as soon as possible. Otherwise the tortellini will get mushy. If you have leftover soup, keep it covered in the refrigerator and eat it reheated within 24 hours.
Can I freeze tomato tortellini soup?
If you want to freeze this soup, do it before adding the tortellini. Freeze the tomato soup in a freezer safe container. When you're ready to enjoy the soup, let it thaw in the refrigerator, then reheat on the stove. Add the tortellini and let it simmer until fully cooked (about 5 minutes).
How do I make this recipe in my slow cooker?
To make tomato tortellini soup in the slow cooker, follow the first two steps of the recipe as directed. Add the pureed soup, broth and oregano to a slow cooker. Cook on low for 3-4 hours. Add tortellini and let cook for 15-20 minutes, or until tortellini cooks through. Then serve as directed!
What substitutions can I make?
You could substitute chicken broth for the vegetable broth, if you prefer. If you don't have heavy cream, use whole milk instead.
Short on time? Use canned fire roasted tomatoes instead. Again, it will affect the flavor, but your tomato soup will still taste great!
What to serve with Homemade Tomato Soup
Are you looking for a fluffy, delicious Dinner Roll? These No Knead Garlic Parmesan Dinner Rolls will please the whole family!
This Italian Salad is loaded with fresh flavor and the homemade Italian Dressing is zesty and flavorful! The perfect pairing to your weeknight meal.
More childhood favorites
Get the secret tips and tricks to making the most PERFECT Rice Krispie Treats. Kid and adult friendly! THICK AND CHEWY!
Comfort food. This Chicken Tetrazzini recipe has been a family favorite for many years! It's also a great dish to bring a new mom!
Ritz Cracker Mac and Cheese is made with two kinds of cheese and is topped with buttery Ritz crackers for a creamy, rich side or main dish that the whole family will love.
In my family, the Best Sweet Potato Casserole recipe is one that's served up sweet and salty with a delicious, crunchy streusel topping!
This Cheesy Hashbrown Casserole recipe is true comfort food. Made with frozen hash browns and plenty of cheese, I can guarantee your family is going to enjoy this one!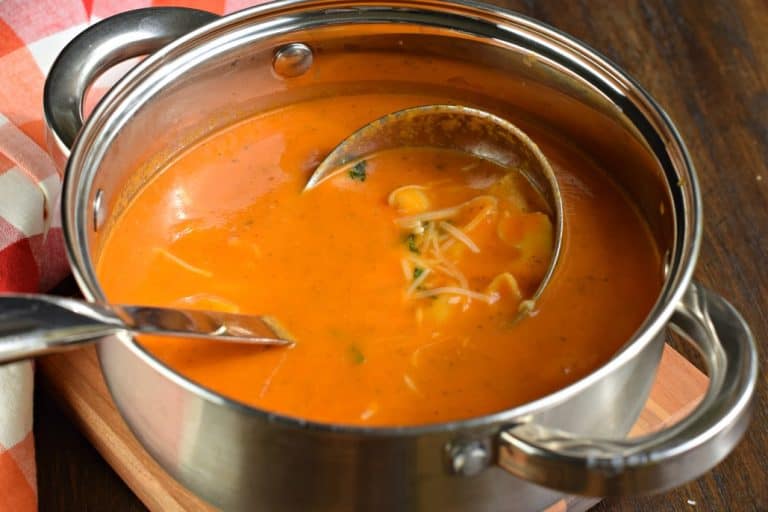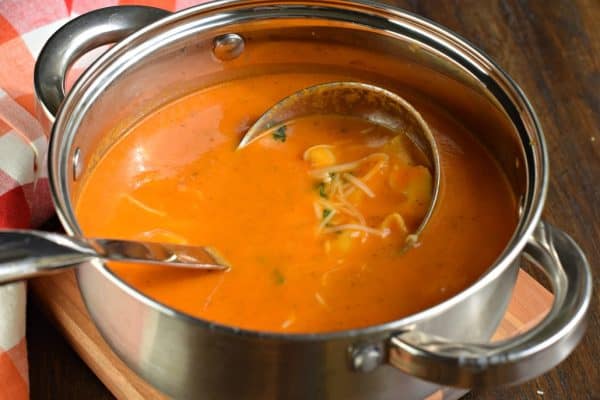 More tomato soup recipes
Spicy Sausage with Cheesy Tortellini are the ultimate comfort food in this delicious soup! Grab a spoon and bowl tonight!
Make this Roasted Tomato Soup recipe using fresh or canned tomatoes. I've got tricks on how to freeze your tomatoes fresh from the garden too! You'll love the texture and taste of this soup, and may never eat canned soup again!
Not a soup, but a delicious recipe with tomatoes. This homemade bruschetta recipe is great as a snack, or read my tips and tricks to making it a meal!