Roasted Tomato Soup made in the instant pot brings the fresh flavors of a late summer garden to your dinner table.
No Instant Pot? No problem. Try my stovetop Roasted Tomato Soup recipe or my Tortellini Tomato Soup instead!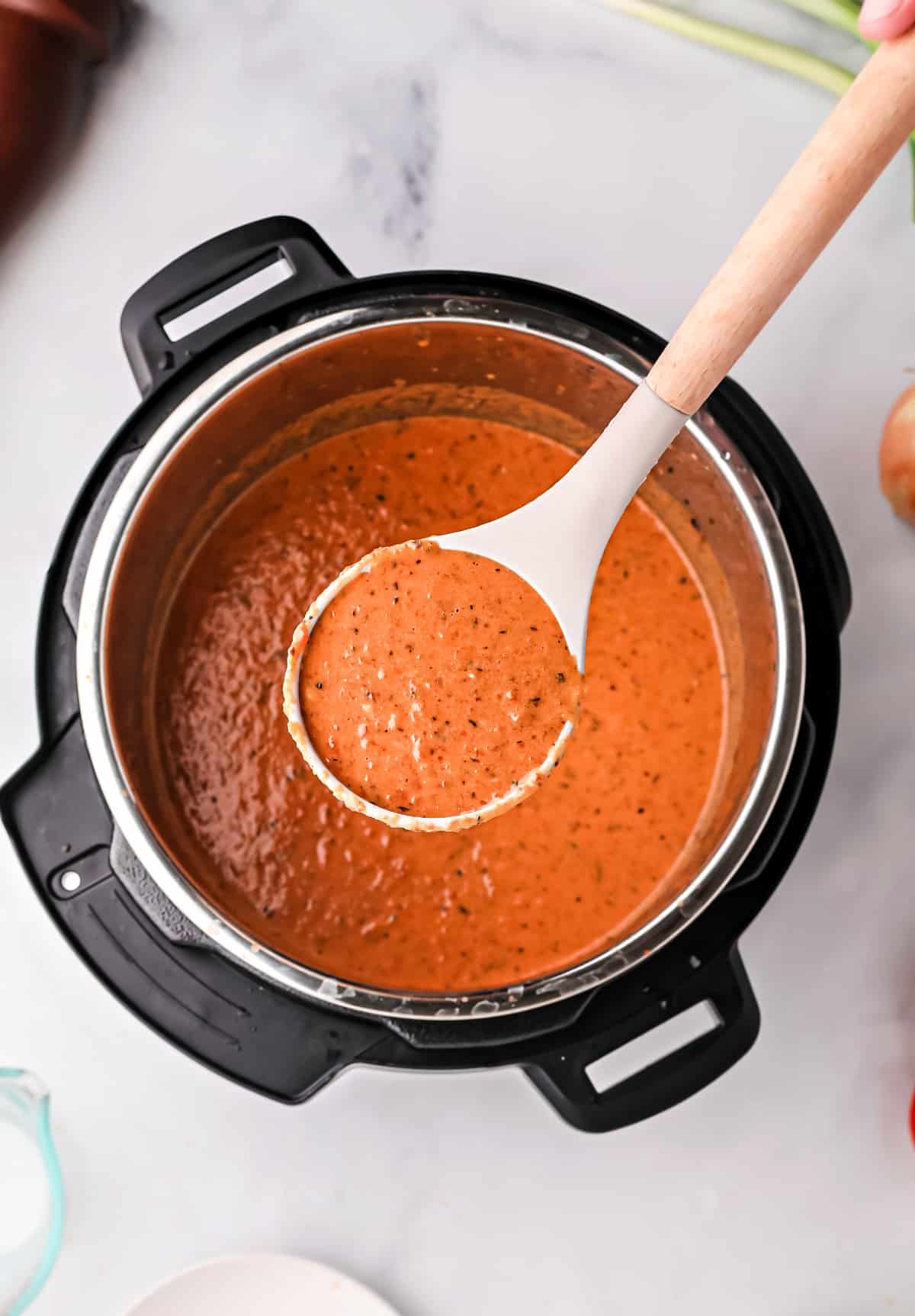 Roasted Tomato Soup
Ahhhh, soup season! On a chilly night, I love serving steaming bowls of homemade soup. There's nothing quite so warming or universally loved.
I love that most soups are easy to toss into the crockpot to simmer throughout the day. Sometimes though, you need a soup that comes together quickly. That's where Instant Pot Soup recipes come in handy!
This Instant Pot Tomato Soup uses fresh tomatoes that you roast in the oven along with canned crushed tomatoes. Some of you who garden may still have tomatoes to harvest! Roast 'em up for a deeper flavor and enjoy them in a delicious soup this fall.
Love soup in the Instant Pot? Try our instant pot french onion soup recipe next!
Ingredient Notes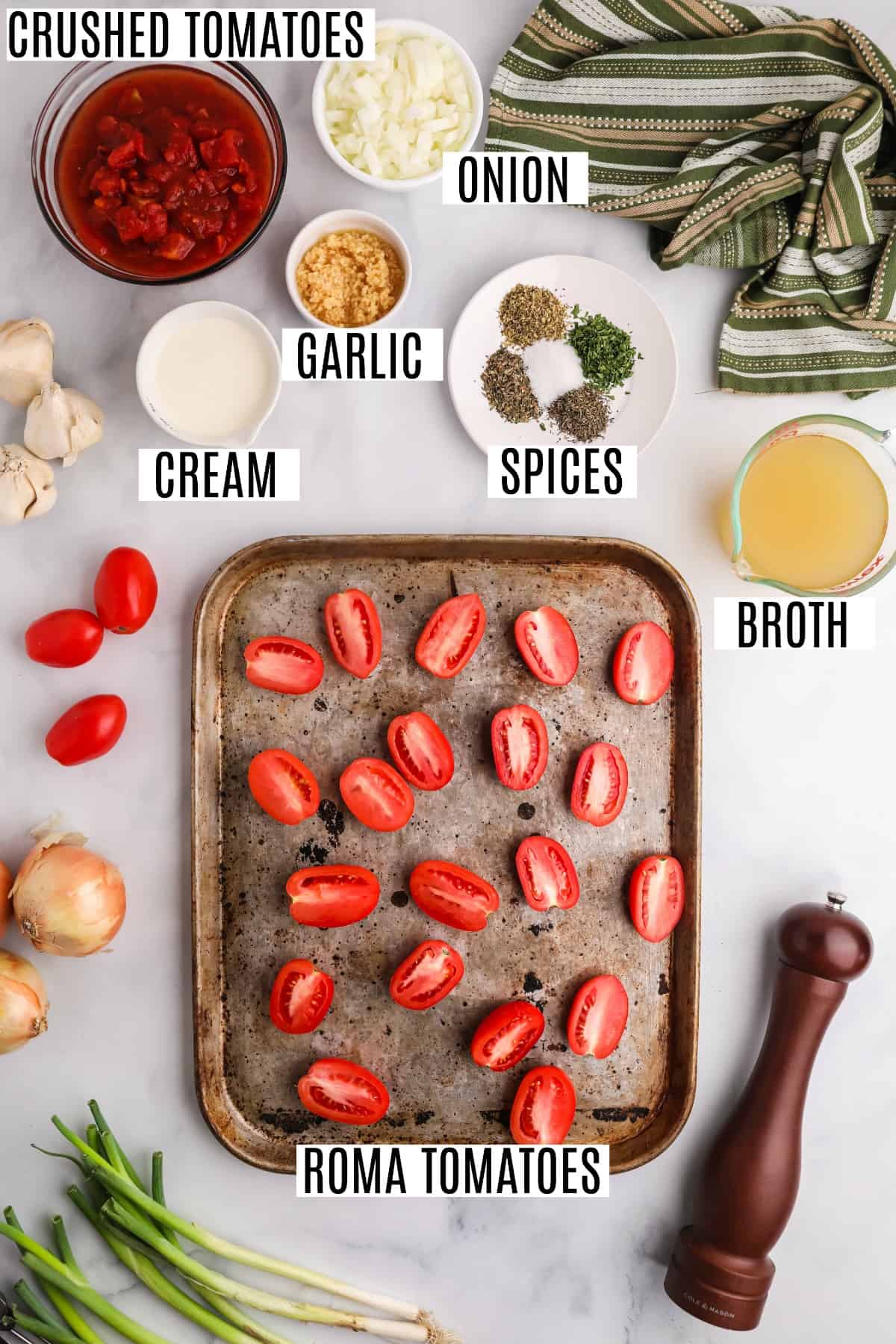 Roma tomatoes – Fresh, juicy roma tomatoes are best for roasting. Choose tomatoes that are firm and shiny.
Crushed tomatoes – Plain crushed tomatoes from again are perfect, or use a fire roasted or herb seasoned variety if you prefer the flavor.
Chicken broth – Vegetable broth makes a good substitute to make this soup vegetarian.
Heavy cream – You can substitute regular milk here if needed, but the soup won't be as, well, creamy.
Herbs – A combo of dried oregano, basil, parsley and thyme complements the deep roasted tomato flavor beautifully.
Optional toppings for serving – Grated Parmesan cheese and croutons add the finishing touch!
How to Roast Tomatoes
Roasting tomatoes brings out their natural sweetness and adds a hint of smokiness that makes this soup so good. It's easier than you think to roast them yourself!
Cut the tomatoes in half and arrange them evenly on a baking sheet. Drizzle olive oil over the halves tomatoes and sprinkle with salt and pepper. Bake at 400 degrees for at least 45 minutes and up to an hour.
Step by Step Instructions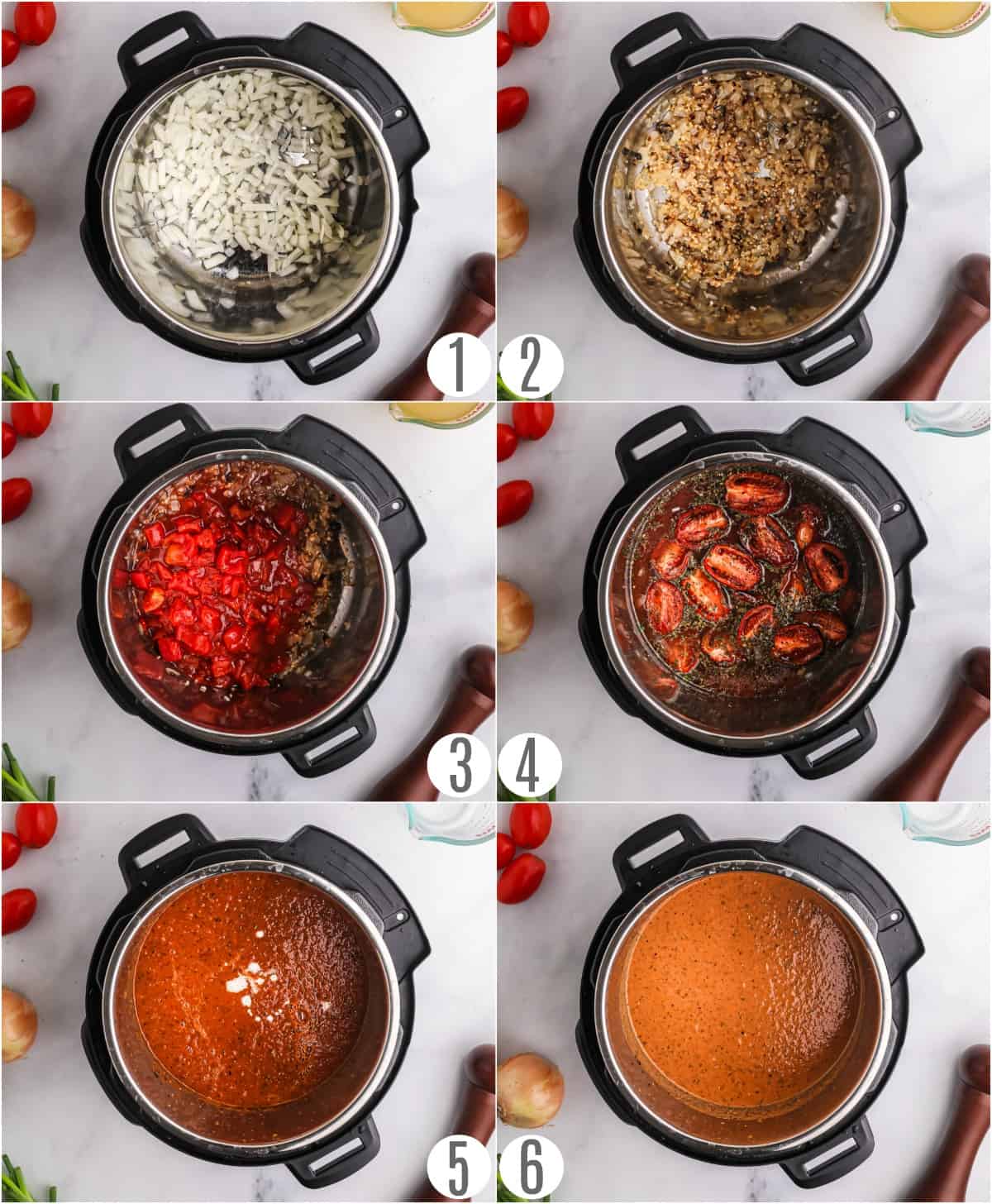 Here's how I used roasted tomatoes to make a hearty, creamy soup in the Instant Pot.
STEP 1. Saute onions and garlic
Set your Instant Pot to sauté and cook the onions in olive oil until they start to become translucent and a little brown around the edges. Add the garlic and cook for an additional minutes.
STEP 2. Add tomatoes
Add the canned tomatoes to the pot along with the herbs and give everything a few good stirs to combine all the ingredients.
Then, add the roasted tomato halves and chicken stock.
STEP 3. Pressure cook
Lock the lid on the pot and seal the valve. Cook on high pressure for 15 minutes. When the cook time ends, let the pressure naturally release for 10 minutes.
STEP 4. Blend
After quick releasing the remaining pressure, use an immersion blender to puree the soup while still in the pot.
Stir in heavy cream and serve!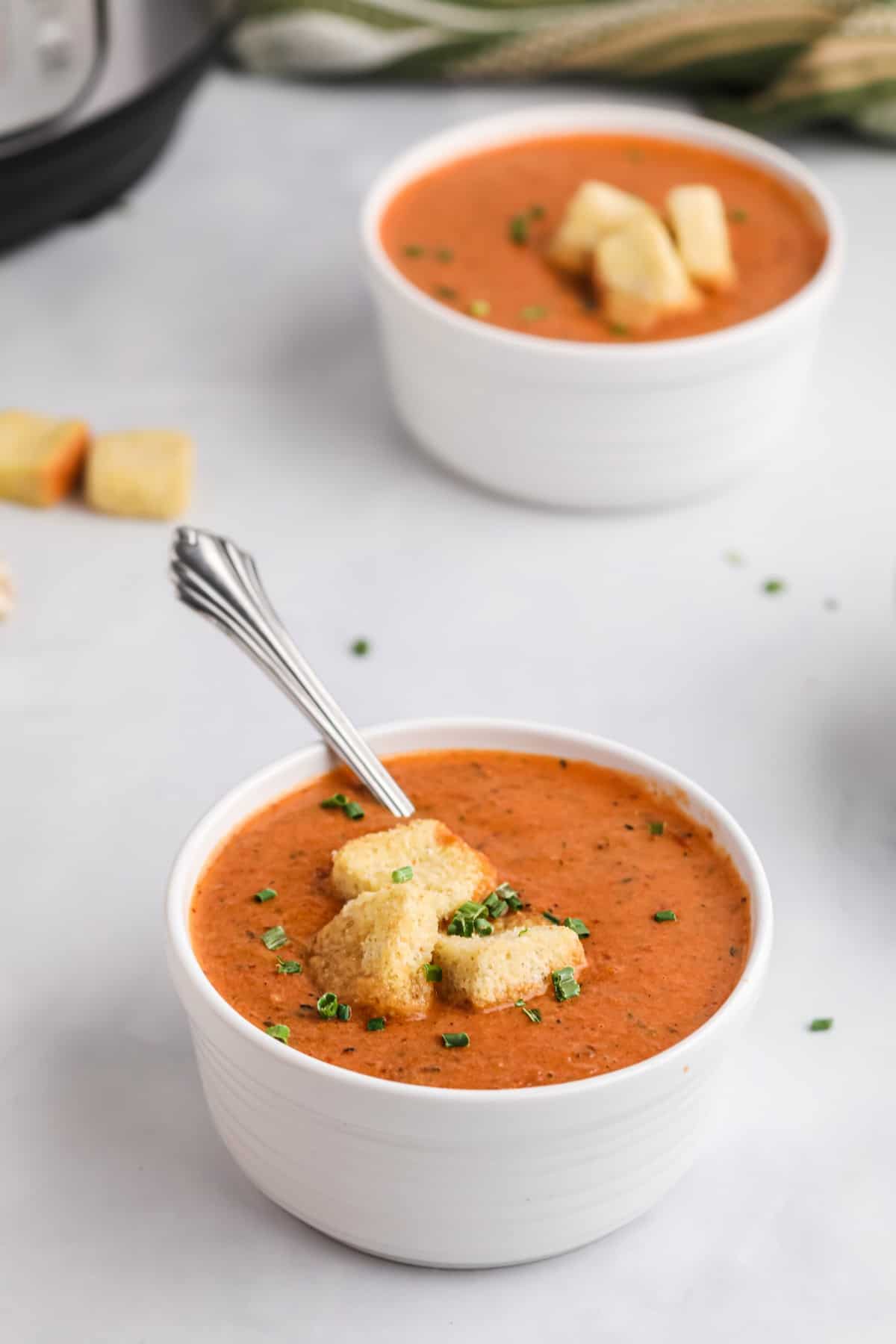 Tips & Tricks
Serving suggestions: I love this soup topped with crispy croutons and a handful of shredded cheese. Green onions make a tasty topping too.
To prevent burn notice, make sure to scrape any remaining onion and garlic off the bottom and sides of the pot when you add the tomatoes and broth.
Don't forget to add a side of garlic bread or dinner rolls to mop up the leftovers!
Recipe FAQs
What if I don't have an immersion blender?
No worries! You can transfer the soup from the instant pot to a regular blender to puree to your desired consistency. You may need to do it in batches, so have another bowl on hand to make this easier!
How do you store Instant Pot Tomato Soup?
You can store the Roasted Tomato Soup in an airtight container in the fridge for about a week. You can also freeze the soup for 6-8 weeks!
Can this be made vegetarian?
Absolutely! Use vegetable broth instead of chicken broth–it's just as delicious!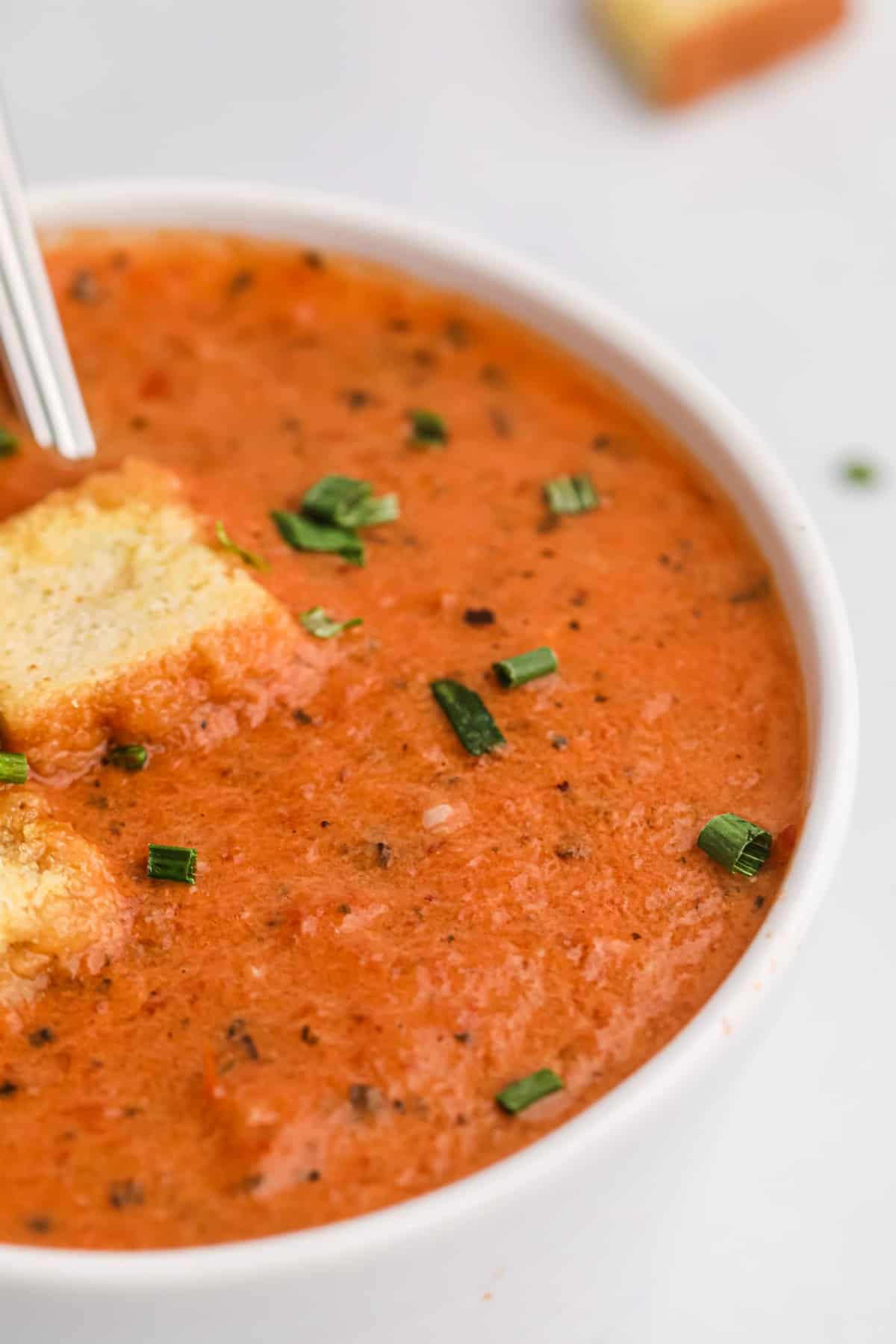 More Soup Recipes
This creamy, tangy, oh-so-flavorful Roasted Tomato Soup is one of the best tomato soups I've ever tasted. Once you try it, you won't be able to resist making it again and again for as long as soup season sticks around!