Learn how to make perfect French Onion Soup in the Instant Pot. Cozy, hearty and flavorful onion soup is topped with melted cheese and a crusty sourdough crouton in this easy recipe!
You'll love sitting down to a steaming hot bowl of soup at the end of a cold day. It's right up there with Chicken Pot Pie Soup and Macaroni and Cheese on our list of all-time favorite comfort foods.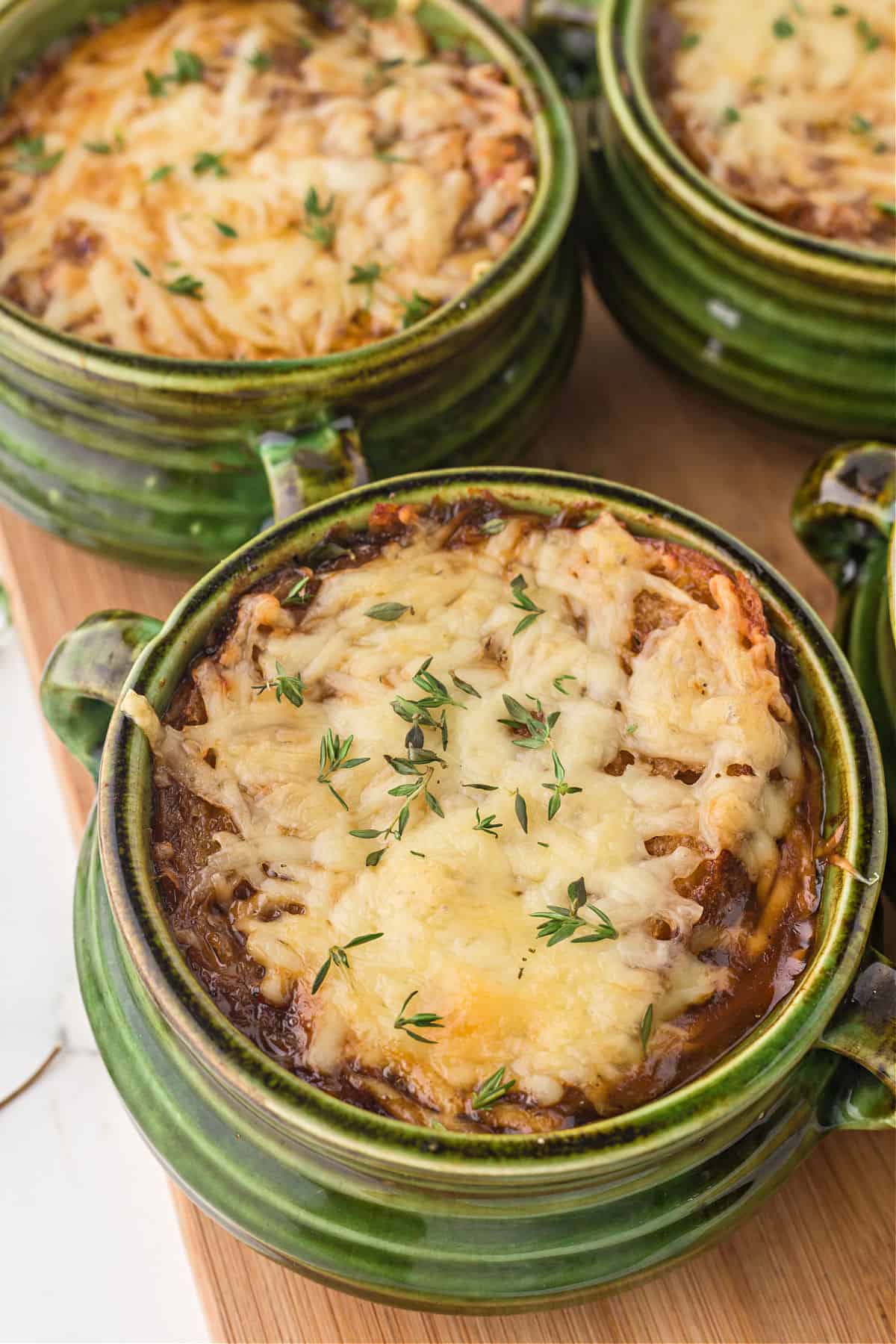 Why Make Soup in the Instant Pot
French Onion Soup is traditionally made on the stove, but like many of my favorite soup recipes, I like it even more made in the Instant Pot.
While I have many instant pot recipes, soup tends to be one of the easiest dinners to make!
You can caramelize the onions right in the Instant Pot! No need to use the stove at all.
The soup takes just 20 minutes of prep work and it's ready to eat in 45 minutes.
Pressure cooking helps the flavors mingle and meld for an even better tasting onion soup.
Generates less heat than the stove. Perfect for year-round cooking!
This Instant Pot French Soup is delicious as a starter for a 3-course dinner or as a meal all on its own.
The savory beef broth and caramelized onions are topped with a gooey layer of melted cheese and, of course, a toasty slice of sourdough bread. I could eat this soup every single day and not get tired of it!
Ingredient Notes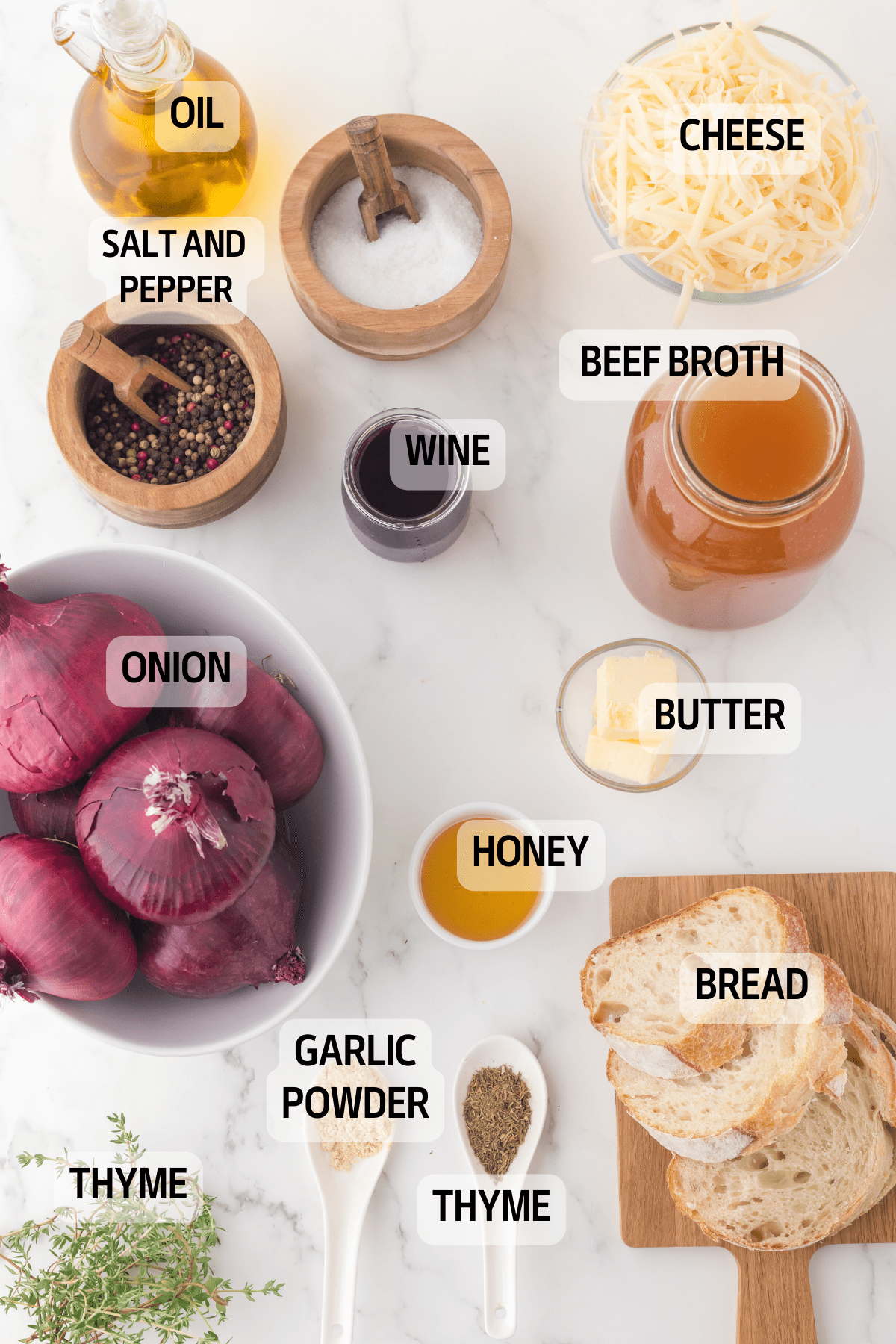 Red onions – Because you're going to caramelize your onions, any variety will work here. We always have red onions in our kitchen and they are not expensive. You could also use Vidalia onions, but they are usually more expensive.
Honey – Sweetens and balances out the sharpness of the onion flavor, while helping the onions caramelize quicker.
Red wine – Gives the soup a deeper flavor and helps deglaze the pot. Brandy can also be used if you prefer! If you don't want to use alcohol, replace the red wine with more broth.
Beef broth – This is the base of the soup so choose a quality broth. I recommend the low-sodium varieties so you can adjust the saltiness of the soup to your liking.
Sourdough bread slices – You can use any thick, crusty white bread in it's place, but the tanginess of the sourdough is especially delicious!
Swiss cheese – Freshly grated cheese is a must for topping French onion soup! Other white cheeses like white cheddar or provolone may be substituted.
Tips and Tricks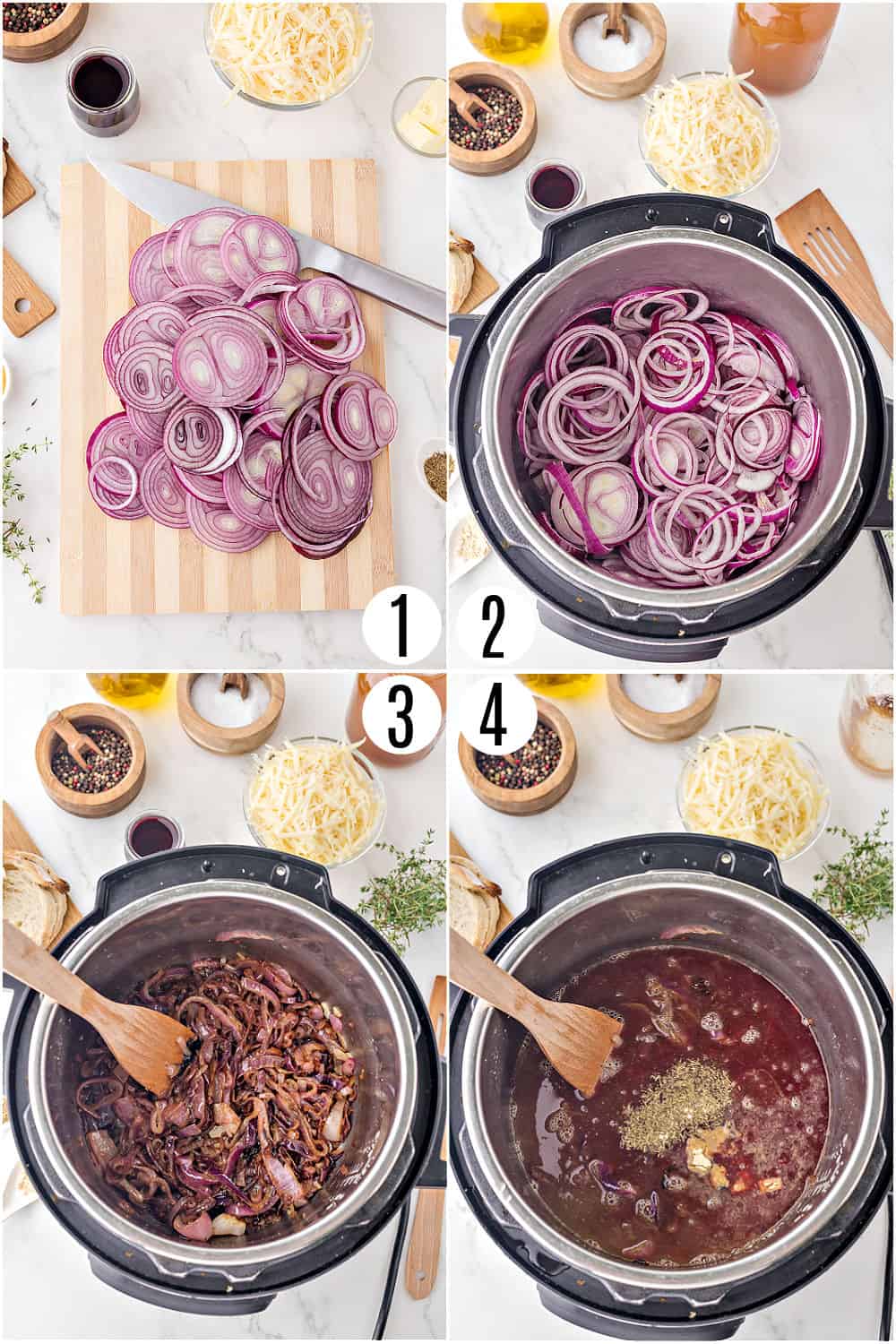 Making French Onion Soup in the Instant Pot is just as easy, and maybe even easier, as making it the traditional way.
Start by caramelizing the onions in the Instant Pot on the SAUTE setting.
Then add the spices, wine and broth. Cover and pressure cook the soup in the Instant Pot for 5 minutes.
Now it's time to add the best part: cheese!
Ladle the soup into individual oven safe bowls. Top each bowl with shredded cheese and a slice of sourdough bread. Broil the soup for a few minutes.
The cheese will get melty, bubbly and the slightest bit browned on top. Perfection.
Serve your French Onion Soup piping hot and enjoy cheesy, onion soup bliss.
I love to garnish my soup with a sprig of fresh thyme for an aromatic, picture-ready presentation. If you don't want to fuss with a garnish, just grab a spoon and dig in.
You're going to love this Instant Pot French Onion Soup either way! Love soup? Be sure to try our Instant Pot Taco soup and our chicken tortilla soup too!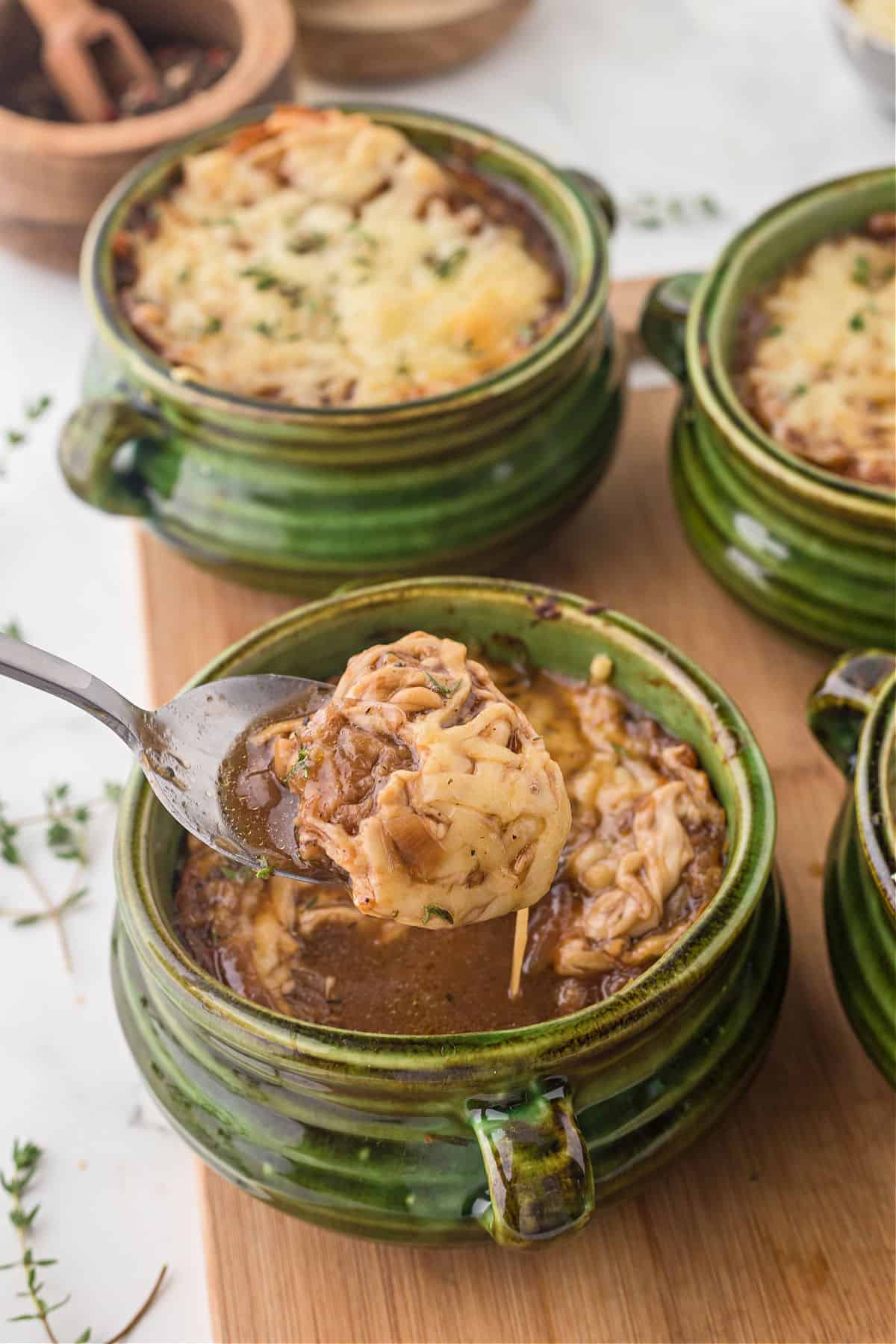 Recipe FAQs
How do I store leftover soup?
Store leftover French Onion Soup in an airtight container in the refrigerator. It keeps for about 4 days. I recommend storing the soup without the bread and cheese topping. Reheat the soup in the oven or on the stove. Then add the sourdough slices and cheese to each bowl before broiling and serving.
What can I use instead of wine or brandy?
The red wine (or brandy) brings a depth of flavor to Instant Pot French Onion Soup that's tough to replicate with non-alcoholic substitutes. If you don't want to use red wine in this French Onion Soup recipe, simply leave it out and use extra broth instead.
Is French Onion Soup vegetarian?
French Onion Soup is not usually vegetarian because it's made with beef broth. You can substitute vegetable broth for the beef broth but, again, your soup won't have quite the same richness of flavor.
I don't have any oven safe bowls. Can I still make this soup?
Yes, you can! Toast the slices of sourdough bread under the broiler while the soup cooks in the Instant Pot. Then sprinkle shredded cheese over bowls of soup while it's still hot. Top each bowl with the toasted sourdough slices before serving and enjoy!
The cheese won't be browned and bubbly without the broiling step but it will taste wonderful regardless!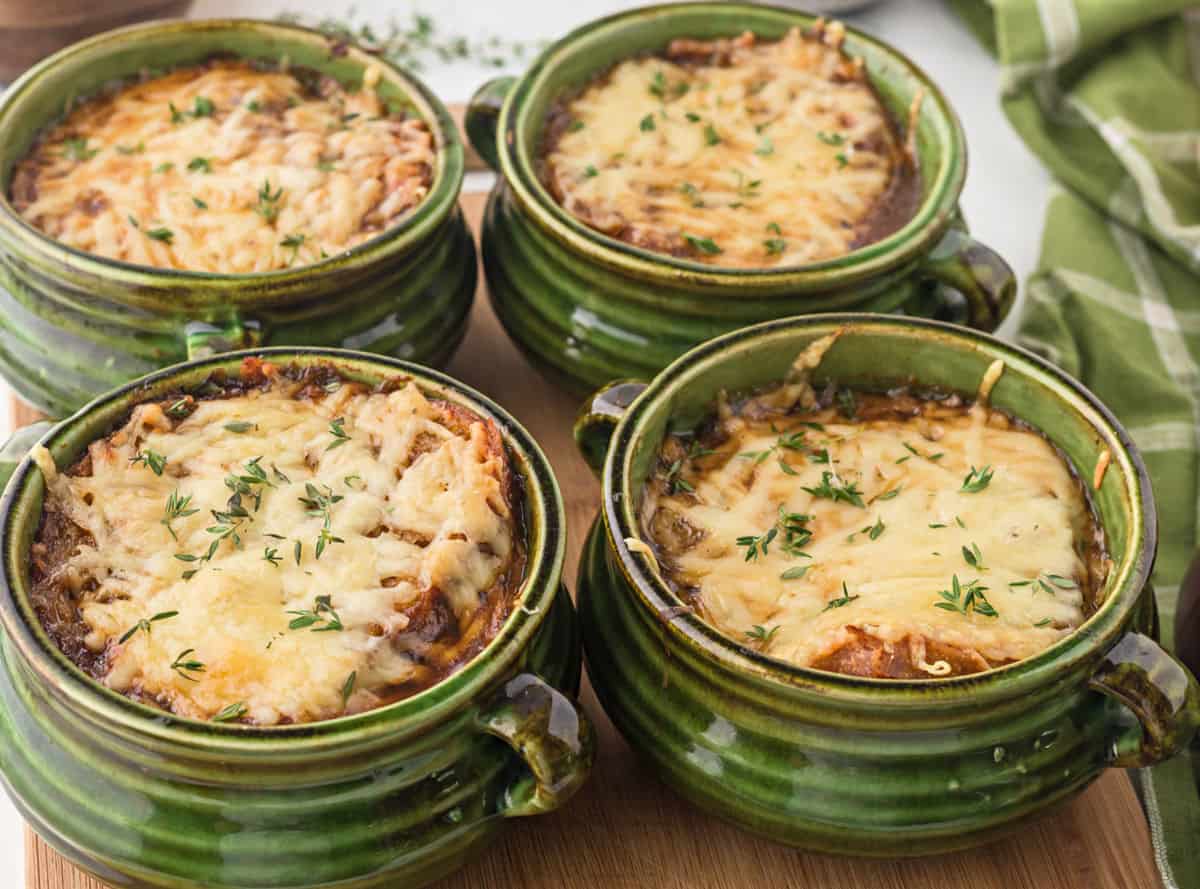 More Easy Dinner Recipes
Instant Pot French Onion Soup is so easy to make at home and tastes better than the restaurant versions!