Best Ever French Onion Soup Recipe
This flavorful, hearty French Onion Soup is a pure bowl of comfort for any night of the week. You'll love the sweet onions, rich broth and toasted cheese on top!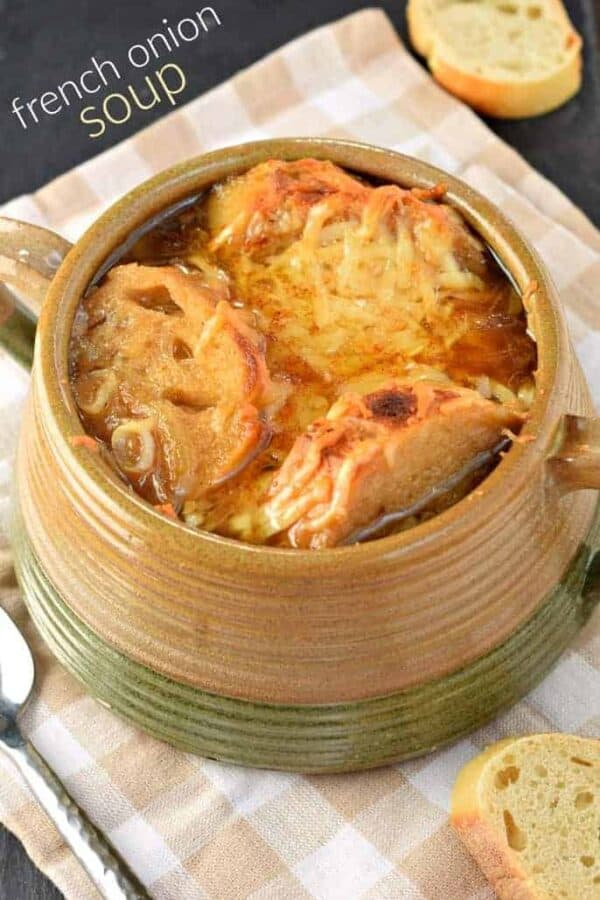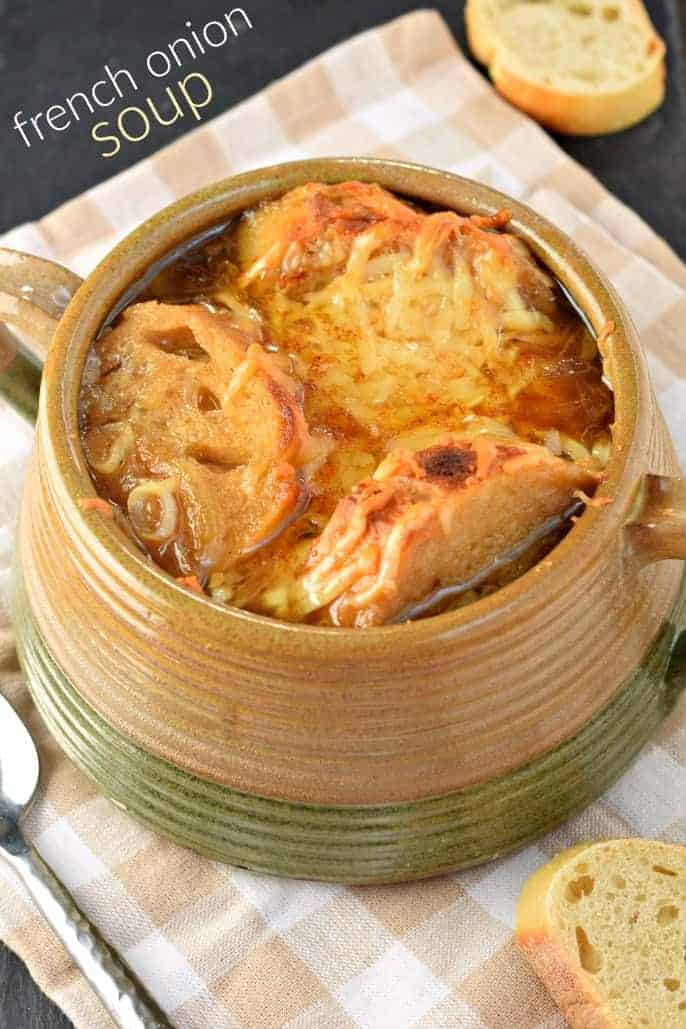 This past year I've been working my way through classic recipes. Things like Coconut Cake, Divinity Candy, French Silk Pie, and Broccoli Cheese Soup. I feel like maybe ya'll don't need to know how to make Pimp My Brownies or White Trash Candy. Even though they are delicious, they aren't being "searched for" on my website.
I have found through the years of blogging, that what you DO want, is dinner inspiration.
And while I definitely would not define myself as a great chef or savory cook…I do think that the dinner recipes you'll find on my website here are easy enough for a new cook. And delicious enough for a great cook!
My goal has always been to share family friendly recipes. Meals that inspire you to gather around your dinner table with those you love. And while sometimes a recipe may veer off the beaten path, I do try hard to share a mix of classic and new! One day my children will be adults and I want them to come back to this website and make these recipes for THEIR families.
That being said, one recipe that has been on my list to make for a very long time is French Onion Soup. I've avoided making it, let alone sharing a recipe because I thought, it's too hard.
You guys, just because something takes longer to cook, doesn't make it hard! Yes, caramelizing the onions can take 30 minutes, but you don't have to stand and slave over the pot (just don't forget about it completely, haha)! I even shared a video on How to Make French Onion Soup, so you can see for yourself how easy it is!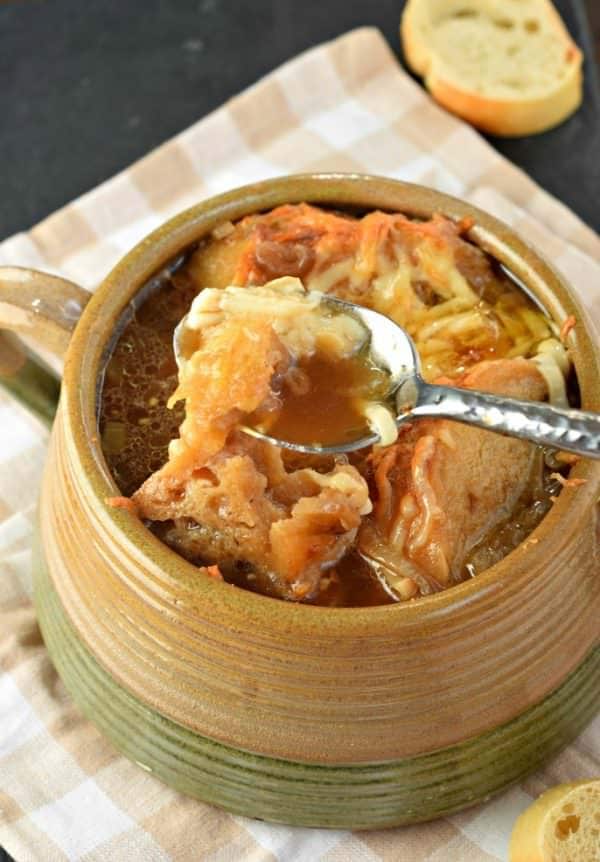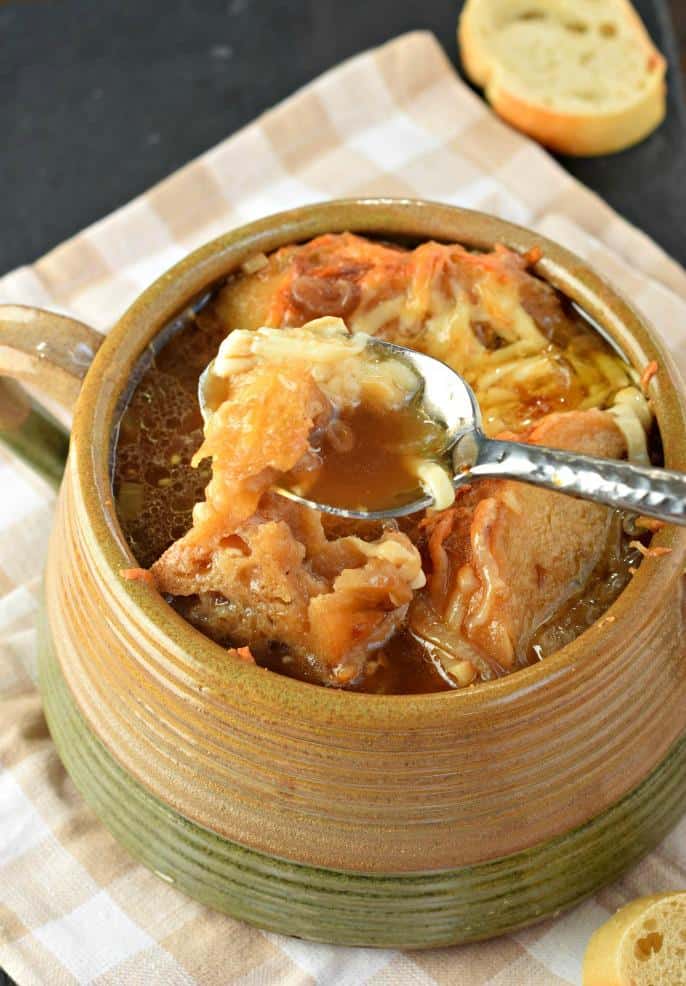 Follow my tips and tricks to making the most perfect FRENCH ONION SOUP recipe:
Use sweet onions. Not only do they taste amazing when they caramelize, they don't have that onion "bite" a typical yellow or white onion will have. However, they do tend to have a higher water content, so they may take a little longer to caramelize. But the sweetness only gets better with time, so it's a win-win!
Don't skip the secret ingredient: BRANDY! This adds a wonderful depth of flavor. I've heard you can also use white wine or sherry, but I have not tried those options!
It's all about the final touch. Adding the toasted baguette and cheese. While the soup was simmering, I sliced a baguette (from my grocery bakery) and toasted it in the oven. I also shredded some Gruyere cheese to have ready. When the soup was done simmering, ladle it into your oven safe crocks and top with a couple of slices of baguette and a handful of cheese. Broil for a few minutes in the oven until melted!
If you don't have oven safe crocks, you can toast the baguette with the cheese on them, then drop them onto your individual bowls of soup! ENJOY
I created a fun little group on facebook and I'd love for you to join in! It's a place where you can share YOUR favorite recipes, ask questions, and see what's new with Shugary Sweets (so that you never miss a new recipe)! If you'd like to check it out, you can request to join HERE.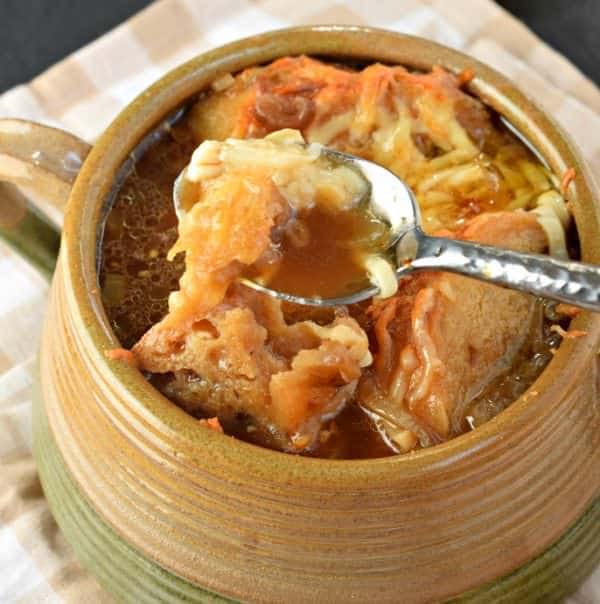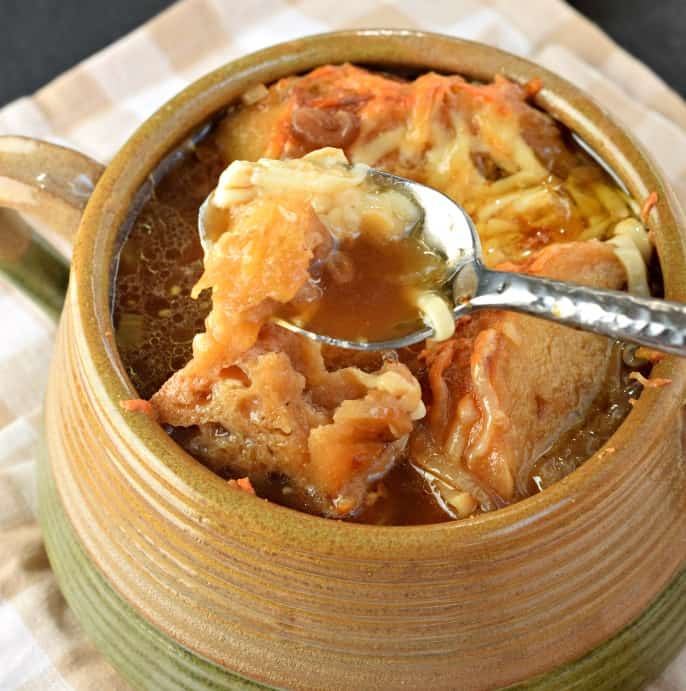 Connect with Shugary Sweets! Be sure to follow me on my social media, so you never miss a post!
Facebook | Twitter | Pinterest | instagram
Yield: serves 4
Best Ever French Onion Soup Recipe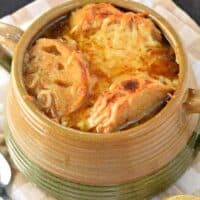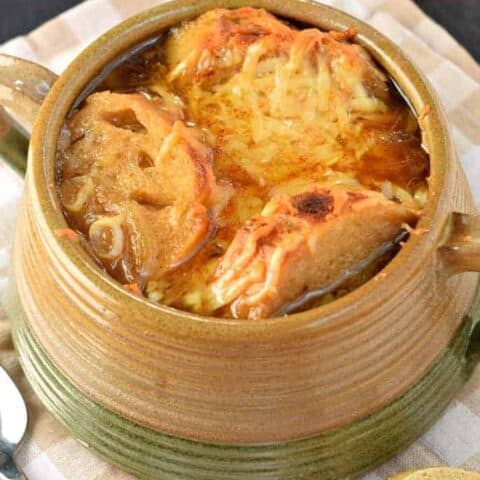 Total Time
1 hour
15 minutes
Sweet caramelized onions, rich beef broth and toasty cheese combined together to make the best French Onion Soup recipe ever!
Ingredients
6 medium sized sweet onions, sliced
1/2 cup butter
64 oz beef broth
2 cloves garlic, pressed
1/4 cup Brandy
6 twigs fresh thyme
1 tsp kosher salt
1/4 tsp black pepper
2 cups gruyere cheese (for topping
1 baguette *see note below*
Instructions
In a large pot, saute butter and onions on medium-low heat for 30 minutes. Stir once or twice during that time. Onions will caramelize and become browned.
Once caramelized, add in beef broth, garlic, brandy, thyme, salt and pepper. Simmer over low heat for about 30 minutes, to allow flavors to meld together. When ready, remove twigs of thyme.
To serve, ladle into individual oven safe crocks. Top with toasted baguettes and about 1/2 cup of gruyere cheese. Broil for several minutes until cheese is browned and melted. Serve immediately. ENJOY.
Notes
**To toast baguette, slice in 1-2 inch slices and lay flat on baking sheet. Place under broiler for about 1-2 minutes per side. If you do not have oven safe crocks, top the baguette slices with cheese and broil until melted. Serve over bowls of soup.
Still looking for bowls of comfort food? I adore making soup for dinner. It's easy to make and who doesn't love a good bowl of Chicken Taco Soup or Lasagna Soup? This Easy Hamburger Soup recipe from my friend Holly is going on our menu ASAP! It's packed full of all our favorite ingredients, and I know my kids will love it too! Speaking of comfort food, Trish has a recipe for One Pot Olive Garden Zuppa Toscana Soup that looks out of this world. And I love a good one pot recipe for easy clean up too! I've got this Beef Stroganoff Soup on my mind from Amy, as it's also a one pot soup recipe. Plus, it's got all the flavors of the classic recipe in a bowl!