Warm and hearty Chicken Taco Soup cooks up easily in the slow cooker. Topped with crispy tortilla strips and shredded cheese, this is an easy meal the whole family will love.
If you're obsessed with easy slow cooker meals, be sure to try this delicious Mississippi Pot Roast. Hearty AND easy! Or give this easy BBQ Chicken recipe a try, also made in the slow cooker!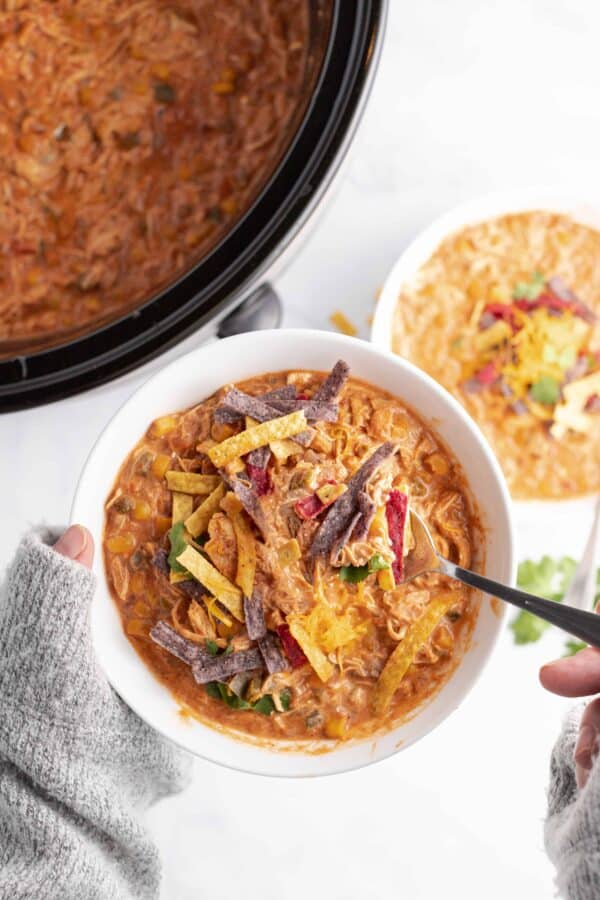 Why this Taco Soup is Best
Digging into a steaming bowl of soup at the end of a long day is one of my favorite things in life.
From Chicken Noodle to Broccoli Cheddar, nothing comforts like soup. And this Chicken Taco Soup is rapidly rising the ranks of my favorites!
The only thing I love more than good soup recipe is a good slow cooker soup recipe! What's not to love about a recipe that you can toss in a CrockPot, set and forget about while it turns into a flavorful soup?
Using taco seasoning and jarred salsa, this soup couldn't be any easier to make. Since it's different from my favorite Tortilla Soup, I decided the name "Taco Soup" would be most appropriate! 
As the soup slowly cooks, the chicken becomes tender and marinated with Mexican spices that remind me of the best Chicken Tacos.
Get it started in the morning and by dinner time you'll have a hearty meal guaranteed to have everyone coming back for a second bowl. 
How to make Chicken Taco Soup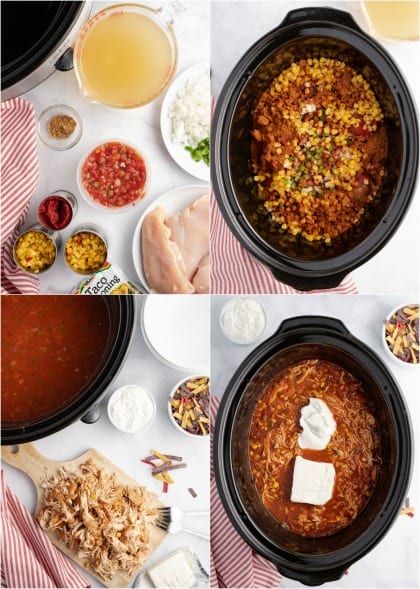 This soup is full of juicy shredded chicken, colorful veggies and just the right amount of heat. As far as from-scratch soup recipes go, it could hardly get any easier.
STEP 1. Prepare the Soup
Here's what you put right into the slow cooker:
onion
chicken breasts – chicken thighs are great in this recipe too!
green pepper
salsa (I use jarred medium heat salsa)
chicken stock
Mexicorn (or your favorite canned corn )
tomato paste 1/2 onion, diced
cumin
Turn the slow cooker on to the "low" setting and let cook for 6 – 8 hours.
STEP 2. Shred the Chicken
Half an hour before serving, remove the chicken, shred it and return it to the pot. Taste for spice level and adjust accordingly.
Served just as is, this Taco Soup is delicious. I, however, like to add just two more ingredients to make a thicker, creamier chicken soup that balances out the spices oh so well.
OPTIONAL – STEP 3. Add sour cream and cream cheese.
Add sour cream and cream cheese to the crock pot and stir until well combined. I've served this soup both with and without the addition of sour cream and cream cheese and loved it both ways.
What toppings go on taco soup?
When I served this for dinner, I set up a little "soup bar" with different toppings so everyone could customize their bowls.
My perfect bowl of chicken taco soup is topped with crispy corn tortilla strips, shredded cheese and a scoop of guacamole.
Don't be shy with the shredded cheese; I love when it starts to melt into the soup giving every bite extra cheesy goodness. 
Taco soup is also tasty topped with Pico de Gallo, sour cream, corn chips or flour tortilla strips!
I've also been known to eat a bowl of two "naked"–it's good every which way.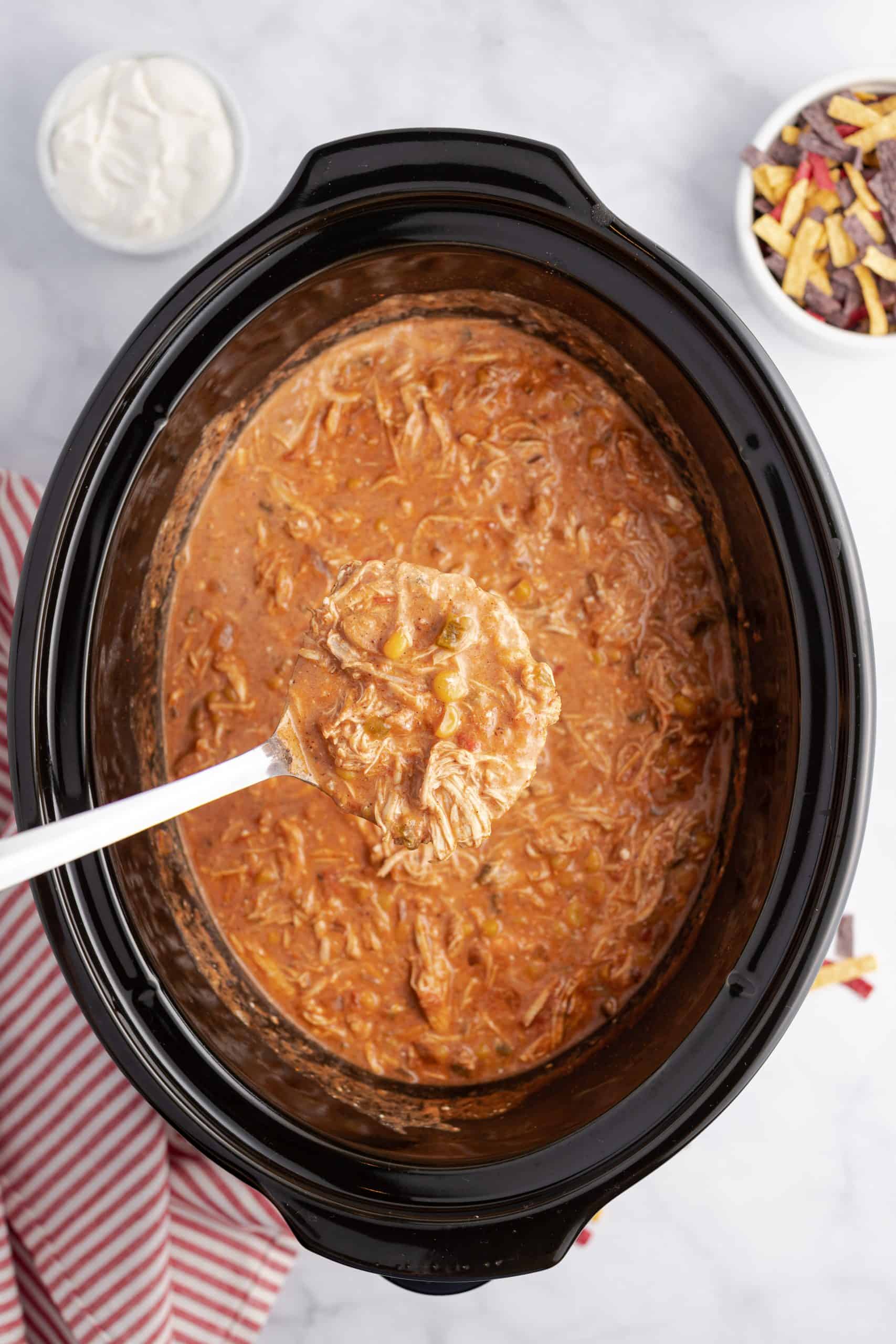 Tips and Tricks
Feel free to adjust the level of heat in this recipe according to your preferences. This soup is definitely not overly spicy but if you're sensitive to eat, use a mild salsa and less taco seasoning. Likewise, to increase the heat use your favorite hot salsa. A little hot sauce served on top will also amp up the heat levels!
This recipe makes enough soup to feed a crowd–or to have leftovers! Taco Soup keeps well covered in the fridge for a few days and also freezes beautifully. I like to make a pot for dinner then enjoy the leftovers for lunches throughout the week.
I use canned Mexicorn when I make chicken taco soup because I love the added red and green bell peppers. Feel free to substitute regular canned corn if you prefer!
A bowl of this soup makes a satisfying meal. It can also be served in cups as a side dish or starter coarse to a Mexican dinner.
Swap out the chicken for turkey and make a delicious Turkey Taco Soup recipe.
I seriously love this slow cooker soup recipe and I hope you enjoy it just as much!
A lightly spicy soup made even more delicious with the addition of sour cream, Chicken Taco Soup is easy enough for a weeknight meal but impressive enough to share with company.