Thick and hearty, this Slow Cooker Vegetarian Lentil Tortilla Soup recipe is the perfect weeknight meal! You'll love the spicy flavor and you won't even miss the meat!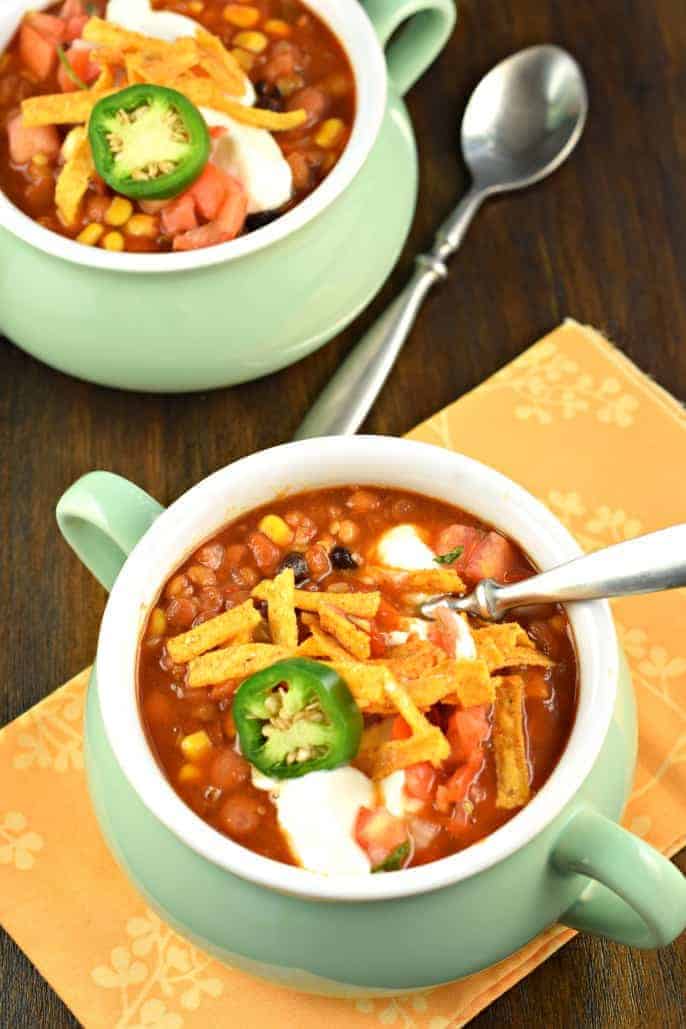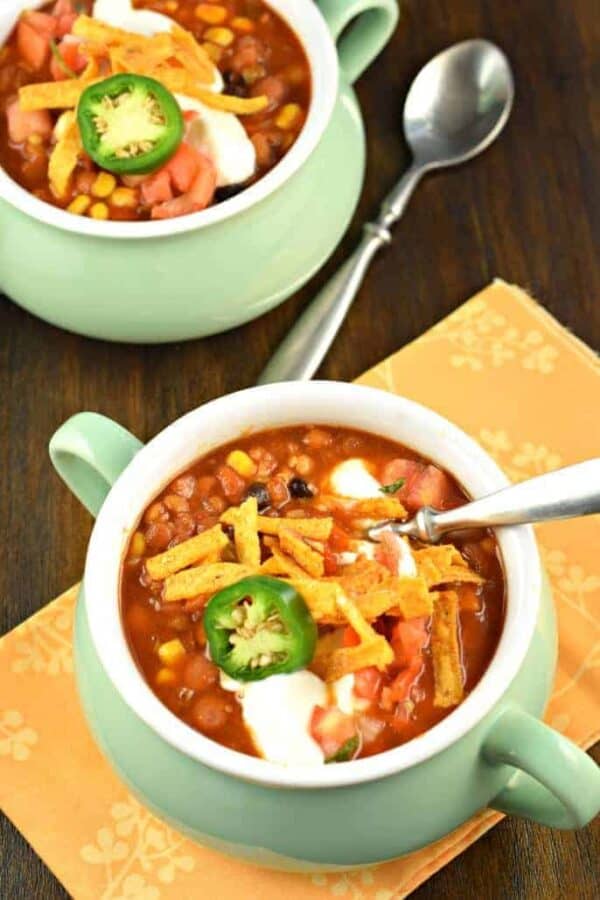 Meatless Dinner Recipe
Need a meatless meal that's hearty enough to satisfy everyone in the family? This lentil chili is it!
Since one of my daughters is a vegetarian, I love when I find a dinner that we can all enjoy without having to cook separate dishes. It's even better when that meal is a super easy slow cooker recipe like this one.
Making Vegetarian Lentil Chili is as simple as tossing everything in the slow cooker and walking away for hours as it cooks. The Mexican inspired spices combine with tender lentils and flavorful peppers to create a mouthwatering dish ready to top with all your favorite chili fixings!
No one asks where the meat is when this chili is on the menu. Whether you're trying to eat more meatless meals, cooking for a vegetarian or just love flavorful chili, you'll love this recipe.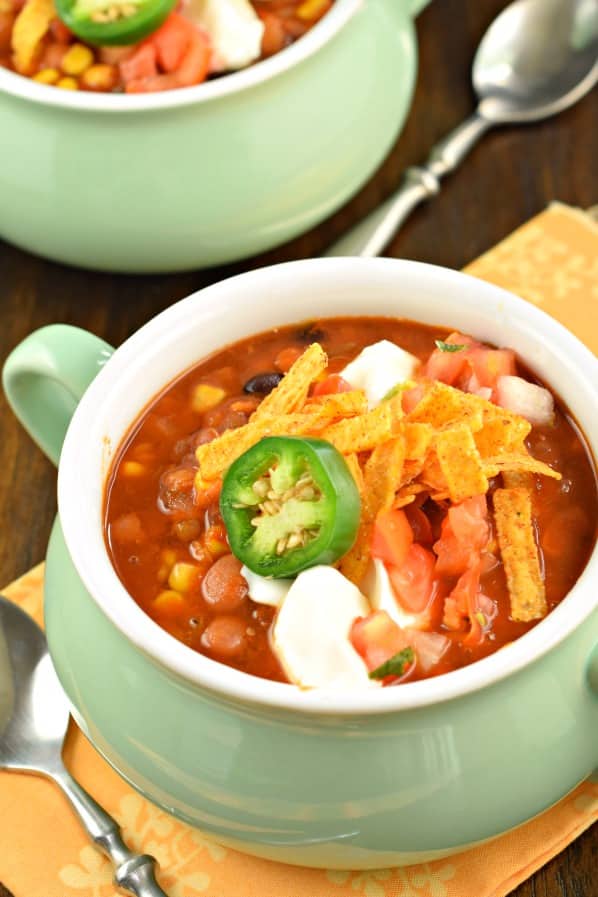 Ingredient Notes
Lentils – You can use dried lentils or cooked lentils for this recipe. Go with what's easiest for you!
Salsa – I used salsa verde (you know, the green salsa), but feel free to use your family's favorite. And you know if your family likes things spicy, so if you want to kick it up a notch, use a hotter salsa!
Beans – The recipe calls for black beans and pinto beans. Feel free to swap out kidney beans for the pintos or use any combination of beans you prefer (or have stocked in the pantry).
Heavy cream – I added some heavy cream at the end of the cooking time to thicken things up but it's totally optional.
Jalapeno – Seed and dice before using in the recipe. If you prefer less heat, don't add the full amount of diced pepper to the slow cooker.
Tips and Tricks
This recipe is super flexible and adaptable! Feel free to adjust the spices, the amount of pepper, try different toppings and have fun creating the perfect meatless chili for your family's palate.
I served the chili in bowls topped with tortilla strips, plain greek yogurt (as an alternative to sour cream) and big handfuls of shredded cheese. Sliced jalapenos and avocados are more great choices, or you can enjoy the chili just as it is.
Vegetarian Lentil Chili makes a great freezer meal, too.
I usually store it in a ziploc gallon sized freezer bag (double bagged). Once ready to use, I thaw in refrigerator overnight, or I just dump the frozen contents into a soup pot and cook on low until heated. ENJOY!
Recipe FAQs
What kind of lentils do you need for this recipe?
I like to use either brown or green lentils here (canned or dried). Red lentils will work but are smaller and cook more quickly so they might turn to mush in the crock pot.
Can you substitute frozen corn for the canned?
Sure can!
Can you use dried beans instead?
No, but you could cook dried beans first according to package directions and then add them to the recipe in place of the canned beans.
Hearty, satisfying and good for you too, this Vegetarian Slow Cooker Lentil Chili is going to make meatless Mondays your favorite night of the week!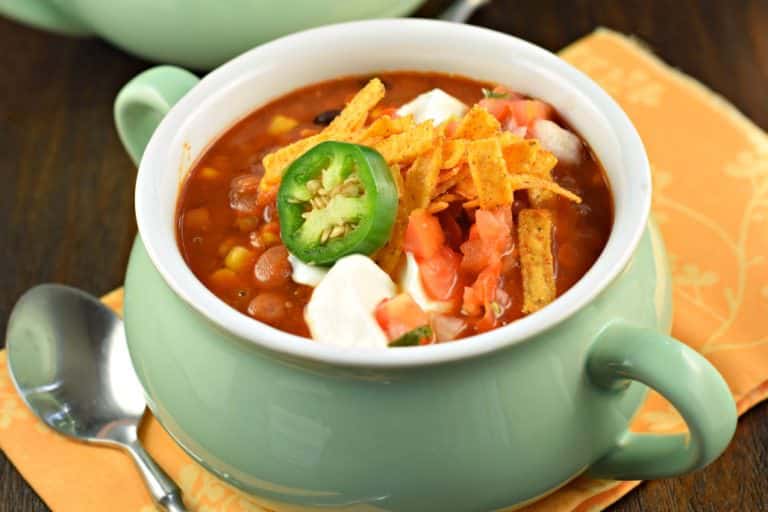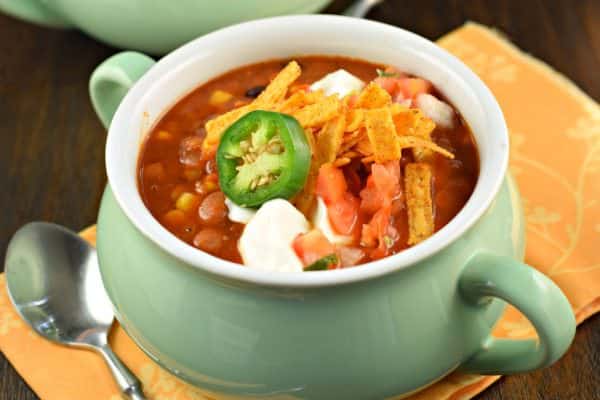 More Vegetarian Recipes