Thick and hearty, this Slow Cooker Vegetarian Lentil Tortilla Soup recipe is the perfect weeknight meal! You'll love the spicy flavor and you won't miss the meat!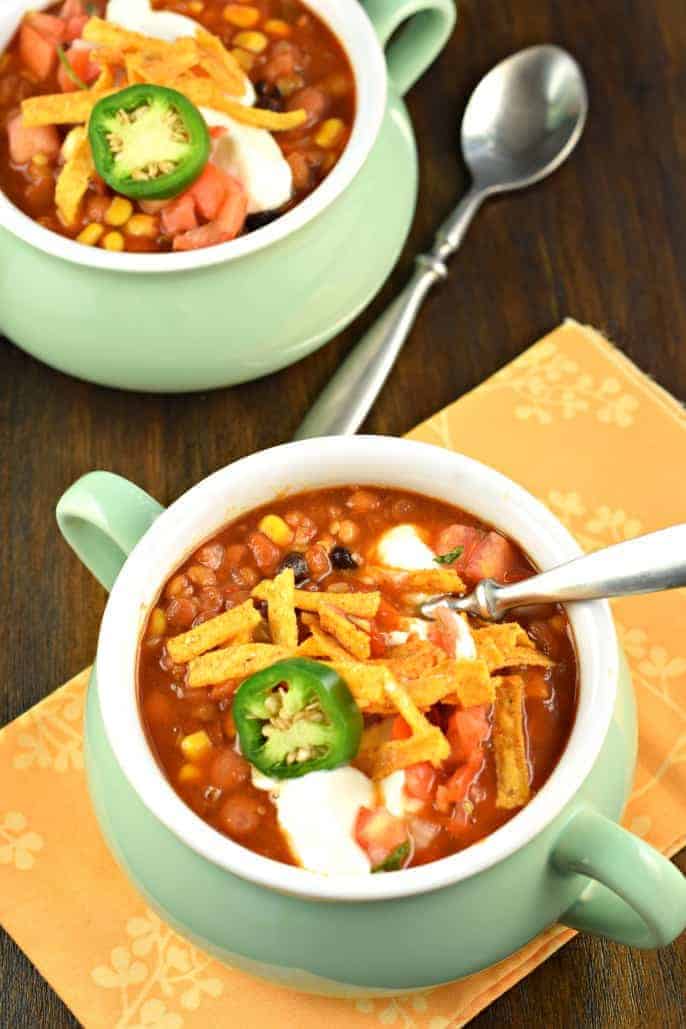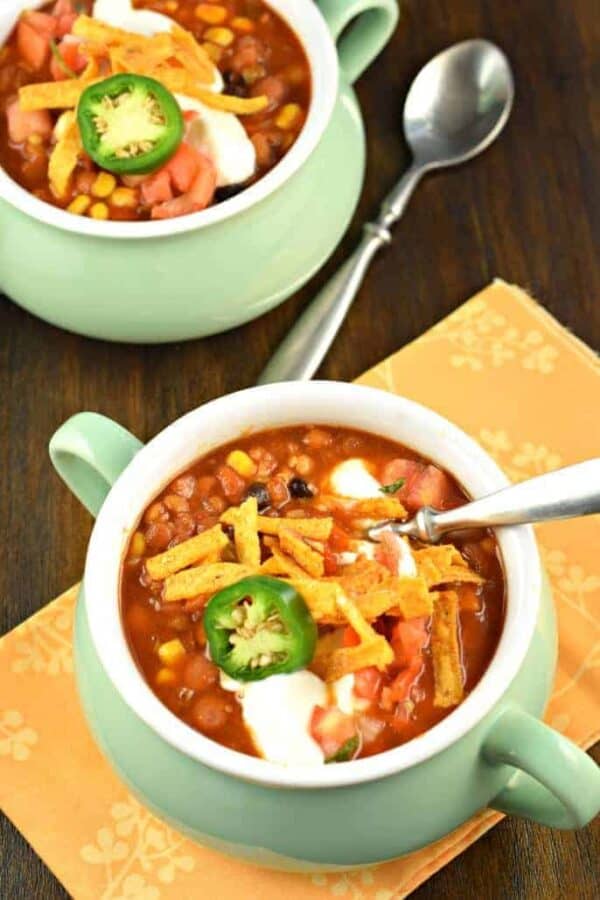 Here we are, nearly two months into being a vegetarian, and I'm still doing okay, haha! My husband still gets his occasional meat dinner, like this Cajun Sausage Pasta, and I enjoy it without the meat!
But today's recipe, Slow Cooker Vegetarian Lentil Tortilla Soup, everyone enjoyed this dinner! And nobody was groaning about it not having any meat! I call that a win 🙂
Soups and chilis are an easy way for me to make a healthy dinner, that satisfies both my carnivores and vegetarians! I usually cook up some chicken (or buy some pre-shredded rotisserie chicken) and add it to my husband's soup right before serving! Like this Southwest Chicken Chowder? My daughter and I enjoyed it without the chicken. We even added some black beans! In my husband's bowl (and my other daughter's bowl) I placed some cooked, shredded chicken in the bottom of the bowl and ladled the hot soup over the chicken! We all added our favorite toppings and we all had a dinner we loved.
My husband isn't usually a "fan of beans", as he quotes. However, he loves lentils! I had planned on using canned lentils, until I realized I actually had a bag of dried lentils that I'd been meaning to try out! This was the perfect recipe to use them in. I threw everything into the crockpot (including the dried lentils) and let it cook for 6-8 hours on low. Once it was done, we added our favorite toppings and enjoyed a bowl of comfort food!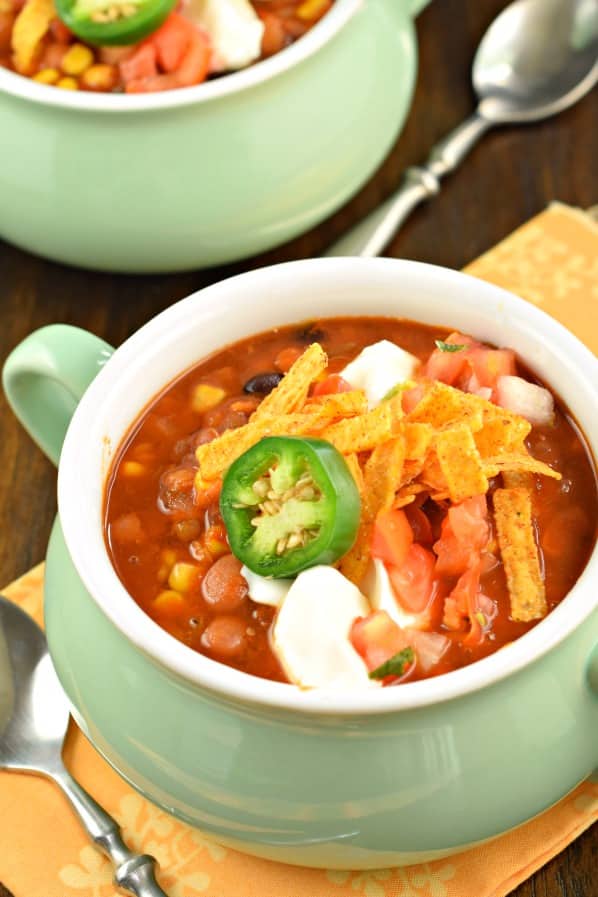 A few tips about this recipe:
I love using my favorite slow cooker, this Ninja. Unlike most crockpots, the Ninja is crazy easy to clean, as NOTHING sticks to it, so there is no need for those bags people use. Put this on your holiday wish list if you don't have one already!
You can use dried lentils or canned lentils for this recipe. Go with what's easiest for you!
I used salsa verde (you know, the green salsa), but feel free to use your families favorite. And you know if your family likes things spicy, so if you want to kick it up a notch, use a hotter salsa!
I added some heavy cream at the end of the cooking time. This is totally optional! I also used plain greek yogurt instead of sour cream, you know, to lessen the guilt from the heavy cream. But go with what you enjoy! Food is meant to be enjoyed.
Want to keep this in the freezer for a later date? It's a great option! I usually store it in a ziploc gallon sized freezer bag (double bagged). Once ready to use, I thaw in refrigerator overnight, or I just dump the frozen contents (cut off the bags) into a soup pot and cook on low until heated. ENJOY!
I created a fun little group on facebook and I'd love for you to join in! It's a place where you can share YOUR favorite recipes, ask questions, and see what's new with Shugary Sweets (so that you never miss a new recipe)! If you'd like to check it out, you can request to join HERE.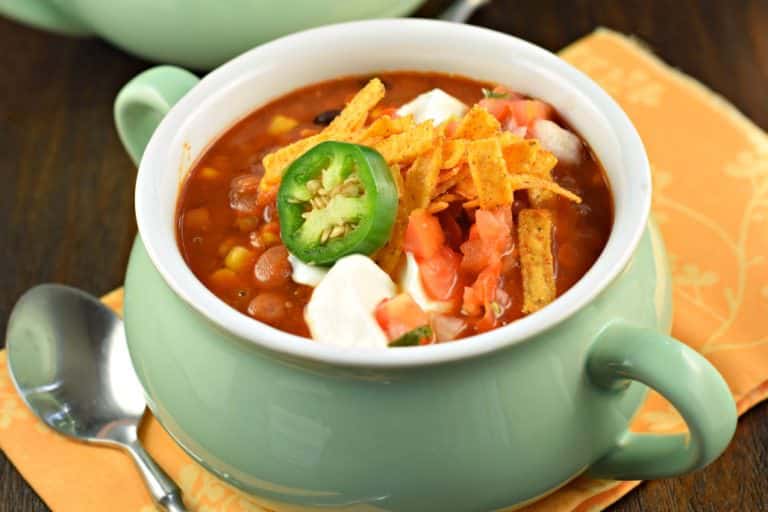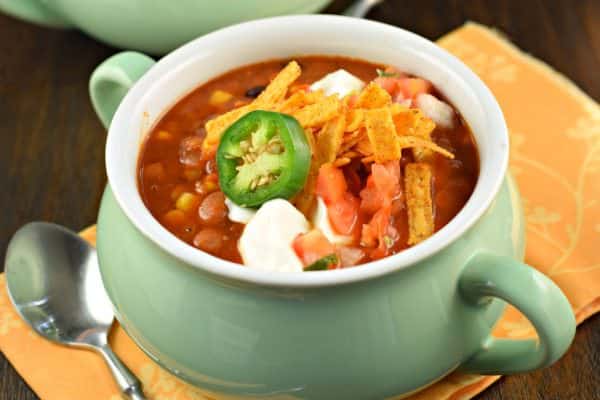 Connect with Shugary Sweets! Be sure to follow me on my social media, so you never miss a post!
Facebook | Twitter | Pinterest | instagram
Yield: serves 6
Slow Cooker Vegetarian Lentil Tortilla Soup
Total Time
8 hours
15 minutes
Thick and hearty, this Slow Cooker Vegetarian Lentil Tortilla Soup recipe is the perfect weeknight meal! You'll love the spicy flavor and you won't miss the meat!
Ingredients
1 can (15 oz) black beans, drained and rinsed
1 can (15 oz) pinto beans, drained and rinsed
1 can (15 oz) sweet corn, drained
3/4 cup dried lentils
3/4 cup onion, diced
1 green pepper, seeded and diced
1 jalapeno pepper, seeded and diced
4 cups vegetable broth
1 can (15 oz) tomato sauce
2 Tbsp tomato paste
3/4 cup salsa verde
1 tsp cumin
1 tsp chili powder
1 tsp garlic powder
1/4 tsp red pepper flakes
1 tsp kosher salt
1/2 cup heavy whipping cream, optional (add right before serving)
toppings (optional): pico de gallo, greek yogurt (or sour cream), tortilla strips, jalapeno, shredded cheddar cheese, avocado (or guacamole)
Instructions
In a large 6 qt. slow cooker (I use my favorite NINJA for this), add black beans, pinto beans, corn, lentils, onion, green pepper, jalapeno, vegetable broth, tomato sauce, tomato paste, salsa, cumin, chili powder, garlic powder, red pepper flakes, and salt. Stir to combine.
Cover and cook on low for 6-8 hours. If desired, right before serving, add in heavy whipping cream. Stir and serve. Top with your favorite choices of toppings and enjoy!
Recommended Products
As an Amazon Associate and member of other affiliate programs, I earn from qualifying purchases.
Love today's meatless meal? Then I think these recipes should go on your menu ASAP: