Creamy and just a bit spicy, Turkey Taco Soup is a great way to use leftover turkey. Toss everything in the slow cooker today and you'll have a delicious homemade meal by dinner time.
Got leftover turkey? Our Turkey Tetrazzini is pure cheesy comfort food. Or these Turkey Cheddar Sliders are a delicious lunch or dinner using up some of that leftover bird.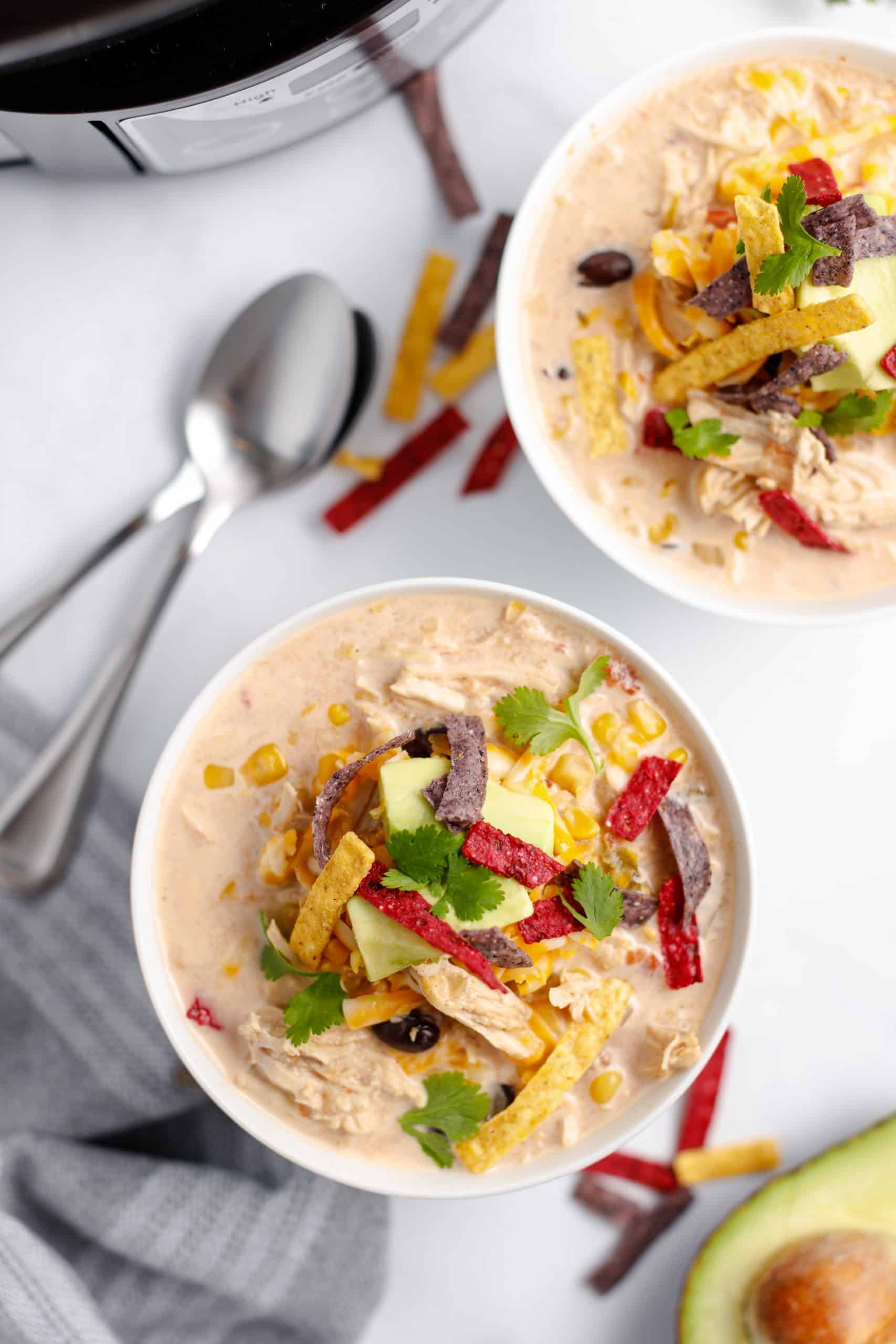 Slow Cooker Taco Soup
I love soup. I especially love soup that I can make in my slow cooker with very little prep time. Nothing beats the aroma that fills your kitchen when you have a hearty soup cooking in the Crock Pot. 
The fragrant spices, onion and peppers in a taco soup make it smell extra enticing as it cooks. When I have a turkey taco soup in the slow cooker I can hardly wait for dinner time to sneak a taste!
This versatile and easy Turkey Taco Soup has become one of my favorite ways to use leftover turkey after the holidays. I like it so much that I make various iterations of it all year long when I need a filling and fuss-free meal.
Ingredient Notes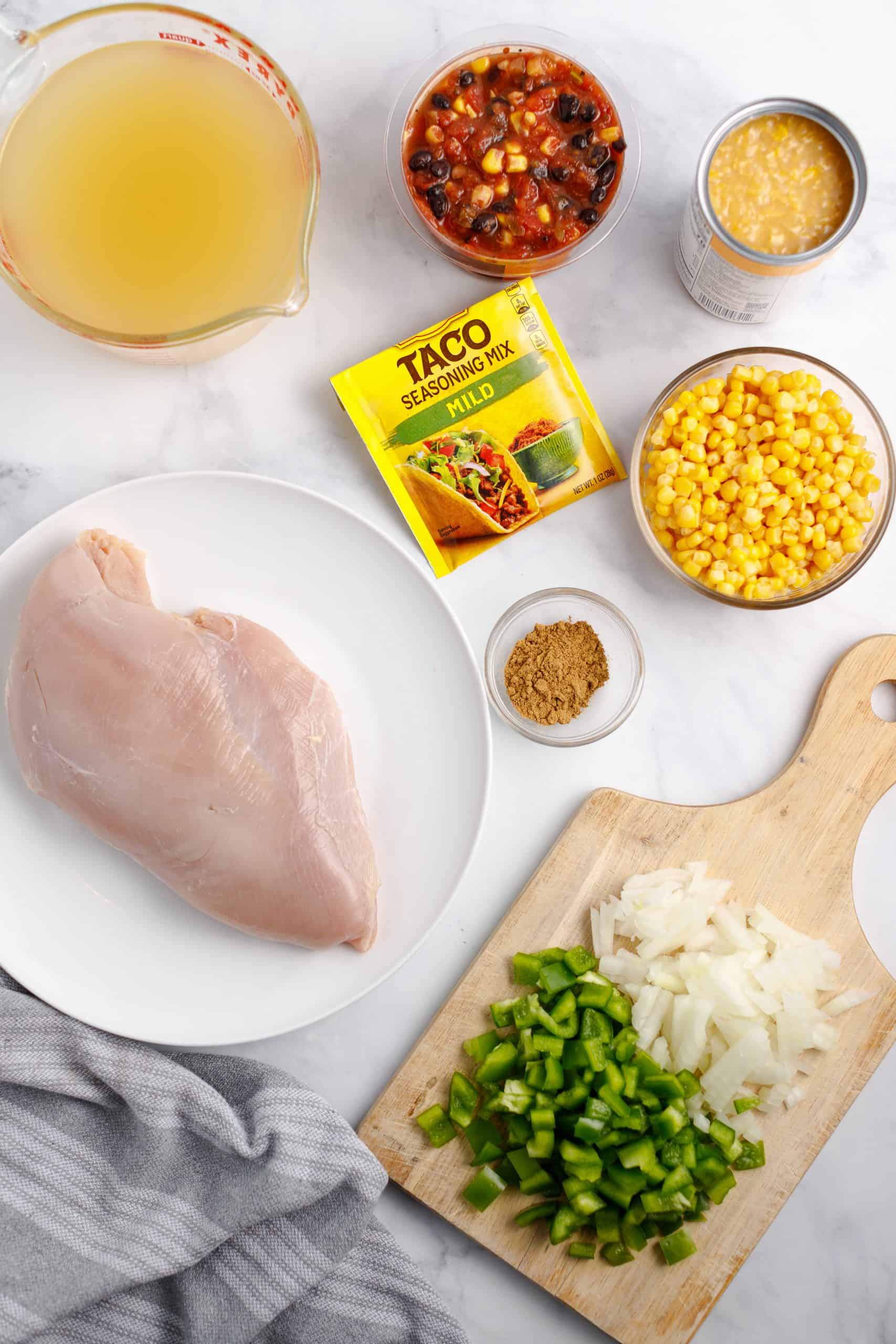 As much as I enjoy eating turkey on Thanksgiving, I think I might enjoy all the leftover turkey meals even more.
If you're bored with the usual turkey soups, sandwiches and salads, tossing your turkey in a taco soup is an ideal way to shake things up! 
After your turkey dinner, pop leftover turkey meat into Ziploc bags and store them in the fridge. Pull out a bag whenever you're in the mood for soup and the rest is as easy as can be. 
The spices and Mexican flavors in taco soup make it a beautiful match for turkey.
The heavy cream and creamed corn balance out the spice of the salsa and taco seasoning just perfectly. This soup is creamy and warming without being overwhelmingly spicy.
Seriously, I love this soup and I can't wait for you to try it.
Today, I used a fresh turkey breast to make my taco soup. The turkey goes into the slow cooker along with the rest of the ingredients:
I use jarred salsa, canned corn and canned creamed corn to make this recipe extra easy. All you have to do is dice your onion and pepper!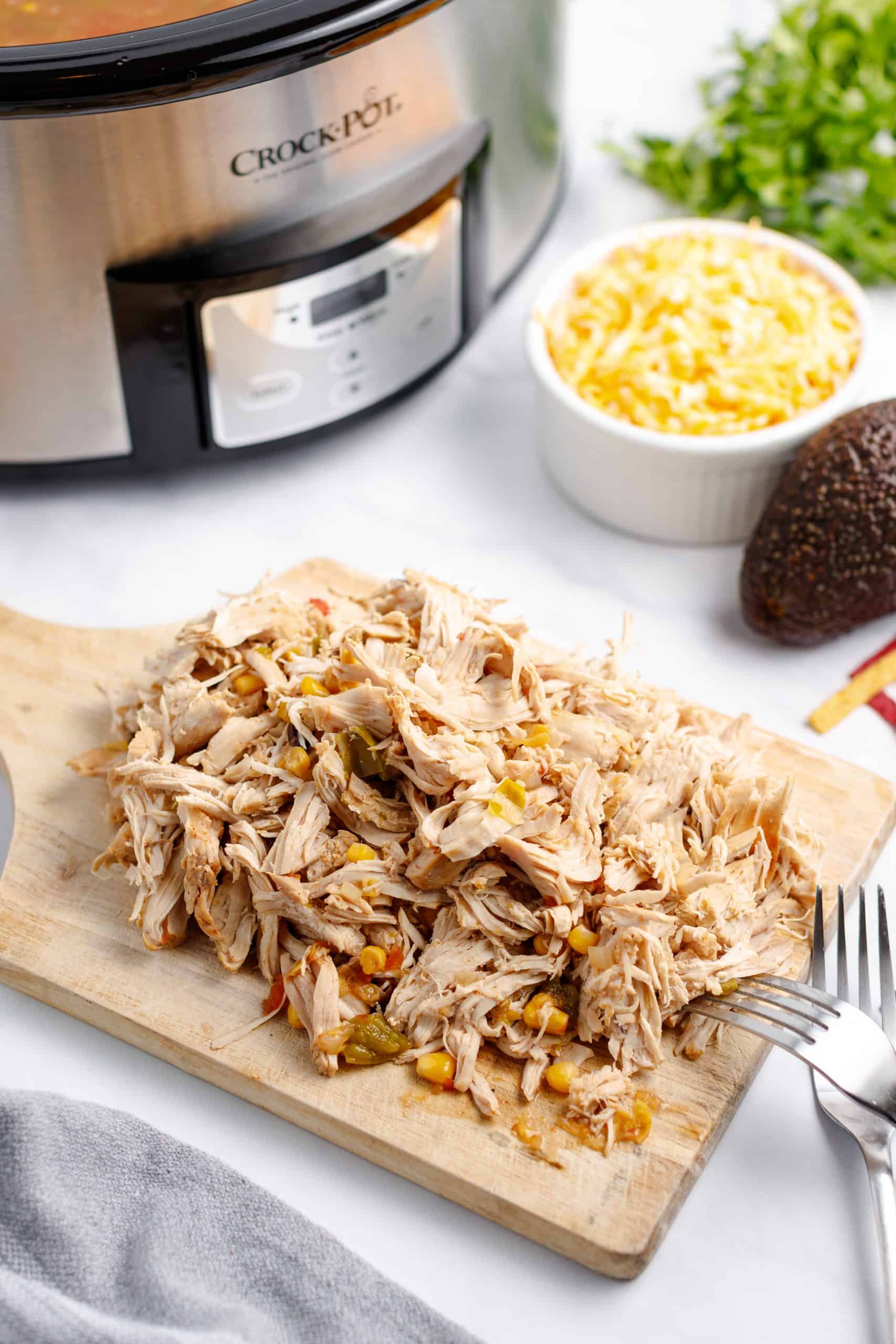 How to Make in the Slow Cooker
After cooking everything on low for 6 – 8 hours, remove the turkey from the pot, shred it and add it back to the slow cooker.
Stir in heavy cream and let the soup continue cooking for about 30 minutes, just until the cream is warmed through. 
With just a few minutes of active prep time, it doesn't get much easier than Turkey Taco Soup. 
What to put on Taco Soup
We served up this taco soup with easy Puff Pastry Breadsticks and everyone came back for a second bowl. Each and every spoonful was better than the last!
Taco Soup makes a perfect canvas for topping with just about any of your favorite taco fixings. Try it with guacamole and tortilla strips, corn chips and sour cream, or a bit more salsa on top.
You won't regret sprinkling a handful of shredded cheddar cheese on top, either (in fact it's almost required in my house).
And the leftovers, if you have any, are fantastic!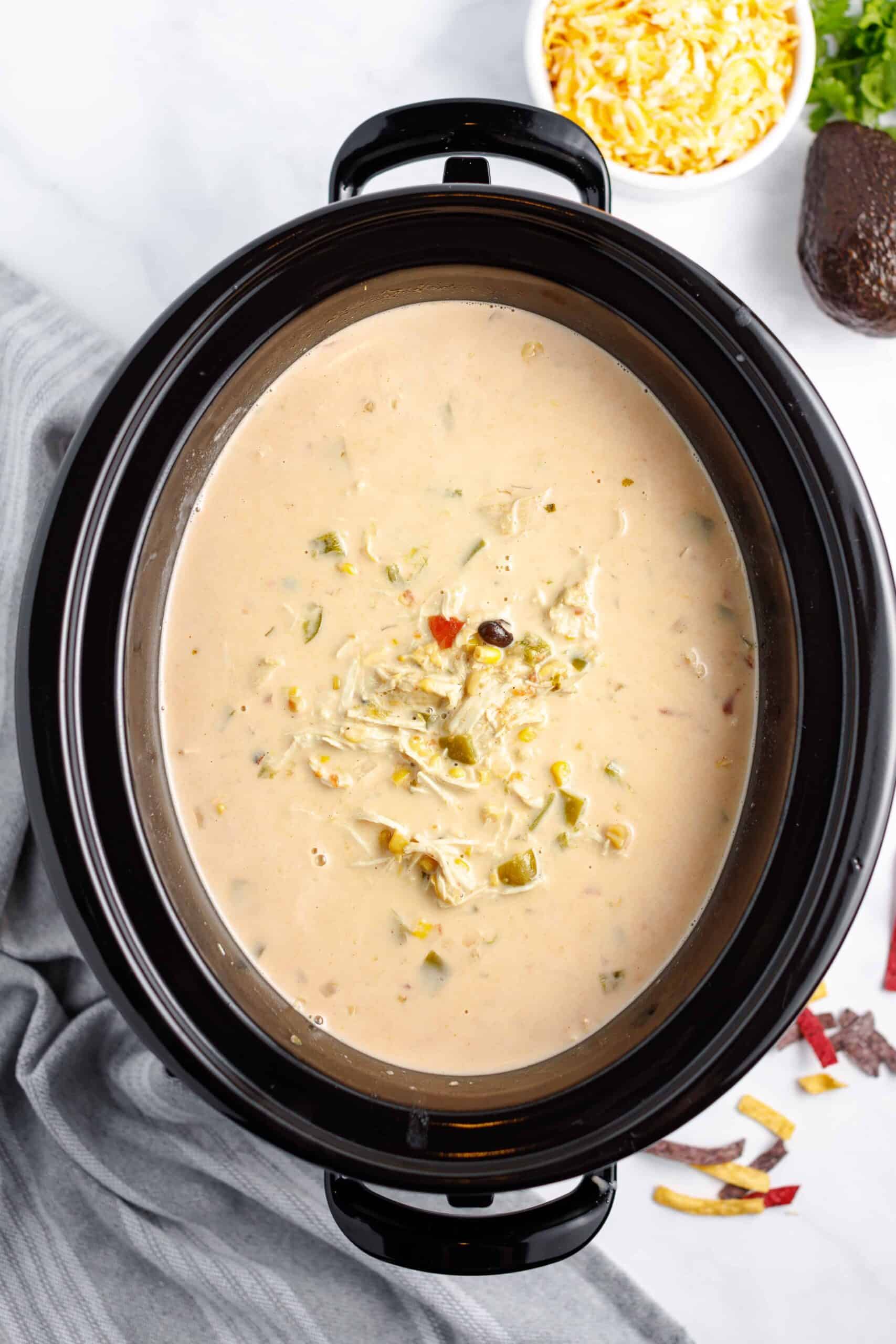 Recipe Notes
Today, I used bags of precooked turkey breast for this soup. You can also use uncooked turkey breasts if you don't have any leftover or cooked turkey on hand. 
No turkey? No problem. This recipe works wonderfully with chicken, too. Use cooked leftover chicken, uncooked chicken breasts or even a rotisserie chicken. 
Leftovers store well in the fridge for about a week. This soup also freezes beautifully! 
Feel free to adjust the spices according to taste. For more heat, top your bowl of turkey soup with your favorite hot sauce. 
I use my Homemade Taco Seasoning for this recipe. If you've never made your own taco seasoning, definitely give it a try sometime. It's super easy, economical and great to have on hand to make taco nights even easier. That said, store bought seasoning tastes great in this soup, too.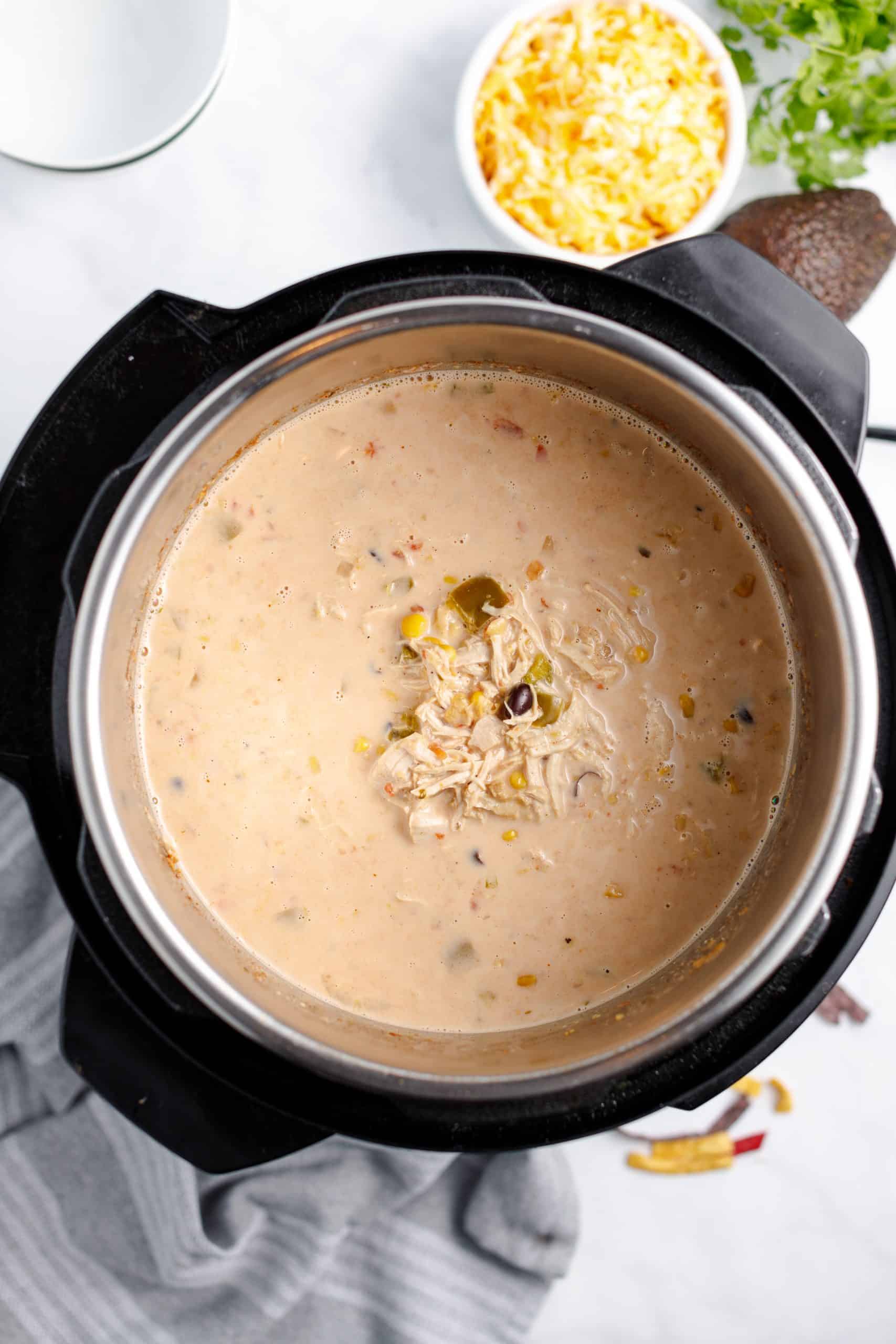 How to Make Turkey Taco Soup in the Instant Pot
Plug in the Instant Pot.
Add chicken broth, turkey breasts, taco seasoning, salsa, onion, green pepper, corn (both kinds), and cumin. Give a quick stir.
Secure lid, turn to "SEALING", pressure cook on high for 8 minutes. After the six minutes, set timer for 10 minutes for Natural Pressure Release. After ten minutes, do a quick release until valve drops and pressure is released completely.
Open lid and add heavy cream. Stir and serve with sour cream, cheese, avocado, cilantro or any other toppings you enjoy.
Slow Cooker Soups
Slow cookers can totally save the day on busy weeknights! I get a ton of use out of mine, especially when the weather's chilly.
Looking for more ideas for easy slow cooker soups? Slow Cooker Chicken Enchilada Soup should be next on your list, especially if you like Mexican inspired soup recipes like this one. I'd also recommend you give my Slow Cooker Pizza Soup and my Slow Cooker Vegetarian Lentil Tortilla Soup.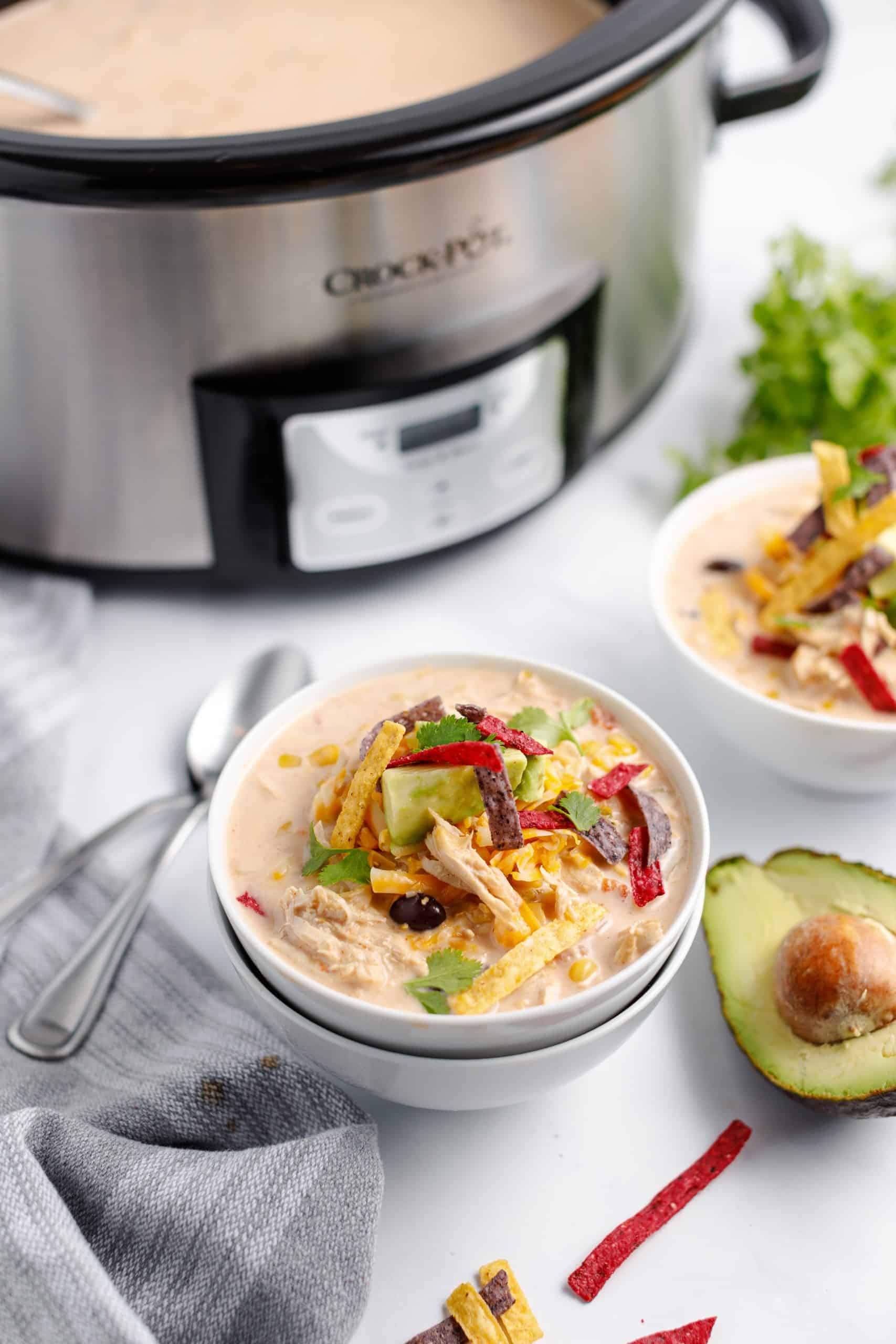 Creamy and satisfying Turkey Taco Soup uses leftover turkey meat and Mexican flavors to make a meal everyone loves.