Forget buying jars of salsa when you can make this delicious Corn and Black Bean Salsa at home! With jalapeno peppers and a hint of lime, this homemade salsa is perfect for scooping with chips or adding to your tacos.
I could eat Corn and Black Bean Salsa straight from the bowl with a spoon! It's also an amazing addition to Slow Cooker Taco Chili.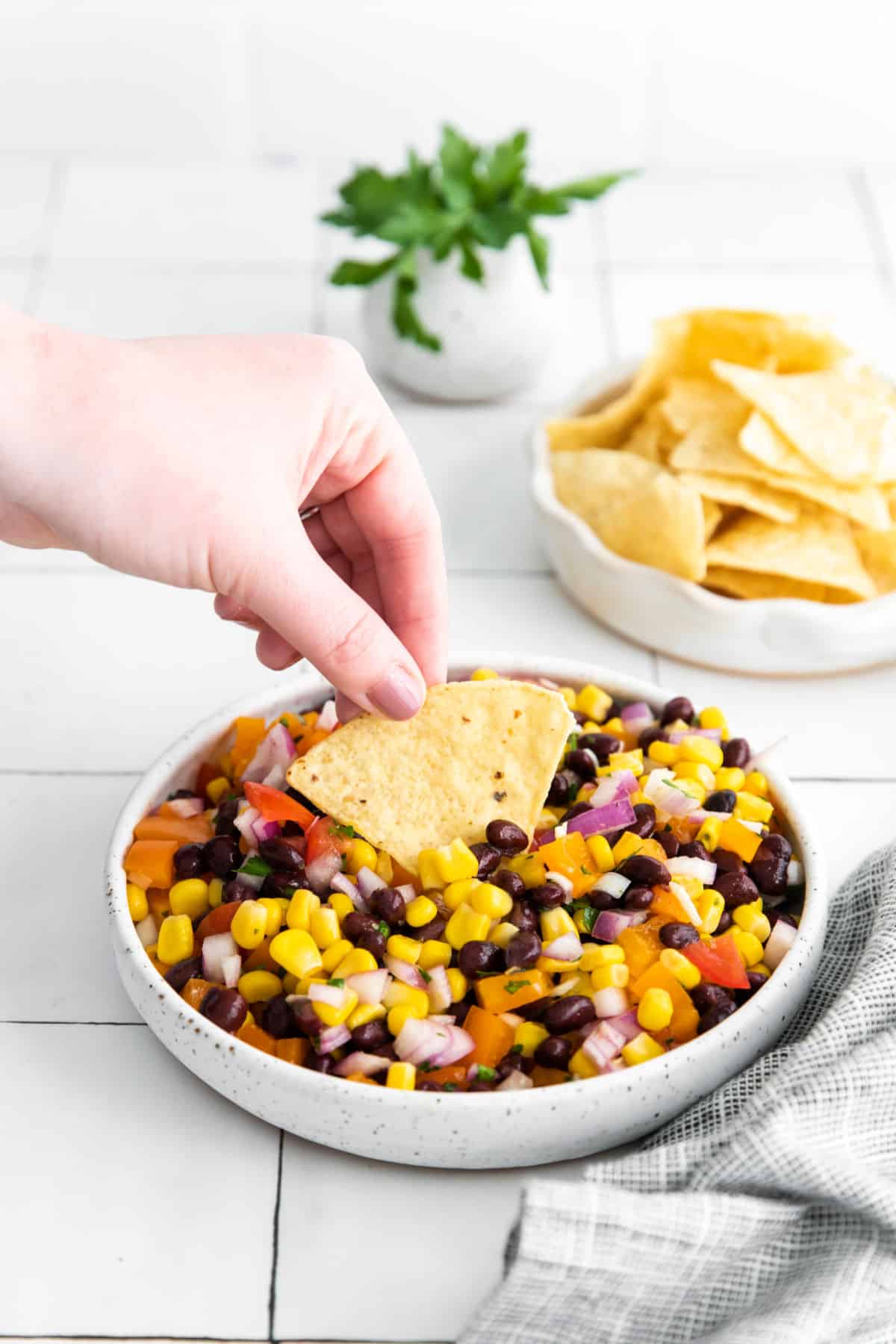 Why this Recipe Works
The key to a perfect fresh salsa like this one is getting the right balance of flavors and textures.
This Corn and Black Bean Salsa has just the right ratio of sweet corn to black beans. The jalapeno and red onion together bring a bit of crunch and a good amount of heat to the salsa.
We added a squeeze of lime juice to keep everything fresh and balance out the sweetness from the corn. Every bite is fresh, spicy and full of flavor!
Plus, this recipe is so fast and easy to make. Mix everything together, let it marinade and dig in!
Ingredient Notes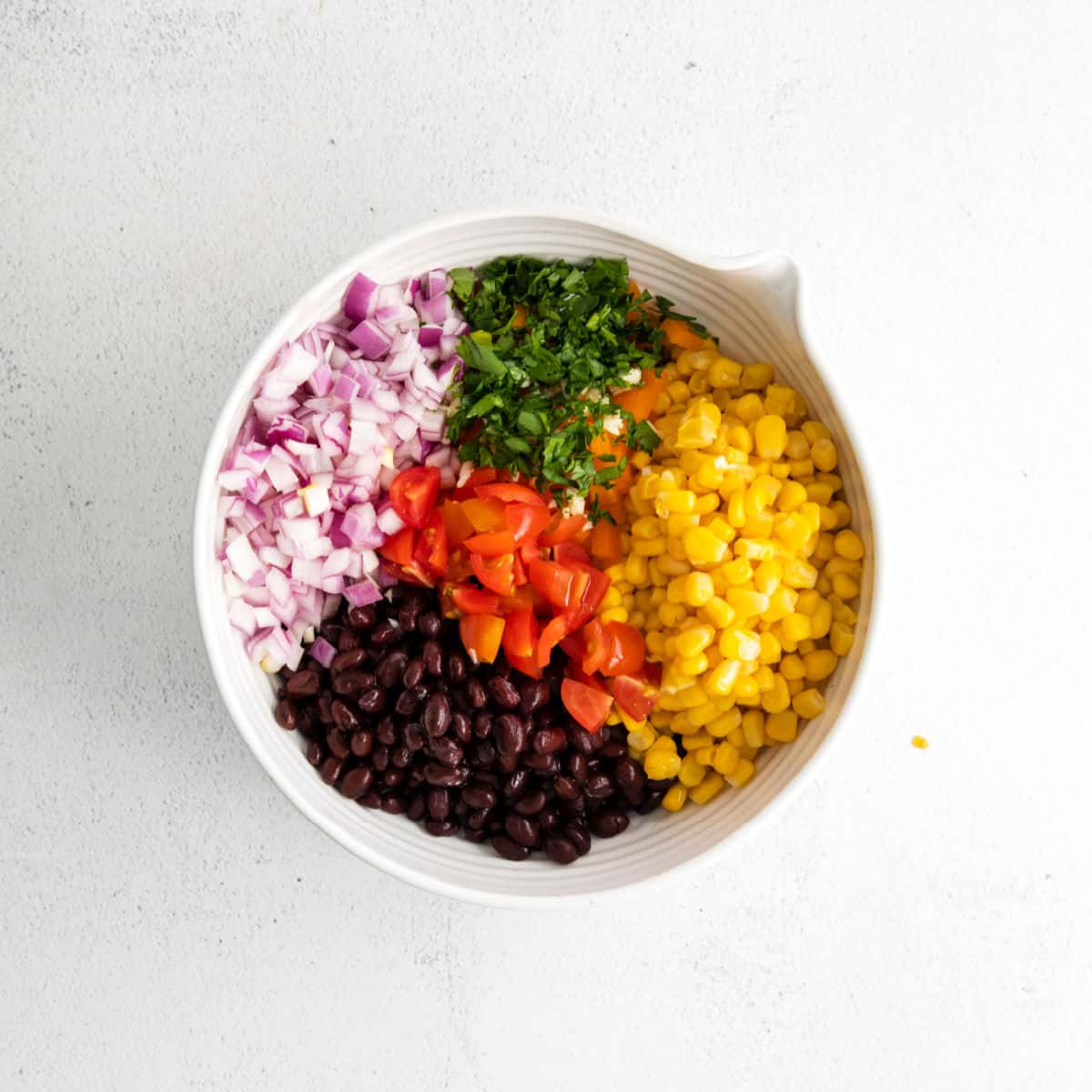 Sweet corn. We use canned corn here. You can use frozen instead, but make sure to pat it dry before adding to the salsa. You could also use my Instant Pot Corn on the Cob recipe to use up some fresh corn in a quick and easy way!
Black beans. Canned beans are easy and taste delicious here. Beans cooked from scratch are a great option too.
Jalapeno. Remove the seeds for less heat. You can add more or less jalapeno depending on your preference for spiciness.
Tomatoes. Fresh, diced tomatoes are best. Any variety you like will work. You could also add in some heirloom tomatoes or even colorful sweet peppers for a little crunch.
Lime juice. Use freshly squeezed juice in this recipe! The citric acid not only adds flavor–it also helps keep the ingredients fresh.
Serving Suggestions
As an appetizer or snack: Place a bowl of this salsa on the table with a big basket of crunchy tortilla chips!
On tacos: Try it on your Baked Tacos, your Tequila Chicken Tacos or these Fish Tacos.
Nacho topping: Spoon Black Bean Corn over a plate of chips with taco meat and shredded cheese for a fun family dinner. Perfect in our walking tacos.
Salad booster: Toss the black bean and corn salsa with mixed greens, shredded chicken and your favorite dressing for a healthy meal that's flavorful AND satisfying.
No matter how you serve this salsa, it'll convince you to stop buying store bought corn salsas forever!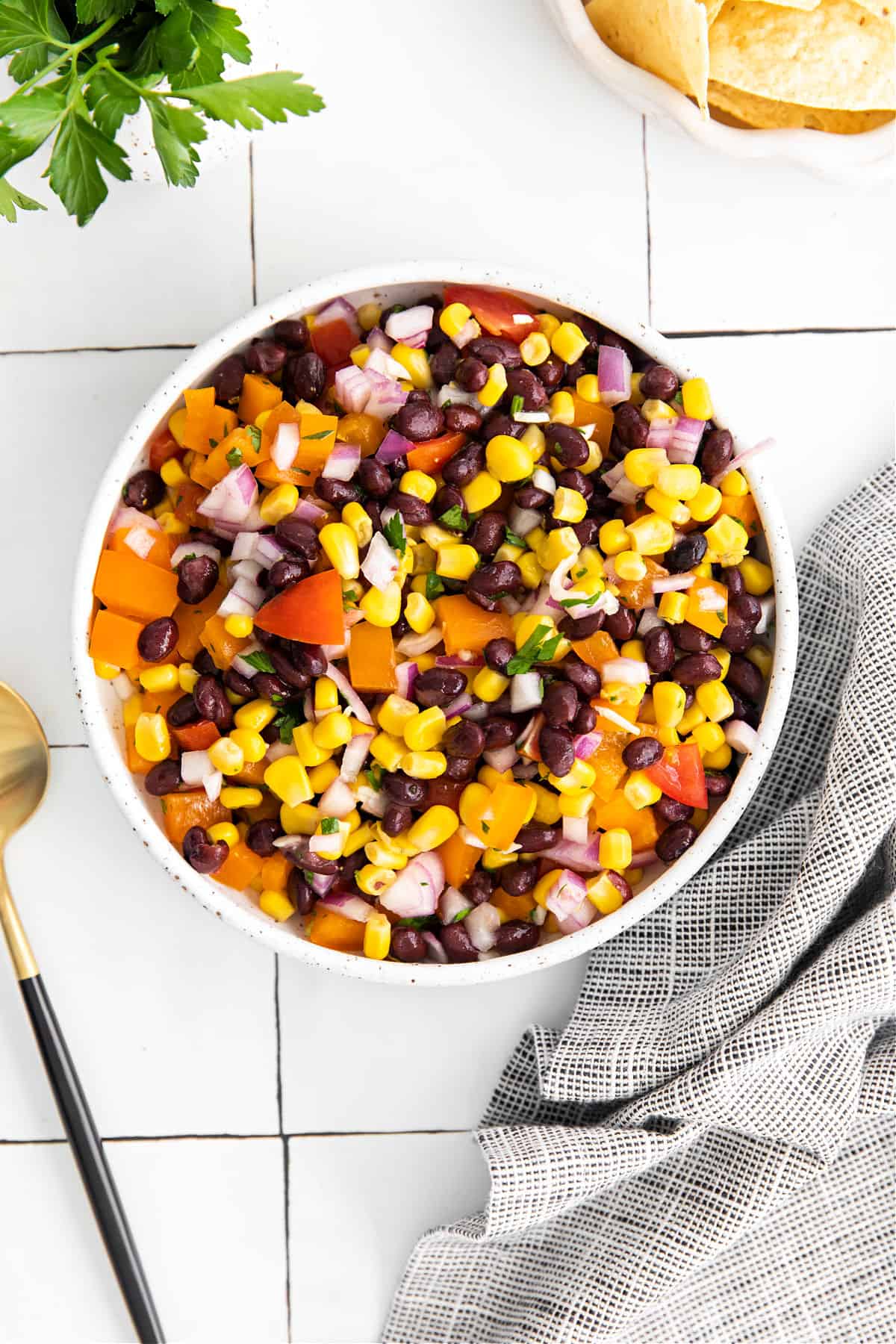 Tips and Tricks
Plan ahead to allow the salad to chill in the fridge for about an hour before serving. It helps the flavors mingle so the salsa tastes even better!
Store leftovers in an airtight container and keep in the fridge. Enjoy within 2 days for best freshness.
Recipe FAQs
Do you drain the canned corn and beans first?
Yes, make sure to drain the canned ingredients, rinse and pat them dry before adding to the salsa.
Can I use canned tomatoes in this recipe?
I don't recommend it. Canned tomatoes are cooked and are much softer, so it'll make the texture of the salsa mushy.
I don't like cilantro. Can I still make this recipe and leave it out?
You sure can. The beauty of this black bean salsa recipe is that it's so easy to customize based on your tastes!
Can I use yellow or white onion instead of red?
You can, but the flavor will be affected. Both yellow and white onion have a sweeter taste than red, so expect the finished salsa to have more sweetness if you opt for these substitutes.
More Easy Appetizer Recipes
Watermelon Peach Salsa. Sweet and tangy, this is a great chip dip!
Mango Salsa: another sweet and tangy recipe, with pomegranate and peppers!
Fruit Salsa: this is a great snack or dessert, served with cinnamon pita chips!
Who's craving a big bowl of fresh, flavorful, spicy salsa now? Quick and easy, this is the only Corn and Black Bean Salsa recipe you'll ever need!