Instant Pot Corn on the Cob is a fast and easy way to enjoy the bounty of summer! Have delicious corn on the table in less than 15 minutes with this fool proof method.
Today we're talking about how to make corn on the cob in the Instant Pot. As much as I love Roasted Corn, you can't beat the convenience of the Instant Pot.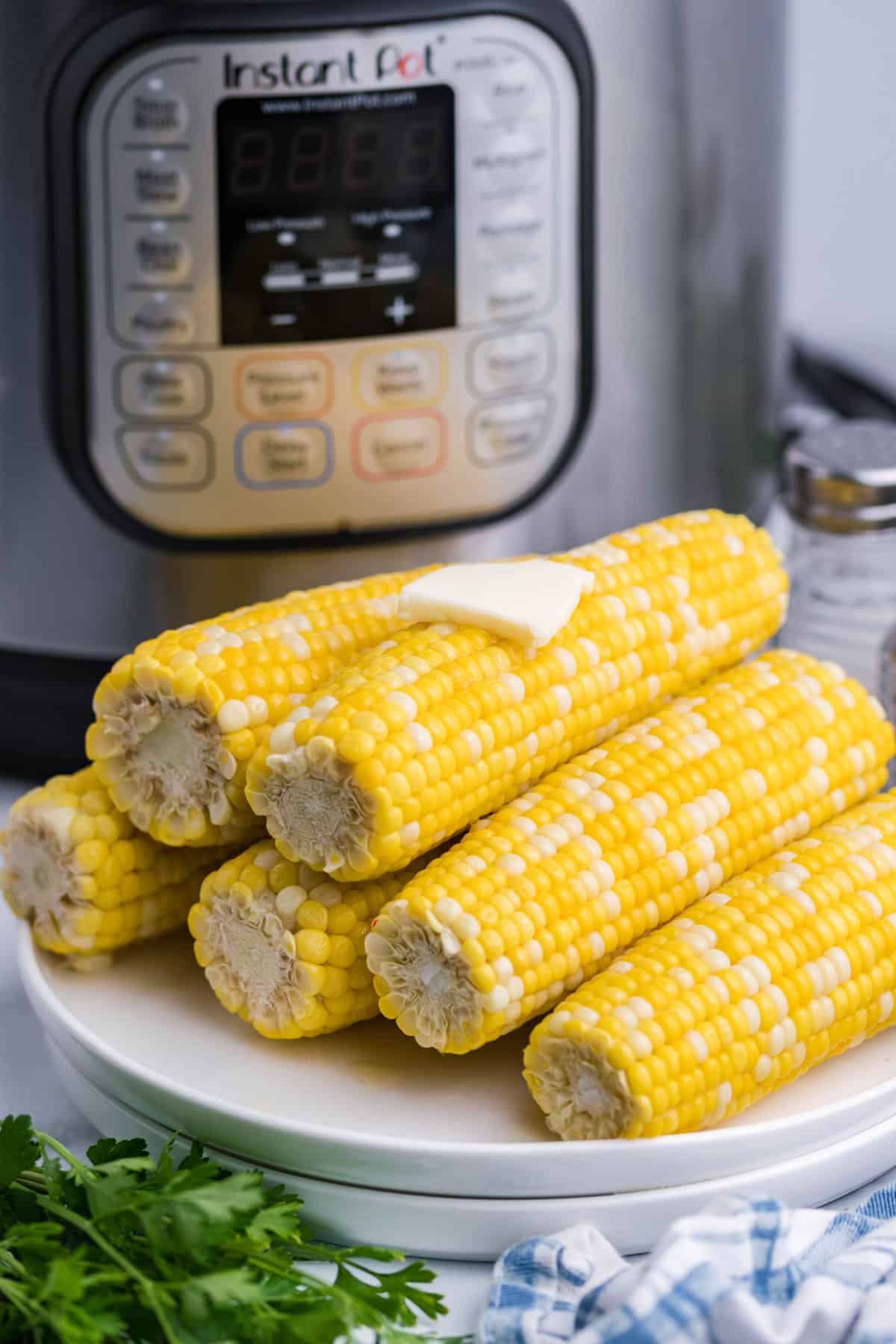 Why this Recipe Works
The Instant Pot cooks the corn to a perfectly crisp and tender texture.
Unlike overly boiled corn, the Instant Pot corn preserves all of its sweet and fresh flavor.
You can enjoy this corn on the cob just as it is, top it with your favorite seasonings, or add it to tons of different sweet corn recipes.
Confession: I was initially skeptical about using my Instant Pot for corn on the cob.
Not that I don't trust my beloved pressure cooker! It's given me some of my favorite easy recipes, like these Instant Pot Chicken Fajitas and this unbelievable Instant Pot Blueberry Cobbler.
But corn season also coincides with grilling season out here. So, when corn on the cob is on my family's dinner menu it's usually roasted right on the grill top.
You can't always rely on a grill or an oven to deliver perfect corn on the cob, though. No one wants to stand outside rotating corn cobs when it's pouring–and I don't want to fire up my oven when it's a million degrees outside!
Enter: Instant Pot Corn on the Cob!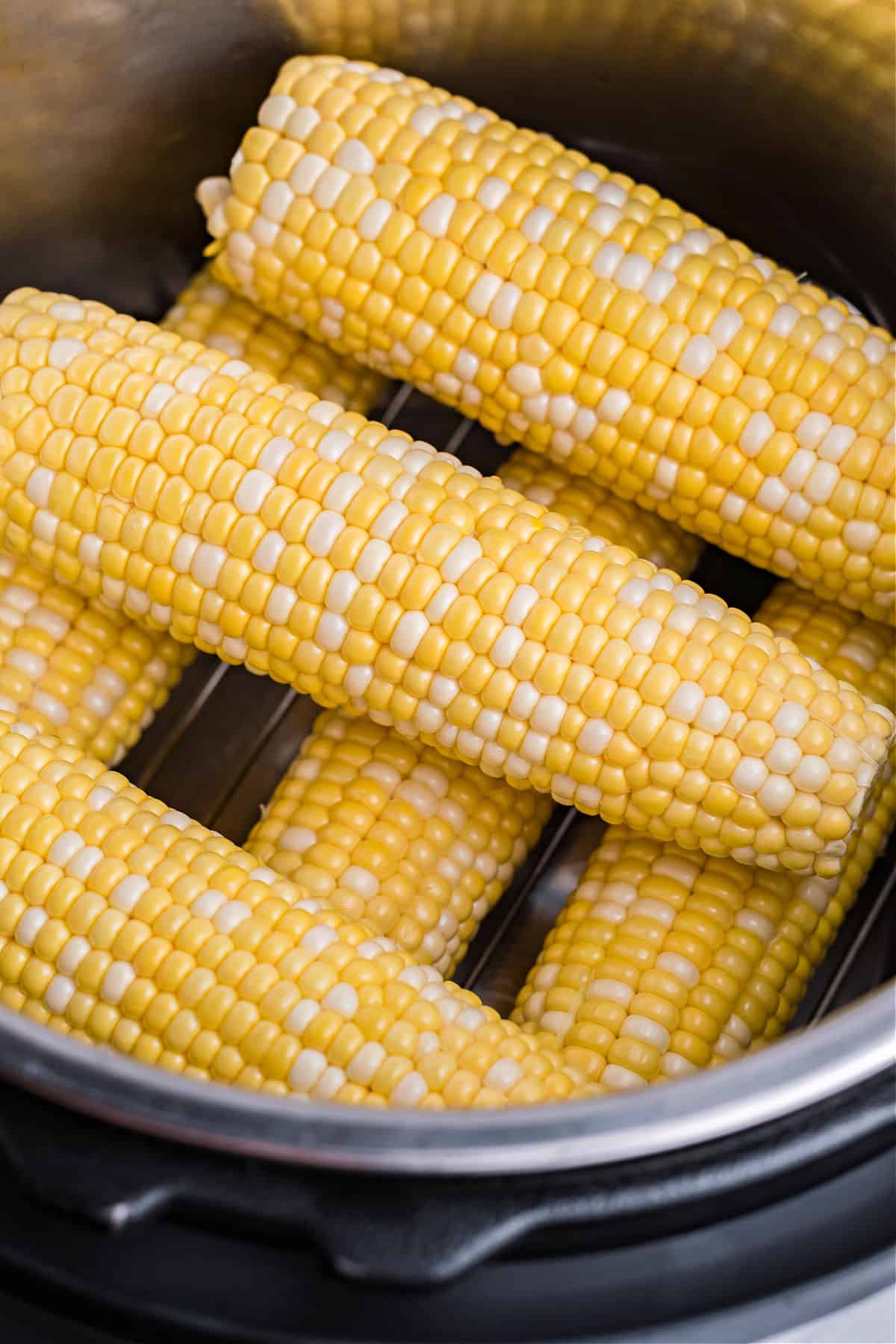 Tips and Tricks
Corn on the Cob. Make sure to remove the husks and the silks before adding them to your Instant Pot.
Place the corn in a trivet two or three at a time. Lay each set in a criss cross pattern to help them all fit. Larger ears of corn can be broken in half if needed.
The corn only takes four minutes to cook to perfection. Be careful not to overcook the corn or it'll get mushy and lose flavor.
After cooking, do a quick release of remaining pressure by turning the valve to "venting."
Serving Suggestions
We love this corn brushed with melted butter and seasoned simply with salt and pepper.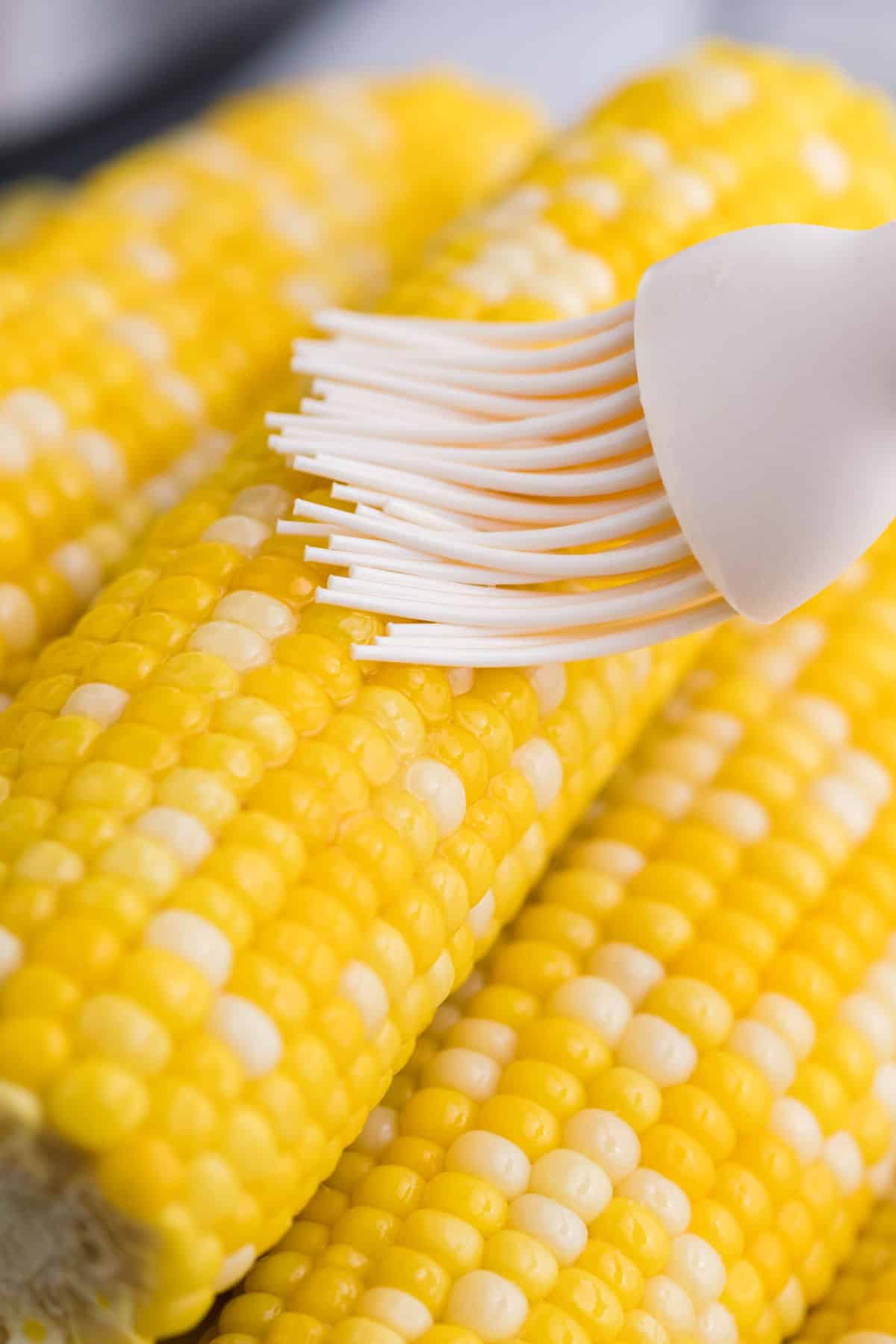 To dress up your corn on the cob, try it with these other delicious topping ideas.
parmesan cheese
olive oil and garlic salt
cajun seasoning
cheddar cheese and bacon bits
chili powder, sour cream and lime juice (inspired by Mexican Street Corn )
Hot sauce
End up with leftovers? Cut the kernels off the ear to add to these other dishes. You can't beat the flavor of freshly cooked sweet corn!
Recipe FAQs
How many ears of corn do I need?
We used 6 ears of corn in this recipe. If your ears of corn are very large, you may only be able to fit 4 or 5 years in a standard size Instant Pot. (The cooking time will be the same.)
How do you store cooked corn on the cob?
Instant Pot Corn on the Cob tastes best eaten the same day it's cooked, if you're eating it straight off the cob. Leftovers can be wrapped in foil or an airtight container and kept chilled in the refrigerator. If you prefer, cut the kernels off the cob before storing. Enjoy within 2 days.
How do I choose the best ears of corn for corn on the cob?
The fresher the corn, the better! Look at the tassles (silk) sticking out of the top of the husk. They should be brown and slightly moist. Black, grey or shriveled tassles indicate an old and dried out ear of corn.Checking out the husk also gives you a good indication of the quality of the corn before you buy. If the corn husk is bright green and fits snugly against the kernels, chances are the corn is in good shape. Avoid corn with husks that are wrinkled, loose and pale.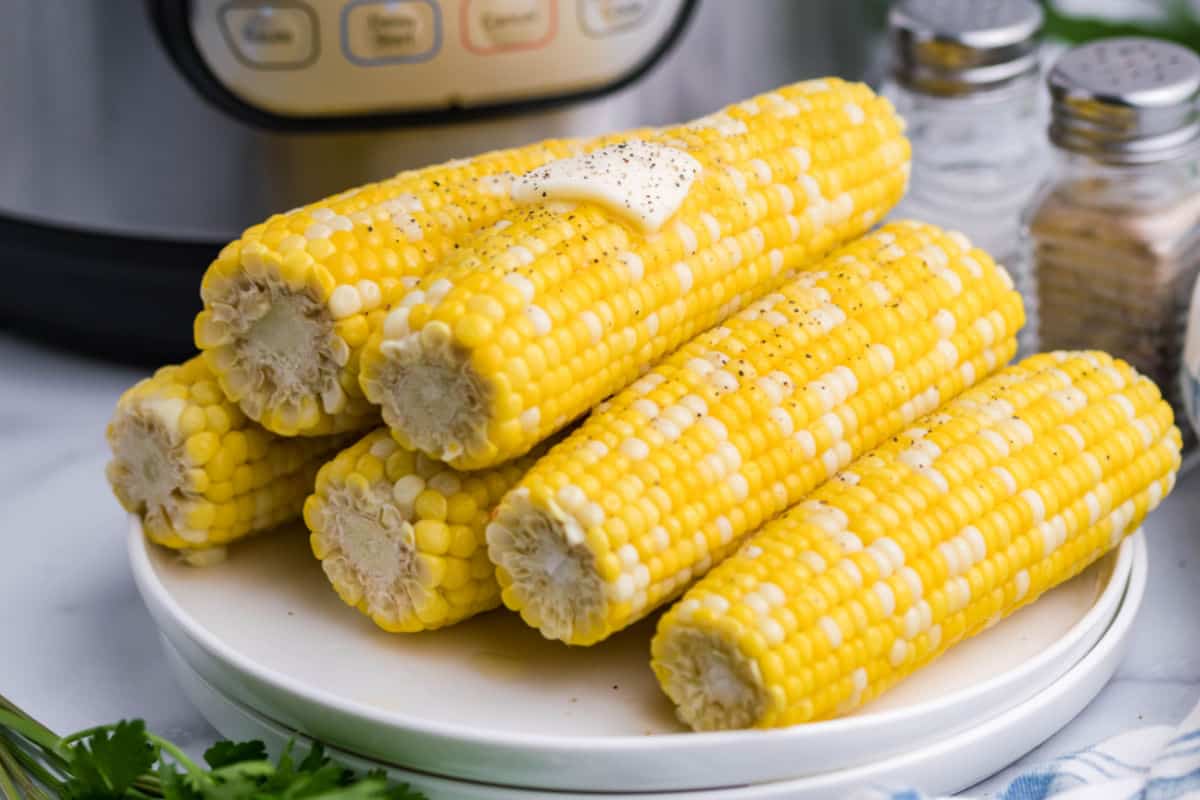 Make perfect corn on the cob every time in the Instant Pot! This cooking method produces corn with juicy kernels and a tender bite. It's ready in minutes!