Looking for a kid-friendly meal that adults will enjoy too? Try this Layered Chicken Taco Salad! It's an easy lunch or dinner with lots of color and even more flavor.
Salads don't have to be boring! Your family will love this Mexican Street Corn Salad and this healthy Watermelon Salad too.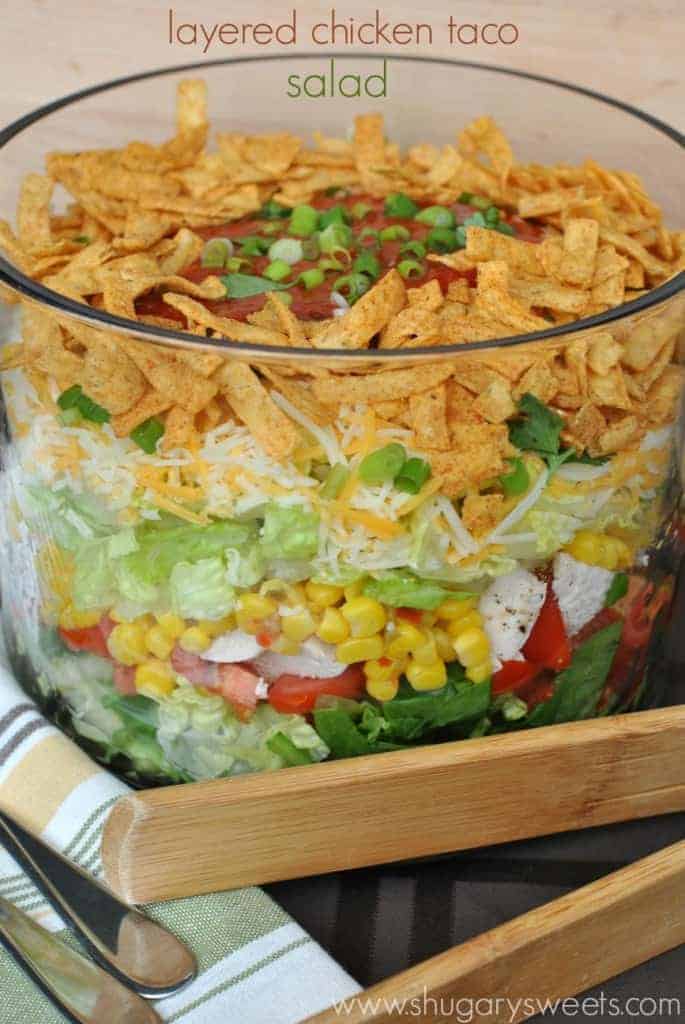 Why this Recipe Works
I never thought I'd see the day when my kids would be requesting salad for dinner!
But this Chicken Taco Salad is FAR from your ordinary bowl of greens. It layers juicy shredded chicken with veggies, shredded cheese and tortilla strips.
The dressing is super simple too.
Mix equal amounts of French dressing with your favorite salsa for a dressing that's creamy, spicy and just the right amount of tangy!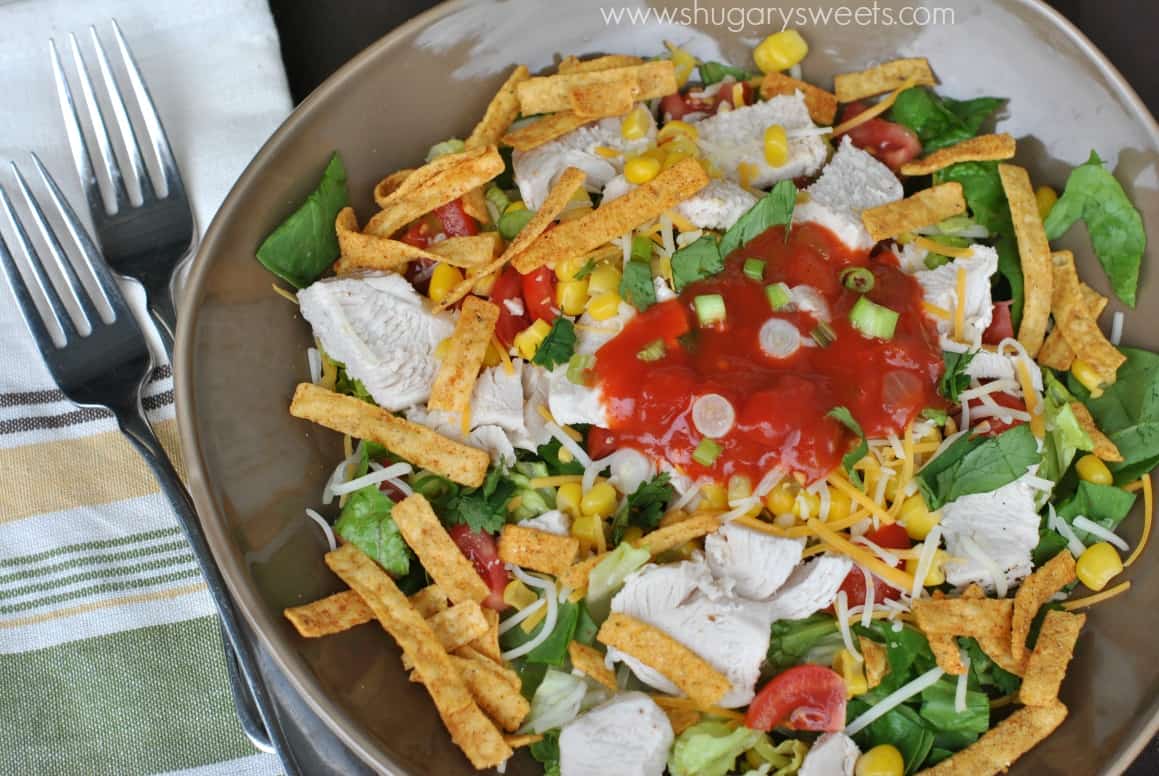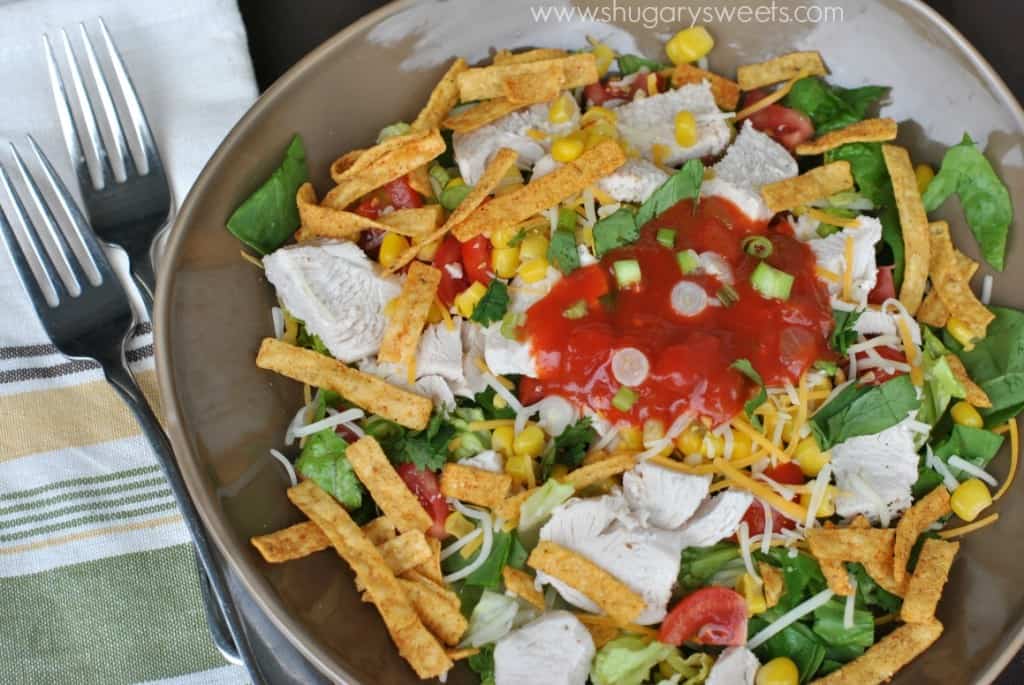 Ingredient Notes
Salsa. I like to use a HOT salsa to pair with the sweet French dressing. My family loves the spiciness but you can certainly opt for a mild or medium salsa too.
Cooked chicken. Either shredded or diced chicken can be used. Substitute shredded turkey breast if you have some holiday leftovers to use up!
Southwest tortilla strips. Regular salted tortilla chips work perfectly as a substitute.
Mexicorn. Canned Mexicorn also contains red and green peppers, making it ideal for a taco salad like this one. Thawed frozen roasted corn or simple fresh sweet corn kernels can be substituted.
Colby Jack Cheese. Swap it out for shredded cheddar or another preferred Mexican cheese blend if you like.
How to Layer
Start by placing half the lettuce and spinach on the bottom of your bowl.
Add the corn, tomatoes and chicken on top.
Top the chicken layer with the rest of the lettuce and spinach. Add the cheese on top.
Pour the dressing over the cheese layer. Finally, add tortilla strips, fresh cilantro and green onions to the top of the salad.
Serve immediately.
Tips and Tricks
Make layered salads in a large glass mixing bowl. That way you can see all the colorful layers before you divide up individual portions.
Assemble just before serving for best freshness and flavor.
To prep this ahead of time, chop all the vegetables and cook the chicken. Store separately in airtight containers in the fridge until ready to serve.
No time to cook your chicken? Grab a ready made rotisserie chicken from the grocery store!
Recipe FAQs
What's the best way to cook chicken for this taco salad?
Any way you like! We often use whatever leftover chicken we have in the fridge.
I also love this method for Instant Pot Chicken that I use in one of my fajita recipes. Or try this Easy Slow Cooker Chicken.
What are tortilla strips?
Tortilla strips are like tortilla chips that are shaped into smaller strip form (rather than triangles). I find them in the same area of the grocery store as the croutons and other crunchy salad garnishes.
If you can't find them, go ahead and use regular tortilla chips or corn chips here.
Can I make this with other meat instead of chicken?
This salad is delicious with any protein you can imagine! Try it with cooked turkey, ground beef, or even shredded pork.
For a vegetarian version, swap the chicken for black beans or refried beans. Delicious.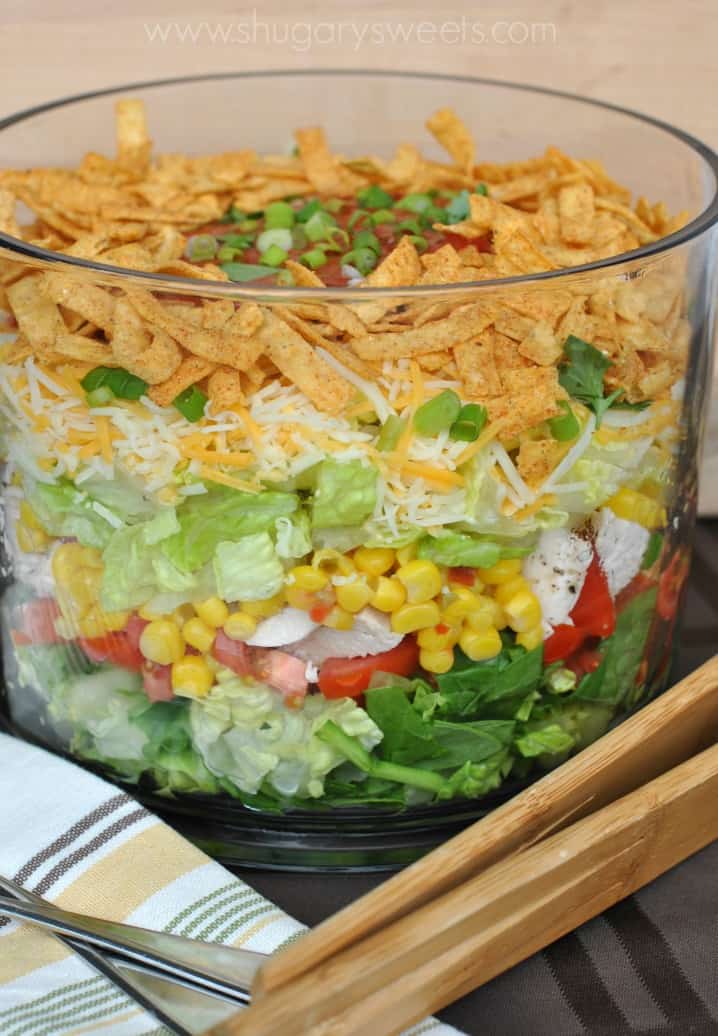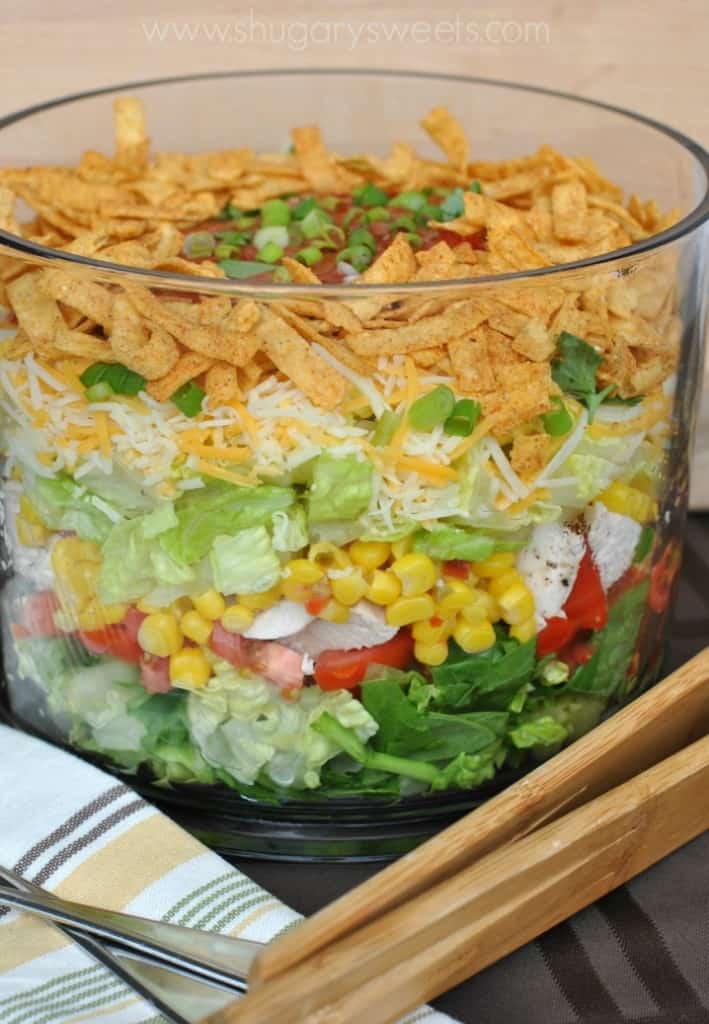 The best taco salad is a Layered Chicken Taco Salad! All the Tex-Mex flavor you love in one satisfying, fresh salad recipe.