Deviled Eggs–the party and potluck standby that everyone needs to know how to make! This tried and true deviled eggs recipe walks you through every step of making the perfect egg-y snack.
No holiday is complete without today's deviled eggs, my grandma's potato salad, and of course our favorite green bean casserole!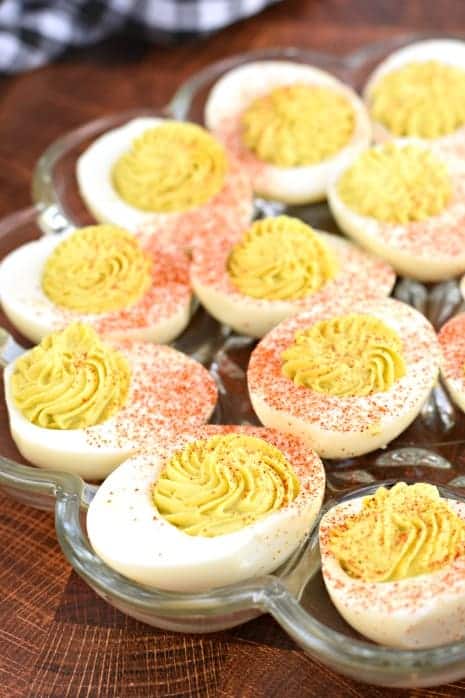 Deviled Eggs
Some foods are intrinsically tied in my mind with certain types of occasions. When I think of deviled eggs I think of Easter brunches with family, relaxing afternoon parties with friends and warm picnic lunches.
There's nothing too complicated about deviled eggs.
This appetizer is essentially a hard boiled egg cut in half with the yolk removed then piped back in after being mixed with a few other yummy ingredients. The result is a finger food with creamy, tangy, egg-y flavor.
Plus, they look like little pieces of sunshine on a plate! If you've never made deviled eggs before or are looking for the BEST deviled egg recipe, look no further.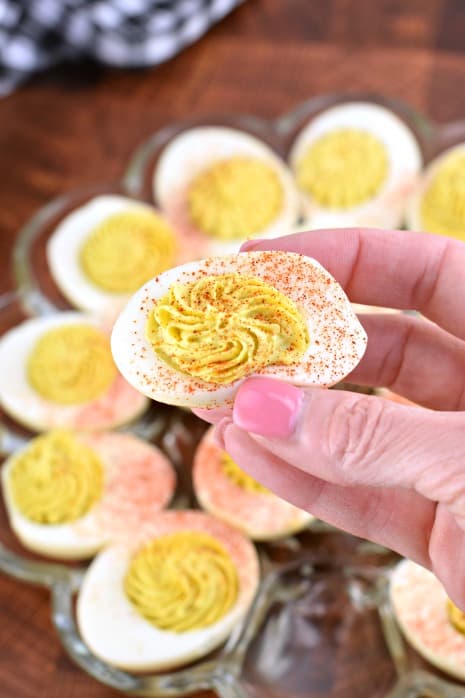 Why are they called deviled eggs?
I've been eating deviled eggs my whole life and never known what exactly was so "devilish" about them. After all, they're ubiquitous at church potlucks and Easter meals!
As it turns out, our 18th century ancestors liked to call any food with a bit of a kick to it "devilish."
We may not think of deviled eggs as a particularly spicy dish nowadays but before many spices were easy to come by in western Europe, paprika was pretty exotic.
When spicy mustard and paprika were mixed with eggs, folks started calling them "deviled" to distinguish them from the plain old boiled egg dishes.
The name caught on and here we are hundreds of years later, still making this deliciously simple dish.
How to Make Deviled Eggs
First things first: to make this recipe, you need hard boiled eggs.
I've mentioned before that my favorite way to hard boil eggs is this Instant pot hard boiled egg recipe. You can also make your your hard boiled eggs on the stove top without that much more effort.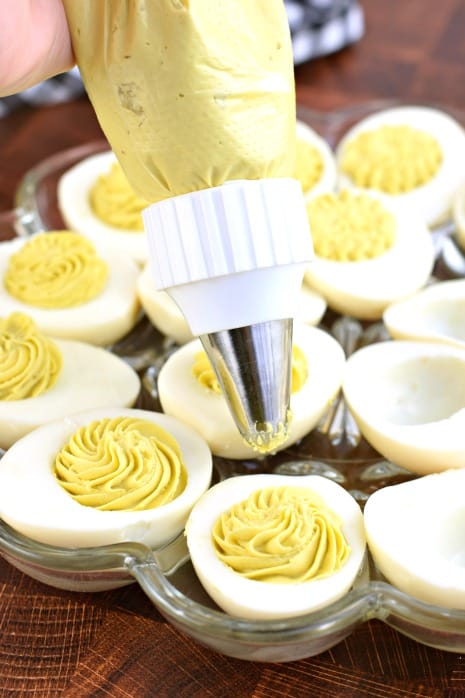 How to boil eggs on the stove
Place your eggs on the bottom of a large pot and cover them with about 2 inches of cold water. Bring the water to a rolling boil, cover the pot, then turn off the heat and let the eggs "bathe" in the hot water for about 10 minutes.
Remove the eggs from the pan and rinse with cold water to keep them from overcooking, or submerge them in an ice bath.
Now, you're ready to devil them eggs!
Instructions to Make Deviled Eggs
STEP 1. Cut the eggs
Peel the hard boiled eggs and cut them in half length ways. Scoop out the yolks and drop them into a bowl. Place the empty egg whites on a plate or tray.
STEP 2. Make the filling
Mix the separated egg yolks with mustard, mayonnaise, worcestershire sauce, and kosher salt. Mix by hand very well or use an electric mixture until everything is combined and creamy.
STEP 3. Pipe in the filling
Spoon the filling back into the empty egg whites OR use a frosting bag to pipe the filling into the eggs. Sprinkle the tops with a bit of paprika and serve!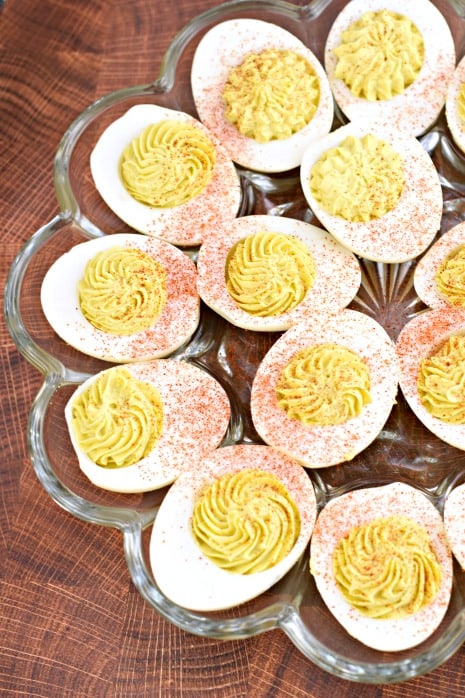 Best Deviled Egg Filling
Since these are often served as a party food, I like my deviled eggs to look as pleasing as possible. To do this, I use a pastry bag to pipe in the filling.
I treat the filling similar to a cake frosting, creating a little "blossom" of the smooth mustard yolk filling in the center of each egg white.
While this totally isn't necessary, I love how they look when I take the extra time!
If you don't have a pastry bag, you can also give your yolk filling a smooth finish by using a ziploc bag. Spoon the filling into the bag, then cut a small hole in the corner to squeeze the filling through.
Another tip for the best deviled eggs? Use an electric mixer to combine the ingredients for the filling.
I find using my stand mixer fitted with the whisk attachment or a hand held electric mixer works best. This creates a smooth creamy filling without any lumps or graininess.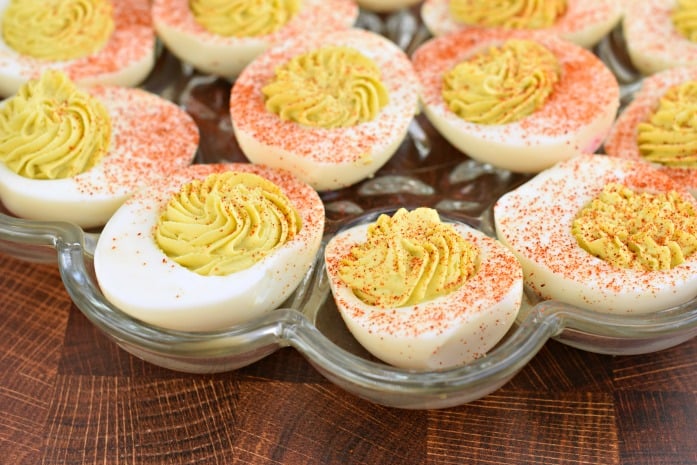 Storing Deviled Eggs
Did you know you can prepare deviled eggs ahead of time? To save time on the day of serving, boiling your eggs up to a week in advance and keep them cold in the fridge.
You can also make the filling a day or two ahead and keep it sealed in a plastic bag or airtight container! If you're in busy party preparation mode, this can save some valuable time on the day of the event.
Once the filling has been spooned into the egg whites, serve the eggs immediately or within a few hours. Keep them covered in a cool place until ready to serve!
I recommend waiting to sprinkle the paprika on top until just before serving. The color will be brighter as it doesn't have time to absorb into the egg yolk.
Leftover Deviled Eggs? Blend them all together to make the BEST egg salad sandwiches!
More Easy Recipes
Add this deviled egg recipe to your menu this Easter! You'll love how simple they are to make and how tasty they turn out, each and every time.