Santa Fe Stuffed Peppers: a healthy dinner made with ground turkey, corn, beans, and tomatoes! You'll love this southwestern twist on a classic meal.
For more southwestern meals, be sure to try our Carne Asada. It's delicious when served with cilantro lime rice and guacamole!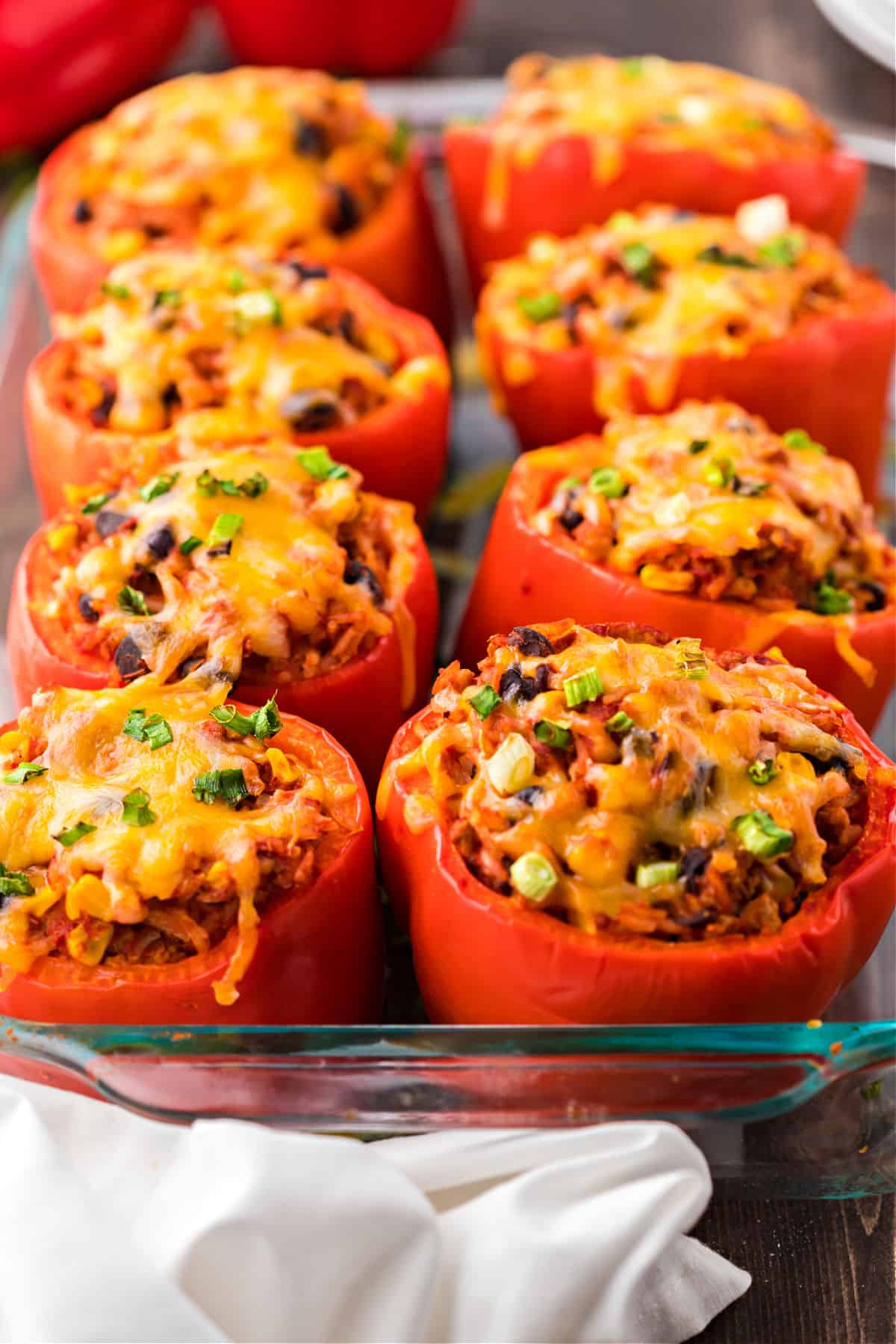 Why this Dinner Recipe Works
When stuffed peppers are on the menu, it normally means I'm making my mom's version: green peppers stuffed with a mixture of ground beef, minute rice, tomato soup, salt, pepper and egg.
Delicious? Yes. Healthy? Ummm, not so much.
This variation puts a healthy spin on that classic meal using ground turkey, crushed tomatoes and lots of high-fiber beans stuffed into fresh bell peppers. I even use reduced fat cheese on top to add flavor while keeping dinner on the lighter side.
Santa Fe Stuffed Peppers have just the right amount of spice, tons of fresh flavor AND they're easy to throw together! What more can you ask of a dinner recipe?
Ingredient Notes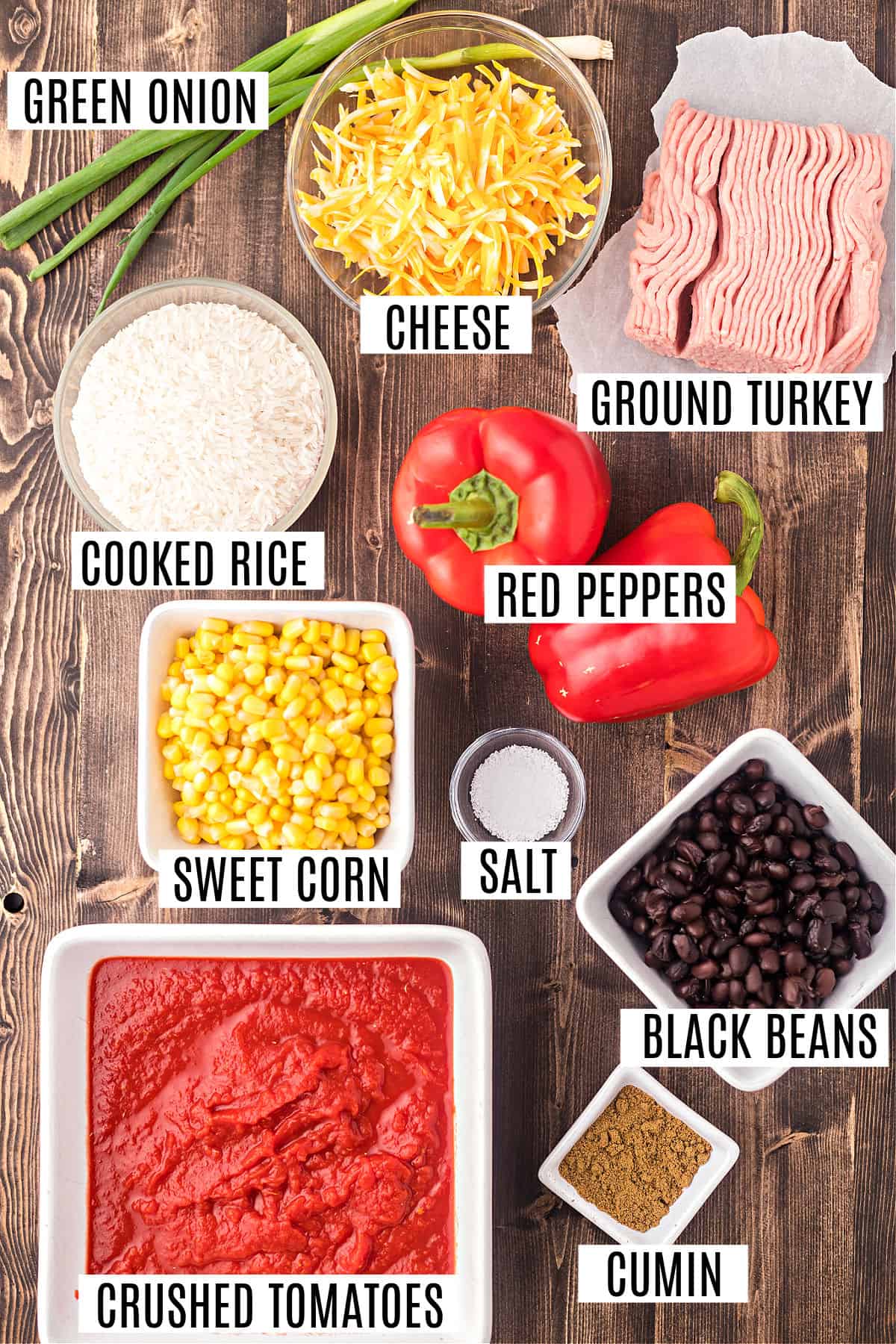 Ground turkey – Lean ground beef or ground chicken can be substituted.
Black beans – I used canned beans, drained and rinsed. Pinto beans or red beans would be a delicious alternative, too.
Rice – Jasmine rice, cooked in advance is my preference, but any long grain white rice works–or use brown rice for an even healthier meal.
Reduced Fat Colby Jack Cheese – Or use regular cheese if you don't care about the fat content.
Red Sweet Peppers – Green or yellow sweet bell peppers work too.
Kosher Salt- be sure to choose kosher salt. It's more coarse than table salt.
Step by Step Instructions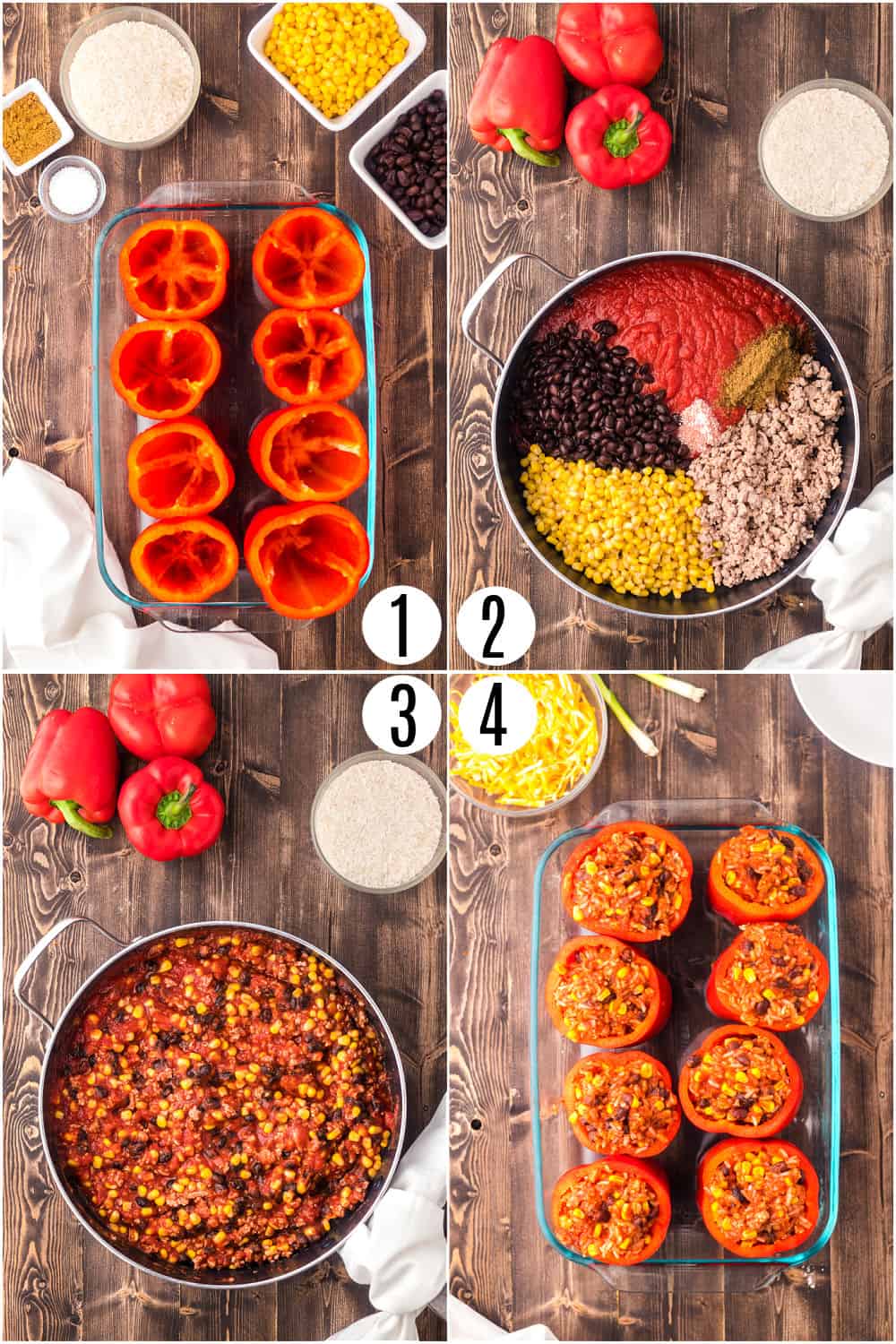 Prepare the red peppers. Wash the peppers and slice off the tops. Scoop out the seeds and stand the peppers up in a baking dish.
Brown the meat. Cook the turkey in a skillet over medium heat until browned, then add the tomatoes, black beans, sweet corn and spices. Let the mixture simmer for about 15 minutes.
Meanwhile, cook the rice according to package directions.
Stuff and bake. When the rice is cooked, add it to the skillet and mix to combine it with the turkey. Fill each pepper with the mixture, cover with foil and bake for about 40 minutes.
Add cheese. Remove the foil from the pan, sprinkle the peppers with cheese and bake for another 5 minutes to let the cheese melt.
Serve with chopped green onions, if desired.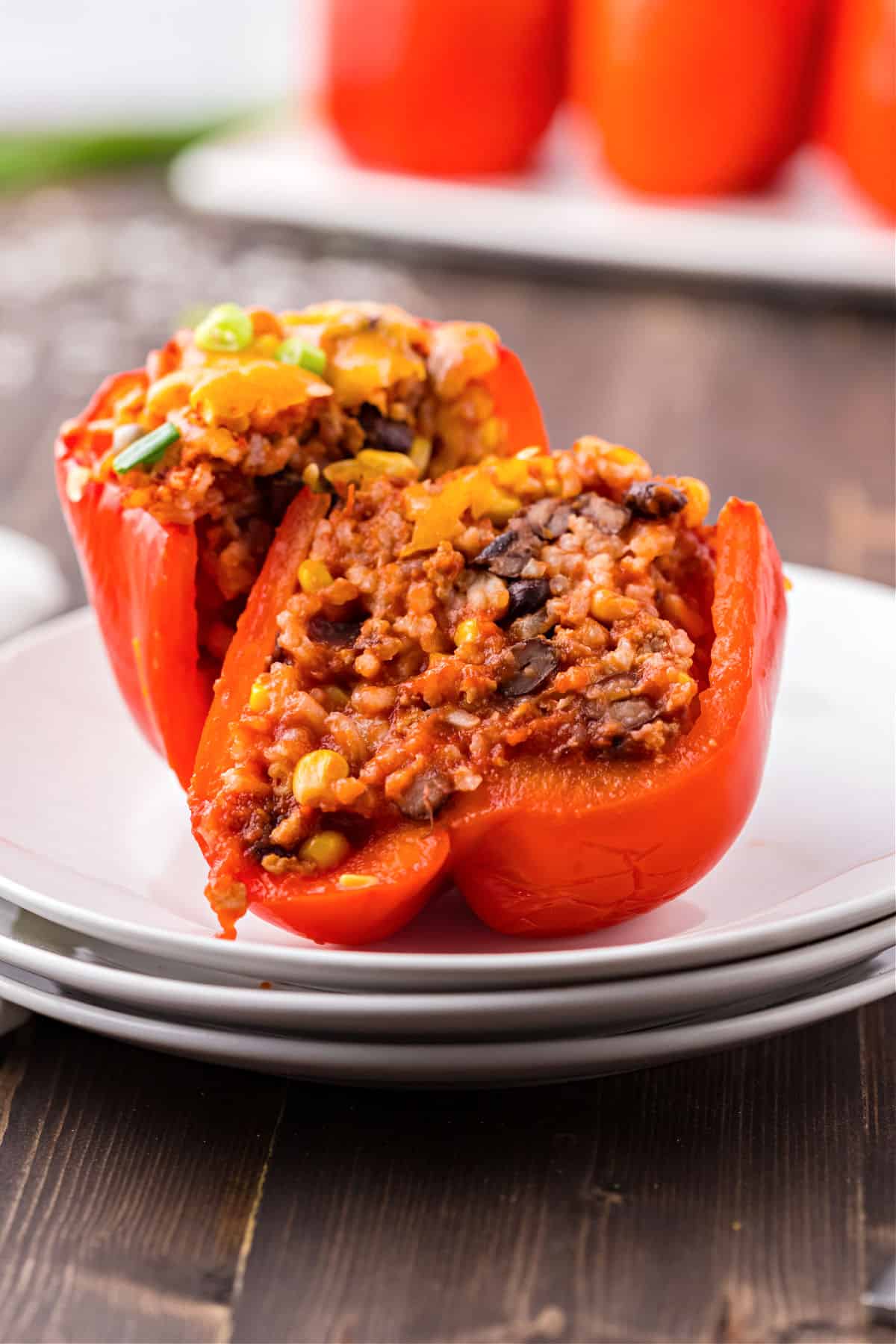 Tips and Tricks
For a make ahead meal, you could prep the peppers and make the turkey mixture at the beginning of the day, then store covered in the fridge until ready to fill and bake at dinner time.
To remove the seeds from the peppers, graze a paring knife along the insides to loosen the seeds, then use a spoon to scoop them out.
Recipe FAQs
Can stuffed peppers be made with beef instead of turkey?
Santa Fe Stuffed Peppers are delicious with any ground meat you choose!
Can you use quinoa instead of rice in stuffed peppers?
We suggest using cooked quinoa if replacing the rice in stuffed peppers.
What could you serve with stuffed peppers?
Stuffed peppers are a meal all on their own; they include meat, vegetables and grains! To round out the Southwestern meal, I like to serve ours with a side salad and some Jalapeno Cheddar Cornbread. Spicy and delicious!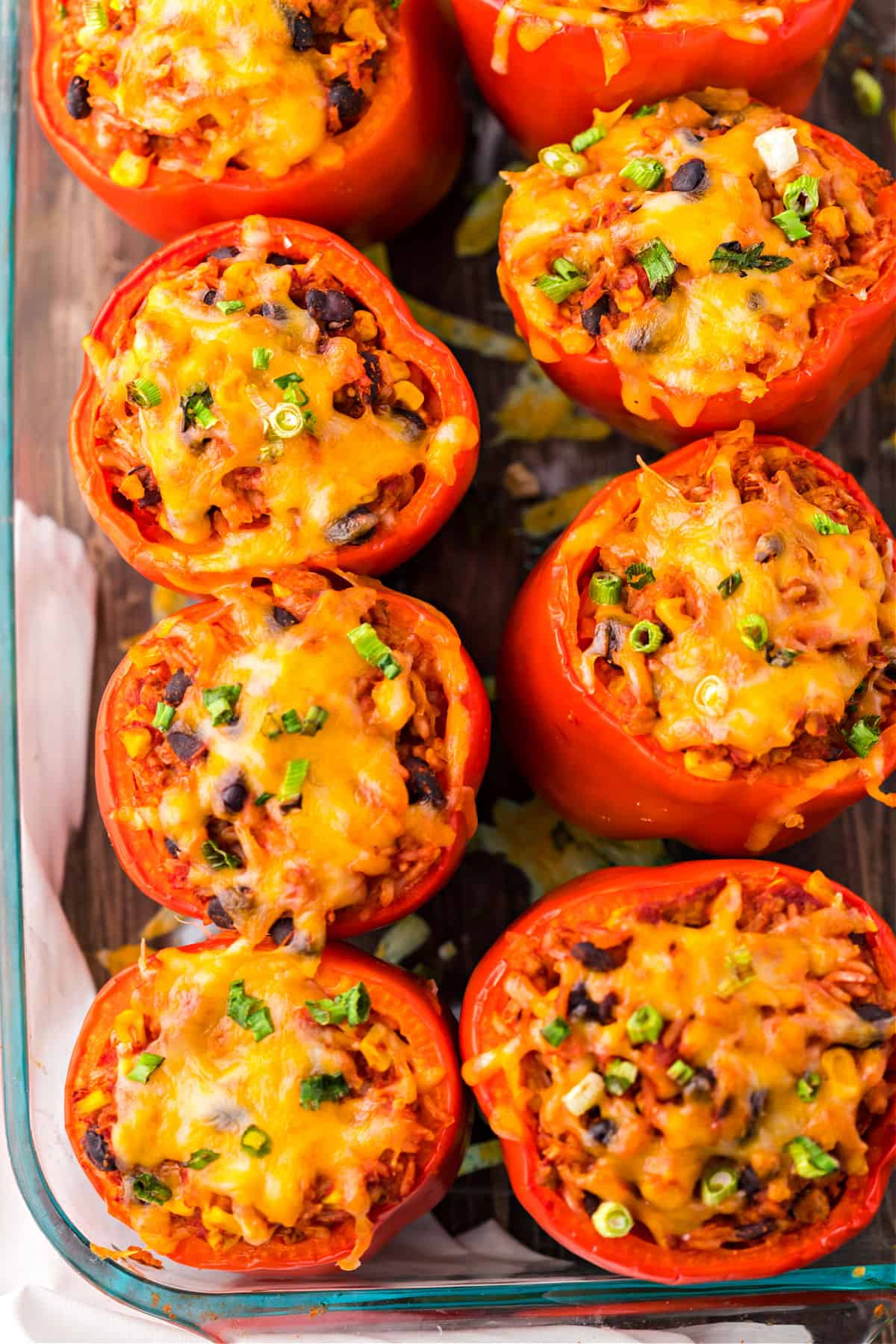 All the good taste of classic Stuffed Peppers like mom used to make but with better-for-you ingredients and little more color to spice things up. This easy healthy dinner recipe is bound to become a family favorite.