Homemade Chicken Pot Pie is the quintessential comfort food. Enjoy the warmth of a hearty chicken dinner in a flaky pie crust with this easy recipe.
At the end of a long day, you'll love sitting down to a delicious homemade pot pie. For a crust free version, try this Chicken Pot Pie Soup recipe!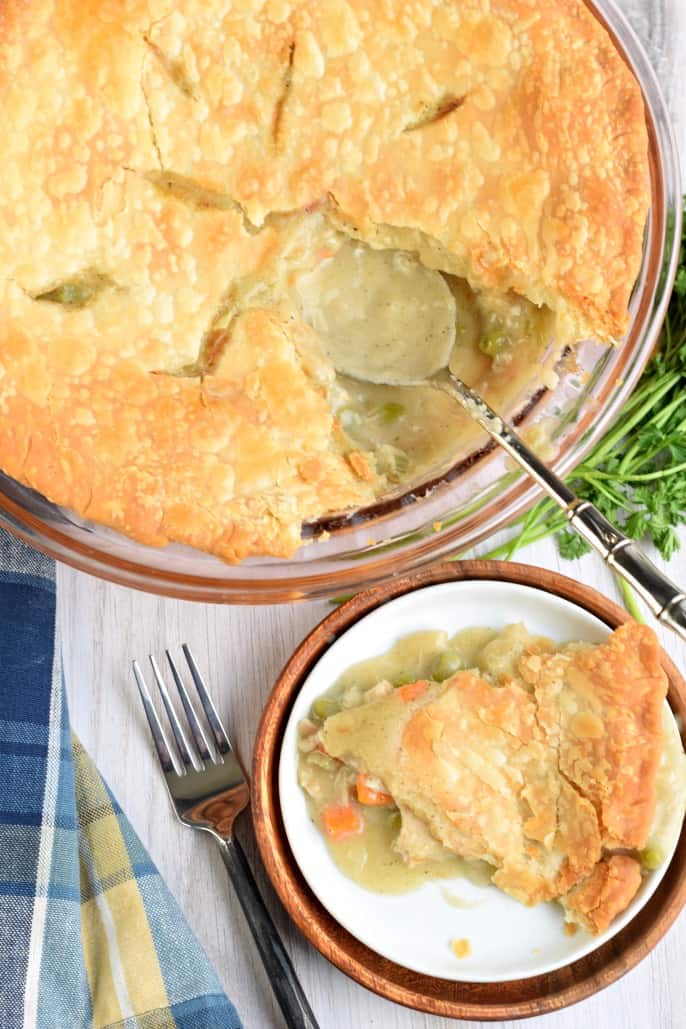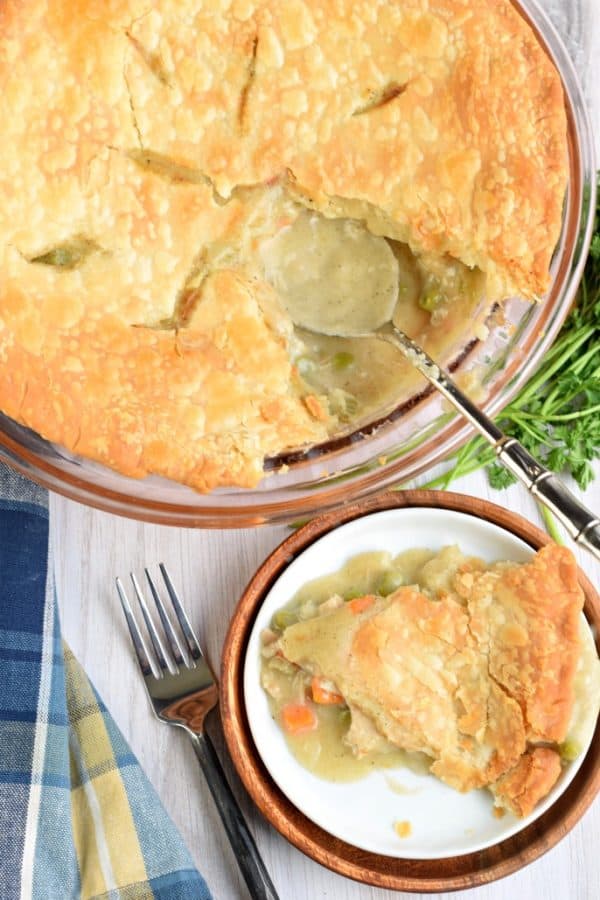 Why this Recipe Works
You can use leftover chicken, rotisserie chicken or even leftover holiday turkey to make this pot pie!
Refrigerated pie crust makes this recipe convenient and easy.
The thick creamy gravy includes a touch of white wine for an added dimension of flavor.
It's packed with all the classic vegetables of traditional pot pie for a nourishing hearty dinner.
Once you try this homemade chicken pot pie recipe, you'll never go back to frozen pot pies again! With 15 minutes of prep time and an hour in the oven, you're ready to serve your family a piping hot chicken dinner.
Ingredient Notes
Pie crust. I use refrigerated pie crust for most of my pies, including this pot pie. You get consistent results without any fuss or mess. If you prefer, go ahead and use a Homemade Pie Crust instead!
Chicken. Chicken should be cooked and diced. Leftover chicken breast or thighs works perfectly. Or grab a ready cooked rotisserie chicken from the grocery store.
White wine. Dry white wine (not cookign wine) is best. It doesn't need to be top shelf either. Any inexpensive variety will do.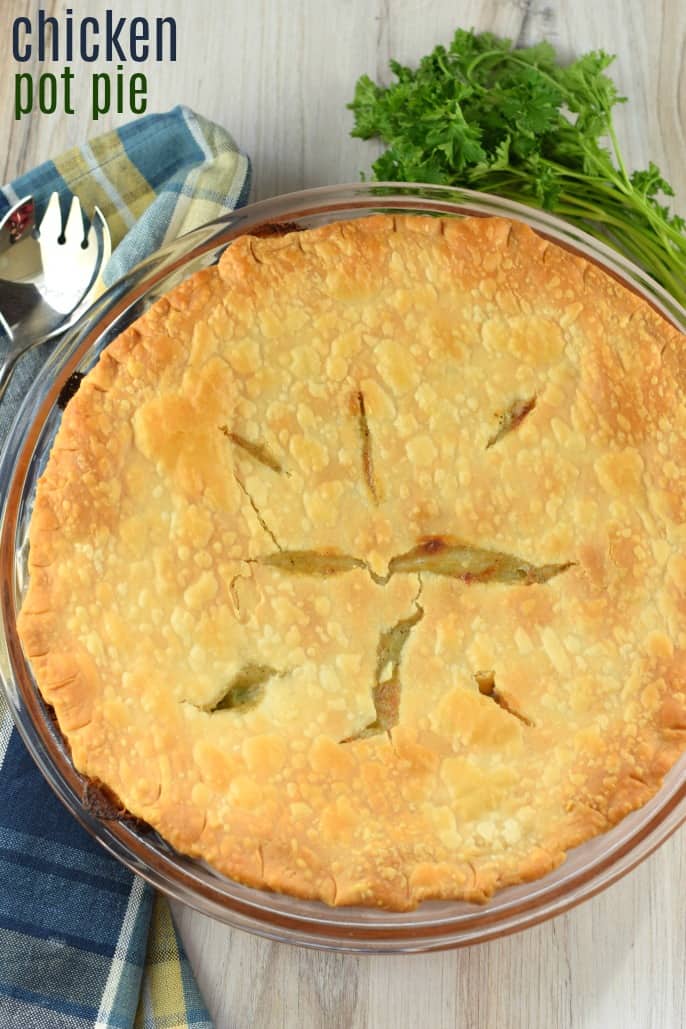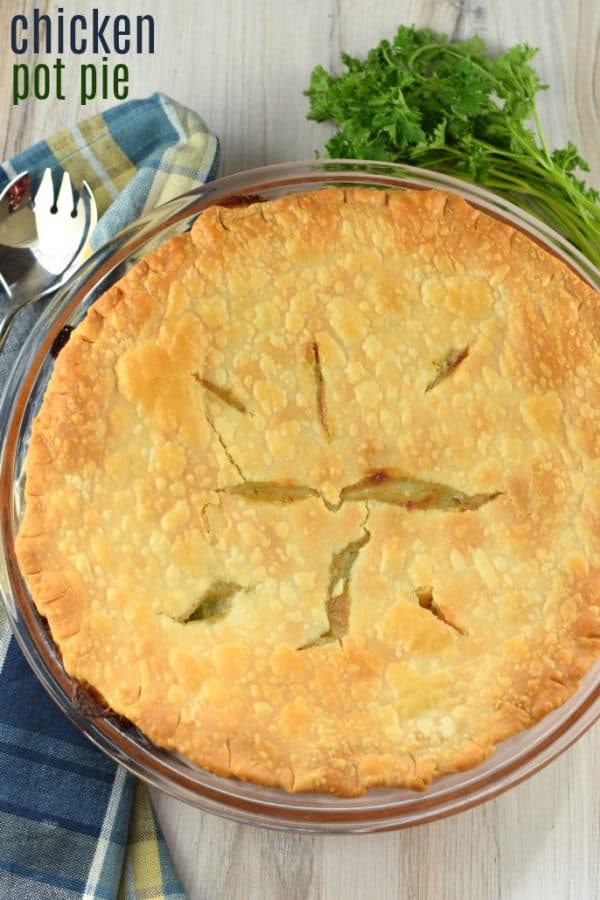 Easy Instructions
STEP 1. Cook the veggies
Add onion, celery and 1 cup of peas and carrots to skillet with melted butter. Cook on the stove for about 3 minutes.
STEP 2. Make the pot pie filling
Stir chicken into the skillet with the veggies. Sprinkle flour on top and stir until the mixture becomes pasty.
Gradually add chicken broth, heavy cream and white wine to the skillet. Then add the seasonings. Let the mixture boil and thicken for about 10 minutes.
STEP 3. Assemble and bake
Pour the pot pie filling into a pie plate. Place the pie crust on top. Pinch the edges to seal.
Cut slits in the top for venting.
Bake chicken pot pie for 35 minutes or until the sauce is bubbly and the crust is slightly browned.

Tips and Tricks
When rolling out the pie crust, try to roll it slightly larger than the diameter of the pie plate. That way you'll have enough to pinch over the sides of the plate.
Try making this in ramekins for individual chicken pot pies!
Let Chicken Pot Pie cook for about 10 minutes before serving. You want it to be hot but not so hot it burns your mouth!
To vent, cut 4 – 5 slits in the top of the pie. They should start in the center and radiate toward the edges. I make slits about 2 inches long, just enough to release some steam from the pie as it bakes.
Store leftovers covered in the fridge. Pot pie is best reheated in the oven.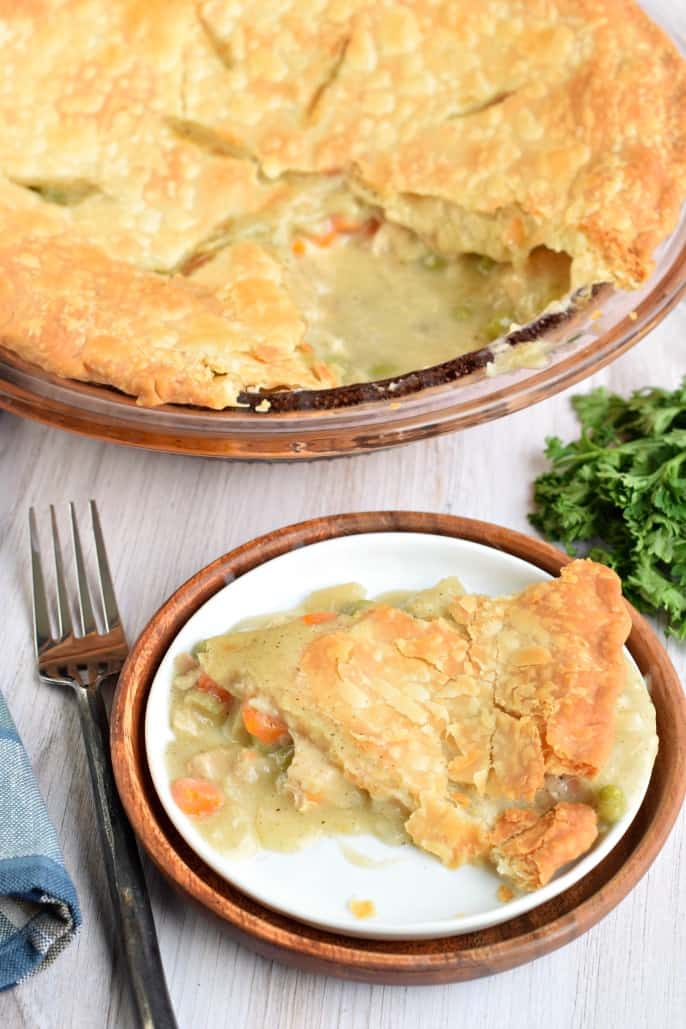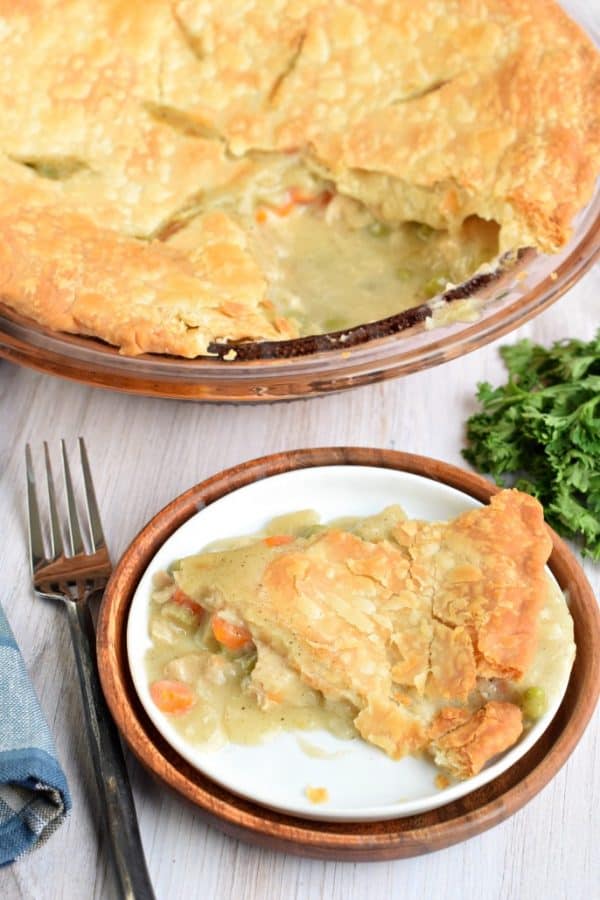 Serving Suggestions
We love whipping up a batch of Homemade Applesauce to go with our Chicken Pot Pie dinner. If made in the instant pot, it takes minutes, and the perfect comfort food pairing!
This Copycat Olive Garden Salad and Dressing recipe is always a great option to pair with comfort food! While your pot pies are cooking, you can easily make this homemade dressing and salad.
Not gonna lie, my family loves the sweetness of this Pistachio Fluff Salad paired with the warmth of a homemade Chicken Pot Pie.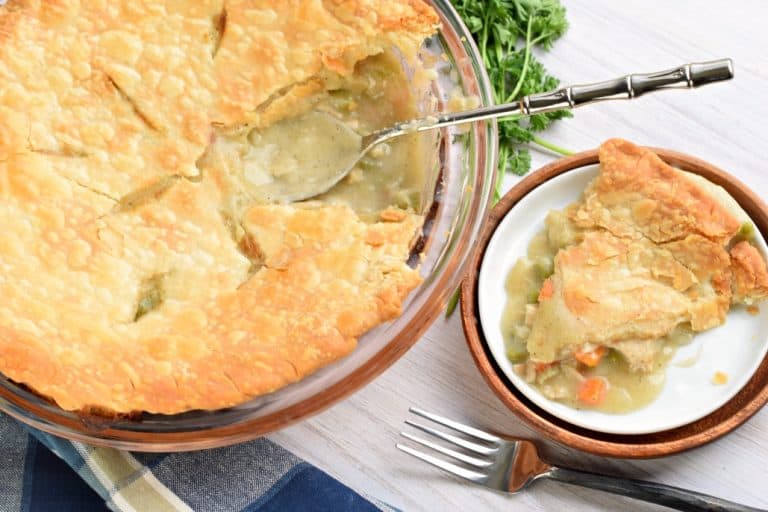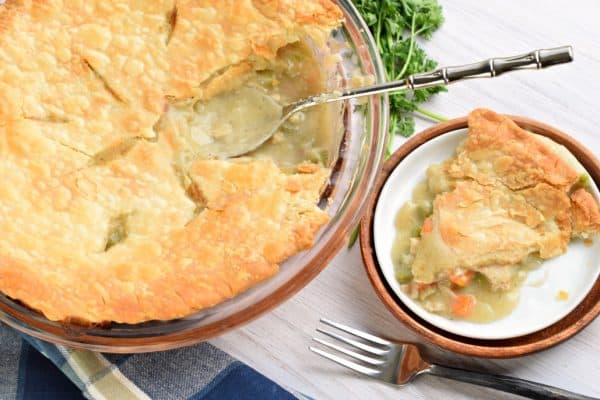 Recipe FAQs
Can chicken pot pie be made ahead of time?

Yes! This is why every grocery store has a whole freezer section of this particular dish!
First, make sure you use a disposable pie plate (most grocery stores have deep dish pie plates made of aluminum).
You can put the entire UNCOOKED pot pie (once the filling has cooled) into the freezer. I cover with foil then put into a freezer safe container. 
When ready to bake, add about 20 minutes to the bake time when cooking from frozen. ENJOY.
Can I use turkey instead?
Yes, this recipe makes a delicious Turkey Pot Pie too. It's one of our favorite uses for leftover Thanksgiving turkey.
What can I use instead of white wine in the sauce?
If you don't have white wine, or prefer not to use it, you can substitute 1/4 cup more broth. The flavor won't be exactly the same but it'll still taste good.
How long does homemade chicken pot pie keep?
Pot pie tastes best served fresh and hot the same day it's made. Leftovers should be reheated and enjoyed within 2 -3 days.