Beef Pot Pie Soup is everything comfort food should be. Tender beef is simmered in a thick creamy broth, then topped with pie crust strips. An easy, hearty and satisfying soup for body and soul!
Turning favorite comfort foods into soup is one of my specialties. Try this Lasagna Soup or this Slow Cooker Pizza Soup next!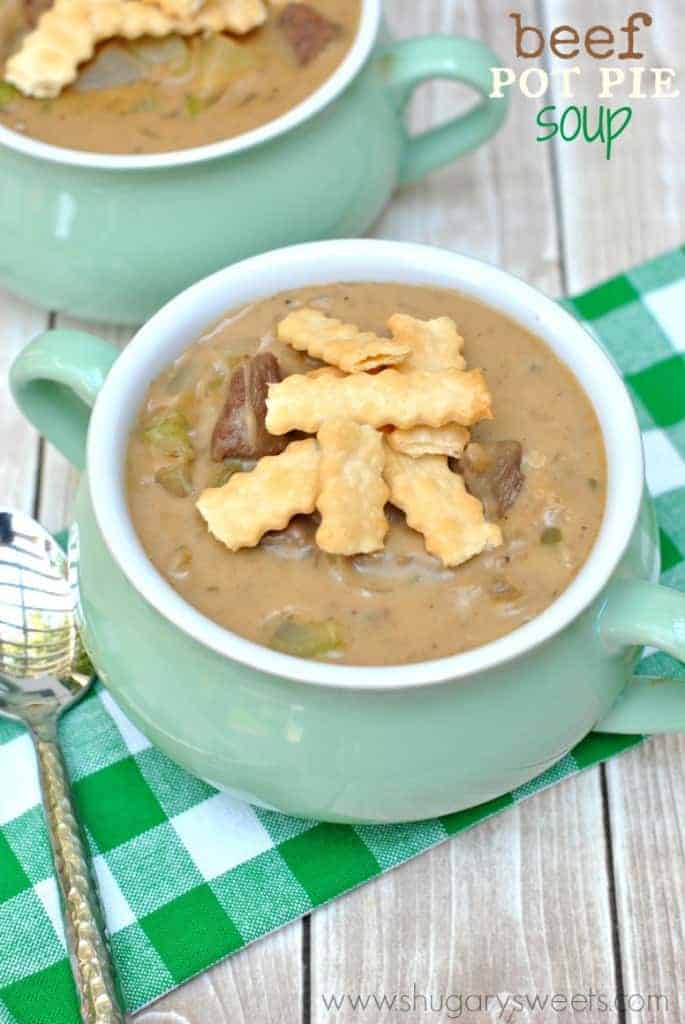 Why This Soup is Best
There's nothing like a hot bowl of soup on a blustery day.
The gravy-like broth is good enough to eat all on its own!
Every bite is packed with tender morsels of beef, potatoes and melted cheese.
Topped with pie strips for the perfect comfort food touch.
It's easier to make than traditional pot pie but just as satisfying!
This Beef Pot Pie Soup is the ultimate remedy for a "blah" day. It's like a warm hug in soup form.
Ingredient Notes
Refrigerated pie crusts – Yes, you can use homemade pie crust but I love the convenience (and the consistency) of cooking with the prepared dough.
Beef stew meat – Chuck or round roast is the standard, inexpensive choice for stewing. You can find pre cut packages of meat for stewing in the butcher section at your grocery store. Cut meat into small bites.
Potato – I use a large russet potato for this soup but any kind of white or red potato will do.
Brown gravy mix – I used McCormick brand mix to enhance the savory flavor of the broth in this soup.
Cheese – Freshly shredded white cheddar is my preferred choice for this beef pot pie soup recipe. I grate it in right before serving.
Parsley – This is optional but a garnish of freshly herbs adds a perfect pop of freshness and color to an otherwise brown dish.
Tips and Tricks
Use a pizza cutter to slice the pie crust into even strips. Let them bake and cool as you make the soup.
Brown the beef first. This step brings out more juicy flavor in the meat.
Add the cheese and the pie crust strips just before serving.
Store leftover soup and pie crust strips separately. Soup should be stored in an airtight container in the refrigerator. Pie crust strips can be kept in a sealed container or ziploc bag at room temperature.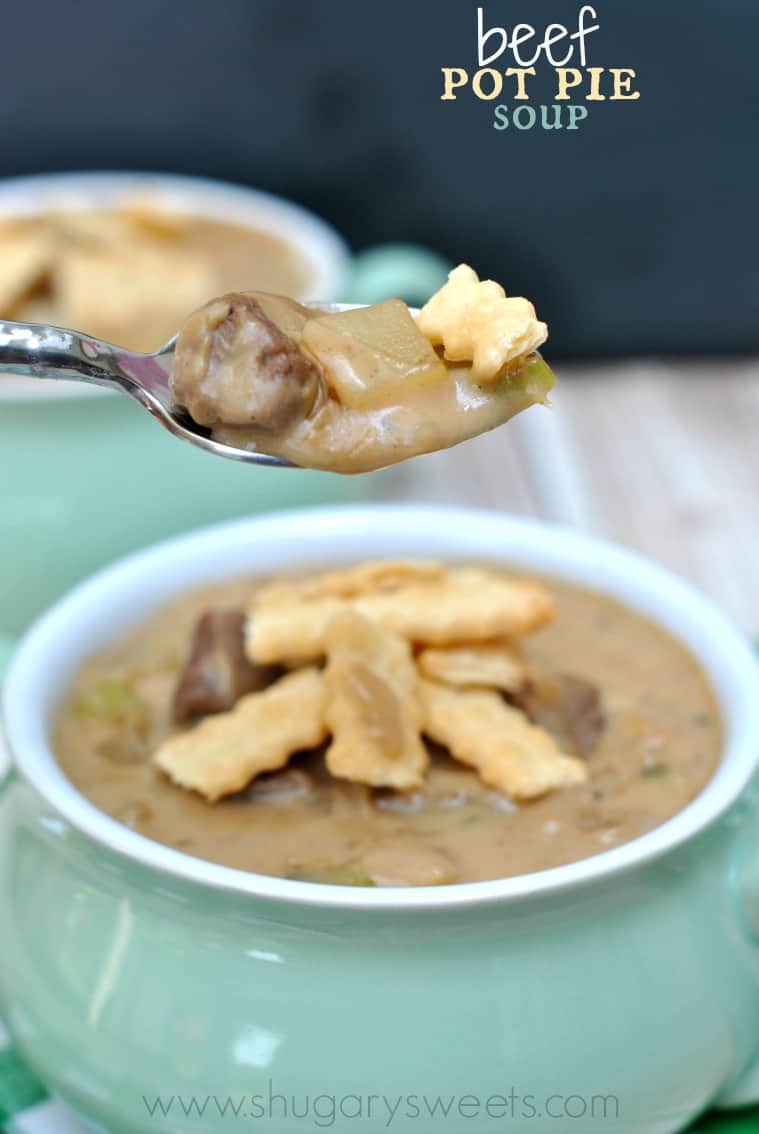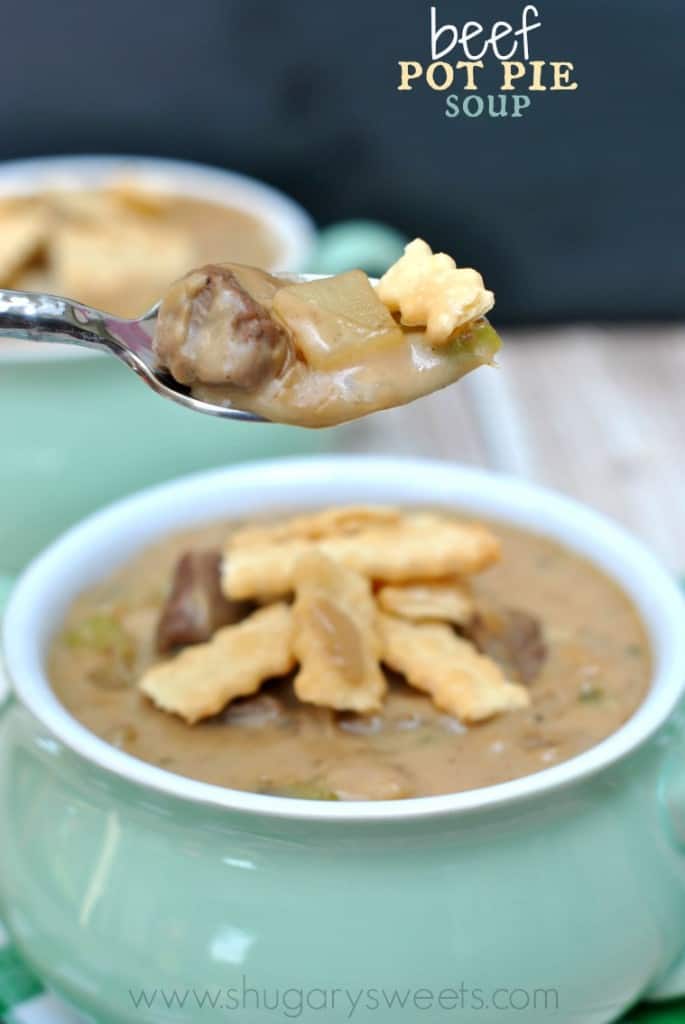 Recipe FAQs
Can I make this recipe with chicken instead of beef?
If you're looking for a chicken pot pie soup, you're in luck! I have a whole separate recipe for it right here.
Can I freeze this pot pie soup?
Yes, you can freeze beef pot pie soup! It keeps well for about 3 months in the freezer. I would freeze it without the cheese, then add the cheddar to the thawed, reheated soup before serving.
What kind of milk is best?
I used skim milk in this beef pot pie soup. Whole milk would make it even thicker and creamier which would be delicious as well.
How far in advance can I bake the pie crust strips?
You can bake the pie crust strips as much as 1 -2 days ahead of time. They taste best freshly baked and crispy.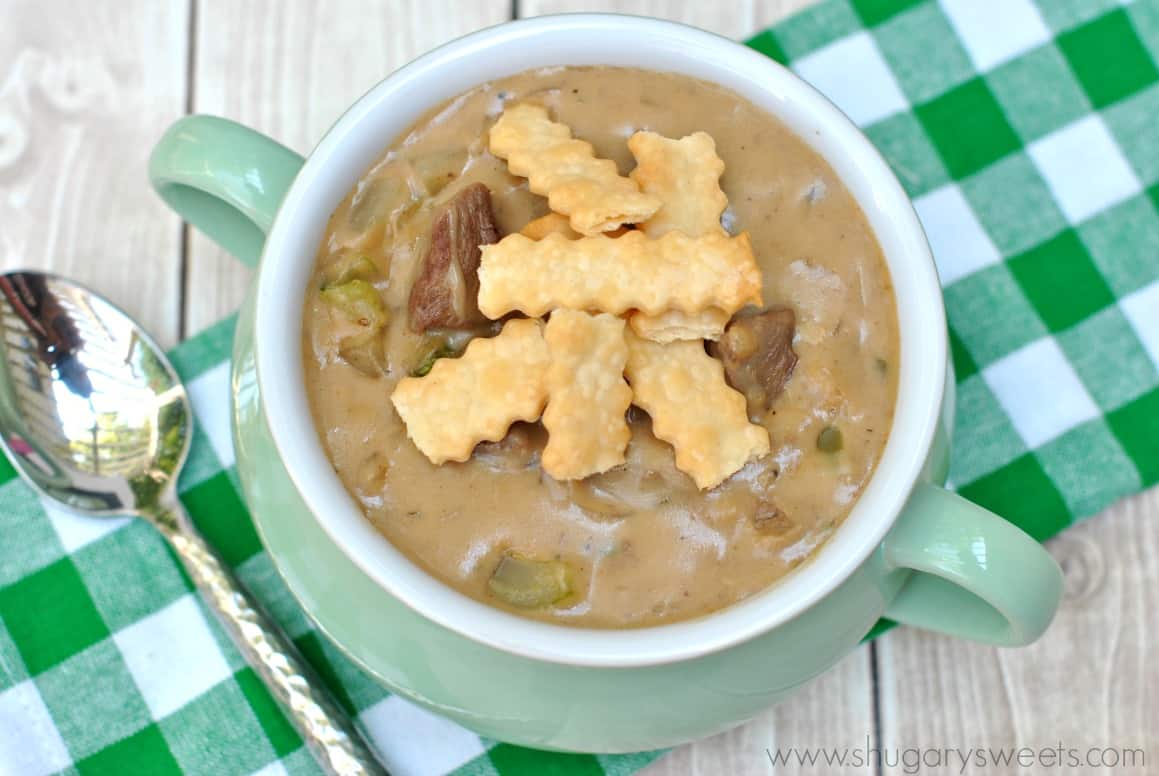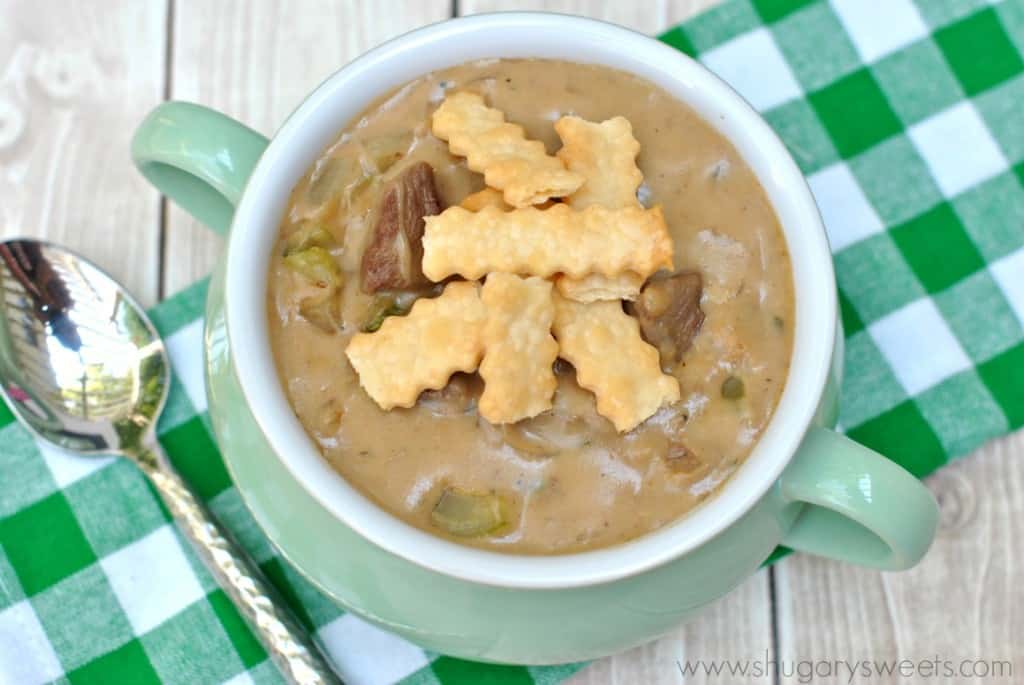 This Beef Pot Pie Soup is one of the heartiest soups you'll ever eat! No matter what the weather is outside, a bowl of this soup will warm you from head to toe.