This Slow Cooker Chicken Enchilada Chili recipe is full of hearty, warming flavors. Best of all, it takes almost no effort to make. Just fix it and forget it!
Slow Cooker recipes are a life saver for busy cooks. These Slow Cooker Sausage and Peppers need to be on your list too!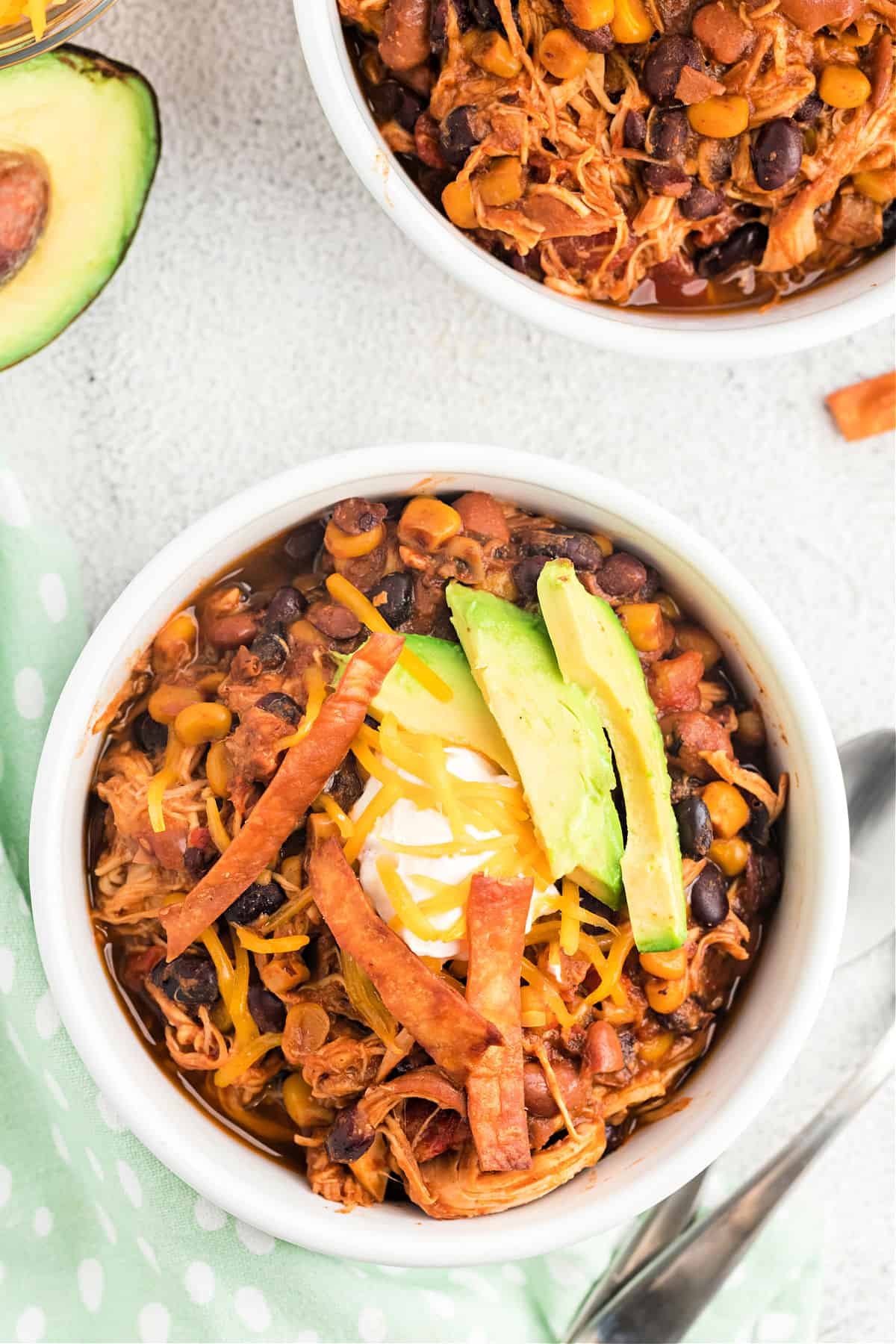 Why this Recipe Works
Our Chicken Enchilada Chili contains all the Mexican flavors you love. Instead of rolling them into enchiladas, they're slow cooked in a spicy satisfying chili.
This recipe is almost entirely hands off. Just put everything in the slow cooker, turn it on and walk away.
At the end of the day, come home to a hearty homemade meal. Garnish with all your favorite chili toppings and dig in.
It doesn't get any easier!
Ingredient Notes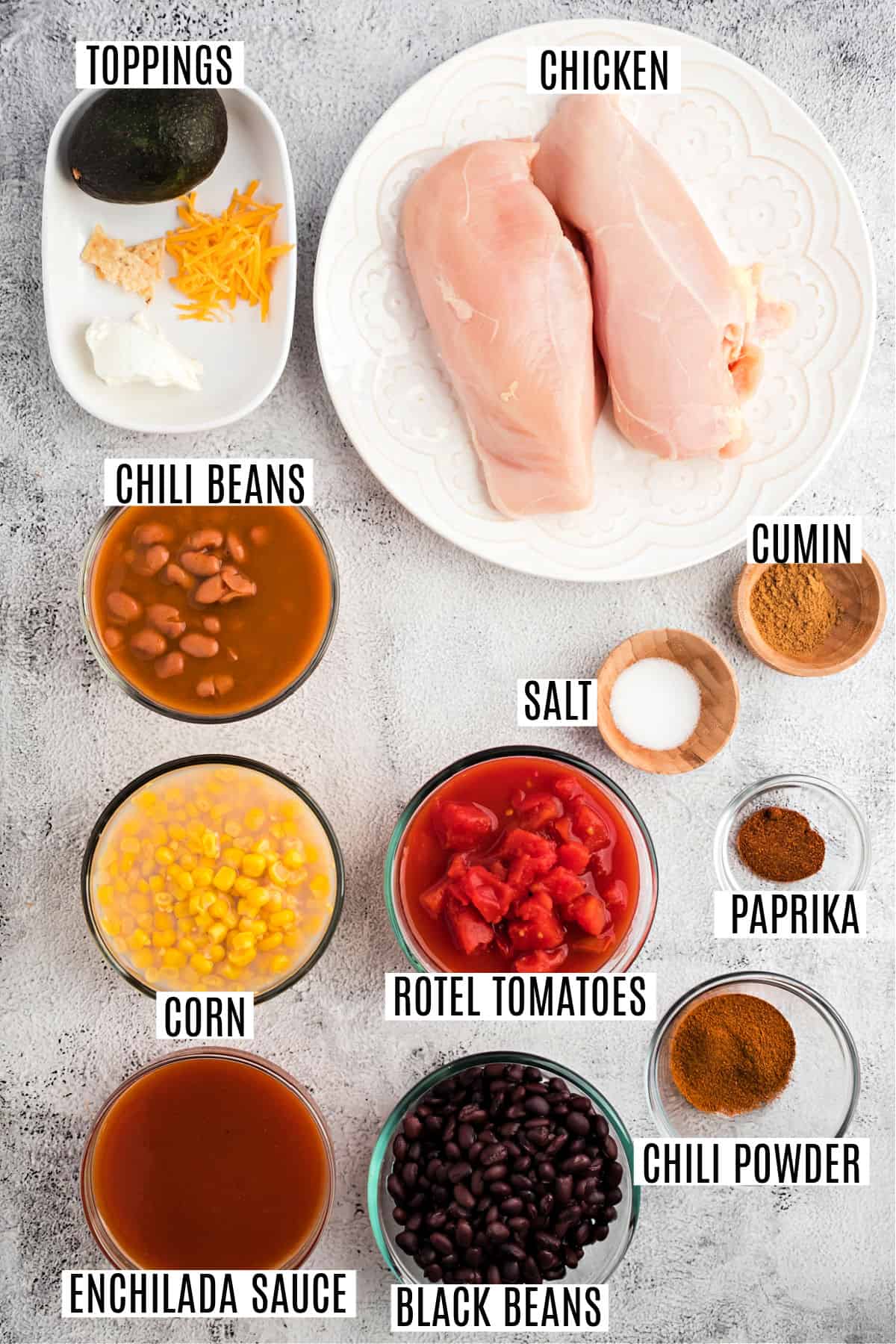 Tomatoes. I used diced, Fire Roasted Tomatoes (rotel tomatoes). They come in a 14.5 oz can. Do not drain. You could also use a can of diced tomatoes and a can of green chilies as a substitute. I love the kick it provides, without being TOO hot.
Chili beans in mild chili sauce. Don't drain these either.
Rinsed black beans. Pinto beans would be tasty too. Just be sure to drain and rinse the black beans.
Canned or frozen corn works well with today's chili. If using canned, no need to drain. If using frozen, toss in your corn from frozen!
Chicken. Either boneless skinless chicken thighs or chicken breasts.
Typically when using a slow cooker, I opt for chicken thighs. I find they stay moist and flavorful and they don't dry out like chicken breasts can when cooked for 6 hours.
Chicken breasts worked well in today's chili though! Because the chicken is cooked whole in the sauce, it didn't have the same tendency to get dry. Choose what you love.
Go crazy on the toppings. This is one of the best things about chili. You pick what you prefer.
I love crispy tortilla strips, shredded cheese and a few avocado slices on my chicken enchilada chili. Homemade guacamole would be a delicious topping here.
Easy Instructions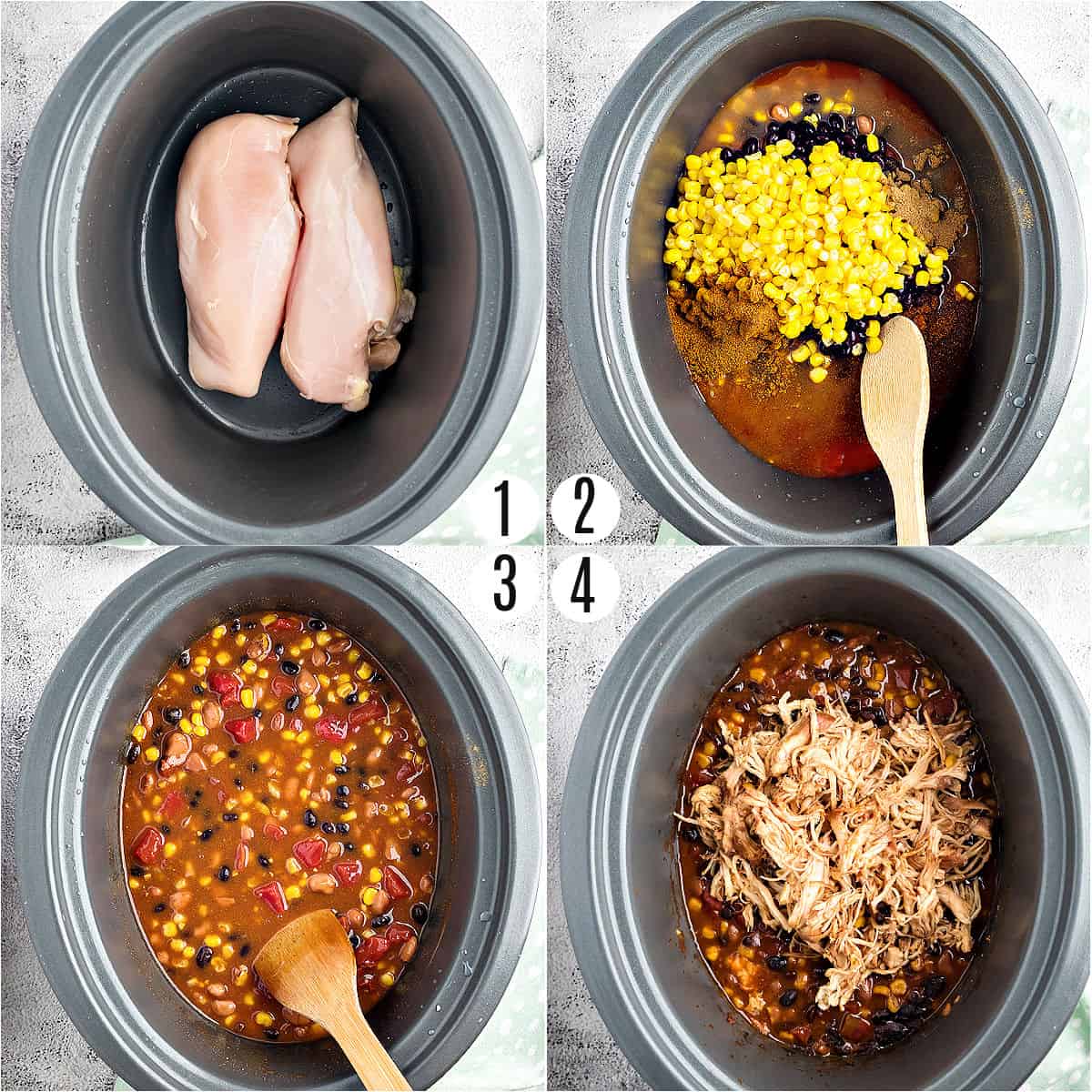 Start by adding the chicken to the pot of the slow cooker. Add all the other ingredients (except for your toppings) on top.
Give everything a stir to make sure the chicken is fully covered by the sauces.
Cover the pot and turn the slow cooker on low. Let it cook for 6 to 8 hours until the chicken is fully cooked and tender.
Remove the chicken from the pot and shred it with a fork. Add the chicken back to the slow cooker and stir to combine.
Ladle the chili into bowls and serve hot with all your favorite toppings!
Tips and Tricks
Store leftover chili in an airtight container in the fridge. Enjoy reheated within 3 -4 days.
Need more topping ideas? Try Pico de Gallo , sour cream (or plain Greek yogurt), mango guacamole or corn chips!
Squeeze a little fresh lime juice on top and sprinkle with chopped cilantro to add a fresh touch.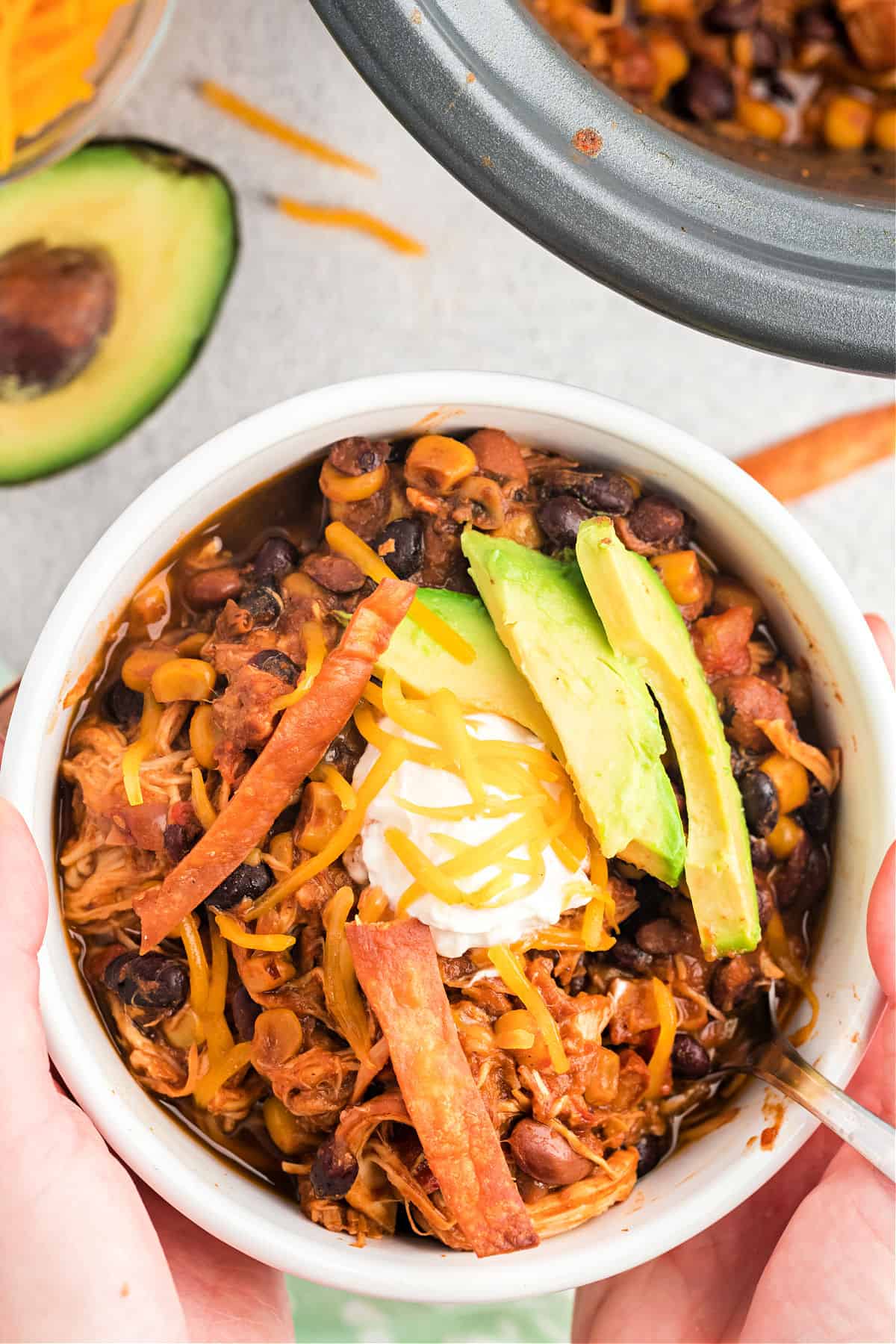 Recipe FAQs
Can I freeze this chili?
Our Chicken Enchilada Chili is a perfect freezer meal!
Place your servings in ziploc freezer bags, label them with date and name, and freeze for up to 4 months. When ready to enjoy, heat in microwave or on stovetop until cooked through!
What goes will with chili?
It's a well known fact that Cornbread is the perfect side dish to any chili dinner. Jalapeno Cheddar Cornbread just makes it even more delicious!
Looking for a fresh bowl of homemade applesauce for dinner tonight? This Instant Pot Applesauce recipe is super quick and easy! My kids love having this sweet dish along with some spicy chil.
Consider this easy, buttery Beer Bread recipe to serve with dinner! Also great to cube into bite sized pieces and use for dips.
What size crockpot do I need for this recipe?
We make our chili in a standard 6 quart slow cooker. If you have a bigger slow cooker, you can totally double this recipe to feed a crowd!
Is this chili spicy?
That depends who you ask! It does have some kick to it but it's definitely not an overwhelmingly hot meal.
For more spice, you can add a chopped jalapeno pepper or a few shakes of hot sauce. To make it milder, use regular tomatoes instead of fire roasted and use a mild chili powder.
More Chili Recipes You'll Love
Hearty Pumpkin Chili is a delicious, vegetarian dish made in the slow cooker! My family didn't even miss the meat in this one!
No time to cook? Slow Cooker Chicken Enchilada Chili to the rescue! Toss it in the crockpot in the morning and it's hot and ready by dinner time.