Instant Pot Cornbread is moist and buttery! You'll love this golden cornbread recipe, so thick and tender! Perfect with a bowl of hot chili or bowl of Jambalaya.
Love cornbread? Try our jalapeno cornbread next. Or whip up some kid friendly corn dog muffins for the family!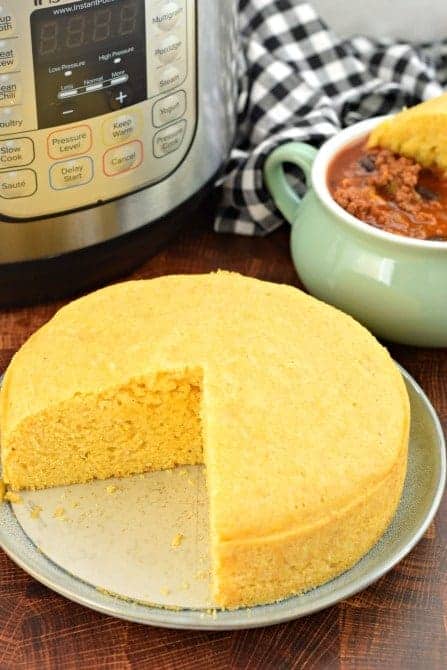 The Best Cornbread Recipe
For years I've wondered why people just LOVE cornbread. I mean, it's great DUNKED in a bowl of chili, but that's only because it makes it moist and tender all soaked up in tomato sauce.
But on it's own? I've always thought it was too dry and crumbly.
Until now.
Thank you Instant Pot. Being cooked under pressure adds an immense amount of moisture to this Cornbread, while still maintaining that perfect buttery flavor and tender crumb texture.
Cornbread is all about the ratios. And what makes a perfect cornbread? The ingredients.
You'll want to have a 1:1 ratio of all-purpose flour to yellow cornmeal.
And while some southerners may disagree, I love sugar in my cornbread. That sweetness is perfect!
Why this is the BEST cornbread recipe?
Easy to Make!
No Mixer needed
Buttery flavor, thick slices
Moist and Tender!
One of the best Instant Pot Recipes.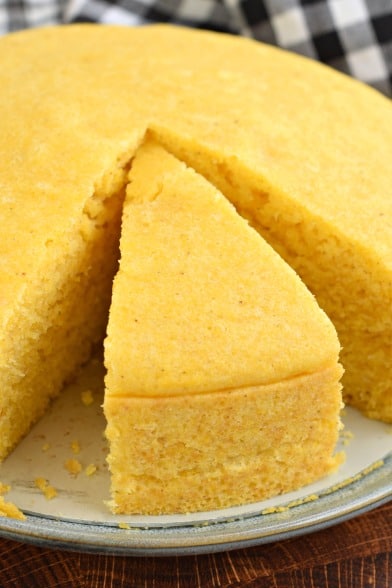 Step by Step Instructions
First, you'll need a 7×3-inch cake pan. I use the Fat Daddio Push Pan (which is also perfect for Instant Pot Cheesecake!). Spray with baking spray and set aside.
STEP 1. In a bowl, whisk egg until fluffy (about 15 seconds). Add milk and oil. Add flour, cornmeal, sugar, kosher salt, and baking powder.
Pour batter into prepared pan. Wrap top in foil, then take a second piece of foil and wrap the bottom too.
Pour 1 cup of water into the bottom of the Instant Pot.
Place foil wrapped pan on a sling (or trivet) and lower into the pressure cooker.
STEP 2. Pressure Cook.
Lock the lid and make sure the valve is set to "SEALING."
Select HIGH PRESSURE and a cook time of 55 minutes.
When the cook time ends, allow pressure to naturally release for 10 minutes, then do a quick release of the valve.
Wipe off the excess moisture from the top of the foil and remove foil completely.
Slice and enjoy warm.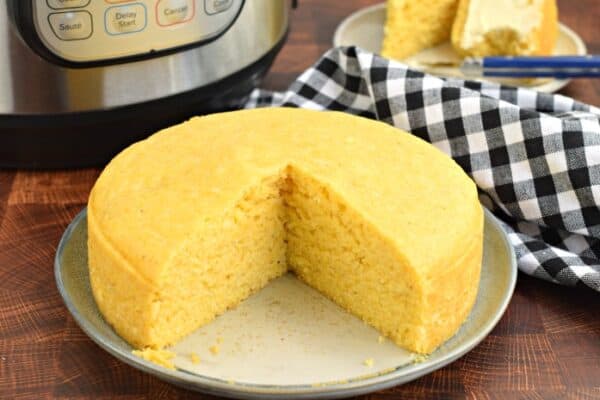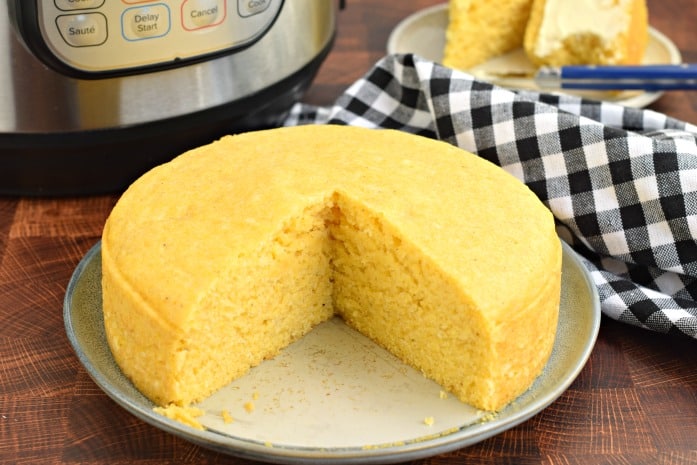 How to Serve Cornbread
Cornbread is delicious served with a bowl of soup or Instant Pot chili.
Some of our favorites include:
You can also enjoy a warm slice of cornbread for breakfast topped with fresh butter and a drizzle of honey.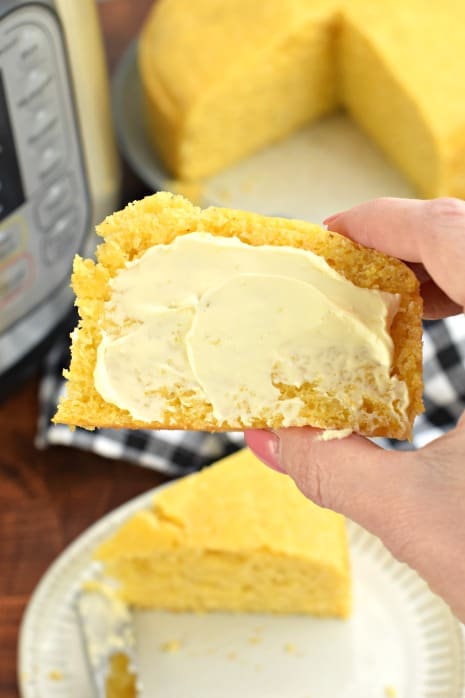 Easy Recipes:
Thick slices of Instant Pot Cornbread. Perfect, buttery, moist cornbread is easy to make with a big bowl of chili.