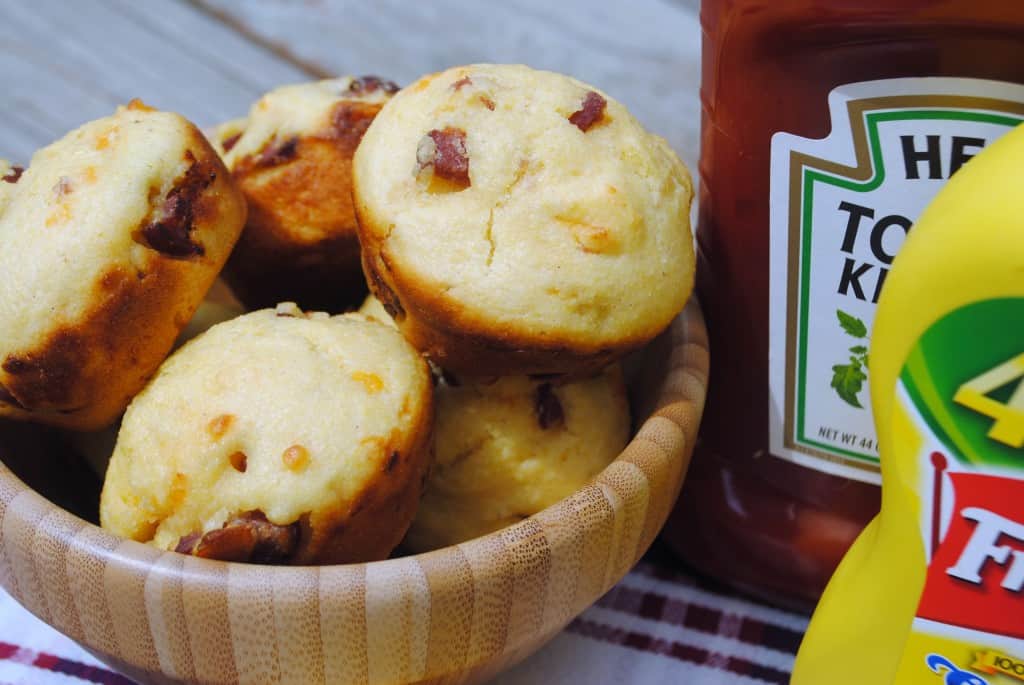 I was cleaning out my "edit post" files and found these pictures in there from earlier this summer! Since it's 74 degrees and sunny today here in Ohio, certainly it's a good day for hot dogs and ice cream sandwiches. Even in a big furry blanket you can have an ice cream sandwich. Right?
Anyways. 
There are days when I need something quick to whip up in the kitchen. A meal that is both satisfying, kid friendly, and easy. Corn Dog Muffins are so perfect! You can even substitute the homemade corn muffin mix for the boxed Jiffy brand. Serve it up with some fresh fruit and call it dinner! 
Of course, you can't have dinner without dessert in my house. Chocolate chip cookies are a staple. It took my husband and I about 5 years of trying different cookie recipes and we think we have perfected the chocolate chip cookie. In the summer, I make up a batch of cookies, fill them with our favorite ice cream and wrap in foil. Put in the freezer and enjoy! 
Yield: 30
Corn Dog Muffins
Ingredients
3 cup flour
½ cup granulated sugar
2 cup yellow cornmeal
2 Tbsp baking powder
1 ½ Tbsp salt
½ tsp cinnamon
2 cup milk
4 eggs
½ cup butter, melted
1 ½ tsp vanilla extract
8 hot dogs, diced
1 ½ cup shredded cheddar cheese
Instructions
Mix dry ingredients together. Add milk, eggs, butter and vanilla. Fold in hot dogs and cheese. Scoop into greased cupcake tins (no liners).
Bake in a 400 degree oven for about 15-18 minutes. Makes 30 muffins. You can freeze baked muffins for later use, then just microwave to reheat them. Enjoy!