Corn Dog Muffins are the ultimate kid-friendly dinner recipe! Homemade cornbread batter with hot dogs and cheese! Toss a few in lunches too.
Love easy lunch and dinner ideas? Our chicken salad recipe is loved by kids and adults. Or whip up some egg salad sandwiches for the family!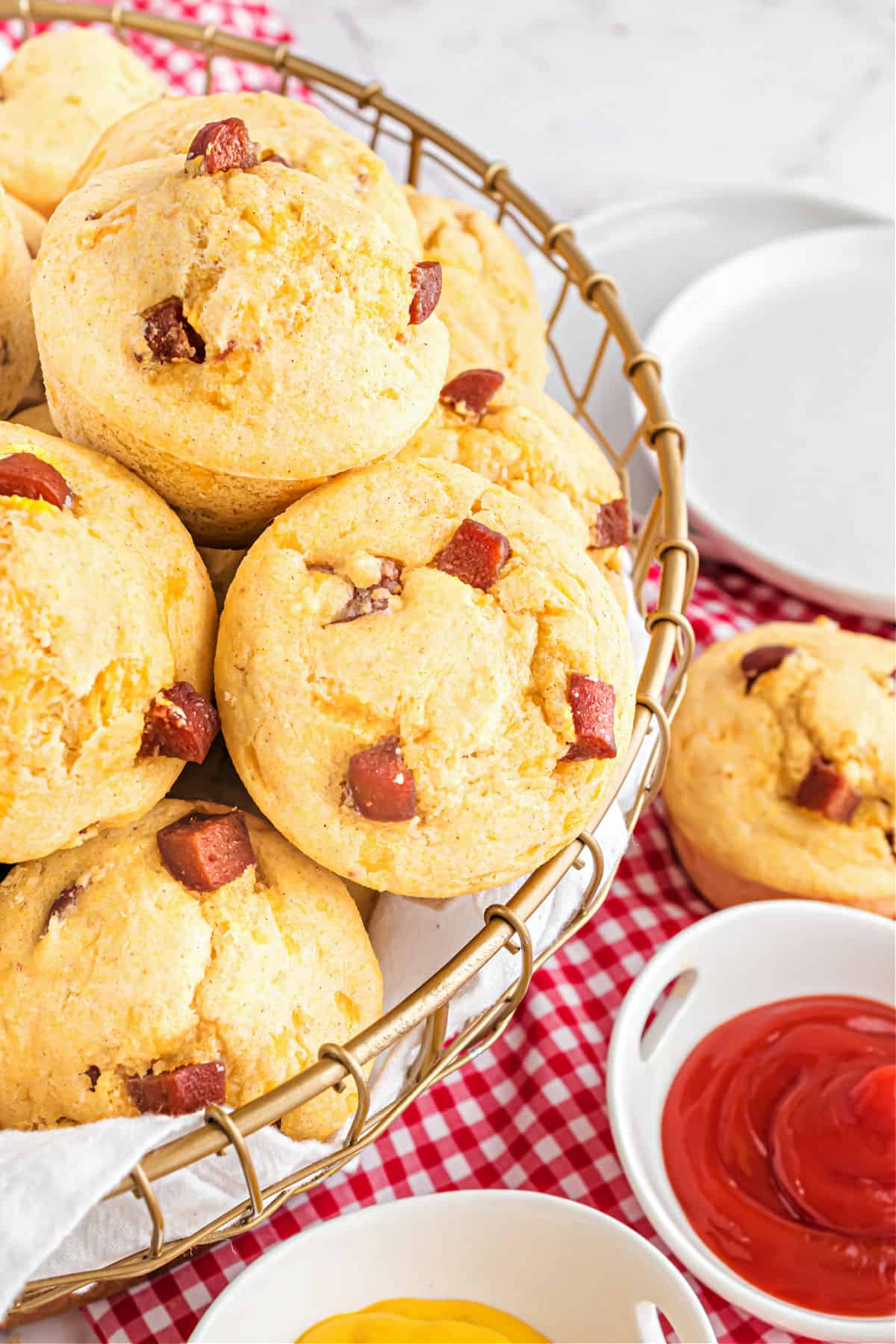 Homemade Corn Dogs
There are days when I need something quick to whip up in the kitchen. A meal that is both satisfying, kid friendly, and easy.
On those days, Corn Dog Muffins are so perfect! You just mix together a corn bread batter, fold in some hot dogs and cheese and bake.
You can even substitute the homemade cornbread mix for the boxed Jiffy brand. Serve it up with some fresh fruit and carrot sticks and call it dinner! 
Corn dog muffins are also a great on-the-go meal option for busy families. If you're at all like us, there are more than a few occasions when the kids are eating in the car between school and sports activities.
There are no utensils required and hardly any mess (aside from maybe a few cornbread crumbs!).
Did I mention that this is also one of the easiest homemade dinner recipes you can make? You just mix everything in a bowl and bake. Easy as apple pie. (Or should I say, "Easy as muffins?")
Ingredient Notes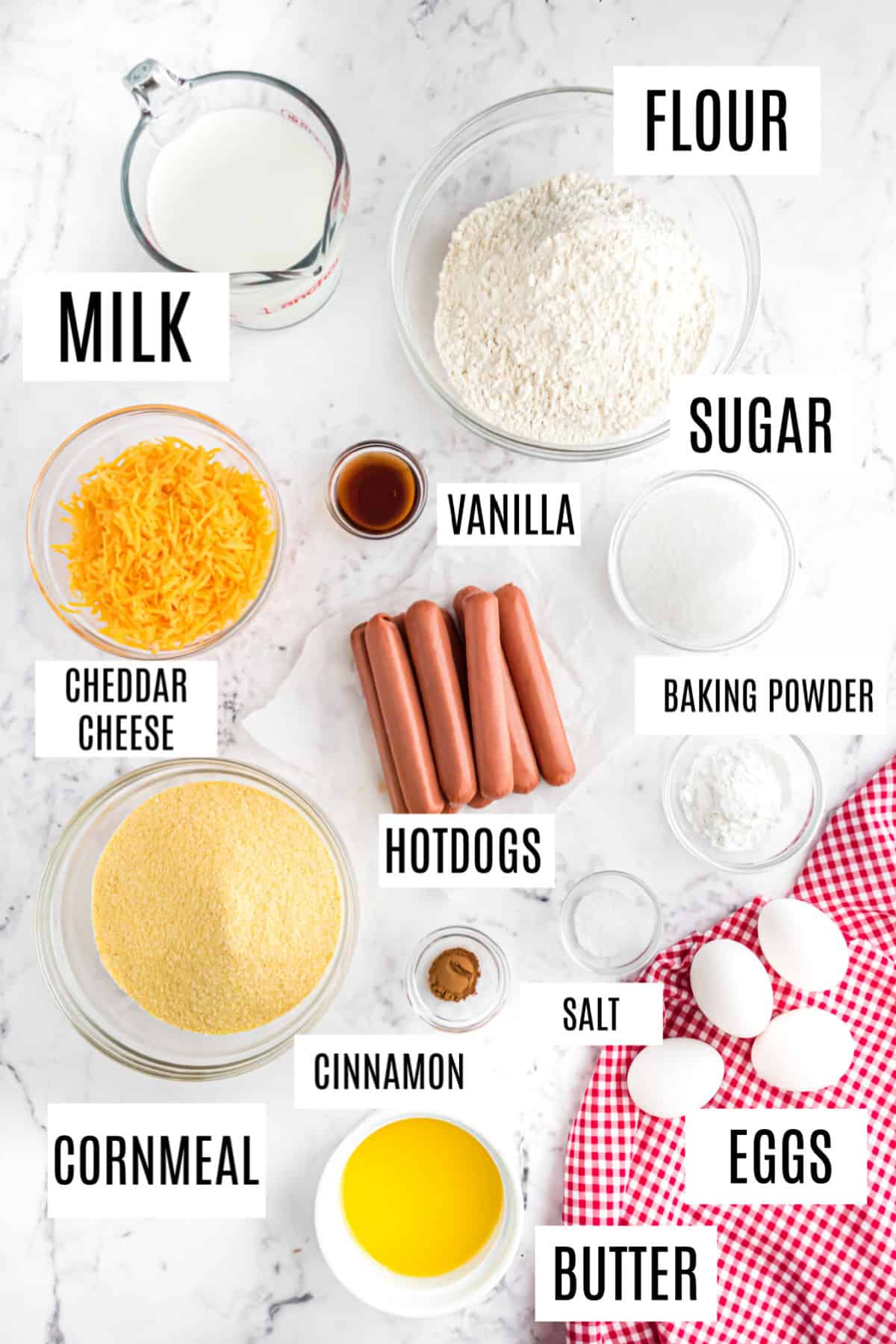 These muffins start with a simple corn bread mix made from these ingredients:
Flour
Cornmeal
Butter
Eggs
Sugar
Melted butter
Cinnamon
Mix the dry ingredients together then add in the milk, eggs, butter and vanilla. Once the mix is combined add. . .
Diced hot dogs – use your favorite brand of hot dog. I prefer using diced hot dogs instead of one chunk because then you get that delicious flavor with every bite!
Shredded chedder cheese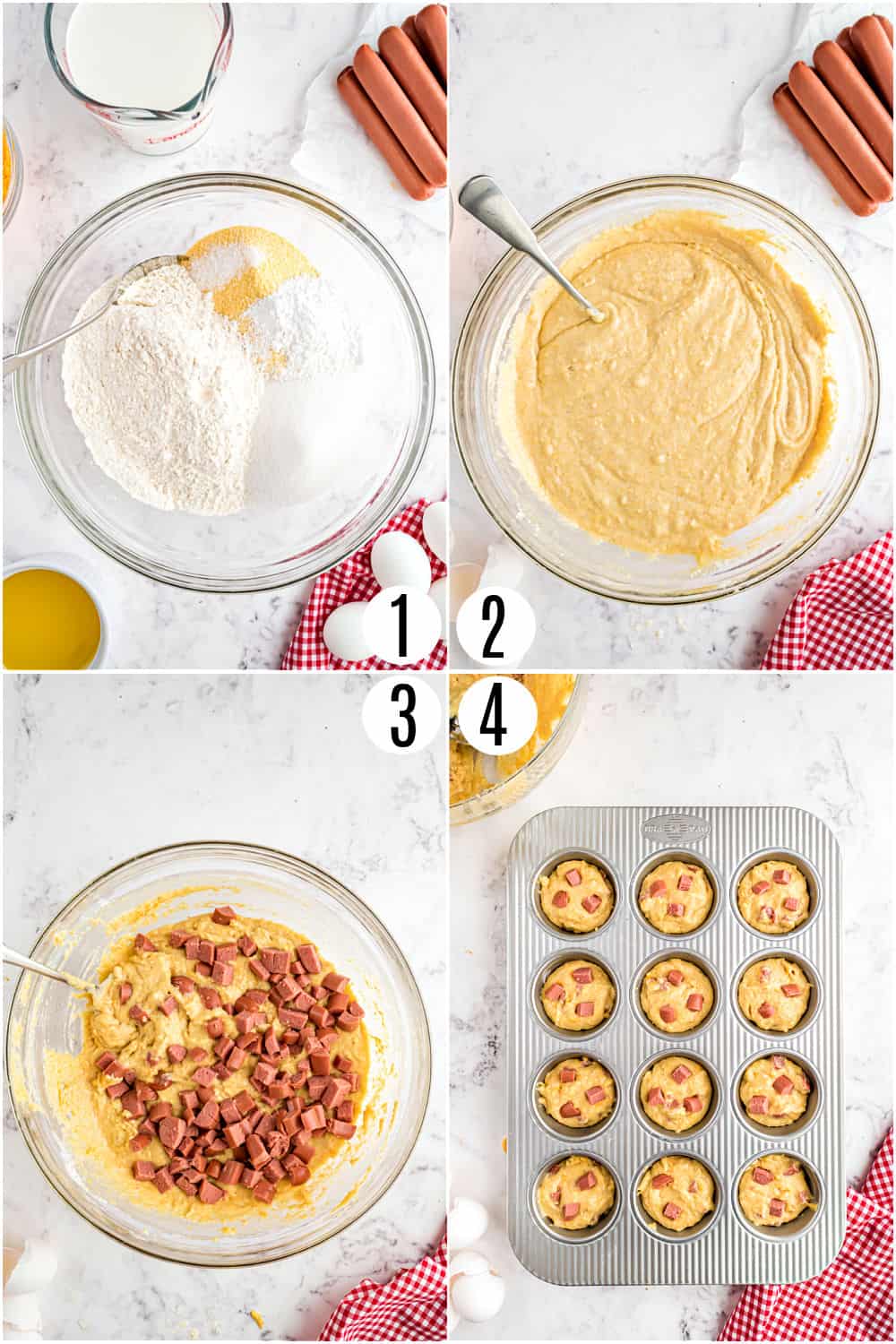 Scoop into greased muffin tins and bake at 400 degrees for 15 – 18 minutes. Let cool a few minutes and serve!
This recipe makes about 30 muffins, which was just enough to fill up my hungry family at dinner time. Feel free to double the recipe if you're feeding a large crowd!
Tips for Homemade Corn Dogs
Need an even quicker and easier corn muffin? Substitute a boxed cornbread mix like Jiffy. Follow the directions on the package to make the cornbread batter, then fold in the hot dogs and cheese and bake as directed.
I like these corn dog muffins best served warm fresh from the oven. They are also good served cold or room temperature so feel free to put them in the kids' school lunches! Store them in an airtight container so they don't get dried out.
To make mini corn dog muffins: Instead of folding the diced muffins into the cornbread batter, slice them into rounds. Fill mini muffin tins halfway with the cornbread mixture, then press a slice of hot dog into the center before baking. These make a delicious finger food for a party!
STORAGE: Store leftover corn dog muffins in refrigerator for up to 5 days. Or freeze in airtight container for up to 3 months.
Change it up and make a batch of pigs in a blanket instead!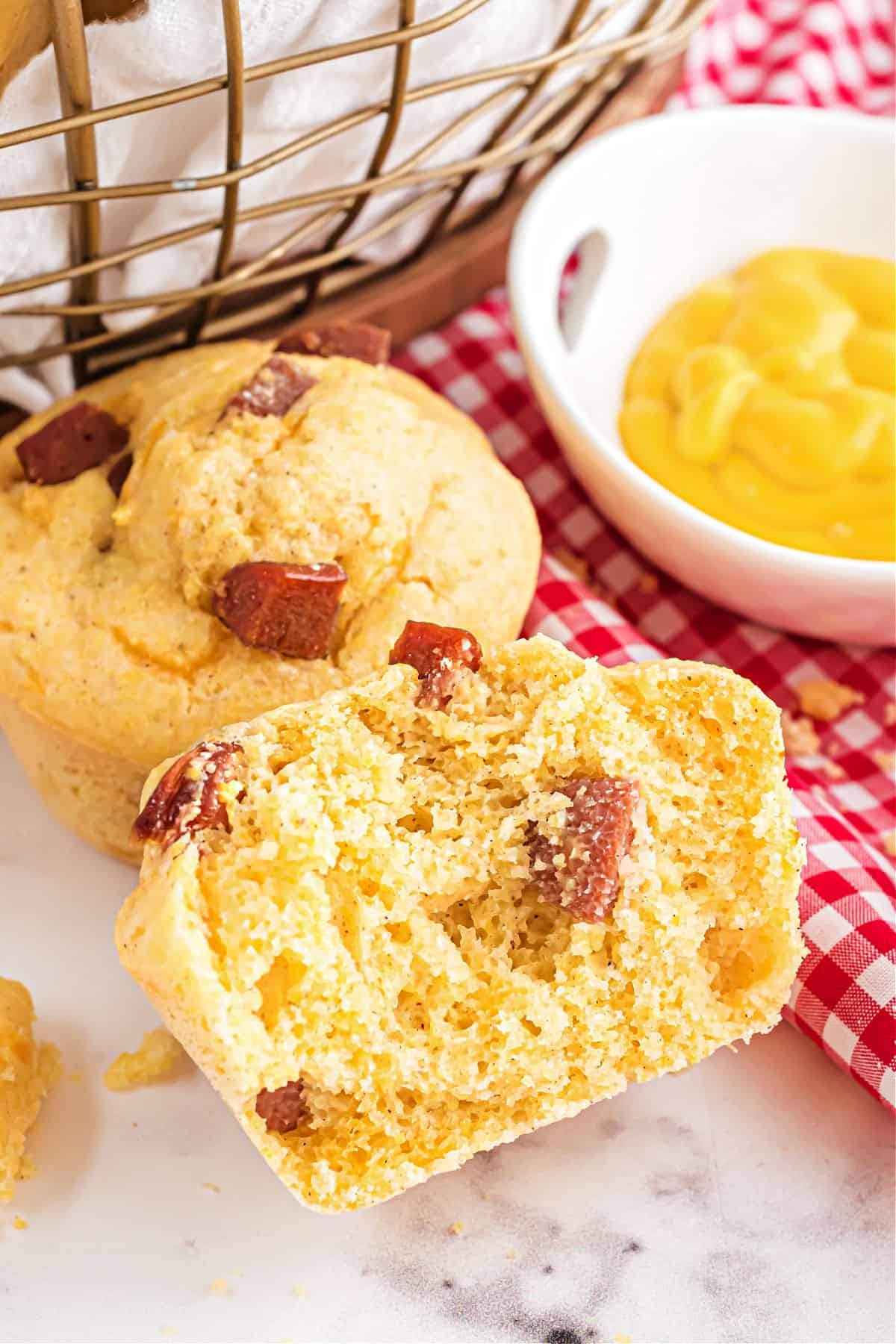 Serving Suggestions
If you're serving these muffins for dinner, add a few fruits or veggies to the plate to round out the meal. Sure, they might ignore the potato salad and just eat a billion corn dog muffins, but at least you can say you tried, right?
I usually serve these muffins with some cut up fresh fruit like oranges, apples or berries. Serving with our fruit salsa is also wonderful.
Carrot and celery sticks are another easy, fresh, healthy side dish we love.
For an extra hearty meal, serve your Corn Dog Muffins with steaming bowls of Homemade Chili for dunking! It's a take on chili and cornbread that makes everyone happy.
Quick and easy corn dog muffins might win the prize for most kid approved dinner you've ever made. Try out this recipe for dinner this week–your kids will thank you!