Dinner in your slow cooker never looked so good! Try making this Sausage and Peppers recipe tonight. You can serve it on rice or a french roll, either way is delicious!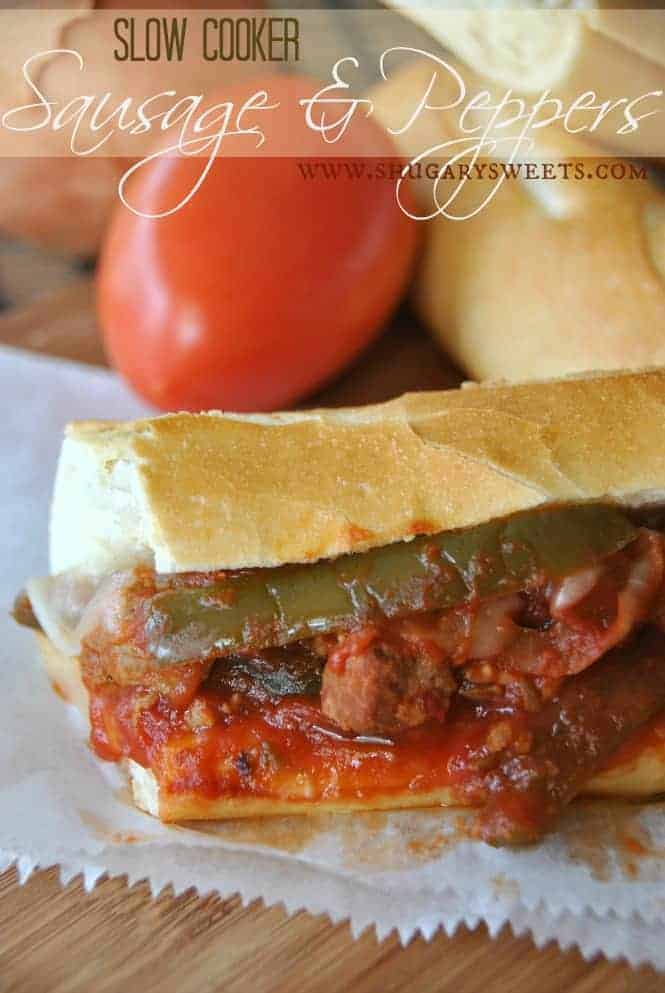 Here's the thing. I'm a busy person. I am a wife. I am a mom for 4 crazy busy kids. I am a food blogger. Of course, those who don't know much about being a food blogger might think that last one is silly. But seriously, I know some of you "get it."
Let's start with being a wife. Okay fine, that part isn't busy. My sweet husband is quite helpful and doesn't "expect" anything from me. If he comes home and the house is dirty, laundry is piled up and the dishes are overflowing in the sink (oh, those dishes never seem to stop)…he doesn't complain! Probably because he knows the cookie jar is full. As is the cake platter and every other serving dish in the house!
Being a mom. Without whining and throwing a tantrum, I'll just say I embrace that each of my children have chosen different avenues in which to showcase their abilities. While sometimes it might be easier to have them all play soccer, for instance…they don't do what the other does. (did that make sense???)
My youngest daughter was a soccer player. But has given up that career (hey at 8 yrs old you have to decide what sport to play for the rest of your school age career. ridiculous.) to learn how to play tennis. Our middle daughter has joined a higher level softball team this year, and is also taking additional pitching lessons. (any softball parents out there??? you know.) Our oldest daughter, I believe I have whined shared quite a few times on instagram how I sit on the pool deck. For hours. She is a competitive swimmer and swims 6 days a week. Pretty much consuming every morsel of food in the house (swimming parents? hello?? you know too.) And our son, our oldest, is a guitar player in the church band. He is also getting close to getting his driver's license (and I'm close to freaking out about it)!
So. Just family stuff keeps me pretty busy every. single. day. I remember when my kids were young, and I thought about how busy I was having 4 kids under the age of 7. I was exhausted most days. These days? It's a whole different kind of exhaustion. And I love it. But, no matter how tired I am, dinner is a must in our house. We try to sit down as a family every. single. night. Yep, old school in that way. Most nights one child might be missing from the meal, but the ritual of dinner happens! And the only reason it can happen is because some GENIUS created the Crock Pot. My BFF. You may have noticed in my recipe tab up there, under main dishes, 90% of those dinners are made in the slow cooker. It is an honest representation of how we eat during the school year. Summers tend to be much more laid back and centered around the grill.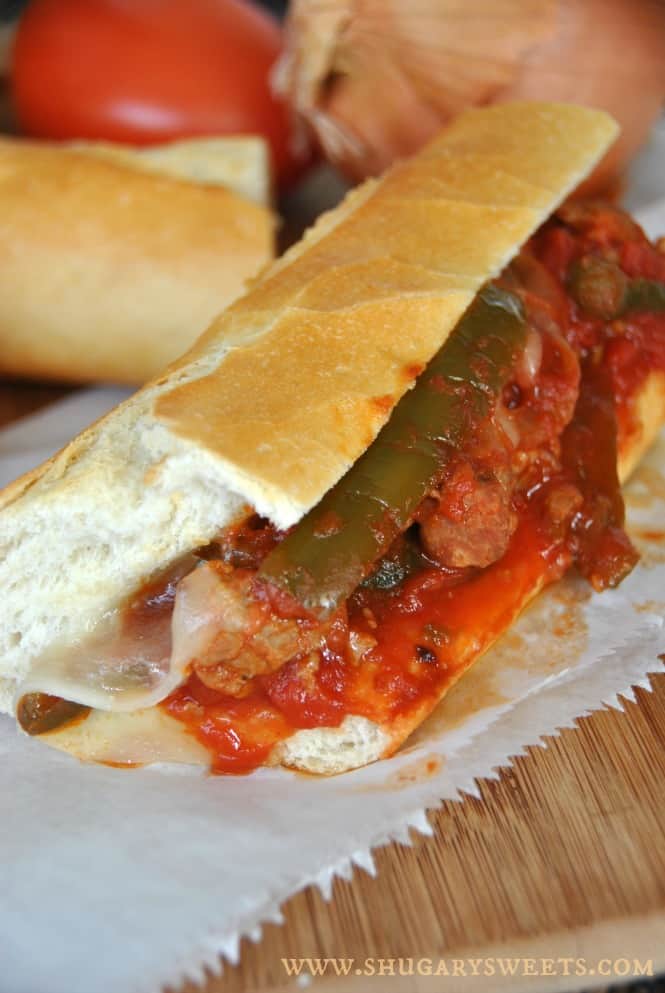 So, now that I've whined shared about my crazy life, how about we get to this meal. That's the real reason you are here, right? For the recipe? If you want to whine about your crazy life, feel free to do so in the comments below. I don't mind! Last month I started doing a Reader's choice recipe. This month, you all overwhelmingly asked for Crock Pot recipes. So…here you go!!!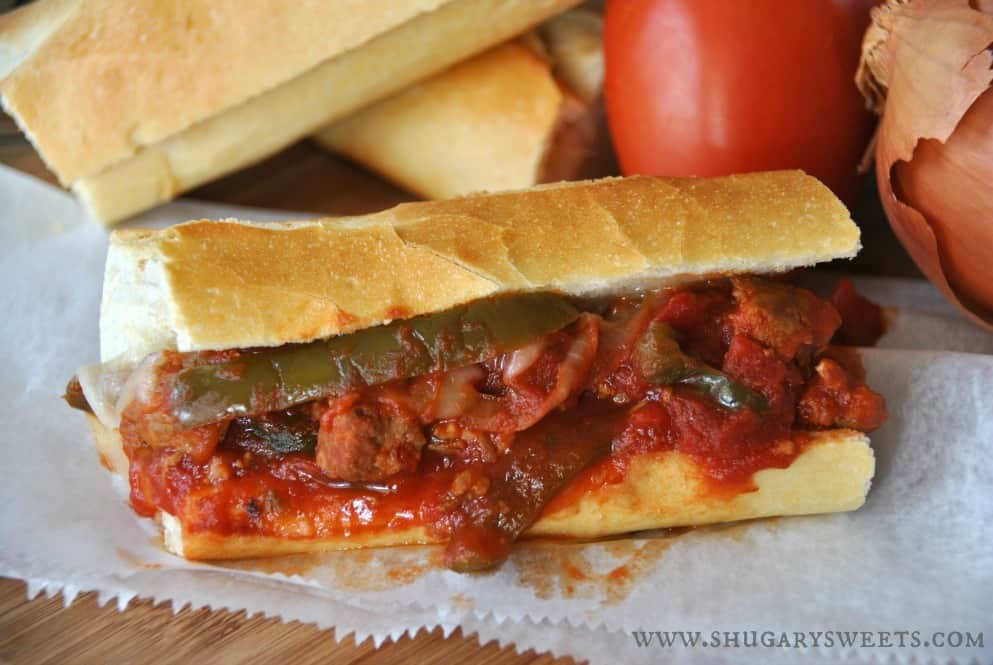 This Sausage and Peppers dish is a crowd pleaser in our house. We prefer to eat this on toasty french rolls with provolone cheese, but if your family is more of a rice eating group that works great too! Top it with a little shredded cheese and serve with a salad.
I use the HOT Italian sausage. It really isn't too spicy, but then again we love spicy foods and my tolerance might be higher than most people. If you're nervous about the spice, feel free to use mild or regular. Or half and half. Whatever. Just be sure you buy bulk, or remove the casings from your sausage before browning it up! If this recipe makes too much for your family, it freezes very well too! You can stick the leftovers in a freezer safe container or ziploc and reheat another time. I say this serves 8, but as with most servings it depends on your family!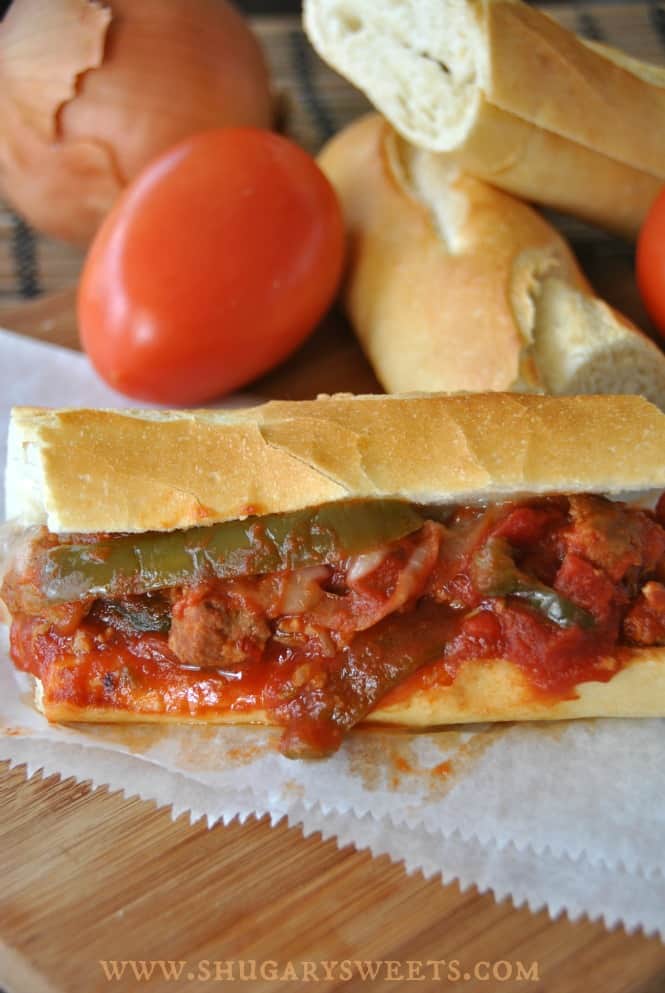 Love these dinner recipe ideas? Find more delicious recipes by following me on Pinterest:
Don't miss another mouthwatering recipe from Shugary Sweets! Be sure to follow me:
 Facebook | Twitter | Google+ | Pinterest | Bloglovin'
Yield: 8 servings
Slow Cooker Sausage and Peppers
Total Time
8 hours
10 minutes
Dinner in your slow cooker never looked so good! Try making this Sausage and Peppers recipe tonight. You can serve it on rice or a french roll, either way is delicious!
Ingredients
1 1/2 lb Hot Italian Sausage (casings removed)
2 cans (14.5oz each) Diced Tomatoes
1 can (14.5oz) Tomato Sauce
1 can (6oz) Tomato Paste
1 yellow onion, diced
2 green peppers, seeded and diced
french rolls
provolone cheese, optional
Instructions
Brown the italian sausage in a skillet until completely cooked. Drain and add meat to your large crockpot. Add tomatoes, sauce, onion, green pepper and paste. Cover and turn on low for 6-8 hours.
When ready to serve, scoop meat into a french roll with a slice of provolone cheese. If you want it toasted, heat your french roll with cheese for 5-6 minutes in a 400 degree oven.
ENJOY
Recommended Products
As an Amazon Associate and member of other affiliate programs, I earn from qualifying purchases.
Want more slow cooker meal ideas? Here are some of my absolute favorites.
Balsamic Glazed Pork Tenderloins: We love this meal. In the summer when we have fresh cherry tomatoes in our garden we also make the recipe for the tomato salad! But the pork recipe itself is worth trying. Fork tender, melt in your mouth!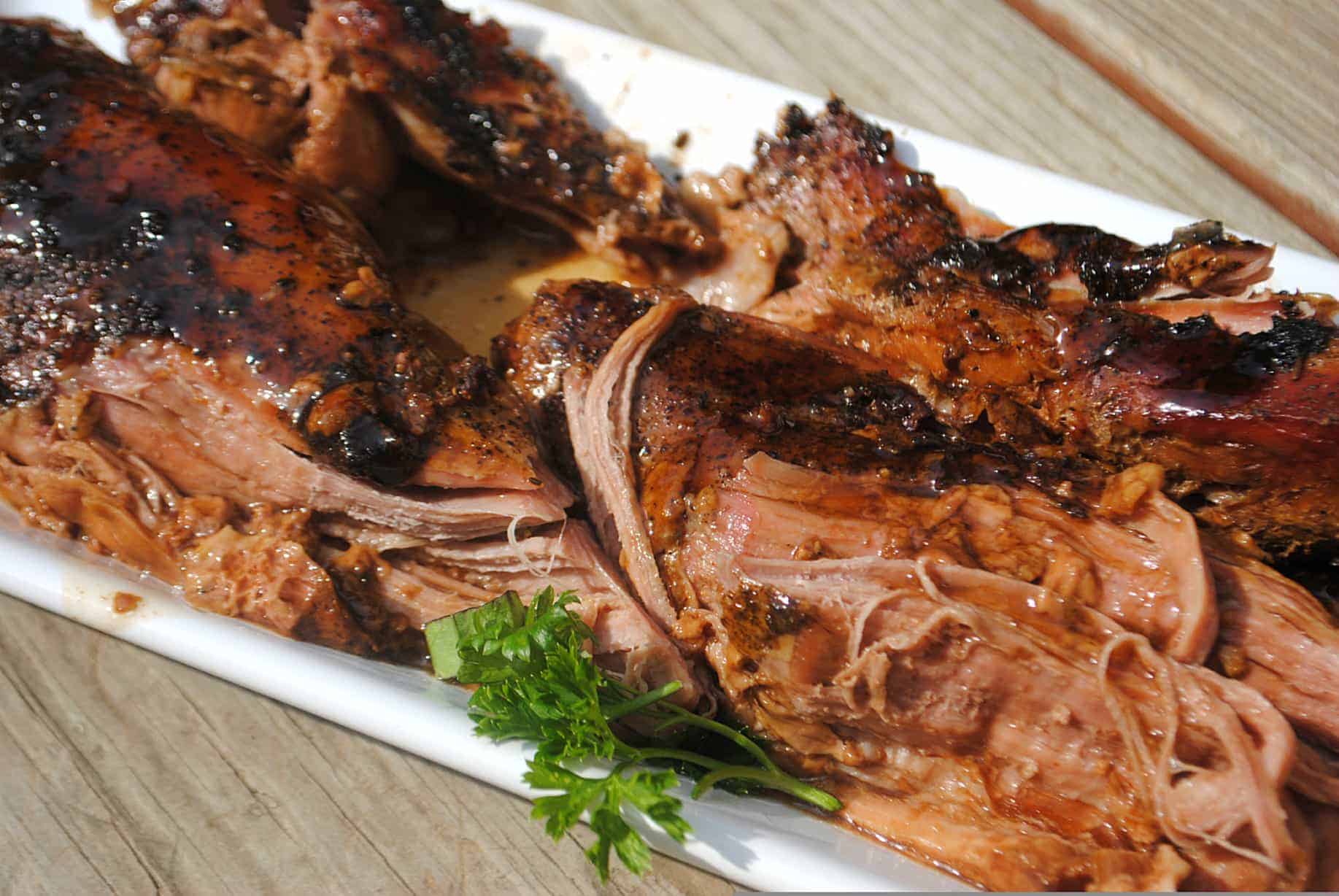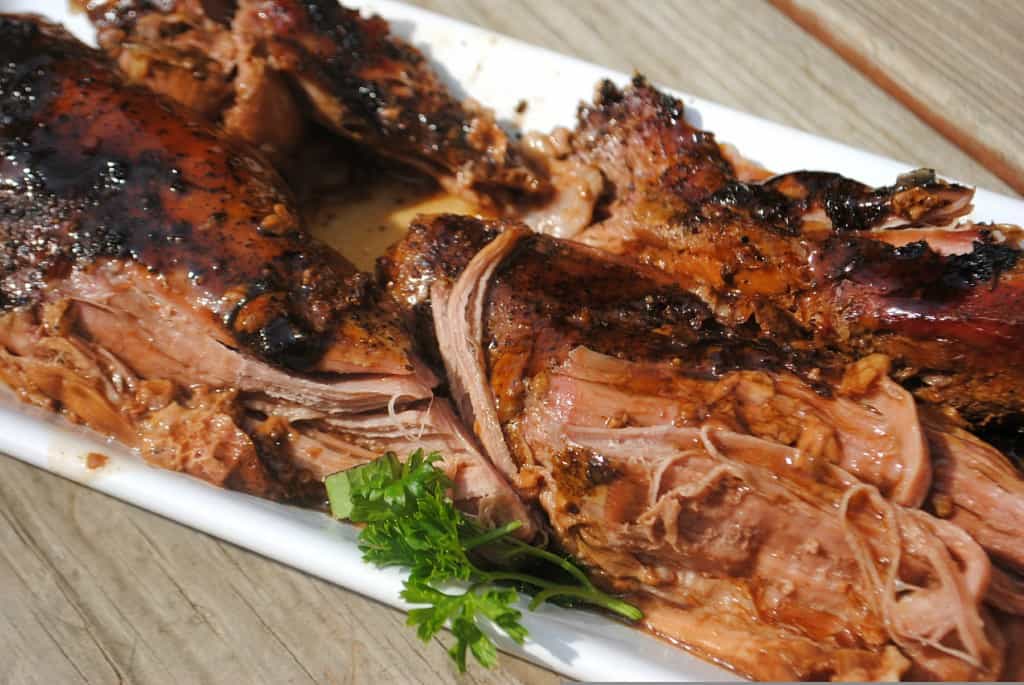 Slow Cooker Carnitas: This dinner feeds a crowd too, and the pork is GREAT leftover, or frozen!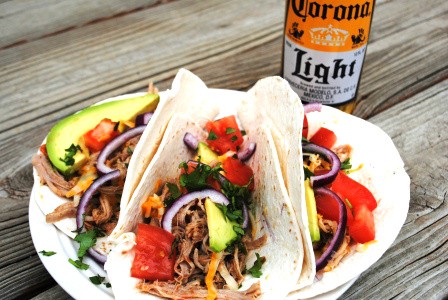 Slow Cooker Beef Enchiladas: This beef recipe makes enough for not only these enchiladas, but also for some French Dip Sammies. Cook once, eat twice!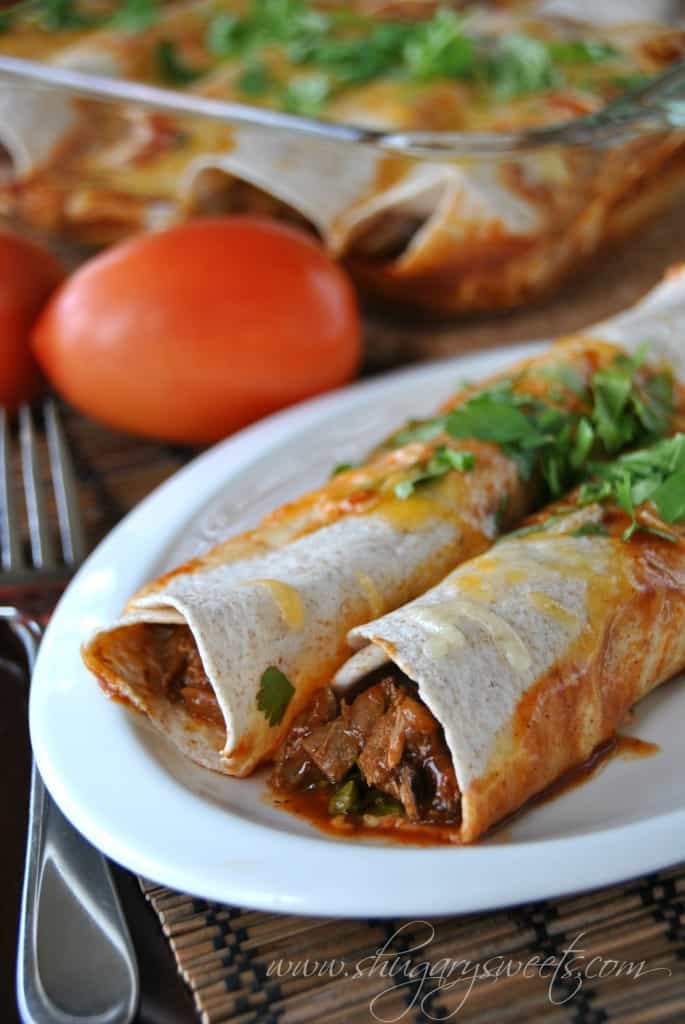 Slow Cooker Spaghetti Sauce: this is my favorite way to make spaghetti sauce. And as you probably guessed, you can freeze it too! You can also add meat if you desire!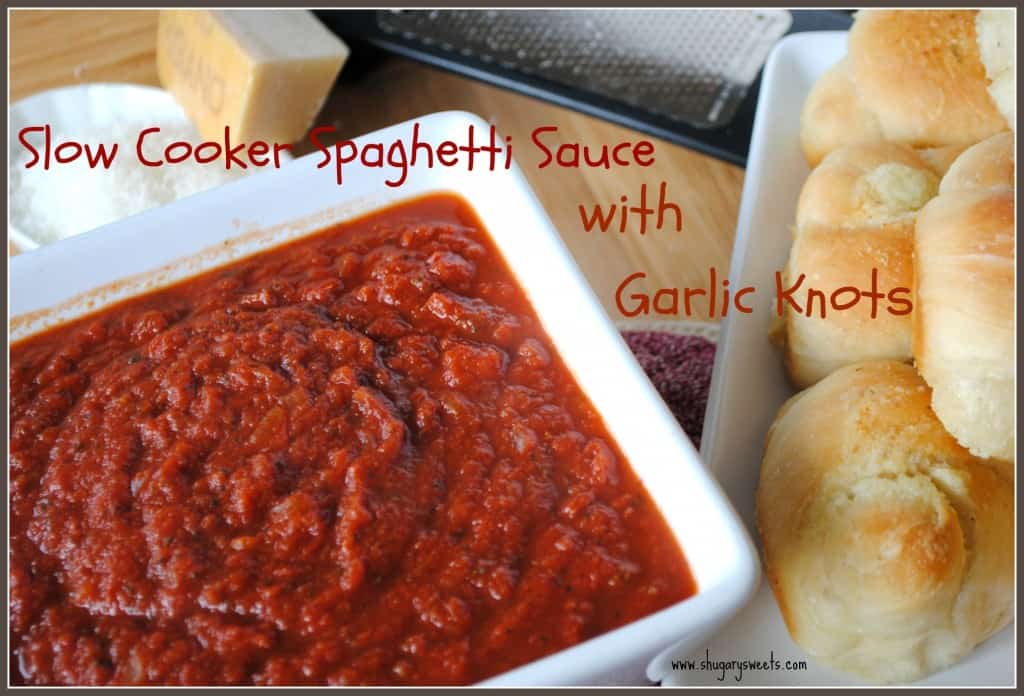 Caramel Coffee Milkshakes: Not a dinner recipe (obviously) but this is how I make it through my day with a boost of energy!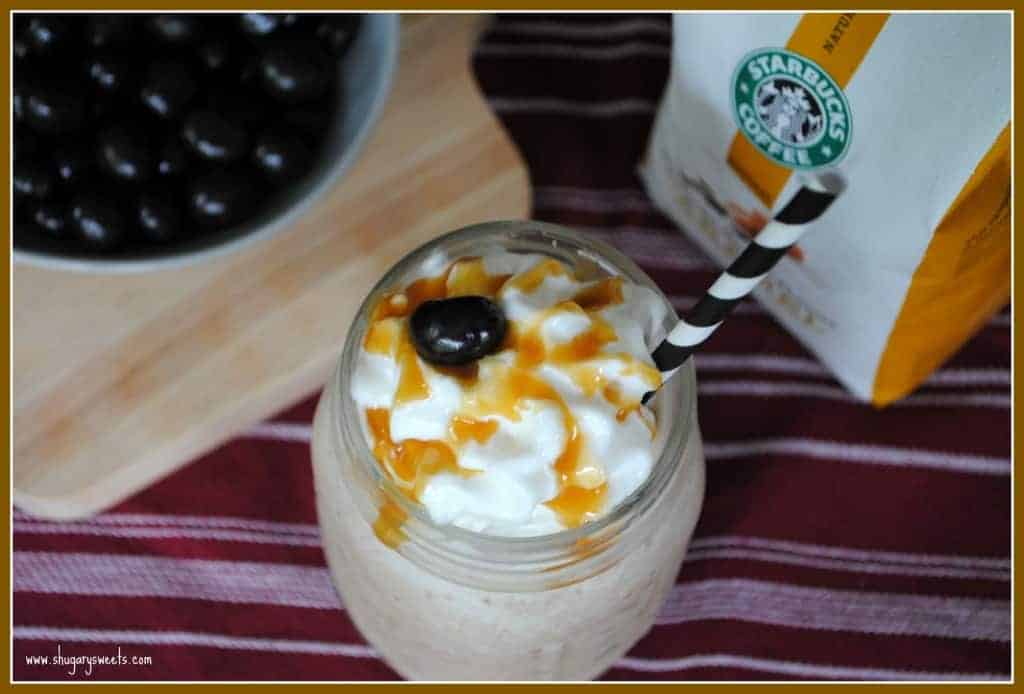 Check out some of my favorite bloggers Slow Cooker recipes too:
Balsamic Roast Beef Recipe from Robyn at Add a Pinch
Chicken Parmesan from Trish at Mom on TimeOut
Balsamic Honey Pork over Cornbread from Laurie at Simply Scratch