Balsamic Glazed Pork Tenderloins with Cherry Tomato Salad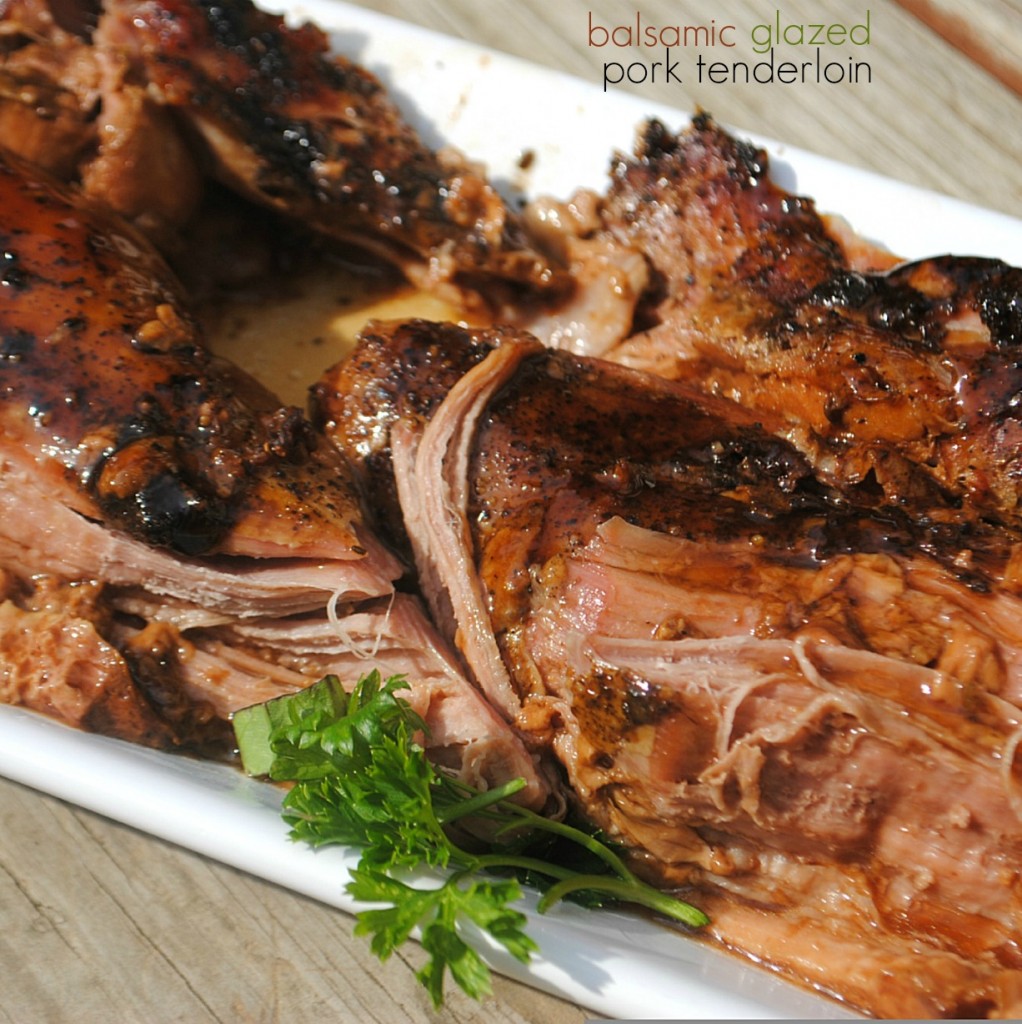 This is an awesome dinner. And, it cooks all day in the crockpot. So if you are like me and enjoy mealtime to be less stressful, but fulfilling; this is YOUR recipe. You're very welcome. I know I'm getting ahead of myself, but I know you will thank me.
This is my new "go-to" pork tenderloin recipe. Well, except for carnitas, because those don't count. I served this pork with a marinated cherry tomato salad. Which, again, you are welcome. I know you have a million cherry tomatoes and you can only eat so many while standing there watering your garden. And your kids are probably going back to school so the whole "you want a snack? go outside an eat some cherry tomatoes" days are over! I hear ya.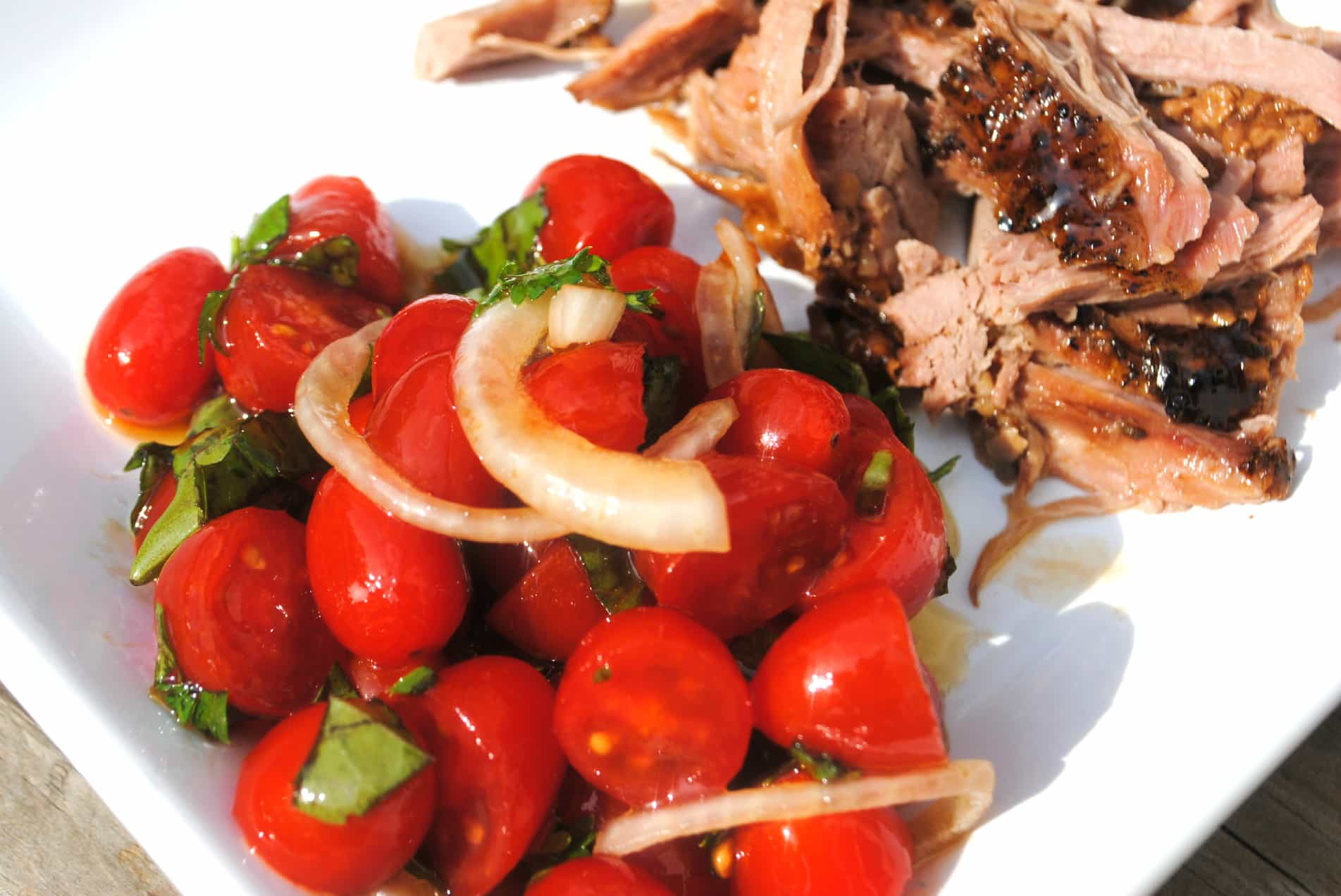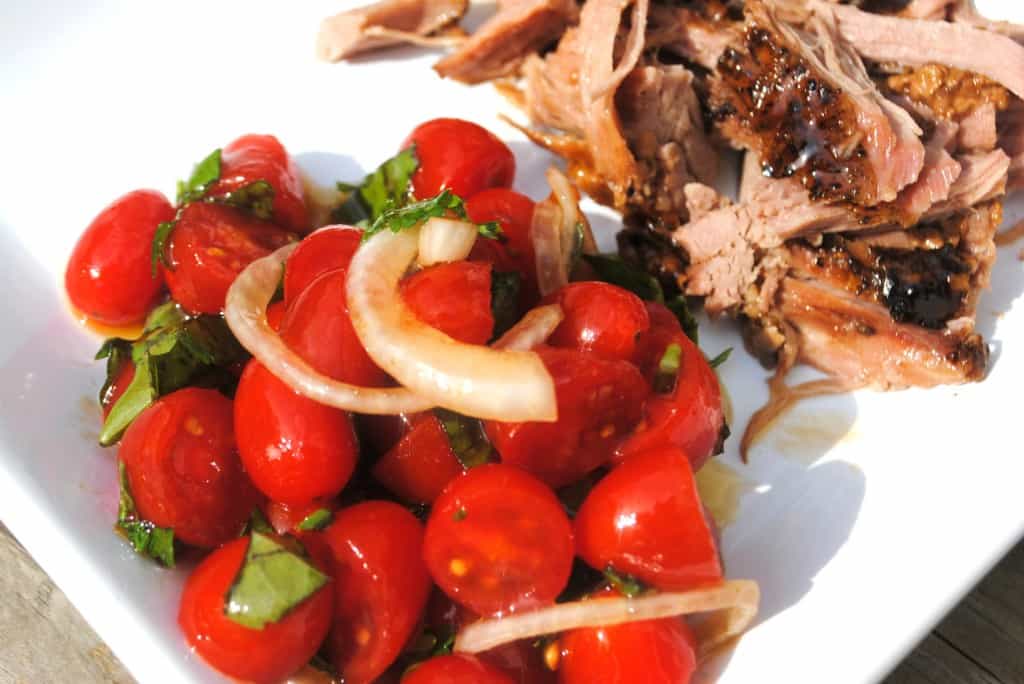 Please. Make this. Then thank me. Otherwise I seem all conceited and stuff saying you're welcome when nobody is thanking me.
Yep, enough said.
Balsamic Glaze Pork Tenderloins with Cherry Tomato Salad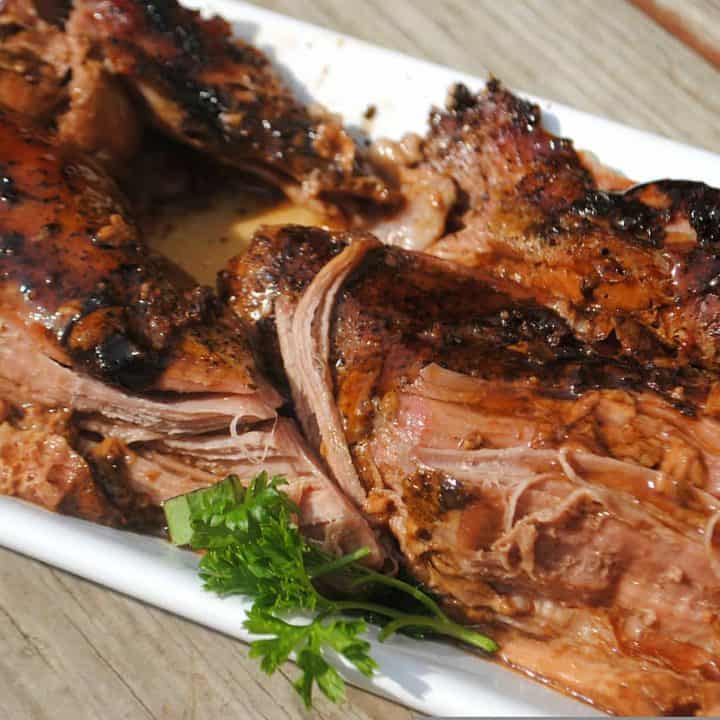 Ingredients
For the Pork:
2 pork tenderloins (about 3lbs total)
1/2 cup water
2 tsp ground sage
1 tsp salt
3 cloves garlic, pressed
1/2 tsp ground black pepper
For the glaze
1/2 cup water
1/2 cup brown sugar
1 Tbsp corn starch
1/4 cup balsamic vinegar
2 Tbsp soy sauce
For the cherry tomato salad:
2 pints cherry tomatoes, halved
1/2 red onion, sliced in strips
2 Tbsp fresh parsley, chopped
1/4 cup fresh basil, chopped
Instructions
In a large crockpot, lay tenderloins on bottom. Rub sage, salt and pepper on top. Pour 1/2 cup water in bottom of pot and add the pressed garlic. Cover and cook on low for about 6 hours.
In small microwave safe bowl, mix 1/2 cup water with brown sugar, cornstarch, balsamic vinegar and soy sauce. Heat for 1 minute, whisk and heat an additional minute. Mixture should be thickened. Pour half of mixture over pork tenderloins and continue cooking an additional hour (or two).
With remaining glaze, you can keep it until ready to serve then pour warmed glaze over tenderloins, shred and enjoy. Or, reserve about 1/4 cup of glaze to use in the Cherry Tomato Salad (see below), and brush remaining on tenderloins before serving.
**NOTE** If using glaze from crockpot pork tenderloin recipe, whisk olive oil into prepared glaze, pour over veggies and herbs. Refrigerate for 15 minutes or more until ready to eat!
For the salad, in a microwave safe bowl, pour 1/4 cup of glaze over sliced veggies and herbs (use only as much as your family enjoys; mine prefers to not use all that the recipe calls for). Refrigerate for 15 minutes or more until ready to eat!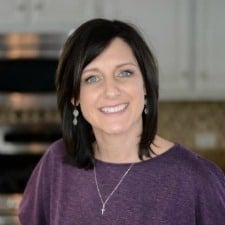 Aimee is a dessert lover (specifically rice krispie treats), workout enthusiast, self-taught foodie, and recipe creator. Her recipes have been featured in over 15 magazines, and her passion is to share her love of cooking with the everyday home cook! Learn more about Aimee.