Make a delicious meal of Sausage and Peppers in minutes using the Instant Pot! Cooked with tomatoes and Italian herbs, this Instant Pot sausage is perfect for eating on hearty rolls.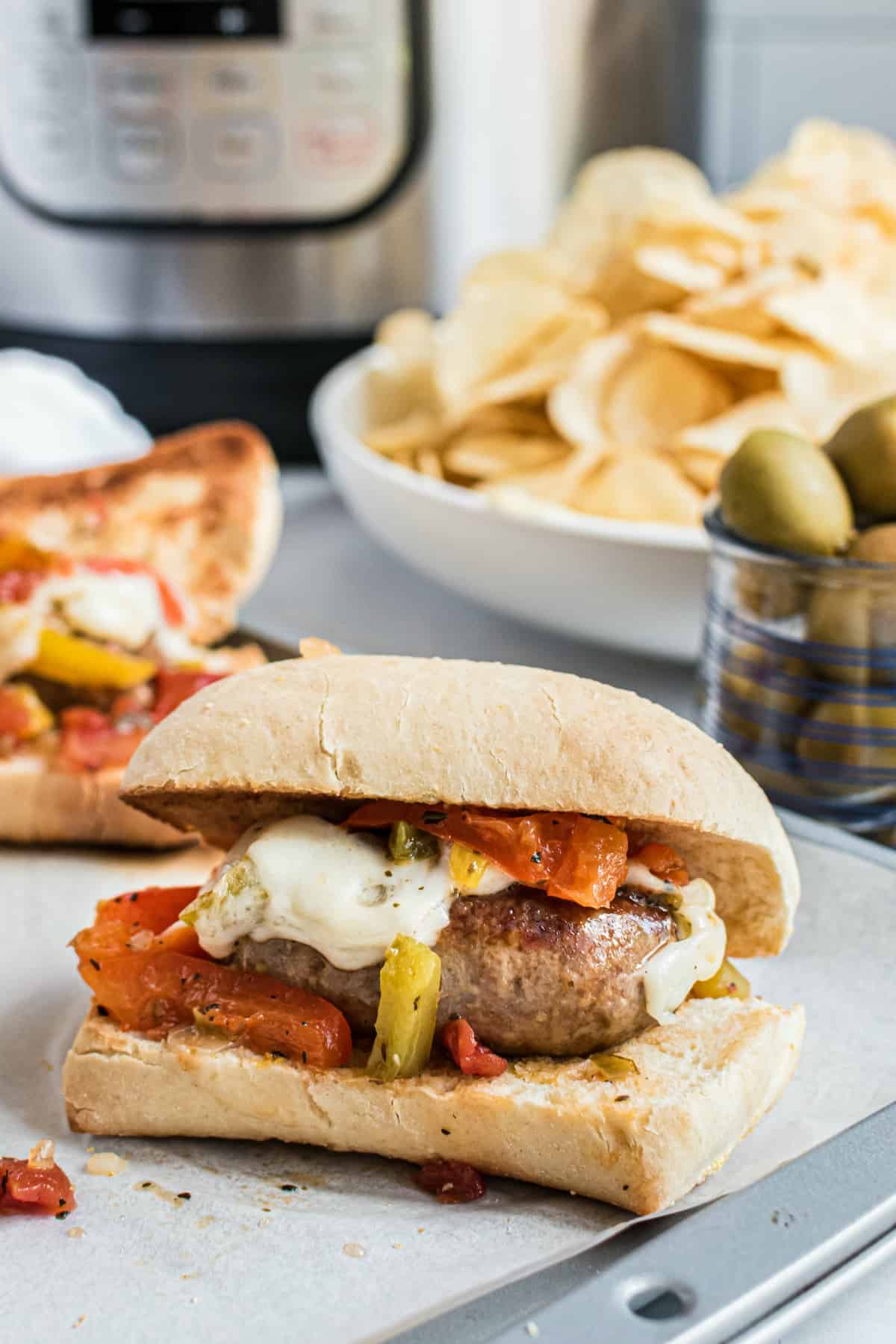 Italian Sausage
Do you have any ingredients that you absolutely depend upon? Those meal time staples that you fall back on when you have no idea what to make?
That's Italian Sausage for me! I try to keep Italian Sausage in the fridge at all times. And this Instant Pot Sausage recipe is a good reason why.
From the stove top to the oven to the crock pot, Italian Sausage tastes good no matter what method you use to prepare it.
From Sausage Gravy ladled over biscuits at breakfast to Cheesy Stuffed Pasta Shells for dinner, sausage is one of the most versatile proteins!
Another reason to love Italian Sausage? It's already seasoned.
When I don't have the time or energy to mess with my spice cabinet, I know my meal is going to be full of flavor when it starts with Italian Sausage.
This recipe for Instant Pot Sausage and Peppers is hit in my house and I have no doubt your family is going to love it too.
Kids love this hearty meal as much as the adults and there are so many ways you can serve it to make everybody happy.
Tender pieces of sausage pressure cooked with fragrant peppers and tomatoes are even better when you put them on a toasted hoagie roll and top the whole thing with Provolone!
Try it in the Slow Cooker too! Slow Cooker Sausage and Peppers
Ingredient Notes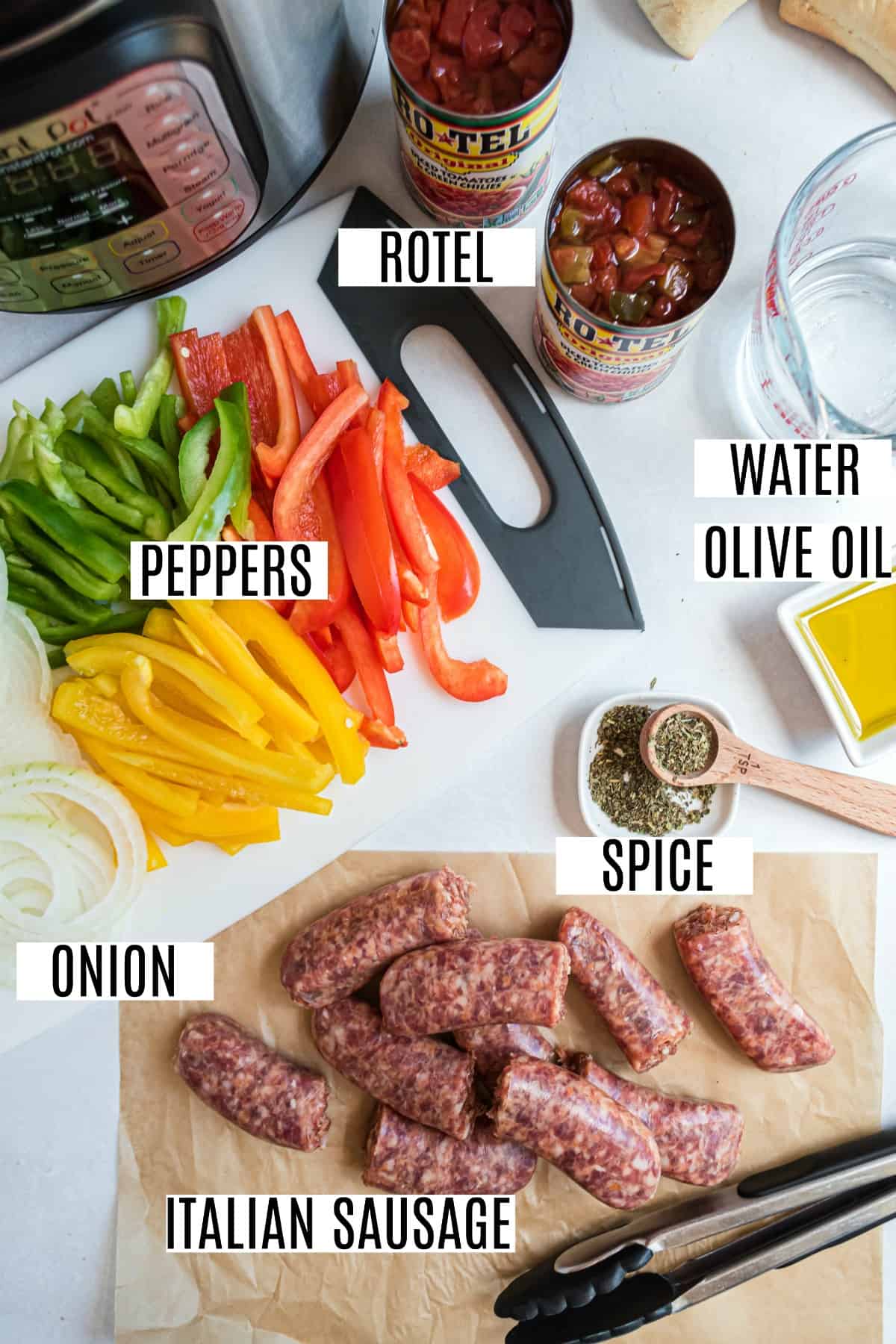 Italian Sausage– mild is my preference, as you'll get enough "heat" from the tomatoes
Peppers– a trio of colors!
Rotel Tomatoes– adds the perfect amount of "heat." Want less spicy, swap out one or both cans with plain canned diced tomatoes.
Step by Step Instructions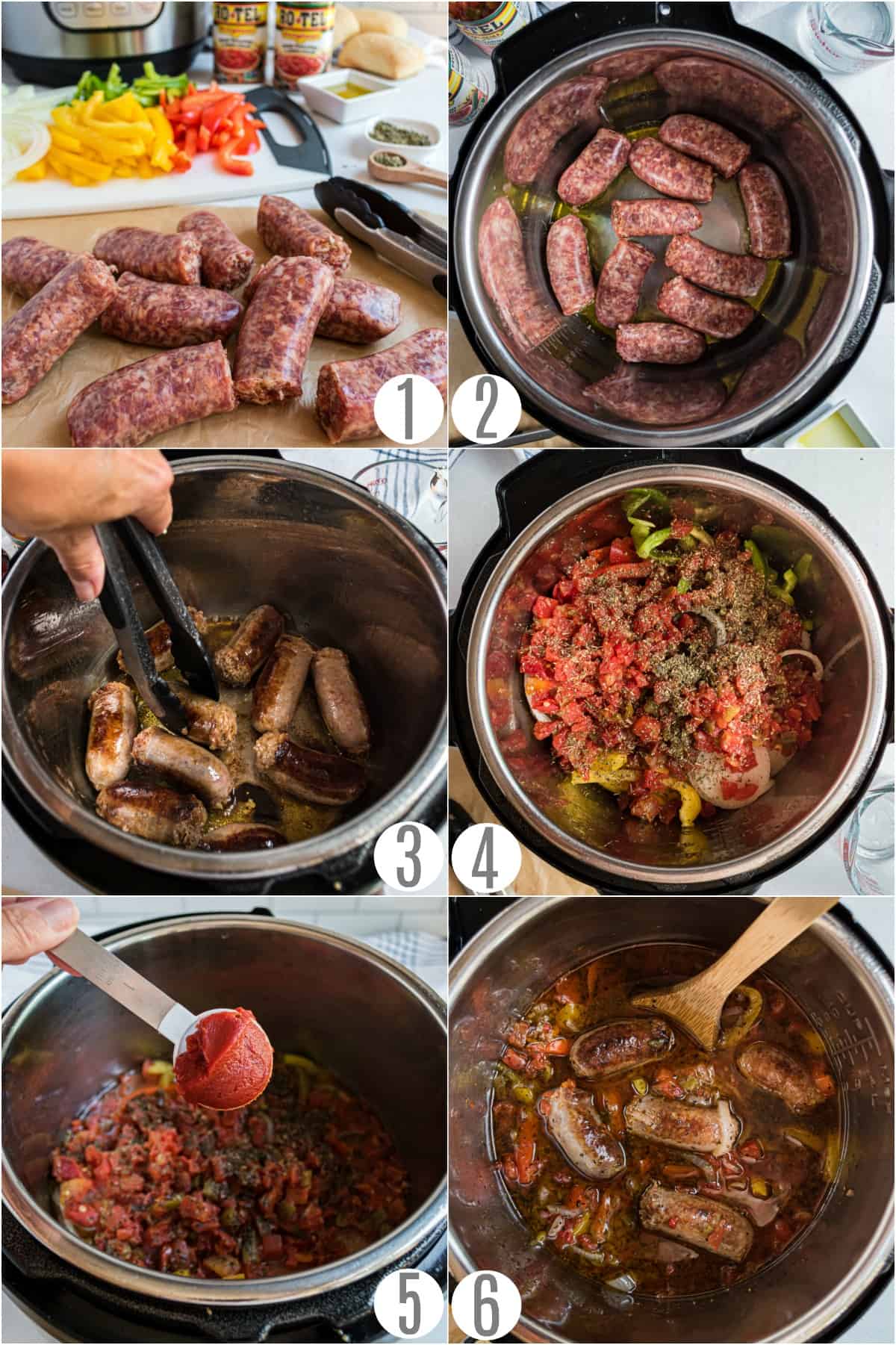 Start with Italian sausage links. I used mild sausage this time, cut in half and browned in the Instant Pot (set to SAUTE).
Next, add water to deglaze the pan. Use a wooden spoon to scrape off any bits of meat stuck to the bottom and sides of the pan.
Don't skip the de-glazing step! It'll take a couple of minutes to get it deglazed but it's important to prevent the burn notice.
Now, add sliced bell peppers and onions to the pot along with a can of Ro-tel tomatoes and two big spoonfuls of Italian Seasoning.
I used a combination of green, red and yellow bell peppers. So colorful!
Don't stir. Put the lid on, seal the valve and set the pot to HIGH PRESSURE for 7 minutes.
When the cooking time for the sausage and peppers ends, let the pot naturally release for 10 minutes.
After the 10 minutes of natural pressure release, switch the valve to venting and do a quick release of the remaining pressure. Open the lid, give everything a nice stir and serve.
Enjoy this meal as is or thicken the sauce if you prefer.
To make the sauce thicker:
Remove the sausage after releasing the pressure.
Set the pan to saute and add a few tablespoons of tomato paste to the pot. Stir over heat until the sauce begins to thicken. Add the sausage links back to the pot, then serve.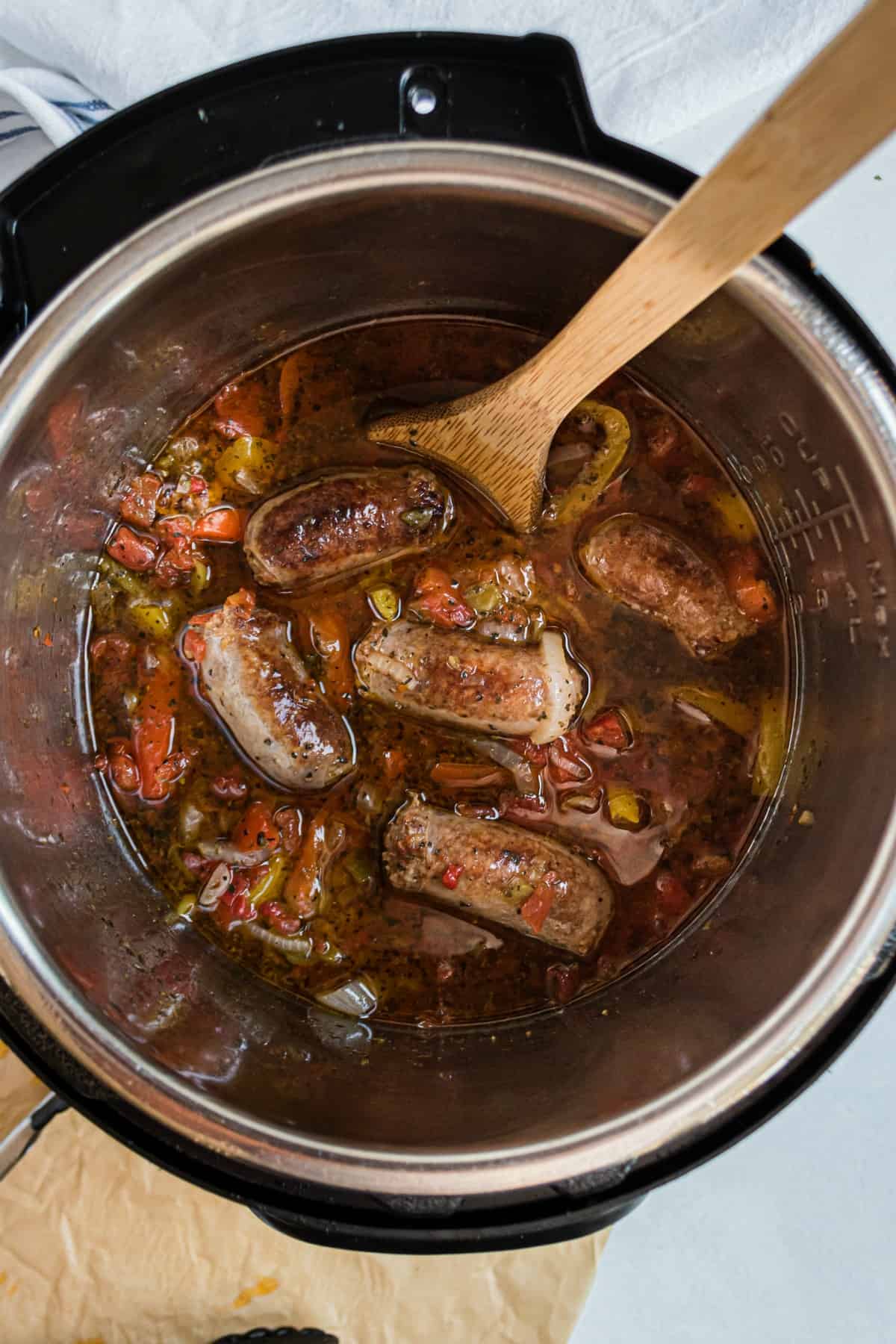 Serving suggestions
There's nothing quite so scrumptious as a toasted roll covered in tender sausage and rich tomato sauce.
Here's how I like to serve Instant Pot Sausage and Peppers for lunch or dinner:
Slice hoagies or french rolls in half. Fill with the sausage mixture. Top each roll with a slice of Provolone cheese and then broil until the cheese is melted and bubbly.
You won't be able to resist that gooey cheesy goodness!
Serve it up with a bowl of chips, homemade potato salad, or macaroni salad.
Variations
Did I mention yet how wonderfully adaptable this recipe is? By making a few ingredient swaps, you can adjust the heat levels, texture and consistency to suit your family's tastes.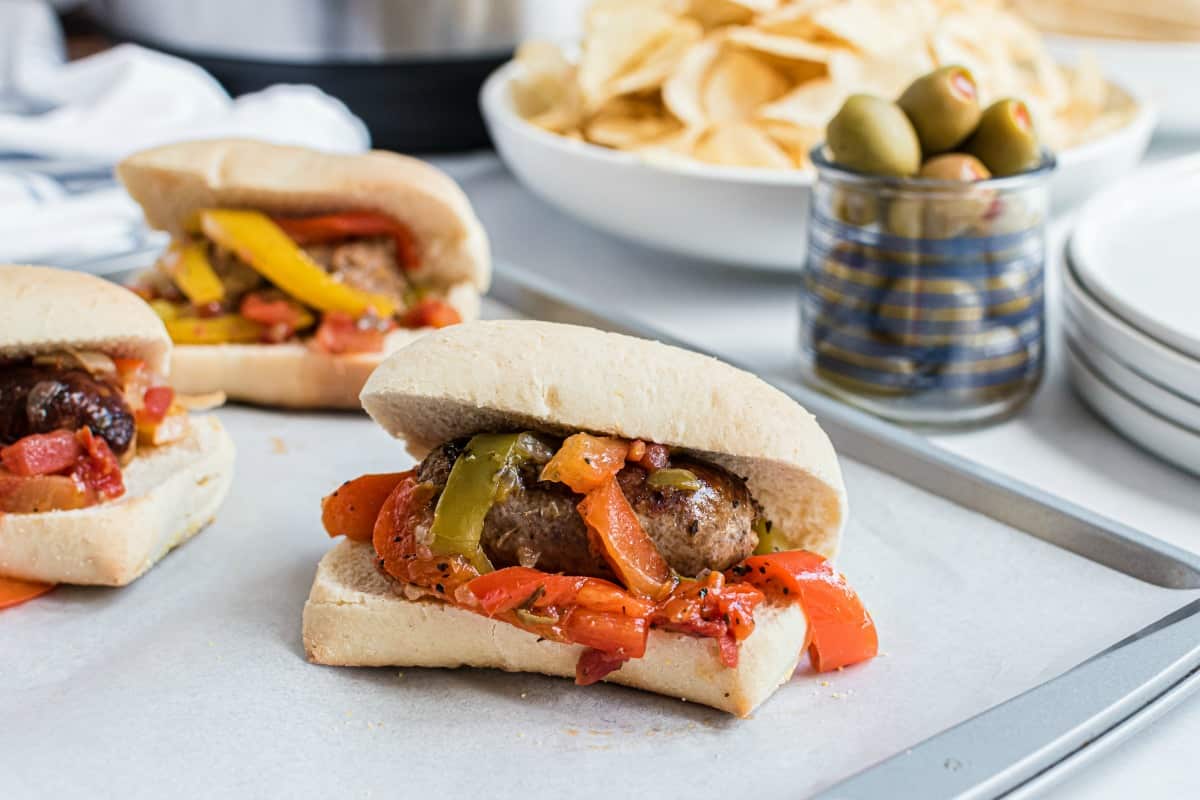 Consider these swaps:
Spicier: Not hot enough for you? Use HOT Italian sausage instead of the mild links. You could also use the hot variety of Ro-tel tomatoes instead of the original.
Less spicy: Need a little less heat? Substitute two cans of regular canned tomatoes for the Ro-tel.
Saucier: Replace one of the cans of Rotel with a can of tomato sauce. It'll be extra thick and saucy. This version would be great on pasta, too.
Low sodium: Reduce the sodium in your meal by using the NO SALT cans of Ro-tel.
Cheese topping: If you don't have provolone, another thinly sliced cheese variety would work too. This sausage dinner also tastes good without any cheese at all!
Recipe FAQs
Can I use bulk Italian Sausage with no casings?
Yes! Brown it in the Instant Pot using the SAUTE function. Then resume cooking as directed.
How to use leftover Sausage and Peppers
Not only are these great reheated, but serve them over pasta or in a quesadilla with cheese!
Why did I get a burn notice?
There's a good chance you have a piece of food stuck to the pot. Make sure you deglaze the pan as directed COMPLETELY before pressure cooking.
Storage Tips
Leftovers of Instant Pot Sausage and Peppers taste great the next day, too. Store in an airtight container in the fridge and they will keep well for about 3 days.
We enjoyed our leftover sausage warmed up on french rolls for lunch the next day. Add some cheese on top and you have one tasty (and fast) lunch.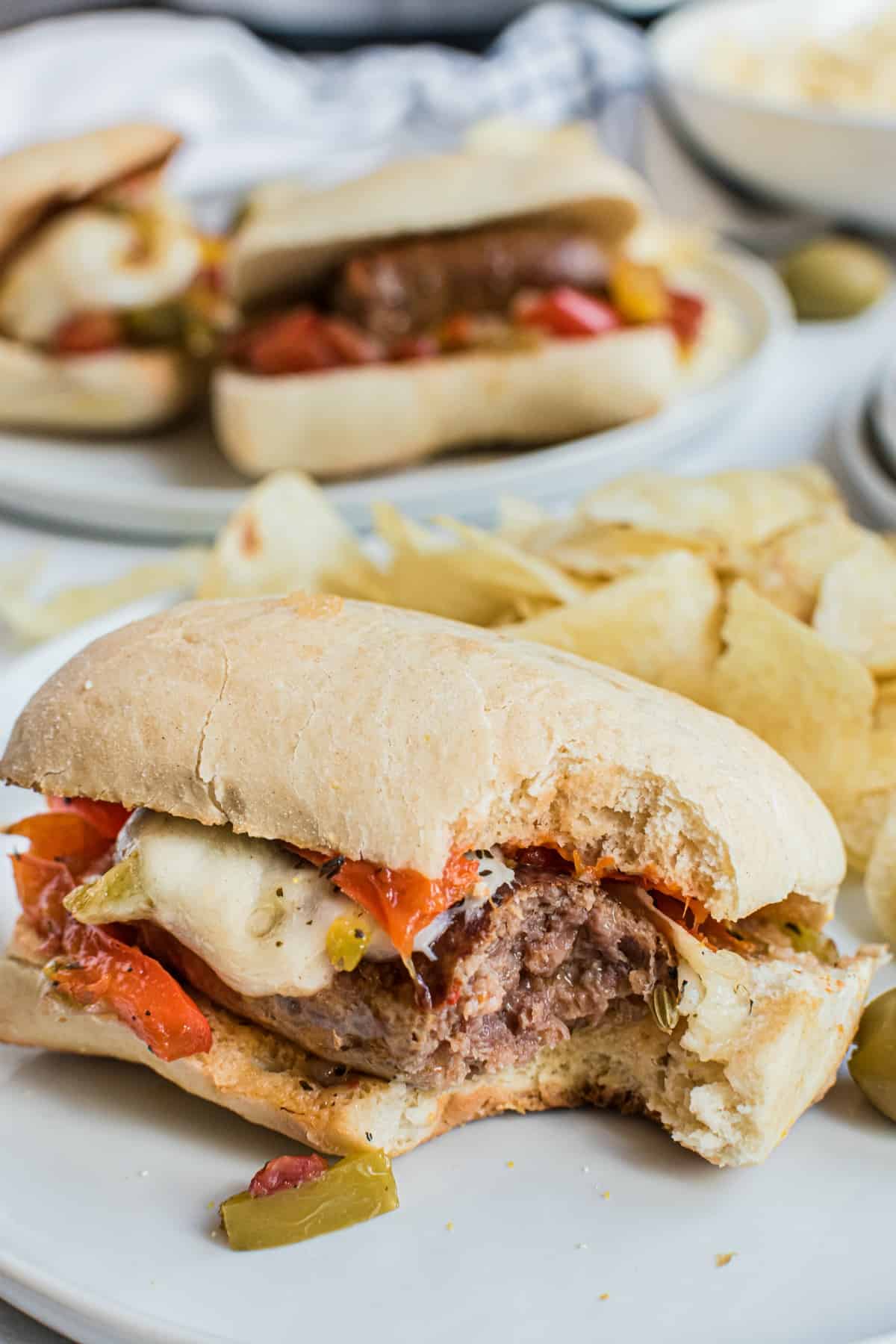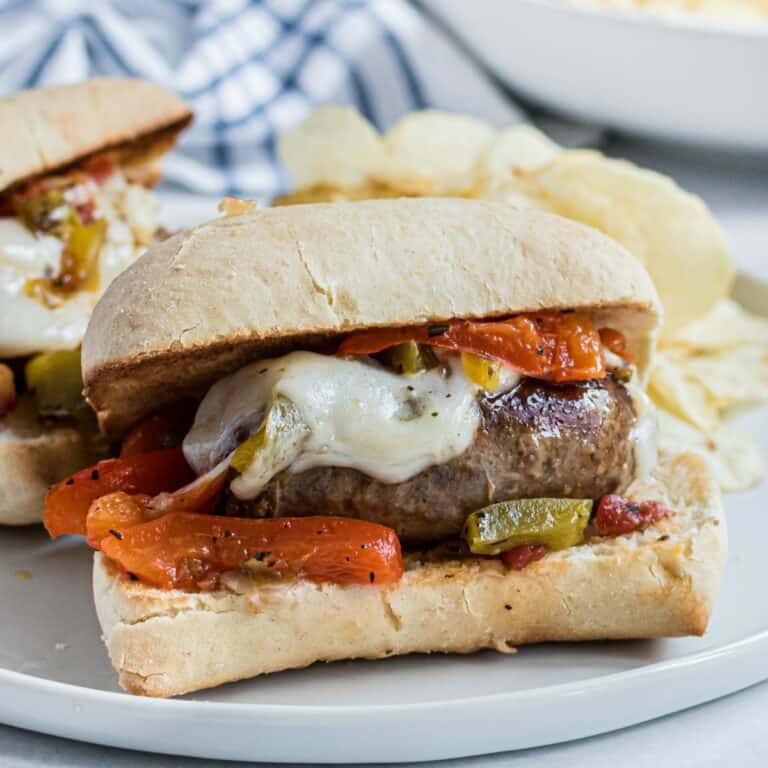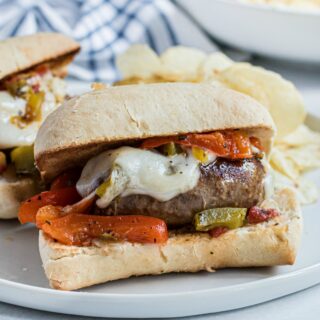 Instant Pot Sausage and Peppers
Make a delicious meal of Sausage and Peppers in minutes using the Instant Pot! Cooked with tomatoes and Italian herbs, this Instant Pot sausage is perfect for eating on hearty rolls.
Ingredients
2

Tablespoons

Olive Oil

5

Mild Italian Sausage links

about 1 1/4 lb

¾

cup

water

1

red bell pepper

seeded and sliced

1

green bell pepper

seeded and sliced

1

yellow bell pepper

seeded and sliced

1

yellow onion

sliced

2

cans

Rotel Tomatoes

10 oz each

2

teaspoons

Italian Seasoning
Instructions
Turn Instant Pot on "SAUTE." Allow to get hot then add olive oil to pot. Slice sausage links in half and add them to hot oil.

Cook for about 2 minutes per side, for up to 6 minutes.

Turn Instant Pot off, add in water. Using a wooden spoon, scrape up the bits of meat stuck to the bottom of the pot, this is called deglazing. See note below.

Add sliced peppers, sliced onion, Rotel tomatoes and italian seasoning to pot, do NOT stir.

Secure the lid and make sure the valve on top is set to "SEALING". Select "HIGH PRESSURE" for a cook time of 7 minutes.

When cook time ends, allow pot to naturally release pressure (don't touch anything) for 10 minutes. After the ten minute natural release, move the valve on top to "VENTING" and do a quick release of the pressure.

Open the lid and give everything a stir.

You can choose to serve as is on hoagies or french rolls with provolone cheese, or thicken the sauce. To do this, remove the sausage links and turn pot on SAUTE and add several tablespoons of tomato paste. Cook until thickened, about 5 minutes. Return the sausage to the pot and serve.
Notes
When deglazing the pot, make sure as you run the spoon along the bottom there are no particles stuck to the pot, or you could get the burn notice. Deglazing the pot will take a minute or two!
To make this "saucier" swap out a can of Rotel tomatoes with a can of tomato sauce instead.
Want it less spicy? Use two cans of plain diced tomatoes instead of Rotel.
Want it MORE spicy? Use hot Italian Sausage instead of mild. Or use the hot Rotel tomatoes instead of original.
Want it cheesy? Fill french rolls with sausage and peppers, top with slices of provolone cheese and stick under the broiler until cheese is melted.
Cut down on the sodium by using NO SALT Rotel tomatoes.
Recipe tested in 6qt Instant Pot.
Nutrition
Calories:
399
kcal
,
Carbohydrates:
12
g
,
Protein:
19
g
,
Fat:
31
g
,
Saturated Fat:
10
g
,
Polyunsaturated Fat:
23
g
,
Cholesterol:
54
mg
,
Sodium:
707
mg
,
Fiber:
2
g
,
Sugar:
5
g
Have you ever made Italian Sausage and Peppers in the Instant Pot? Save this recipe for the next time you need an easy, satisfying dinner with pantry friendly ingredients!