Marinated steak that's grilled to perfection and served on tortillas, Carne Asada is a Mexican classic. This Carne Asada can be made at home right on the grill or stove top!
If you love mexican for dinner, be sure to try our Instant Pot Carnitas next. Or whip up some barbacoa with all the toppings!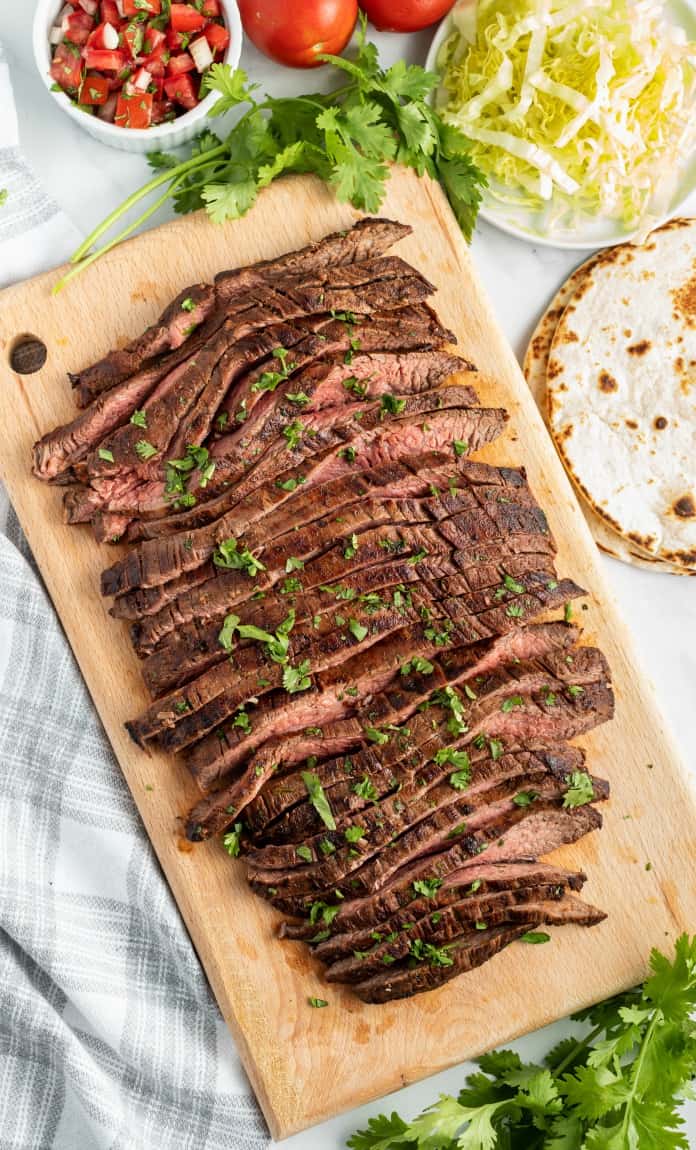 What is Carne Asada?
This Mexican dish consists of steak marinated in a spicy lime sauce before being grilled and sliced into thin strips.
The name carne asada literally translated to "grilled meat." I love that–right to the point!
Traditionally this meat is seasoned and cooked over a charcoal pit. I made mine on my home grill on a nice spring day and it was just as delicious. If you don't have a grill, you can even make the meat right on your stove top in a heavy skillet.
Good carne asada is juicy, sliced thin and usually flavored with a zesty lime marinade.
Carne Asada is most often served either on corn tortillas or flour tortillas with fresh taco fixings like finely chopped cilantro, onion, lime wedges and pico de gallo.
It's also wonderful tossed into salads, served over cilantro lime rice, stuffed into burritos or any other way you enjoy delicious, flavorful beef!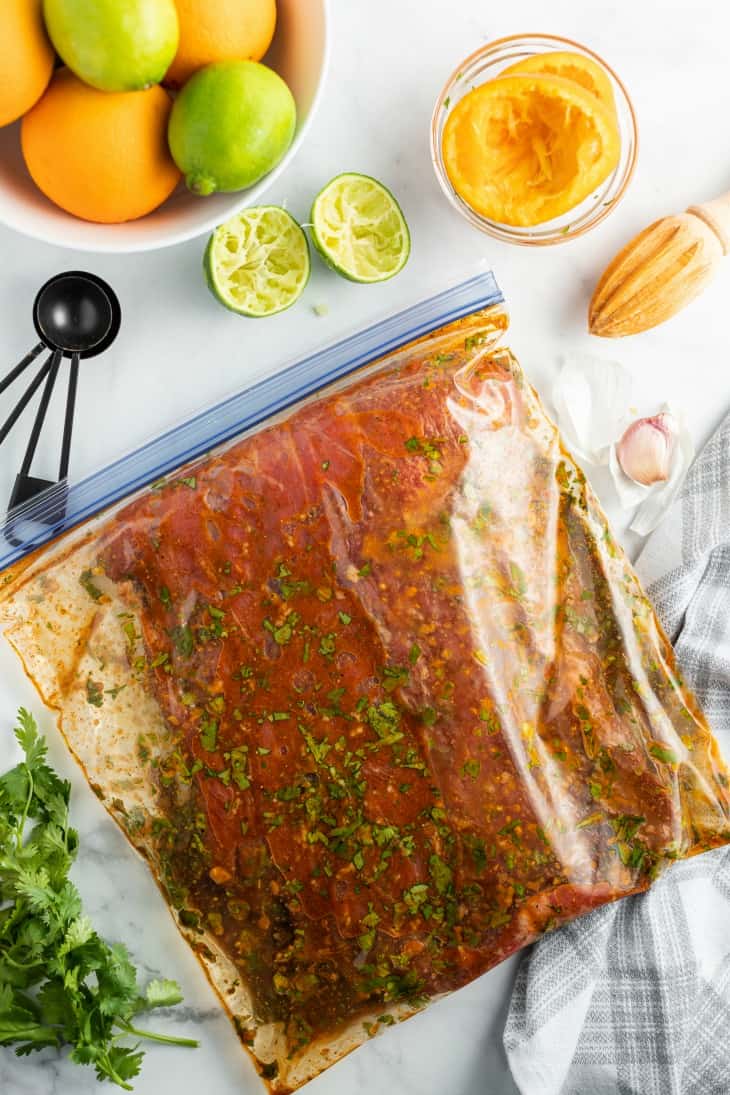 The Key is the Marinade
There are some carne asada recipes out there with no marinade at all. You just season the steak with some salt, grill, slice and eat. I'm sure those taste just fine. . .me? I love carne asada marinade.
The citrus marinade turns an ordinary piece of steak into something remarkable! It adds a ton of flavor and tenderness to the meat without any hard-to-find-ingredients.
The marinade I use has lime and garlic, but I also like to include orange juice and orange zest. It's still heavy on the lime flavor but the orange adds a touch of sweetness.
This marinade is also delicious on pork tenderloin, pork chops, and roasted chicken!
Here's everything I put in the marinade:
Olive oil
Lime juice and zest
Orange juice and zest– use our guide on how to zest a lemon for best tips and tricks.
Cumin
Salt
Pepper
Chili powder
Garlic, minced
Cilantro, finely chopped
Worcestershire sauce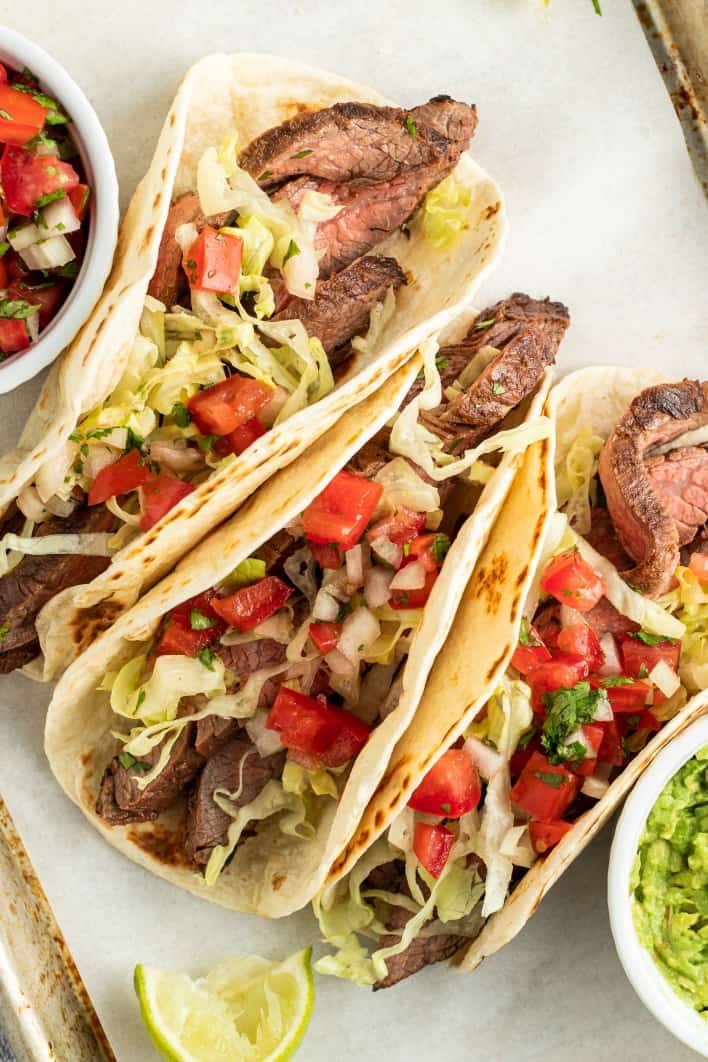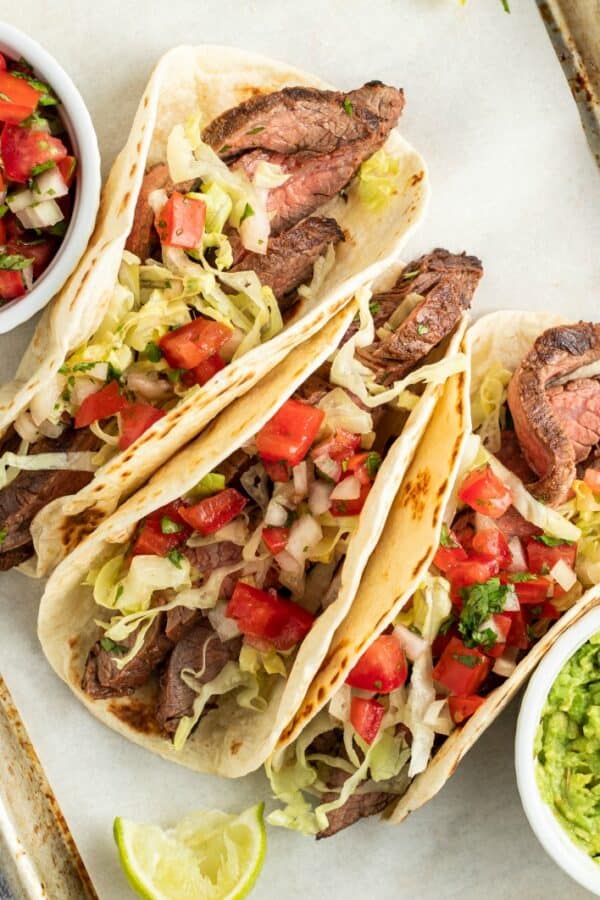 What kind of meat to use for Carne Asada
I used flank steak in my Carne Asada recipe but skirt steak works beautifully, too. Both are inexpensive cuts of meat that still have a good amount of flavor.
One of the things I like about this dish: You don't need the most tender cut of meat ever to make a good carne asada!
Of course, if you'd like to use sirloin or another kind of steak here, go for it. For the sake of tradition (and my bank account), I personally like the flank steak!
Why this recipe is the BEST
Serving homemade Carne Asada to your family or dinner guests is guaranteed to impress. BUT it's one of those "Wow!" recipes that also happens to be easy to make.
If you can combine a few ingredients in a bag and grill a steak, you can make delicious Carne Asada!
The most time consuming part of making Carne Asada is allowing the meat to marinate. I tried this a couple of times letting the meat marinate for different lengths.
The steak tasted best after it had at least 3 hours to soak up all the zesty spicy marinade! You can leave it in the marinade for up to 24 hours, so don't be afraid to prep this the night before!
The second time I made the Carne Asada, I popped the steak into the Carne Asada marinade right after breakfast. By dinner time, it was ready to grill. Less than 30 minutes later, we were digging into our tacos!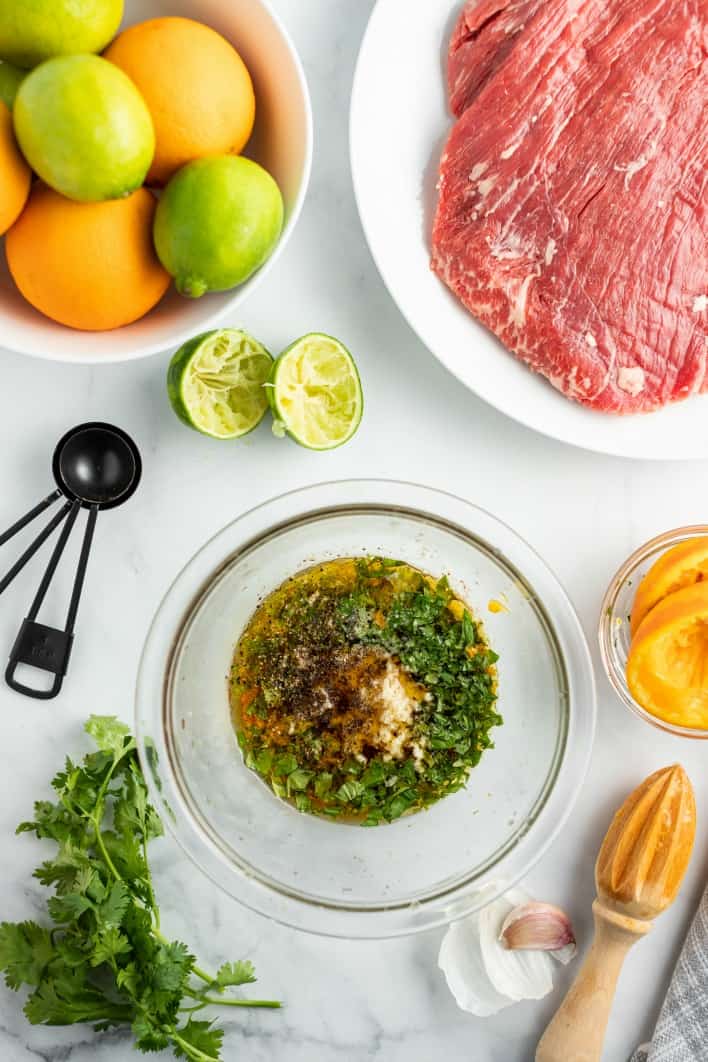 How to Make Carne Asada
STEP 1. Combine all the ingredients for the marinade in a large ziploc bag. Add the steak and shake to coat. Refrigerate for at least 3 hours or as many as 24.
STEP 2. Discard the marinade and grill the steak on a grill heated to medium high. Cook to desired done-ness on the first side, then flip and cook the other side. (This took about 5 – 7 minutes per side for medium rare steak.)
STEP 3. Allow the meat to rest for about 10 minutes. Then slice into strips against the grain and serve hot!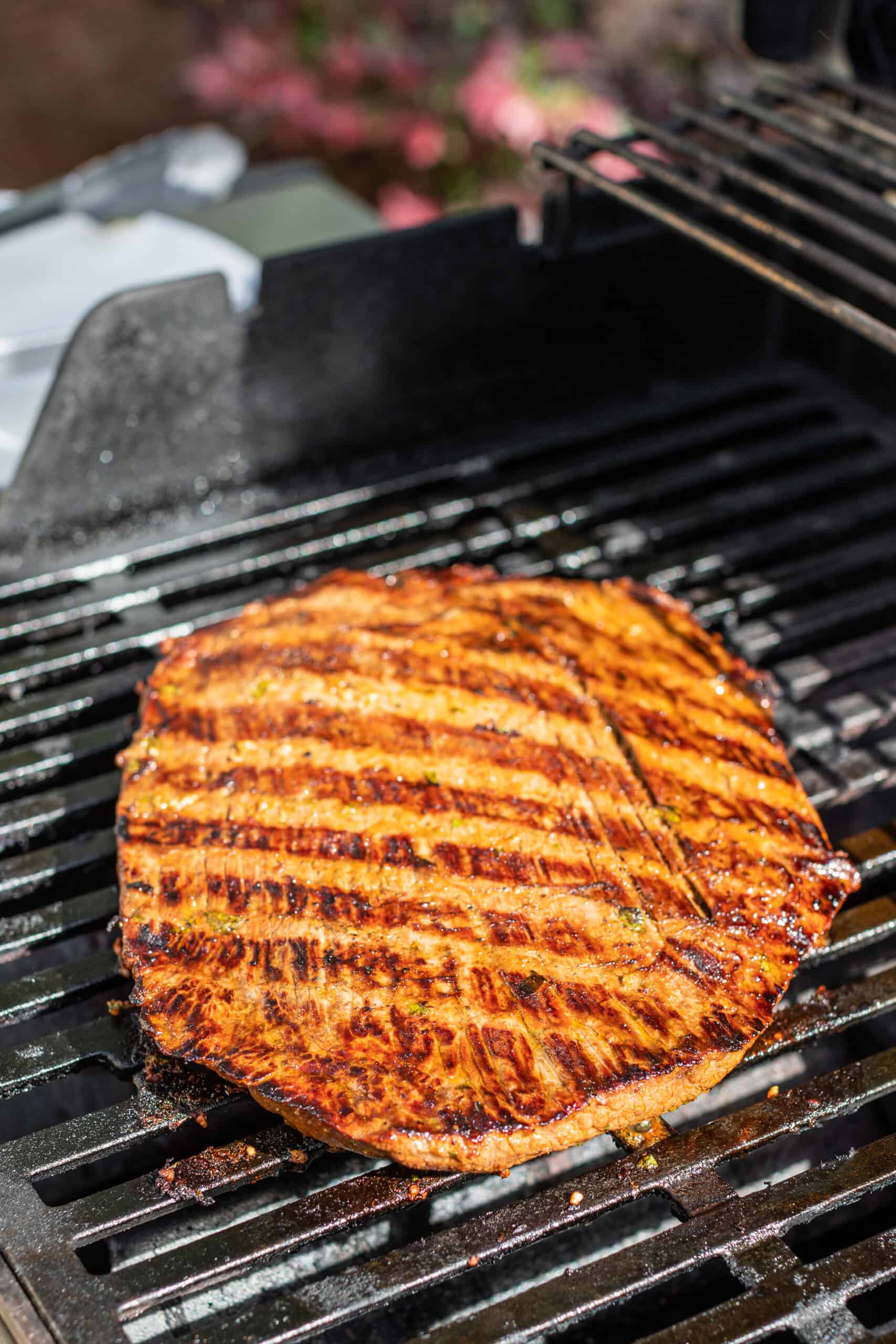 What to serve with Carne Asada
Serve this meat alongside a stack of fresh warmed tortillas. We love it with corn tortillas but it tastes great in a flour tortilla, too.
Any of your favorite taco toppings are delicious served with this meat.
Set up a make-your-own-taco-bar so everyone can make their own perfect dish.
Shredded cheese
cilantro
diced tomatoes
Have leftover meat? Do what I did and save it for your lunch salad the next day.
Strips of carne asada taste amazing cold or warm served over greens with your favorite salad dressing!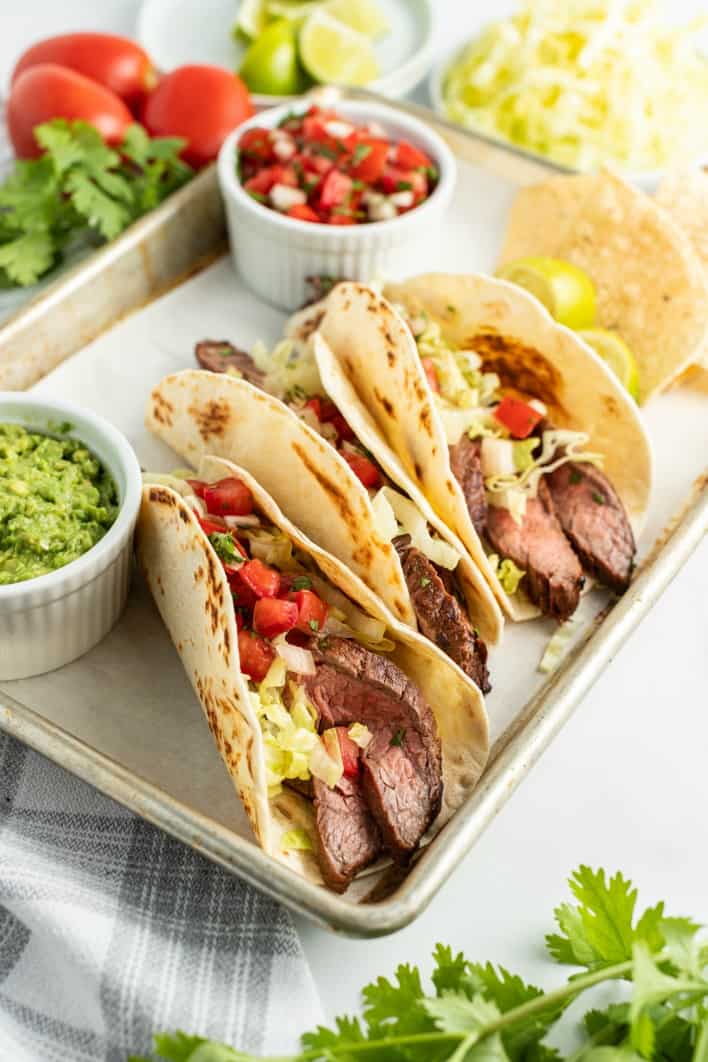 Tips and Tricks for Carne Asada
Flank steak and skirt steak can get tough and chewy if overcooked. Cook your meat to medium-rare to avoid this blunder!
No grill? You can make carne asada on the stove top! Preheat a skillet over medium high heat and cook to your desired doneness.
If you don't like cilantro, feel free to leave it out of the marinade!
While I like the convenience of marinating the steak in a ziploc bag, you can also use a bowl. Just make sure the meat is fully immersed in the marinade and that you cover the bowl before refrigerating.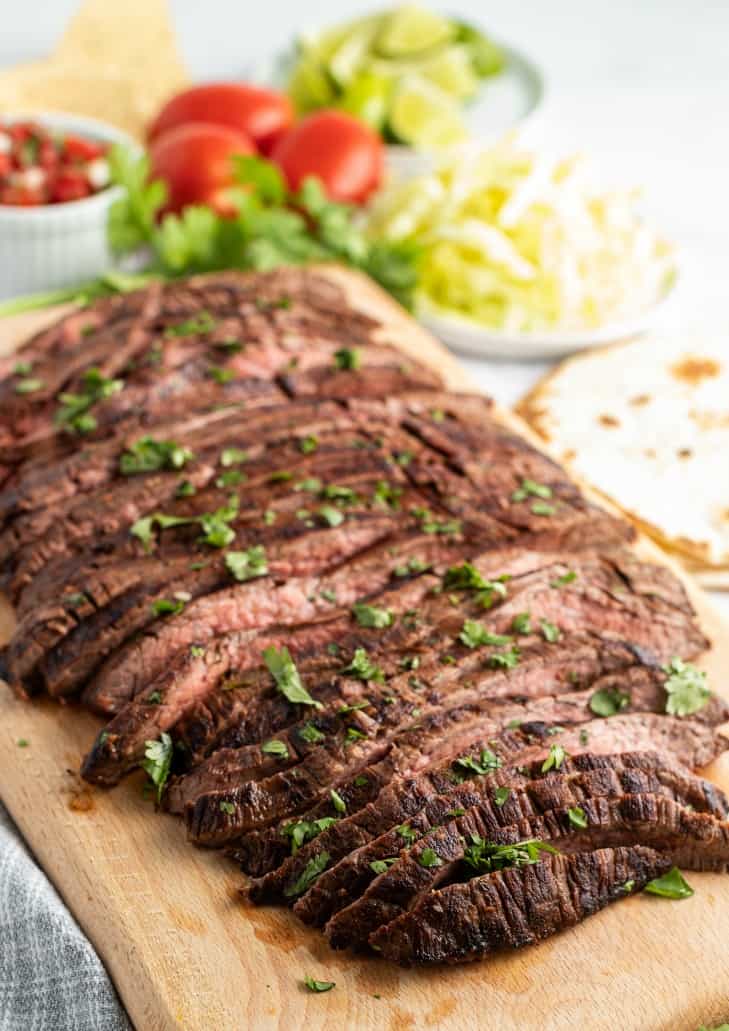 Make this easy Carne Asada recipe to spice up your next taco night!