Tender chicken with garlic herb flavor is a dinner easy enough for a weeknight but delicious enough to serve to company. Roasted Chicken pairs well with just about any side dish you can imagine–and the leftovers are awesome, too!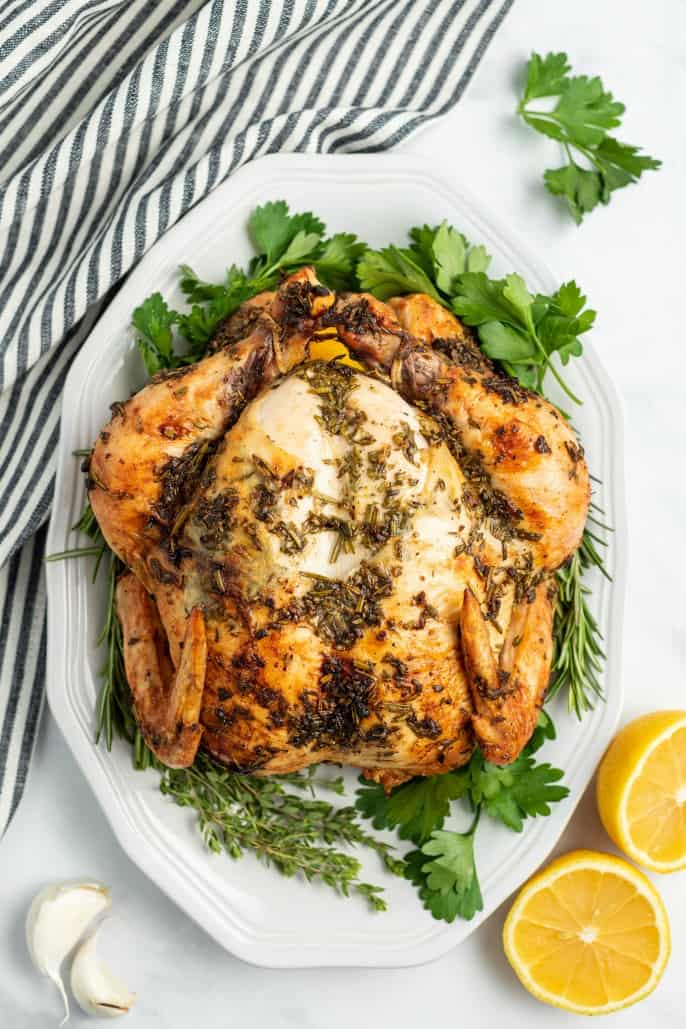 Why this recipe works
You can never go wrong with a good roasted chicken.
It's a gorgeous centerpiece for your Sunday dinner and the meat is just perfect for tossing into chicken salads, sandwiches and soups the next day.
When chicken is roasted correctly, it's to die for; but we've all had chicken that's come out of the oven dry, tough and flavorless.
This Garlic Herb Roasted Chicken is the polar opposite.
Brushed with butter and lemon, then sprinkled with all the best fresh herbs, this juicy chicken is bursting with flavor.
Adding a half of a lemon to the cavity of the chicken is one of my secrets for adding even more goodness to the meat.
As the chicken cooks in the oven, the juices from the lemon saturate the chicken with a hint of citrus flavor to compliment the aromatic herbs and garlic.
The other secret? Butter, of course. Brushing your bird with plenty of butter gives it an unbeatable taste and beautiful golden brown color.
As impressive as roasted chicken is, it's actually pretty easy to prepare.
This recipe uses only a few simple and fresh ingredients and while it takes more than an hour to cook, most of that time is hands off.
While the chicken is roasting, you'll have time to prepare your sides or check other tasks off your to-do list!
Ingredient Notes
To make this recipe, you start with a whole chicken. Ask for a fresh 4 to 5 pound bird at the butcher counter at your grocery store (as a bonus, they can also remove the innards for you).
Carve the chicken right at the table to impress your guests! Every part of this chicken is tender and full of great garlic taste, from the breast to the legs.
Along with your whole roasting chicken, you'll need these ingredients to make a perfect herb roast chicken:
Butter
Rosemary, Thyme and Parsley (fresh)
Whole clove of garlic
Lemon
Salt and pepper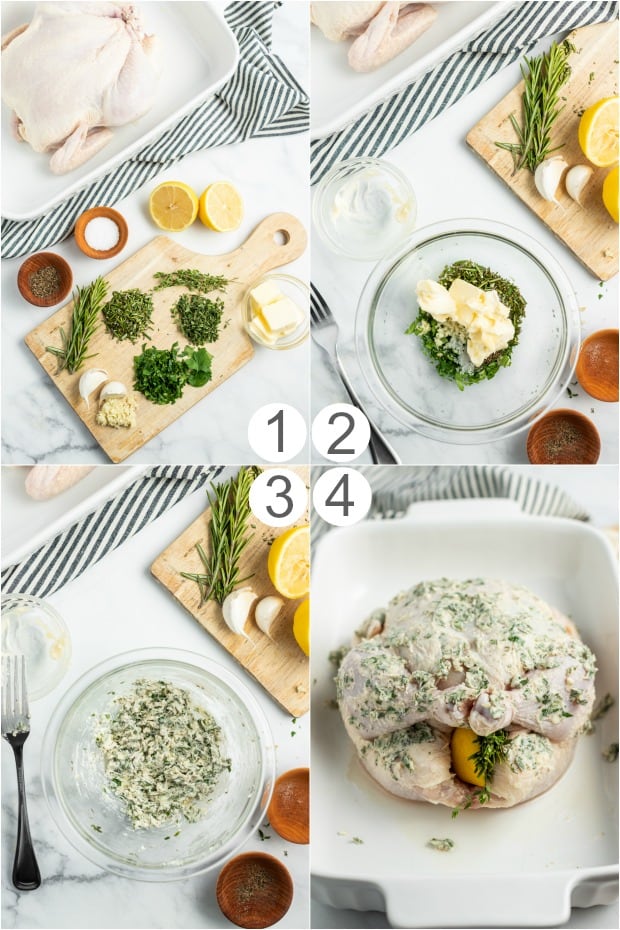 Step by Step Instructions
STEP 1. Let the butter soften to room temperature and pat the chicken dry with a paper towel. Mince the garlic and cut the lemon in half.
STEP 2. Combine the butter with the herbs, salt and pepper, garlic in a small bowl, along with the juice from one half of the lemon.
STEP 3. Place the other half of the lemon (along with any remaining fresh herbs) in the cavity of the chicken.
STEP 4. Cook the chicken in the oven at 375 degrees, using the roasting guide below.
Roast Chicken Cooking Time
The amount of time your chicken needs in the oven depends on its weight. As a rule, it will need 20 to 25 minutes per pound.
Use a meat thermometer to check your chicken for doneness. When the meat has reached a temperature between 160 to 165 degrees, you can remove it from the oven.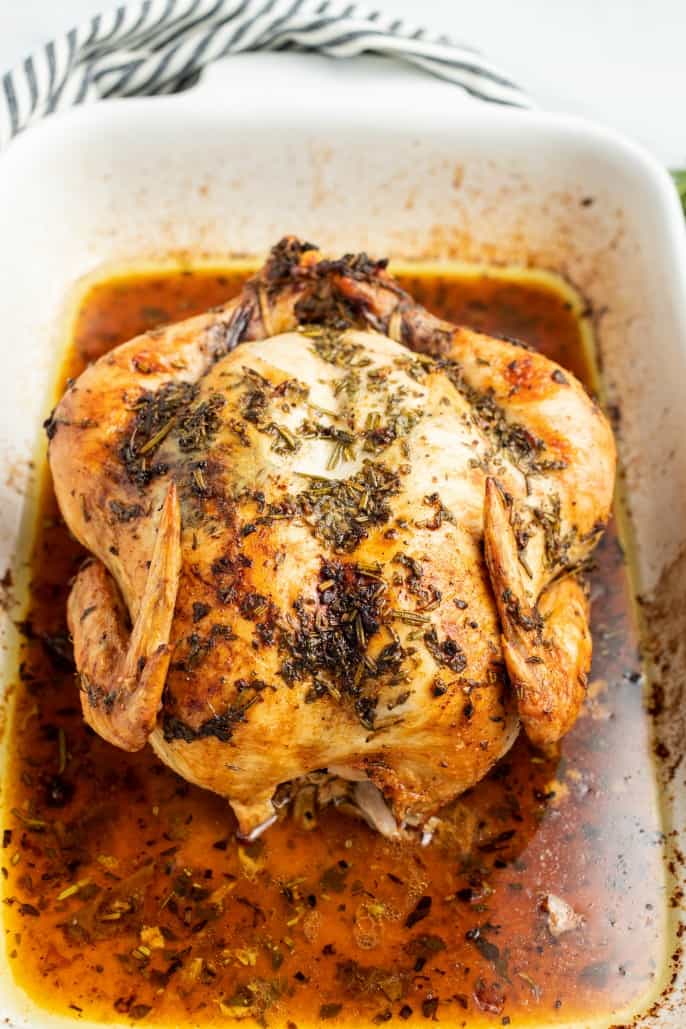 For a 4 lb chicken: Cook for 80 – 95 minutes
For a 5 lb chicken: Cook for 110 – 120 minutes.
To check if your chicken is done without a meat thermometer, make a small slice in the chicken between the skin and the breast. If the juices run completely clear, your chicken is done. The meat should be firm to the touch and completely white.
Let the chicken rest for at least 15 minutes before carving.
Serving Suggestions
Garlic Herb Butter Chicken goes well with so many of our favorite side dishes. I love it with these Instant Pot Mashed Potatoes and a simple side salad.
Whipping up a batch of au gratin potatoes is also a tasty side!
Bring leftovers to a picnic along with Potato Salad and Coleslaw!
Speaking of leftovers, you'll never regret having leftover roast chicken! Store the cooked meat in the fridge and it'll be on hand to use in so many delicious meals, including this Instant Pot crack chicken pasta recipe.
Try it in Chicken Lime Enchiladas, Chicken Taco Soup and Chicken Noodle Soup! This chicken is also delicious tossed in a salad or in a wrap for an easy lunch.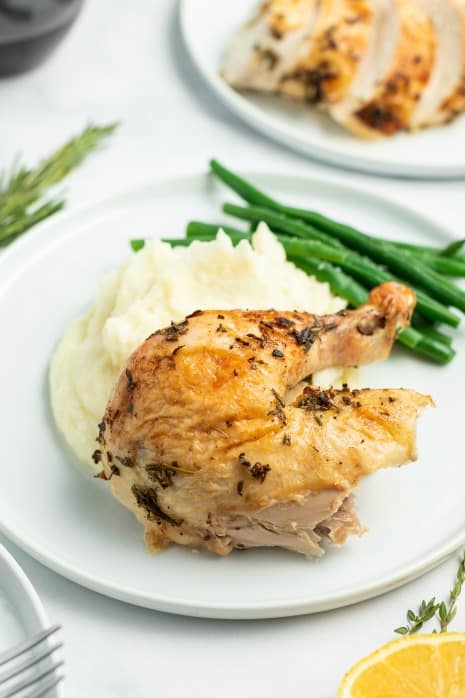 Recipe Notes
This roasted chicken recipe makes enough to serve 6 people for a meal. If you're cooking for a crowd or want more leftovers, feel free to double the recipe. Use an 8 – 10 lb chicken and adjust the cooking times accordingly.
I tied the chicken legs together with cooking twine. This is more for aesthetics than anything. It's completely optional and the chicken tastes just as good without the twine.
You can also use a frozen whole chicken for this recipe! You'll need to add about 50% more cooking time if you cook from frozen; or allow the chicken to thaw and proceed with the recipe as directed.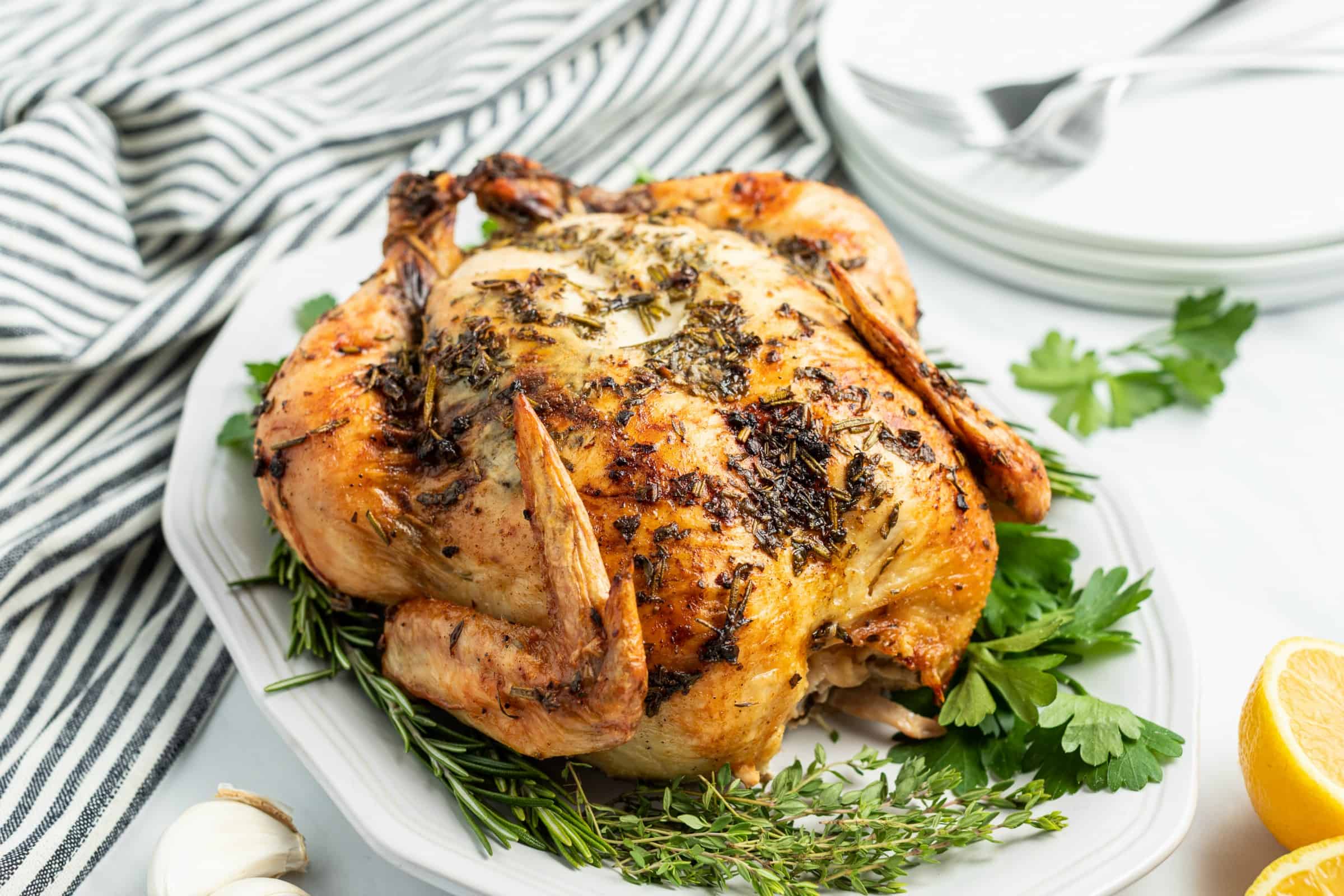 Garlic Herb Roasted Chicken is a juicy, moist, flavorful main dish that the whole family will love! Skip the grocery store rotisserie chicken and make something homemade that tastes even better.