Take your tacos to the next level with this Baked Tacos recipe! Create the perfect meal with all your favorite taco toppings without the taco crumbling all over your plate. Kid friendly, adult approved!
Get your taco tuesday dinner ready and complete with a side of cilantro lime rice and some churros for dessert!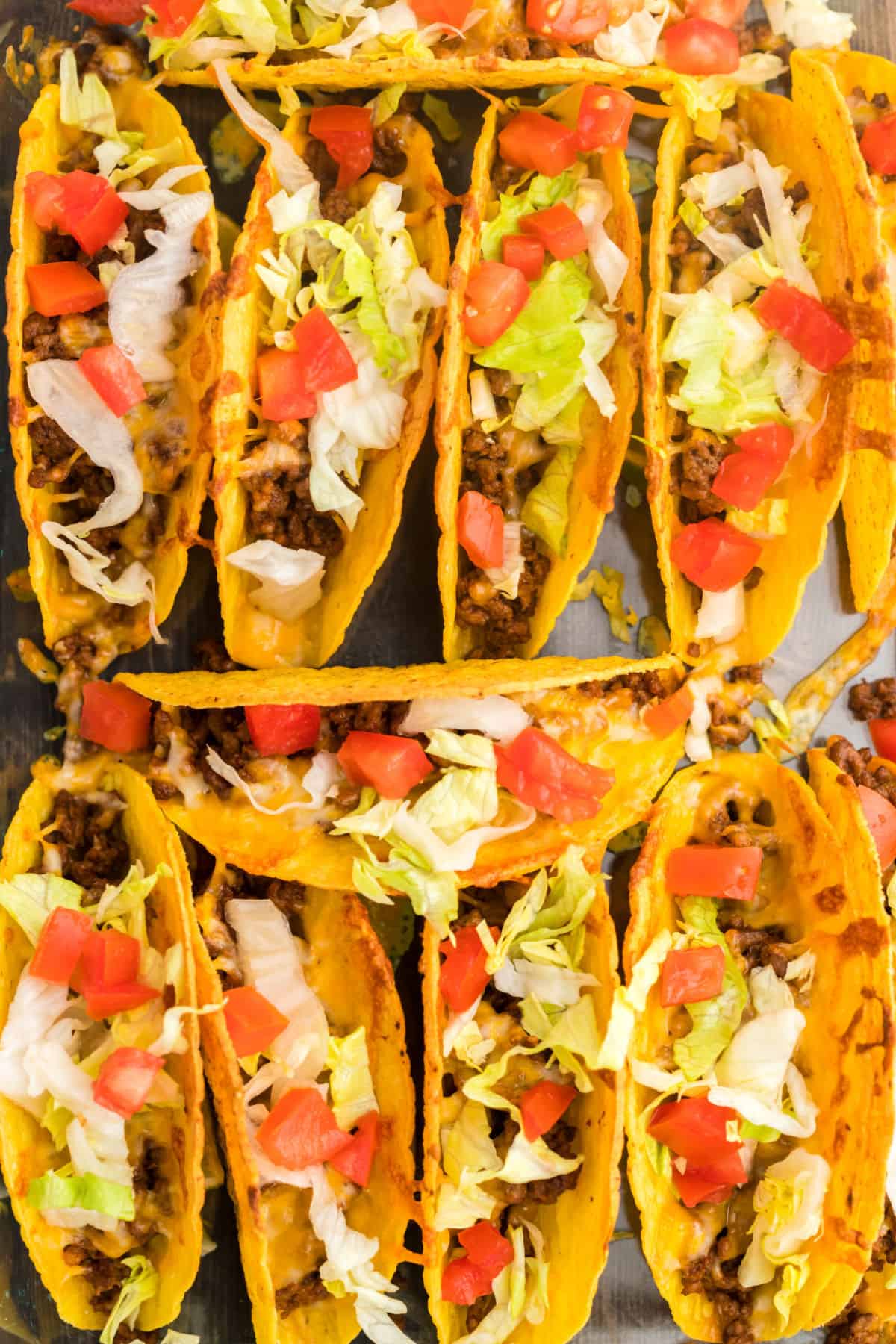 Why Make Baked Tacos
Baked Tacos are a great dinner idea to serve a crowd. Forget the mess of many bowls with toppings. These are easy, hassle free and always a hit!
With this taco recipe, you you prepare your taco meat ahead of time. Right before dinner, fill your shells with your meat and any other vegetables and taco fillings you like heated (corn, beans, peppers etc.).
Top with cheese and bake! The crispy shells with melted cheese and flavorful ground beef make the perfect base for adding all your favorite taco toppings.
The real selling point of these tacos for me?
Baking tacos helps create a texture in your taco shell that prevents them from crumbling at first bite.
Seriously. This is the major reason I wanted to give these baked tacos a try! I love hard shells for my tacos, but after one bite they become taco salad. Having a leftover pile of shell pieces, meat and lettuce on my plate takes away some of the enjoyment of eating a taco.
Baking the meat and cheese in the shells adds moisture to the shell so it won't crumble–without making it soft like a flour tortilla.
It's just perfect. And if you have kids, they will LOVE this!
Ingredient Notes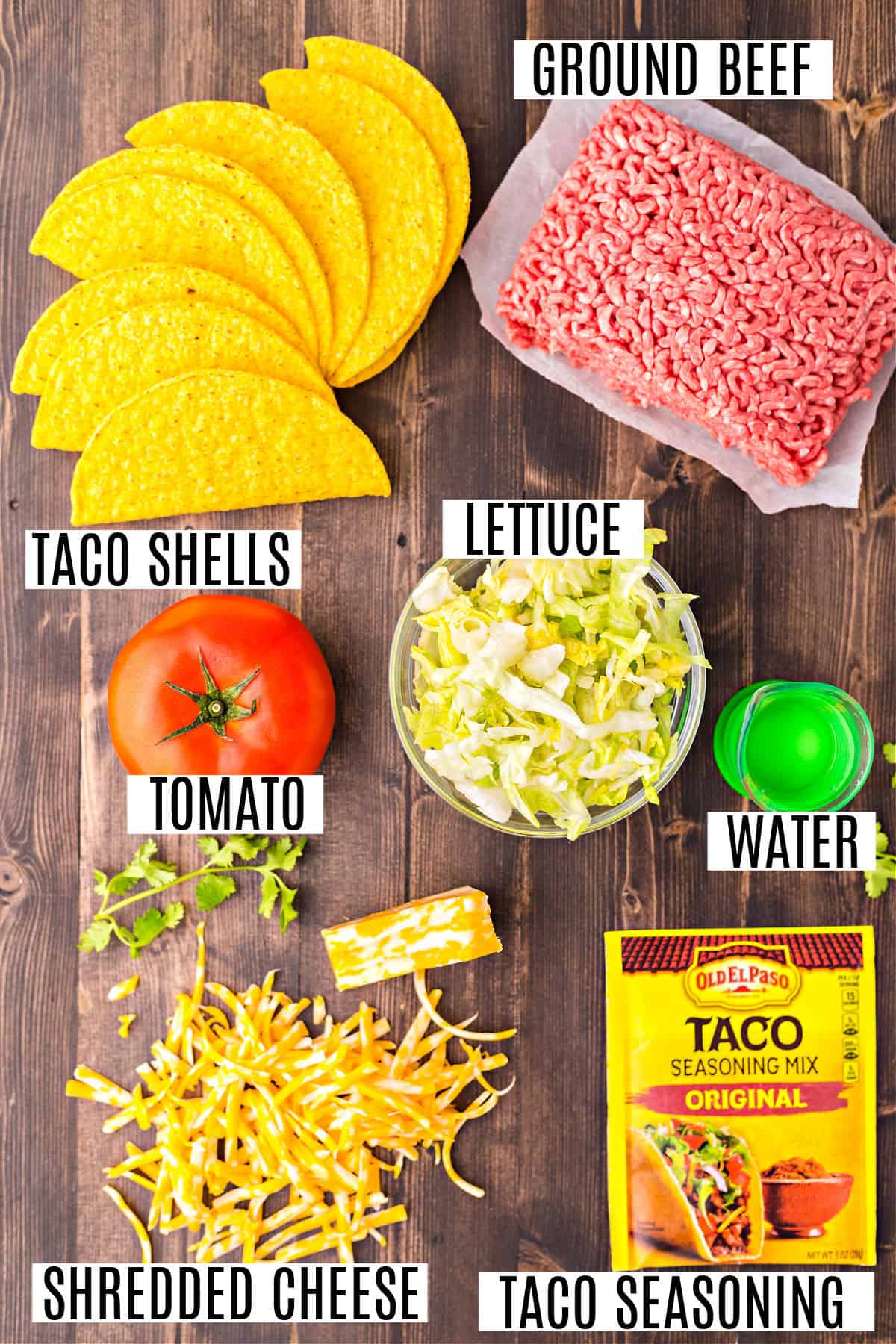 Here's what you need to make these baked tacos:
Ground beef – Ground turkey makes a good substitute, too.
Taco seasoning – Homemade from my favorite taco seasoning recipe or a packet of store bought seasoning.
Crispy taco shells
Water
Shredded cheddar jack cheese
These tacos are so quick and easy to make, especially if you prep the meat in advance!
Instructions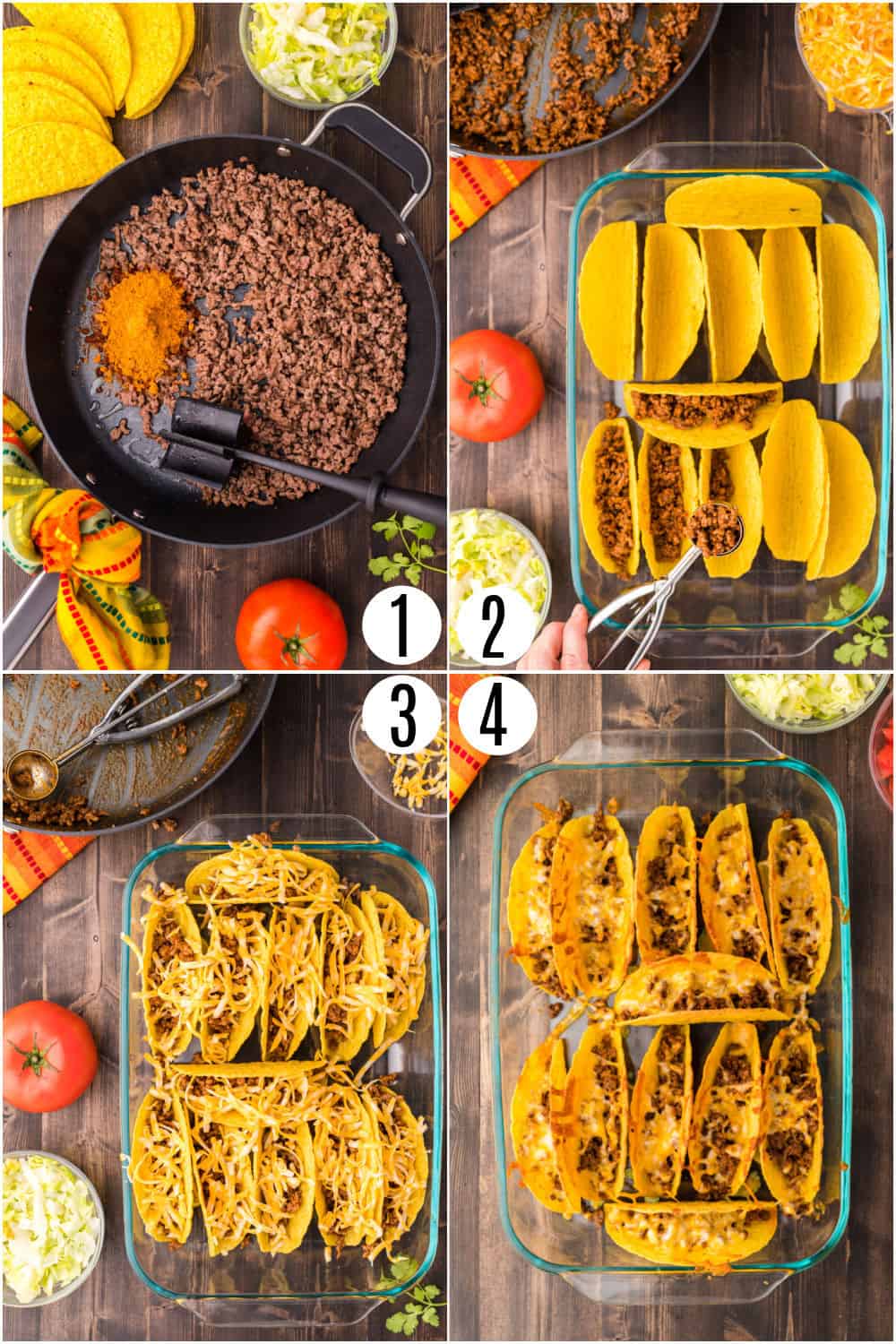 Cook Meat. In a large skillet over medium high heat, cook ground beef until browned. Drain grease and return to stove top. Add taco seasoning and water and simmer for several minutes.
Fill Shells. Preheat the oven to 400 F. Place taco shells in a 13×9 baking dish. Fill with meat. (add beans and corn if desired). Top with shredded cheese.
Bake. Place in preheated oven for 8-10 minutes.
Add toppings. Remove and top with lettuce and tomato. Provide additional toppings if desired. ENJOY!
Taco Toppings Ideas
Think beyond the standard lettuce, tomato and salsa. There are dozens of creative and delicious ways to make these Baked Tacos stand out from your usual Taco Tuesday meals!
Here are a few of my favorite taco toppings for baked tacos:
Veggies: Red onion, cilantro, lettuce, tomatoes, and jalapenos add flavor and crunch to your taco
Salsas:
Topping flavor enhancers: Sour cream, queso fresco, shredded cheese, lime juice, and taco sauce!
Or, if you're like my friend (and lots of kids I know), enjoy a baked taco just as it is, with the spiced meat and cheese as the main focus.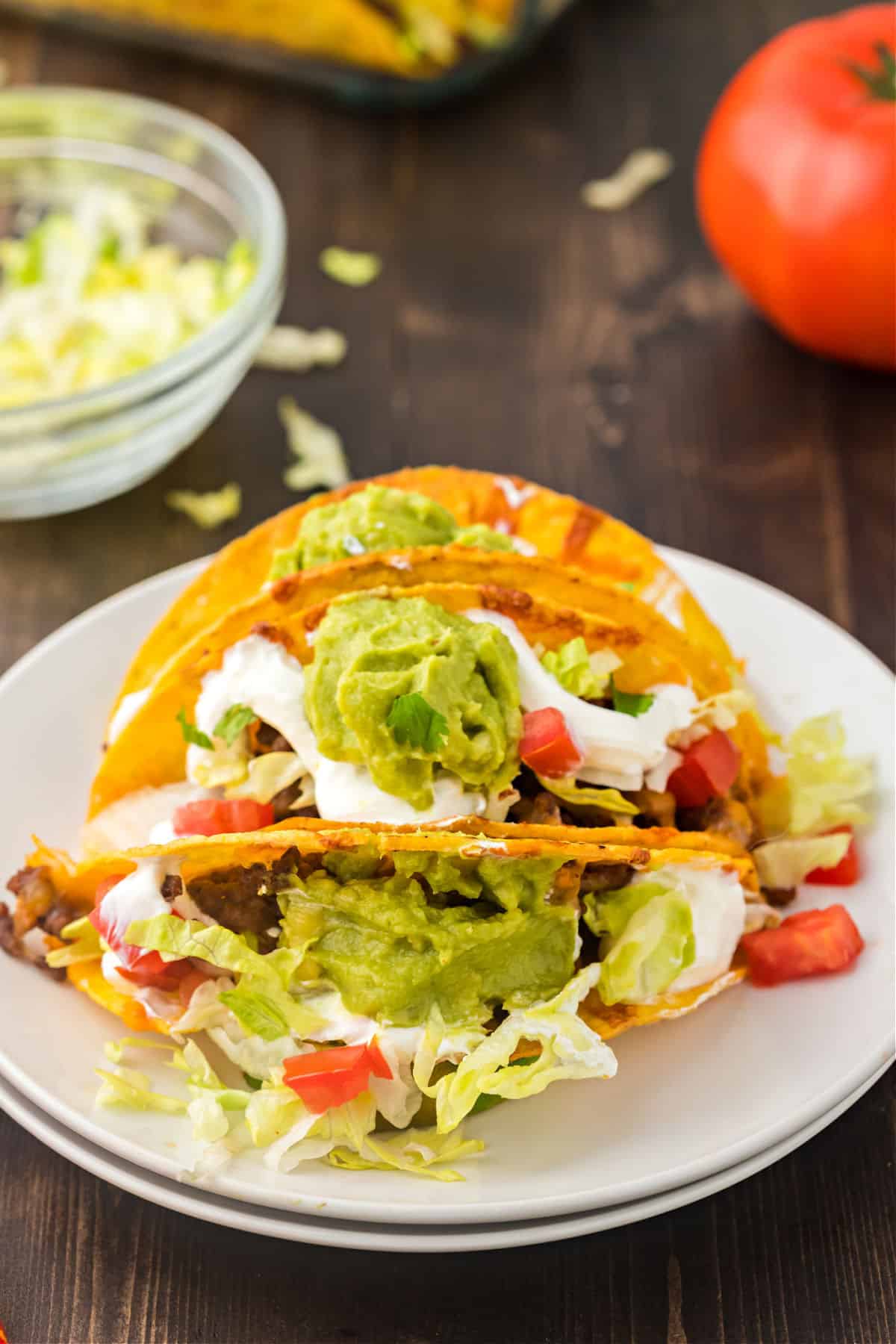 Serving Suggestions
Now that you have your main dish, what else can you serve with baked tacos?
Mexican Street Corn– this dish can be prepared ahead of time as well, and popped into the oven before you add the dish of tacos!
Baked Cinnamon Tortilla Chips– a delicious sweet side to serve with dinner or as dessert!
Recipe FAQs
Can you substitute ground turkey in tacos?
Yes, ground turkey is a delicious substitute for the beef in these tacos. While I haven't tried it with meatless beef substitutes, this method of baking tacos should work just fine with those ingredients as well.
Can I use soft tortillas for oven baked tacos?
While soft tortillas are great for most taco recipes, you need to start with a crunchy taco shell to achieve that crispy bite.
Why are my tacos soggy?
If your tacos are soggy after baking, make sure you start with ground beef that has been cooked and drained fully of sauce. You can add your cheese before adding the meat and this helps.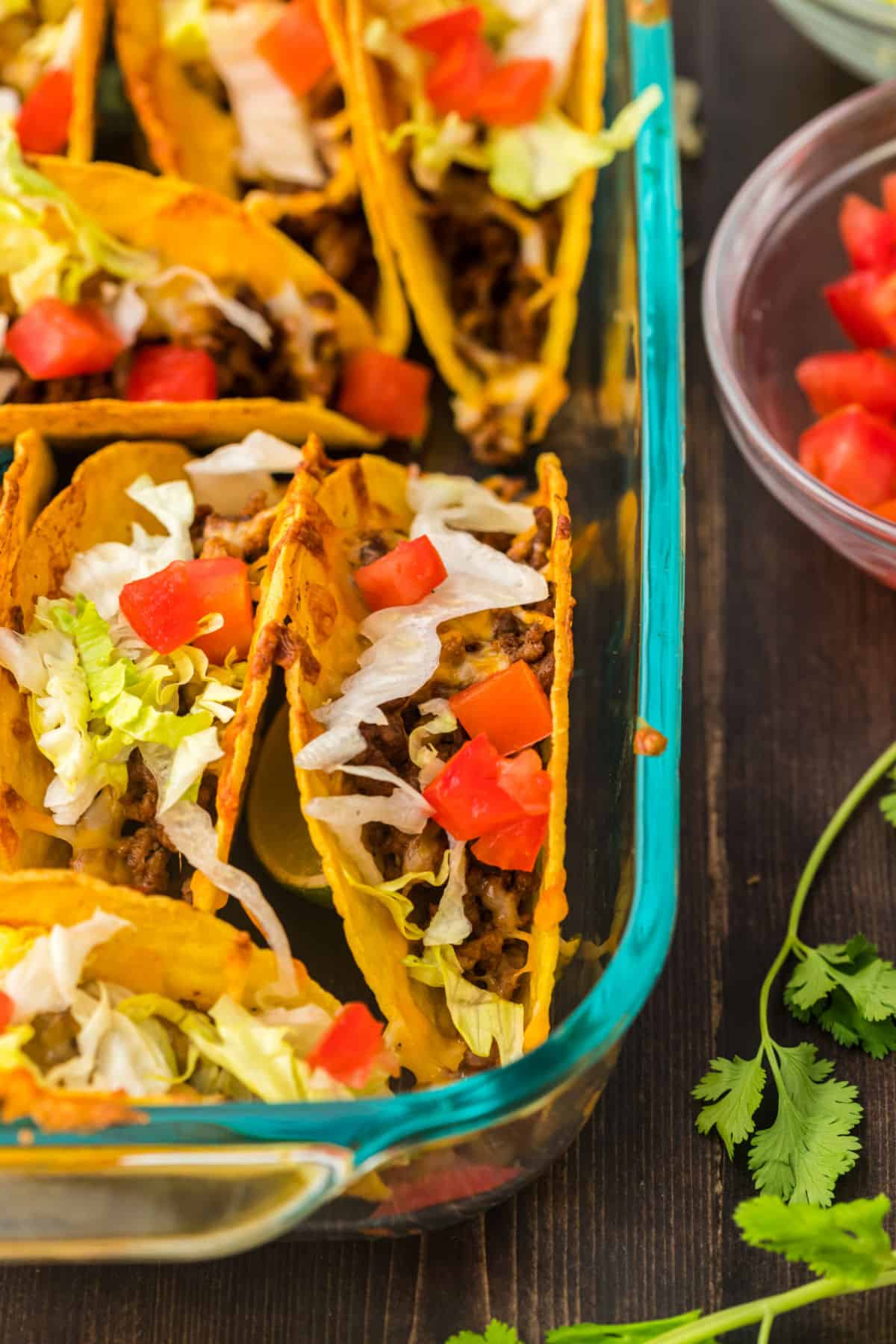 Place a pan full of piping hot Baked Tacos on the table the next time you have a dinner party or Taco Tuesday night! You get all the delicious fun of crispy tacos with none of the crumbly mess with this taco recipe!