Savory and Sweet combine in this flavorful Sweet Potato Casserole topped with a soft marshmallow topping! Add this classic recipe to your holiday table today!
Served up with some Green Bean Casserole (made in the Instant Pot) and a bowl of homemade cranberry sauce, you're family is going to rave over your Thanksgiving side dishes!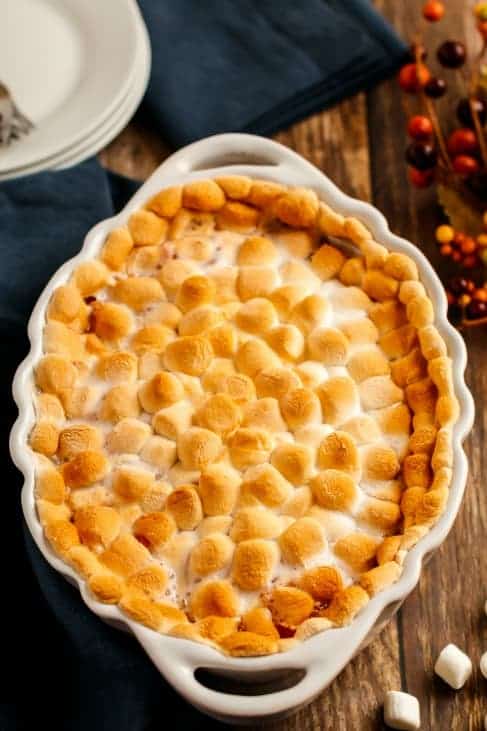 Why this Recipe Works
Nothing divides a country more than the choice of topping on your Sweet Potato Casserole.
Or maybe, I should say, nothing divides a family!
Ha, I wasn't getting too serious, but let's talk about it.
Do you like a crunchy pecan topping or a marshmallow topping on your sweet potato casserole? Do you love candied sweet potatoes? (I'm not even going to ask about mashed or chunked sweet potatoes…that a whole 'nother can of worms)!
I honestly love it both ways. Or without. Or even just baked sweet potatoes.
Clearly I love food and am not picky.
But today's Sweet Potato Casserole is topped with the good stuff! Soft and sweet, pillowy marshmallow topping.
And y'all know I love me some marshmallows (Rice Krispy Treats are my favorite dessert)!
FYI. You could use this delicious Ruth's Chris Sweet Potato Casserole recipe for the streusel topping and add marshmallows. No reason you can't combine them BOTH!
Make a new tradition this year and serve up a big bowl of this tasty Sweet Potato Casserole with Marshmallows!
Step by Step Instructions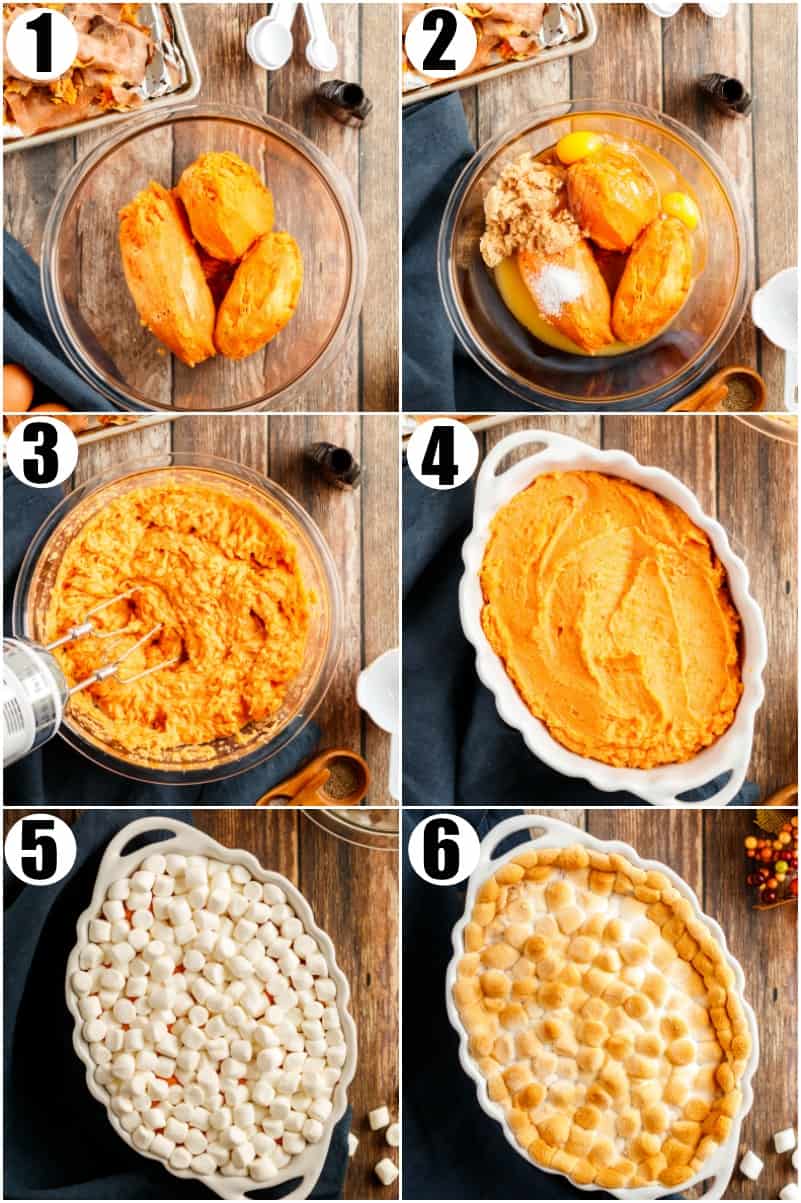 STEP 1. Start with cooked sweet potatoes.
STEP 2. Add brown sugar, salt, vanilla, eggs, and melted butter.
STEP 3. I like to use an electric mixer on low speed to mash them, but you could use a hand masher for a rustic texture, or a food processor for a smoother texture.
If you beat them with the mixer, they will get a fluffier texture, so you decide what you prefer!
STEP 4. Transfer filling to a greased 2 qt baking dish.
STEP 5. Bake in a 350 degree F oven for 30 minutes. Remove from oven and sprinkle mini marshmallows on top. Or use our homemade marshmallows for a rich finish.
STEP 6. Return to oven for 10 minutes, or until lightly browned.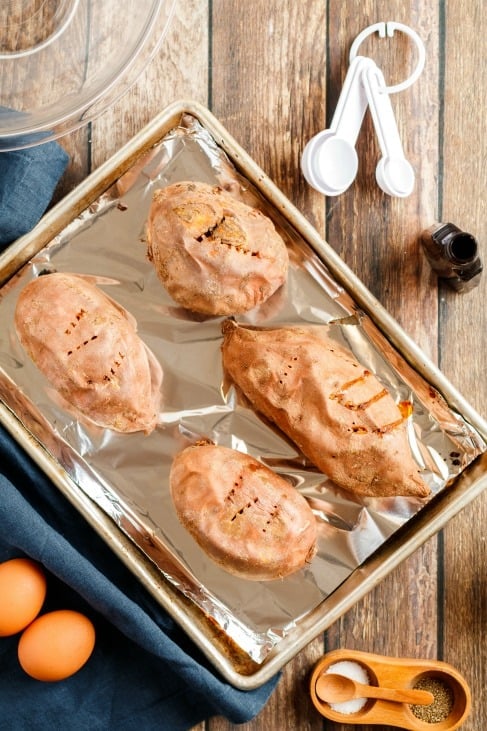 How to Cook Sweet Potatoes
I prefer to bake them whole in the oven, then scoop out the soft sweet potato center. No peeling.
To do this, wash potatoes and poke with a fork. Place unpeeled sweet potatoes on baking sheet and bake in a 400 degree F oven for about an hour (place a piece of aluminum foil on the baking sheet for easy clean up)!
Once done, slice in half and scoop out center.
You could also boil the sweet potatoes. While this is a faster option, it's more hands on. Don't forget, for the boil option you'll need to peel the potatoes first!
You can also cook your sweet potatoes in the Instant Pot!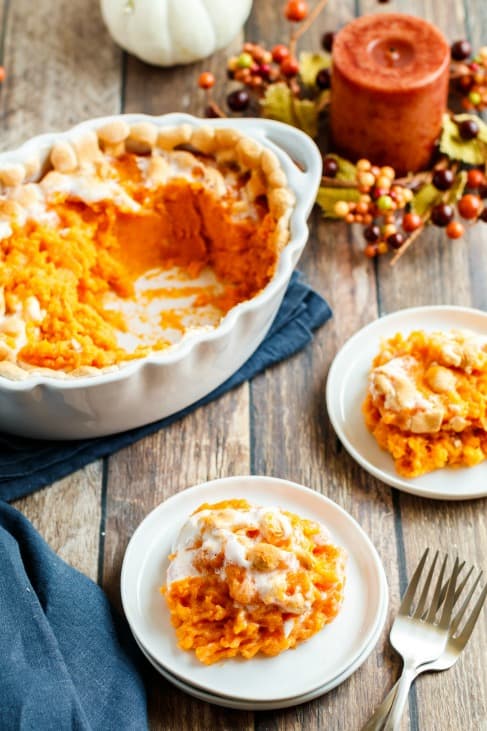 Recipe FAQs
Can Sweet Potato casserole be made ahead of time?
Sweet Potato Casserole recipe can be prepared up to 48 hours in advance by cooking and mashing the sweet potatoes and assembling the casserole as directed. Refrigerate until ready to bake before the meal.
Can I make Sweet Potato Casserole without Marshmallows?
Absolutely. Leave them off entirely and you can still enjoy sweet potato casserole without marshmallows.
Can I use dark brown sugar instead of light brown sugar in sweet potato casserole?
Dark brown and light brown sugar can be used interchangably in sweet potato casserole. I usually only have light brown sugar on hand.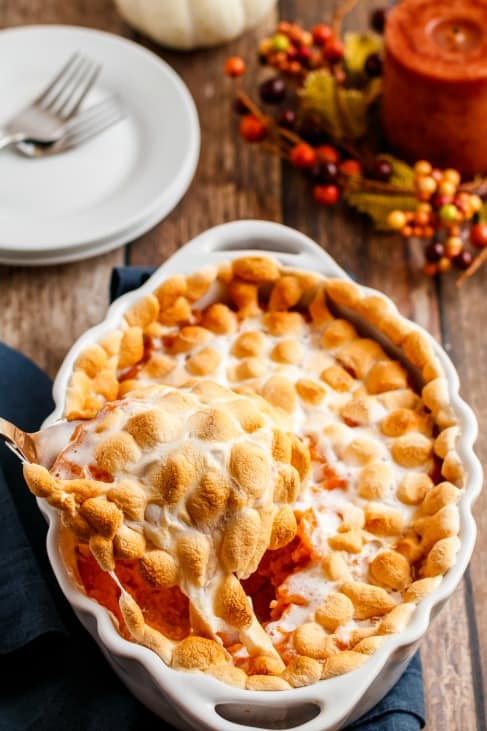 More Thanksgiving Side Dishes
This is the best sweet potato casserole recipe, but there are plenty of other sides that grace our holiday table.
Cheesy Hashbrown Casserole is a must have any holiday. I'm a big fan of the crunchy corn flake topping.
Of course, Green Bean Casserole with those crispy fried onions on top are a winner. Do you see a pattern with crunchy toppings?
Well, while we're at it can we discuss this Ritz Mac and Cheese? So creamy, but baked to perfection (and again with a crunchy, buttery topping).
It would be a holiday without Mashed Potatoes. We love easy, baked mashed potatoes, but these loaded potatoes are amazing too!
No holiday is complete with a basked of Dinner Rolls. This is my favorite, easy recipe…no kneading required!
Well, now your oven is full, where will the turkey go? Have you tried my Crock Pot Turkey Breast recipe? I've even added in my favorite stuffing recipe!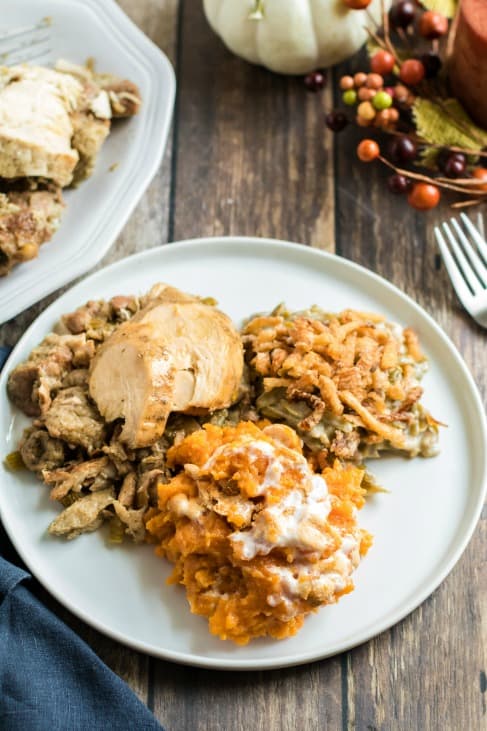 Easy Holiday Recipes:
Tender, flavorful Sweet Potato Casserole topped with a soft marshmallow topping! Add this classic recipe to your holiday table today!