This EASY French Toast Casserole recipe is made with Cinnamon Raisin Bread for extra flavor! Bake it immediately, or make it ahead and refrigerate overnight. Treat your family to a delicious weekend breakfast!
Try a unique flavor twist and give our Eggnog French Toast recipe a try this year! Or go savory, and enjoy this Overnight Egg Casserole.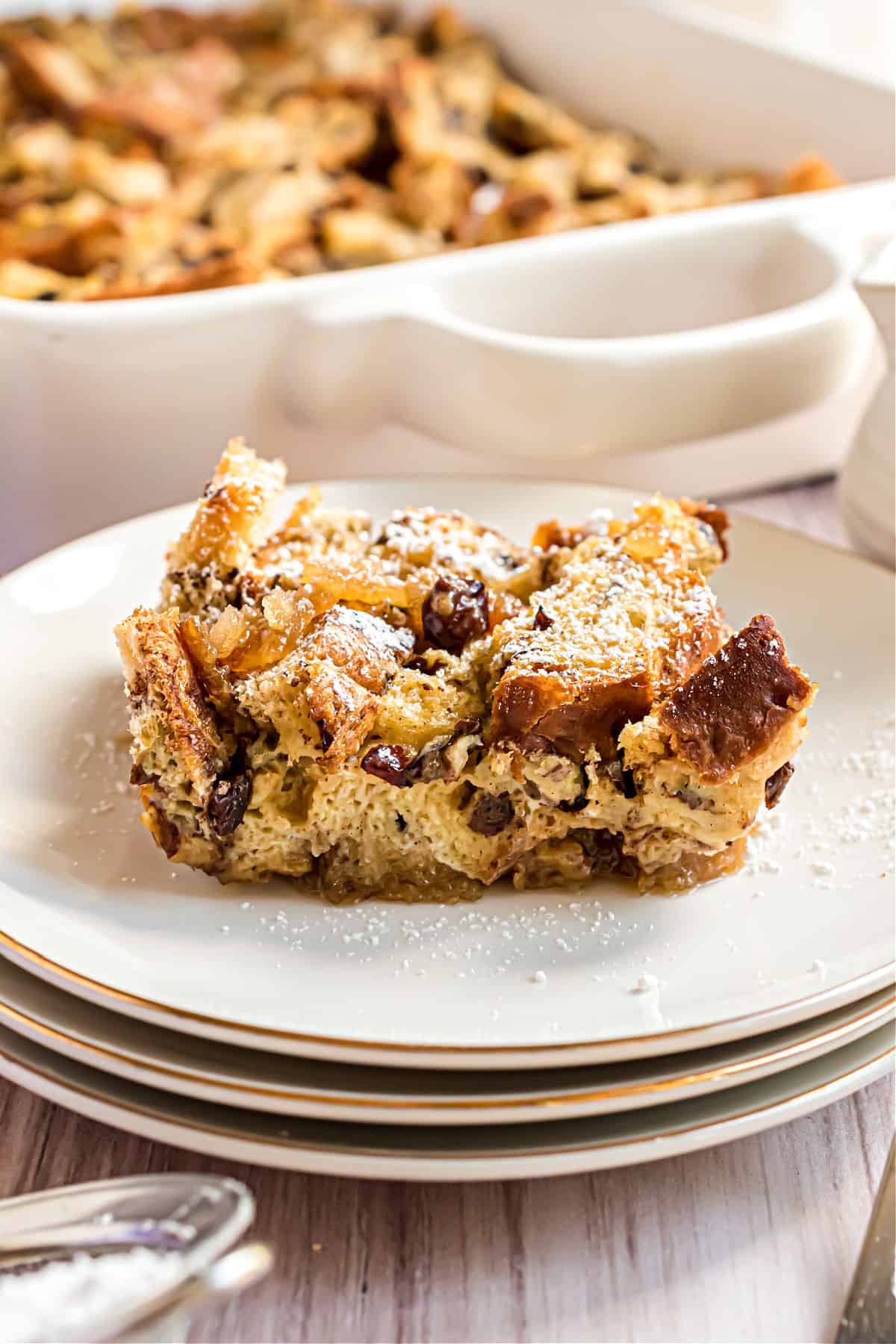 Why this Breakfast is the best?
When it comes to breakfast for dinner, what does your family enjoy?
Pancakes? Quiche? Or Berry French Toast?
I love to throw things together in the morning and be able to pop it in the oven after a long day. Today's French Toast Casserole recipe is the perfect comfort food!
Much like this Overnight French Toast Casserole, you can make it the night before and serve it for breakfast too if you prefer!
Whether you're making this on a Saturday morning, Wednesday night, Christmas morning breakfast, you can't go wrong with an easy breakfast for dinner recipe!
It's easy to assemble. Much easier than standing over a skillet flipping slices of bread!
The flavor! Today's recipe is made with Cinnamon Raisin Bread, eggs, real milk, and vanilla extract.
Perfect for any occasion. French Toast Casserole is great for a weekend breakfast, weeknight dinner, or holiday brunch!
Ingredient Notes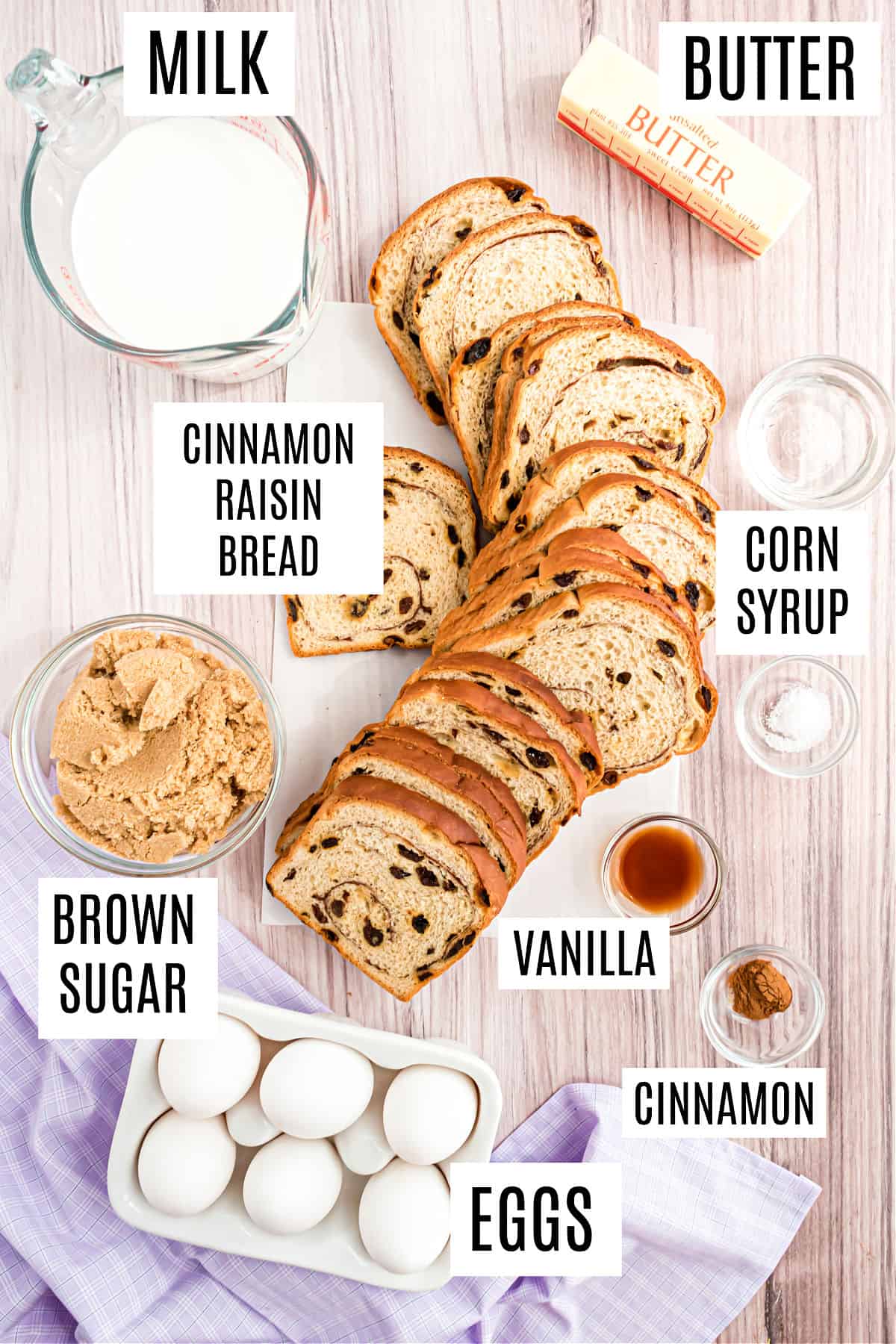 Bread- We love using a cinnamon raisin bread. But you could also swap it out for cinnamon bagels or brioche too!
Brown Sugar- adds a caramelized texture (and flavor) to the bread.
Corn Syrup- used to keep the caramel soft and sweet.
Butter, Milk, Eggs- all used to create the classic french toast.
PRO TIP- We love making our own homemade vanilla extract, but if using store bought, be sure it's pure extract, not imitation (for best flavor).
Easy Instructions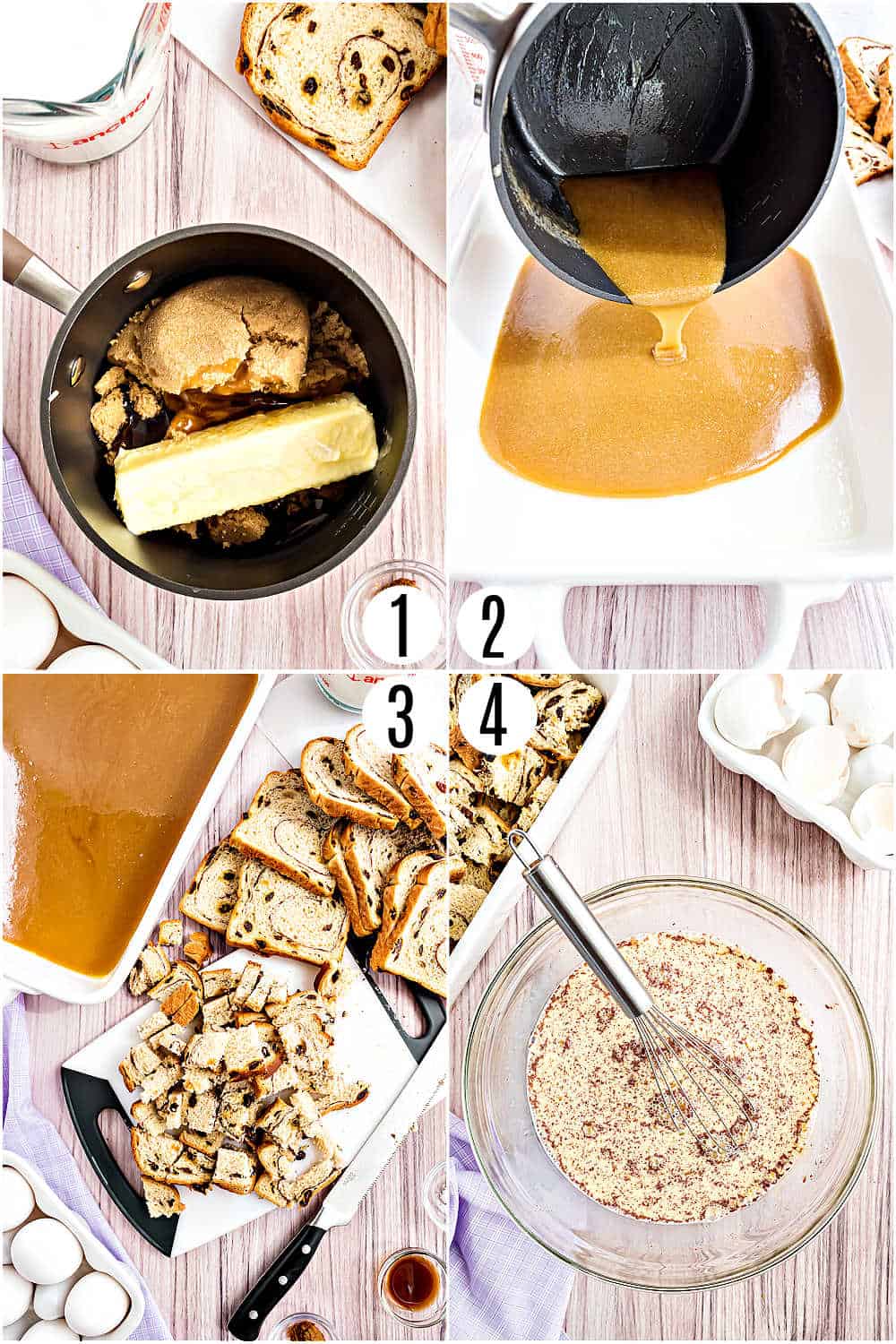 If baking immediately, preheat oven to 350 degrees F. Spray 13×9 baking dish with non-stick spray. Set aside.
Make sugar syrup. In a small saucepan, melt butter with sugar and corn syrup. Whisk until fully combined and sugar has dissolved. Pour into the bottom of the greased baking dish.
Dice Bread. Cube the cinnamon raisin bread into one-inch cubes. Lay bread cubes over the butter mixture.
Make Egg Mixture. In a small bowl, whisk the eggs, milk, vanilla extract, cinnamon, and salt. Pour the egg mixture over bread. Cover with foil.
PRO TIP: If making ahead of time, this would be when you would refrigerate the french toast casserole overnight (or all day).
Bake. Bake casserole with foil for 25 minutes. Uncover and bake an additional additional 20 minutes.
Serve warm!
PRO TIP: As you scoop each serving out with a spatula, be sure to get the syrup on the bottom of the pan!
Top with extra syrup and/or powdered sugar. ENJOY. Or drizzle with buttermilk syrup for a rich flavor!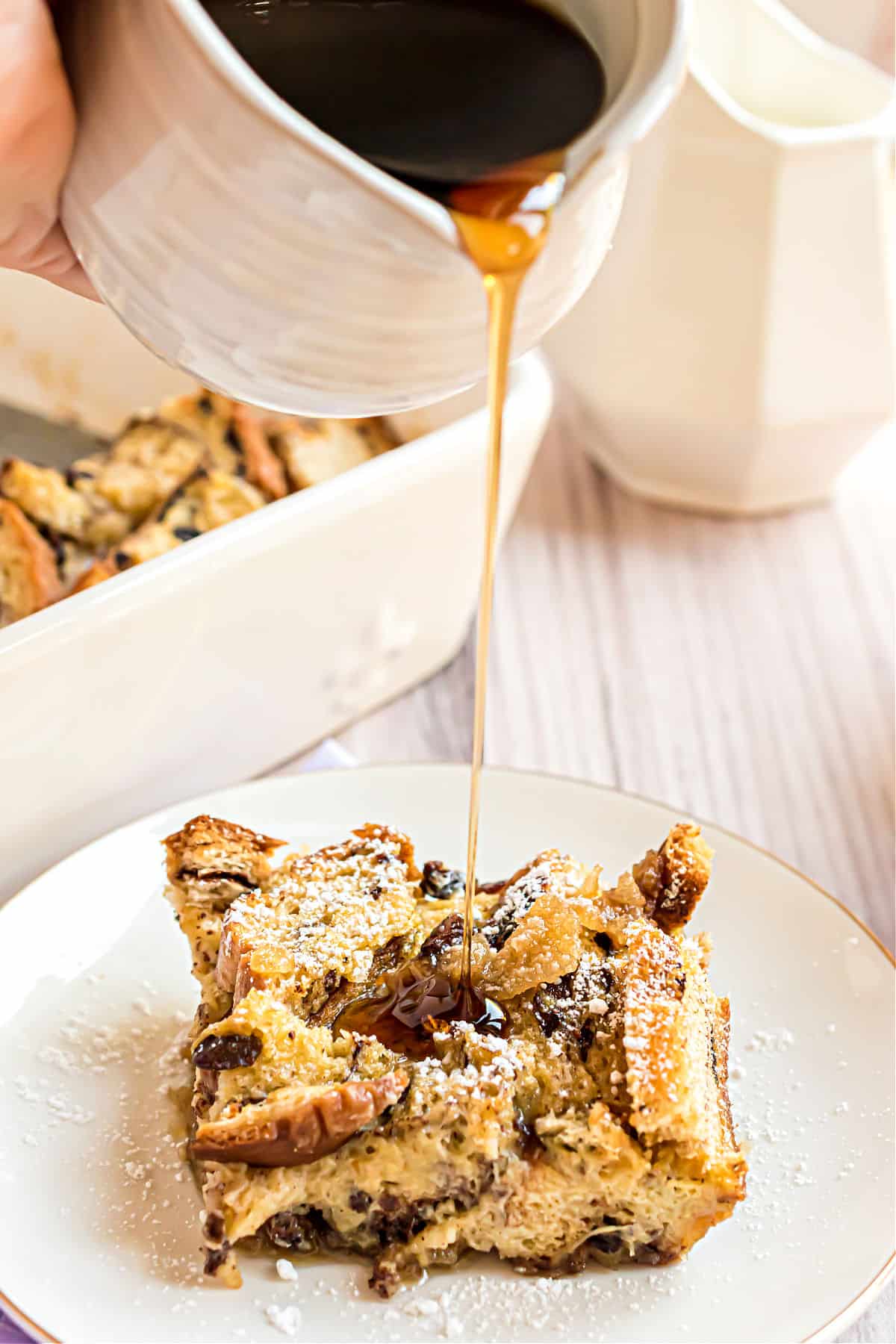 Substitution Ideas
Freezing and Storage
Store leftover french toast casserole in refrigerator for up to 4 days.
Freeze. Assemble french toast casserole in a foil pan. Cover with foil and freeze for up to 3 months.
Allow to thaw in refrigerator overnight and bake as directed. You may need to add extra time to baking if not fully thawed.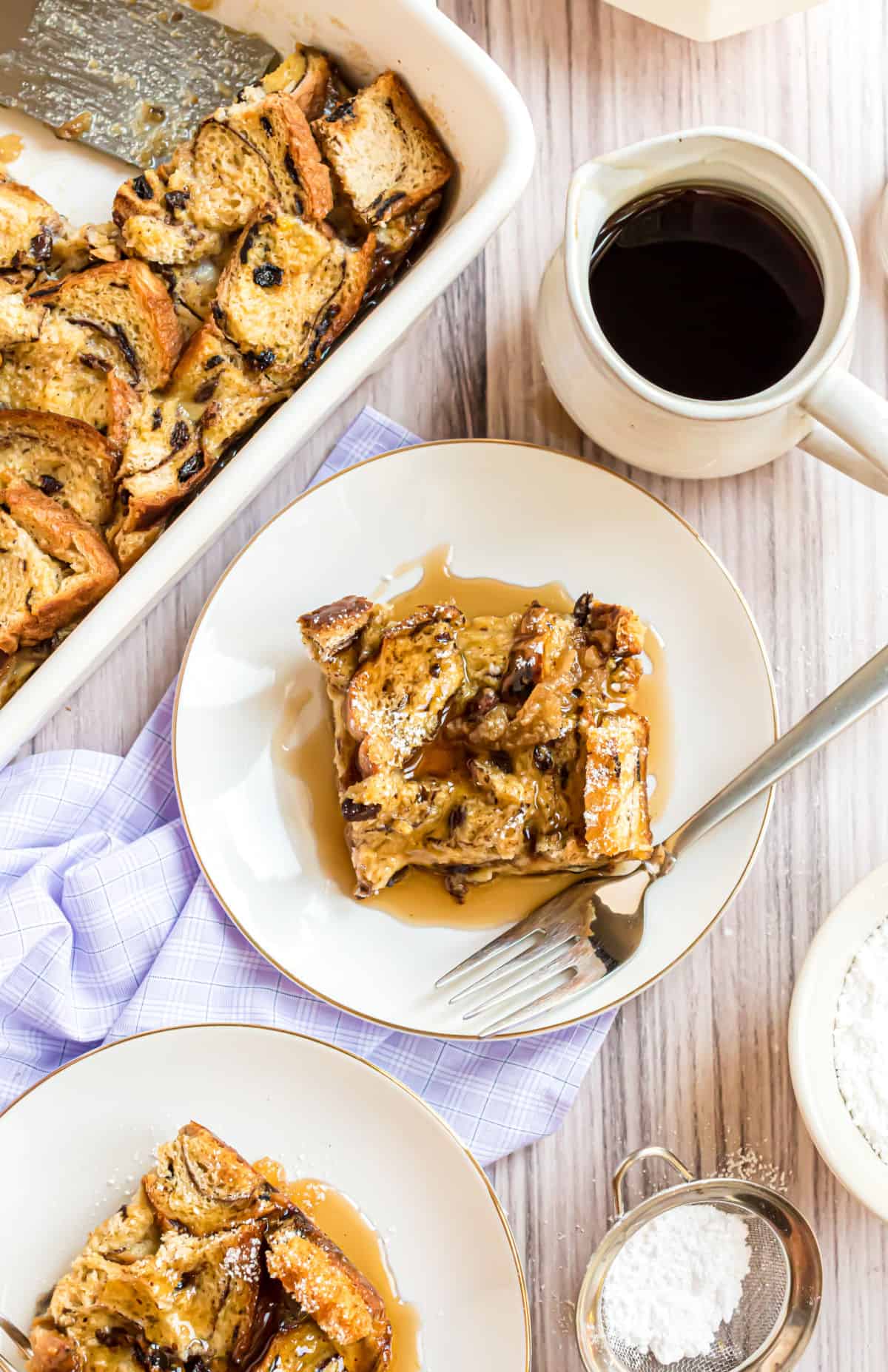 More Breakfast for Dinner recipe ideas!
Get your day started with this hearty Sausage and Gravy Breakfast Casserole! Best part? It can be made ahead of time!
Make a protein packed breakfast (OR DINNER) in minutes with this Instant Pot Egg Bites recipe! Delicious ham wrapped in egg and cheese makes for a hearty breakfast or snack on the go.
More Breakfast Recipes