Easy to make and unbelievably tasty, Buttermilk Syrup is a stack of pancake's perfect match. This simple homemade pancake syrup is only 5 ingredients and takes a couple of minutes!
Serve this sweet syrup over our delicious Monkey Bread for the ultimate gooey treat.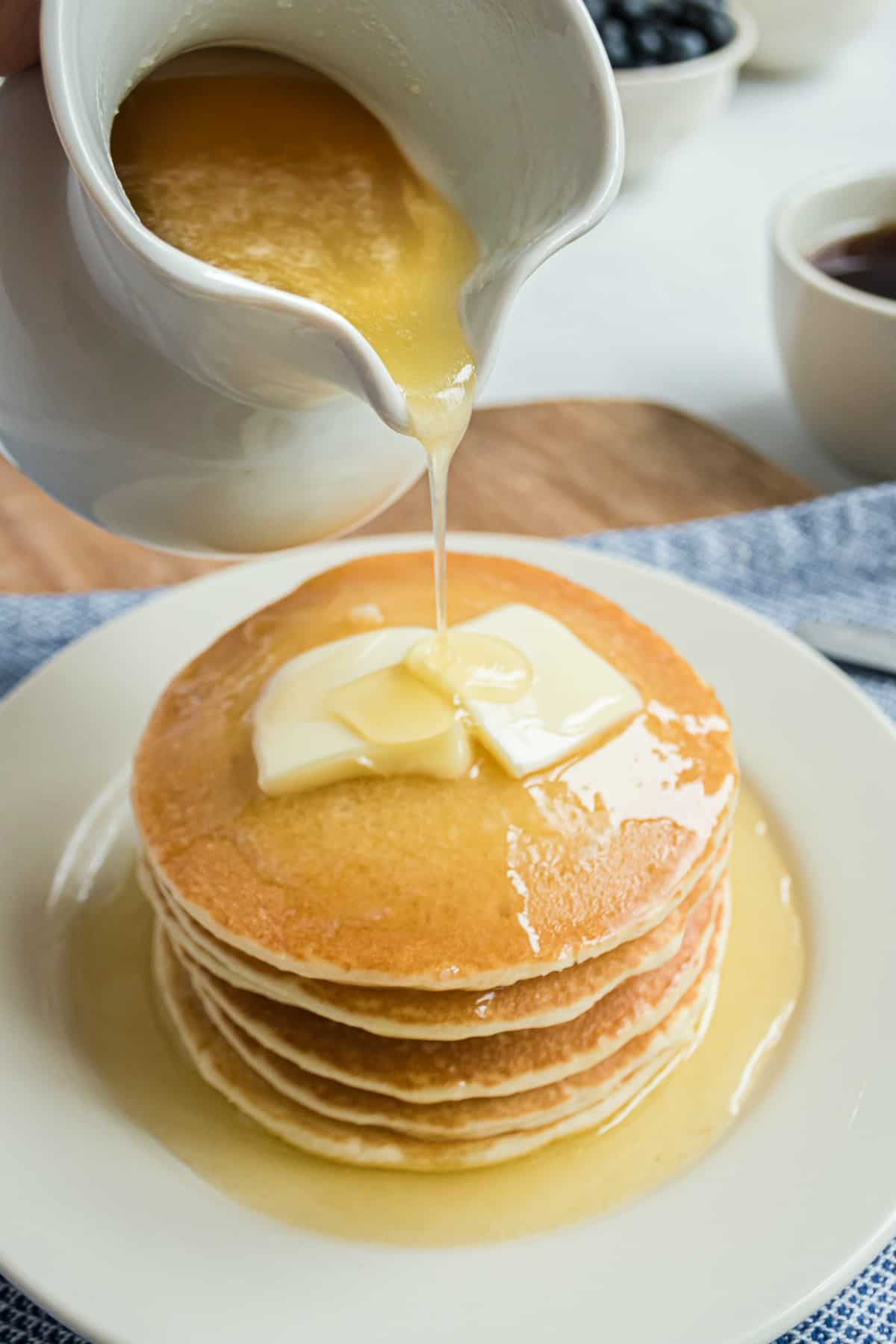 Sometimes I wonder if other pancake syrups resent maple syrup for hogging the spotlight. Is that a weird thing to think about?
Don't get me wrong. I love a thick pour of real maple syrup on my pancakes and waffles. But there's something so homey and wonderful about homemade Buttermilk Syrup too.
What is Buttermilk Syrup?
If you've never tasted this kind of syrup before, oh boy, are you in for a treat! It's a thick syrup that's filled with buttery vanilla flavor.
It resembles caramel sauce only it's a bit more pour-able and has a tiny touch of tang from the buttermilk.
It takes hardly more than a minute to make this on your stove top and adds so much flavor to a plate of pancakes or waffles. My favorite part is that it foams and bubbles, thanks to the addition of a tiny amount of baking soda!
It's perfect for adding to your homemade Buttermilk Pancakes and an easy way to give a homemade touch to your store bought freezer waffles.
Of course I love making waffles in my waffle maker and freezing them for later!
Made from scratch, this syrup is a lot more affordable than most store bought syrups and tastes so much better.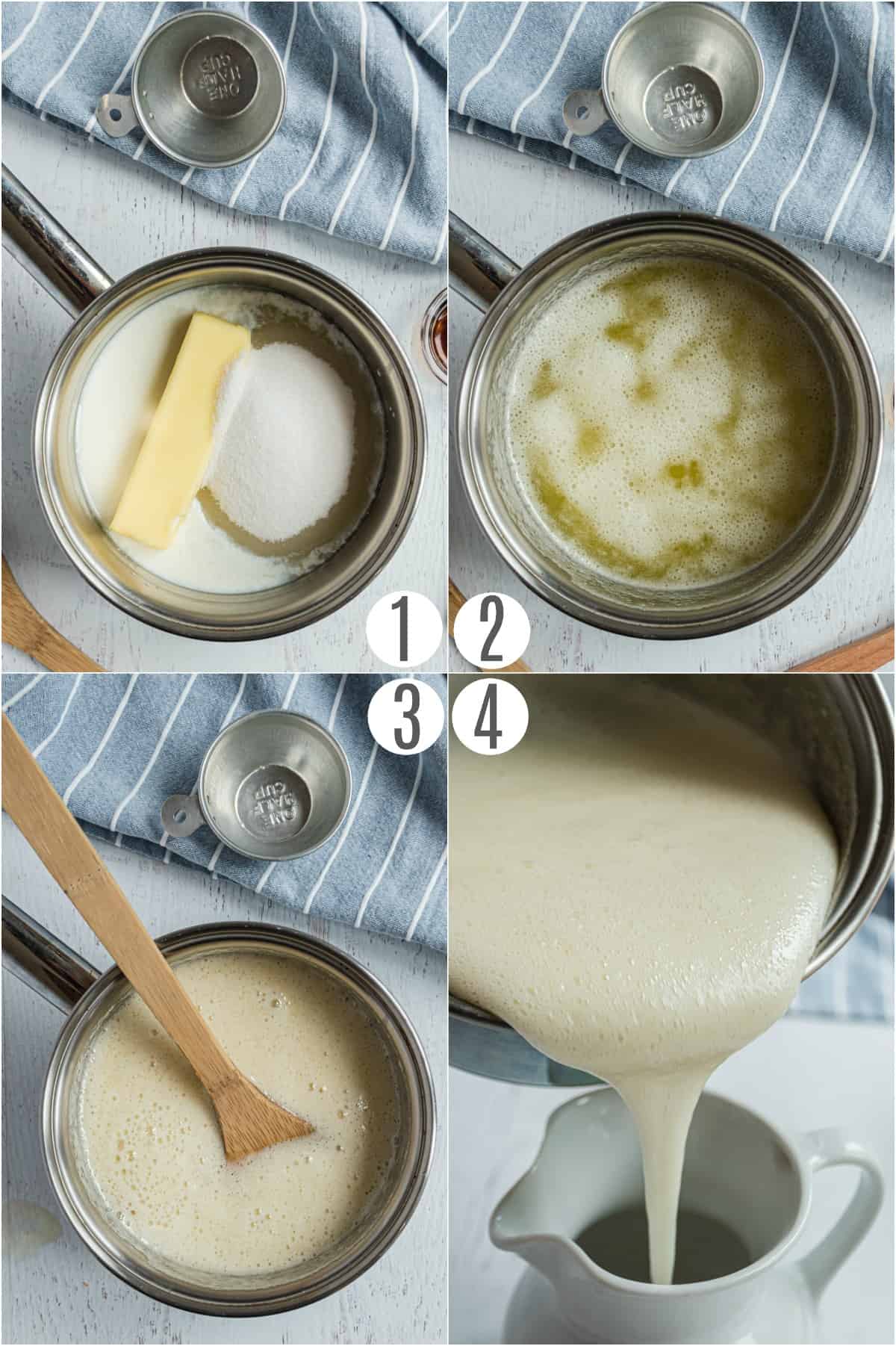 Buttermilk Syrup Recipe
You online need five ingredients to make this Buttermilk Syrup!
Sugar- I use granulated sugar here. You can't beat it for simple sweetness, convenience and price!
Butter – Unsalted butter is my preference, but salted butter is okay too.
Buttermilk – Homemade buttermilk works wonderfully, or you can use store bought.
Baking soda – To make the syrup bubbly and foamy.
Vanilla Extract – This little bit of extract brings all the other flavors together while adding that irresistible vanilla taste.
STEP 1. Heat the buttermilk with sugar and butter on the stove. Bring to a boil and let it cook for about 1 minute.
STEP 2. Remove from heat and stir in the vanilla extract and baking soda. Stir quickly with a whisk or wooden spoon to incorporate everything before the mixture cools.
Remember that volcano science experiment you did in Elementary School? This is like that but a million times more delicious.
The Buttermilk Syrup will immediately begin to bubble as the baking soda reacts with the acid in the buttermilk. Neat, huh?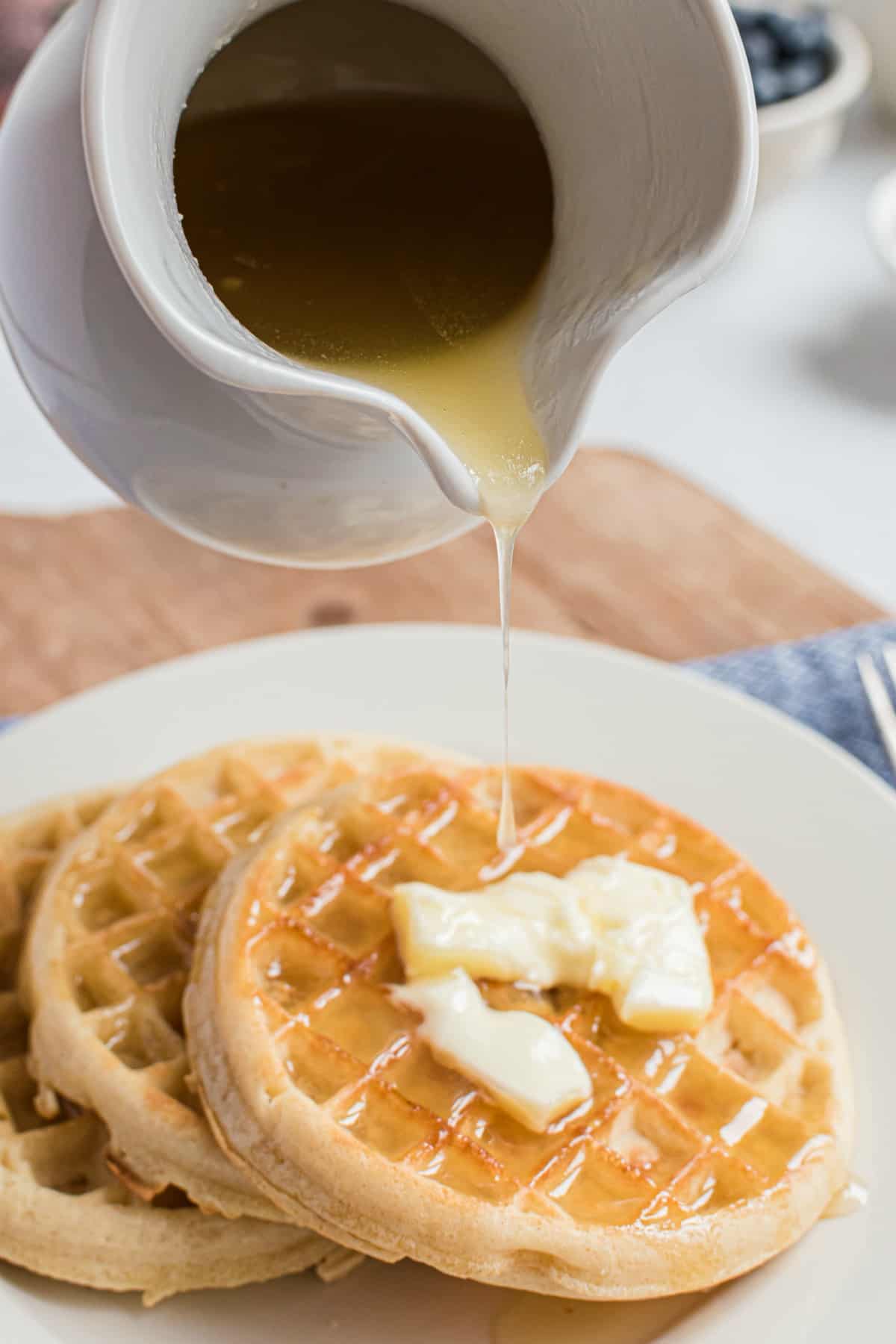 How to Serve Buttermilk Syrup
Buttermilk Syrup is a delicious topping for pancakes, waffles and overnight french toast.
A pour of this syrup can also turn a basic fruit and yogurt parfait into a sweet treat that the kids will devour.
You can even drizzle Buttermilk Syrup over a bowl of your favorite ice cream for a fun twist your usual sundae toppings.
The cold ice cream will harden the syrup just a little bit, kind of like those shell toppings you can put on your sundaes. Add some chopped nuts and you have one heavenly dessert.
Now I'm imagining a sundae with waffles, vanilla ice cream and buttermilk syrup . . .okay, maybe not for every day of the week, but you have to admit that would make one awesome birthday breakfast!
Serve this with a ladle straight from the pot or transfer the mixture to a syrup bottle, jar or gravy boat. I won't tell if you "sample" a little with a spoon straight from the pot, either.
If you're looking for recipes to pair with your Buttermilk Syrup, may I recommend Oatmeal Cookie Pancakes, Pumpkin Waffle Bites and Healthy Banana Nut Pancakes?
How to Store
Your homemade buttermilk syrup will keep well stored tightly covered in the fridge for up to 2 weeks. I like to keep it in a mason jar with the lid screwed on or in a tupperware container.
Reheat leftovers for a few seconds in the microwave to soften and warm the syrup again before serving. You can also transfer it back to a small saucepan to reheat for a minute or so on the stove top, just be careful not to bring it to a boil again.
Variations
You're going to LOVE this easy syrup just as it is. You can also try these ideas for changing up this classic Buttermilk Syrup recipe to suit any pancake, waffle or french toast recipe you're serving it with.
Cinnamon – A pinch of cinnamon added with the vanilla turns this syrup into a great match for an apple or pumpkin pancakes.
Maple – Add 1/4 teaspoon of maple extract to the syrup to give this a hint of traditional maple flavor.
Substitutes for Buttermilk – I almost always use my buttermilk substitute recipe here. You need the acid from the buttermilk to get the amazing foamy creamy texture.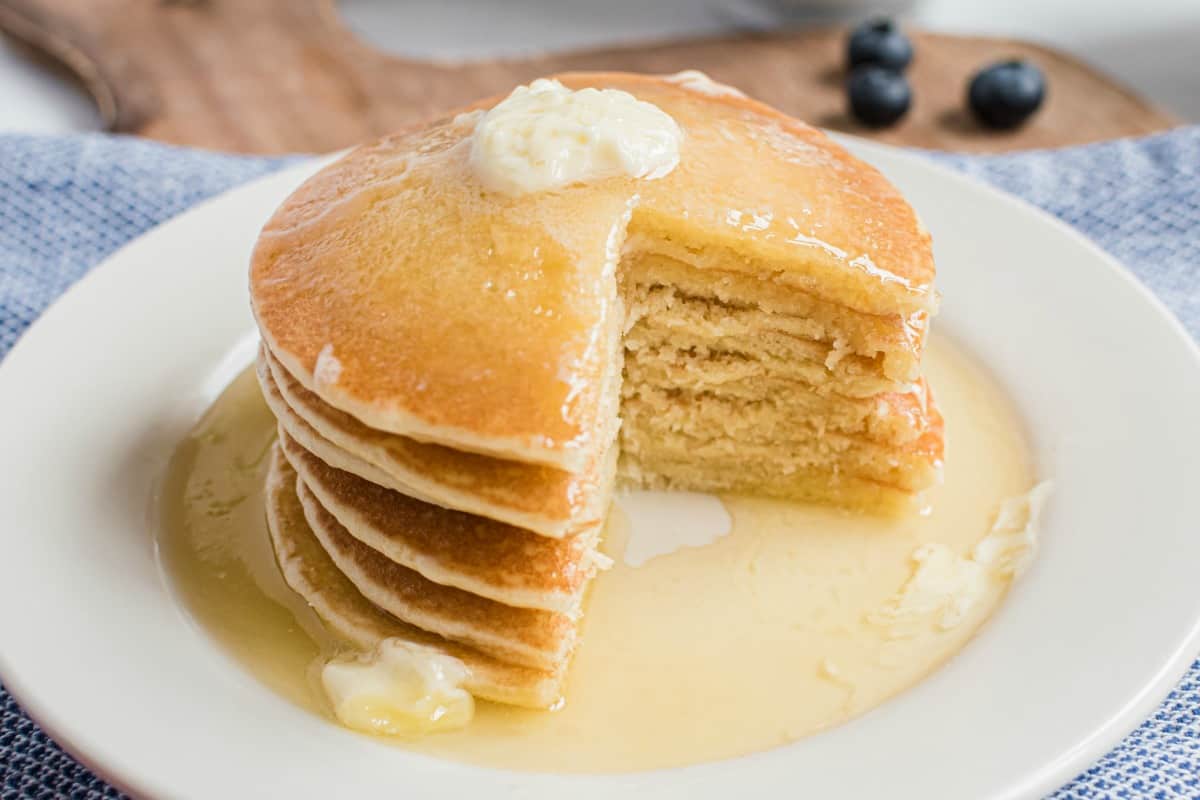 Once you try this homemade Buttermilk Syrup you'll be done with the store bought imitations forever!