Use a box of pancake mix to make a moist and fluffy Chocolate Chip Cake! This easy coffee cake is made even better with a cinnamon pecan topping and sweet vanilla glaze.
If you love breakfast cakes, be sure to try this amazing Apple Coffee Cake recipe! Topped with a caramel icing, it's a real treat!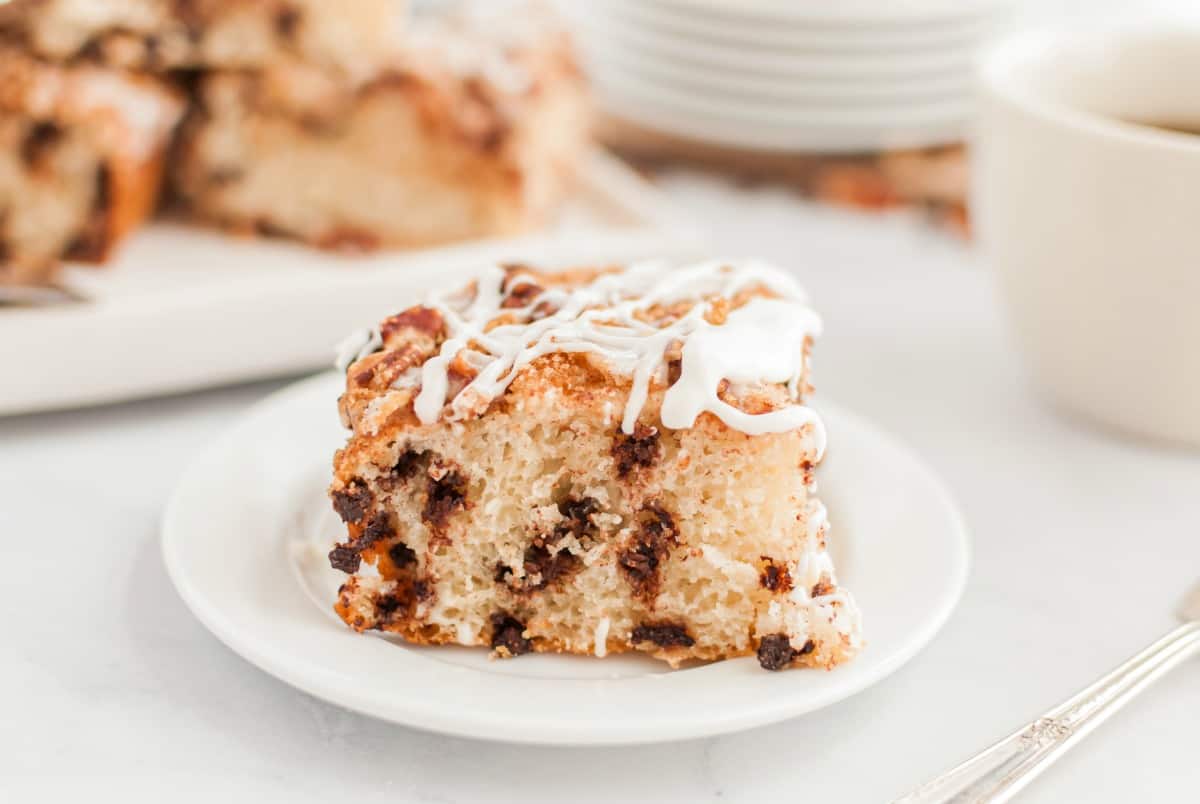 Why this Recipe Works
Chocolate chips make everything better. It's a proven fact.
This coffee cake is no exception to the rule.
Made with pancake mix and sour cream, this cake is already delicious without the addition of chocolate chips. But when you fold those sweet chocolate morsels into the cake batter it becomes truly spectacular.
This recipe also just happens to be egg free and butter free too! Whether you're baking for someone with an egg allergy or you are just out of these common baking ingredients, it never hurts to have a few good egg-free cake recipes up your sleeve.
(Speaking of, have you tried this egg and dairy free Wacky Chocolate Cake ?)
If I haven't convinced you to give this coffee cake a try, let me tell you about my very favorite part: the topping!
To finish the chocolate chip cake recipe, you add a sprinkle of cinnamon-sugar pecans along with a silky sweet glaze. It's so good served for dessert, for breakfast, or anytime you need a chocolate chip pick-me-up.
If you're like me that's ALL the time!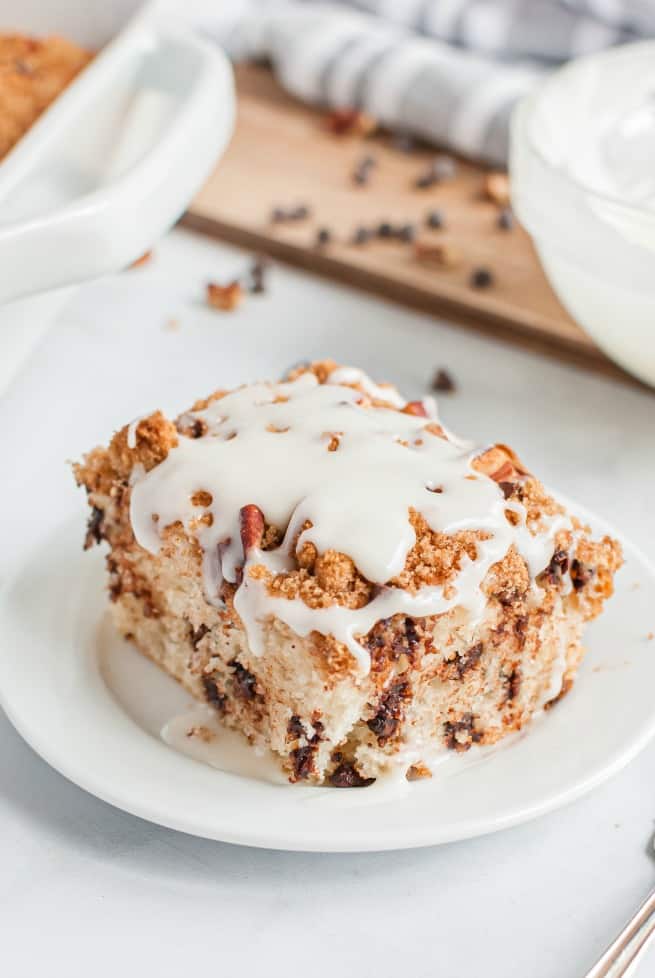 Chocolate Chip Coffee Cake
I've shared a few coffee cake recipes here over the years. I love them all from the classic Streusel Bundt Coffee Cake to this Pumpkin Coffee Cake .
So I was extra excited to discover yet another tasty coffee cake to add to my rotation–and one with chocolate in it, to boot!
A thick slice of Chocolate Chip Coffee Cake and a cup of coffee are a match made in heaven. The touch of cinnamon flavor and the crunchy pecans make it even better.
If you love coffee creamer, be sure to give my homemade Chocolate Chip Coffee creamer recipe a try. It's the perfect pairing to today's cake!
This cake also happens to be super easy to make! If you have pancake mix and a few other ingredients, you can make this cake!
Ingredients You'll Need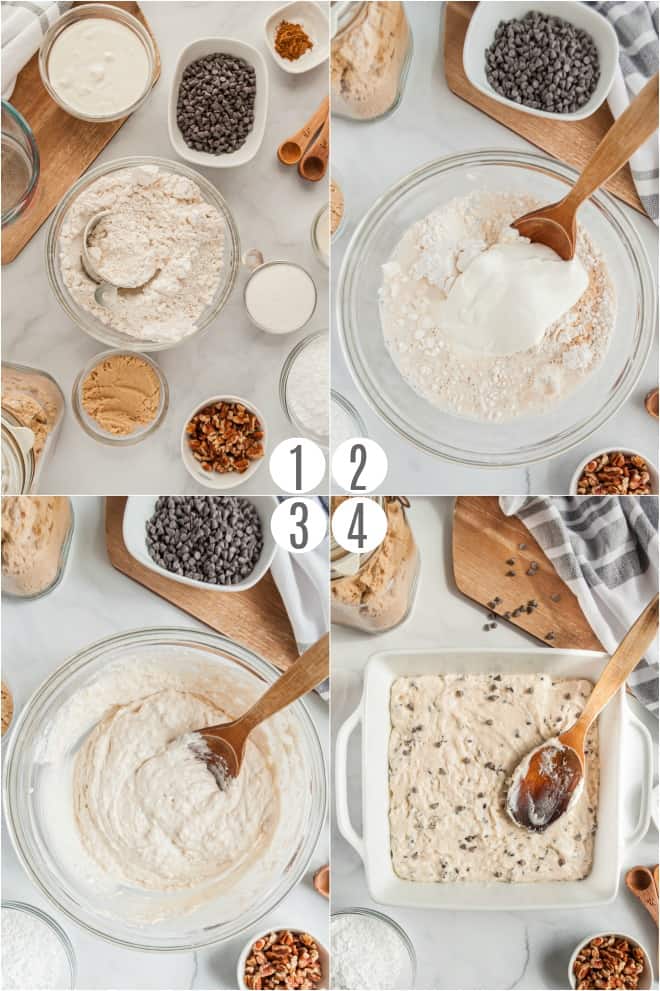 Who would have ever thought pancake mix could work so well in a coffee cake?
Here's everything you need to make chocolate chip coffee cake:
Boxed Pancake Mix– (make sure it's the "complete" kind)
Sugar
Sour Cream
Mini Chocolate Chips
Water
How to Make Chocolate Chip Cake
STEP 1. Make the cake batter
In a mixing bowl, combine pancake mix, sugar, water, sour cream, and vanilla extract. Mix with a wooden spoon until combined, will be very thick. Fold in mini chocolate chips.
Spoon batter into a greased 9 inch square baking dish, spread evenly.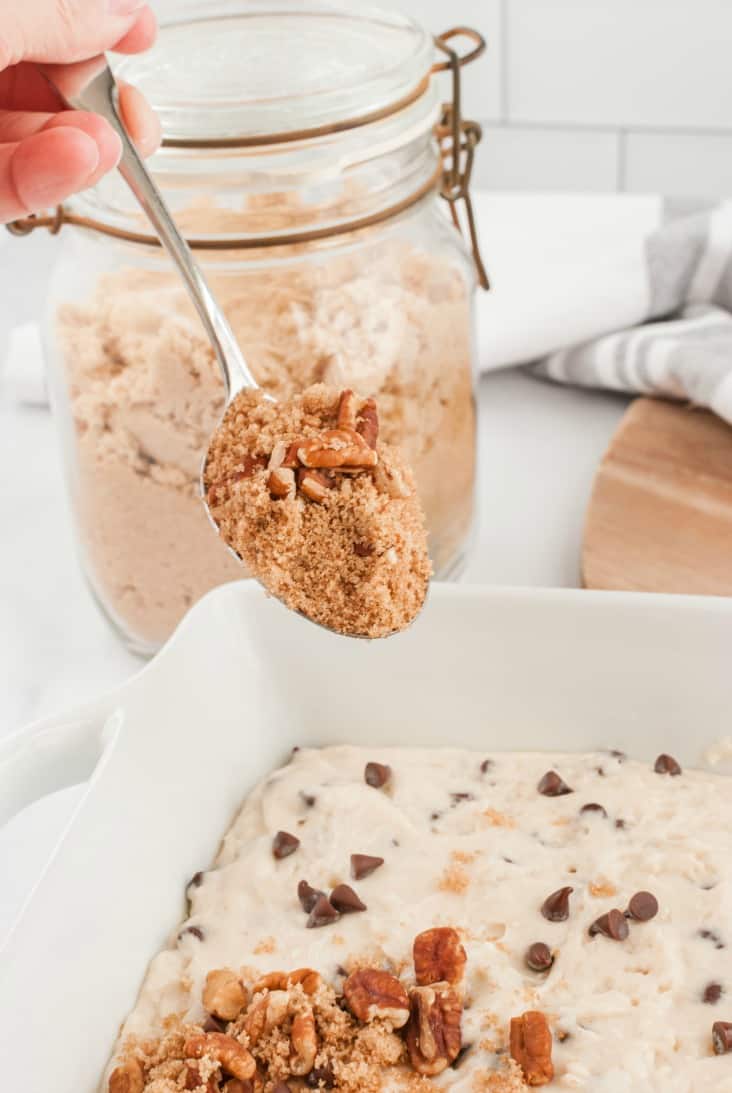 STEP 2. Make the crumb topping
In a small bowl, combine these ingredients:
Brown sugar
Cinnamon
Chopped pecans
STEP 3. Bake!
Sprinkle the topping over top of cake batter. Then bake the cake for 23-25 minutes, until lightly browned and toothpick comes out clean when inserted into the center of the cake.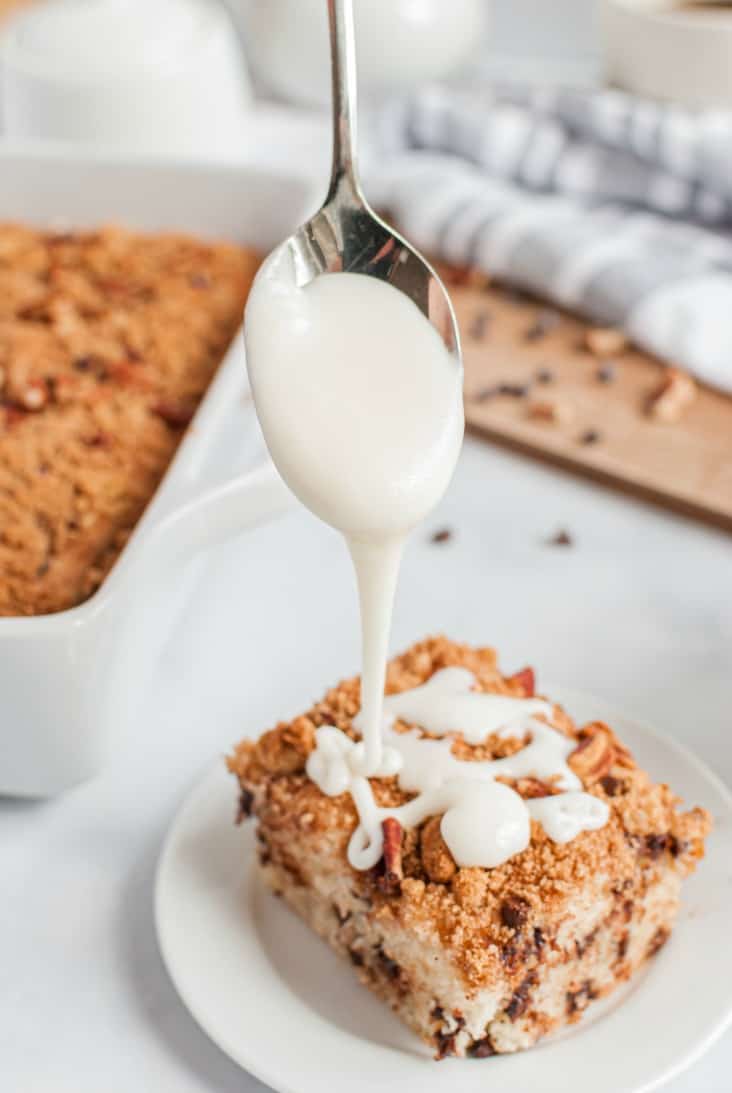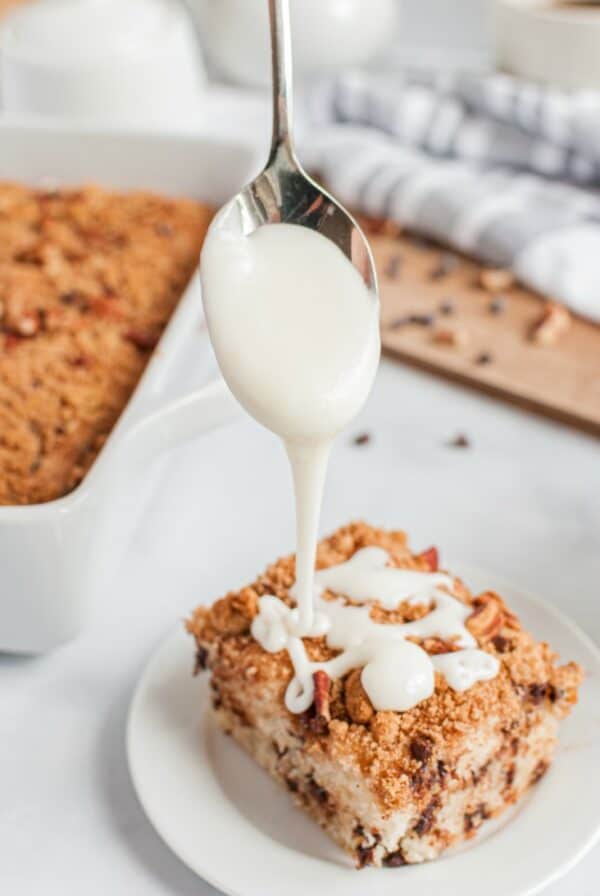 STEP 4. Make the glaze
While the cake is baking, whisk powdered sugar with milk to form a smooth glaze.
Remove the cake from the oven and pour the glaze on top of the warm cake. Slice and servce!
Best When Warm
I highly recommend enjoying this cake while it's still warm. The glaze drips down the sides of each slice and the chocolate chips yield ever so slightly to the bite.
My kids liked their slices with tall glasses of milk.
Cold brew coffee was my preferred accompaniment for the treat this time around. We first had this cake for an afternoon sweet treat.
Then we ate the rest of it for dessert after dinner and breakfast the next day.
Any coffee cake is perfectly acceptable to eat for breakfast, in my opinion! This cake would be a wonderful addition to your brunch table, too.
Tips for perfect cake results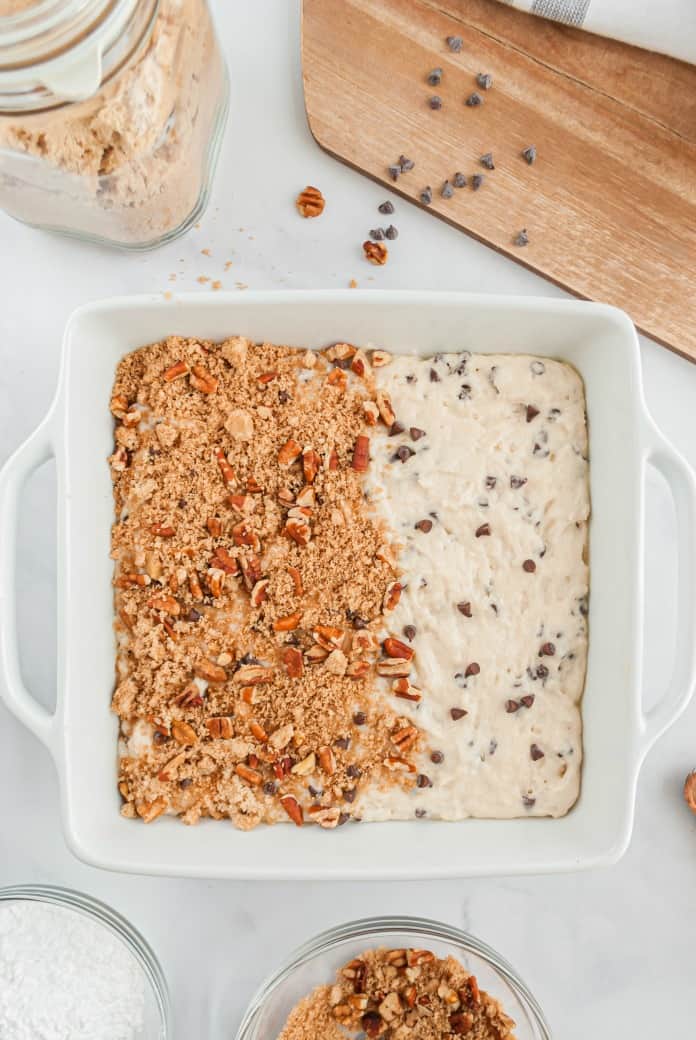 Mini chocolate chips work best in this kind of cake. Full sized chocolate chips will have more of a tendency to sink to the bottom of the cake. With the mini ones you get chocolate in each bite of cake!
No pecans? Try chopped walnuts as a substitute nut that tastes great with both cinnamon and chocolate.
Make sure you are using pancake mix that doesn't require eggs. A "complete" pancake mix that just needs water!
Use full fat sour cream in this cake! Typically, I'm all about Greek yogurt or lower fat alternatives, but you don't use any butter or oil here so the texture of the cake depends on the fat in the sour cream.
How to Store Chocolate Chip Cake
Keep your cake covered at room temperature or slice up individual portions in airtight containers for quick serving!
This cake also freezes well! If you freeze it, do it before adding the glaze, then whip the glaze up fresh to add to the reheated cake while it's warm.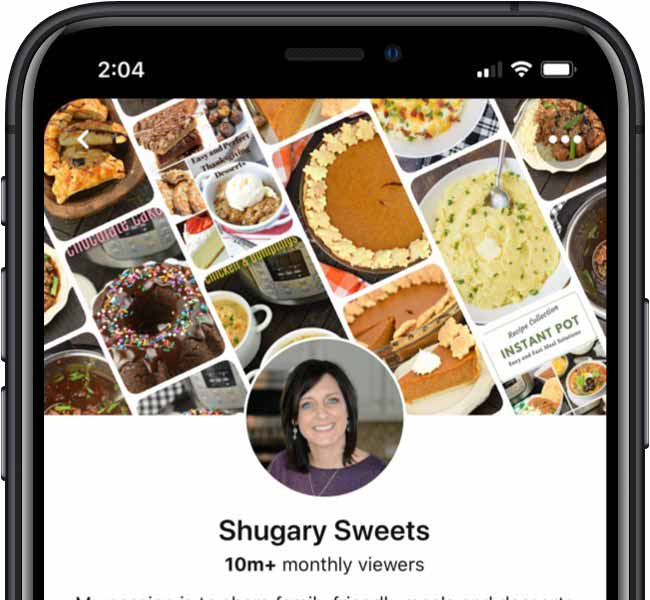 Substitutions
I get it. Maybe you can't find or don't have the "complete" kind of pancake mix on hand.
You can also make this delicious cake using Bisquick or other "regular" pancake mixes. Simply replace the water in the recipe with 2 eggs and 2 Tbsp milk, then proceed with the remaining ingredients and directions.
It will be delicious!
You can also swap out the chocolate chips and use cinnamon chips! A yummy option.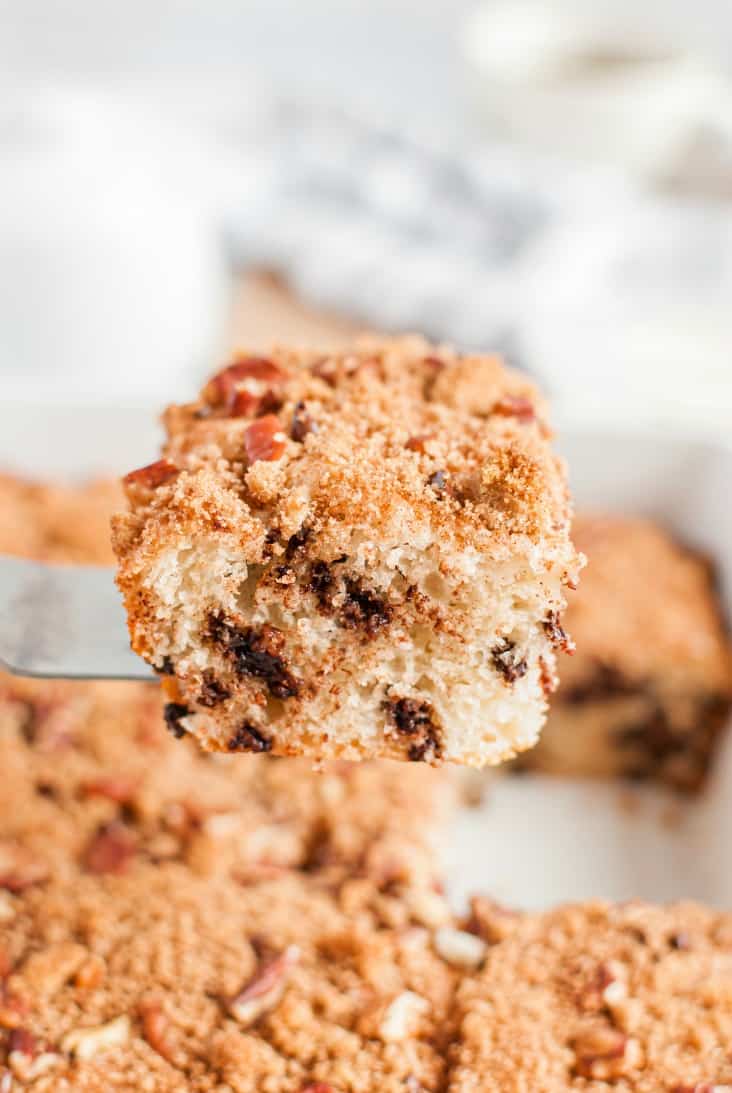 Whether you serve this Chocolate Chip Coffee Cake for dessert, breakfast or sometime in between, I know you're going to love it!