Want to learn how to make waffles at home? Today's recipe teaches you how to make perfect fluffy Homemade Waffles in your own kitchen. Keep a jar of the dry waffle mix on hand for your next weekend brunch! And always make sure to have the buttermilk syrup handy!
Be sure to try our Pumpkin Waffles if you're looking for another flavor! Serve this easy breakfast with a side of our delicious fruit salsa for the perfect way to start your day!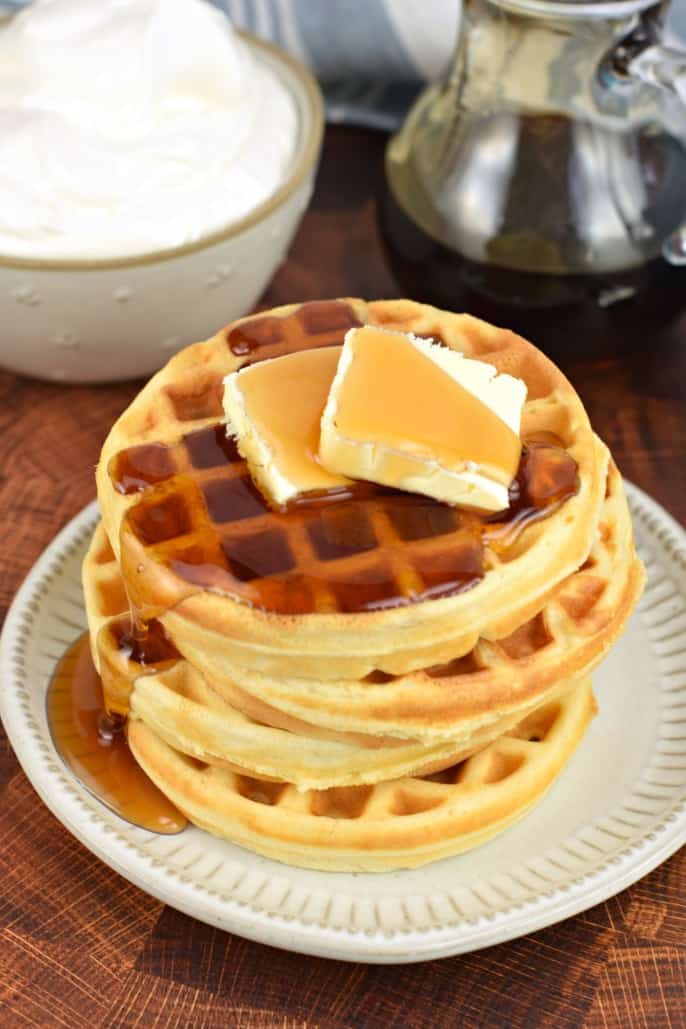 Why Make Waffles at home
Waffles are the superheroes of weekend breakfast! There's nothing like sleeping in on a Saturday morning, then stumbling out of bed to sit down to a plate of freshly made waffles drizzled with real maple syrup.
Of course, I'm usually the one making the waffles so that the rest of my family can have that experience but, you know what? It's worth it.
I'll gladly be the one manning the waffle iron if it means I get to have homemade waffles as my reward.
Never made homemade waffles before? I'm here to help!
This recipe creates perfect waffles with buttery crisp edges that yield to a fluffy interior.
Homemade Waffles sweep the floor with the frozen toaster waffles—and you can even freeze leftovers!
Making waffles from scratch is hardly any more difficult than using a waffle mix. Boxed waffle mix can definitely be convenient but really just saves you the step of mixing the dry ingredients together.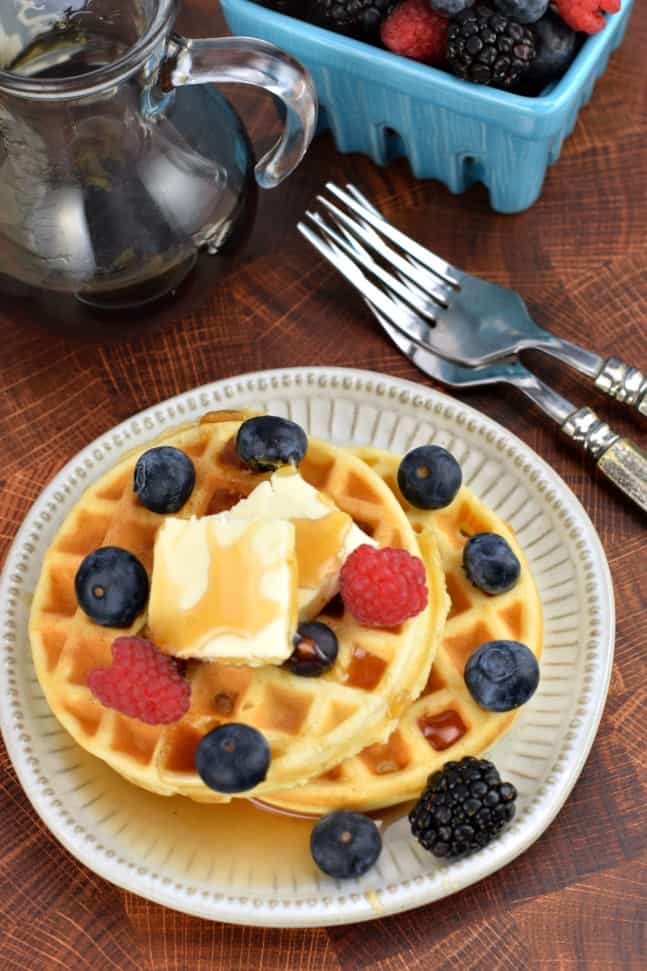 Ingredient Notes
Here's what you need to make these waffles.
PRO TIP: You can keep the dry ingredients in an airtight container so it's available anytime you want waffles!
For the dry waffle mix:
All Purpose Flour
Baking Powder
Sugar
Combine these ingredients in a bowl, then proceed with the recipe. If you like, you can make this in advance to store. Then the next time you want waffles, pull it out and use it just like you would use a storebought waffle mix!
Wet ingredients to add to the waffle mix: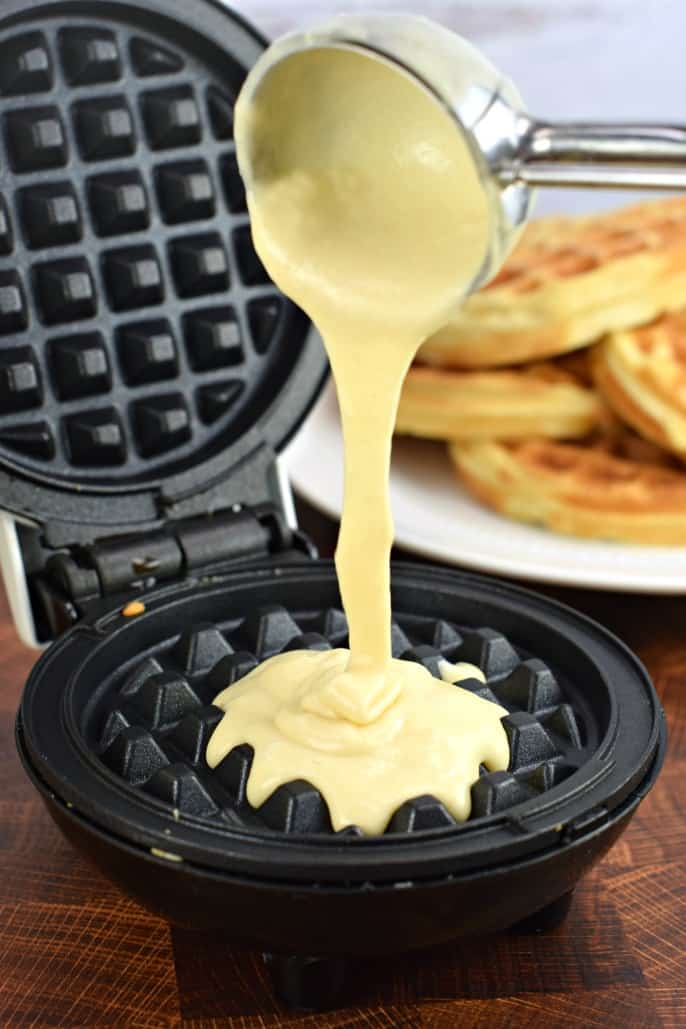 Step by Step Instructions
Easy as 1, 2, 3!
Make the batter. Mix together the wet ingredients in a large mixing bowl. Pour it into the dry mix and whisk to combine. Let sit for a few minutes while you preheat your waffle iron.
Prepare your waffle iron. Preheat your waffle iron. Spray waffle iron with baking spray before the FIRST batch only.
Cook! Ladle batter into preheated waffle iron and cook until golden brown. Carefully remove the waffle and repeat with remaining batter. Keep waffles warm until ready to serve!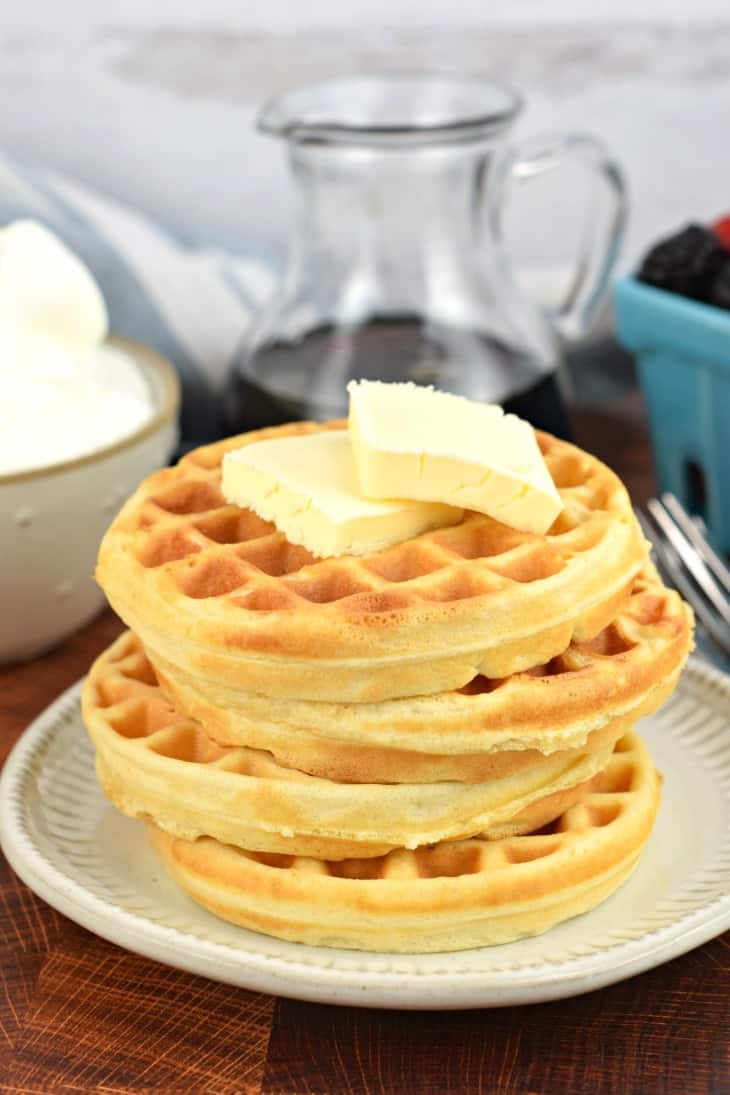 Waffle Toppings
Waffle squares were built for catching pools of maple syrup and butter.
Fresh fruit and whipped cream are also heavenly on these waffles!
Berry Syrup is also delicious on homemade waffles.
If you haven't tried my homemade buttermilk syrup yet, DO IT. Only 5 ingredients and 5 minutes, you'll love the rich flavor!
Oh and I can't forget to mention, dessert waffles. A scoop of cold vanilla ice cream on top of a warm waffle just about makes me weak in the knees. (My kids have no complaints about them, either.) Add a drizzle of our homemade chocolate syrup to complete the treat.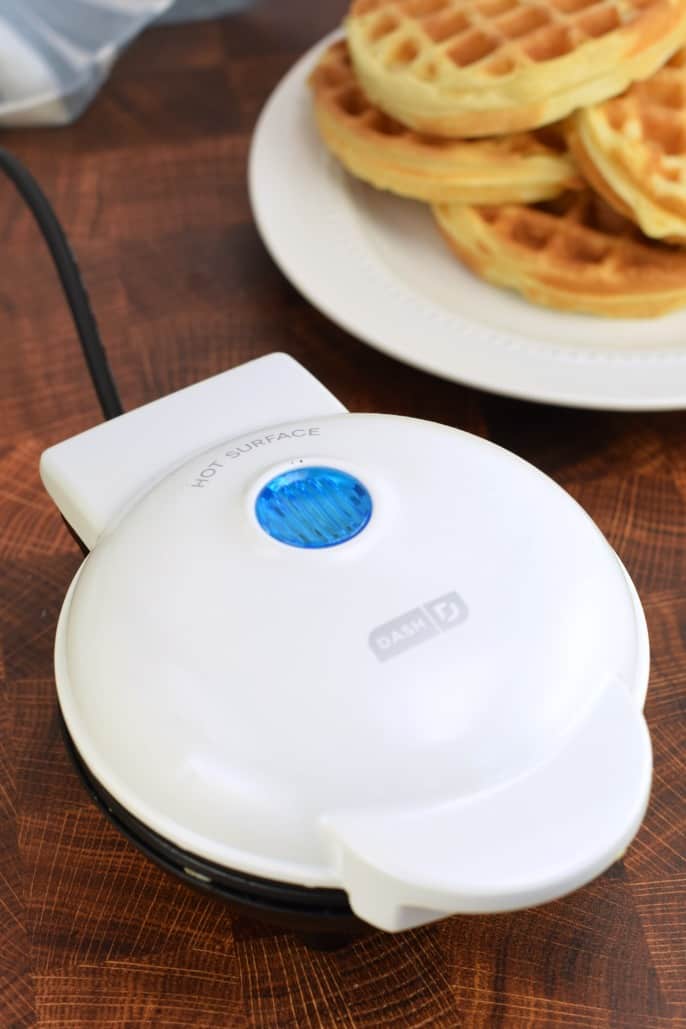 Recipe FAQs
Why do my waffles stick to the waffle iron?
Make sure your waffle iron is hot enough before adding the batter. An iron that's too cool won't cook the inside of the waffle thoroughly making it more likely for the waffle to split and stick to the pan.
What if I don't have cooking spray?
Substitute a very thin layer of butter or vegetable oil on the waffle iron. The key here is thin! Too much oil or butter will make the waffles greasy.
Can I use homemade pancake batter?
Waffles have a higher percentage of sugar and fat in the batter, which results in the crispy edges. I wouldn't substitute one for the other.
Tips and Tricks
Waffles aren't difficult to make and this recipe always does the trick. Here are some other tips I've gathered over the years to help you make the best waffles possible:
Along with a good waffle recipe, you need a good waffle iron! I love my Dash Waffle Iron. It's inexpensive, easy to use and clean and always makes golden brown waffles.
In my Dash waffle iron, the waffles take about 3 minutes to cook through. Yours might take a bit less time or a bit more. If you're new to waffle making, this make take some trial and error until you really get to know your waffle iron!
Keep waffles warm until ready to serve by setting them on a baking pan in the oven on the "warm" setting.
Looking for low carb or gluten free? Use the Dash waffle maker to make Chaffles. Cheesy buns with no carbs!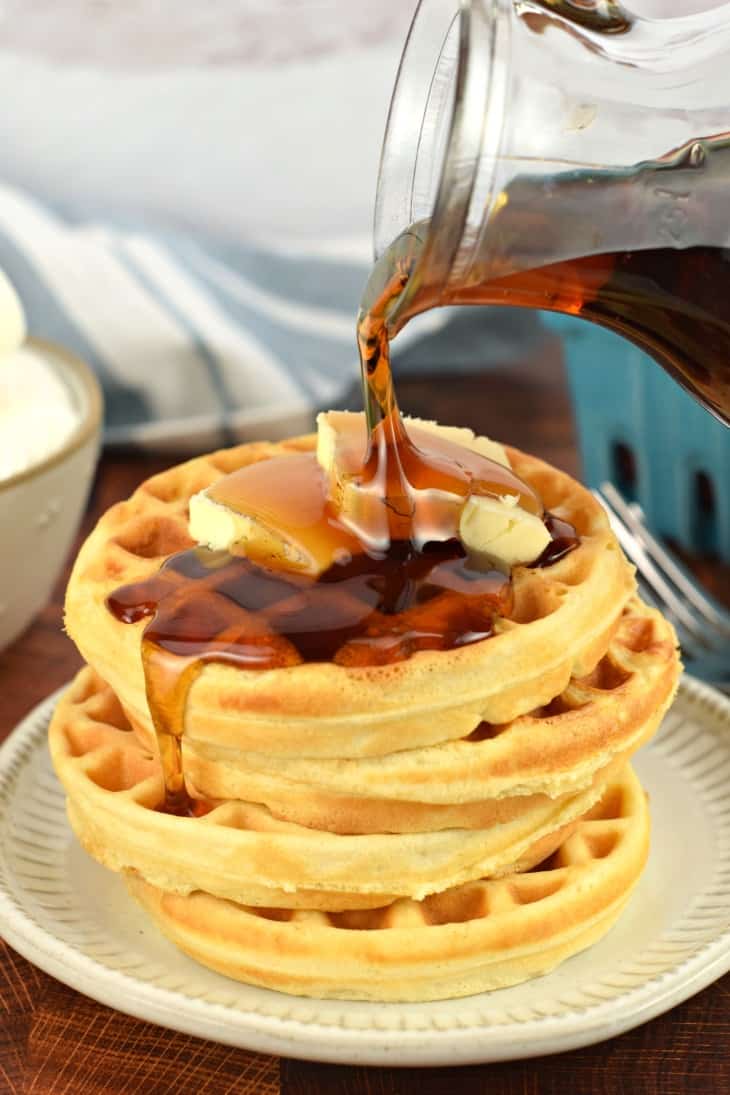 Storage Tips
Make a big batch of homemade waffles on the weekend and store any extras in the freezer. Then you'll have convenient toaster waffles for weekday breakfasts, but with all the good taste of homemade!
To freeze waffles.
Let all the waffles cool completely.
Transfer to freezer bags with a sheet of wax paper between layers of waffle to prevent sticking. Store in the freezer until ready to use.
To reheat frozen waffles:
Place individual waffle in a toaster or toaster oven and heat until cooked through.
You can also reheat frozen waffles in an oven at 350 F. Cover the waffles loosely with foil to keep from drying out as they heat.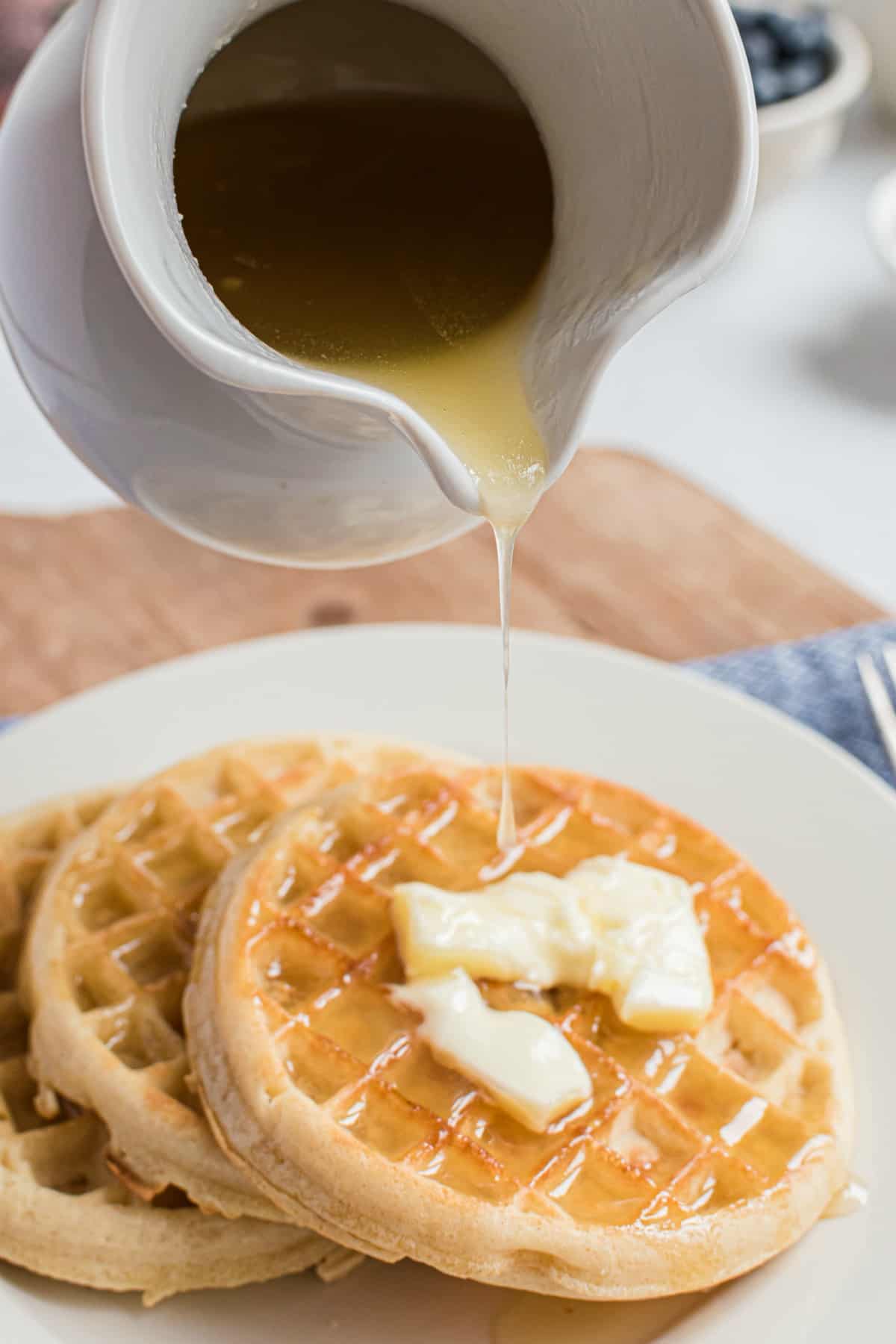 More Easy Breakfast Ideas:
What are you waiting for? Make these simple best-ever waffles for breakfast this week . . . or better yet, plan on breakfast for dinner! No one is ever disappointed to have hot homemade waffles on the menu.