These Pumpkin Waffles are delicious, popable and the perfect breakfast idea! Next time your family asks for waffles, serve a big plate of these instead! Bite size or full size pumpkin waffles with this easy to follow recipe!
Love pumpkin? Be sure to try these Pumpkin Cinnamon Rolls for the perfect start to your day! And while you're at it, whip up a mug of pumpkin cream cold brew to pair with your waffles.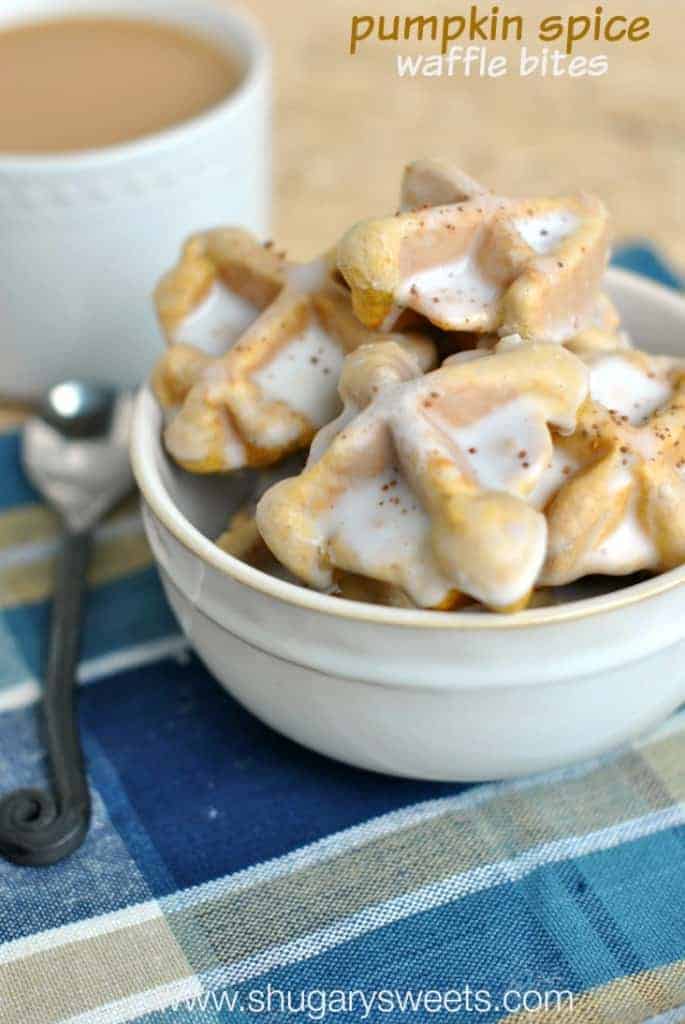 Why this Recipe Works
My kids love going to hotels that allow them to make these delicious fluffy waffles. So of course they would want these at home right?
This easy pumpkin waffle recipe is designed for kids and adults!
No cutting (cause that's work).
No spreading on butter (cause that's work).
No plates (cause you would have to get one out of the cabinet….and put it in the dishwasher when you are done and that's work.)
And what's better this time of year than pumpkin spice Waffle Bites? One big plate of these did not last long in our house! Be sure to give our delicious pumpkin french toast a try next!
I used some homemade pumpkin coffee creamer to give them a little extra boost of Pumpkin flavor! ENJOY!!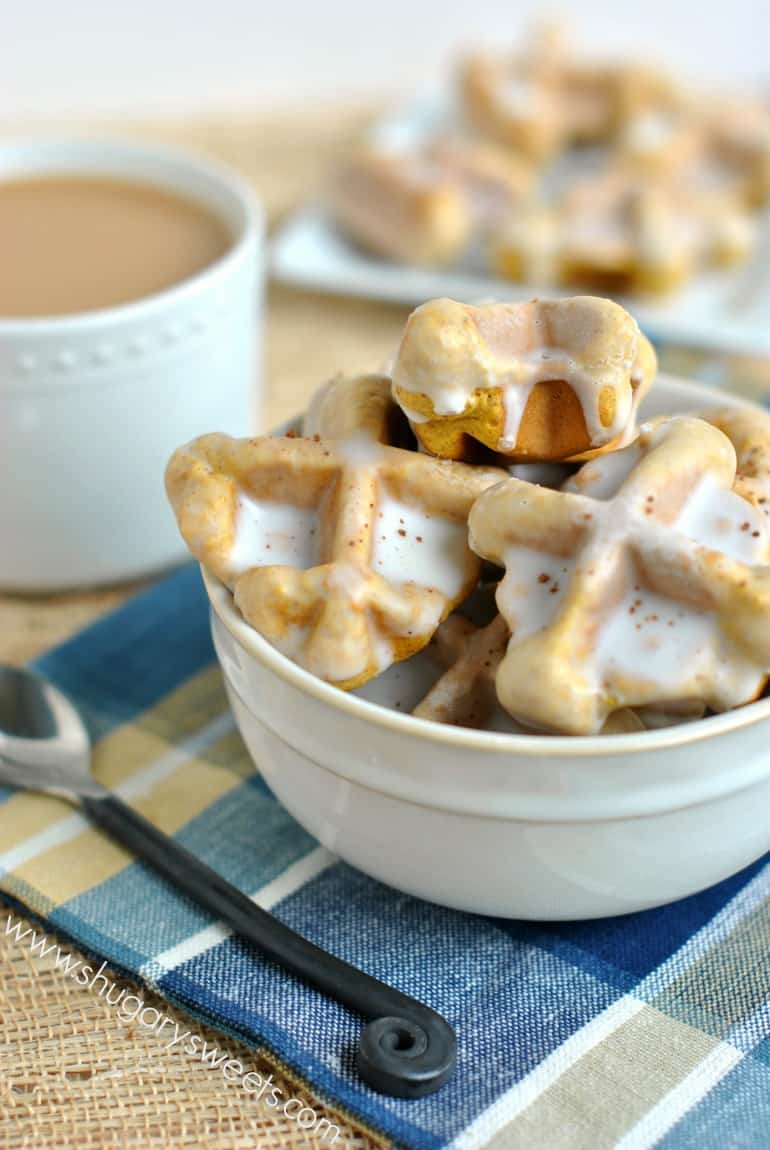 Ingredient Notes
Pumpkin. Make sure to choose the canned pumpkin puree, not pumpkin pie filling. Or use homemade pumpkin puree if desired.
Pumpkin Spice Coffee Creamer. I love using my homemade coffee creamer, however you can use store bought creamer if you choose. Or opt for half and half or milk.
Egg Whites. To get fluffy, belgian style waffles you'll want to beat the egg whites until stiff. Folding these into the pumpkin batter creates airy waffles! Keep the egg yolks for mixing into the wet ingredients!
Step by Step
Make the waffle mix.
In a mixing bowl, beat egg whites until stiff. This process takes several minutes. Set aside.
In a large bowl, combine flour, sugar, baking powder, baking soda, and spices. Give it a quick stir until blended.
Add in the coffee creamer (or milk), egg YOLKS, and pumpkin puree. Beat until combined.
Fold in the egg whites, mixing gently until blended.
Heat the waffle iron.
Whether you use a belgian style waffle iron or easy small waffle maker is your choice. I prefer the larger style like this one on amazon: WAFFLE MAKER.
Spray waffle maker with non-stick cooking spray.
Cook waffles.
Drop pumpkin batter using a 1 Tbsp scoop onto the HOT waffle iron.
Close the waffle maker and cook for about 2 1/2- 3 minutes, until browned on the outside with a slight crisp. Remove and cool on wire rack.
Repeat until all batter has been used.
Add a glaze.
Whisk the powdered sugar and pumpkin coffee creamer together until smooth.
Dip the tops of each waffle into the glaze and place on wire rack. Sprinkle immediately with a pinch of nutmeg.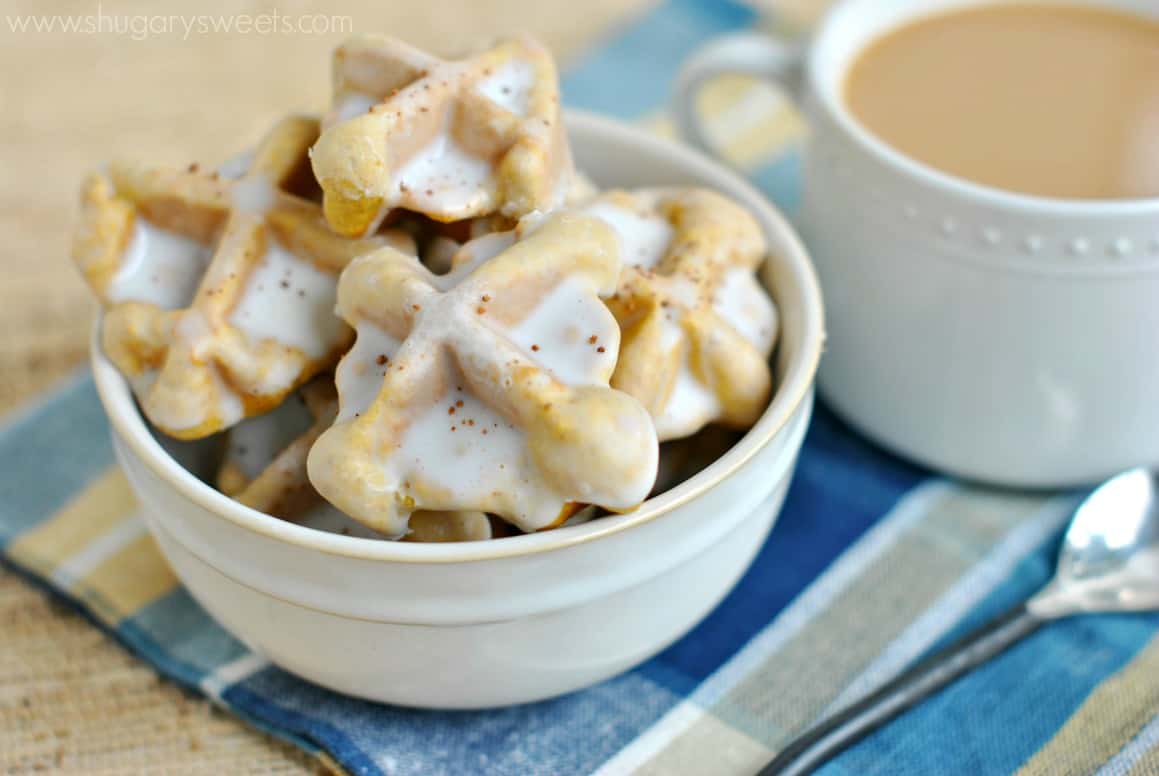 Recipe FAQs
Can I freeze waffles?
Yes! If freezing pumpkin waffles, DO NOT add the glaze. Freeze in ziploc freezer bags.
How do I reheat frozen waffles?
Remove frozen waffle from ziploc bag and place in a toaster (or toaster oven). Heat until warm and slightly crispy.
How do I serve pumpkin waffles?
You can either make a sweet pumpkin glaze and garnish with nutmeg, or serve the warm waffle bites with maple syrup.
Can I make full size waffles instead?
Yes! Instead of bite sized waffles, use the same method except add about 1/4-1/2 cup waffle batter to the hot waffle iron. Cook until edges are brown and crispy.
More Tips and Tricks
Make sure before beating your egg whites that your bowl is clean and DRY.
Choose pumpkin PUREE, not pumpkin pie filling.
Skip the glaze and serve warm waffle bites with homemade buttermilk syrup instead!
Easy Breakfast Recipes