These Pumpkin Spice Waffle Bites are delicious, popable and the perfect breakfast idea! Next time your family asks for waffles, serve a big plate of these instead!
Be sure to sign up for my email…new recipes in your inbox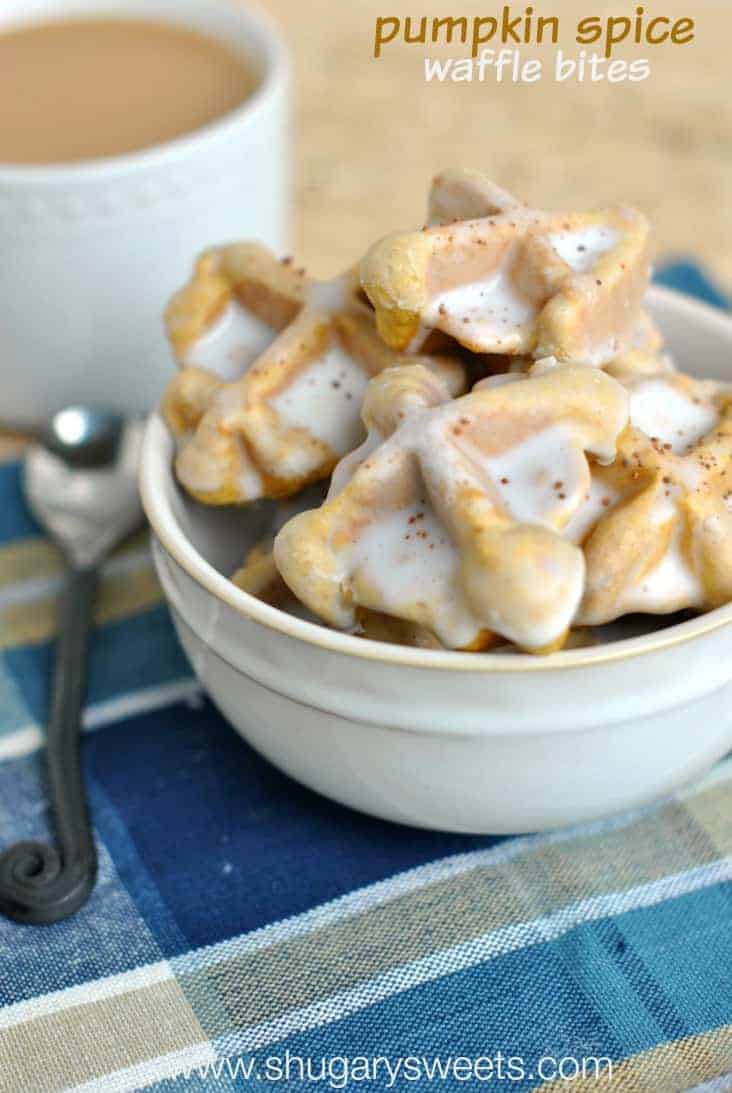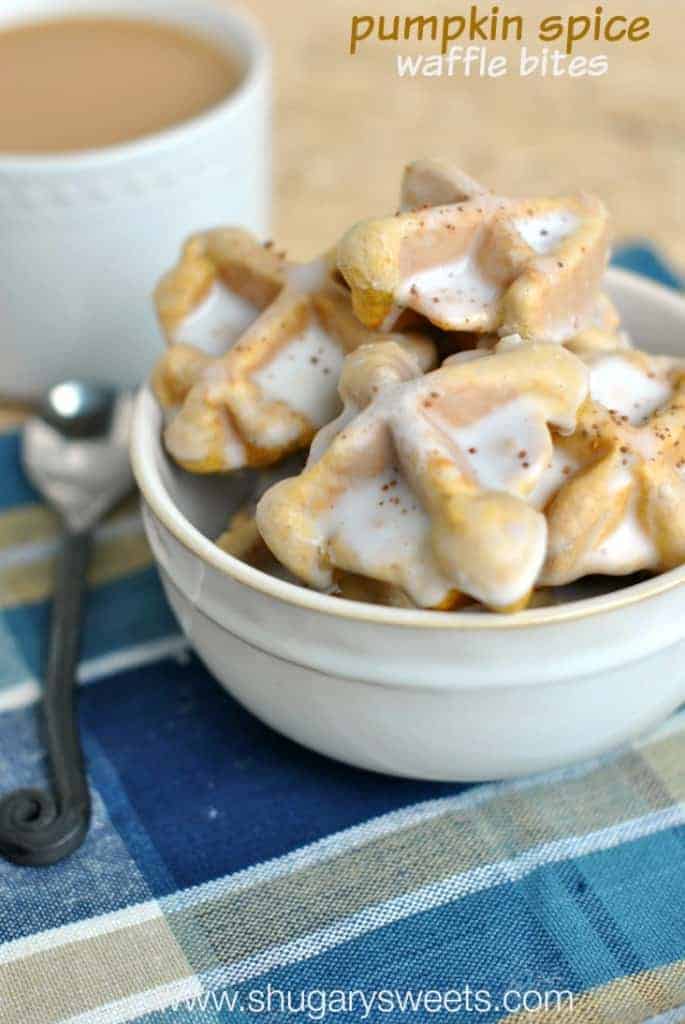 I don't make waffles very often. At least not often enough!
Yes, I have a belgian waffle maker, but doesn't every food blogger? I mean seriously, my cabinets are overflowing with donut pans, muffin top pans, twinkie pans, mini muffin pans, cupcake pans…don't forget all the shaped brownie pans (hearts, stars, silicone squares). It's a bit ridiculous. #firstworldproblems
Must I list all my small appliances too?
Well, last year I decided it was a necessity that my family own a belgian waffle maker. (I purchased this Hamilton Beach waffle maker
). My kids love going to hotels that allow them to make these delicious fluffy waffles. So of course they would want these at home right?
Well, only if mom makes the batter. And of course they all have to be awake and hungry for waffles at the same time. Granted, I have put them in the freezer after cooking and they are great popped in the toaster.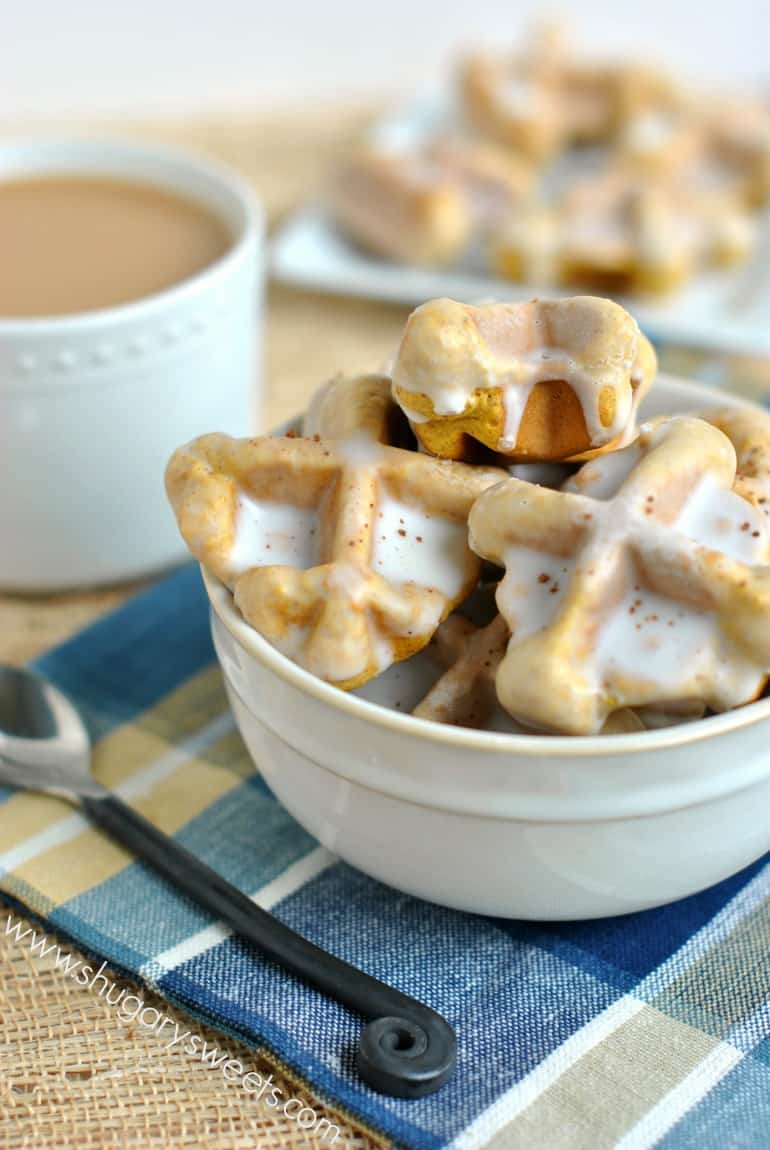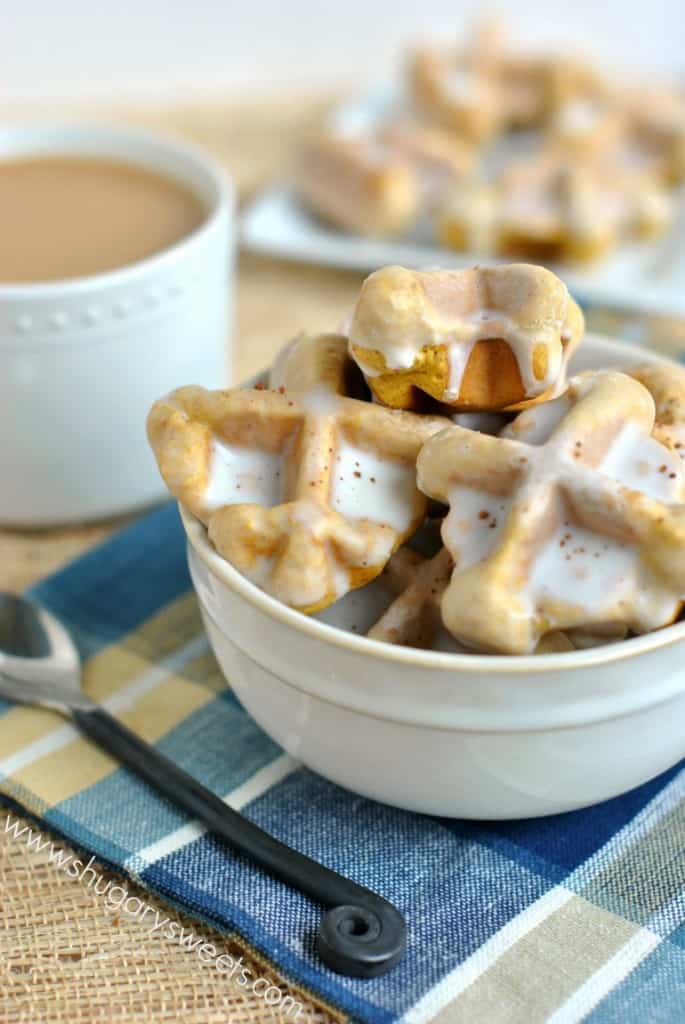 You know what makes my kids even happier though? Bite sized food. I'm not talking about toddlers here…I'm talking big kids. My kids are 10, 12, 15,17. And they want bite sized food.
I totally get it though, you just pop it in your mouth. No cutting (cause that's work). No spreading on butter (cause that's work). No plates (cause you would have to get one out of the cabinet….and put it in the dishwasher when you are done and that's work.)
Alright alright….I'm not raising lazy kids. I hope. I'm raising kids who love bite sized food, HEHE. Let's be clear.
And what's better this time of year than pumpkin spice Waffle Bites? One big plate of these did not last long in our house! I used BAILEYS® Pumpkin Spice Coffee Creamer to give them a little extra boost of Pumpkin flavor! ENJOY!!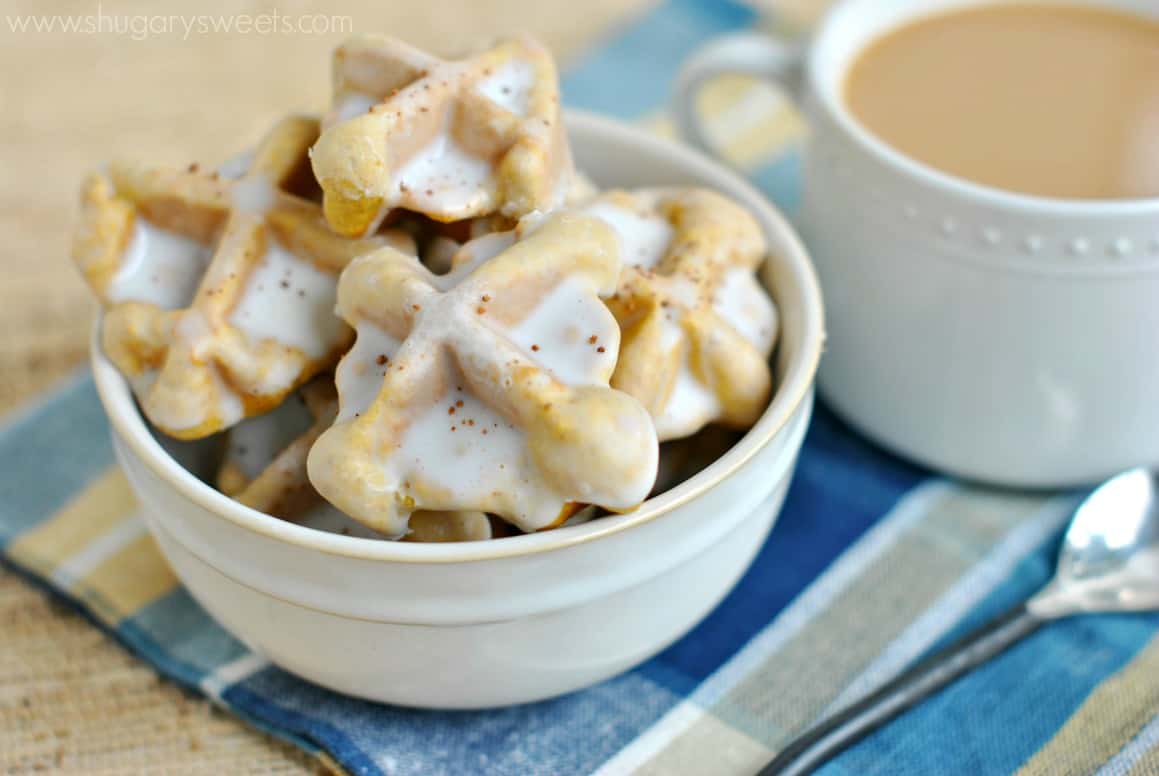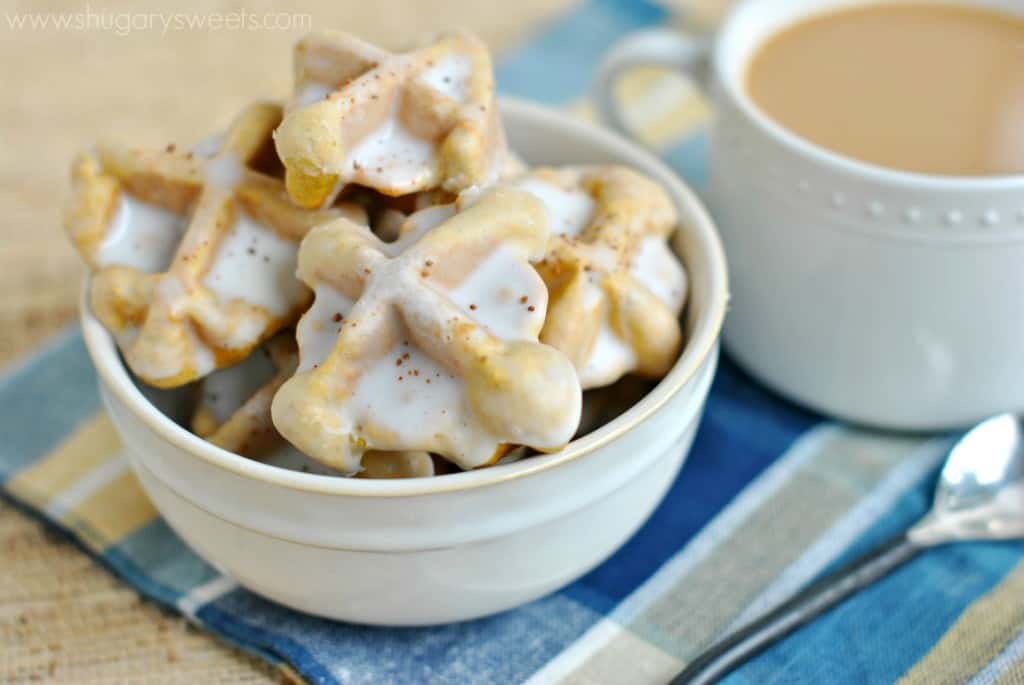 Connect with Shugary Sweets! Be sure to follow me on my social media, so you never miss a post!
Pinterest | instagram | Bloglovin'
Yield: 4-5 dozen
Pumpkin Spice Waffle Bites
Prep Time 20 minutes

Cook Time 25 minutes
Ingredients
For the waffle bites:
2 large eggs, separated
2 cup all-purpose flour
1/4 cup light brown sugar, packed
2 tsp baking powder
1 tsp baking soda
1 cup BAILEYS® Pumpkin Spice Coffee Creamer
1/2 cup canned pumpkin
1 Tbsp cinnamon
1/2 tsp nutmeg
1/2 tsp ground cloves
1/2 tsp kosher salt
1/2 tsp ground ginger
For the glaze:
1 1/2 cup powdered sugar
1/4 cup BAILEYS® Pumpkin Spice Coffee Creamer nutmeg, for garnish
Instructions
In a clean and dry mixing bowl, using an electric mixer with whisk attachment, beat egg whites until stiff (about 2-3 minutes). Set aside.
In a mixing bowl, add flour, brown sugar, baking powder, baking soda, cinnamon, nutmeg, cloves, salt and ginger. Mix until combined. Add coffee creamer, egg yolks and pumpkin. Beat until fully combined.
Fold in stiff egg whites, mixing gently just until blended.
Heat Belgian Waffle Iron on medium high. Spray with non-stick baking spray, if necessary.
Drop batter by 1 Tbsp scoop onto waffle iron. Close iron and cook for about 2 1/2-3 minutes, until browned on the outside with a slight crisp. Remove from waffle iron and cool on wire rack. Repeat until all batter has been used.
In a small bowl, whisk together the powdered sugar and coffee creamer until smooth. Dip tops of each cooled waffle bite into glaze and place on a wire rack. Sprinkle immediately with a pinch of nutmeg. Repeat until all waffle bites are glazed. Allow glaze to set about 15 minutes. ENJOY.
Looking for more Pumpkin Recipes? Check out my Pinterest Board: The Great Pumpkin!
Follow Shugary Sweets's board The Great Pumpkin on Pinterest.

**I created these Pumpkin Waffle Bites for BAILEYS® Coffee Creamer. I was not compensated to write this blog post! All opinions are 100% my own.