Light and fluffy Buttermilk Pancakes are the best thing to happen to your breakfast table. Drizzled with an easy berry syrup and served with a pat of warm butter, these flapjacks are pancake perfection.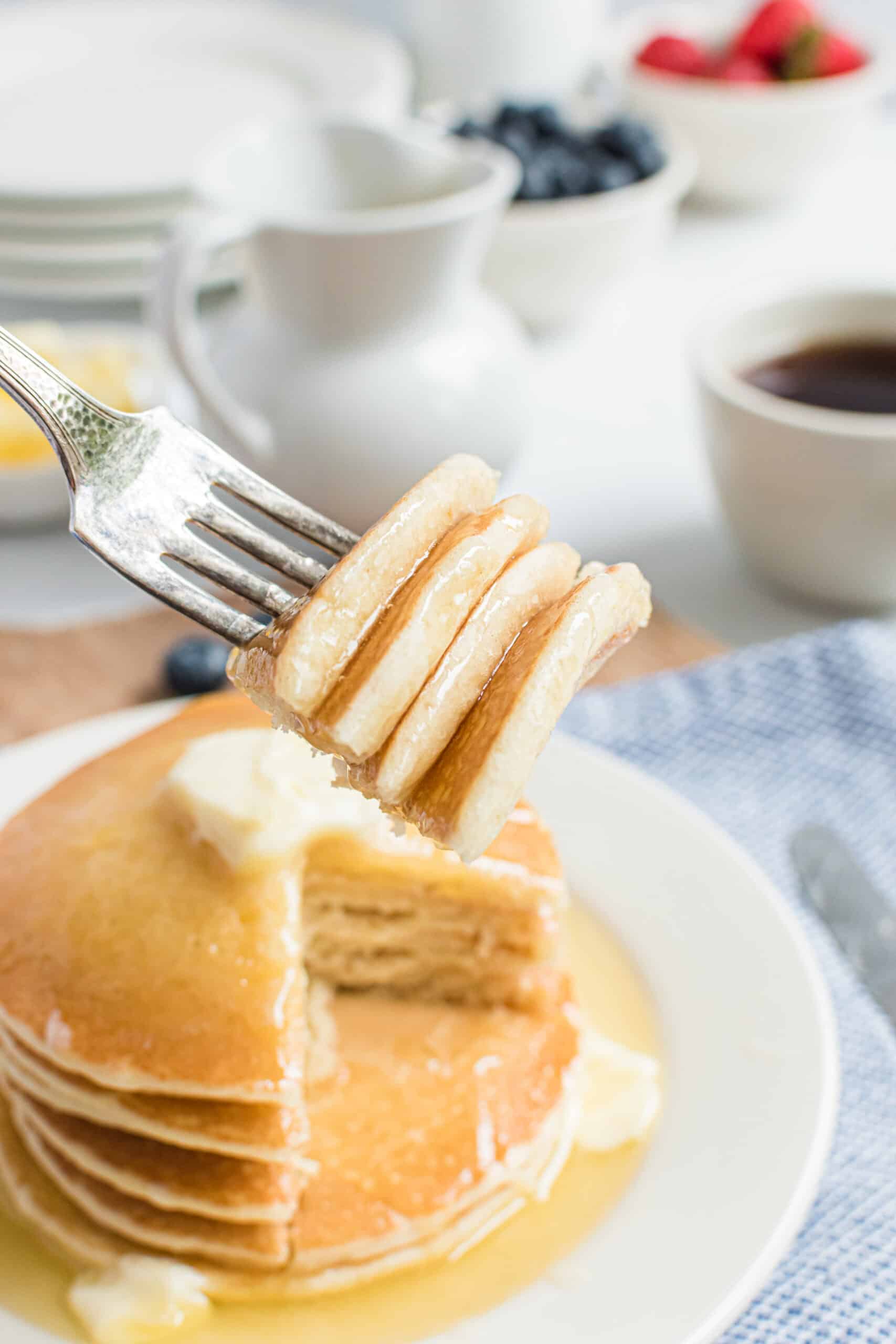 If there's one breakfast food everyone should know how to make it's pancakes. They're almost universally beloved, require very few ingredients and can be topped a zillion different ways to keep things interesting.
Buttermilk Pancakes
Oatmeal Cookie Pancakes have been a unique favorite for a while but when it comes to a straightforward griddle cake, Buttermilk Pancakes with warm maple berry syrup. These are golden brown, fluffy pancakes with just a touch of sweetness.
Pure, unadulterated deliciousness!
We love our pancakes around here and these Buttermilk Pancakes are hard to beat! The addition of the Easy Berry Syrup on top elevates them from "pretty tasty" to "Oh-my-goodness-I-need-another-one-of-these-amazing-pancakes-right-now" territory.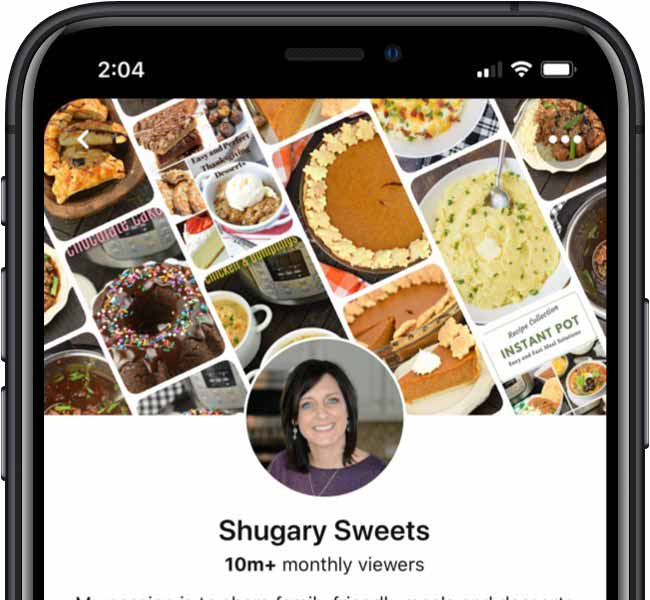 Homemade Pancake Mix
Do you use pancake mix to make homemade pancakes? I used a box mix for years and they were always good but never extraordinary. This Buttermilk Pancake recipe is far away better than anything that comes from a box!
When you use pancake mix, you're essentially just using a pre-made blend of the dry ingredients that go into pancakes. It takes just a few seconds to whip this together yourself.
If you're a pancake addict, you can even mix a few batches of the dry ingredients together and keep in a container in the pantry for your own Homemade Pancake Mix!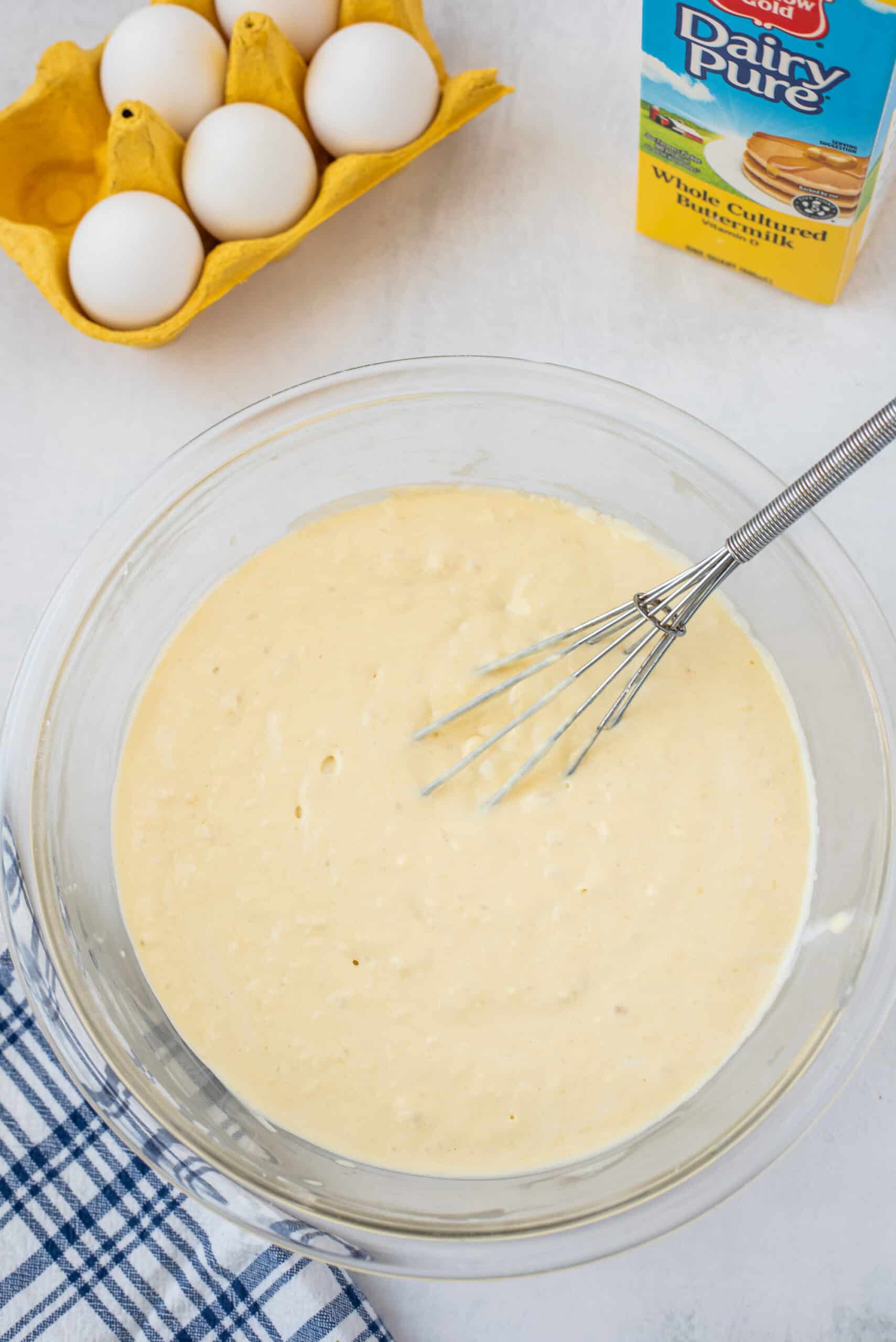 Here's what you need for the dry ingredients (Homemade Pancake Mix):
Flour
Baking powder and baking soda
Sugar
Salt
After mixing the dry ingredients, you're going to add:
PRO TIP: I use SACO dry buttermilk that stores for months in the fridge. Perfect to add to pancakes, frosting, etc!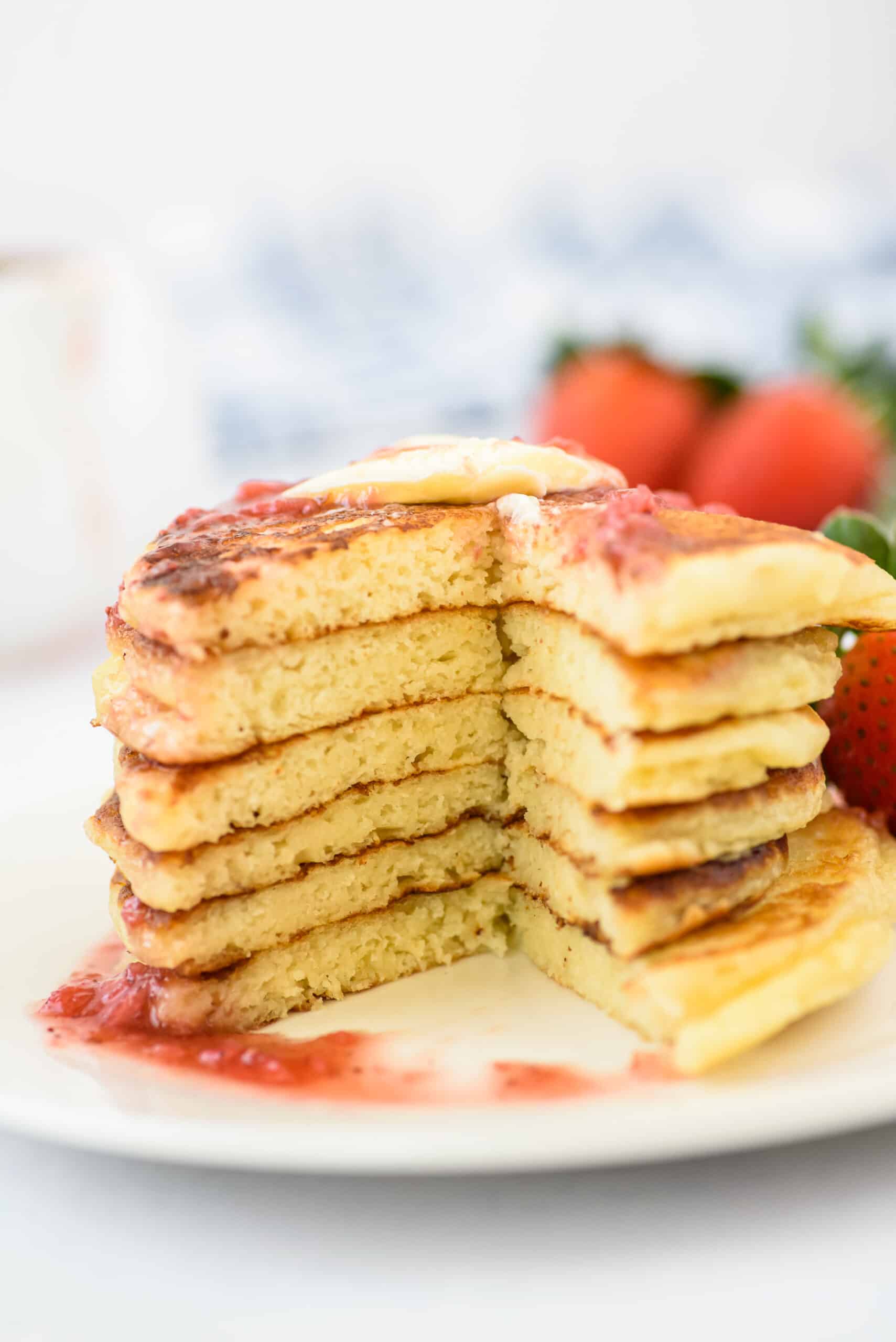 You want to mix these in until just barely combined. The batter will be nice and lumpy! If you're new to pancake making, resist the urge to smooth it out with more mixing.
Over mixing leads to tough and dense pancakes; keep that batter lumpy for airy fluffy ones. Trust me!
What's the other secret to making super fluffy Buttermilk Pancakes? Let the batter rest.
For this recipe, I let the batter rest for five minutes at the very least before cooking the pancakes. If you have ten minutes to spare, even better.
Why let pancake batter rest? This step gives the baking soda time to react with the acid in the buttermilk which is what makes these pancakes rise sky high. Letting the batter rest, also helps the protein (gluten) in the flour relax, creating a lighter and softer pancake texture.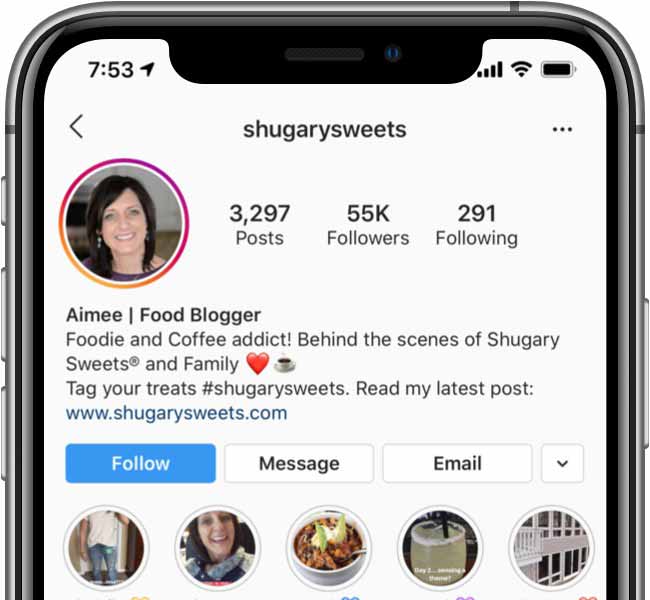 How to Make Pancakes
STEP 1. While the batter is resting, preheat your skillet (I like cast iron here!) or griddle over medium high heat. When the skillet is sizzling hot, add a spoonful of either coconut oil or butter and allow it to melt, coating the skillet or griddle with a thin layer.
Now it's time to cook some buttermilk pancakes!
STEP 2. Use a ladle to add about 1/4 cup full of the batter to the hot griddle at a time. This amount of batter makes a silver dollar sized buttermilk pancake; I can fit about 4 of these in my 12 inch skillet at once.
STEP 3. You can also use a bit more batter to make larger pancakes, just be sure not to overcrowd your pan. A couple of inches of space between each pancake allows for more even cooking and easier flipping!
STEP 4. FLIP! When the edges of the pancake begin to bubble, it's time to flip it over. Slide a thin spatula underneath the pancake and flip in one motion. Allow it to cook on the other side for a couple of minutes until golden brown.
Remove and keep warm until ready to serve! Repeat with the remaining pancake batter being sure to add more butter to the pan between each batch.
Serve a stack with my favorite Buttermilk Syrup recipe!
Or.
Berry syrup!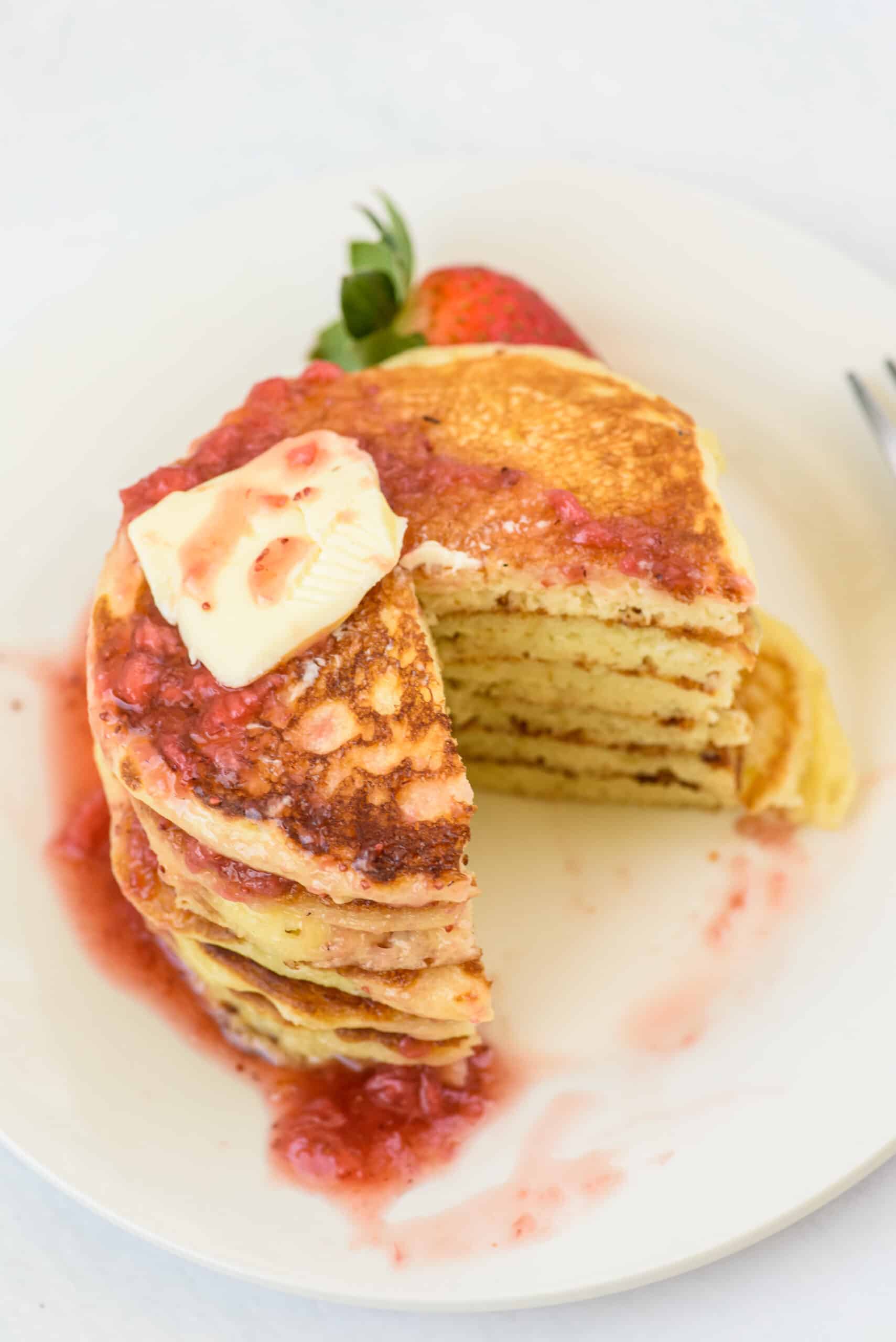 Easy Berry Syrup
This homemade syrup is full of bright juicy berry flavor and adds an extra special dimension to your Buttermilk Pancakes! If you love ordering warm fruit compote or syrup on your pancakes at a restaurant, you're going to flip when you find out how easy it is to make this berry syrup!
Here's all you need:
Frozen berries
Maple syrup
Water
I've used blueberries, raspberries and strawberries in this berry syrup and each one has been delicious! Next, I want to try blackberries! Use your favorite or mix and match for extra berry flavor.
How to Make Berry Syrup
STEP 1. Combine the frozen berries and water in a covered sauce pan and bring to a boil.
STEP 2. Turn the burner down to low, uncover the pot and let the berries simmer until half the water has cooked off.
STEP 3. Use the back of a spoon to smash the berries, releasing juices.
STEP 3. Add the maple syrup and stir until heated through. Drizzle over your buttermilk pancakes and enjoy!
For a smoother berry syrup: Puree the berries in a blender or food processor before adding the maple syrup. (I like a few lumps in my berry syrup, so I rarely take this extra step.)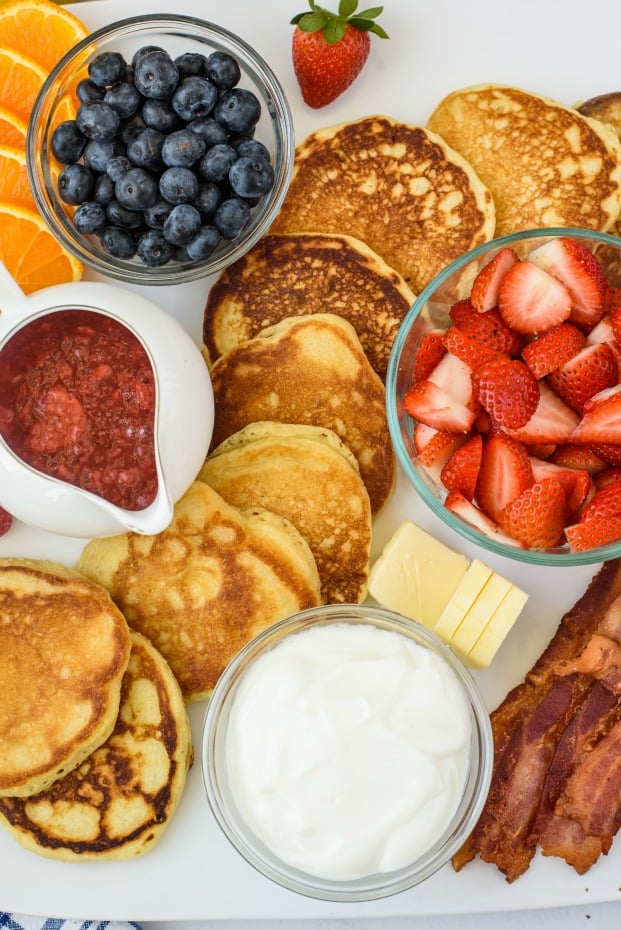 Buttermilk Pancake Toppings
I think you're going to love the easy berry syrup recipe, but Buttermilk Pancakes are also delicious with all your favorite pancake toppings.
Need some ideas? Try these family favorites:
Peanut butter and sliced bananas
Fresh berries and nutella
Whipped cream with peach slices
Jam and a pat of butter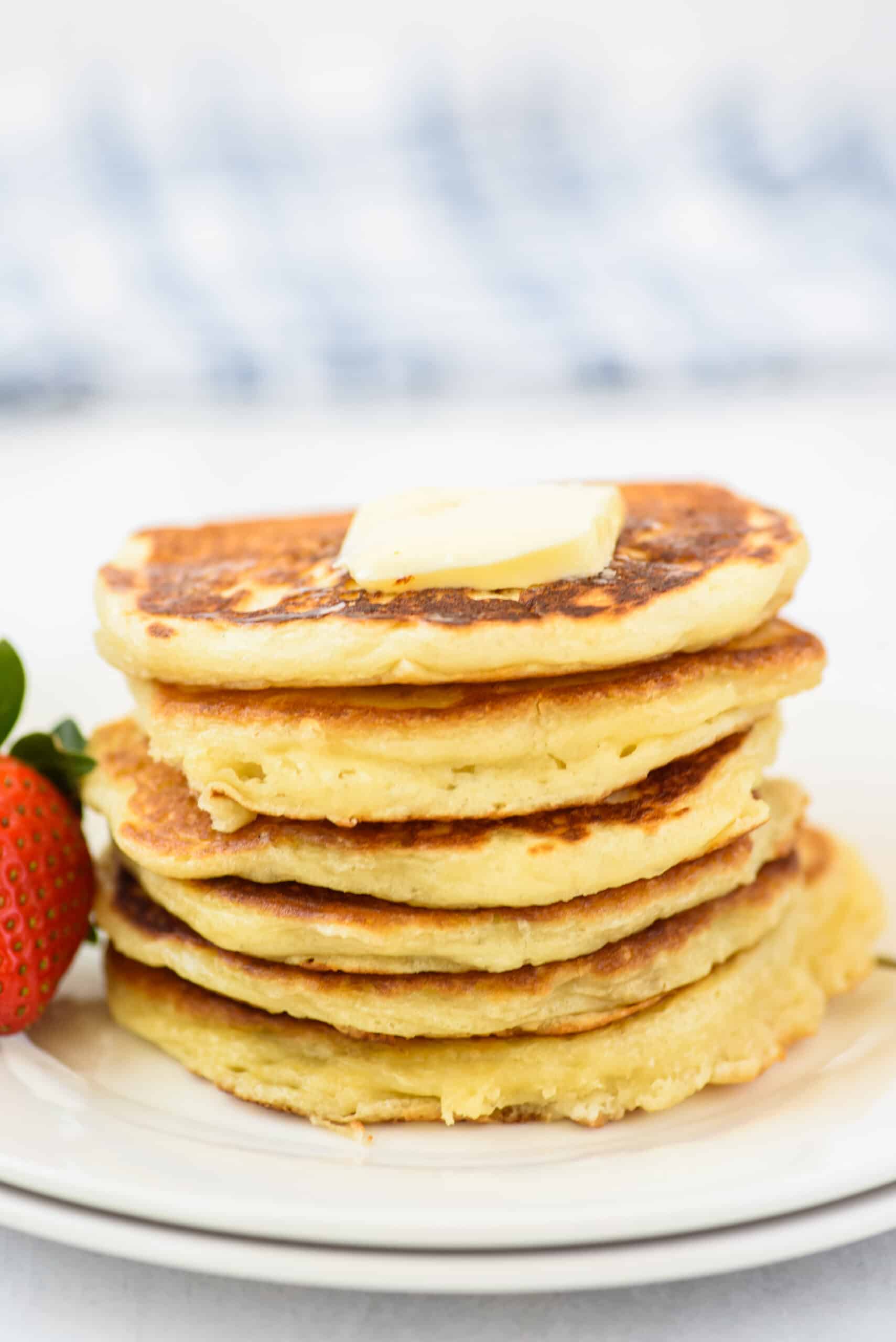 Want to make Pancake Bites? Use my favorite Instant Pot Recipe!
More Breakfast Ideas
However you choose to serve these Buttermilk Pancakes, I know you're going to love them!