Ditch the store bought bars and make your own chocolate chip granola bars at home! Your whole family will love these easy chewy homemade snacks.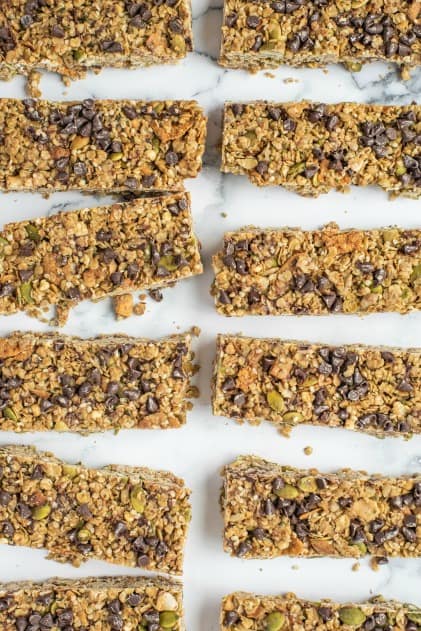 Granola bars make perfect on-the-go snacks. These days it feels like I'm always rushing someone from one after school activity to another . . . and everyone is ALWAYS hungry.
Bars are the obvious choice for snacking in the car or between sporting events. Store bought bars are fine but between the trash generated by those individual wrapping papers and the questionable ingredients list, they've never been my favorite.
Homemade granola bars are the answer! These Chocolate Chip Granola bars are nourishing, wholesome and just sweet enough to taste like a treat.
Healthy Granola Bars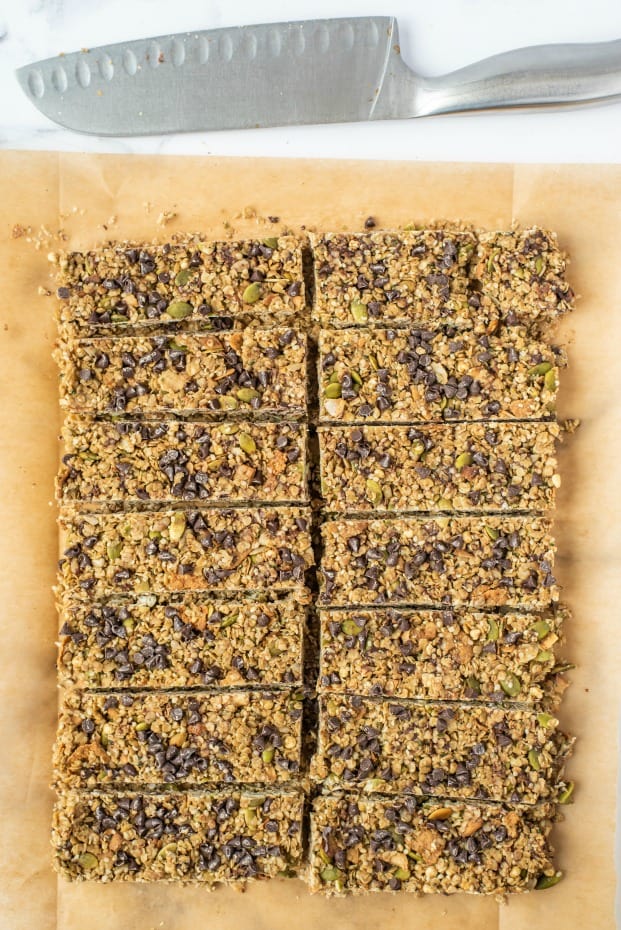 When you make your own granola bars, you know exactly what's going in to them. No weird preservatives or high fructose corn syrup without the expense of a lot of commercial granola bars.
These granola bars are made with . . .
Granola
Honey or maple syrup
Rice Krispies
peanuts
pretzels
semi-sweet chocolate morsels
Real butter
Brown sugar
You can use any brand of granola you like or even homemade granola if you have it. I used a maple nut flavor this time around because I can't get enough maple flavor in my granola bars!
Speaking of maple, I like using a blend of maple syrup and honey in these bars, personally. It makes the honey flavor a little less overwhelming and I like contrast of the maple flavor with the salty pretzels and peanuts. If you like more maple taste, you can certainly substitute 100% maple syrup for the honey.
Another thing I love about these granola bars? They are completely no-bake and take less than half an hour to make!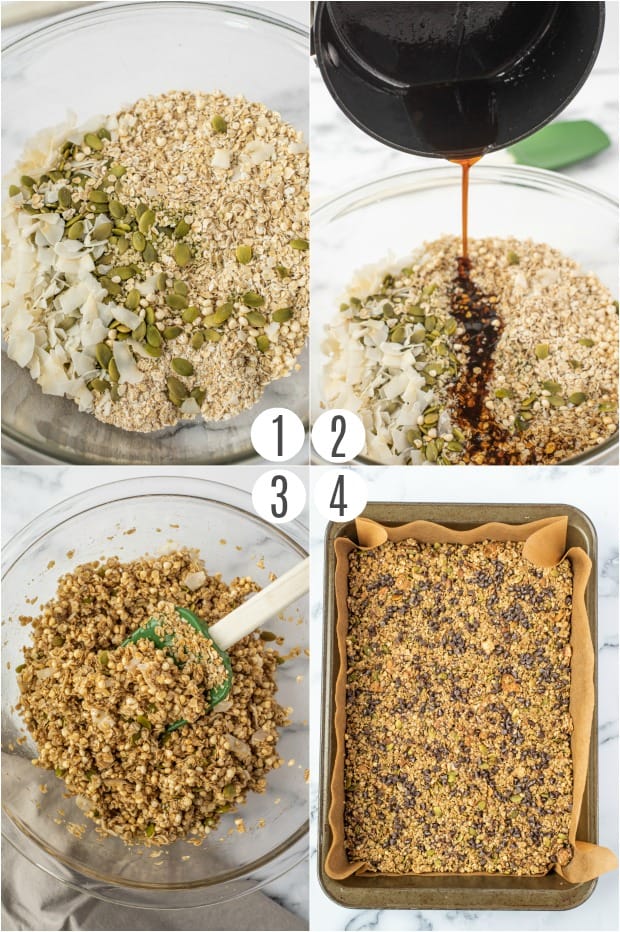 How to Make Chocolate Chip Granola Bars
STEP 1. In large saucepan, heat butter, sugar and honey (or maple syrup) over medium heat.
STEP 2. Cook until the sugar is completely disolved, then remove from heat. Add in granola, rice Krispies, peanuts and pretzels. Quickly add in chocolate chips.
STEP 3. Press into a parchment lined 13×9 pan. Refrigerate for about 15-20 minutes.
STEP 4. Cut into bars and enjoy!
Substitutions
This recipe for homemade granola bars makes a fantastic canvas for so many fun variations.
Try peanut butter morsels instead of chocolate chips, or a blend of both.
Chopped almonds, cashews or walnuts would also taste delicious as an alternative to the peanuts in the recipe!
Feel free to experiment with other additions like dried cranberries, raisins and apricots here.
These bars are perfectly chewy, sweet and a bit salty. Fans of salty-sweet snacks LOVE my chocolate chip granola bars!
My peanut butter loving friends always give my Peanut Butter Granola Bars rave reviews, too.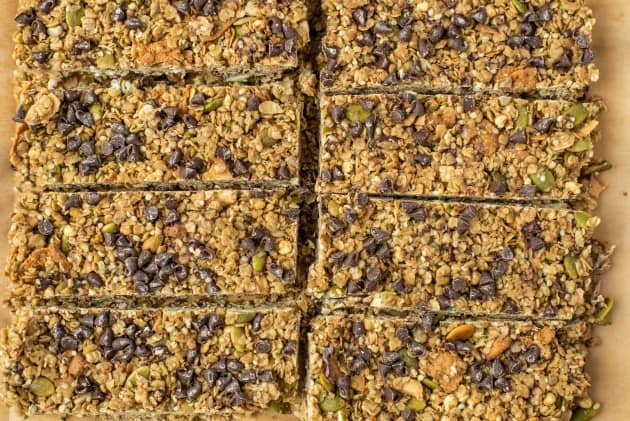 Storing homemade granola bars
These bars store wonderfully at room temperature if kept in an airtight containers. They'll taste fresh for about 1 week after making them but in my house they tend to disappear long before!
Pop them in a tupper ware or ziploc bag for lunch boxes, backpacks and purses so you're never without a tasty snack.
When blood sugar levels start to dip, a chocolate chip granola will take the edge off in no time. In fact, I like these bars so much I've even been known to eat one for dessert after dinner. (Only if no Rice Krispie Treats are available, of course.)
Make these for your next road trip, hike or camping adventure to keep hunger at bay!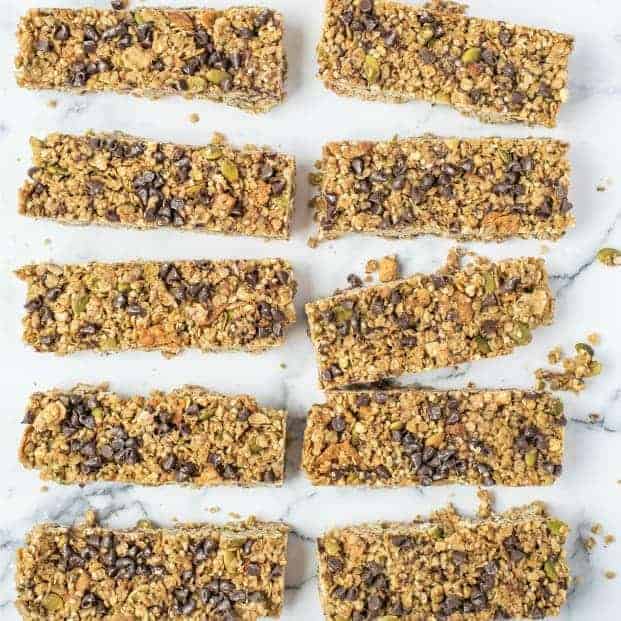 Can you freeze homemade granola bars?
Of course you can!
To freeze the granola bars: first cut them into individual rectangles or squares. Then, wrap each bar in parchment or wax paper before placing in a freezer safe ziploc bag or container. Thaw for a few hours at room temperature before serving.
I love this hack for packing granola bars in lunch boxes: Put a frozen bar in your kid's lunch in the morning and it'll be ready to enjoy by lunchtime. . . while keeping other lunchbox items cold!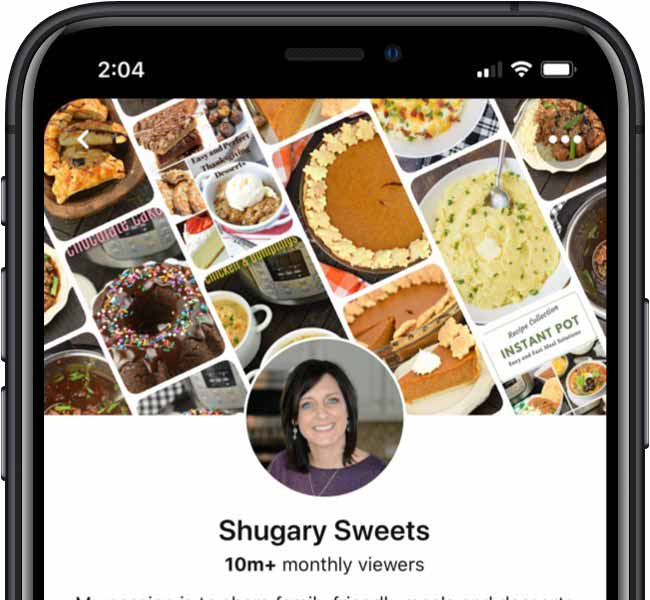 How to make gluten free granola bars
This recipe is not gluten free, due to the pretzels in the granola bars. To make the recipe gluten free, use your favorite brand of gluten free pretzels and be sure to choose a gluten free granola variety.
Sure, there are times when I still rely on store bought snacks but I try to keep a batch of these bars ready to go as often as I can!
They take so little time and effort to make, you'll wonder why you didn't start making healthy granola bars years ago. There's nothing like a little chocolate fix in your afternoon snack to boost your mood!
More Easy Treats
Yield: 16 bars
Chocolate Chip Granola Bars
Total Time
1 hour
25 minutes
Ditch the store bought bars and make your own chocolate chip granola bars at home! Your whole family will love these easy chewy homemade snacks.
Ingredients
3 cups quick oats
1 cup puffed rice cereal
1 cup add-ins of choice: nuts, seeds, coconut flakes, etc
½ cup coconut oil
½ cup honey
½ cup peanut butter
1 tablespoon molasses
2 teaspoons vanilla extract
1 teaspoon salt
1 cup mini chocolate chips
Instructions
Spread oats on a baking sheet and toast at 325 degrees for about 3 minutes. Remove from oven place in a large bowl.
Line a 9 x 13" pan with parchment.
Combine cereal and add-ins in large bowl with the toasted oats.
In a medium saucepan over low heat, combine oil, honey, peanut butter, and molasses. Stir until well combined. Stir in the vanilla and salt. Remove from heat and allow to cool for 5 to 10 minutes.
Once cooled down, pour wet mixture over the dry ingredients and stir until dry ingredients are fully coated. Allow to cool for a few more minutes before folding in chocolate chips.
Press mixture into prepared pan. Place in fridge for at least one hour.
Cut into bars or squares and enjoy!
Notes
You could replace the honey with maple syrup to make these vegan, however bars will be somewhat crumbly. Reducing the cereal and add-ins to ¾ cup each may help these be less crumbly.
Rice Krispies work great for the puffed rice cereal component, but any puffed grain - or really any dry cereal at all - works just fine here.
Nutrition Information:
Yield:
16
Serving Size:
1
Amount Per Serving:
Calories:

330
Total Fat:

21g
Saturated Fat:

11g
Trans Fat:

0g
Unsaturated Fat:

9g
Cholesterol:

0mg
Sodium:

253mg
Carbohydrates:

33g
Fiber:

4g
Sugar:

19g
Protein:

6g
*Nutrition facts are an estimate and not guaranteed to be accurate. Please see a registered dietitian for special diet advice.
Recipe originally published May 5, 2011. Photos updated 2020.
Once you try homemade chocolate chip granola bars, you'll be ready to ditch store bought bars forever. I can't wait for you to try this recipe!