Chocolate Chip Cookie Pie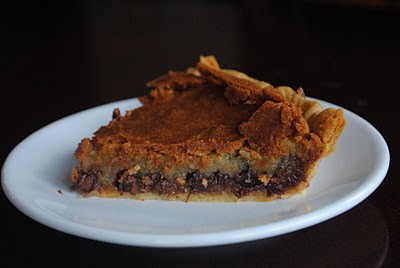 Today is reveal day for Secret Recipe Club! woo hoo. This is the day where over 100 bloggers play secret santa to each other, choose a recipe and blog about it! If you want to join, go check it out here! Each Monday a different group reveals their recipes.
My secret blog was Food In My Hands written by Ethan. Being a sweets lover, I immediately went towards a dessert. This pie is SUPER sweet. Enjoy!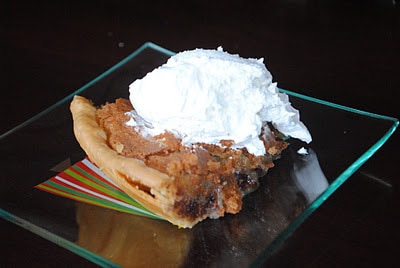 Chocolate Chip Cookie Pie Recipe:
Ingredients
1- 9inch pie crust (I used Pillsbury this time, but you could totally make your own)
3/4 cup butter, melt and cool (important to cool this butter)
1/2 cup flour
1/2 cup granulated sugar
1/2 cup brown sugar
1/2 tsp salt
2 eggs
6 oz semi-sweet chocolate morsels
Instructions
In large bowl mix all ingredients together. Press pie crust into pie pan. Pour batter into crust. Bake in a 325 degree oven for 50-60 minutes. I took mine out at 55, but could have left it in a little bit longer! The pie will be a bit jiggly at first, but allow to set about 30 minute before serving. Enjoy!
Serve with whipped cream or ice cream for an extra sweet kick!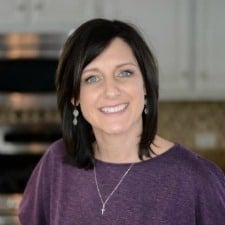 Aimee is a dessert lover (specifically rice krispie treats), workout enthusiast, self-taught foodie, and recipe creator. Her recipes have been featured in over 15 magazines, and her passion is to share her love of cooking with the everyday home cook! Learn more about Aimee.