All the classic taste of the classic chocolate chip cookies baked into a pie. You'll love how easy it is to make a sweet and buttery Chocolate Chip Cookie Pie recipe.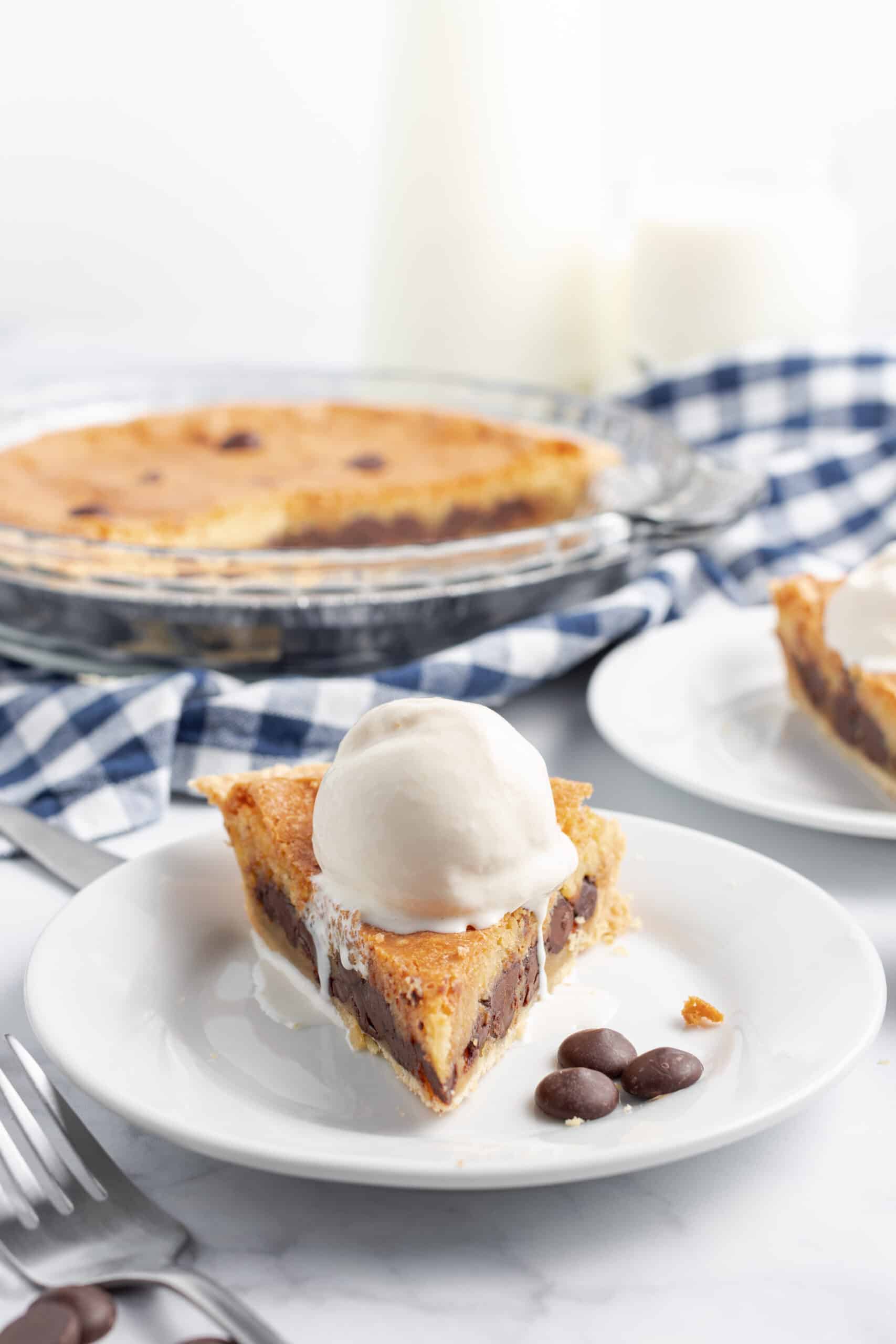 When do you think it was that someone first looked at their batch of chocolate chip cookie dough and thought, "You know how this cookie dough could be better? If it was also pie."?
Whoever it was and whenever it was, that person has my eternal gratitude.
Chocolate Chip Cookies and pie are two of life's greatest joys. Put them together and you have a dessert that you can't help but love.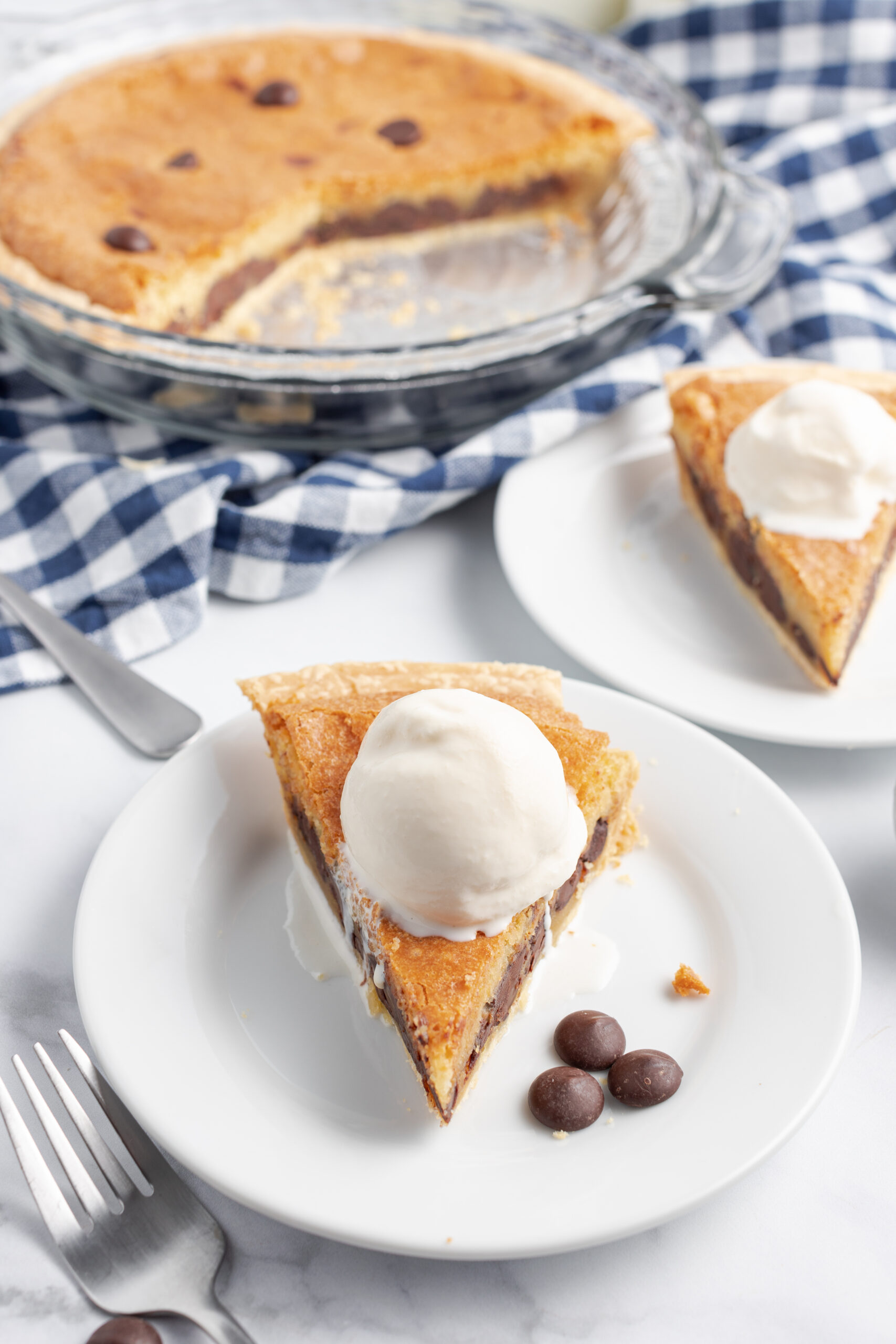 Chocolate Chip Pie
If I can't decide whether to serve a pie, cake or cookies, I know that this dessert will make everyone happy!
While it's not a classic Apple Pie or Lemon Meringue Pie, it certainly is an all american dessert!
Batter reminiscent of a typical chocolate chip cookie dough bakes into a scrumptious filling with a buttery texture.
Chocolate morsels folded throughout make this an irresistibly rich pie.
This cookie pie filled my kitchen with the comforting aroma of chocolate chip cookies while baking and we could hardly wait for it to cool before tasting it.
My kids enjoyed this pie immensely and I admit that I kept coming back to the pan for "just one more bite."
Whether you grew up eating Chocolate Chip Cookie Pie or this is your first foray into the dessert, you're going to love this cookie pie recipe. I even used a pre-made pie crust to make it easy as, well, pie!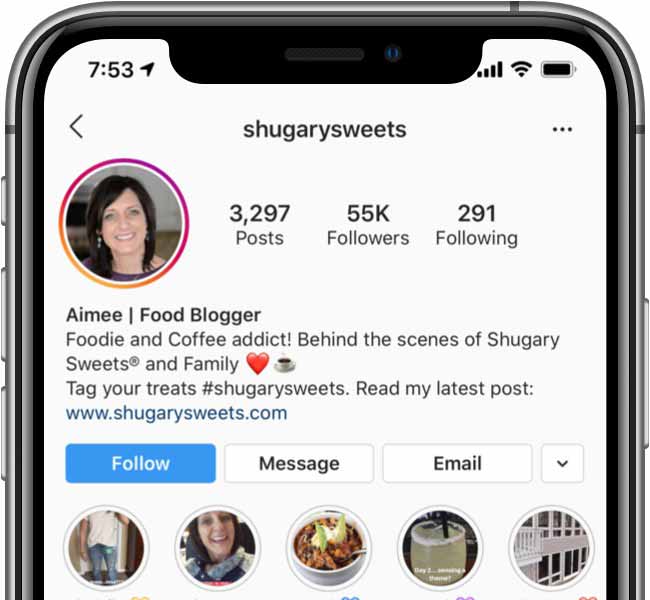 How to Make Chocolate Chip Cookie Pie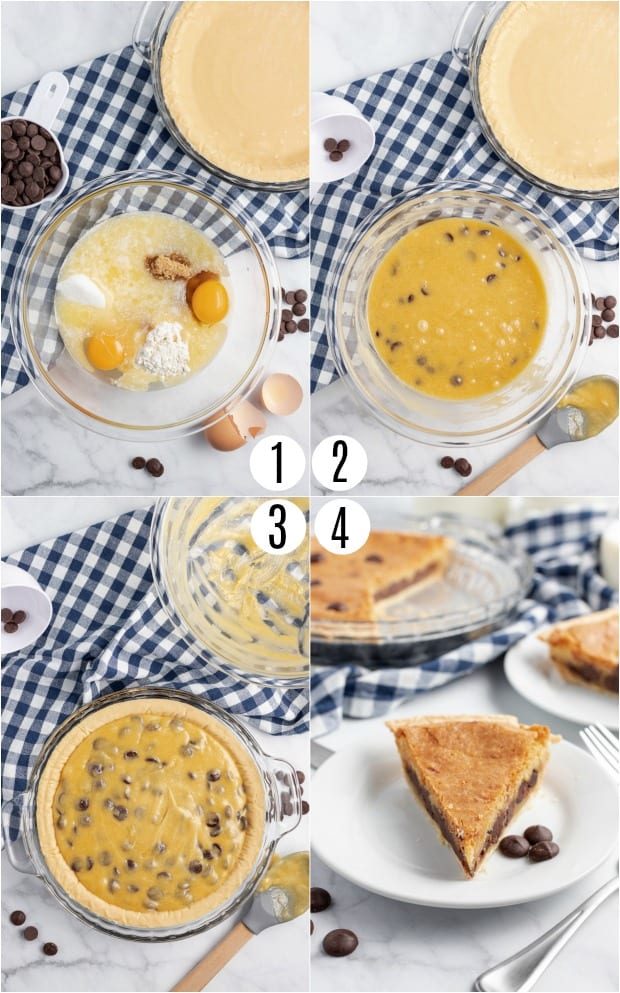 In three steps and just over an hour, you'll have a Chocolate Chip Cookie Pie ready for dessert, a party or any occasion.
STEP 1. Prepare the Pie Crust
Press the pie crust into a pie pan. I used a Pillsbury pie crust this time but you could totally use a homemade pie crust too!
STEP 2. Mix the chocolate chip batter
In a large mixing bowl, combine cooled melted butter with brown sugar, granulated sugar, flour, salt and eggs.
Mix well to incorporate everything. Fold in semi-sweet chocolate morsels.
STEP 3. Assemble and bake
Pour the chocolate chip batter into the prepared pie crust and bake in a preheated 325 degree oven for 50 to 60 minutes.
Allow to set for about 30 minutes before serving!
This chocolate chip pie is particularly delicious served warm with a dollop of homemade whipped cream.
You'll also love it with a scoop of vanilla ice cream for parties! If you're not able to serve it warm, no worries. It still tastes great at room temperature.
My kids ate their slices of cookie pie with a tall glass of cold milk. I loved mine with a cup of coffee! I have some friends who aren't big cake fans so I'm keeping this in mind for an alternative birthday treat.
The center of the pie is firm enough to hold birthday candles and I can't imagine anyone not being happy to eat a slice of chocolate chip cookie pie.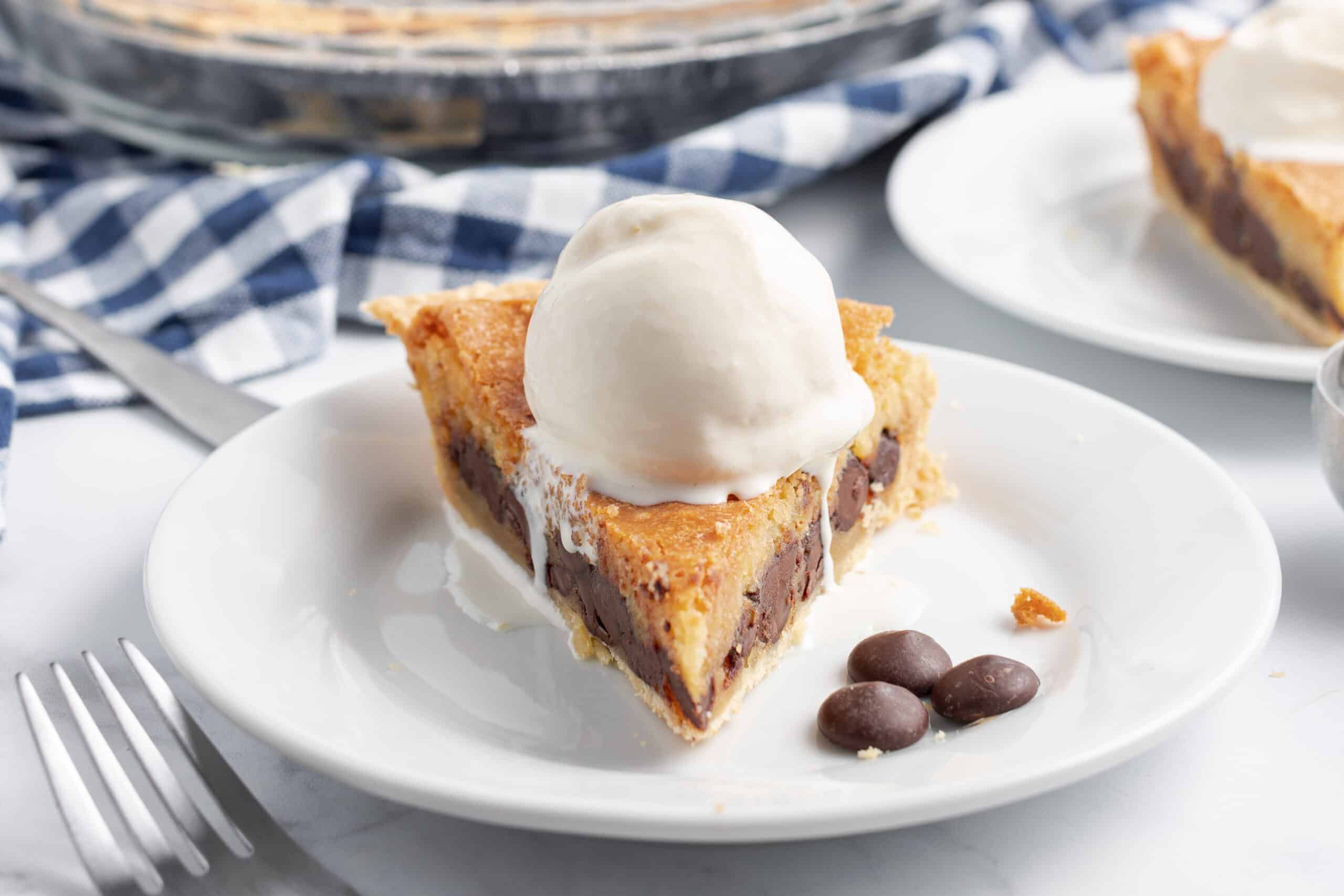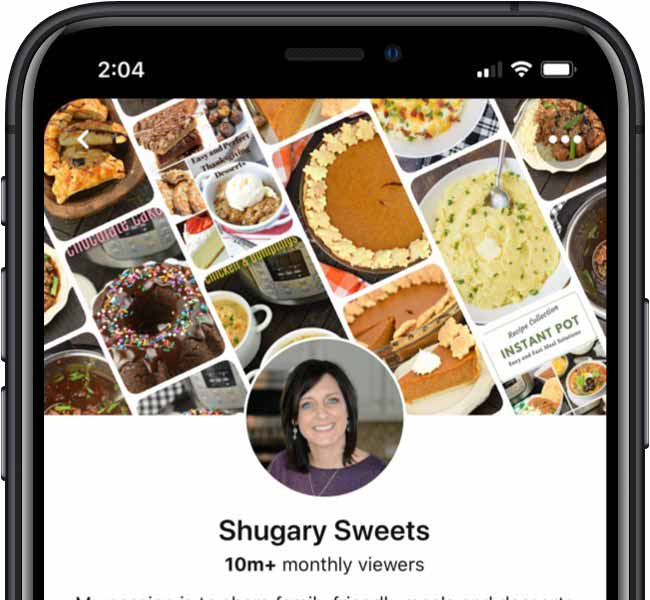 Tips and Tricks
The batter uses melted butter. Be sure to let the butter cool completely before adding it to the other ingredients. This is an important step!
The pie will be a bit jiggly when you first remove it, but shouldn't look liquidy. I left my pie in the oven for 55 minutes. The pie will continue to set and firm up as it cools.
Leftovers (if you have them), should be stored covered. Warm slices of the pie for a few seconds in the microwave before serving to soften the chocolate morsels just a bit.
Yield: 10
Chocolate Chip Cookie Pie Recipe
Sweet chocolate morsels folded into cookie batter and baked in a pie crust, this easy Chocolate Chip Pie recipe is extra tasty topped with whipped cream or vanilla ice cream. 
Ingredients
1- 9inch pie crust (I used Pillsbury this time, but you could totally make your own)
3/4 cup unsalted butter, melt and cool (important to cool this butter)
1/2 cup all-purpose flour
1/2 cup granulated sugar
1/2 cup light brown sugar, packed
1/2 tsp kosher salt
2 large eggs
6 oz semi-sweet chocolate morsels
Instructions
In large bowl mix butter with sugars, until blended. Add flour, salt, and eggs. Fold in chocolate chips.
Press pie crust into pie pan. Pour batter into crust. Bake in a 325 degree oven for 50-60 minutes. The pie will be a bit jiggly at first, but allow to set about 30 minute before serving. Enjoy!
Serve warm with whipped cream or ice cream for an extra sweet kick!
Nutrition Information:
Yield:
10
Serving Size:
1
Amount Per Serving:
Calories:

392
Total Fat:

24g
Saturated Fat:

13g
Trans Fat:

0g
Unsaturated Fat:

10g
Cholesterol:

74mg
Sodium:

209mg
Carbohydrates:

43g
Fiber:

2g
Sugar:

29g
Protein:

4g
*Nutrition facts are an estimate and not guaranteed to be accurate. Please see a registered dietitian for special diet advice.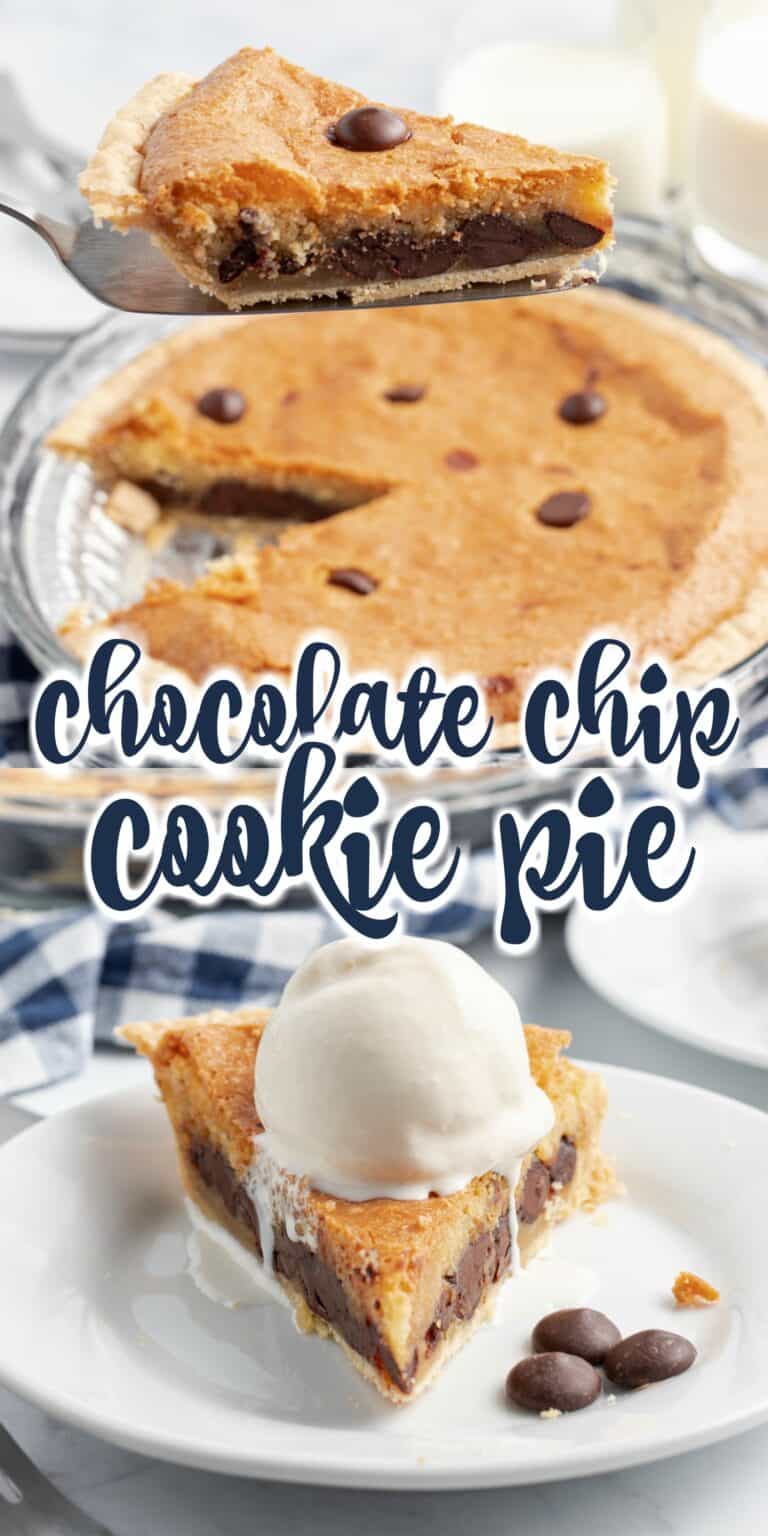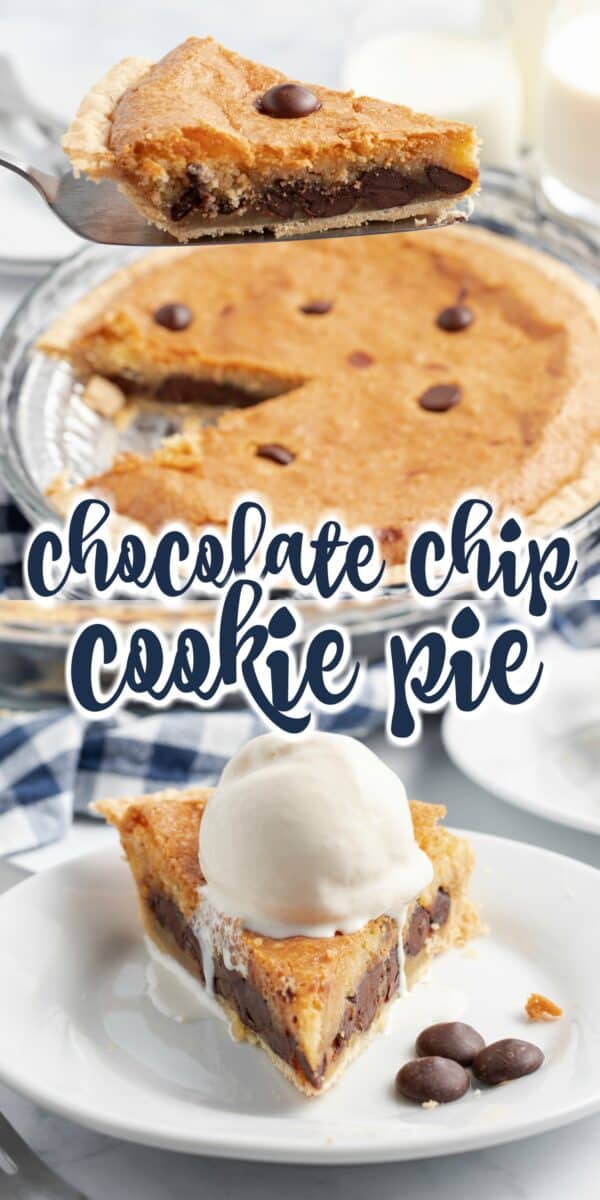 Sweet chocolate morsels folded into cookie batter and baked in a pie crust, this easy Chocolate Chip Cookie Pie recipe is extra tasty topped with whipped cream or vanilla ice cream.