Looking for the perfect holiday pie? This Caramel Cream Pie is delicious, and has an easy homemade crust!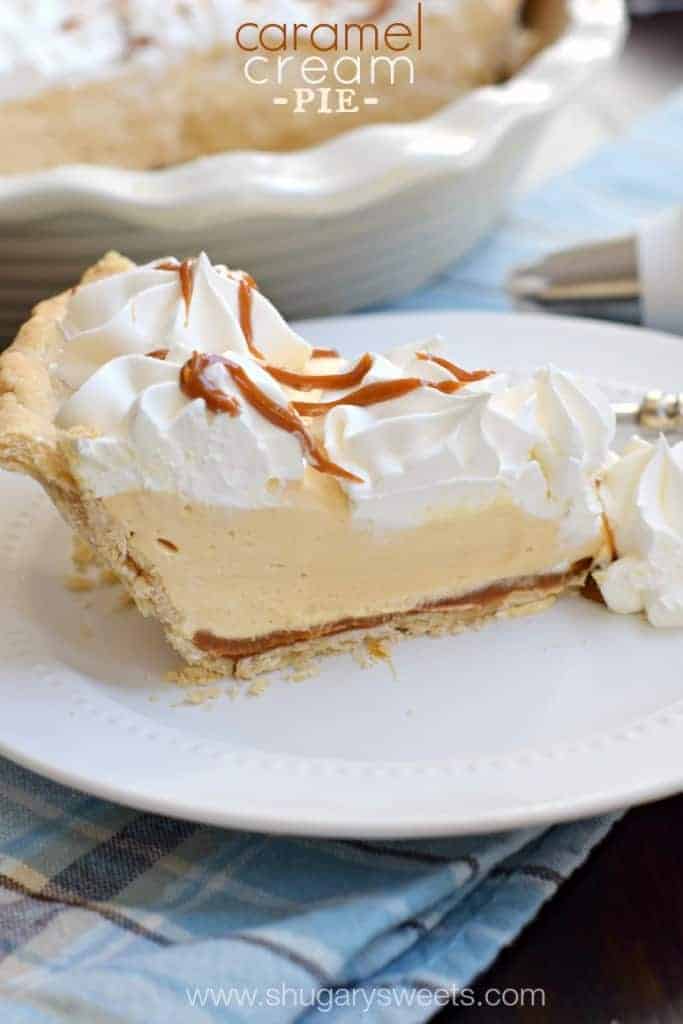 I have big news today! HUGE news.
For those of you who know me, or have been following my blog for the past 4 years, you know I am not a pie crust baker. Like seriously, I just can't do it. I can do graham cracker crusts, chocolate cookie crusts…but a traditional pie crust? Never.
Until now. Go ahead…Look at this photo. Yep, that's my beautiful crust.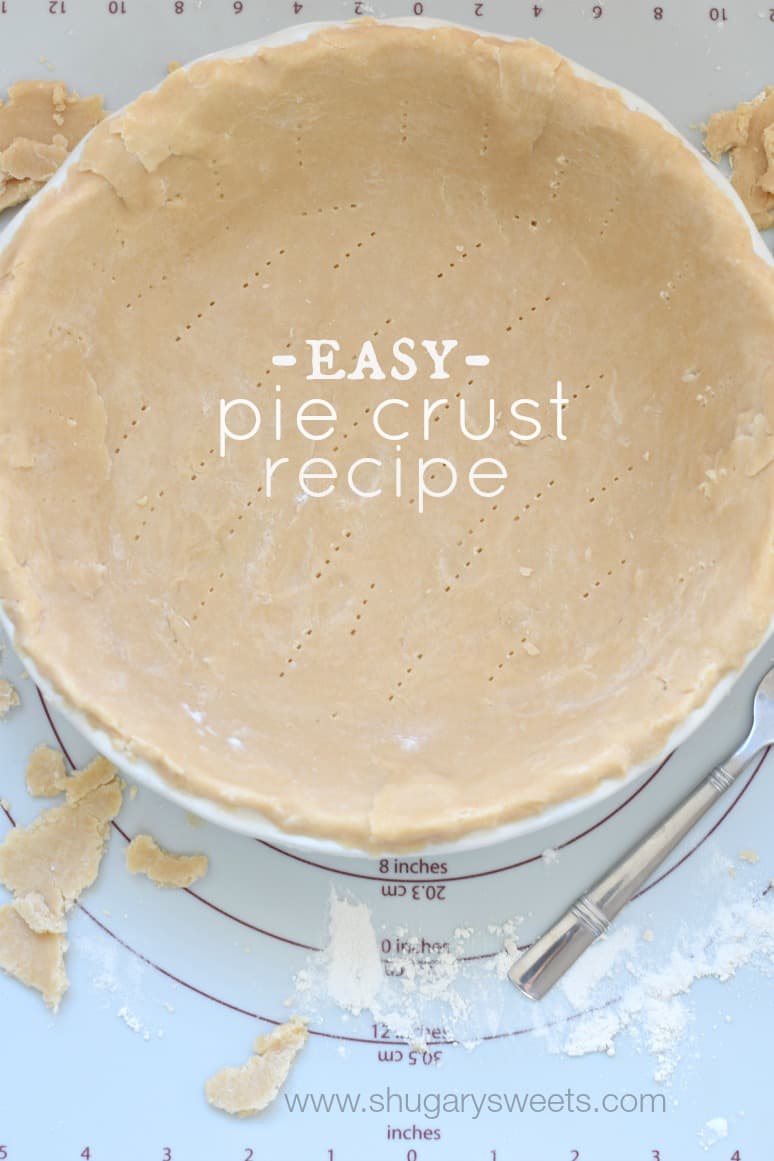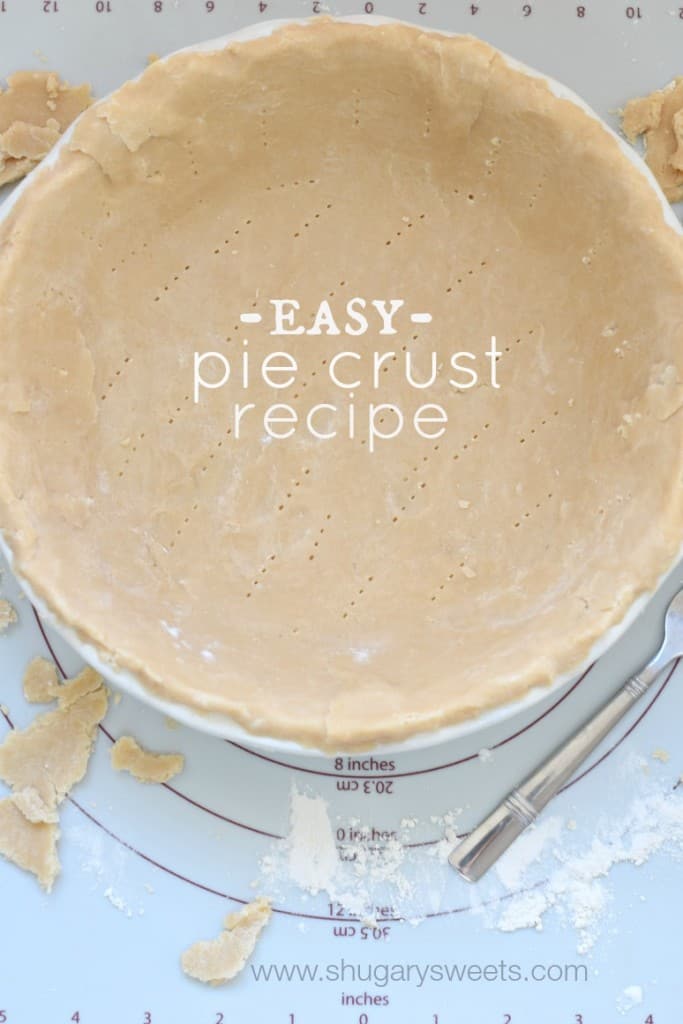 Okay so I have a little work to do on "fluting" the edges. But the taste is marvelous. And it's FLAKY you guys.
I've used the Crisco baking sticks many times in the past….for chocolate chip cookies. But never to try making a pie crust. I followed the recipe, exactly, to make a single crust pie.
The key is the liquid. Only adding enough until the dough holds together. Also, starting with COLD Crisco baking sticks. After making your pie crust dough into a ball, wrap it in plastic wrap and refrigerate it for at least 30 minutes. Again, baking it cold keeps it flaky. I'm a believer in this recipe!!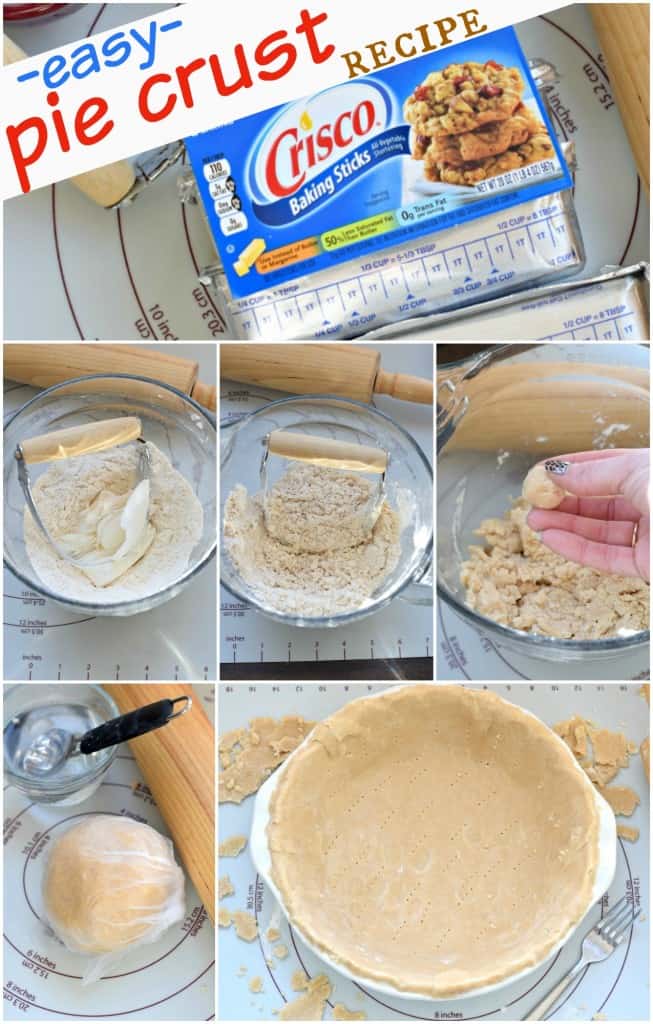 Since I was able to make a delicious crust, I had to fill it with something worthy and amazing.
I scoured my pantry for ideas…and a single can of dulce de leche kept calling my name. I made a creamy caramel pie filling (and added a little extra dulce de leche to the bottom of the pie too for a contrast in appearance, as well as a boost of caramel flavor!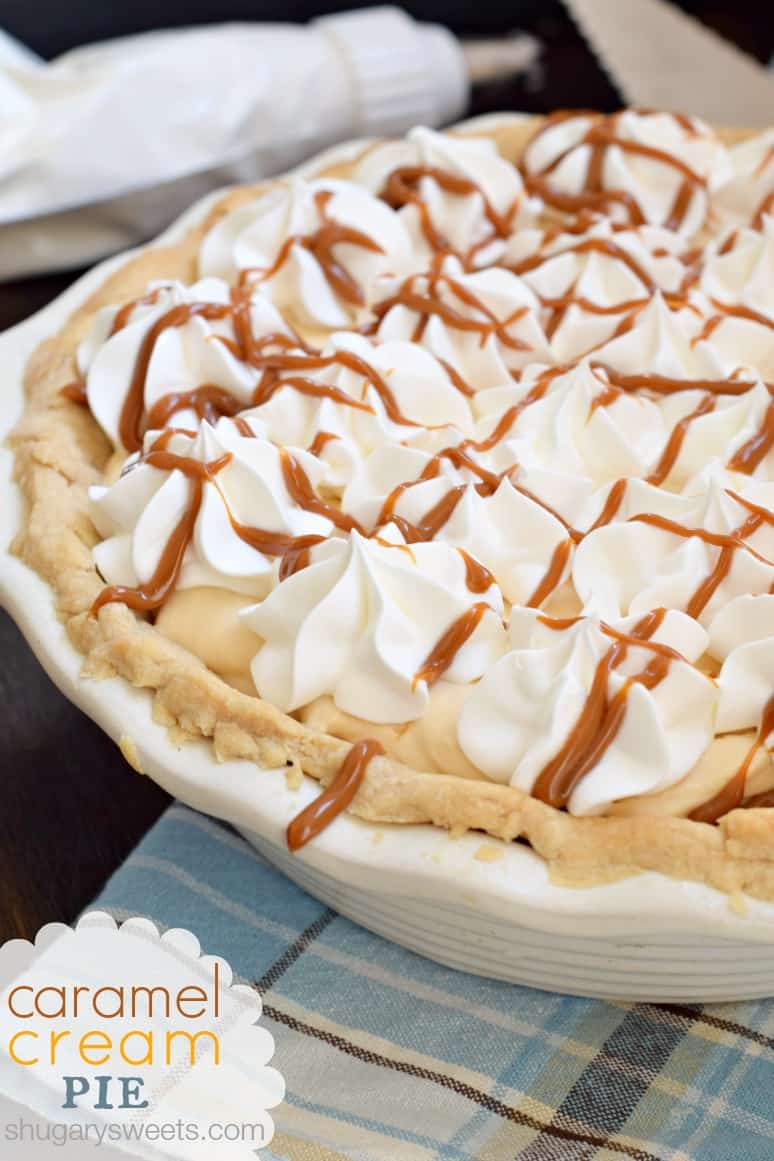 It turned out just how I wanted. I topped it with a little extra homemade whipped cream and I think we've got success.
I can't wait to get back in the kitchen and try out some new pie recipes! I'm feeling confident in this crust that I can't wait to see more pies here on Shugary Sweets (who would have thought I'd say that).
Plus…duh…it's #piday (well, it is this weekend). If you're a math guru this may just be your favorite day of the year! And I just made it better with a Caramel Cream Pie. Boom!
More Easy Desserts
Yield: serves 12
Caramel Cream Pie
Prep Time 15 minutes

Additional Time 30 minutes

Cook Time 10 minutes

Total Time 55 minutes

Sweet Caramel Cream Pie with a delicious layer of dulce de leche!
Ingredients
For the crust:
1 1/3 cup all-purpose flour
1/2 tsp salt
1/2 stick (1/2 cup) chilled Crisco Baking Sticks (all-vegetable shortening)
3-6 Tbsp ice cold water
For the filling:
1 can dulce de leche caramel (divided)
8 oz cream cheese, softened
1/4 cup powdered sugar
2 1/2 cup heavy whipping cream
1/4 cup granulated sugar
Instructions
For the crust:
Blend flour and salt in a large bowl. Cut shortening into flour mixture using a pastry blender (or fork). Stir in water, by tablespoon, until dough holds together (I used 4 Tbsp)
Test dough for proper moistness by squeezing a marble sized ball of dough in your hand. If it holds together firmly, you're good. If it crumbles, add more water (tablespoon at a time) until dough is moist enough to form a smooth ball.
Shape dough into a ball. Wrap in plastic wrap and refrigerate for at least 30 minutes (up to 48 hours).
Roll dough from center outward into a circle on a lightly floured surface. You want the circle to be about 2 inches larger than your pie plate. Transfer dough to pie plate. Trim edges of dough, folding the edge under to flute dough as desired. Prick bottom of crust with a fork.
Bake crust in a 425 degree oven (in the lower third of the oven) for 10-12 minutes, until golden brown.
Remove from oven and cool completely.
For the filling:
In a large mixing bowl, beat cream cheese with 1/2 cup of dulce de leche and powdered sugar. Set aside. In a clean and COLD mixing bowl, beat heavy cream with granulated sugar for a couple minutes until stiff peaks form. Remove about 1/2 cup of the whipped cream and reserve it for the garnish.
To the remainder of the whipped cream, fold in the caramel cream cheese mixture until fully blended. With the remaining dulce de leche, reserve about 1-2 Tbsp for garnish. Spread the remainder in the bottom of your cooled pie crust. Top with caramel cream mixture. Top with reserved whipped cream. Melt dulce de leche in microwave and drizzle over pie. Refrigerate pie for 4 hours or overnight. Slice and enjoy!
Nutrition Information:
Yield:
12
Serving Size:
1

Amount Per Serving:

Calories: 323Total Fat: 25gSaturated Fat: 15gTrans Fat: 1gUnsaturated Fat: 7gCholesterol: 76mgSodium: 185mgCarbohydrates: 22gFiber: 0gSugar: 11gProtein: 4g

*Nutrition facts are an estimate and not guaranteed to be accurate. Please see a registered dietitian for special diet advice.