Deliciously easy No Bake Pistachio Pie recipe is filled with cream cheese, pineapple, and marshmallows in a graham cracker crust! You'll love this sweet treat at your next potluck or holiday party.
If you love pie, our readers absolutely love our homemade cherry pie! And if you're looking for something easy, our JELLO pie might be right up your alley!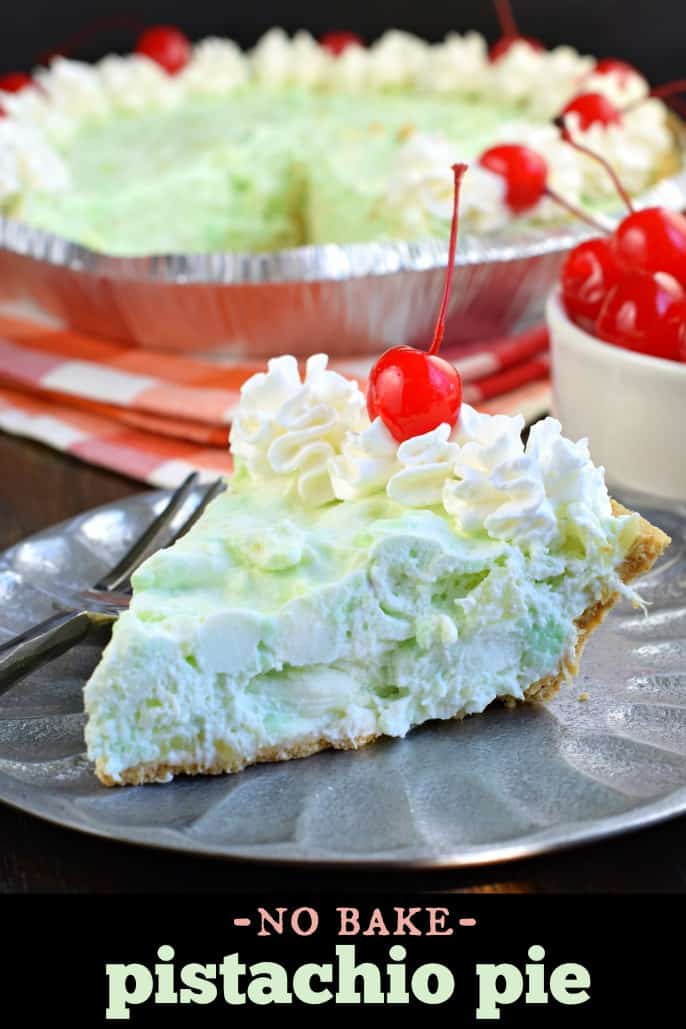 Why the Pie is Best
When it comes to holidays, I like to make desserts as simple as possible.
From easy pumpkin pie on Thanksgiving to carrot cake on Easter.
Who needs the stress of a complicated treat?
Today's Pistachio Pie recipe is a favorite of mine. Whether you're serving it for a weeknight dessert or a holiday like St. Patrick's Day or Easter, this is wonderful.
Do you remember watching Mr. Food on television growing up? Staying home sick from school I would see him on TV mid-day with a little cooking special.
"Oooh it's so good."
Anyway, this pie is inspired from his show! And from my favorite Pistachio Fluff salad.
As a fan of pistachio pudding, this fluffy, creamy pie has everything I crave…plus it's a no bake dessert! Try our pineapple pie next for similar texture and flavor without the pistachio!
Ingredient Notes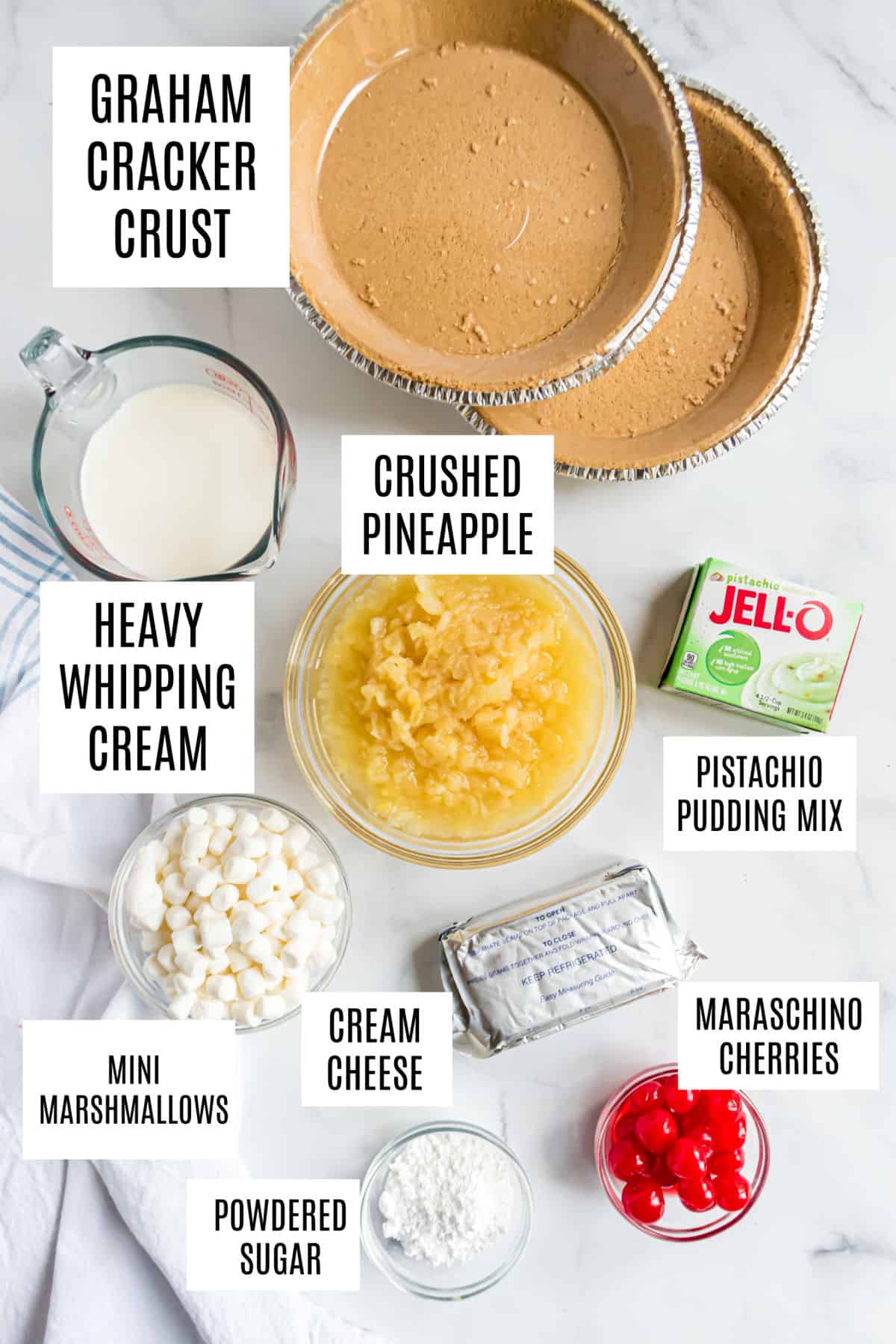 Graham cracker crust– use a homemade graham cracker crust or purchase a couple premade crusts instead!
Crushed pineapple- no need to drain!
Pistachio Pudding mix- you'll need a box of this instant jello pudding mix. Grab an extra box to make our favorite pistachio pudding cookies too!
Heavy Cream- used to make a whipped cream. Can also use cool whip or homemade stabilized whipped cream instead.
Cream cheese- use the block (not the tubs of spreadable). This helps thicken the pie, and adds a tangy flavor!
How to make Pistachio Pie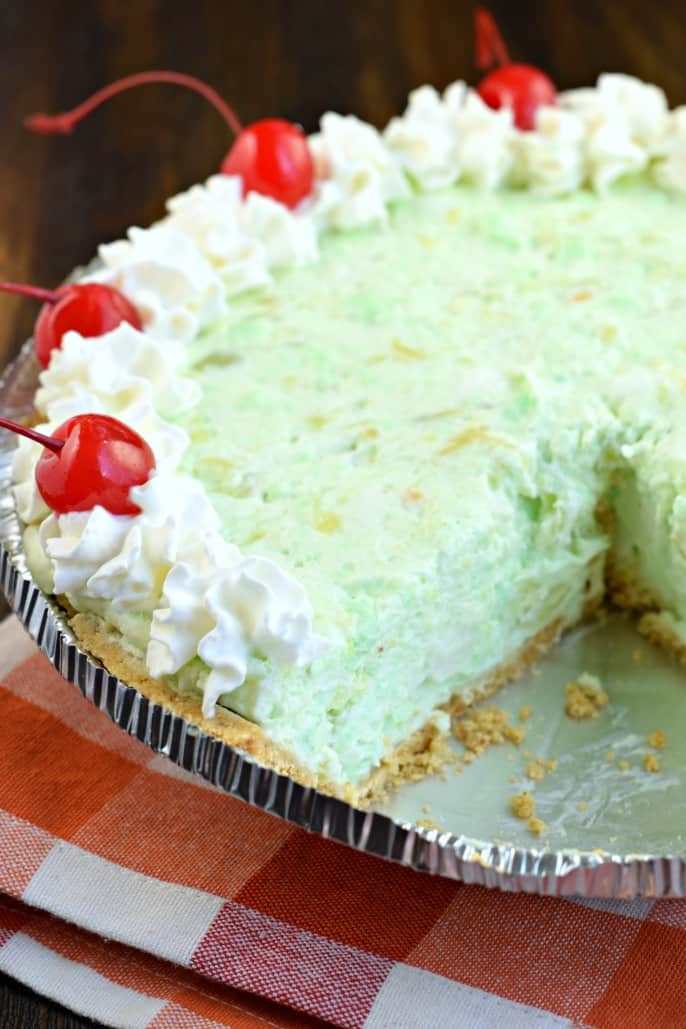 This recipe will make TWO pies. Perfect for holidays and sharing with others, or you can freeze one for later!
Pie Crust- Press crumbs into the bottom of two pie plates, using the back of your hand or bottom of a cup to press firmly. Set aside.
Make the Filling. For the filling, I used homemade whipped cream instead of Cool Whip. In a large mixing bowl, beat heavy whipping cream until stiff peaks form. This will take several minutes. Set aside.
In mixing bowl, combine softened cream cheese with pistachio pudding mix. Beat until light and fluffy. Add in crushed pineapples. Do not drain. Mix until combined. Fold in marshmallow and homemade whipped cream until blended.
Chill the Pie. Spoon filling into pie crust and chill for several hours or overnight.
When ready to serve, top with a dollop of whipped cream and a cherry. You can even add chopped pistachios if you'd like.
Keep refrigerated until ready to use, store covered.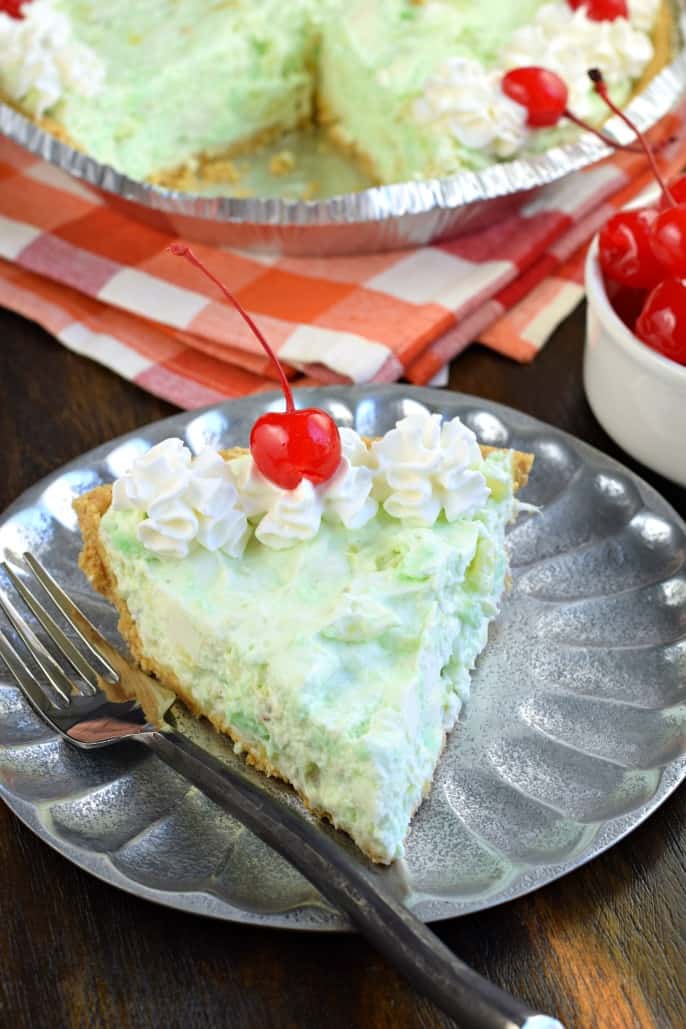 Can you freeze Pistachio Pudding Pie?
YES!
Once you've made the pistachio cream pie filling, cover the top of the pie with plastic wrap. Then wrap the entire pie with foil. Can be frozen for several months.
When ready to serve, refrigerate overnight. Top with whipped cream and enjoy!
You can also serve this pie FROZEN for a different texture. It's fantastic and will remind you of my favorite Cranberry Orange Salad recipe that we serve during the holidays!
Substitutions
Well of course you can substitute other puddings in this recipe to create a whole new flavor.
You can also swap out the homemade whipped cream for Cool Whip.
Add in some coconut to the pudding mixture create an Ambrosia recipe.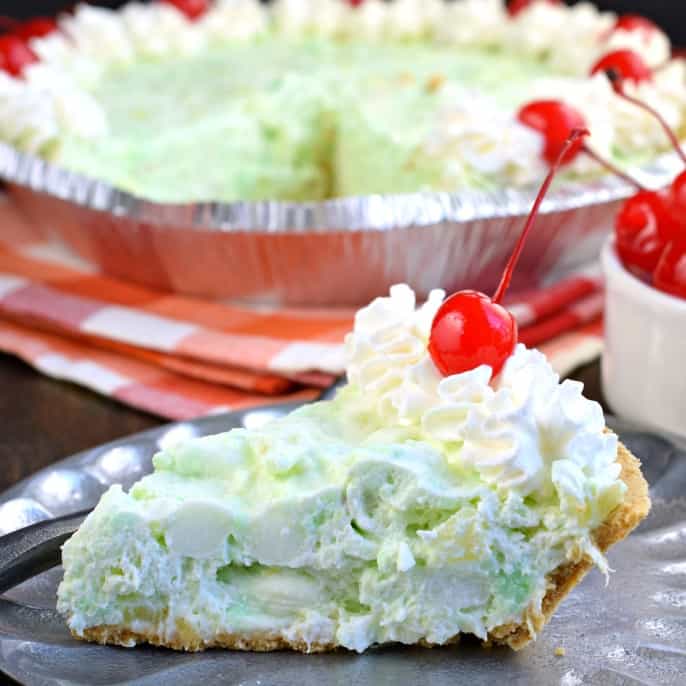 More Watergate Desserts
When I think of watergate or pistachio desserts, I always choose this Watergate cake as my go-to "feed a family" recipe. It's insanely delicious and I am always asked for the recipe!
This Watergate Sheet Cake is nutty and moist thanks to pistachio pudding and pecans. Topped with a sweet, light whipped cream topping and coconut, this cake has it ALL, and it's easy to make too!
You're going to LOVE these Watergate Cupcakes! Extremely nutty and moist thanks to pistachio pudding and pecans. Topped with a sweet, light whipped frosting, which is perfect for summer!
Love this recipe? Please leave a 5-star 🌟🌟🌟🌟🌟rating in the recipe card below & a review in the comments section below!