Watergate Cupcakes are sweet and light with a fluffy whipped cream frosting. You'll love the nutty pistachio flavor and crunchy pecans on top!
Make sure to try my classic Watergate Cake too! Pecan lovers will also love these easy Pecan Pie Truffles.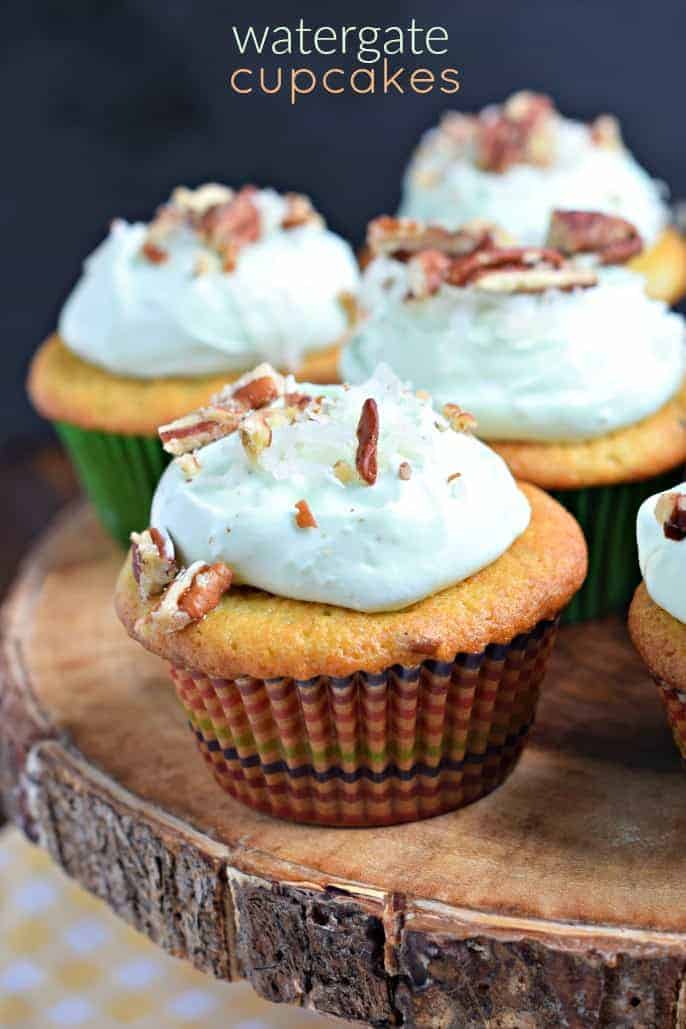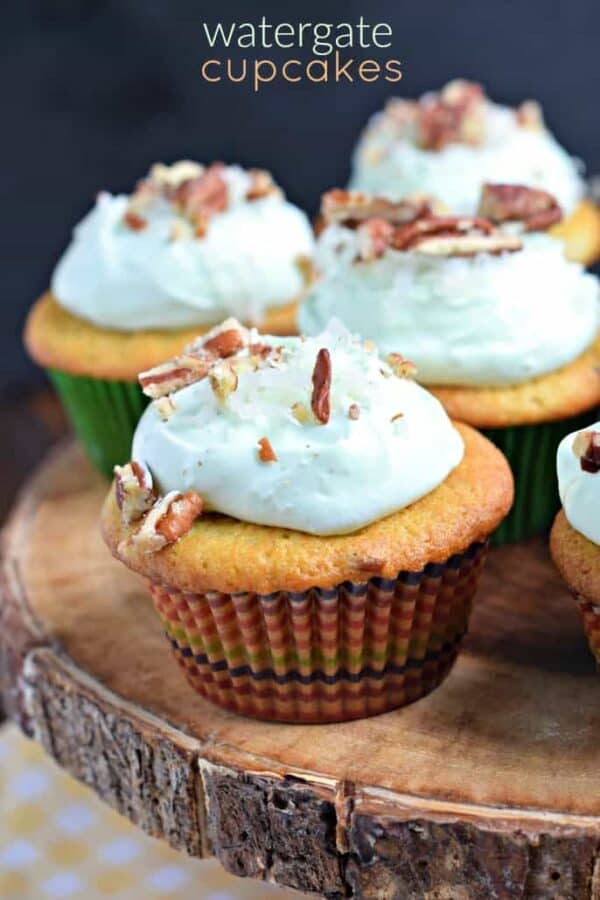 Why this Recipe Works
I have a confession. I had to give away half these Watergate Cupcakes to a friend because I had zero willpower when it came to these gorgeous treats.
While I normally love a rich, fudgy, chocolate cupcake topped with a chocolate buttercream frosting, these Watergate Cupcakes are the exact opposite. Which makes them irresistible.
The soft pistachio pecan cupcake has the perfect crumb texture.
I frosted these with a pistachio pudding and Cool Whip frosting, with MORE pecans and a sprinkle of coconut. Seriously, even my coconut hating kids loved these!
Ingredient Notes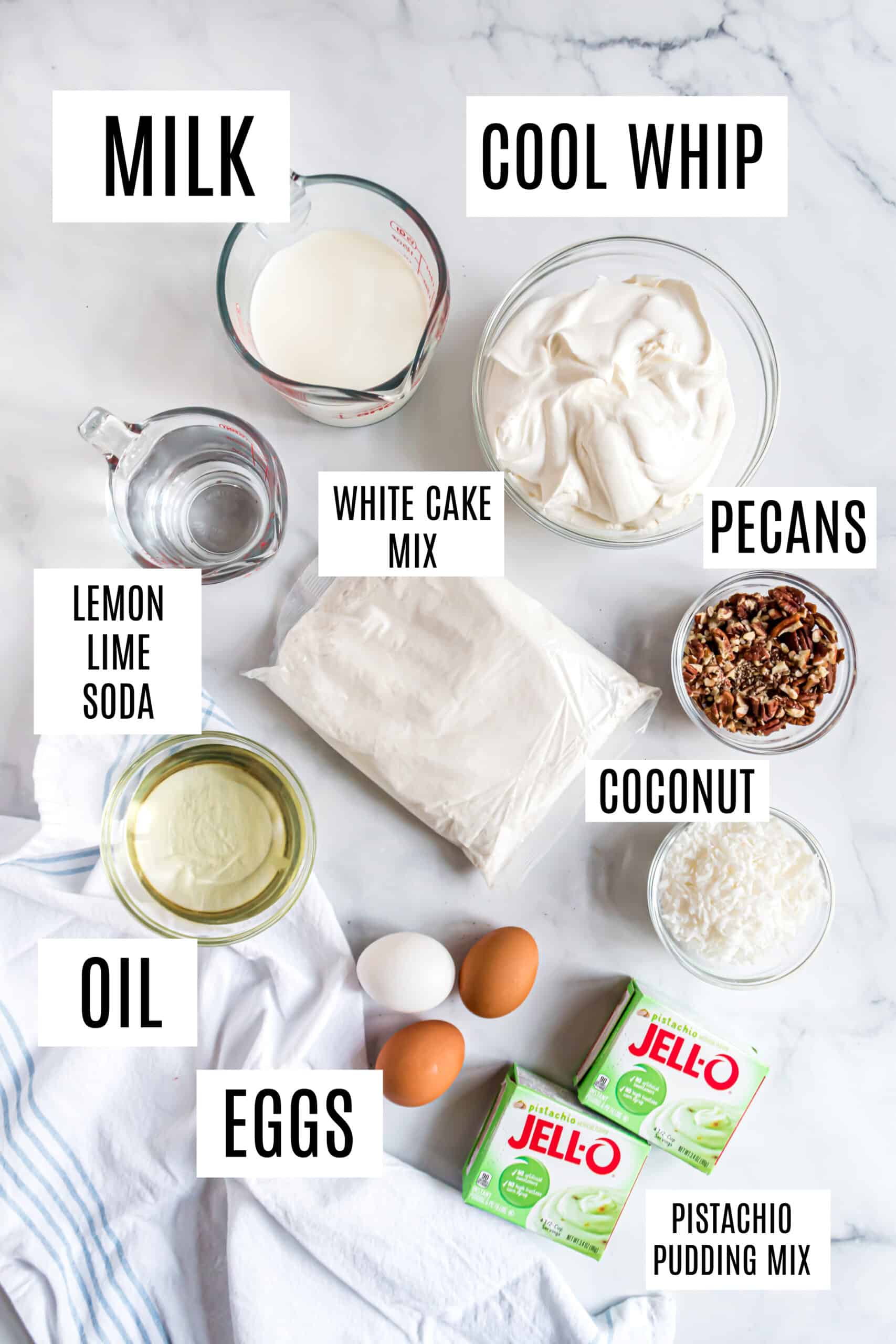 White cake mix. You'll need the entire contents of an 18.25 ounce box.
Lemon lime soda. Any brand of clear soda like Sierra Mist or Sprite is perfect.
Pecans. I buy the pecan pieces already chopped. If you only have whole pecans or halves, chop them before adding them to the recipe.
Pistachio pudding mix. Use the Instant Mix, not the kind you have to cook.
Cool Whip. You can swap this out for our homemade cool whip recipe instead!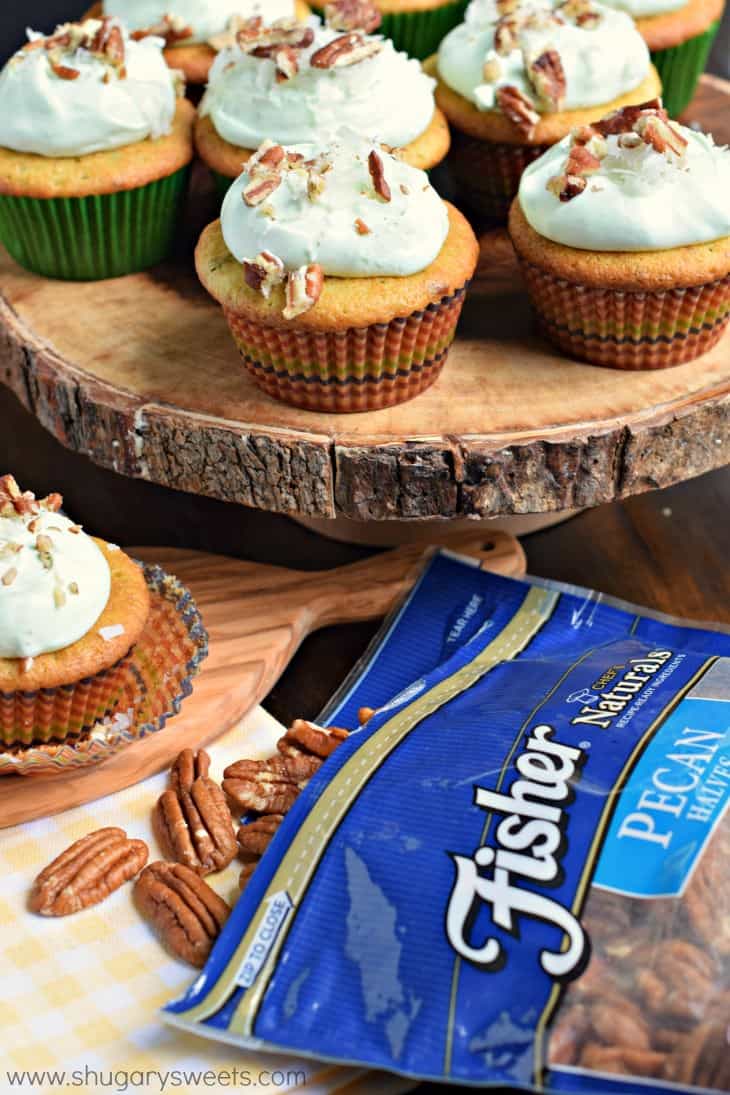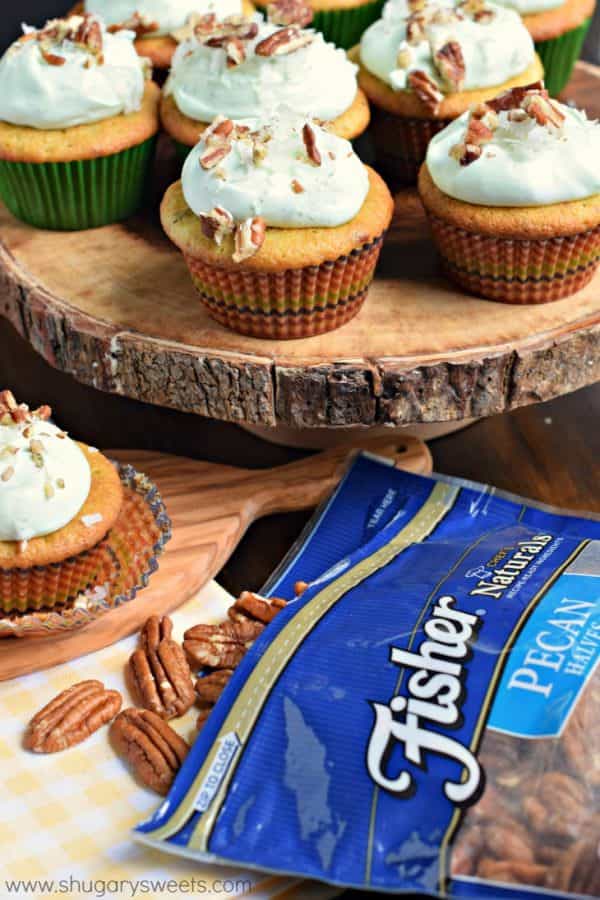 Pistachio Cupcake and Frosting
This Pistachio Pecan Cupcake recipe is so easy to make!
Make the cupcake batter.
Combine the cake mix with the pudding mix. Add in oil, eggs and soda. Beat until fluffy, then fold in chopped pecans.
Bake the cupcakes.
Divide the batter evenly into a lined cupcake pan. Bake until they're lightly browned on top.
Watergate cupcakes frosting.
While the cupcakes are baking, combine pudding mix with milk. Fold in the cool whip.
Place the cool whip frosting in the fridge for at least 15 minutes. When the cupcakes are fully cooled, scoop frosting onto each one.
Sprinkle the tops with chopped nuts and shredded coconut before serving.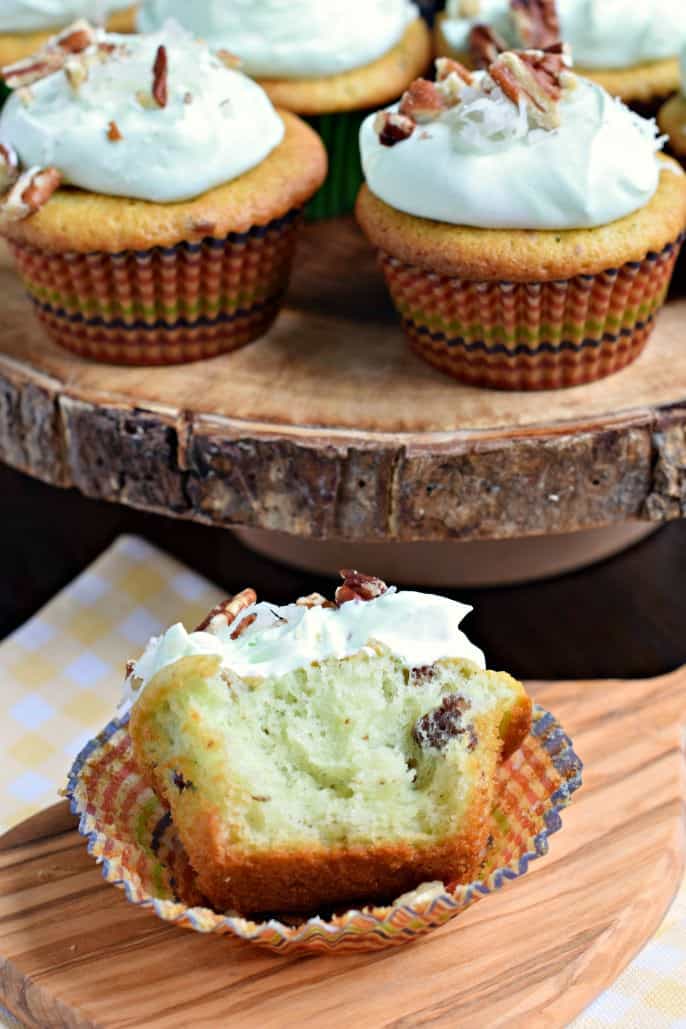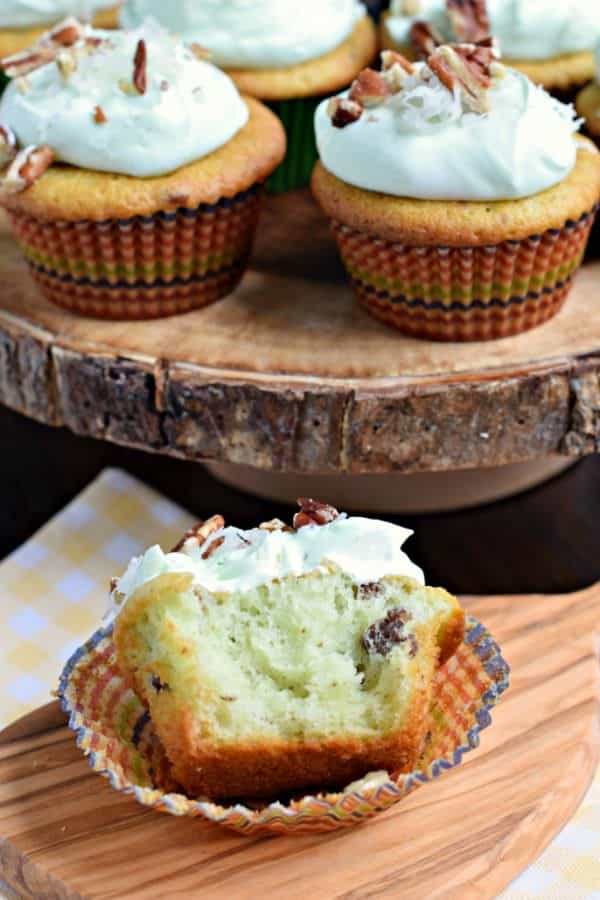 Tips and Tricks
We use a metal cookie scoop to dollop the frosting onto each cupcake. It creates a perfect pretty mound of frosting.
Store frosted cupcakes in the refrigerator. Enjoy within 3 days.
For more pistachio flavor, garnish the cupcakes with chopped pistachios too!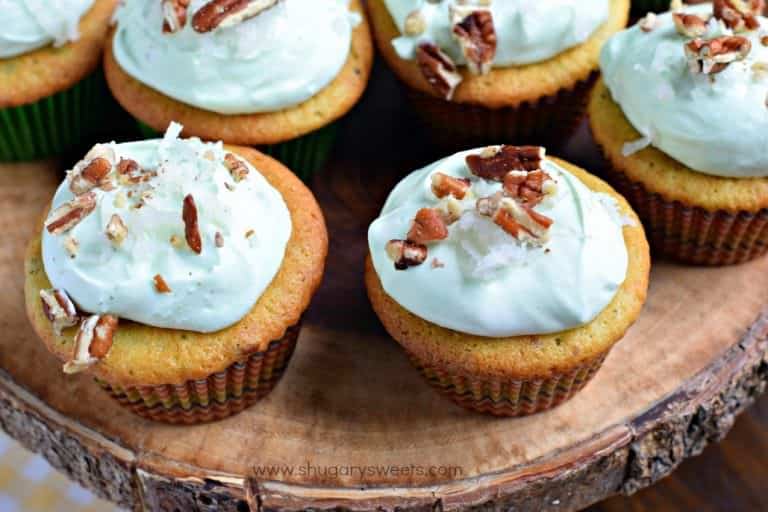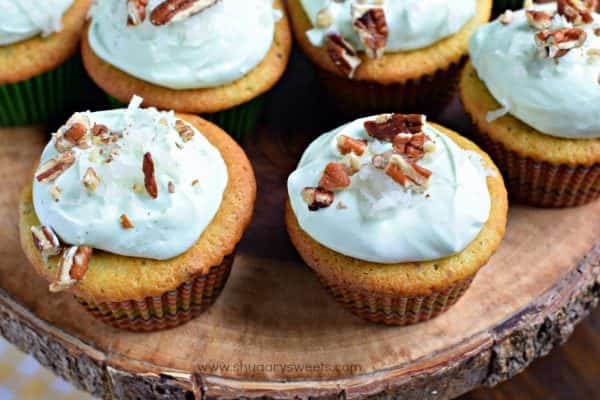 Recipe FAQs
Why are they called Watergate Cupcakes?
Watergate Cake (and cupcakes) have been around since the 1970s. Legend has it that the first Watergate cake was inspired by a salad at the Watergate Hotel made with pistachios and cool whip.
Another theory says the name is a cheeky reference to the scandal of the same name.
Whatever the story behind the name, Watergate Cupcakes are delicious!
Can I substitute different nuts in this recipe?
You could, but then they won't truly be Watergate Cupcakes. The pecans really are wonderful here.
Can I use regular whipped cream instead of Cool Whip?
Regular whipped cream won't work quite the same here since it's not stabilized. It'll taste good but won't hold its shape on top of the cupcakes.
More Easy Desserts
Love pecans and coconut? This Watergate Cupcakes recipe will blow your mind. With a soft light crumb and a dreamy whipped frosting, these pecan pistachio cupcakes are perfect for summer.