Cherry Hand Pies are shaped like Christmas trees for the holiday season! You only need five ingredients to make festive hand pies with a flaky crust and juicy filling.
Have you tried my Nutty Pumpkin Hand Pies yet? They have a walnut glaze that makes them even tastier. These Apple Hand Pies are a favorite for the holidays too.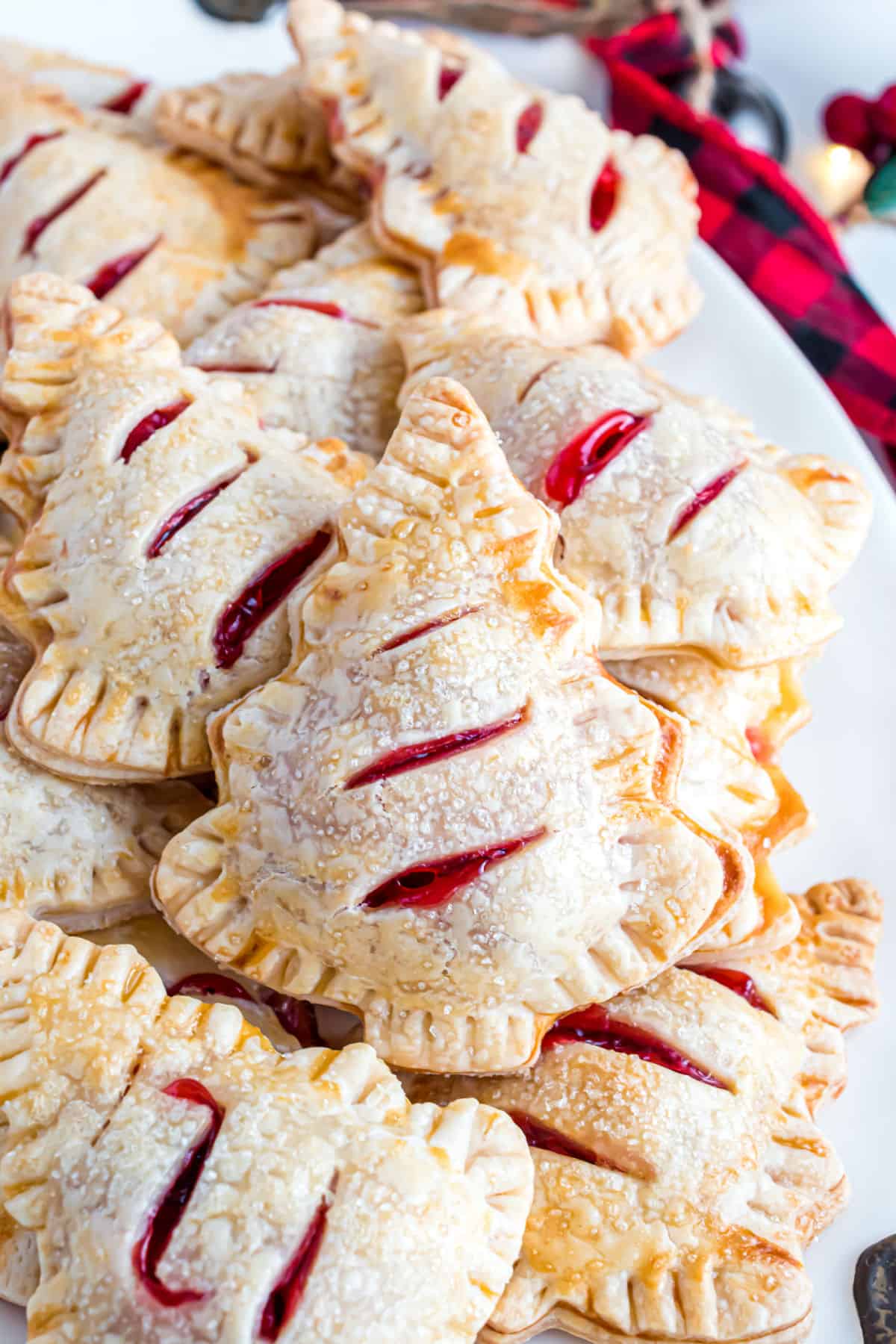 Why this Recipe Works
Cookie cutters aren't just for sugar cookies! I love using my holiday cookie cutter collection to give desserts like these hand pies an extra festive look.
Five ingredient hand pie recipe.
Flaky, buttery crust.
Beautiful holiday tree shape.
A dusting of coarse sugar makes them look picture perfect.
It takes just a bit more effort to turn these Cherry Hand Pies into mini Christmas trees. And it's well worth it!
Of course, if you're short on time, you can skip the special tree shape and roll the crust into circles like I do in this Peach Hand Pies recipe. Either way, you'll have amazing homemade Cherry Hand Pies ready to impress your dinner party guests!
Ingredient Notes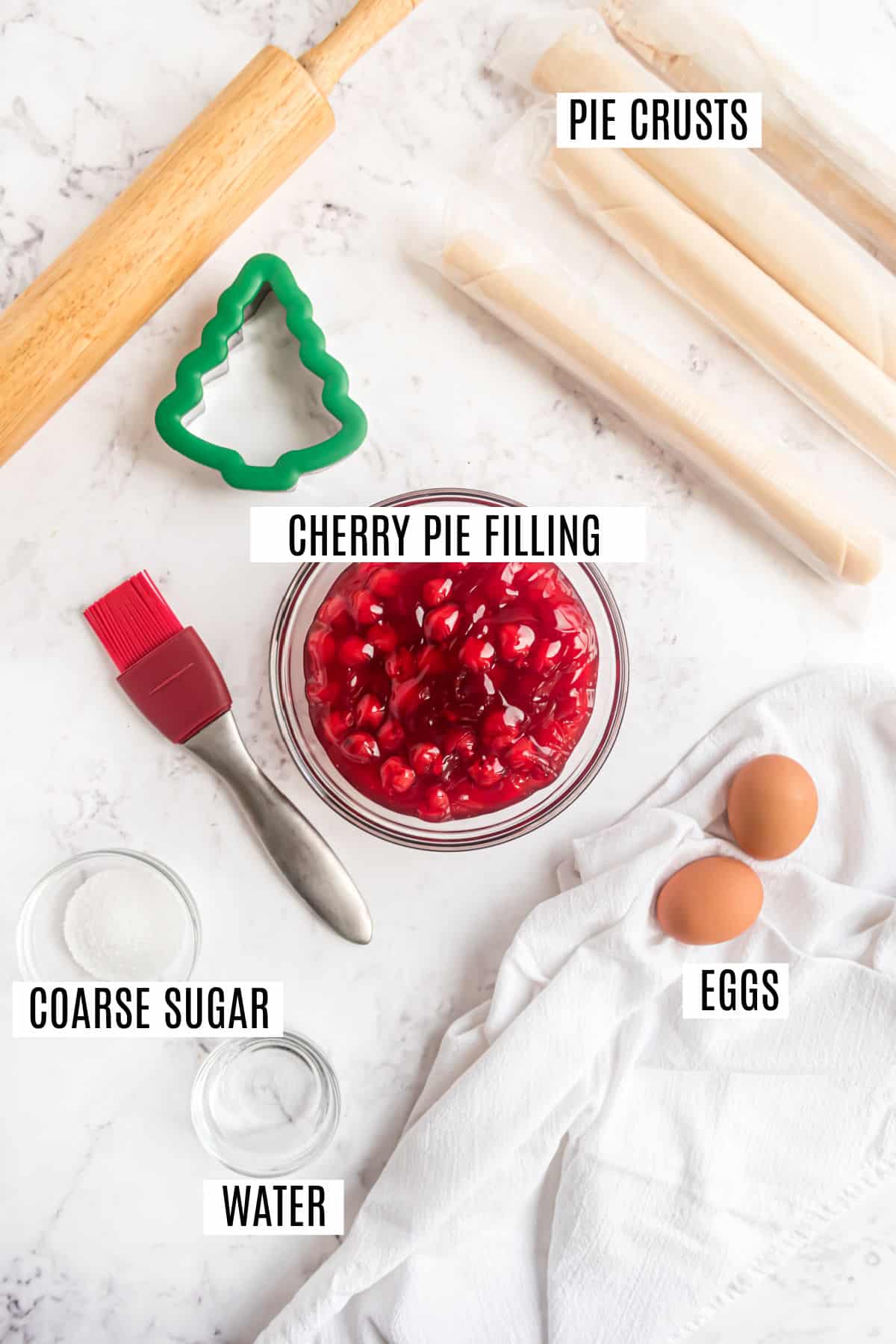 Refrigerated pie crust – For consistency and great flavor, I love using store bought crust in my hand pies! Homemade Pie Crust works well too, just make sure to make enough. You'll need 6 full crusts for this recipe.
Eggs – Brushing the tops of pies with beaten egg and water before baking gives them a gorgeous golden brown color.
Pie Filling- so many options! I use cherry pie filling (you can use homemade or canned). Obviously blueberry pie filling would work great too.
Sanding sugar – This is optional but we love the sweet crackle and snow-dusted appearance it gives the cherry hand pies!
Easy Instructions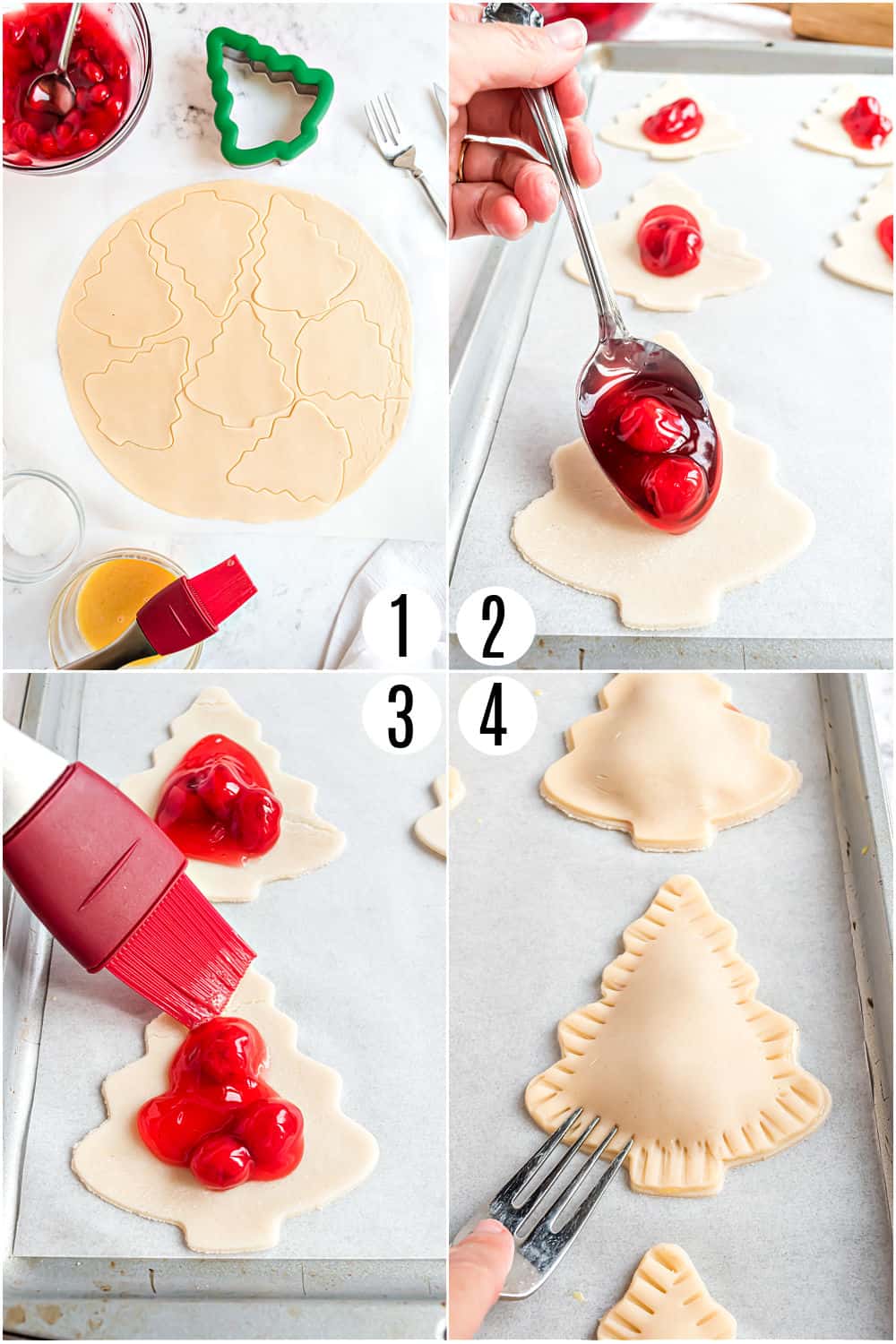 Roll and shape the pie crust:
Roll out one pie crust until it's about 1/4 inch thick. Use a tree shaped cookie cutter to cut 7 trees out of the crust.
Repeat with the remaining crusts. Save the excess from each crust to roll out and cut once all the ready made crusts have been cut.
Fill hand pies:
Place half the pie crust trees on a baking sheet lined with parchment paper. Spoon cherry filling into the center of each one.
Seal:
Use a pastry brush and brush the edges of the pie crust with the egg wash.
Top filling with the remaining tree crusts. Lightly press the edges together but be careful not to press down on the filling!
Use the tines of a fork to pinch the seams of the crust together.
Bake:
Make 3 slits in the top center of each hand pie. Brush with egg wash and sprinkle with coarse sanding sugar.
Bake for 20 minutes or until the Cherry Hand Pies are golden brown.
Let hand pies cool. They taste great served warm or at room temperature!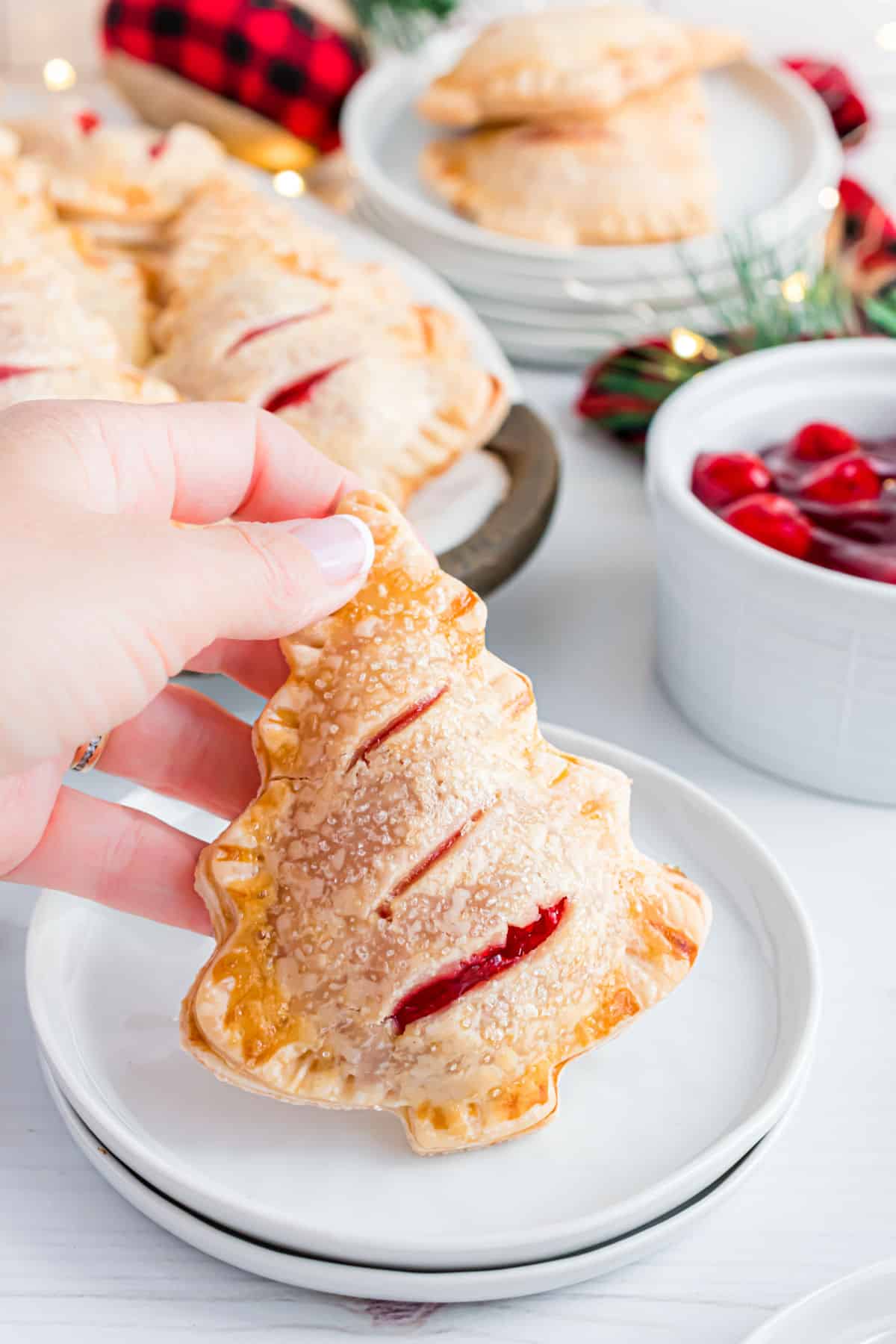 Tips and Tricks
Remove the pie crust from the fridge 15 minutes before rolling. Letting it come to room temperature softens the crust so it's easy to roll without tearing.
Don't use too much filling. Each hand pie one only needs about a tablespoon of filling–otherwise the cherry may seep out the sides.
Brush the borders around the filling with egg wash before adding the top crust to make it easier to seal the edges.
Add some almonds like I did with these cherry almond hand pies! So tasty.
Recipe FAQs
Can I make this recipe with other flavors of pie filling?
Of course, this Christmas Tree hand pie recipe is delicious with just about any flavor filling! Apple, peach and berry fillings would all taste delicious here.
Can I make fruit hand pies ahead of time?
Cherry Hand Pies taste best if eaten the same day they are made. Keep them covered at room temperature the first day. After that, transfer the hand pies to the refrigerator to store for up to 3 days.
Can you freeze hand pies? Before or after baking?
Yes, this hand pie recipe is freezer friendly. I prefer to freeze them after baking. Place the hand pies you want to freeze on a single layer on a baking sheet. Put them in the freezer just until frozen. Then, transfer the hand pies to individual freezer bags. Keep frozen and enjoy within 2 months.