These Pumpkin Hand Pies are the perfect fall treat! The flaky crust and nutty pumpkin pie filling are the perfect combo in a hand pie, plus they've got a wonderful maple walnut glaze!
**This post is sponsored by Fisher Nuts. I am excited to be partnering with them this year and bringing you all some delicious recipes! **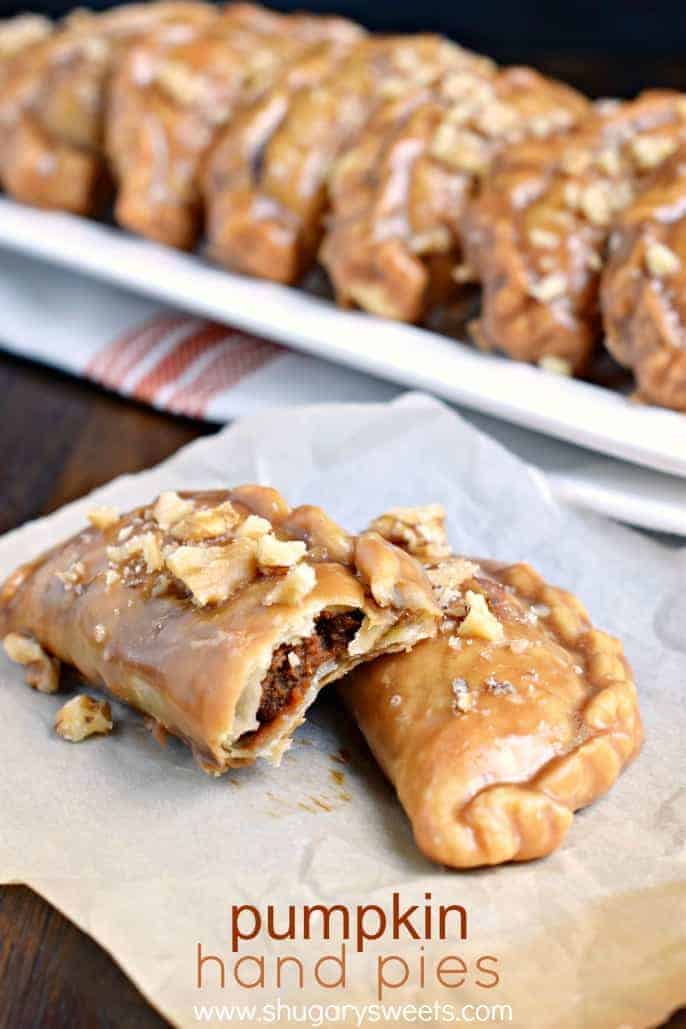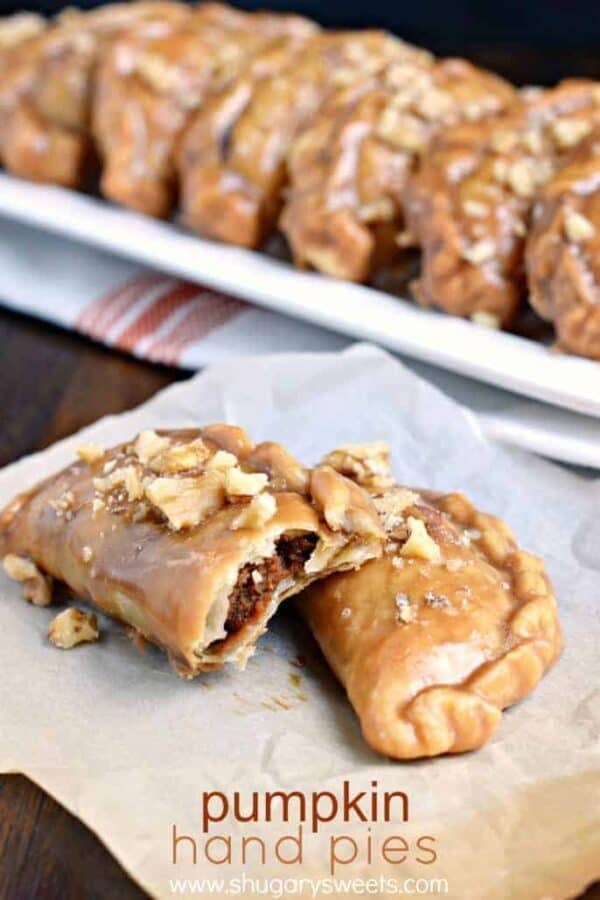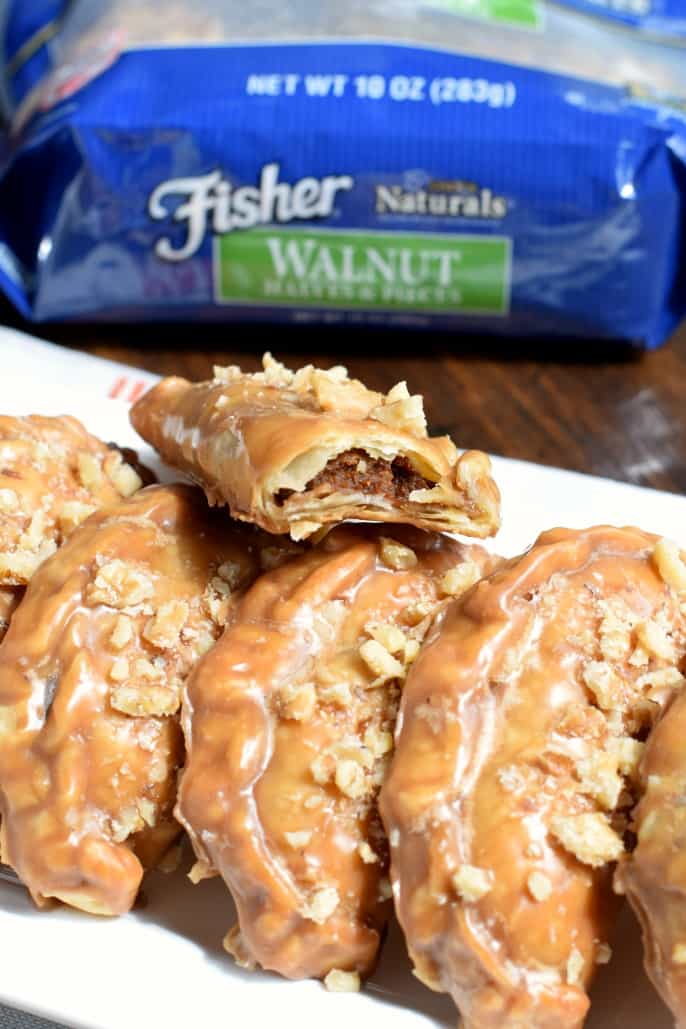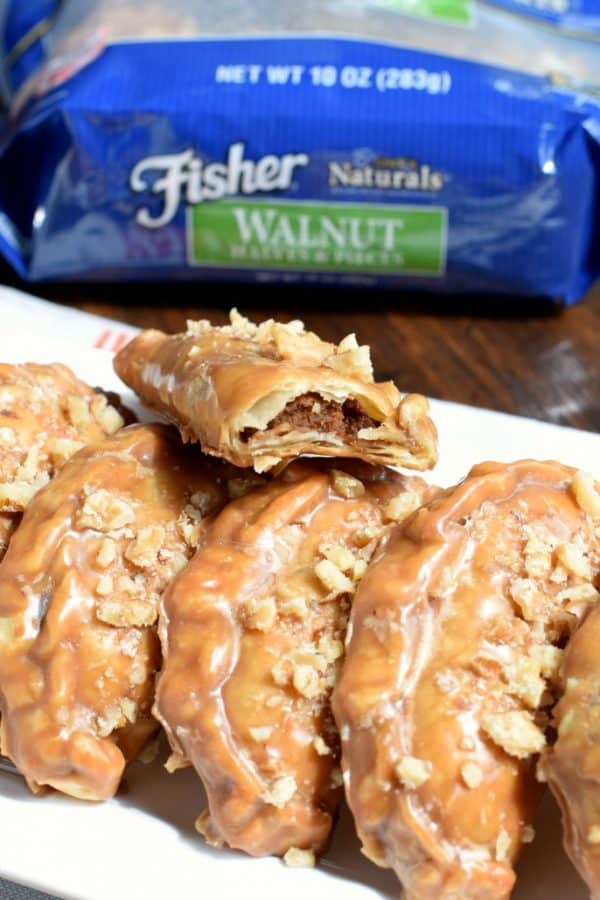 It's here!!!!
While you may be thinking, yes, Aimee, today is Labor Day…no more white pants!
I am actually thinking, yes, Aimee, the day it is socially acceptable to begin sharing pumpkin recipes on the blog!
While you may be thinking, pumpkin recipes already?
I am actually thinking, YES, just like my zucchini crazed August, prepare for a pumpkin crazed September!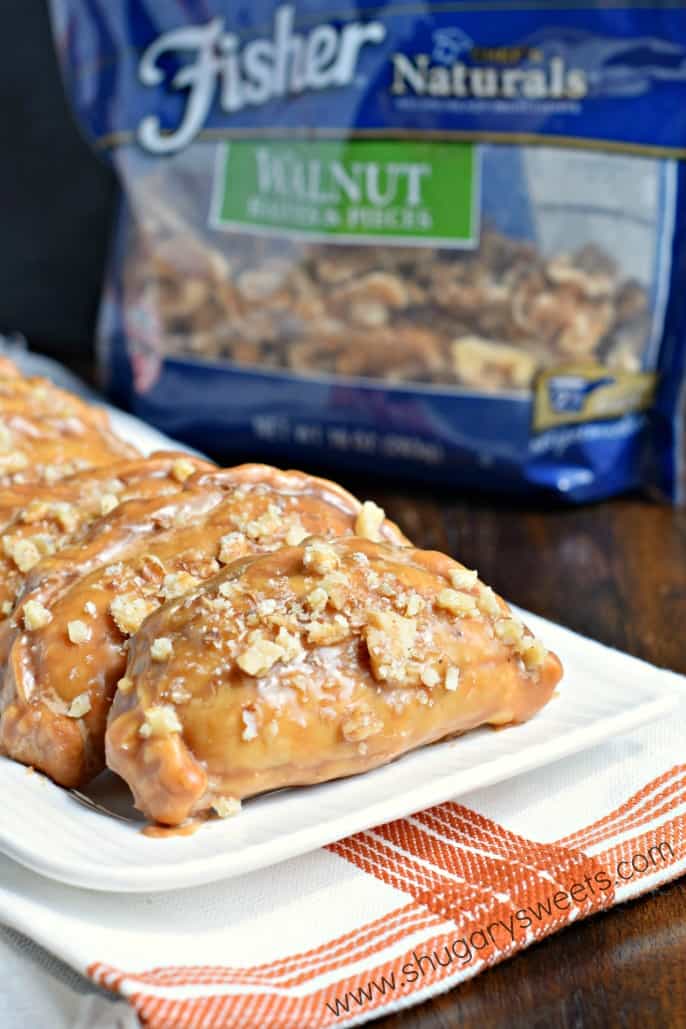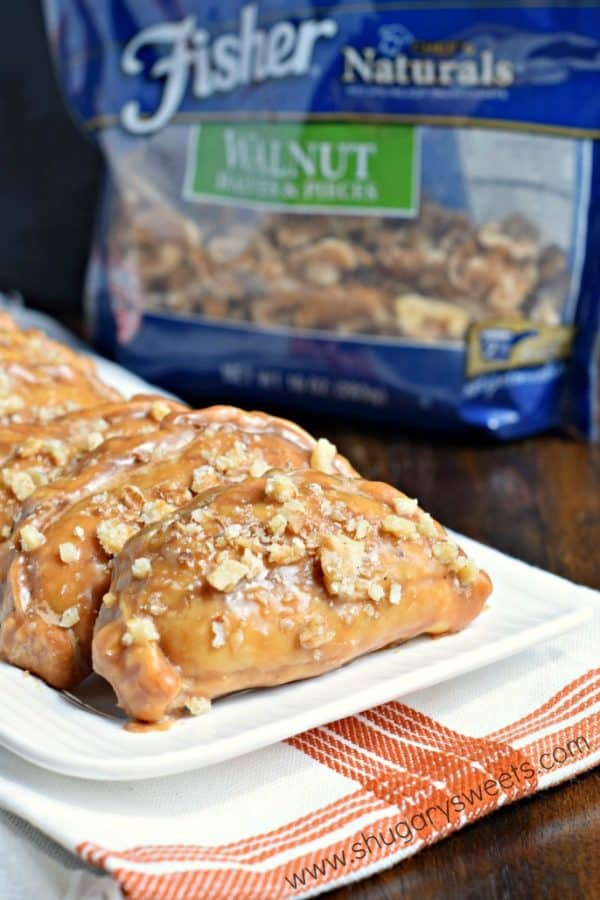 But in all seriousness, we foodies tend to put parameters around when it's okay to begin sharing certain flavors. Pumpkin in September, Peppermint after Thanksgiving, etc etc. In all honesty, I don't usually follow those rules, but I know on facebook, ya'll yelled at me in August when I began sharing pumpkin!
Let's talk about today's recipe and forget all rules, mkay? Because when it comes to these hand pies, there are NO rules.
I used a box of refrigerated pie crust for this recipe, to make things easy. You can make your own pie crust if you prefer, totes cool with me.
For the filling, I thought it would be awesome to add some chopped walnuts. I used Fisher Nuts Walnuts for today's treat, because I love that they are preservative free and they taste amazing! I also saved some to sprinkle on top!!
Once these baked up, I gave them a dunk in a sweet, maple glaze. Drop them into the glaze, then use two forks to flip it over and let the excess glaze drip off. The double side of glaze is amazing, but you're welcome to only dunk the tops if you prefer.
These are fantastic warm. BUT, after eating a couple warm I placed the leftovers in an airtight container in the refrigerator. Oh my, they are also wonderful cold (with a dollop of homemade whipped cream)! ENJOY.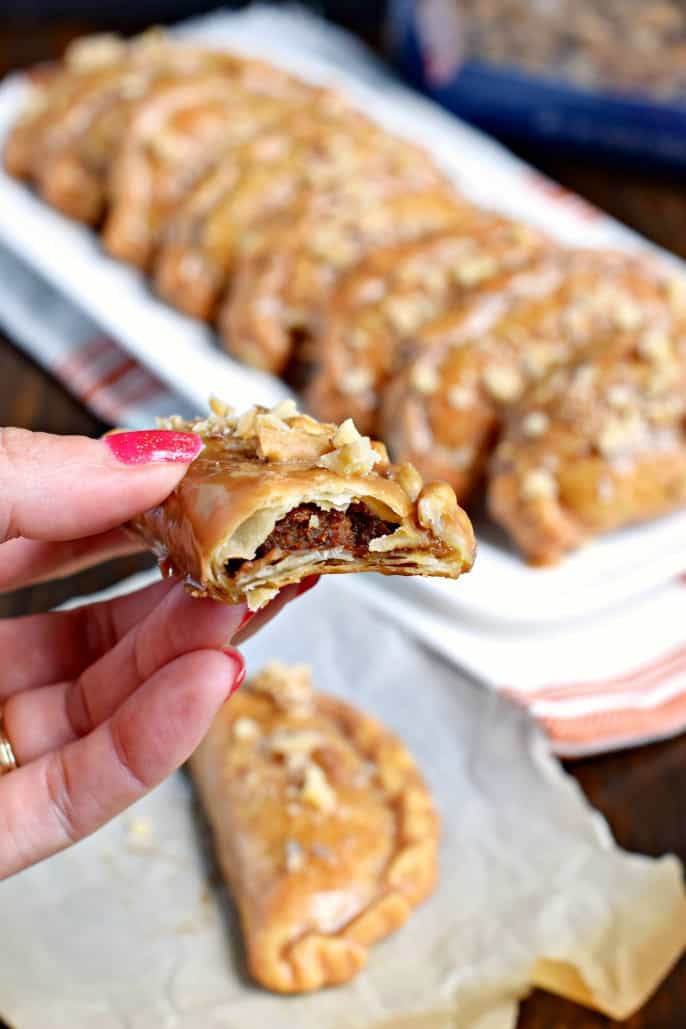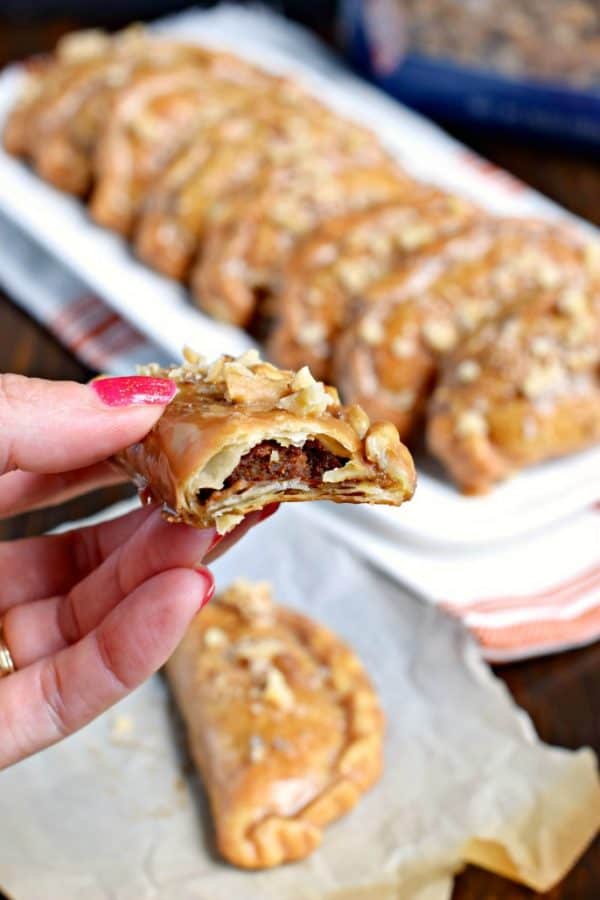 Be sure to follow me on Instagram and tag #shugarysweets so I can see all the wonderful SHUGARY SWEETS recipes YOU make!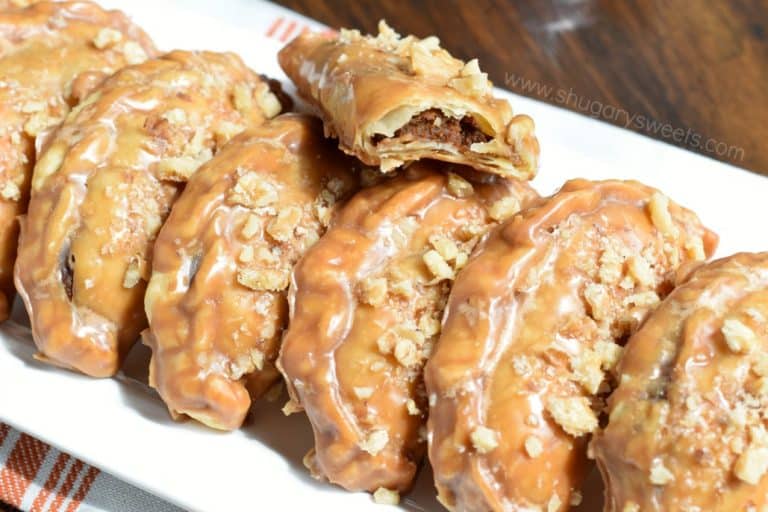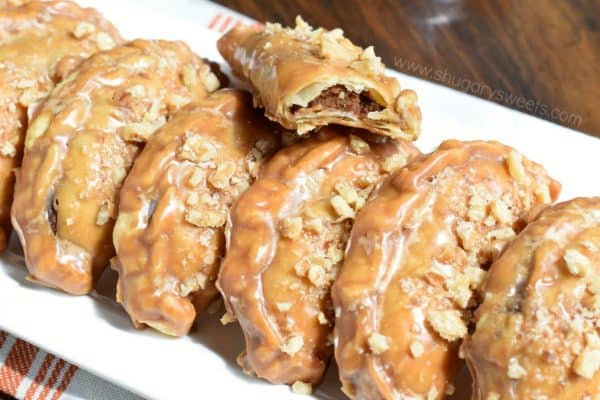 MORE FISHER NUTS RECIPES:
Yield: 12-14 hand pies
Pumpkin Hand Pies
These Pumpkin Hand Pies are the perfect fall treat! The flaky crust and nutty pumpkin pie filling are the perfect combo in a hand pie, plus they've got a wonderful maple walnut glaze!
Ingredients
For the Hand Pies:
1 box (14.1 oz) refrigerated pie crust
1 cup pumpkin puree (I use canned)
1/4 cup light brown sugar, packed
1/4 tsp allspice
1/2 tsp cinnamon
1/3 cup chopped Fisher Nuts Walnuts
1 egg white, beaten
For the glaze:
1 1/4 cup powdered sugar
1 tsp maple flavoring
2-3 Tbsp milk
1/4 cup Fisher Nuts Walnuts, chopped
Instructions
Preheat over to 425°F. Remove pie crusts from package and allow to come to room temperature while you prepare the filling.
In a small bowl, whisk together the pumpkin puree, brown sugar, allspice, and cinnamon. Fold in chopped Fisher Nuts Walnuts. Set aside.
Unroll pie crusts and cut 6 circles from each crust using a 4 -inch biscuit cutter. Re-roll the scraps to get more circles.
Using a 1 Tbsp cookie scoop, drop pumpkin filling into center of each pie crust circle. Fold in half and pinch edges completely, Fold pinched edges over and using a fork, press the tines of the fork to seal. Poke hand pies with a fork once, to prevent bursting.
Beat egg white in a small bowl until frothy and brush over the tops of each hand pie. Bake on parchment paper lined cookie sheet for about 13-15 minutes, until browned.
While pies are baking, prepare glaze. Whisk together the powdered sugar, maple, and milk until smooth.
Remove cooked pies from baking sheet and drop (while warm) into glaze, coating it completely (I used two forks to flip it over and remove excess glaze). Return to parchment paper and sprinkle immediately with chopped walnuts. Allow to set, about 10 minutes.
Eat warm or refrigerate and enjoy cold, like pumpkin pie!
Love Fisher Nuts? Here are a few of my favorite recipes: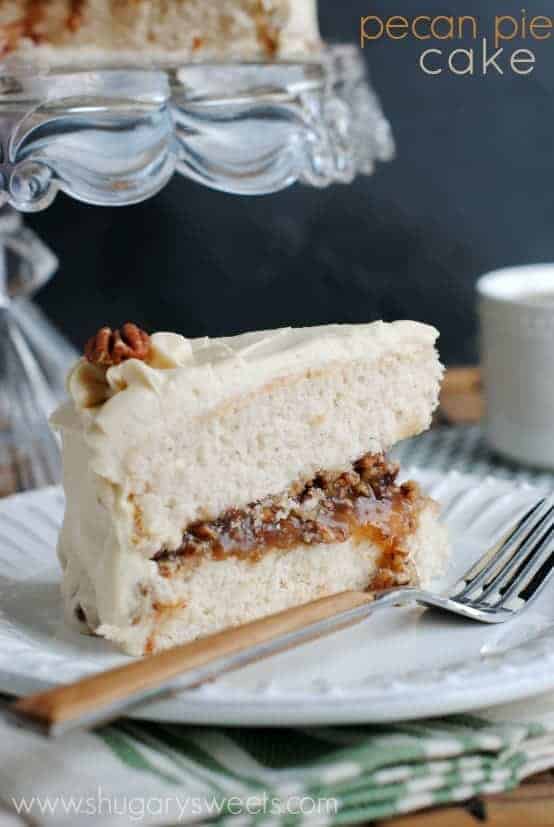 Pecan Pie Cake: a completely, from scratch cake recipe with a delicious, nutty filling!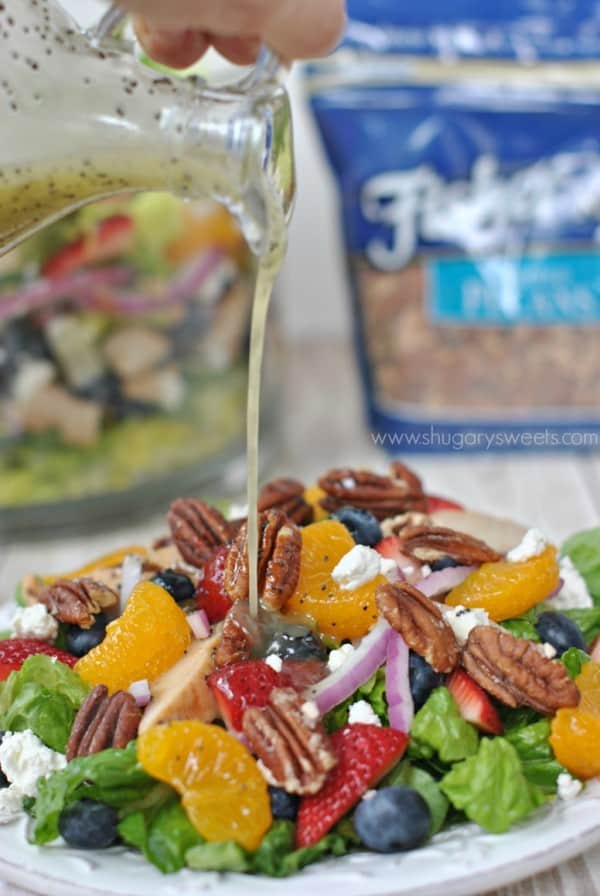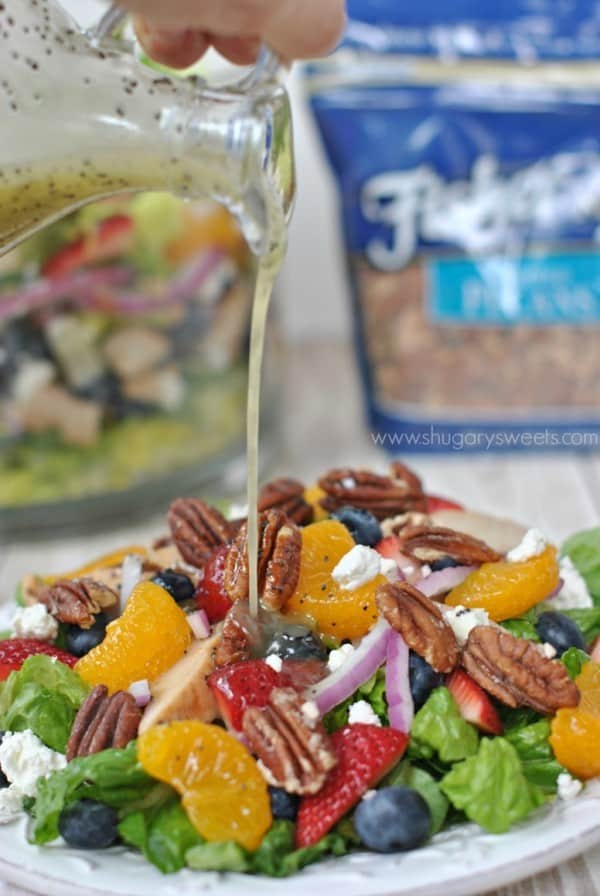 Strawberry Pecan Salad with a homemade poppy seed dressing!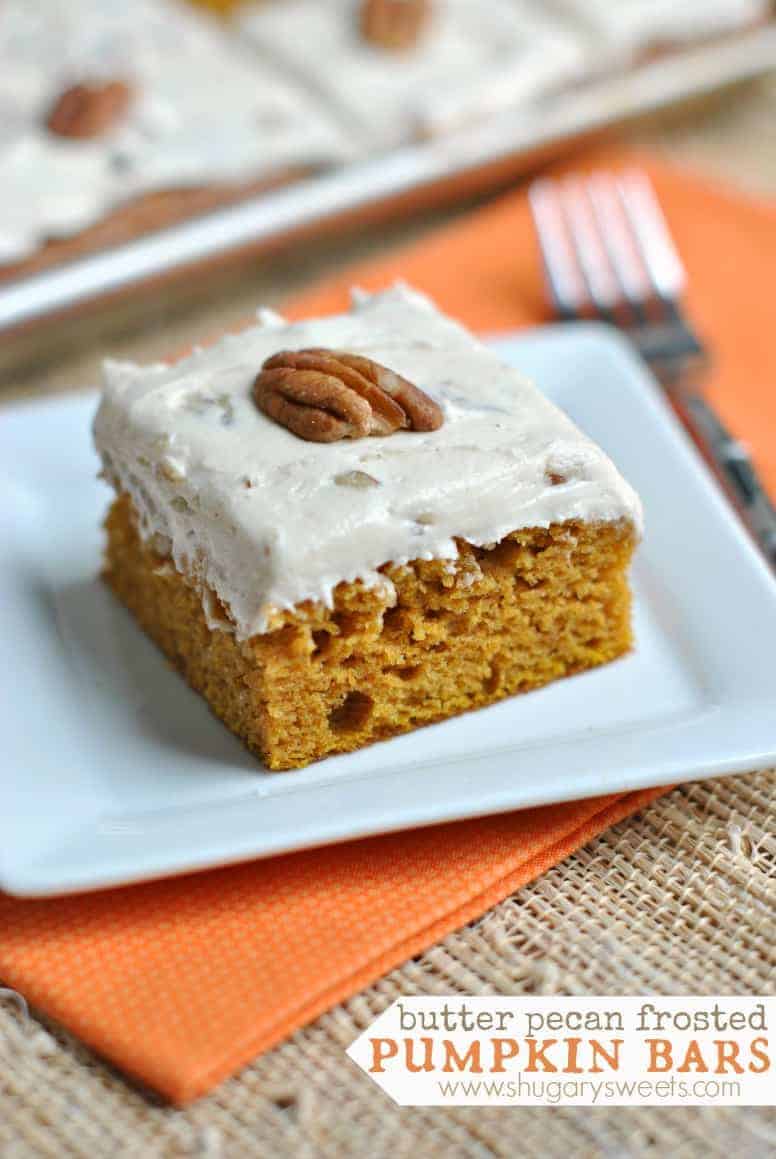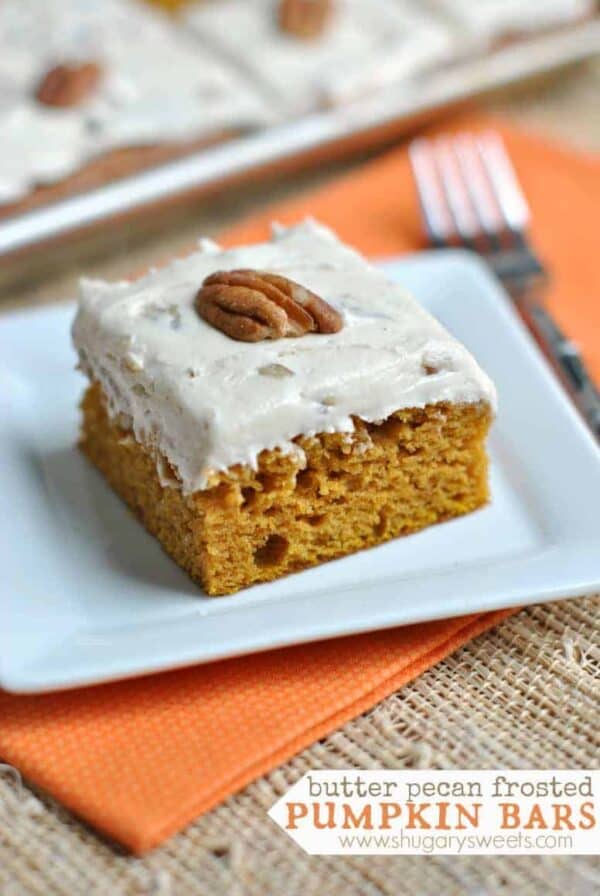 Butter Pecan Frosted Pumpkin Bars: no words needed to describe this wonderful treat!


**This is a sponsored post on behalf of Fisher Nuts. I was compensated for my time, however all opinions expressed are 100% my own!
This is a sponsored conversation written by me on behalf of Fisher. The opinions and text are all mine.